The Spooktacular Light Show is welcoming you in Toronto, on varied dates and time slots at 2 different locations, which is an exciting drive through the Halloween event that will definitely enchant you!
Submerge yourself in the world of ghostly marvel with exciting 2D and 3D presentations that are perfectly synced with melodic lights and terrifying tunes.
Do not miss this opportunity to make unforgettable memories and revel in the spirit of Halloween like never before! Get your tickets for the Spooktacular light show happening this September and October in Toronto on various dates.
Prepare yourself for an encounter with mummies, skeletons, and a host of gruesome creatures with each turn you take that brings your classic horror scenes into real life.
Get ready to experience an unforgettable adventure through a kaleidoscope of colours, shapes, and shadows.
1. About the Event
Take yourself through a thrilling Halloween drive with the Spooktacular light show. It features both 2D and 3D displays with terrifying melodies.
This family-friendly adventure of colours and shapes will drench you in a world full of gruesome wonders that can bring your classic horror to life.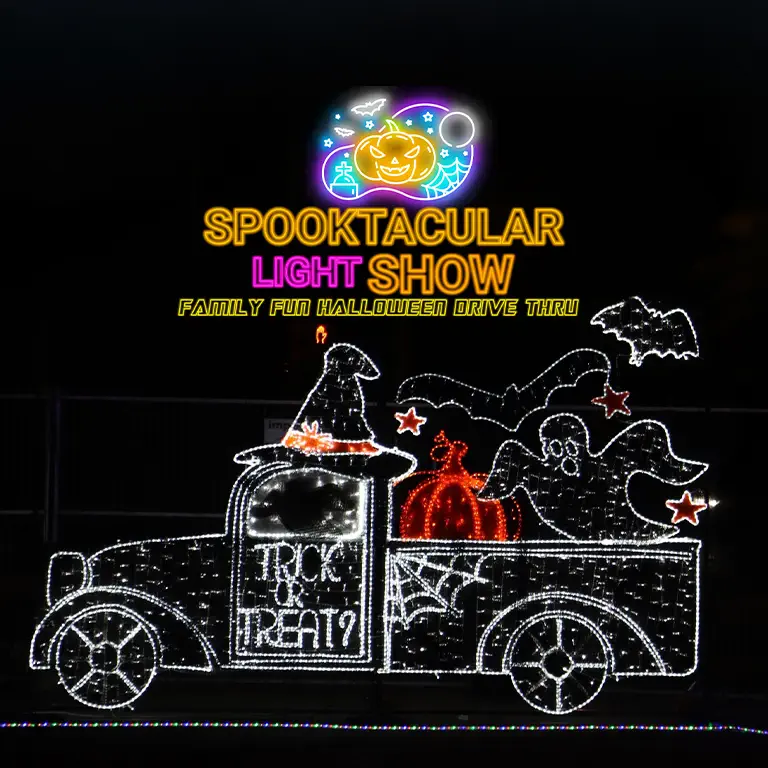 2. Highlights
Be a part of the 4th anniversary of the Spooktacular light show.
Experience a very exciting 2-kilometre drive-through adventure across the kingdom of uncanny wizardry that will feature 2D and 3D displays with excellently harmonized musical lights.
Have an encounter with mummies, skeletons, and ghastly creatures with each turn you take.
You can also click some good yet spooky pictures to impress your companions.
3. General Info
Dates: There are various dates, starting from 29th September, available in the months of September and October that you can select directly in the ticket selector.
Timings: The timing for Monday to Thursday and Sundays will be from 7:00 p.m. to 9:30 p.m., while the timing for Fridays and Saturdays will be from 7:00 p.m. to 11:00 p.m.
Duration: This spooky yet adventurous experience will last around 35-45 minutes.
Age requirement: People of all ages are welcome to this spooky night, as this family-friendly presentation invites children and all other adults of different age groups to the sorcery of Halloween.
Accessibility: can be accessed by almost everyone with the special accessibility arrangements made by the team here.
Warning: This event has elements recognized by epilepsy action that can potentially trigger seizures for individuals with photosensitive epilepsy.
4. Location
You can choose your location in the ticket selector while purchasing your tickets from Fever. The following two locations are available to you:
1389 Brock Rd., Pickering.
10232 Fourth Line Nassagaweya, Milton.
5. Tickets and Pricing
You can buy your ticket from Fever. The tickets are divided into the following categories:
5.1. Early Bird (before 29 September)
Couples (1-2 people) will cost you CA$27.11.
Small family (3-5 people) will cost you CA$50.84.
Large family (6-7 people) is CA$54.22.
5.2. Bundle Tickets (Halloween and Christmas)
Couple tickets are CA$54.22.
Tickets for small families are CA$101.68.
Large family tickets will cost you CA$112.98.
6. Witness the Adventure of the Spooktacular Lightshow in Toronto This Halloween
What:  Spooktacular Lightshow in Toronto.
Where: Can be chosen while purchasing the tickets.
When: various dates in the months of September and October starting from 29th September on varied time schedules.
Tickets: You can buy your tickets from Fever.com.
As an Amazon Associate, Icy Canada earns from qualifying purchases.
[amazon_auto_links id="81298"]
The Icy Canada team strives to create content that matters. It's why our content is written by travel writers, authority experts, well-known authors, and niche experts. Our content is also periodically reviewed by expert authors for accuracy and trustworthiness.
As an Amazon Associate, Icy Canada earns from qualifying purchases. [amazon_auto_links id="81298"]