Do you love to mimic? If yes, then it's your turn to play the lead role in Toronto's Immersive Experience of Stranger Things happening at the Cinespace Marine Terminal Studio on various available dates and time slots.
Stranger Things: The Experience gives you a chance to lead your own Stranger Things story as the hero. Whether you are alone, with family, or with your squad, this is a one-of-a-kind experience you surely don't want to miss!
1. About Stranger Things: The Experience
It is an enveloping experience in Toronto based on one of the iconic Netflix television shows.
Get a chance to be the hero of a Stranger Things story that you can create on your own while exploring with your favourite characters through the Hawkins Lab.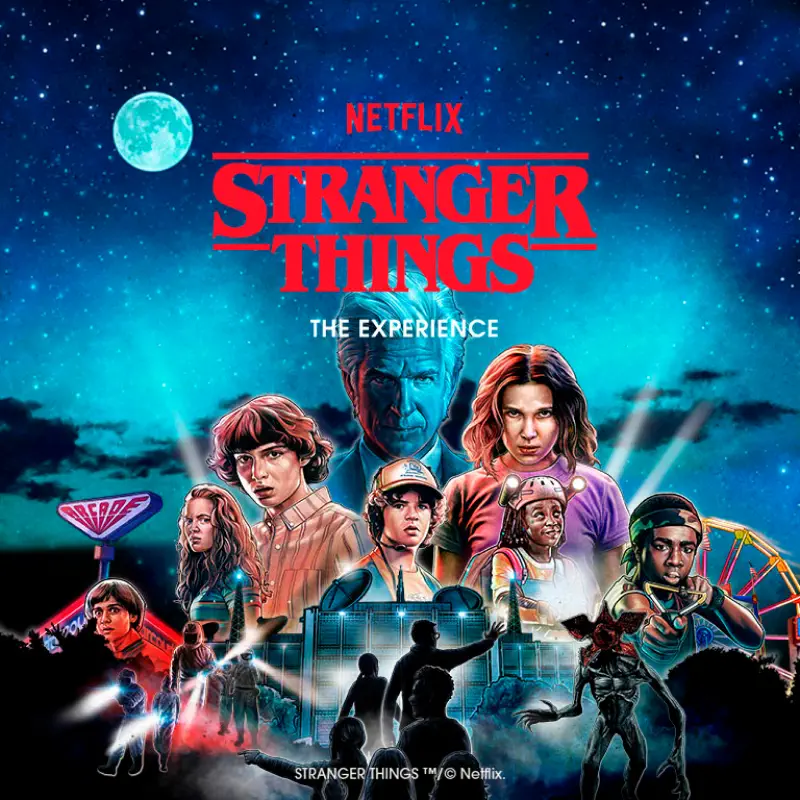 Further, be ready to enjoy the assortment of locations straight out of the 80s.
Explore the merchandise, food, and drink stalls, photo booths and photo shops, a bunch of interactive performers, and much more surprises awaiting you!
It is presented to you by Netflix and tickets are available on Fever.
2. Highlights of the Immersive Experience
In a brand-new, exclusive Stranger Things story, you can be the hero and unleash your power and can also get a chance to interact with your favouritewalkthrough characters from the cast of Stranger Things.
Take in a high-quality production with amazing special effects.
Explore iconic locations from the show, like Scoops Ahoy and 80s-themed shops.
Take home themed food and drinks as well as exclusive merchandise.
You can also take pictures in Byer's living room, in that photo booth inspired by the 80s, or with those unexpected villains!
3. Venue
The fun immersive event will be taking place in Toronto's Cinespace Marine Terminal Studio located at 8 Unwin Avenue.
4. Date and Time
The event will take place on numerous days for 45 minutes and you have to select your date and time as per your convenience directly in the ticket selector section.
5. Additional Information
The venue, Cinespace Marine Terminal Studio has wheelchair accessibility.
If anyone has photosensitive epilepsy, please avoid the event because this immersive experience contains a lot of flashing of sensitive lights.
This wholesome experience contains the use of sophisticated language along with graphic imaging and effects, so anyone below  5 will not be allowed at the event and an adult should accompany anyone under the age of 14.
The event invites everyone to dress up in the 80's fashion with heavy waist pads and shoulder packs.
6. Tickets
You can buy your tickets from feverup.com and the tickets are classified into two categories that include Standard Admission and VIP Admission.
Don't think much, and get your tickets now!
7. Tickets Pricing
The pricing for standard tickets is as follows:
Standard adult tickets for 18 and older will cost you CA$49.00.
Standard youth tickets from 5 to 17 will be CA$39.00.
The standard family or group bundle of at least 4 tickets is CA$43.00.
For VIP access, the prices are:
VIP Adult for 18+ is CA$82.00.
VIP Youth tickets containing people in the age group 5–17 will be CA$66.00.
VIP Family or Group Bundle of at least 4 tickets is CA$72.00.
You can also get all the standard adult tickets for just CA$49 and all VIP adult tickets for just CA$84.
8. An Immersive Experience of Stranger Things in Toronto
What: An Immersive Experience of the Strange Things in Toronto.
When: Available on numerous dates.
Where: Cinespace Marine Terminal Studio at 8 Unwin Avenue in Toronto, Ontario.
Timings: Various time slots.
Tickets: Buy your tickets from fever.com.
Read more news organized by Fever, here.