Moraine Lake– an irresistible destination for lovers of nature mystique. The beautiful sun-kissed lake held aloft between the misty mountains is mesmerizing on its own.
Moraine Lake is a breathtaking site because of the snowy peaks that contribute to its uniqueness and fame. It is also one of the most popular natural attractions in the Canadian Rockies because of its beauty and activities.
Moraine lake is counted as one of the best-photographed spots. From the early sunrise to sunset, every sight is unmissable! The lake has its picturesque aura apart because it is half Lake Louise (neighboring it).
It is not just for nature lovers but also for people who enjoy hiking and mountaineering. The weather is chilly throughout the season. So, this beauty makes its place in people's bucket lists beforehand.
The busiest period of the calendar in Moraine lake is from mid-July to mid-August. You can also enjoy yellow-orange Larch tree viewing during this period. And the best month to visit the Moraine lake is in May, with the change of the season and along with all those sands, slits, and rock sediments which give a reflective shine to its color into vivid shades of turquoise blue-green for which the lake is famous for.
Moraine Lake has a beautiful hiking track with gorgeous scenic views, and a 20-dollar tour for the million-dollar idea is heart-reviving.
The summer aura can be enjoyed from June to August, where the playful, bright colors magnetize the tourists. The Valley of Ten Peaks with the lofty snow-capped mountains is an extremely picturesque view, famous for photographs, and the Rock-pile Trail, which offers the best view of Moraine Lake from the height of moraine rocks.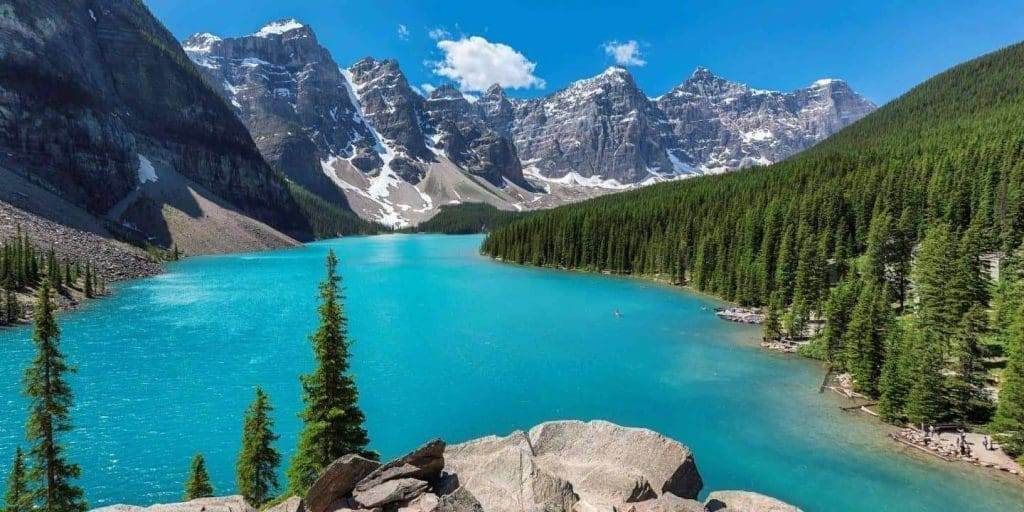 Let us know more about Moraine lake-
History
In Banff National Park, Moraine Lake is in the Ten Peaks Valley, almost 14 km from Lake Louise, Alberta, Canada.
Walter Wilcox named it Moraine Lake because of the rocky mountains, rock debris, and huge debris piles of great boulders, which is what Moraine meant. It was formed the same way as Banff lake Louise but is much old in terms of seniority.
Moraine lake view is also summed up as The Twenty Dollar View, as Moraine Lake was prominent on the reverse side of the Canadian twenty-dollar bill of 1969 and 1979 issues. A short 300-meter hike over Moraine's imposing pile makes us reach the 'Twenty Dollar" view.
Places to Visit
Moraine Lake enriches the fauna, and the beauty of the Canadian Rockies can be felt from that height.
The pikes, marmots, squirrels, and various animals and birds can be frequently spotted in these mountains. The Rockpile trail is considered one of the leading trails to trek to get a vivid lake view.
The popularity of Moraine lake has consequences; the parking gets overcrowded. The Moraine Lakeshore trail has to be rated as the easiest trail that stretches for about 3 km. The accessibility of the Lake is a major contributor to the crowds, so the early birds are always benefited.
Moraine Lake can be summed up as a backdrop of mountains with beautiful forest views attracting a huge chunk of people. Every year, people visit here in large numbers even though they have visited before shows how breathtaking the site would be. The crowd is still an issue to deal with.
The struggle to reach early is worth the Moraine Lake Banff view. You can start with your trekking early to reach the lake till breakfast and enjoy your food or sit peacefully and absorb the beautiful weather and scenery, or you can also feel the icy water and rewind. Most canoes start from here. This tour begins with going forth surrounded by lush forest, and boom, you reach the spot of amazing glacier-fed waterfalls.
The Moraine lake canoe rentals are available from mid-September when the golden flowers bloom with the dock hours of 9.30 to 5 pm; the rentals start from $105 additional taxes an hour. A canoe can accommodate only two or three people at a time.
All the information about the prices, the house, and the equipment are provided in the Moraine Lake Lodge and on a first-come-first-serve basis. The only way to substitute huge traffic and save your parking lot from overflowing parking is to reach the earliest.
Here is a momentary glimpse of beautiful Moraine Lake from the top:
Things to Do
As already mentioned, Moraine Lake is not just about its views but also got many more joyful and adventurous things to do. Let's know about a few of them-
   1. Canoeing
The very first thing that comes to our mind when we talk about lakes is boating or canoeing. So even Moraine Lake does fantasies and attracts people who enjoy boating.
Even if you may not be an expert in canoeing but want to try it, you need not worry as they provide general guidelines and necessities such as paddles and life jackets beforehand.
You can enjoy canoeing from morning 9:30 am to 5 pm at just about $105, excluding taxes, but usually, both the time and money are tentative because of sudden climatic changes like snow, rain, or strong winds.
In Moraine Lake, you can also use your canoe, which may cost you less expensive.  Not just this Lake, but you can use them anywhere within Banff National Park.
Just like the motels, the first ones to reach enjoy canoeing (no reservations are available). As the temperature falls, the boathouse is closed, and people prefer staying indoors, which lessens the crowd.
    2. Hiking
Hiking is also why this Lake is even busy in the mid-October of the calendar, but visiting in the mid-week of the month will allow you to avoid the crowd.
During this period in Larch valley, trees are of their best versions with beautiful golden Christmas leaves, brightening the night view.
Along with the tourists, even the locals visit for hiking regularly. It takes 45 minutes from start to finish, and Moraine Lake is the easiest place to walk within Banff National Parks.
Not just adults but even children between the ages of 8 to 12 enjoy going on a hike with their parents on glacial rock piles.
     3. Camping
2-mile uphill hiking takes us to the wonderful back-country camping. Once reached, you can enjoy being surrounded by the fantastic view overlooking Moraine Lake and also have the advantage of watching the gorgeous sunrise and sunset because of fewer people and high elevation.
You can also consider these camping sites for resting if planning to hike further. Above the Moraine Lake on either side, Campsites are covered with falling tree leaves to protect if it rains at night.
You are responsible for all the necessities, so pack all the items required. They don't provide you with any nearby portable water; also, keep your bug sprays as mosquitoes love chilly lakes as much as you do, and try to avoid waste to ease your shoulders.
    4. Other Things to Do
Besides that, you can also enjoy long drives and road trips. Parks Canada allows an alternative from Lake Louise Park to Moraine Lake. You can pay and use a private shutter to ride at your convenience. You can also stop and absorb the view of pretty destinations from the start to the end of the journey.
The unique thing about it is that you need not rush and reach early to grab your seats; reservations beforehand are available. To do so, you can use the Park Canada Reservation System for booking your ride by
visiting the site
.
Plan Your Trip to Moraine Lake!
The vast glacial rock piles, canoeing between the mountains, going on an adventures hike, the beautiful lodge and accommodation surrounded by nature from sunset to sunrise- a place you can experience everything all at once.
It's all worth looking at the bright blue sky or the overall Lake view and golden yellow trees with birds chirping and entertaining you from the window.
Do not miss this breathtaking view with lots of surprises and beauty. The scenery is worth planning your tour to Moraine Lake, no matter how far you live. Even the drive trip to Moraine Lake is worth your time, money, and drive. Not just once, you can visit Moraine Lake multiple times, and the sheer beauty or activity will impress you each time you visit.
Hey, wait!
Sign up to our newsletter and get exclusive discounts!
Want exclusive deals and discounts? We have just the list for you, from web hosting deals to your next Zara purchase.
Get how-to guides to shopping online, starting essentials to launch your business and general life hacks. And get additional discounts when you use our content writing services. Know more here. 
Enter your email address to sign up for our newsletter!