If you are in for some mouth-watering Chinese food, you have landed in the right article. We are listing down the top Calgary Chinese restaurants for you. 
We've compiled a list of Chinese restaurants based on their ratings, variety of items, location, and amount of authenticity related to their food to help you choose the finest among the rest.
Calgary is a thriving city with lip-smacking cuisines all over the place. Whether you are a local or in Calgary for a trip, the city makes you feel at home. And what better place than home to have some amazing food? Calgary drives inspiration from Canada's local sources for the majority of their ingredients & prepares something exotic.
When it comes to deciding on cuisines, people mostly love Chinese any time of the day. As it is quick, easy & there's a mouthful of ingredients. And Calgary luckily happens to have quite a few best Chinese restaurants.
We've compiled a list of Chinese restaurants based on their ratings, variety of items, location, and amount of authenticity related to their food to help you choose the finest among the rest. But let's understand a bit more about the topics related to the whole information.
The Calgary Chinese Community Members
Calgary's Chinatown
It is a Calgary district located along Centre Street in the northeast portion of Downtown Calgary, directly west of the Downtown East Village. The Chinese Cultural Centre in Calgary, with its traditional architecture and design (inspired by the Temple of Heaven in Beijing, is the largest institution of its sort in North America. This district also has the Dragon City Mall.
The neighborhood north of downtown and stretching for several blocks along Centre Street is also heavily Asian-influenced and is frequently referred to as the city's second Chinatown. International Avenue is also a significant multi-ethnic center in the southeast, with a strong Asian influence.
Calgary's Chinatown is commemorating its 100th anniversary. Calgary's Chinatown community celebrated 100 years of difficulty, progress, and success in 2010, on its path to becoming Canada's third-biggest Chinese group by population and area. However, just 100 years had passed before Chinatown moved to its permanent location in Calgary. Its true history extends back to the mid-nineteenth century when the hardships of Calgary's first Chinese inhabitants were only getting started.
Since its establishment in its current location, Calgary's Chinatown has flourished without a specific development plan. Then, in 1966, the City produced a draught Downtown Master Plan that suggested a new motorway known as the "east-west downtown penetrator" to run as an extension of Bow Trail across downtown between second and third avenues; right into the heart of Chinatown. After years of deliberation, protests, and amendment, City Council approved the three-part Bow Trail Staging Report in February 1970, with the construction of the "east-west downtown penetrator" set to begin in 1978.
Chinatown's Development Continues With numerous elements of the Chinatown Design Brief, such as dozens of new commercial and apartment buildings, Family Associations, and recreation and cultural activity centers such as the Dragon Mall and the Chinese Cultural Centre, Calgary's Chinatown is a prideful and prospering community which has spilled over its structured bounds and now takes up the majority of both sides of Centre Street north and west along 16th Ave.
Calgary's Chinatown was the first in Canada to be recognized in city ordinances. In 2010, Calgary City Council allocated a $500,000 budget to commemorate Chinatown's 100th anniversary. The neighborhood that the Calgary Herald described as a "festering sore" in 1910 has flowered like a lotus to become an improbable success story amid Chinatowns in North America.
Calgary Chinese Population
The population is quite big. It's around 104, 620 which covers around 7.61% of the population of Calgary.
Calgary Chinese Cultural Centre
It is a structure in Calgary, Alberta, Canada. It was finished in September 1992 and is positioned on the north-eastern edge of downtown.
The complex's focal point is the Dr. Henry Fok Cultural Hall, patterned after the Hall of Prayers of the Temple of Heaven in Beijing. The 70-foot-high (21-meter) ceiling is adorned with 561 dragons and 40 phoenixes. Four columns support it with gold decoration, one for each season. The dome's exterior surface is coated with blue tiles imported from China and made by the same business endowed the Temple of Heaven 600 years ago during the Ming Dynasty. They were erected in a typical Chinese layering method and were mortared together.
Dr. Henry Fok Cultural Hall, the Henry G.D. Chow Auditorium, and a traditional Chinese medical facility are located on the main floor. The building's second-floor houses classrooms and a library with literature in both Chinese and English (Orrin and Clara Christie Might Library). There is also a restaurant and the Chinese Artifacts Museum on the bottom floor.
The Chinese Artifacts Museum is on the center's bottom floor. Exhibits feature the tale of Chinese immigration to Canada and the history of Calgary's Chinese population. There are also copies of many Chinese relics, such as Terracotta Warriors, mahogany furniture, pottery, sculptures, garments, bronze items, and paintings.
History
In 1982, interest in the redevelopment of the region grew strong. To retain the neighborhood's distinctive Chinese character, the City of Calgary and the area inhabitants devised a redevelopment plan that would protect the cultural identity while preventing towers from dominating Chinatown.
The initial area redevelopment plan intended for the size of Chinatown to be reduced by 40%, so the community collaborated with municipal planning to create a plan that included the creation of an important cultural center. All parties involved agreed on the proposal.
The structure was dedicated in September 1992.
Calgary Chinese New Year 2022
Calgary has several Chinese New Year activities each winter. The topic of the Lunar New Year changes somewhat each year according to the zodiac cycle. However, lion and dragon dances, Chinese lanterns, calligraphy displays, and traditional food may be found at numerous spots across the city. The color red is crucial to all the celebrations because it denotes pleasure and good fortune.
Ice Sculpture Showcase in Chinatown (January 30–February 15, 2022)
The Chinatown BIA will host the Chinatown Ice Sculpture Showcase, including five ice sculptures to commemorate the Chinese Lunar New Year, the Year of the Ox. The sculptures will be on exhibit from New Year's Eve until the Lantern Festival.
Lunar New Year Festival in China (January 28–30, 2022)
The Calgary-Chinese Cultural Center is packed with residents and visitors for the ten-day Chinese Lunar New Year Festival. Calligraphy exhibitions and seminars, lantern displays, live performances, and firecrackers are all part of the programme. Visitors may buy souvenirs and commodities at the marketplace and eat Chinese food at one of the many food vendors.
Celebration of the Lunar New Year
Jack Singer Concert Hall hosts a Lunar New Year celebration that will appeal to those with a refined sense of elegance. The Calgary Philharmonic Orchestra performs music by current Asian composers and classical European masters in this evening program. The 2021 event will begin with Wang Xilin's spectacular Torch Festival before transporting the audience to the worlds of Tchaikovsky and Saint-Saens. What a lovely way to spend the Lunar New Year with good music in the expectation of good fortune and money.
Dining Options in Chinatown
Following all cultural festivities, celebrants can treat themselves to a multi-course supper at one of Calgary's excellent restaurants on Chinatown and Centre Street. Delicious dumplings and other dim sum delicacies may be found in Chinatown eateries such as Regency Palace, Silver Dragon, and Lucky Place Restaurant. Center Street has several eating alternatives, ranging from Central Grand Restaurant and Pheonix Gate Chinese Cuisine to Golden Central Chinese Cuisine and China Palace Chinese Restaurant. It's a great idea to book a reservation because the better restaurants fill up quickly.
And, now let's get to the main part. So without any further delay, let's check out these Calgary Chinese restaurants.
Top 6 Calgary Chinese Restaurants For You
We have narrowed down this list based on the location of the restaurants, customer services, ratings, variety of dishes, & authenticity. Scroll down further to take a look at the top 6 Calgary-Chinese restaurants you can visit sometime.
1. Cherry Inn Restaurant
Location: 6722 4 St NE, Calgary, Canada\
Website: Cherryinn.ca
Contact: 403-274-2282
Operating Hours: 
Monday – Thursday: 1 PM-9 PM
Friday: 1 PM- 10 PM
Saturday: 3 PM-10 PM
Sunday: 4 PM-9 PM
Cherry Inn restaurant is a family-owned business in Calgary, running for over 30 years now. Calgarians consider it the city's hidden gem, which offers quality Chinese cuisines and satisfactory customer services.
The restaurant is open all week long; however, timings differ during the weekends. They are famous for their top-notch appetizers, unlike any other restaurant in Calgary.
Whether you are in the mood for dining in their restaurant's splendid atmosphere or at the comfort of your own home, Cherry Inn is always at your service. You can call them or order online according to your needs. The staff at Cherry Inn very well accommodates the customer's needs.
Customers can even get gluten-free & no MSG (monosodium glutamate) dishes prepared upon prior requests.
Customer Reviews:
"This place sets the standard for takeout & delivery of delicious Chinese cuisines."
"This place was amazing. The lunch special was cheap & affordable. The space is small & cozy, highly recommended". 
2. Silver Dragon
Location: 106 3 Ave SE, Calgary, Alberta, Canada
Website: silverdragoncalgary.com
Contact: +1 403-264-5326
Operating Hours: Monday – Thursday: 10:00 AM – 10:00 PM
Friday: 10:00 AM – 11:30 PM
Saturday: 9:00 AM – 11:30 PM
Sunday: 9:00 AM – 10:00 PM
The Silver Dragon restaurant is located right in the heart of Chinatown in South East Calgary. The restaurant was opened in the streets of Chinatown back in the year 1966. And ever since then, been serving Calgarians with authentic Chinese cuisines.
The restaurant is a family-owned business and an award-winning Calgary-Chinese restaurant. They provide a real touch & essence of Chinese food by serving authentic Szechuan & Cantonese cuisines. They offer over 200 dishes on their menu.
The chefs at the restaurant are highly trained from Hong Kong, which puts the restaurant on the upper hand among a few of the other best Chinese restaurant (Calgary).
The restaurant has a warm ambiance with the contemporary, pan-Asia-style decor in the dining rooms. And along with providing customers private dining rooms, the restaurant also has banquet & catering facilities. So, Silver Dragon is also a good space for hosting parties.
And as good as they are with their on-spot services, they provide excellent delivery services too. The restaurant delivers mainly in downtown Calgary and by the suburbs.
Note: You can also visit their second location in Banff, which is a resort location.
Customer Reviews:
"The place has consistently the best Chinese food in Calgary. Their food is always, fresh with lots of flavors & well-executed. A great place all in all".
"Excellent dishes. Plenty of staff to provide the most hospitable experience. And they have a well-decorated interior".
3. Ginger Beef Bistro House
Address: 388 Country Hills Blvd NE Unit 400, Calgary
Website: skipthedishes.com
Contact: +1 403-225-1616
Operating Hours: Monday –  Sunday: 10 AM – 9 PM
The Ginger Beef Bistro House is a fully operating Chinese restaurant in North Calgary. It was opened in the North East Unit back in the mid-1980s.
Ginger Beef serves traditional Chinese delicacies with a modern touch. The chef at Ginger Beef creates Northern Chinese dishes with a western take. Their menu includes various dishes such as hot & sour soups, savory appetizers, entrees & their special Calgary-style ginger beef.
They offer dine-in services, take-out & home delivery facilities as well. And for each service, Ginger Beef has three different concepts: Ginger Beef Bistro House, Ginger Beef Peeking House & Ginger Beef Express.
The Express concept is currently running in six locations and is a take-out & delivery-based concept. It has the same varied menu as its full serviced restaurant, Ginger Beef Bistro House.
Customer Reviews:
"Service was amazing, prices were fairly standard, had lots to eat, and the food tasted great." 
"The restaurant offers great Chinese & dim-sum options, must try."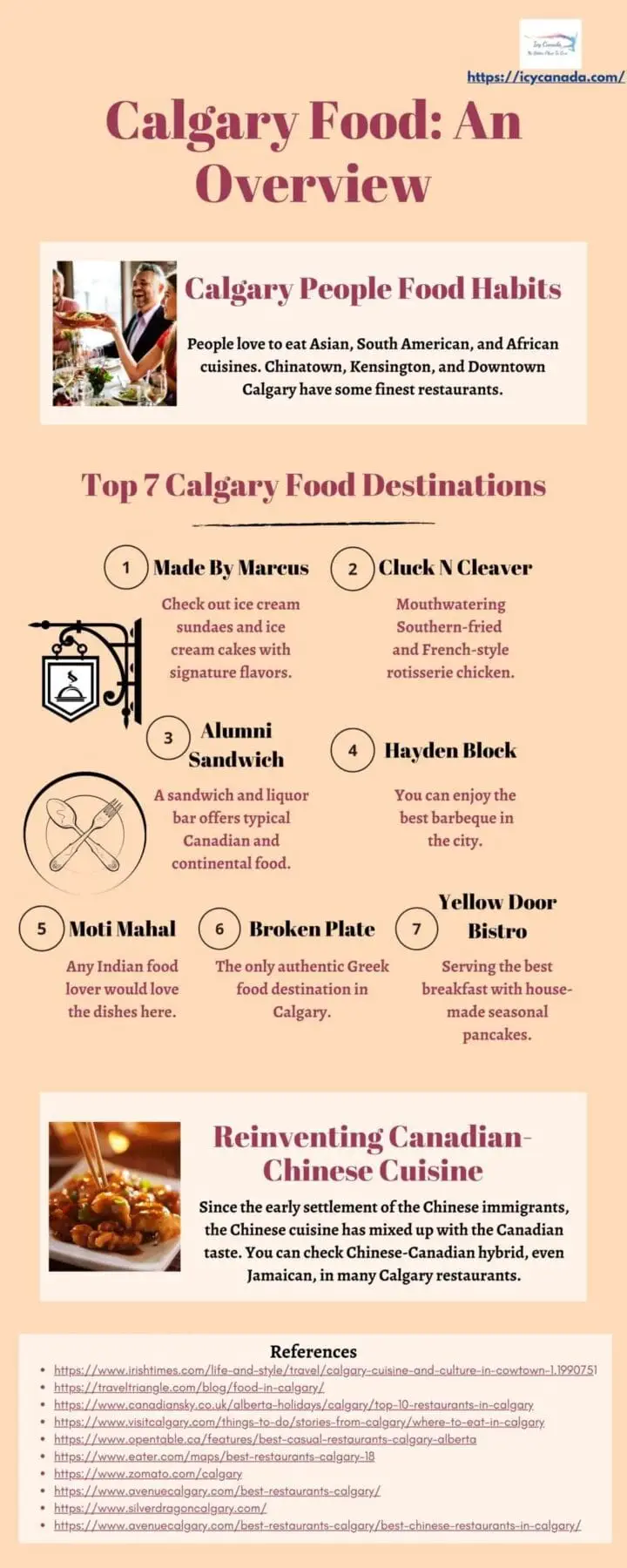 4. John Wong's Restaurant
Address: 8413 Elbow Drive South West, Calgary, Canada
Website: johnwongs-restaurant.com
Contact: 403-259-3853
Operating Hours: 
Sunday-Thursday: 11 AM- 10 PM
Friday-Saturday: 11 AM- 11 PM
John Wong's restaurant in South West Calgary is one of the best Calgary Chinese restaurants to serve seafood & Cantonese dishes.
The restaurant is popularly known to serve a wide array of cuisines. From appetizers, noodles, combos, soups, house specialties to chicken & beef dishes, they serve every authentic item.
John Wong's has a quite different concept than other restaurants; they are not open for dine-out. However, they offer their best services with dine-out, takeaway & delivery.
They take you on a different experience with their traditional delicacies.
Highlights:
The most popular of their dishes are- Ginger Chicken, Beef Fried Rice, & Pan Fried Dumplings.
Customer Reviews:
"John Wong's restaurant is the best in everything, be it the taste, service, quality, quantity, or value."
5. iBAOZA
Address:  4119 4 St North West, Calgary,  Canada
Website: ibaozacalgary.com
Contact: 587-315-8558
Operating Hours: Tuesday-Sunday: 11 AM- 5 PM
iBAOZA is an award-winning Calgary Chinese takeaway restaurant in the North West.
This restaurant in northwest Calgary was voted in 2019 as the best Northern Chinese restaurant. Apart from Chinese delicacies, they specialize in steamed buns; this is one of their most valued items.
Their highlight is the dumplings with different fillings, including beef, chicken, tuna, vegetables, and seafood. iBaoza restaurant is the first & of its kind takeaway in northwest Calgary.
The restaurant provides the best accommodations to its customers, accepting special orders & recommendations regularly.
Customer Reviews:
"So amazing, the food is super delicious, and they have fantastic service. I will definitely come back for some authentic Chinese cuisine".
"A gem of a little place. what great flavors and authenticity they have in their dishes. Great Northern Chinese flavors. Buns, noodles, and burgers are of excellent value".
6. Great Taste Chinese Restuarant
Address: 123 2 Ave SE, Calgary, Canada
Website: greattastecalgary.com
Contact: 403-265-9880
Operating Hours:
Monday-Thursday: 4 PM- 9 PM
Friday- Sunday: 4 PM- 10 PM
And next up on the list of best Calgary-Chinese restaurants is Great Taste Chinese Restaurant in southeast Calgary.
The Great Taste Chinese Restaurant was opened in 2011 in Calgary. And since then, they have proudly served the best traditional Chinese food that gives your taste buds an extraordinary flavor.
They are most popular in Calgary for their Sichuan dishes and tempting Shanghai dim sums. Their dishes have a strong flavor of China from every corner.
Their versatile menu includes seafood, appetizers, noodles, desserts, rice, meat, & soups. And to complement the dishes, they have a good selection of alcoholic & non-alcoholic beverages, such as herbal tea, sweet soy milk, red wine, beer, and Chinese liquors.
And they are not just limited to serving mouth-watering delicacies, but their customer services are top-notch too. They have the most friendly staff in the city.
Customer Reviews:
"Really tasty Chinese food at affordable prices. I would definitely visit again".
"Great Taste Chinese restaurant has the best Tofu in Calgary. I've tried all of the tofu I could find in the city, and I've settled on Great Taste as the best".
"If you like Authentic Szechuan items, then make sure to pay a visit to this place when in Chinatown. No fancy decor or anything but the food is why you're here".
Calgary Chinese restaurants are in an all-time mood winner. Whether you want to go for a fine dine-in or a takeaway, you will have every option you're looking for.
These 6 Calgary Chinese restaurants that we have listed include both dine-in & takeout restaurants. These restaurants offer you more food choices than you can think of. Their menus have a variety in everything from main courses to soups & desserts.
Although we have listed the very best of Calgary Chinese restaurants, apart from these 6, there are more that you might like to visit.
And to name a few, we have: Emerald Garden Restaurant, Central Grand Restaurant, Dragon Pearl Restaurant, Chinese Cultural Centre Cuisine, Bulage Prague, and more. That's all about Chinese restaurants & delicacies. However, if you are in the mood for some smokey, spicy Indian delicacies, then check out the best Indian restaurants in Calgary.
So, in short, Calgary has no shortage of places for food. Indian, Chinese, Continental, or anything your taste buds craves, you will find a place if you look for it. So, without any further ado, go check out the 6 Calgary Chinese restaurants that we have narrowed down and let us know your experience over the comment section.
Why Try Out Rocket.net - IcyCanada's recommended hosting provider
The Icy Canada team strives to create content that matters. It's why our content is written by travel writers, authority experts, well-known authors, and niche experts. Our content is also periodically reviewed by expert authors for accuracy and trustworthiness.
Why Try Out Rocket.net - IcyCanada's recommended hosting provider