If you are someone who likes to own objects of sentimental value, you probably love to bring home souvenirs from your trip. You are not alone. Many consider the best part of travelling to be the part where you bring back something from a place that you loved visiting. What to buy in Germany? Read more to know!
If you visit Germany, there are infinite options of trinkets and useful objects you could bring with you, either to use or keep as a decorative item at home. If you wish to know what to buy in Germany, this article will tell you about some good options! Germany is high on the list of Europe's favourite and exciting adventure destinations. The stock of things to buy here does not disappoint!
The culture and heritage of Germany is very rich. The country prides itself on its very rich craftsmanship and quality production. Shops and stores abound in exquisite and intriguing things to buy. To help you choose the best things from the overwhelming number of options, here is a list of what to buy in Germany. 
1. What to Buy in Germany?
Do you want to bring German gifts for your friends and family? Or do you just want something to remind you of the memories from your trip to Deutschland? Are you a hoarder, planning to fill up your shelves and tabletops with antiques from the country? Whatever the use, there's plenty to choose from. Be it for adults or kids, here is an integrated list of what to buy in Germany.
1.1. Snacks and Treats
You can never go wrong with gifting snacks and treats to friends and family. And Germany has a lot of these to offer to people of all age groups. You could never visit a new country and bring back some of the local food home.  Here are some classic food items to buy in Germany: 
1.1.1. German Chocolate
Germans love chocolate. Germany ranks second highest in the world in terms of annual chocolate consumption! Along with Swiss and Belgian chocolate, German chocolates are undoubtedly the finest there is. 
The country is home to the famous chocolate museum in Cologne, or the Schokoladenmuseum in German. Opened by Hans Imhoff, the museum exhibits the history of German chocolate and its productions in the country.
You can even taste the delicious samples of popular chocolate if you visit! There are other iconic places like the Stollwerck chocolate company in Cologne, Rausch Schokoladenhaus in Berlin, and the Ritter Sport Museum in Waldenbuch.
But to purchase and take back home, visit the nearest grocery store and choose some brands at an affordable price. Here are some good quality brands you could consider buying:
Ritter Sport or Milka- If you want flavour options, these brands provide many different mouthwatering flavours. 
Merci – these are available in attractive gift boxes, hence a great pick for gifting.
Mozartkugel Chocolates- These are ball-shaped chocolates with a portrait of Mozart on the wrapping, a distinct favourite among tourists.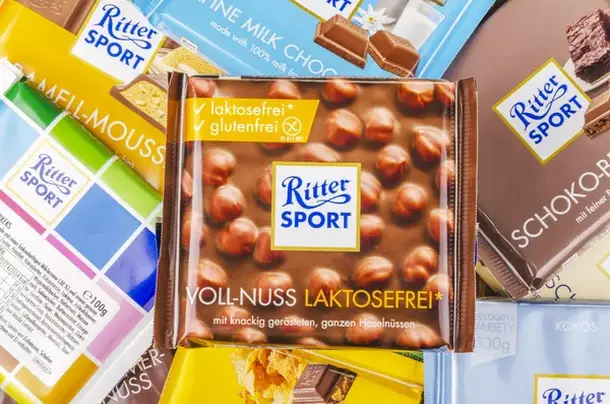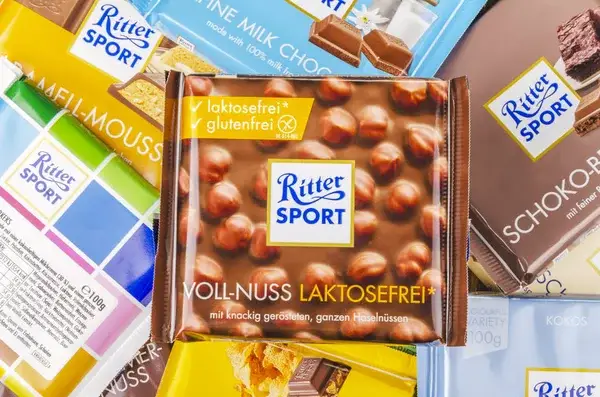 1.1.2. German Gummy Bears or Haribos
We have all had gummy bears in our lives, as these chewy candies are easily available in many countries of the world. But you might not have known that Germany is the country of origin of gummy bears! Hans Riegel started the confectionery company Haribo in Bonn, Germany, where he created the classic German gummy bears.
Hence, buying them from the origin country and gifting them to close ones will always be special. Haribos are available at local grocery stores in Germany. If you want to go further, you can visit the Haribo factory outlet in Bonn for a variety of sweets and samples at affordable prices. 
1.1.3. Lebkuchen or Lebkuchenherz
Lebkuchen are German gingerbread cookies that come in shapes, most popularly a heart. If you like traditional treats, this is a great thing to buy in Germany.  It is a delicious and sweet dessert with honey, almonds, and hazelnuts. It is extremely popular during Christmas and Oktoberfest.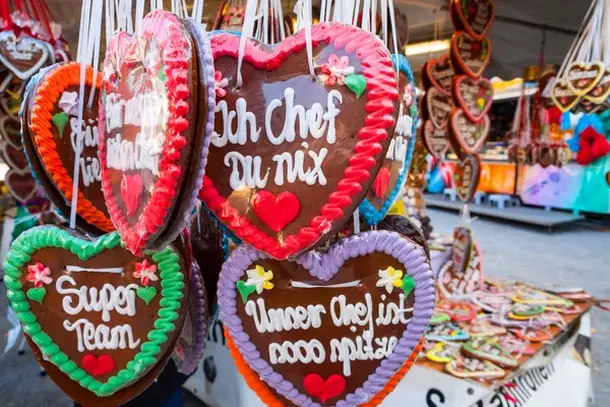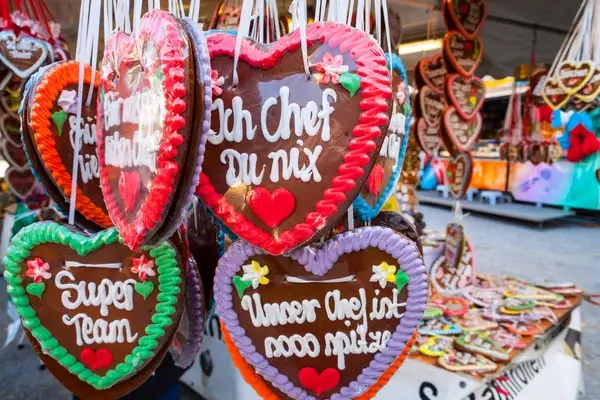 1.1.4. Marzipan
Marzipan is a classic German sweet made from honey, almonds, and sugar. If you have a sweet tooth or are looking for things to give someone who does have a sweet tooth, this is the best pick.
Marzipan is used as fondant in cakes and is also made into sweets, chocolates, and other desserts! The variety of Marzipan that comes with marzipan covered in chocolate is a great option for gifts, or even to take home and snack on.
1.1.5. Christstollen
Germans are known for their love for cake or Kuchen. It is worth buying cake in this country of cake-lovers. Christelle or simply stollen is a traditional cake served mainly during Christmas.
It is a German fruit bread containing spices, fruits, and nuts, and iced with sugar. And marzipan is used in Christollen!  Nobody does Christmas like the Germans, so the snacks of this festive period are always worth it! 
1.1.6. Sauerkraut or Sauerkraut Juice
Although considered a controversial choice for gifting, sauerkraut juice is an extremely healthy purchase in Germany. Sauerkraut is a traditional food (although it doesn't originate here) that is very popular in Germany, especially as a side dish.
This juice is made from fermented cabbage, and you will like it if you are fond of pickles. It is rich in nutrients and is extremely beneficial for health, that is why Germans drink it so often! And it is popular and very easily available in Germany, which might not be so in your home country. So go ahead and get some for yourself.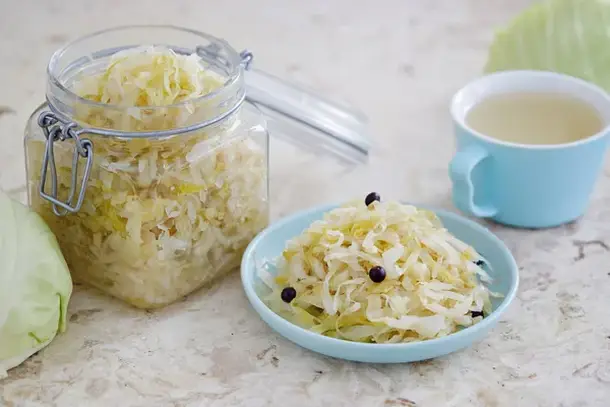 1.1.7. German Sausages
The fame of the German sausage or Wurst is not unknown. Be it Christmas or Oktoberfest, there is always some kind of sausage incorporated into the delicious dishes that are displayed.
If you are a foodie, there is no doubt that you find German sausages delicious. It is guaranteed that you will have some while you are visiting there, but you can bring that taste home too! Among all the meat preparations that have become indispensable to German cuisine, sausages are the easiest to store and ship home.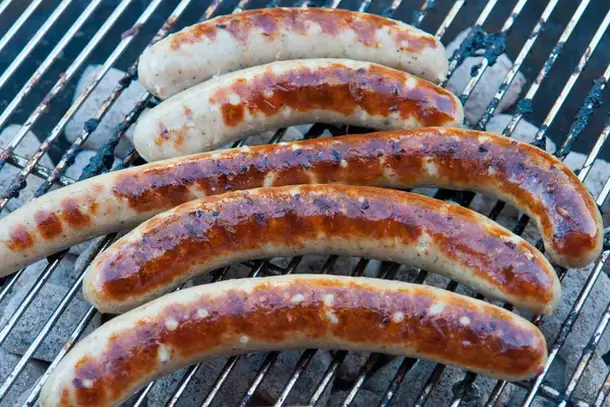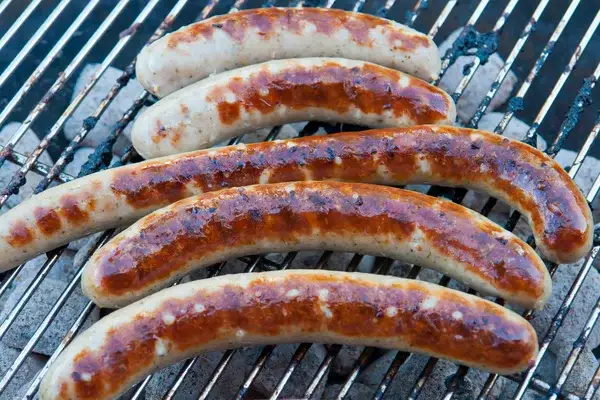 1.2. Alcoholic Drinks
You cannot visit Germany and not get German beer or German wines. Germany has quite a reputation for its beer, and other alcoholic drinks like wine and digestives are very popular as well. 
1.2.1. German Beer
There is a whole collection of traditional beer available in Germany: Wheat beer, dark lager, and pale lagers.  Almost every region has its local brews, so you will not have trouble finding a beer to buy in Germany! As beer is the specialty in Germany, it is an absolute must to bring home and it even makes for a great gift.
After you have tried German beer and chosen a favourite, you can take some cans with you in your luggage. Or, you can even order online and have it shipped to your house.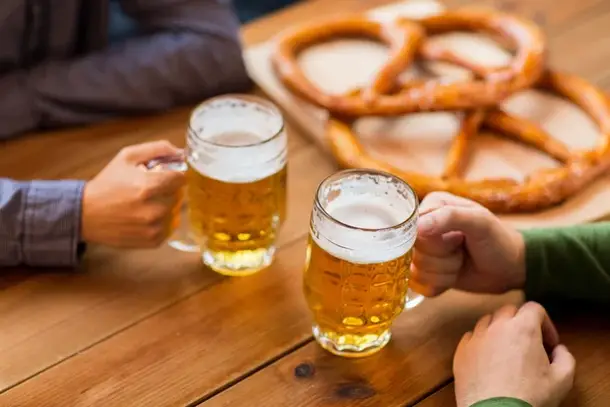 1.2.2. German Wine
Places like the Mosel Valley, Rhine Valley, and Saxony, are excellent wine-producing regions in Germany. The local vineyards produce great quality local wine which can be one of the best German souvenirs for wine lovers. 
The country is also known for its Rieslings wine variety that is produced in the Rhine Valley region. Some other varieties of German wine are Eiswein, Müller Thurgau, and Grauburgunder.
1.2.3. Jägermeister
This is an alcoholic spirit popular in Germany that is consumed to help with digestion. It is a liquor that is exclusive to Germany. It is a digestive that is made up of herbs, roots, and spices. It might be an interesting thing to purchase in Germany!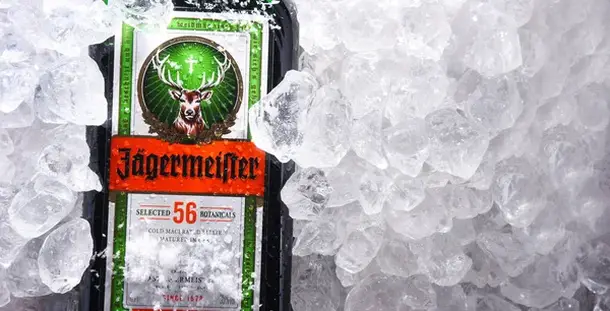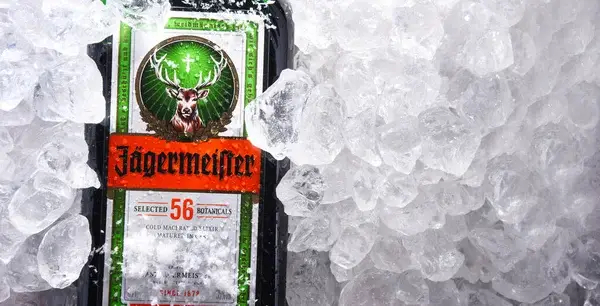 1.2.4. German Egg Liqueur:
This is a creamy beverage popular during the Christmas season and New Year's. It has a spirit like rum, whiskey, or brandy with egg yolk, sugar, and spices.  Although popularly available during Christmas, you can get hold of them in a supermarket. 
1.3. German Tea
Yes, a lot of Germans love and drink coffee, but they prefer tea. It is even said that Germans consider tea as a medicine for any and every illness! Hence, this love for tea makes Germany a good place for picking out and buying a variety of tea. 
East Frisia is famous for its tea business and steady tea consumption. The tea culture here is exceptional and you can find varieties that are specific to this area. The East Frisian local blend is very popular.  Other than that, local grocery stores make available many brands of varieties of German tea like black, chamomile, ginger, or fruit tea.
1.4. Beer Steins
Beer steins are undoubtedly one of the best souvenirs from Germany. Beer Steins are part of traditional Bavarian culture. A beer stein is a traditional beer mug made of either stone, silver, or porcelain. The history of beer steins is very interesting. The Bubonic plague created a crisis where food had to be covered to prevent diseases from spreading. The metal lid which is a significant feature, was made to protect drinks.
Want to bring home the best German souvenirs? Browse through these intricately designed and traditionally rich artifacts in souvenir shops or traditional beer halls. There are different designs and price ranges to pick from. Although beer steins are not of practical use anymore like before, the designs of motifs or places in Germany on these mugs make a great gift or memory piece. 
If you have an eye for carefully crafted and ornate decorative pieces, German beer steins will catch your eye. Aren't these so beautiful? Moreover, it is a rich symbol of Bavarian culture, so something that you will have displayed on your shelf will have a historical significance to it!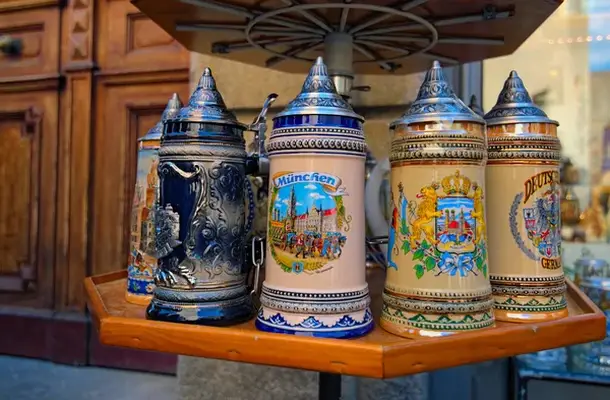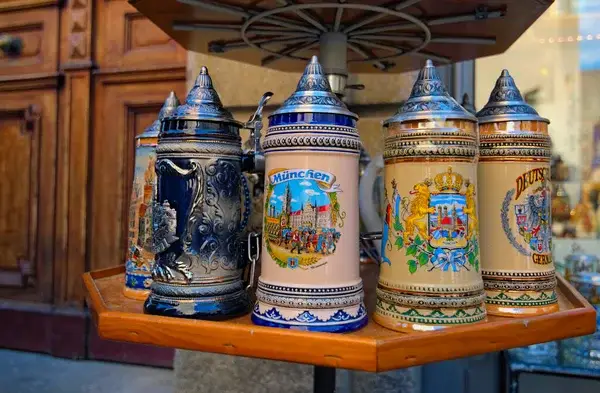 1.5. Wooden Items
Woodcraft in Germany is very hard to beat. Germany is home to the enormous Black Forest that cultivates the traditional skill of woodcarving. Thus, wooden items carved and sold in Germany are of unparalleled quality. If you are willing to invest a little to own or gift wood carvings, here is a list:
1.5.1. Cuckoo Clocks
Cuckoo clocks are the most popular option when you think of the best wooden souvenirs from Germany. An authentic cuckoo clock is carved in the Black Forest region. The beauty of these clocks lies in the fact that it is hand hand-carved and do not operate on batteries. A cuckoo clock is designed very intricately, featuring wild animals, birds, figurines, and houses. The style and design of cuckoo clocks have stayed the same throughout the centuries. 
Of course, a cuckoo clock has the iconic cuckoo's call to indicate time, the feature from which it gets its name.  Because of its tradition and hand-carved design, a cuckoo clock can be on the expensive end. But you can find affordable battery-operated clocks as well!
Not just in the Black Forest region, you can buy this great German souvenir in other souvenir shops or Christmas markets. A cuckoo clock can be a majestic and eye-catching collection if you are fond of decorating your house with pieces from all over the world. There is no doubt that cuckoo clocks are the best and the most classic souvenirs from Germany.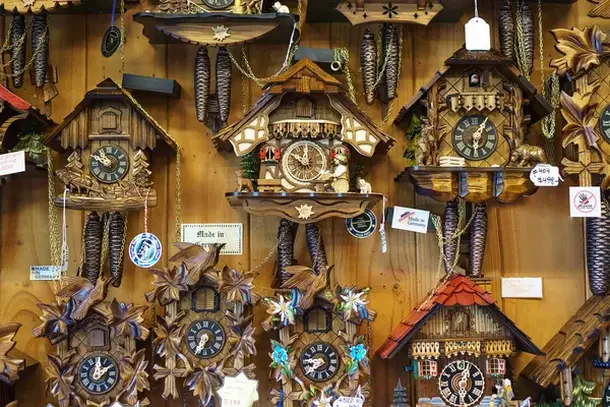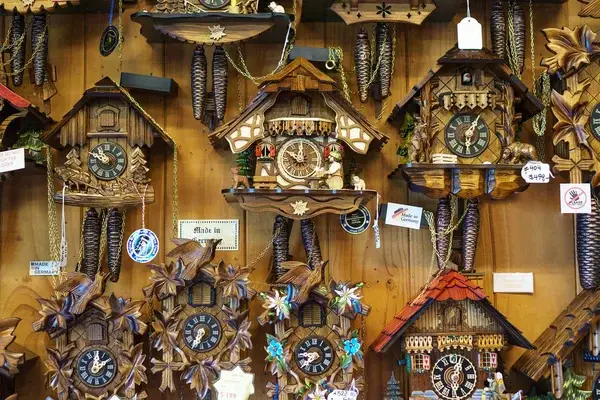 1.5.2. Wooden Toys
Germany is also known internationally for its well-crafted wooden toys. And this is an exceptional gift idea for children! Saxony in Germany has hosts of toy manufacturers and workshops where experienced craftsmen produce exceptional wooden toys. You can collect small-sized wooden toys in Germany and place them on study tables or shelves to add a nice touch. 
Various toy stores across the country will also let you get your hands on some beautiful woodwork. A lot of beautiful sculptures, figurines, and Christmas items are also produced here. 
1.5.3. Nutcrackers
A nutcracker is a wooden decorative piece that is distinctly one of the popular German Christmas gifts. They are very popularly sold in Christmas markets, a thriving market in Germany.
Nutcrackers are traditional German souvenirs that you can take home. Nutcrackers were considered to be the guardians of families. They stand for protection and are said to guard off evil spirits. They also bring good luck! These hand-carved wooden figures are the best souvenirs if you want something fun and artistic to buy in Germany.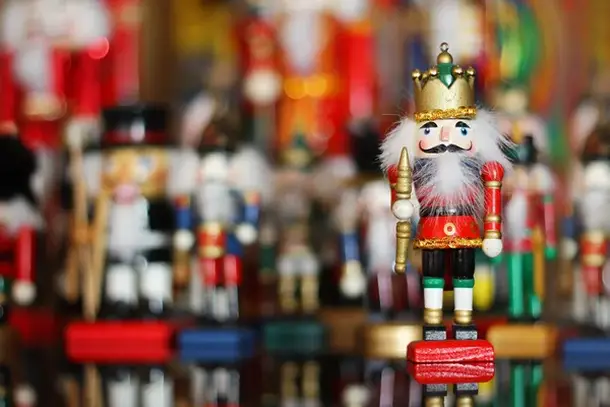 1.6. Other Christmas-Related Decorations
The Christmas celebrations in Germany are unlike any other. The winter festivities are very important and fun-filled in Germany. Hence, there are dedicated Christmas markets where one can find the best German souvenirs. The Christmas market exhibits German craftsmanship and embodies the spirit of the festive season very well.
The Käthe Wohlfahrt Christmas village is a hub for Christmas shopping all year round. Other than that, if you visit during the festive season, you can buy German Christmas gifts in a souvenir or gift shop. Here are some unique souvenirs you can buy in the Christmas market:
Advent Calendars

Hand-blown glass objects

Christmas ornaments: Christmas trees, wreaths, and various other decorations. Table decorations, candles, hand-carved wooden decor-you name it, and it is there.

Christmas Pyramid
1.6.1 Feuerzangenbowle Set
Feuerzangenbowle is a traditional German alcoholic drink that is based on traditional mulled wine, called Glühwein in Germany. On the drink, rum-soaked sugar is set on fire and made to drip into the mulled wine. The sugar caramelizes into the drink giving it its very unique taste. This drink is served hot during the winter festive months. This "fire tongs punch" is mainly served during Christmas or New Year's Eve.
The equipment used to prepare the punch is called the Feuerzangenbowle set and is sold in Christmas markets across the country. Hence it is one of the best German Christmas gifts, especially for wine lovers, or someone who will be interested in the fascinating process of making this drink!
1.7. German Trachten
If you have been to Germany during the Oktoberfest, you might have seen men and women in the festival wearing traditional clothes. These are called Trachten and it is a traditional Bavarian wear. It has immense historical and cultural significance.
Men wear Lederhosen which are leather shorts with suspenders. They are paired with plain white shirts and felt hats. The Dirndl worn by women are dresses with a corset top frilled bottoms and an apron.
Usually, nobody wears Trachten but any traditional occasion or beer fest calls for this beautiful Bavarian attire! If you are visiting the Oktoberfest, you can buy Trachten for yourself as a German souvenir.  Not only is it one of the best German souvenirs, but it could also be your next exciting Halloween costume!
1.8. Birkenstocks
Germans love to walk and engage in outdoor activities that include a lot of walking. And Birkenstock sandals have a special place in every German's heart. 
Birkenstocks is a footwear brand originating in Germany. Johann Adam Birkenstocks founded this brand to promote health by producing comfortable and practical footwear. No matter how you feel about them, these cork sandals are great footwear and very appropriate when outdoors.  Birkenstocks is one of the most successful sandal manufacturers in the whole of Europe. There are a ton of Birkenstock outlets and stores all over Germany. 
If you want to purchase the best German souvenirs and you are not sure what to buy in Germany, be assured that Birkenstocks is a good option. Invest in your body's health and buy the best and healthiest footwear on the continent! You will not regret it.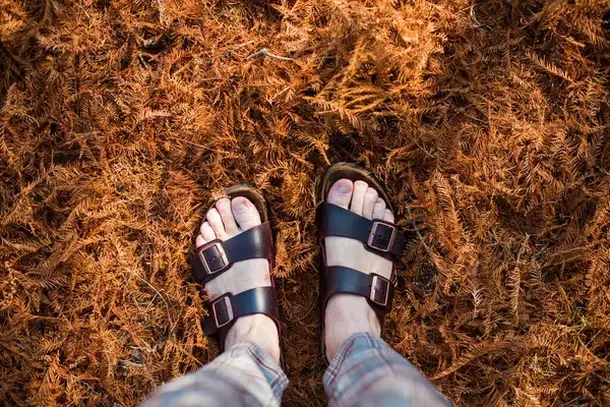 1.9. Ampelmannchen
The first answer that might come to a Berliner's mind when asked the question 'What to buy in Germany', is the ampelmännchen. This is the favourite of German souvenirs.
You must have found this little figure on many items if you have browsed through popular souvenirs from Germany. There are many popular items in souvenir shops with the symbol of Ampelmann on it. A lot of German gifts that you get to buy in Germany, for example, magnets, shirts, and other trinkets, have the  Ampelmann featured on them!
Also known as the little traffic light man, this symbol has a historical significance for the country's capital city and East Germany. These figurines are green and red pedestrian symbols designed by a traffic psychologist named Karl Peglau. It came to be associated with the city of Berlin after the fall of the Berlin Wall. There are many Ampelmann stores across Berlin where you can buy trinkets that are perfect for gifting. 
1.10. Hummel Figurines
Hummel figurines were very much in vogue in the second half of the 20th century. These pieces were based on the work of artist Maria Innocentia Hummel, hence its name.  They were widely collected items then but are quite rare pieces now. These figures are made of porcelain and hand-painted as well!
Hummel figurines are produced in Germany and can be one of the most rare and thoughtful German gifts to give someone!
1.11. Usual Souvenirs
Most tourist destinations have the usual trinkets where you can buy magnets, coffee mugs, postcards, flags, and shirts. You can find things to buy for kids like books and puzzles. Some of these German souvenirs will have beautiful art on them. They might feature paintings of Berline, symbols like the Ampelmann, or even the German flag.
These German souvenirs are affordable and easy to take back home! It is like bringing home a small piece of the place you visited. 
2. Final Words
These are the list of things you could buy in Germany to commemorate your visit.  There are things on the list that can be eaten and enjoyed, some that can be useful in day-to-day life, while others are merely ornamental pieces. But in any case, they all serve as a reminder of the places that were visited and the memories that were made.
Moreover, you fully understand what to purchase in Germany and what genuine trinkets to carry back with you. Any store in Germany can be visited with confidence because you will know what to buy and where to buy it. Bring back wonderful memories and great gifts for your loved ones and you.
Suggested Reading: Stem cell therapy in Germany 
As an Amazon Associate, Icy Canada earns from qualifying purchases.
[amazon_auto_links id="81298"]
The Icy Canada team strives to create content that matters. It's why our content is written by travel writers, authority experts, well-known authors, and niche experts. Our content is also periodically reviewed by expert authors for accuracy and trustworthiness.
As an Amazon Associate, Icy Canada earns from qualifying purchases. [amazon_auto_links id="81298"]