Are you looking for an ultimate travel guide for Moraine Lake? Then, all aboard this train of the article which is all about Moraine Lake only.
"Travel brings power and love back into your life."– Rumi
 Have you thought of going on a vacation right after all these crises end? I missed those days when we used to go on vacation with the family or road trips with friends. Planning about traveling and searching for so many spots, I found one which is so beautiful that there's no chance of missing out on it.
Moraine Lake is a glacially-fed lake located in Banff National Park. It is situated 14 kilometers far from Lake, Alberta, Canada. To say precisely, it is located amidst the Valley of the Ten Peaks, which means that it is elevated approximately around 1,884 meters (6,181 in ft.). Moraine Lake is spread over 50 hectares of surface area.
Another fun fact to know about Moraine Lake is that it carries water of a fantastic turquoise shade, which makes it look surreal. Its depth keeps changing throughout the year, especially during summers at the glaciers melting. The Lake is set at a perfect location in the Valley of Ten Peaks clustered all around by scenic views.
The Moraine Lake is encircled with waterfalls, rocks, and mountains all around constructing a natural view, which is overwhelming to look at. For a moment, your eyes might not see what is in front of that because it is that beautiful. The feeling will make you feel alive, breathing the fresh mountain air leaving an imprint on your mind, body, and soul that would last long.
There are a few fun adventurous activities that an individual can pursue, such as hiking, kayaking, and canoeing. To talk about its location, it is situated right inside the Banff National Park. Banff National Park is one of the oldest parks in Canada, which was constructed in 1885.
Banff Park is located on the western side of Calgary amidst the Rocky Mountains in Alberta, Canada. The Banff National park consists of large numbers of glaciers, deep forests, ice fields, and alpines. The commercial hub of Banff National Park is a well-known and significant tourist-attracting Town of place in the Bow River Valley.
The Banff National Park is connected to various other National Parks. In the north, it is linked with the Jasper National Park. Whereas in the west to the Yoho National Park. In the south and the southeast, it is connected with Kootenay National Park and Kananaskis Country, respectively.
All About the Incredible Moraine Lake
You will witness some mind-blowing, beautiful trails that will lead you to Moraine Lake. These walks are surrounded by natural beauty. Here are some famous trails.
1. Trails
1.1 Walking/ Hiking Trails
As we already know that Moraine Lake is spread over hundreds of acres of land consisting of mountain terrains etc. The large area surrounding the Lake includes various walking and hiking trails. The trails are sometimes restricted and sometimes not due to safety measures.
The famous trail which is hiked by most tourists is known as The Rockpile Trail, following the actual Moraine Lake. The path is estimated to be around 300 meters long, which elevates 24 meters as you move on. As argued, it is a beautiful place to visit. And on top of The Rockpile Trail is the most visited location. Due to the mesmerizing magical view, it offers its spectators. It is believed one of the most photographed places in Canada.
The view is of the mountains visible behind the Valley of Ten Peaks, which is also known as the 'Twenty Dollar View.' The reason it is known as Twenty Dollar View is because it was advertised on the backside of the issue of the Canadian Twenty Dollar Bill in 1969 & 1979. The top of the trail is filled with large rocks and boulders, where one can sit and enjoy the incredible views of the mountainous and rocky landscape.
1.2. Lakeshore Trail
After the Rockpile Trail, comes the second most hiked trail which is the Lakeshore Hiking Trail. The Lakeshore Hiking trail is not as long as the Rockpile Trail but is somewhat around 18.0 Kilometre long. The trail is not much crowded and also consists of a back trail nearing the Highlands East, Ontario.
The trail has been rated neutral/medium by past tourists. However, the path does offer various fun-filled activities for their visitors, such as cycling, nature observation, and others. The trail has been designed keeping in mind the comfort of the hikers and offers various uses.
The Town of Lakeshore has multiple linkages with other trails. In simple terms, there are various trails connected within the Lakeshore trail conjoining the massive chunk of the Town. For instance, it has off-road trails, roadside trails, and closed railway corridors linking to the surrounding parks, schools, and other community-based resources.
Further, the Colter Bay area offers habitat and is home to an existing wide variety of wildlife. To give a few examples, it has great blue herons, bears, beavers, martens, moose, and others.
To make things more convenient, the Bow Valley Regional Transit Services Commission and Parks Canada declared a public transit roamed route direct from Banff National Park down to Moraine Lake in September 2019.
1.3. Giant Steps
Another hike up to the rightly named Paradise valley consists of witnessing of flowing of pretty streams, walking through beautiful meadows watching the stunning view of nature all around them. The hike comes to an end with a fantastic captivating waterfall giving you a transcendental experience.
For one to see, the entire Valley should be ready for a long hard day of walking around, but trust me, my friend, it will be worth your time and effort. The feeling of not feeling your legs due to all the walking will be overpowered by the deep tranquil impressions the nature of Paradise Valley will leave on you.
The hike up to Paradise Valley begins with an easy clambering to the valley floor. One has to walk through the bridged intersection of Paradise Creek, awarding us with the view of ice-capped Mount Temple on the south side of the Valley. One on the 3rd Creek crossing passes through the lovely Lake Annette below the Mount Temple.
One can continue further or make your hike by making Lake Annette your final destination, which would be a friendly option. One should descent these Giant Steps. If you're a challenging hiker, then you could take these Giant Steps to further. You can visit the Paradise and Valley of 10 Peaks just by walking through the Sentinel Pass. The place has the best view or views, which are rewarding as well as relaxing due to its natural beauty.
This beautiful place offers such incredible views that people will have the best time of their lives and make beautiful memories to be never forgotten.
2. How to get to Moraine Lake?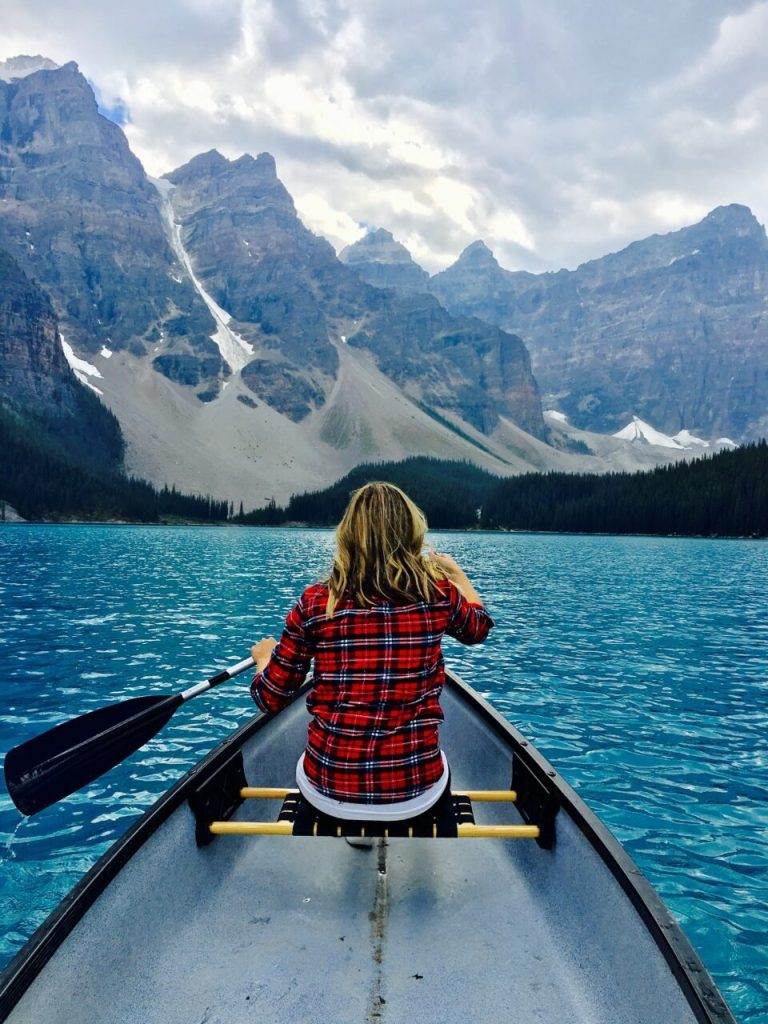 The distance to reach Lake Moraine to Lake Louise is not much. One needs to drive up from Lake Louise Village, taking the Trans-Canada Highway, also known as Highway one. Once you reach up on the Lake Louise drive until you come in front of the Moraine Lake access road on the left side, the distance from this point to reach the Moraine Lake parking lot would be approximately around 6.8 miles. The Lake, as well as the parking lot to it, are entirely jam-packed due to the high number of visitors during summertime. Make sure to be on time to not miss anything out of the heavenly Moraine Lake.
However, the roads leading to Moraine Lake are entirely shut down during the Winters due to terrible weather conditions. During the winter season, the weather conditions are worse due to heavy snowfall and falling avalanche risk. Please make a note of the fact that the roads to the Moraine Lake open sometime in late May or early June. And the gates are closed in October immediately after Canadian Thanksgiving week.
Related: Please click here to check all about Canadian Thanksgiving History.
3. Best Time to Visit Moraine Lake
When the roads are open in May, one wouldn't be able to witness the turquoise water of the Lake if they are visiting for the first time. The Lake might stay frozen until late May or even June as the Lake is located on a high elevation and type of temperature. It is only when the glaciers start melting that the temperature goes high, and the Lake starts to melt.
As one might have already calculated, Moraine Lake is open to visitors only six months a year. There is no point visiting it when you won't be able to devour everything it has to offer. To name a few, the mountain terrains & towns, turquoise lakes, large boulders & rocks, and much more. There are specific points and things one needs to consider while planning the trip, such as the best time to make this trip.
The one vantage point of making this trip in between early July till October Mid is that one won't miss out on anything. So, all the visitors should make this trip between July-October. Millions of people visit every year to enjoy these relics of nature. Some of the best activities offered here include biking, skiing, camping, hiking, kayaking, canoeing, and others.
The view this place offers is breathtaking. It has such a calming effect that it almost becomes therapeutic and makes you forget about all your problems.
4. A Few Things to Consider
4.1 Some of the areas are marked as protected areas because the wildlife is its inhabitants and is dependent on it. Forceful entry would be invading their life and home.
4.2 Some local tips you would like to follow are:
[a] Book a hotel close to the Lake
[b] Must try canoeing. So, don't forget to rent a Canoe.
[c] Always keep a water bottle with you and some light snacks.
[d] Stargazing
[e] Plan a picnic
[f] Small road trip on the other lake roads.
[g] Please follow the visitor's guidelines. Read/ listen to them thoroughly because they are meant for your safety. Not anyone else's.
4.3 There have been created some wildlife Outposts which you shouldn't even try to cross. If interested in watching the wildlife, please do so from far through the viewing platform.
It's essential to consider the weather conditions before visiting. But natural beauty is most mesmerizing in real-time. As informed before, the shoulder season to visit this place falls since the beginning of July and mid-October.
Anyone who visits here will never leave this place ever. Physically, yes, but the experiences, impressions, and imprints that it will leave on their mind and body would be everlasting.
I hope you enjoyed this article on All about Moraine Lake. I included the essential things in this article, which I found during my research for the same. Please feel free to point out any modifications or suggestions, if any, through the comments below.
Constructive criticism is always healthy for mental health. Also, let us know what other significant things could've been included in the article All About Moraine Lake.
Why Try Out Rocket.net - IcyCanada's recommended hosting provider