You have found the correct location if you are seeking the best Drumheller camping spots in Drumheller.
One of Alberta's crown jewels of tourism is Drumheller and the surrounding Alberta Badlands. Drumheller and the Alberta Badlands should be on everyone's "things to do in Alberta" list because of the spectacular canyons, strange-looking hoodoos, and one of the best dinosaur museums in the world that can be found there.
In addition to that, Drumheller is a fantastic location for going camping. It makes no difference whether you wish to wake up next to a tiny stream, look up at a star-filled sky, admire the golden-color coulees, or imagine yourself in a site where creatures once roamed. All of these things are possible when you stay in this area.
Drumheller has so many campgrounds like horseshoe canyon campground, dinosaur RV park, cozy cabin park, dinosaur trail RV resort, river grove campground, badlands campground, Wayne community campground, serviced RV sites, north dinosaur trail, badlands amphitheater, that those who wish to pitch a tent or roll up in an RV may choose from.
In this camping trip guide for Drumheller, we will provide you with a list of the top campgrounds in the area so that you can make an informed decision. We have included a range of campsites in Drumheller for every kind of traveler, so whether you want to park your RV in a spot with electricity or set up a tent in a more remote area, you can find what you're looking for here.
Although Drumheller is not particularly well known outside of Western Canada, it is renowned in that region for its spectacular dinosaur fossils, rich archaeological past, world-famous hoodoos, and outrageously beautiful badlands landscape.
It is one of Alberta's most well-known summer road trip destinations and a delightful destination for families. Because there are many activities to do in the region, including fantastic hiking, camping in Drumheller should be at the top of your list of things to do during the summer in Canada.
1. Here Are Some of The Sites of Drumheller camping
1.1. Hoodoo Rv Resort & Campground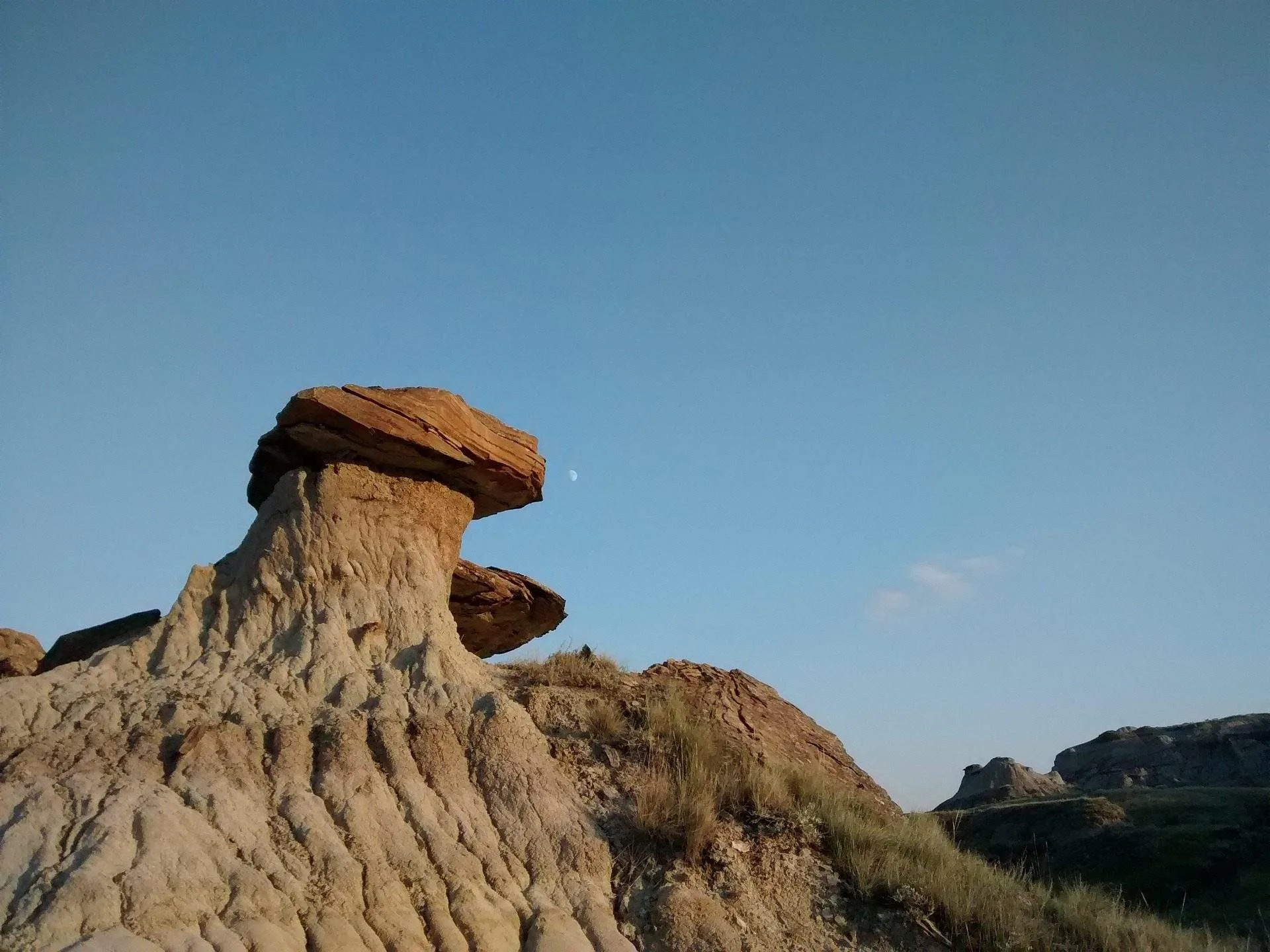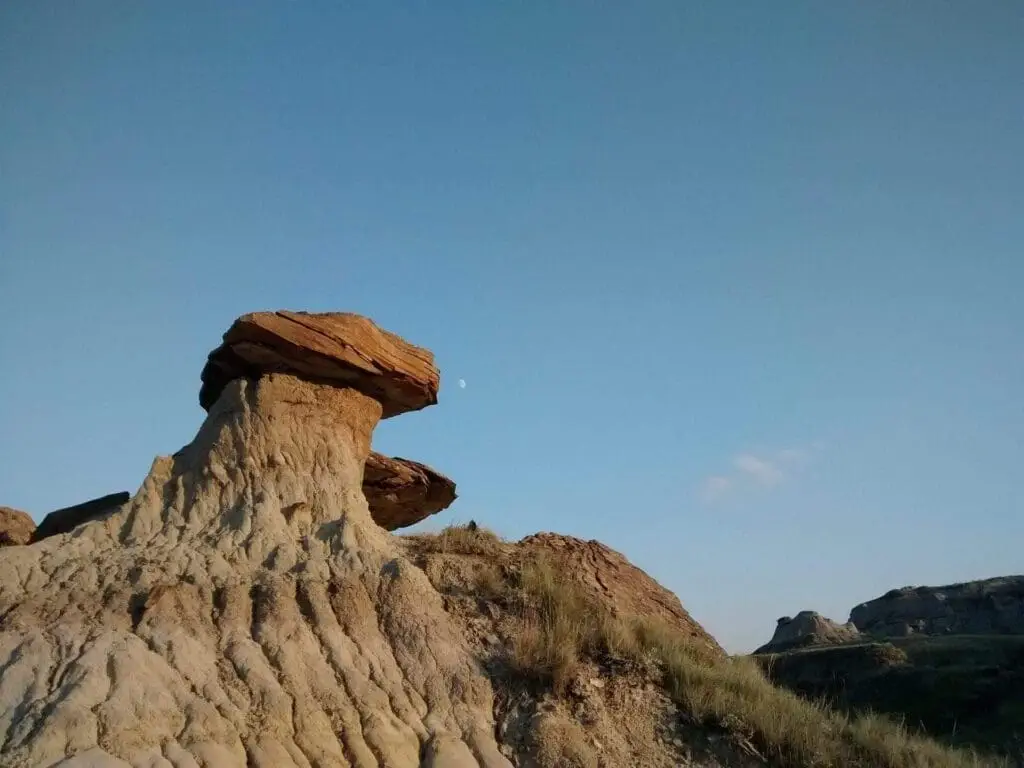 Let's get started with our guide to the most significant Drumheller camping and tent camping recommendations for the most extensive campgrounds in Drumheller. Hoodoo RV Resort & Campground is an excellent RV park in Drumheller; it has breathtaking vistas of the coulees, a large amount of green space, and spacious lots.
This campsite is just a 13-minute drive from the center of town, and it's only a 5-minute drive to the famed Hoodoos Trail trek, which is something that everyone who visits the region should do.
As was previously noted in a hoodoo RV resort, this RV park and campsite have huge sites, which are well-suited for accommodating large RVs. 135 powered sites, 35 tent sites, and 35 water sites at this campground.
A convenience store, high-speed internet access, coin-operated laundry facilities, baths, bathrooms, hiking paths, and an off-leashes area for dogs, among other amenities.
Even though this may not be considered "roughing it," a trip to Drumheller with your family can still be quite enjoyable since there are many activities to choose from.
1.2. Dinosaur RV Parks
Dinosaur RV Park is another fantastic Drumheller camping site located not too far from the sign that says "Welcome to Drumheller."
These two campgrounds in Drumheller camping in the dinosaur RV park are next to one another; nevertheless, they were both designed to accommodate recreational vehicles (RVs), and cozy cabin park provides a wide variety of services and facilities, Canada's most crucial outdoor stage, such as spotless restrooms and showers, free Wi-Fi, mini golf, an arcade, a playground, and more.
This is a terrific location for those individuals who want to be in the thick of everything that is going on. Even the well-known WHIFS Flapjack House may be reached on foot in only 7 minutes.
The campground in the dinosaur RV park is about a thirteen-minute walk from the world's most extensive north dinosaur trail, which you can climb to the top of.
1.3. High Eagle RV Park
The High Eagle RV Park is situated in a beautiful valley on the south bank of the Rosebud River, and it provides electricity and water to each of its sixty 30-AMP campsites.
The restrooms at this high eagle RV park are always spotless, and it also has a convenience shop and fire pits among its many other features. This RV Park is situated in the picturesque tiny town of Rosebud, about a half-hour drive from Drumheller.
Rosebud is most famous for being the location of the Rosebud Dinner Theatre and red deer river, which has received accolades from all over the globe.
In addition, the Rosebud River is an excellent location for canoeing and kayaking, making this a fantastic location overall for enjoying both cultural activities and natural adventures.
1.4. Little Fish Lake Provincial Park
Little Fish Lake Provincial Park is located around 40 minutes east of Drumheller. This park has thirteen tent sites in Drumheller caping with no services, fire pits, two camp stoves, a small sandy beach, and hand-pump drinking stations.
This is one of the best campgrounds in the Drumheller area, so if you want to get away from it all, this is the place to go.
1.5. River Grove Campground
River Grove is a campground that provides complete services and has 140 shaded RV sites and ten cottages. It is situated near the Red Deer River.
This campground has a variety of amenities for its guests, featuring free Wi-Fi, a children's playroom, two toilet amenities with coin-operated showers, cooking stations with hot water, a laundry facility, and even a convenience store and arcade.
This is an excellent location for campers seeking a relaxing time in Drumheller, and even if you don't feel like making your meals, downtown Drumheller is just a short walk away.
1.6. Dinosaur Trail RV Resort & Cabins
This RV Park, appropriately titled for this magnificent dinosaur-themed road trip, has 250 sites, water and sewage hook-ups, and powered sites, making it one of the most extensive campgrounds in Drumheller.
The road trip to the dinosaur trail RV resort is based around dinosaurs. There is also a playground, restrooms with showers, a laundry, a heated outdoor pool, and more.
Additionally, firewood is available for purchase. In addition, your four-legged friends are more than welcome, and if you don't travel with an RV, there are cottages for rent. On top of that, the site is unparalleled in its excellence.
The world-famous Royal Tyrell Museum is just a five-minute walk away, and Horsethief Canyon, one of the most magnificent sceneries in the region, can be reached in only five minutes by car from this location nestled adjacent to the N. Dinosaur Trail Roadway.
1.7. Horseshoe Canyon Campground
This Drumheller camping is new to the Alberta Badlands, providing travelers with quick access to the trails and panoramas of Horseshoe Canyon.
It would be a tremendous pleasure to be greeted with one of the most beautiful scenes in the whole area when one wakes up in the morning. Campers will have many sites to choose from, including both primitive and powered locations.
Furthermore, Horseshoe Canyon Campground offers its visitors clean bathrooms and shower facilities, free access to wireless internet, a campground, and even a general shop and ice cream parlor for their enjoyment.
It is just a 15-minute drive from Drumheller, and Mountain View Helicopters, located on-site, provides helicopter trips for those who want to see the landscape from a whole other perspective.
1.8. 11 Bridges Campground
This RV Park at the 11 Bridges Campground is owned and operated by a family and is located on the riverbank of the Rosebud River.
It is a campsite with all the amenities, including coin-operated showers, laundry services, fire pits, and washing facilities with hot water located outside.
Drumheller camping is only ten minutes away, and the Star Mine Suspension Bridge is within walking distance. In addition, they have fully maintained, partly serviced, and unserviced campsites, in addition to cabins for people who do not want to go camping.
Also, dogs are permitted, so guests do not need to leave their four-legged friends at home in 11 Bridges Campground RV.
1.9. Bleriot Ferry Provincial Recreation Area
This camping spot in Drumheller is conveniently located right adjacent to a ferry terminal where vehicles can take a quick trip over the river. It may be a surprise to see a ferry this far into the badlands, but there is one!
This charming campground on the riverbank has 28 undersupplied campsites accessible on a first-come, first-served basis.
It is the ideal place to unwind under the towering cottonwood trees. There is convenient access to the Red Deer River, making it possible to go canoeing, kayaking, fishing, or floating along the river while taking in the scenery of the meandering badlands.
1.10. Starland Recreation Area
It has three baseball fields, a playground, three abandoned house toilets, fire pits, access to cleaning, and a camp kitchen in addition to its 50 organized Drumheller campsites, sections allocated for group accommodation, nature trails, availability to fishing, and nature trails.
Additionally, visitors can fish in the area. There is a concise official hiking route in the region and good opportunities for hill climbing and exploring the surrounding area.
Access to the river has improved, so people can now fish and launch boats there. There are 50 sites explicitly designated for camping, overflow, and group camping places.
1.11. Last Chance Saloon RV & Campground
Not only are these hotels and bars old, but they have also been used in a few films, including one starring Jackie Chan called Shanghai Noon.
In addition to having magnificent vistas of the badlands, it is packed with relics and artifacts dating back to when coal was mined. But there's also a campsite here, in addition to the hotel, the restaurant, and the saloon!
1.12. Find the Church in the Woods
That is, without a doubt, the cutest thing ever. Along the Dinosaur Trail is where you'll find a little white chapel erected in 1968. It has a stunning location in the heart of the Badlands and is ideal for a quick halt (Highway 838).
It is available to the public. However, it can only accommodate a maximum of 6 people at any time, so you may have to take turns. Don't be concerned; seeing everything won't take long. During your tour of the sites in Drumheller, this pit stop will only take a short amount of time.
2. Are You Planning on Visiting Drumheller?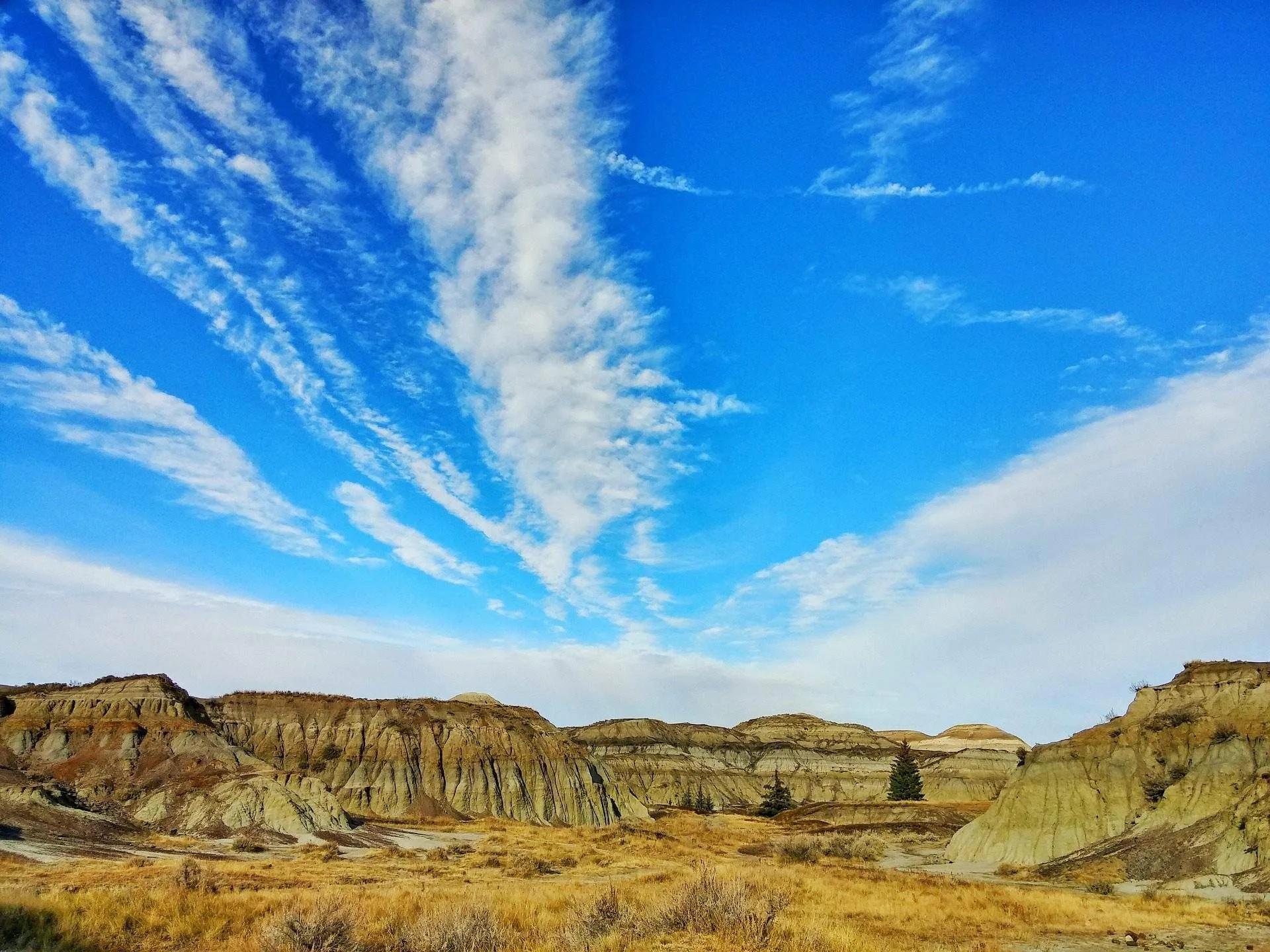 You must be excited about your future vacation to Drumheller if you've read this far into the post. If you haven't, you should probably stop reading. That is very cool! As can be seen, there are a lot of camping spots in and around Drumheller to choose from if you spend the night outside.
If you are looking for a comprehensive reference to all the finest things in the surrounding region, check out our guide to the most extraordinary things to do in Drumheller Camping.
3. Things for Children to Do in and Around Drumheller, Alberta
Drumheller camping attracts many families seeking vacation spots where their children will have a good time because of all the dinosaur things, the unique Badlands, and the magnificent hoodoos.
However, the Dinosaur Capital of the World takes things to the next level with its extensive selection of extra kid-friendly activities, which lift it from the status of "great road trip stop" to that of "top family destination." One of my first recollections of going on a road trip with my family is getting pictures taken next to the enormous dinosaur.
Now that all adults, almost all family, and friends have been to Drumheller camping on at least one occasion with their families. In addition to the activities on the previous list, which may also be done with children, a few attractions in Drumheller are designed exclusively for children.
4. Have a Picnic and Ride Your Bike Together
E-bikes are available for hire at Bikes & Bites, making it simpler to go about Drumheller and the surrounding region. They also provide a diverse assortment of foods that can be taken away and packed as picnic lunches, allowing customers to leave with everything they need to spend the whole day outside, taking in the scenery and the sights.
5. When Should You Travel to Drumheller in Canada?
Because the summers in Drumheller are warm and bright and the winters are very lengthy and frigid, June through September are the ideal time to come. Long summer days give many possibilities to go outdoors and enjoy the natural Badlands environment.
Still, it can also grow to the point where it is scorching, so it is essential to pay attention to the weather and get an early start before the heat of the day sets in. Many people have found that it is most effective to spend the morning exploring the canyons and hiking and to keep the afternoon for visiting museums and spray parks.
6. Conclusion
Imagine being greeted each morning by birds chirping, a nearby brook, and the crisp, clean air. The tent's canvas begins to glimmer with the early morning light, and you pull yourself out of the warmth of your sleeping bag with a sense of curiosity.
As you unzip the entrance of your tent, you are astonished by the foreign landscape: green and golden coulees extend as far as the eye can see, and odd pillars of stone loom in the distance, with their various rock-texture bands circumscribing them like the rings of a tree trunk.
The Canadian Badlands may be seen in the background. And the following is your camping guide for Drumheller Camping so that you may make the experience mentioned above a reality!
Few sites on earth provide panoramas as spectacular as the Southern Alberta Badlands campground support and putting your tent or RV in a camping area near Drumheller puts you right in the middle.
The Southern Alberta Badlands have landscapes that seem like an extraterrestrial civilization created them. Drumheller camping delivers the finest of Southern Alberta in one handy package thanks to its winding hiking routes suitable for hikers of all ability levels, dinosaur trail seemingly unending sceneries that are sure to take your breath away, and access to the Royal Tyrrell Museum.
It doesn't matter whether you want to spend a few days in the Canadian Badlands or if you want to spend the whole summer there; either way, you need to find a camping place by clicking on the link that is suitable for you and your family. Children will surely enjoy their time in Drumheller, and those who like the outdoors, history, and walking trails.
But it stands out from the others as a good destination for families because of the incredible range of things to do there and the attractions that are geared specifically toward children. Drumheller camping is an excellent option for families, whether searching for a place to stay on a road trip across Western Canada or trying to decide where they want to establish themselves permanently.
As an Amazon Associate, Icy Canada earns from qualifying purchases.
[amazon_auto_links id="81298"]
The Icy Canada team strives to create content that matters. It's why our content is written by travel writers, authority experts, well-known authors, and niche experts. Our content is also periodically reviewed by expert authors for accuracy and trustworthiness.
As an Amazon Associate, Icy Canada earns from qualifying purchases. [amazon_auto_links id="81298"]