Waterton National Park, a must-visit travelling destination located in the southwest corner of Alberta, is one of the world's most beautiful National Parks in Canada. It is more significant as a part of the world's first Glacier International Peace Park and is also a UNESCO world heritage site.
Waterton Lakes National Park is girdled by the Canadian Rockies and prairies and covers an area of 505 square kilometres. Its unmatched natural beauty, profuse wildlife, and limitless outdoor recreations attract tourists worldwide.
Named after renowned English naturalist and conservationist Charles Waterton, the beautiful Waterton Lakes National Park was established in 1895 and maintained by Parks Canada Agency.
1. Waterton International Peace Park
The world's first Peace Park was established in 1932 by combining Glacier National Park, Montana, and Waterton Lakes National Park, Alberta. Since 2007 the park is popularly known as International Dark-Sky Park. Both parks have two separate entrance gates and different fees.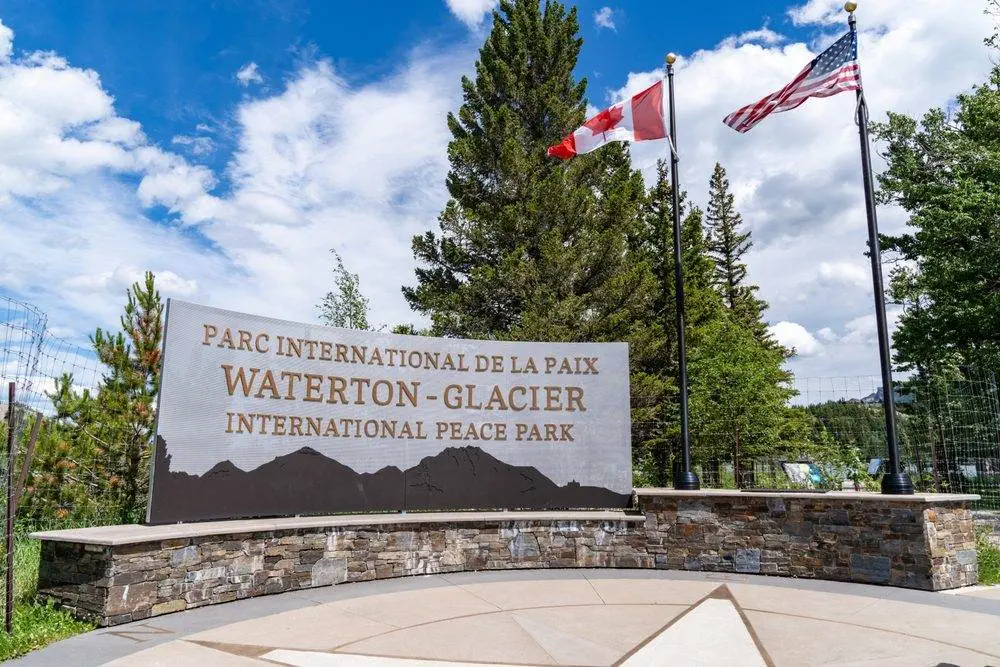 2. About Waterton Lakes National Park
2.1. Cultural History
The Waterton Lakes has an old history of about 10000 years round. The area was originally inhabited by the Blackfoot people. Thousand years old various archaeological sites like the Prince of Wales Hotel which is a National Historic Site of Canada also, and several historic buildings, rock engraving, and rock painting are the rich source of history here.
The park is also the home of many endangered species like the peregrine falcon whitebark pine tree, various wildlife like bighorn sheep, moose, mountain goats, grizzly bears, wolves, elk, and black bears, and 250 species of birds like Golden Eagles, Bald Eagles, and Ospreys.
The Canadian Pacific Railway started its project in the late 1800s in this area. A dominion land surveyor William Pearce first suggested building a park in Waterton Lakes in the year 1886. The proposal was unheard of for so many years by the Government Authority and finally, it was approved in 1895 and the Waterton Lakes National Park was established. Lately, in 1932, the park was extended to the size of over 500 square miles.
The park also has a significant role to conserve and restore the natural habitats and cultural history of this area.
2.2. Science and Environment
Many researchers and scientists are working here to study the diverse fields of nature like climatology, geology, hydrology, biology, and ecology. They study the various plants and animals, rocks, natural habitats, rare species, and historical connections with them.
2.3. Management
Waterton Lakes National Park is managed by Parks Canada. Parks Canada works in collaboration with local communities, Indigenous Peoples, and other stakeholders to ensure that the park's natural and cultural resources are protected and conserved for future generations.
 3. Stupendous Eye-shots of Waterton National Park
Waterton National Park has so many stunning great places and eye-catching views, including mountain ranges, lakes, waterfalls, canyons, and other natural features that offer visitors a sense of the park's natural beauty. Some of the most stupendous eye-shots of the park include:
3.1. Waterton Lakes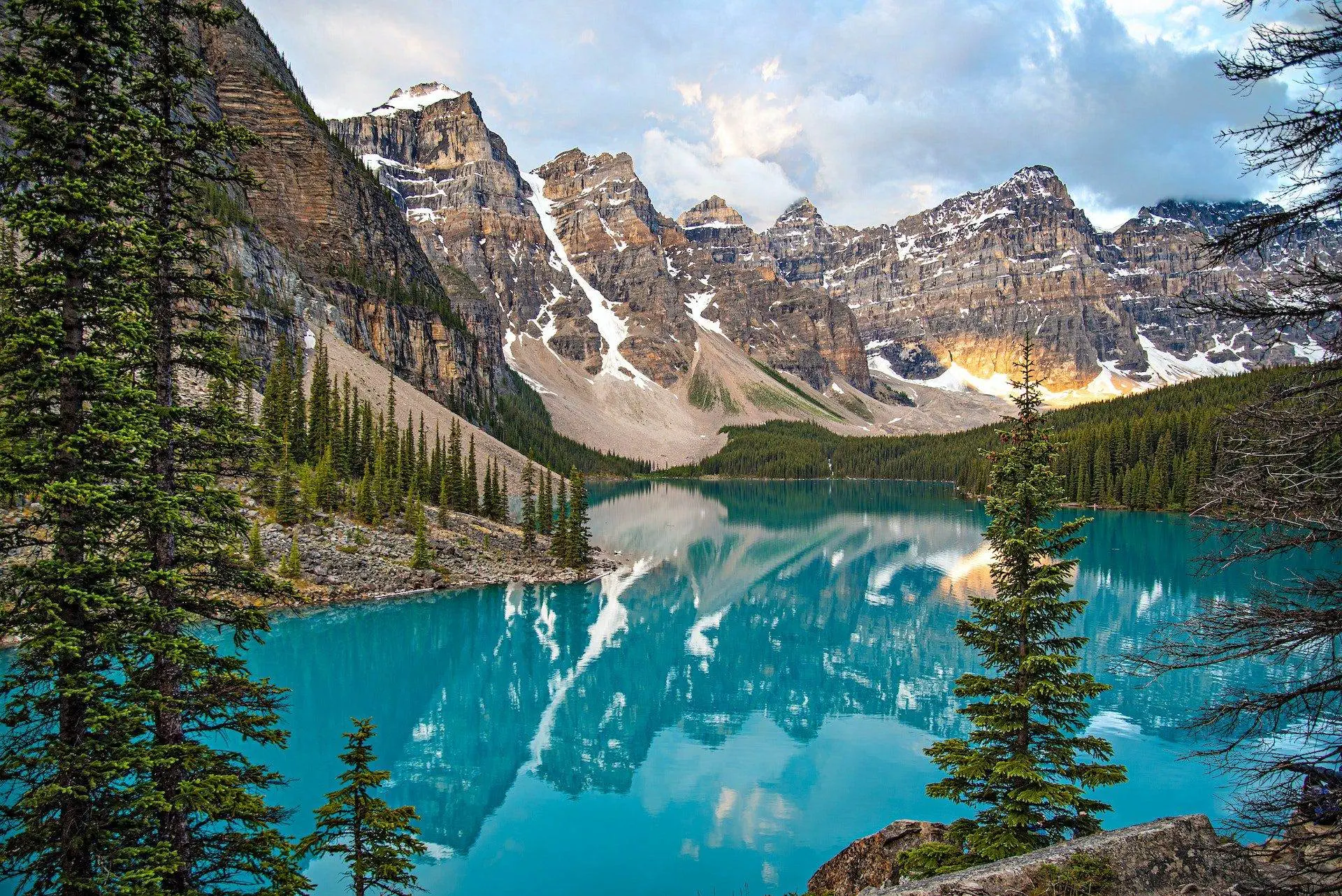 Waterton Lake is the deepest lake in the Canadian Rockies (140 meters) spreading about 14.5 kilometers long. There are varied ways to enjoy like, swimming, boating, fishing, and kayaking.
The best way to experience the lake is to book a scenic boat, by which you can get a panoramic view of the Waterton Lakes and the surrounding landscapes and forests
3.2. Bertha Lake
Bertha Lake is located at the end of a 6.5 km long hiking trail and visitors can experience the picturesque view of the beautiful forests, mountains, and wildlife in just 2-3 hours.
Picnicking facility is also available here with picnic tables and fireplaces.
3.3. The Rocky Mountains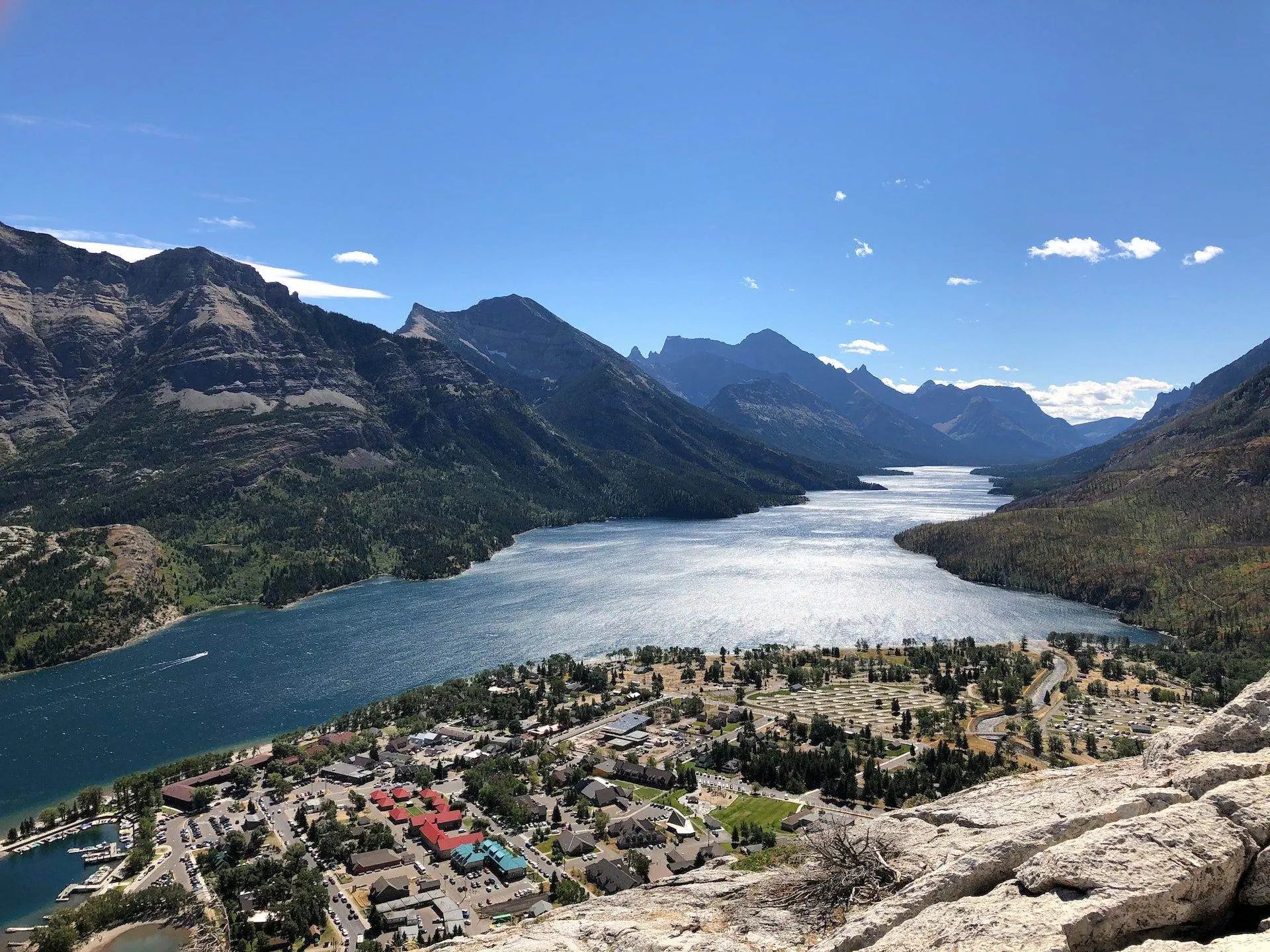 The Waterton National Park is surrounded by the mind-blowing Rocky Mountain vistas of western Canada.
You can get the experience of hiking with trails ranging from stunning mountain peaks like Mount Anderson, Mount Rowe, Mount Blakiston, and Red Rock Canyon. Mount Cleveland, a must-go destination for experienced hikers is the highest peak of Waterton National Park.
3.4. Cameron Falls
Cameron Falls is situated on Evergreen Avenue, Alberta. It flows very pure and clear water.
The main interesting fact about the falls is the colour of their water. In the rainy season, the natural colour of the water changes to pink. Actually when heavy rainfall comes then its water is mixed with the red mudstones named argillite and makes it pink.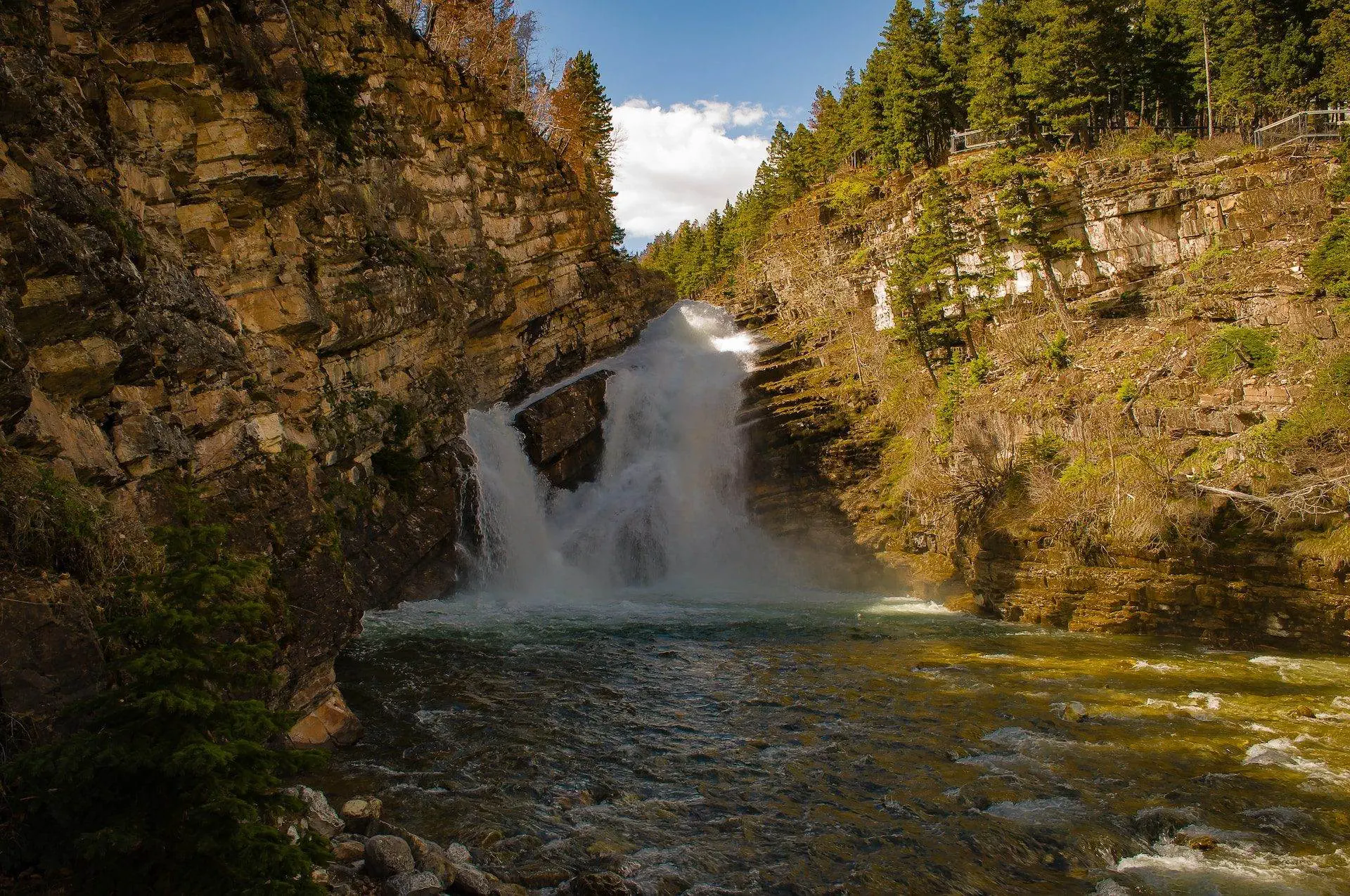 Cameron Falls attracts thousands or millions of people to see its natural unpainted beauty around the world.
3.5. Bison Paddock Loop
In Waterton Lakes National Park, visitors can view bison very closely in the lap of nature by passing through the Bison Paddock Loop road. It's a spectacular experience. Parks Canada especially took the initiative to conserve this near-extinction species. Bison have been closely connected with Blackfoot people for so many years in Waterton township, so their conservation can restore the historical and cultural heritage of the place.
3.6. Red Rock Canyon
Red Rock Canyon is a featured formation of spectacular red-coloured rock with a translucent stream flowing through it. Throughout the hiking journey on these trails, visitors can enjoy the scenic beauty of the nature of Waterton Lake National Park.
4. Hiking at Waterton National Park
4.1. Bears Hump
Bears Hump is a round-trip trail of about 2.8 km for moderate-level hiking. The tourists can have an unmatched experience on this journey by hiking through the incredible views of mountain rocks, forests, and wildlife like bighorn sheep, black bears, and elk.
4.2. Crypt Lake Trails
Crypt Lake Trails starts from Waterton Lake Shoreline Cruise dock, and you can hike about 17 km long through dense scenic terrain.
Some of the most breathtaking landscapes of the park will give pleasure to your eyes and peace to your mind here.
4.3. Blakiston Valley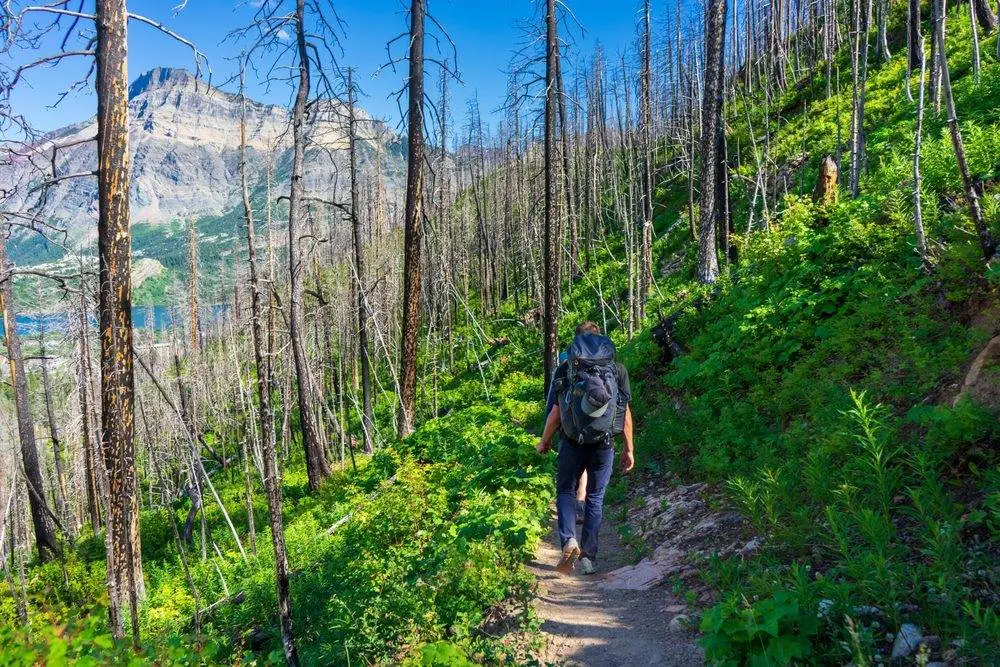 Blakiston Valley, a 20 km long moderate hiking trail, is famous for its scenic beauty, wildlife, wildflowers, and photography. It takes tourists through open meadows, mountain peaks, forested terrain, avalanche slopes, and the Blakiston River.
The trail begins from Red Rock Canyon, passing through the grassy part of Red Rock Creek and Blakiston Creek it finally lands on the base of Blakiston Falls.
You should not miss the unique view of Blakiston Falls with running water from the two different viewing platforms here.
4.4. Carthew Alderson Trail
Carthew Alderson Trail starts its 19 km journey at the shores of Cameron Lake and passes through the eye-catching views of prairies, and rocky mountain peaks like Carthew Summit, Alderson Lake, and Carthew Lake, and ends at Cameron Falls.
It's a challenging hiking trip of about 8 hours long, so you can book a daily shuttle from Waterton Village to make your tour more comfortable. You can also enjoy horseback riding and e-cycling here.
5. Camping in Waterton Lakes
Waterton National Park is a paradise for campers as there are so many spots and things to do for camping in all seasons. Before coming for camp you have to book an advance pass from the Parks Canada website else you may not get a site for camping.
The best time for camping in Waterton Lakes is June to September months during which July-August is the peak.
In Waterton Lakes National Park, there are many sites for camping. Some of them are:
Crandell Mountain
Crooked Creek Campground
Backcountry Camping
Waterton Townsite
Pass Creek – Winter Camping
Prairie Peaks Campground
Waterton Reservoir Campground
Belly River Campground
Exploring and seeing animals in the wild is very exciting, but this is sometimes risky. So we should obey some safety rules for ourselves. For safe wildlife viewing we should bring a binocular or a telephoto lens and should not try to get closer to the wild animals.
6. Food and Accommodation
6.1. Prince of Wales Hotel
This historic hotel was built by the Great Northern Railway in 1927. Its magnificent view of Waterton Lakes National Park wins everyone's heart. In the Prince of Wales Hotel, both food and lodging facilities are available.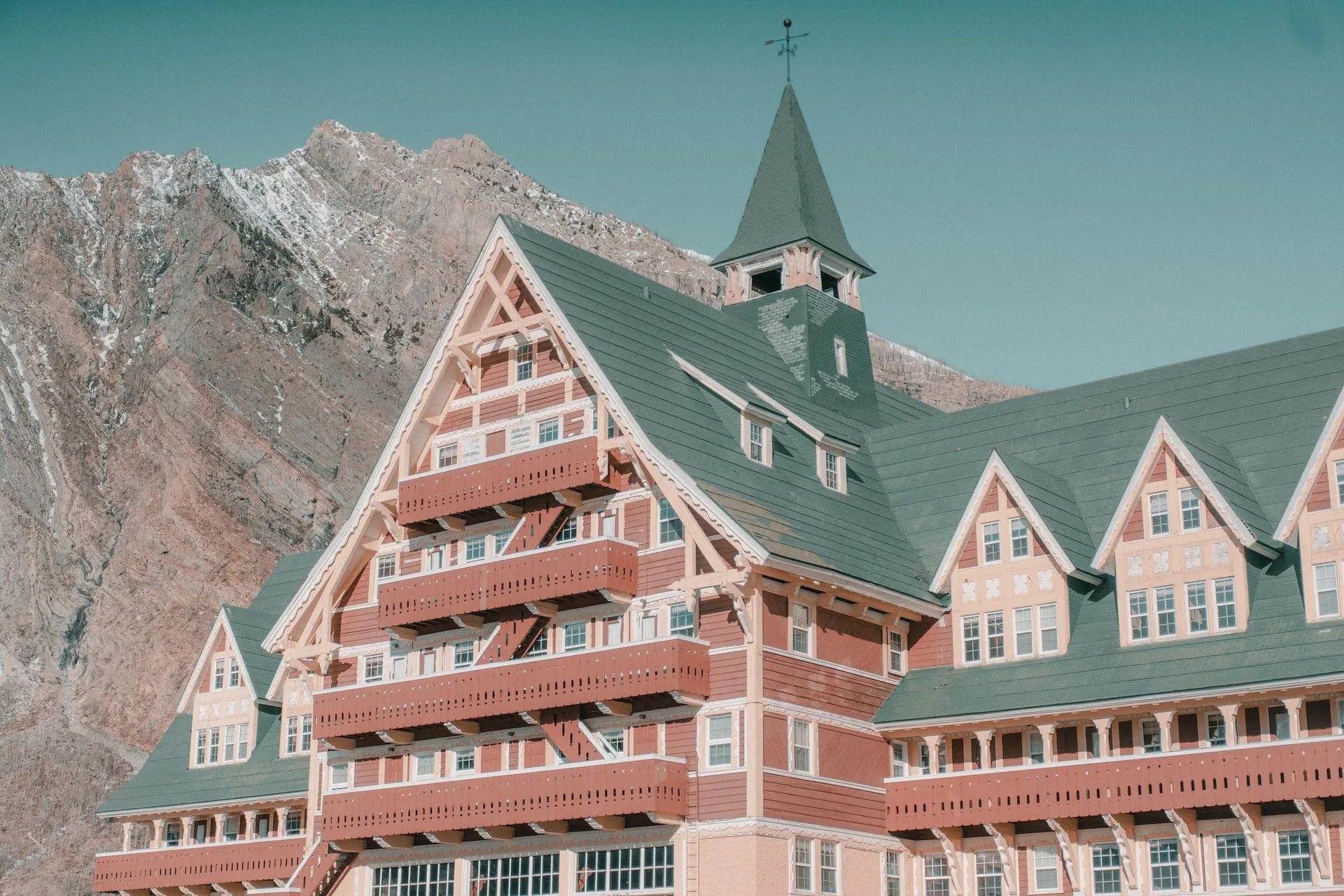 6.2. Waterton Lakes Lodge Resort
This open year-round resort is located in the center of the Waterton National Park having eleven buildings with luxurious accommodations and restaurants. The guests are welcomed with a rustic atmosphere to relax and dine in Waterton Lakes Lodge Resort.
6.3. Crandell Mountain Lodge
The Alberta Housekeeping Award winner Crandell Mountain Lodge is a must-stay destination for travellers to get a quaint experience. It's a perfect place to explore Alberta's countryside breakfast and accommodation. This lodge's peacefulness will help you get rid of tiredness and make you relax.
6.4. Royal Stewart Dining Room
A part of the Prince of Wales Hotel will give you a quaint experience of dinners. They serve a breakfast buffet in the morning and world-class grand dinners in the evening at a reasonable price.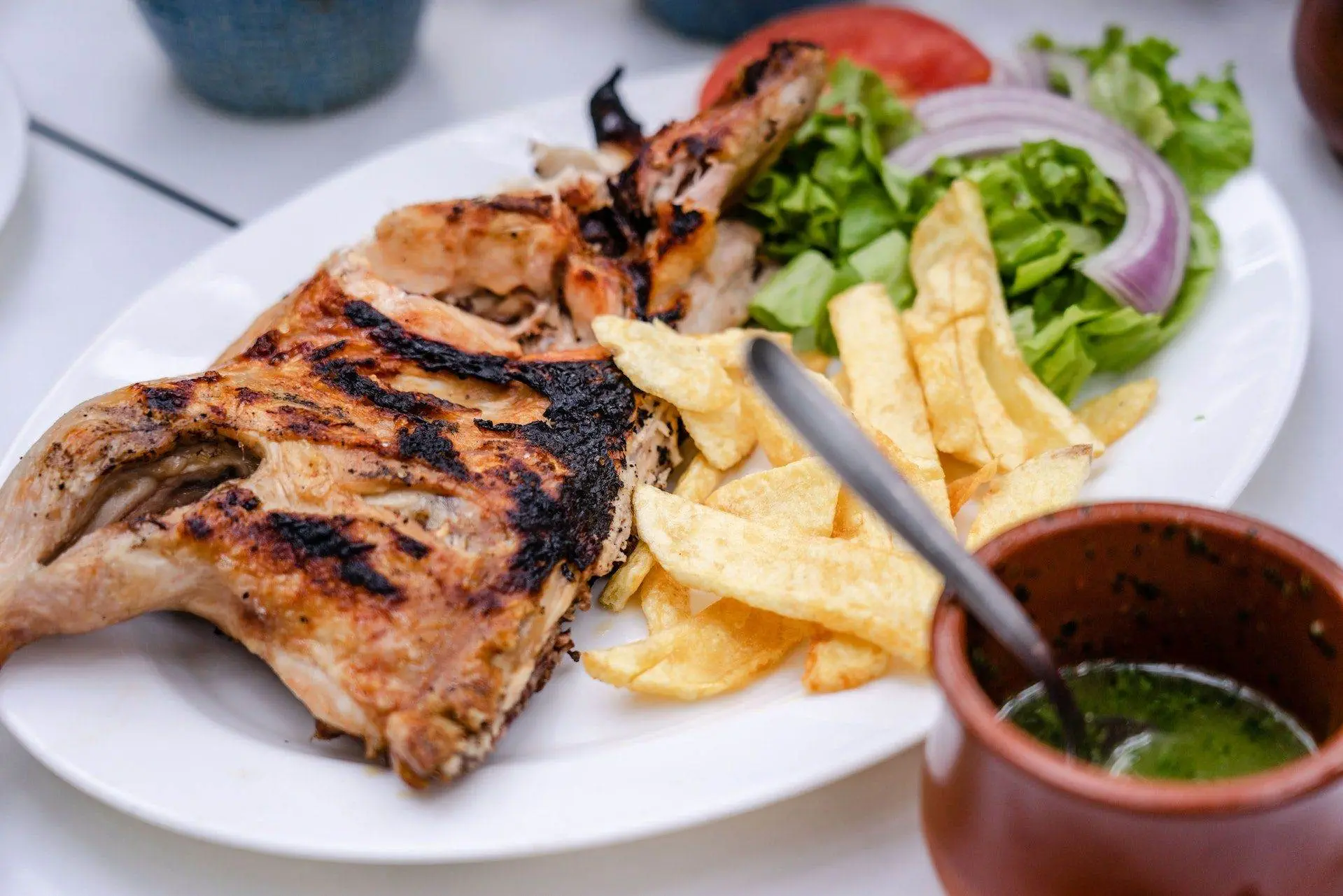 6.5. Waterton Glacier Suites
Located in the center of Waterton Lakes National Park, Waterton Glacier Suites is the best open year-round hotel for a home-like feel to enjoy the beauty of Waterton. The Red Rock Trattoria is a plus point for foodies here. Waterton Glacier Suites is the perfect hotel for a family tour.
6.6. Bayshore Inn & Spa
Owned and operated by the Suleman family for 33 years, Bayshore Inn & Spa is the only hotel located by the lakefront of Waterton Lake. This well-equipped rustic hotel gives you unforgettable coziness and hospitality. The hotel offers a Serenity spa, Thirsty Bear Kitchen and Bar, Lakefront rooms, Deluxe and Romantic suites, Starbucks Bistro, and many more.
7. How to Reach Waterton National Park
7.1. By Air
The two nearest international airports are – 1. Kalispell, Montana (3.5 hours drive away from Waterton) 2. Calgary, Alberta (3 hours drive away from Waterton).
There are two local airports also – Great Falls Airport, Montana, and Lethbridge Airport, Alberta (1.5 hours drive away).
7.2. By Car
From Glacier National Park 137 miles (2.5 hours drive).
Highway south 2 –> Fort MacLeod –> West on Highway 3 –> Pincher Creek on Highway 6
Ending Thoughts
Waterton National Park is a hidden treasure of the Canadian Rockies Mountains, offering bountiful wildlife, breathtaking natural beauty, and limitless outdoor amusement opportunities. Whether you're an outdoor connoisseur, an environmentalist, or just looking for a peaceful escape, Waterton Lakes National Park has something for everyone.
So, get ready with a backpack and come discover the unforgettable beauty of this conspicuous place for you and your family.