All the Best Burgers in Toronto are available in this article specially for you.
Burgers are the perfect comfort food, but for foodies in Toronto, it might be challenging to locate the best place to eat. Choosing just one restaurant might be difficult, with so many possibilities.
The fact that hamburgers are among the most popular foods in the world is not surprising, and for a good reason.  To begin with, the burger must be able to continue to be structurally sound after you bite into it.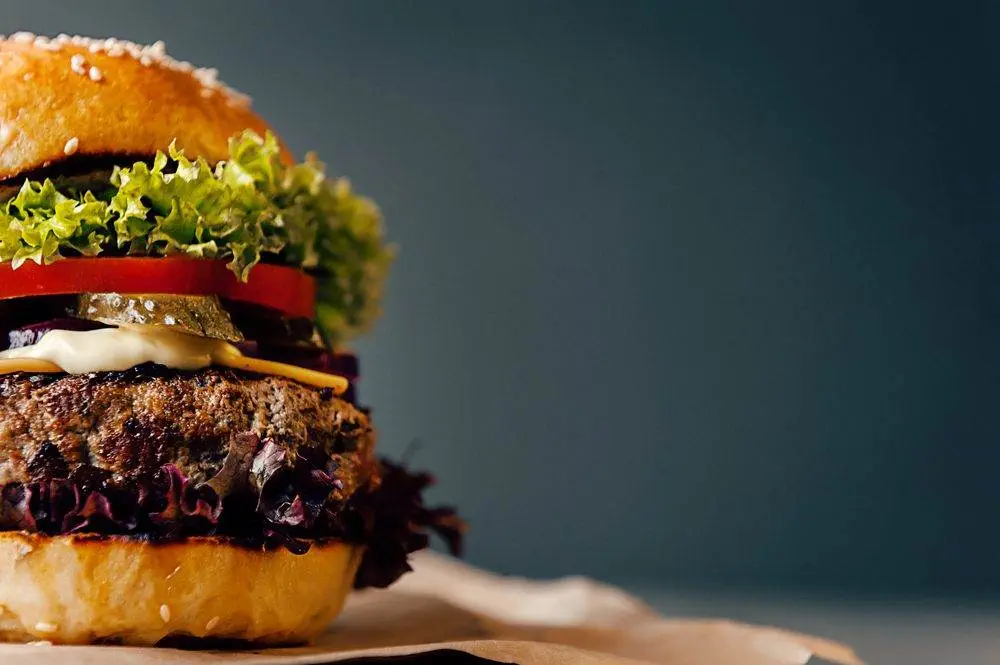 Who wants to deal with washing up all the toppings after a meal? Second, the patties must be substantial, juicy, and springy when you bite them.
Finally, a sauce is a must-have for any burger. Like the Big Mac, each burger should be served with a special sauce to match the other ingredients and tie the whole thing together.
Are you hungry? You're lucky because we've compiled a list of the best burgers in Toronto based on the quality, ambiance, and specialty burgers they provide. These burger joints will certainly sate your appetite.
Best burgers in Toronto
Now that you know what constitutes a good burger start sampling some of the best burgers in Toronto!
1. Ozzy's Burgers Toronto
To start with the best burgers in Toronto, Ozzy's hit number one. Whether you're a vegetarian, Ozzy's serves some of the greatest burgers in town. 
There is something on the menu for everyone because there are large burger options! Visit their store to sample Toronto's freshest burgers and steak sandwiches.
The meat around here is never frozen! At Ozzy's, they always ensure that every ingredient that enters the building is of the highest caliber so that you may enjoy the food without compromising your taste or commitment to a healthy lifestyle.
Any foodie should try the traditional Ozzy's Steak Sandwich, and the High-Level Beef patty burgers are the best around if you're craving a juicy, beefy burger. 
Additionally, they offer everyone's favorites, like Antioch and classic cheeseburgers!
When you enter this tiny restaurant, you first see all the inviting streets. The entire establishment exudes an air of coziness and welcome, and the staff members who smile and greet each patron make sure to explore every square inch to be aware of what's happening and demonstrate how much they care about your time here.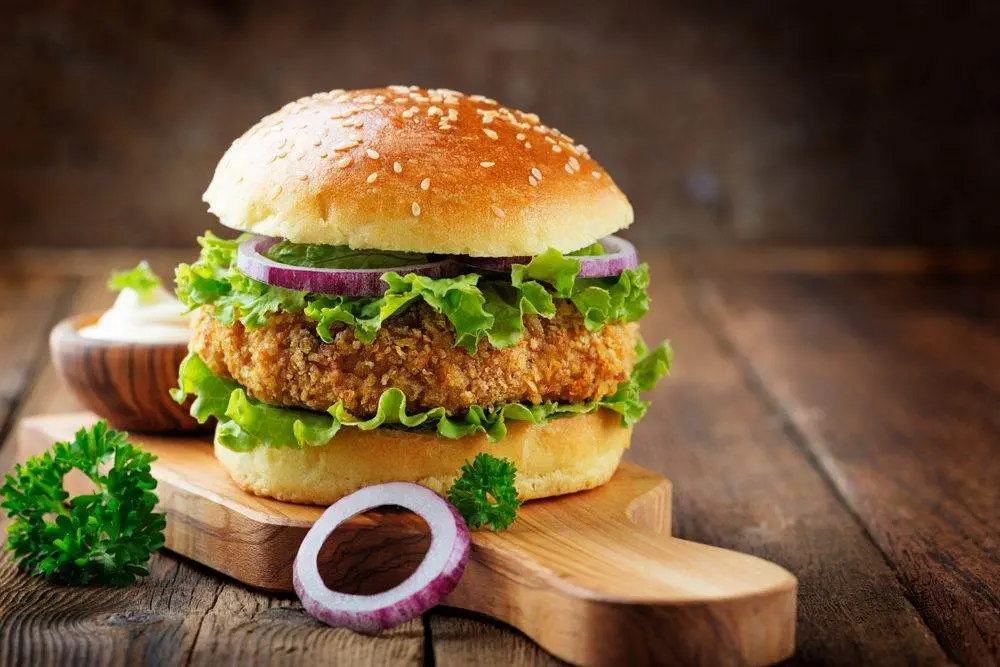 2. Burger Drops
Burger Drops is one of the most reputable fast-food restaurants, serving juicy, fresh burgers that will satisfy you. 
Their special combination of premium burgers is made with only the finest, freshest beef. Your talented chefs can always rely on exceptional flavor because of their daily deliveries and weekly grounding!
The best burgers are created from scratch, but those hand-formed hold a special place in their hearts. 
Each patty is formed by hand by The Burger Drops, who then crush it to perfection with care and accuracy that would make any true burger lover swoon.
They offer various cuisine options, including authentic Chicken Sandwiches, American and perfect cheeseburgers, potato buns, and more. 
You won't be dissatisfied with the service at this restaurant because of the fantastic and amiable employees.
What are you waiting for? They immediately make you feel like a family member, and the costs are fair.
3. The Burgernator
The next on the list for best burgers in Toronto is the Burgernator; if you're feeling hungry, hop to this place.
They are well recognized for their B.M.D. Burger, which they co-created with a few other amazing nearby restaurants! There are several delicious lettuce-topped burgers. 
Like the classic arsenal beef topped with tomato, melted American cheese, and fries; the chipotle B.B.Q. The sauce is delicious. In addition to this, vegetarian choices are also available.
They not only offer a fantastic assortment, but their food tastes incredibly good and fresh. 
A wonderful addition to any list of cuisine in Toronto that you must try. This restaurant's staff is outstanding! They are helpful and kind. There is also something for everyone to appreciate in terms of the food.
Don't hesitate to go there right away whether you prefer lighter options or heavier meals; even a variety of choices if you're interested in trying something new!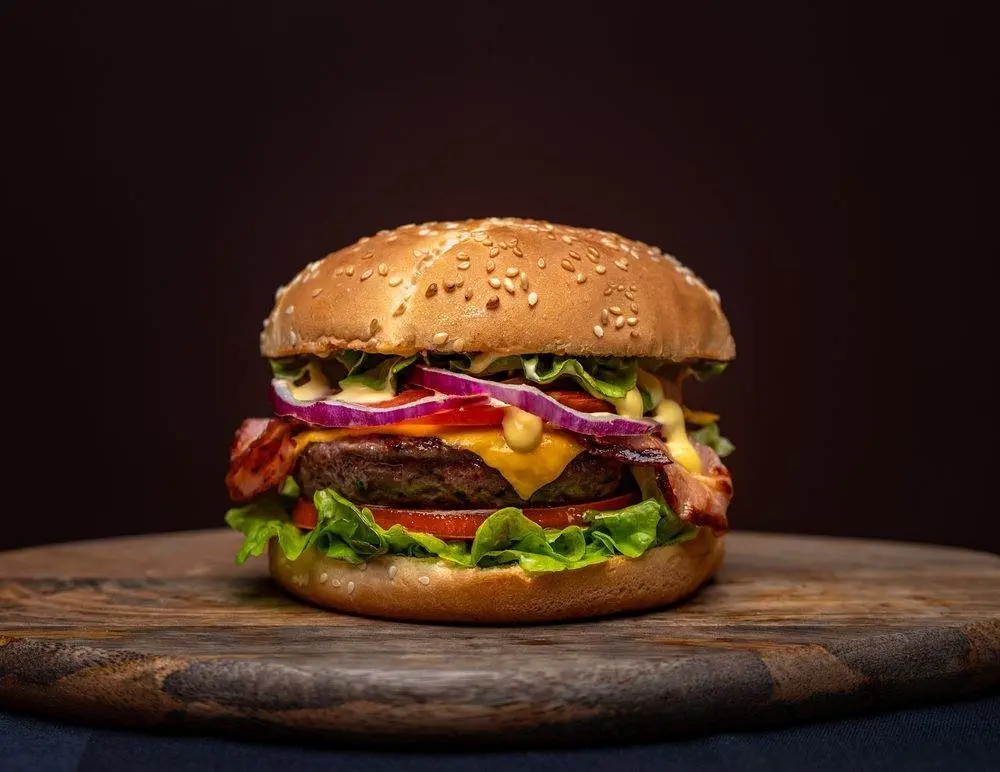 4. Top Gun Burger
The greatest hamburgers in town can be found at Top Gun Burger. Whether it's a bun prepared for people with allergies or something made entirely of organic ingredients, the menu has something for everyone!
The tasty grilled cheese buns are delicious. They provide Top Gun Burgers that will dazzle your palate! With chicken that virtually melts in your mouth tender and a steak sandwich with just the proper amount of pepper to liven things up without being overbearing, this eatery is a sure bet.
Top Gun Burger, functioning as an innovator in its field, is on a quest to revive the lost tradition and hankering for gourmet burgers. 
The staff is nice and friendly, and they make wonderful menu recommendations so you may choose what you want to taste more easily.
It's comforting to know that there are establishments like these that still put thought and care into their food in a society where fast food is the standard. 
When you order one, everything from beef patties to cheese does not disappoint you—the ingredients here demonstrate how much they appreciate what ends up on your plate!
5. Big Smoke Burger
The big smoke burger is next on Toronto's list of best burgers. Whether it's wonderful food or outstanding customer service, they offer something to sate every craving! Your go-to place for a delicious burger and fantastic poutine is Big Smoke Burger.
Fresh, high-quality ingredients are used to make their gourmet burgers. They attempt to use local ingredients to ensure that your food hasn't traveled more than a few miles from where it was farmed or harvested.
They provide a wide range of specialty burgers, including The Double Smoke Stack, the Smoky-aged Cheddar Bacon Burger, and maple smoked bacon. 
It will take days to read through their extensive menu and all the delicious alternatives! Big Smoke Burger provides grilled and southern-fried chicken burgers for people who enjoy chicken. 
The vegetarian, the cheese, or the plain old "classic" are their three enticing variations on the basic burger.
Both the meal and the service are excellent. This restaurant has a great environment, as seen by the delicious burgers and the welcoming employees, who immediately make you feel at home.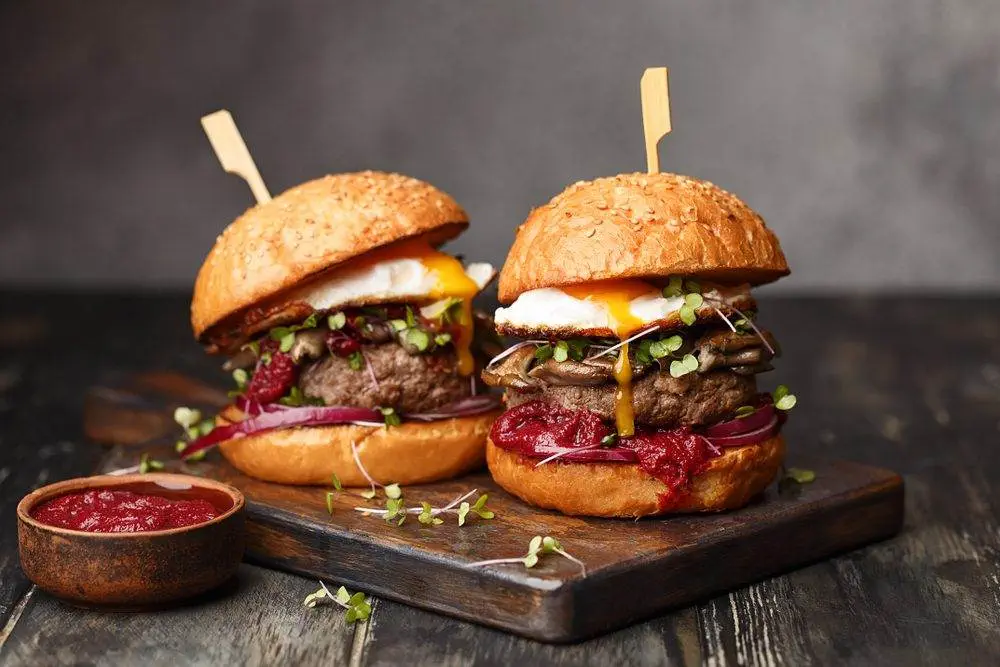 6. Happy Burger
Locals love The Happy Burger, and it's simple to understand why. This restaurant offers something for everyone with its excellent, fresh ingredients served quickly and with friendly service! The Happy Burger menu is as simple and uncomplicated as its name.
Individuals who want this sort of meat over more conventional mainstream meats like pork or chicken offer a selection of smash burgers, waffle fries, hot dogs, and pastrami options. 
The star of this show is the wonderfully cooked, all-beef burger patty. They offer vegan options along with minimalist renditions of traditional cuisine! The happy burger is the ideal spot to get a burger if you need some hearty fare. 
It is spiced up to how you like it; their new smash drizzles on top. Because of the vegan option, this is considered one of the best restaurants in Toronto.
The crunchy edges that result from being grilled over an intense heat source make every bite even more delectable. 
With no seats other than a standing area surrounded by subway tiles, the emphasis is retained on indoor cooking.
In this takeout location with large windows, customers may order and wait to be served by staff who tirelessly work their way through the orders placed while providing customers with insights into what goes into making burgers from various components!
7. Jumbo Burgers
In the burger industry, Jumbo Burgers is a well-known brand. Since its establishment in 1972, they have taken great satisfaction in serving its patrons the greatest burgers in Toronto! 
From a basic yet excellent cheeseburger to an elaborate double banquet burger that will satisfy you, you can have it all!
They are unmatched in their dedication to quality, with each ingredient carefully chosen for optimum effect. You may feel good about what you're putting into your body because their ingredients are all-natural and fresh.
They are renowned for serving wonderful food at fair costs. They provide takeout and vegetarian options to order online and deliver or pick up in person.
You'll struggle to find items of higher quality than those offered here, so try some traditional charbroiled burgers in addition to everything else on your plate or in takeout—the staff will ensure you're happy with your decision!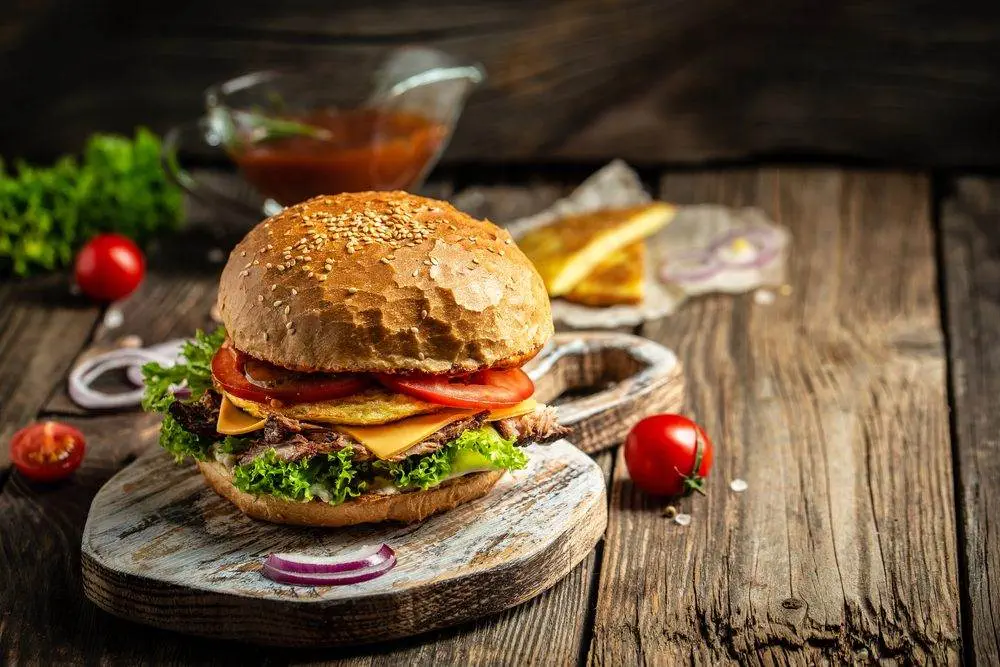 8. Plan B – Handmade Burgers, Boerewors and Braai
Up next on the list of best burgers in Toronto is this; only one restaurant in town, Plan B Handmade Burgers, Boerewors & Braai, serves authentic South African barbeque and burgers. 
PlanB's Saucy Burger and Monster JoBurger are just two of the many saucy burgers they offer.
The Bree Street Burger and the Bareburger, which come with any sides you choose, are other options on the menu. 
The spices and flavors are superb! They believe that great food begins with high-quality, never-processed or produced ingredients.
No matter what you order, every piece of meat at this restaurant is hand-crafted by devoted employees who take great pride in their work.
Come try them out today and receive one complimentary side dish in addition to any meal you purchase from the menu because they know your enthusiasm for fine cuisine.
9. Riverside Burgers
Riverside Burgers serves juicy, mouthwatering, and the best burgers in Toronto. They have a well-deserved reputation for having some of the greatest! They take pleasure in making the best, freshest burgers in the area! Not your typical fast-food restaurant, this one.
Both their Signature Burger, which combines all their favorite components into a delicious dish, and their Classic Burgers will keep you coming back for more, just as you do for work every day.
They have a team that is exclusively focused on ensuring that your meat and produce taste their finest at the peak of their smoking process. 
They take great pride in their house-cured meats, made with premium ingredients to suit every palate.
The staff is very welcoming and accommodating, offering fantastic customer service that will have you wanting to return very soon! 
There is no excuse not to try out this fantastic establishment in town, and rates are reasonable enough for most budgets, so don't hold off!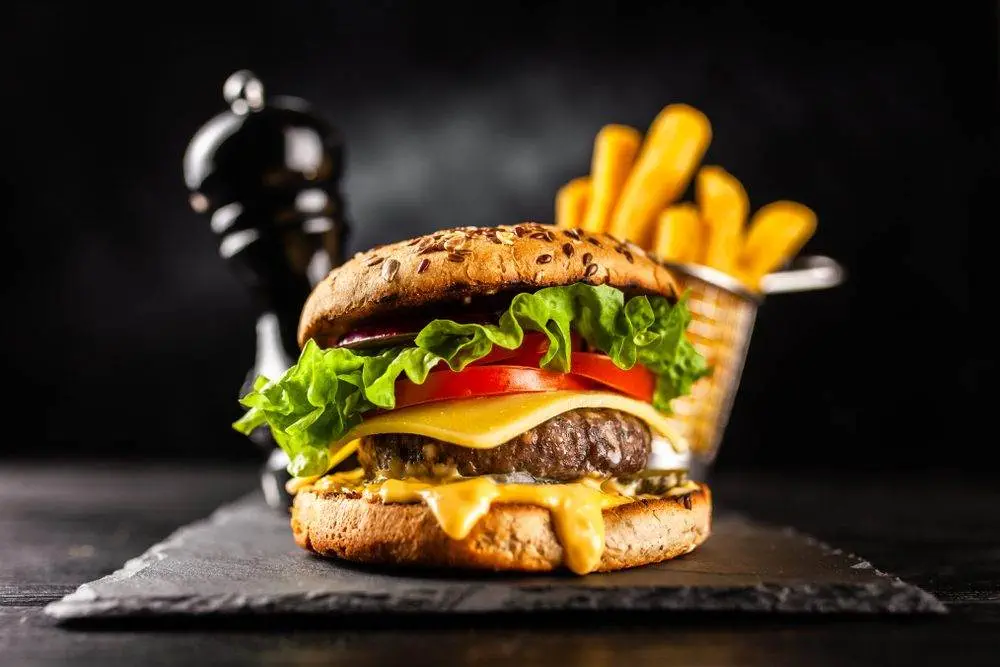 10. Five guys
Since 1986, the family-run burger restaurant Five Guys has been operating. Five Guys was founded due to the Murrell brothers' determination to start by pursuing their business interests.
After being hand-formed, the burgers at Five Guys are freshly made on a flat-top grill. 
The buns are made in-house in a bakery and heated to perfect toast using only real ingredients. Everyone can find a delicious burger at this restaurant.
You may find something to fit your taste buds here, from their famous bacon cheeseburgers to their basic but delicious hamburger and everything in between! 
At Five Guys, you can select any toppings you desire. That's why it is one of the best burgers in Toronto. They put a lot of effort into giving customers the best dining experience. 
Whether with their fresh ground beef, double-frying your fries in 100 percent peanut oil, or manually chopping the ingredients each morning just for you! The options are virtually limitless, with so many various kinds of burgers and milkshakes.
11. Holy chuck
Holy chuck is the last on the list of best burgers in Toronto. A pioneer in Toronto's burger culture is holy chuck. Since our opening on September 7th, 2011, holy chuck has made a significant impact and a bold statement. 
Our hand-rolled patties are produced from aged, premium meat freshly ground every hour. The place features a comfortable diner atmosphere and courteous personnel. 
Every time, the dish is perfectly cooked and tasty; just don't be rude dude Overall, this place is amazing. 
Their menu includes delicious caramelized onions, double cheeseburger, pickled jalapeño mayo, grilled beef patty, maple beef bacon, hot dogs, two grilled cheese buns, or whatever you crave. 
The shakes and desserts here are super yummy; you won't stop having them. It's a must-try.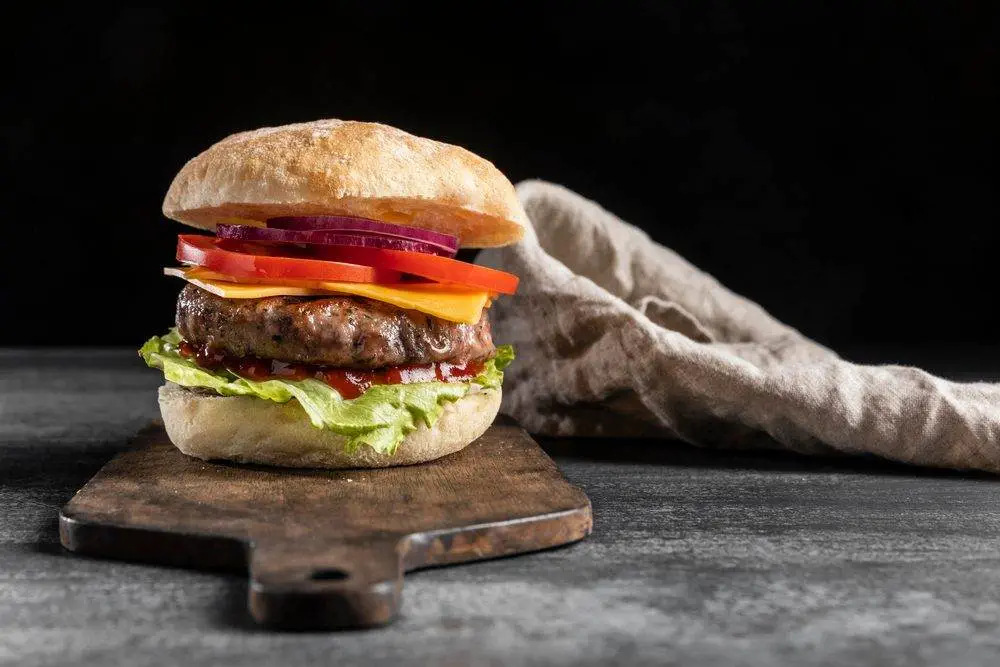 Closing thoughts
Although there are countless best burgers in Toronto, from fully loaded to red burgers, smoked bacon, two grilled cheese sandwiches with rudy sauce and potato bun, and so much more, there's no end to the flavors. 
You can choose between a traditional beef burger patty and a plant-based alternative. There is undoubtedly something on this list for you, whatever you're looking for.
If you liked this article about the best burgers in Toronto, here is something for you.