This is your guide to the 9 best cabins in Montana you will absolutely fall in love with.
Montana's big sky country is a perfect place for a romantic getaway or even a relaxing weekend. Surrounded by the mountains and the wilderness setting makes Montana a place worth taking a trip to once.
With breathtaking mountain views and wildlife around you throughout the day, you will love spending the night over in Montana.
And this is why you will need to find the best cabins in Montana. But don't worry, we have made things easier for you.
We have handpicked the best cabins in Montana for a perfect getaway. The two most popular spaces in Montana are Glacier National Park and Yellowstone National Park.
So we have picked cabin rentals for you that are close to both of them.
Whether you want cozy vacation rentals or cabins with great views of the majestic mountains of Montana, we have everything. All you need to do is, pick a date, plan a trip, and visit Montana as soon as possible.
These cabins have been picked carefully, considering a comfortable stay. We have picked 9 of the best cabins in Montana as per customer reviews.
Top 9 Cabins In Montana
So, here's presenting to you the top 9 best cabins in Montana, which you will definitely fall in love with.
1. West Glacier Cabin Village
Coming up first on the list of 9 best cabins in Montana is West Glacier Cabin Village. Located in West Glacier, overlooking the Glacier National Park & Lake McDonald, this cabin is a 4.5 stars luxury cabin.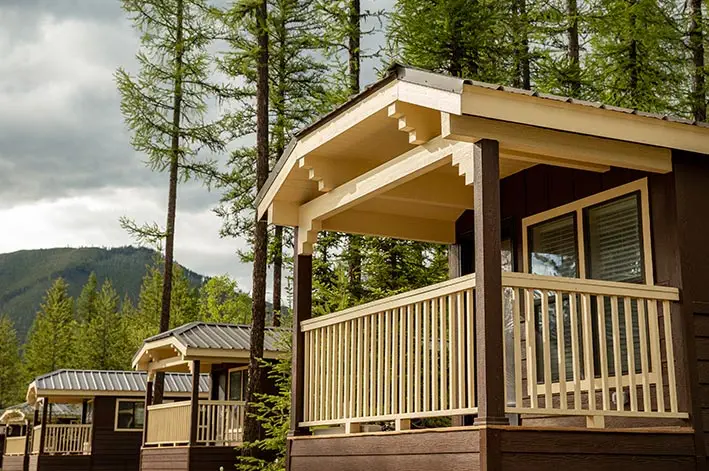 The cabins at west glacier are family-friendly and provide air-conditioned accommodations. It also features a kitchenette for your convenient use. And for your entertainment, there is a 32-inch flat-screen tv attached as well.
The cabin's whole setting is like going into the wilderness, with an outside patio and barbeque grill. And the best part about the area is it offers various recreational activities as well.
You can go mountain biking, rock climbing, mountain climbing, ziplining, or hike or bike the whole area. These recreational activities are either right on the property or just somewhere nearby.
2. Silverwolf Log Chalet Resort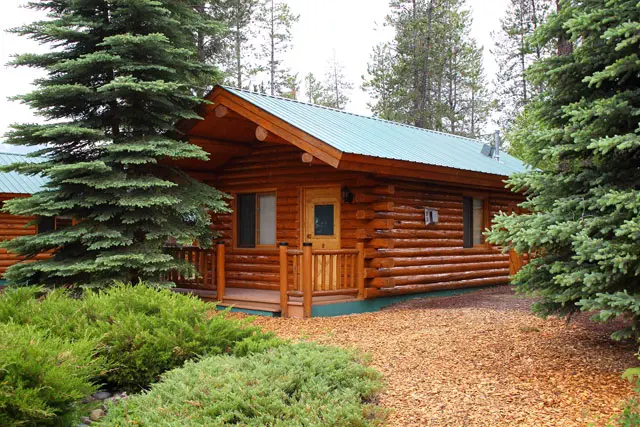 Just a few minutes' walk from the west glacier, Silverwolf Log Chalet Resort is a first-class accommodation. It offers ten lovely & charming log chalets for the perfect romantic getaway.
For those who like things neat & clean, the Silverwolf Log Chalets are their best choice. The ten private chalets in the woods offer a great ambiance and setting to couples.
And the guests are provided with complimentary breakfasts in the bed each morning of their stay. Breakfast includes Columbian coffee, muffins or pastries, fresh juice, fruits, and cereal & milk.
Click here to get more details on the activities and rates.
3. Log Cabin Hideaway
On number 3 of the list of the 9 best cabins in Montana, we have Log Cabin Hideaway.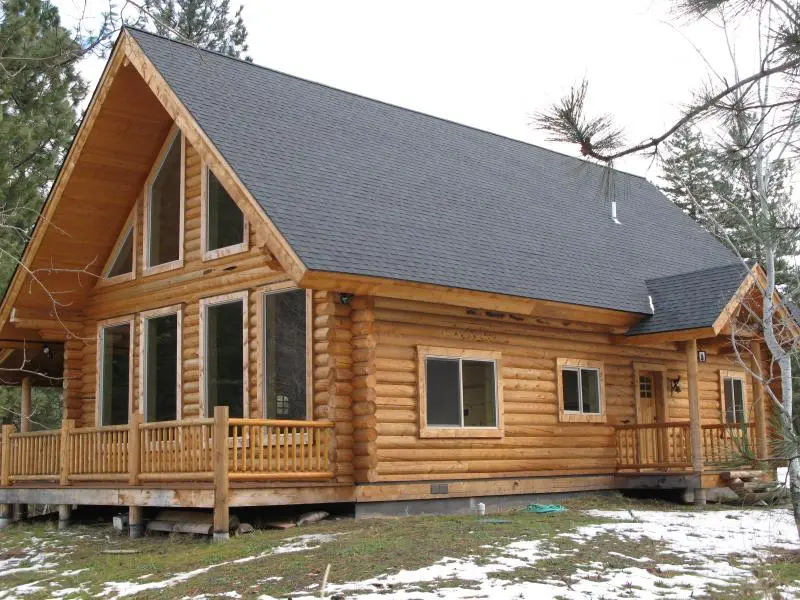 Located on Flathead Lake, overlooking the Clark Fork Valley, the Log Cabin Hideaway is a newly built log home surrounded by astounding views of the rocky peaks.
The cabin is located in such an ideal setting, absolutely perfect for romantic couples or family getaways. With gorgeous views around you, beautiful scenery, and trees, you will love your stay over here.
Guests can spend their time hiking the nearby trails, experience the wilderness closely, or maybe soak up in a hot bath in the evenings.
The cabins are also pretty much spacious, with a separate kitchen, laundry room, and a master bedroom.
Outside the cabins is a covered porch for large family gatherings. And the best part is, they are totally pet-friendly.
4. Bar N Ranch
Bar N Ranch cabins located in the mountains of West Yellowstone is the next best cabin in Montana.
Bar N Ranch offers rustic ranch cabins in Yellowstone's rural area with a natural setting and private furnished patios. It features an on-site restaurant and a bar/lounge.
The cabins are accommodated with wood-burning fireplaces, private yards, and TV for your entertainment. This ranch offers an upscale Montana experience. And unique western dining options.
The traditional cabin is best experienced equally in summers and winters, as it provides you with natural wonders and scenic beauty right outside.
Various recreational activities are available on the property or nearby, such as snowmobile tours, snowshoeing, horse-back riding, fly-fishing, and cross-country skiing.
Bar N Ranch offers you the perfect getaway experience, no matter what season you choose to go.
5. Homestead Cabin Resort
Next up is the Homestead Cabin Resort in Eureka, Montana.
Spend quality vacation times in these Amish-built cozy cabins. Each of the cabins in Homestead Cabin Resort has its own private covered porch.
You can enjoy your vacation either staying inside the cabin or outside while enjoying the view.
The resort is a 3-star cabin, offering eight private beautifully decored cabins with private yards. For guests' entertainment, the resort features LED TVs with satellite channels.
And the outdoor area features a patio, firepit, and a barbeque grill.
6. Clear Sky Resort
Next on the best cabins in Montana we have is America's only luxury skydome resort, Clearsky Resort.
Located just between the east entrance of Glacier National Park and west of Great Bear Wilderness, this resort is all about its wow factor. Which is, it is the only skydome resort in entire America.
This unique resort offers an unforgettable experience. And a variety of activities. Whether you are looking for an exciting vacation or a luxurious, relaxing stay, this resort offers you both.
It is perfect for cozy romantic vacations, family getaways, or for people who enjoy stargazing.
7. Yellowstone Riverbend Cabin
The Yellowstone Riverbend Cabin in Montana is located in Gardiner with both waterfront and wildlife experience.
The cabins are located so that the Yellowstone River is right in front, while the majestic Electric Peak is to your back door. It is situated far away from the highways, in an aesthetic country road giving off a blissful feeling.
The cabin offers a separate, fully equipped kitchen, two large bedrooms, and a private covered porch. And there's a variety of activities for the outdoorsy people, starting from A-class fishing, hiking, snowmobiling, hunting. And everything in your walking reach.
The bedrooms are fully air-conditioned, with 24/7 wifi services.
8. Gallatin River Lodge
Next up on the best cabins in Montana is Gallatin River Lodge, built back in 1998.

The Gallatin River Lodge was built back in the year 1998. However, it was opened for the public only in 1999, a year later. The owner's idea was to build a classic western Inn.
This cabin is rated #1 Bozeman cabins or hotels because of its services and classic "back in the time" feeling. And the secluded cabin offers more than just a luxurious stay. There's a patio just right outside, with barbeque facilities, and a fully equipped kitchen.
Guests can even enjoy the shared hot tubs and relax. The views are just fantastic, and the interior is designed beautifully.
9. Sportsman Motel
And at last on the list of the best cabins in Montana, we have is the Sportsmen Motel located in Melrose.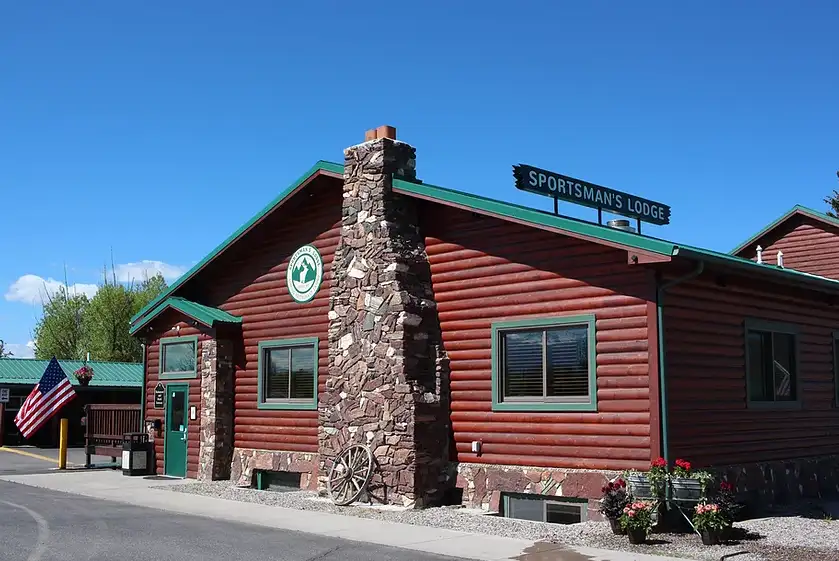 The historic Sportsman Motel was built in 1945, and since then, it has been a favorite destination for both locals and tourists for decades. The cabins at Sportsman Motel provide a relaxed atmosphere.
Guests can enjoy their stay in cozy cabins or come out and have fun in their restaurant, bar, or casino. The recreational activities nearby are truly made for sportspeople.
There are a total of 19 cabins on the property, all providing free wifi and TV services.
Conclusion
So, these are the top 9 best cabins in Montana you will find.
All of them are located in amazing spaces, offering picturesque views. Each cabin comes with its added benefit. Therefore, choose wisely. And let us know your views on these 9 cabins over the comment section.