Lake Louise is the ultimate jewel of Banff National Park, attracting visitors to the Canadian Rockies for more than a decade. The beautiful lake is surrounded by large mountains and comes with breathtaking scenery.  Moreover, Lake Louise is one of the most picturesque lakes in the world, and visitors often have a question that arises- Can you swim in Lake Louise? Visitors who have had the chance to see this place often say that it feels like a tiny piece of heaven on Earth. 
Lake Louise offers several water sports during the summer season, as the weather is pleasant, and the waters are calm. The activities include standup paddle boarding, kayaking, and canoeing. One can bring their own equipment or rent equipment from the Fairmont Chateau Lake Louise.  Lake Louise's turquoise waters and the breathtaking Canadian Rockies that rise over them will be visible to visitors in unmatched ways. 
1. Can You Swim in Lake Louise?
This question often arises in tourists' minds and the answer is yes, one can swim in Lake Louise, but it would mean barely swimming for a few short minutes. Moreover, one can swim in July or August as that is the time of the summer season and it is during those months that the temperature rises to its warmest. 
The average temperature during those months is 16 degrees Celsius, making it okay to swim in Lake Louise. One should also keep in mind that while the air may be pleasant, the water temperature remains quite cold. At night the temperature drops again making it almost impossible to swim in the lake at that time, unless one would want their bones to freeze!
For the remaining parts of the year, the temperature of the lake drops to extreme temperatures ranging between 2 degrees Celsius to 7 degrees Celsius, which only allows one to do outdoor activities but not swim in the lake. 
If one is visiting Lake Louise from the perspective of being able to swim, then one should choose the months by the season. Summer season goes on from July to September, where temperatures are relatively warmer, in comparison to the other months, as winter tends to exist all year round. 
1.1. How Was Lake Louise Formed?
The stunning turquoise Lake Louise that we now see and adore was created when a dam of glacial rubble caused the glacial meltwater to flow back up.  Most of the water originates from a glacier of the enormous Mount Victoria and that empties into the lovely Bow River. 
The glacial meltwater that fills Lake Louise every spring gives it astounding blue-green colours. This meltwater is abundant in rock flour, also known as glacier salt, which is formed when the waters erode the rocks as they flow toward the lake.  The turquoise colour that we see today is produced when sunlight reflects off of the rock silt. 
1.2. What Causes Lake Louise to Have Turquoise Colors?
Its turquoise-blue water originates from glacier waters rich in rock flour that reflects the light. The massive glaciers churn fine rock dust, that rubs against bedrock and that dangle in the water, which creates its magical turquoise colours to be seen in Lake Louise.
This glacier-fed lake between the Rocky Mountains is touted as one of the clearest in the world. Its turquoise waters are astounding and in addition to swimming, visitors can go hiking, skiing, rock climbing, or go for a voyageur canoe experience. 
1.3. Depth of the Water in Lake Louise
Lake Louise's deepest point is around 230 feet (70 meters). The government agency that looks after Lake Louise called Parks Canada claims that they do not monitor the lake's water levels because they are continuously fluctuating, so it cannot be perfectly determined. 
The glacial origin of the lake influences its depth, as it is created by the receding glaciers that cut out the surrounding mountains. A wide range of fish species flourish in deep, chilly waters, as a result, the depth of Lake Louise has an impact on the ecosystem.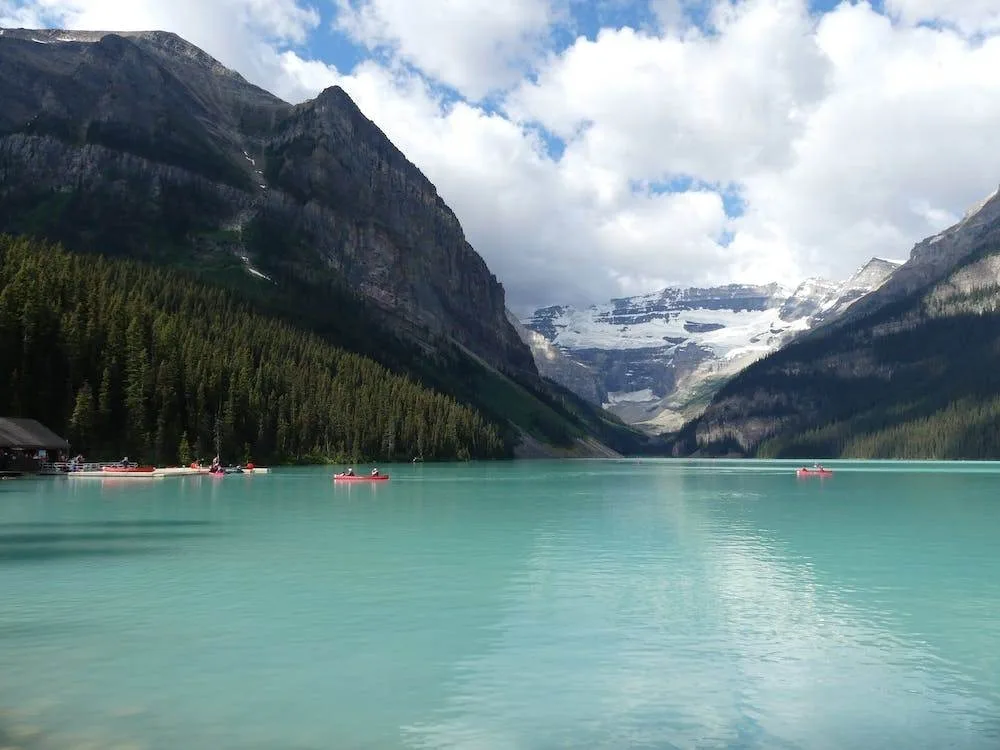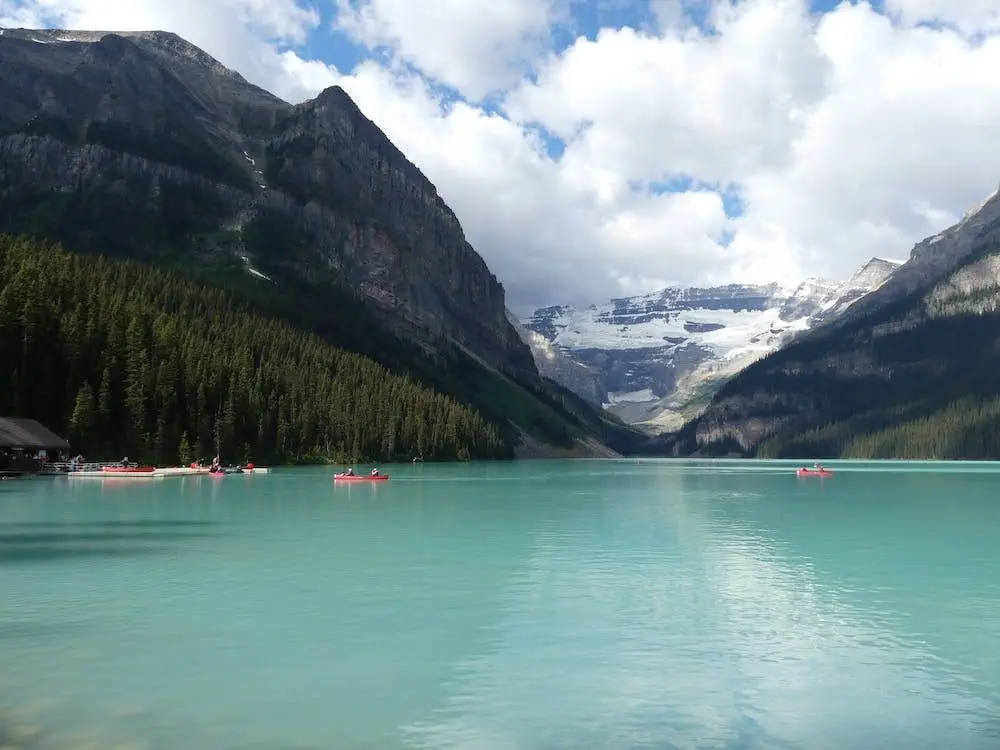 2. Where to Stay While Visiting Lake Louise?
If one is a nature lover and wants to experience the real beauty of Banff town and soak in the allure of Lake Louise, then one must pay a visit to Fairmont Chateau. It is surrounded by the Canadian Rocky Mountains and is an enormous luxury resort in Banff National Park. 
If one has small children then Fairmont Chateau offers a kid's adventure camp, horseback riding amongst the majestic mountains, and wellness classes. Another luxury stay near Lake Louise is Moose Hotel and Suites, which is a one-minute walk from the core of downtown Banff. It is well-known for providing several kinds of pools for people who enjoy swimming. 
It offers an outdoor pool with warm water temperatures, an indoor pool, and rooftop pools with spectacular views of the Canadian Rocky Mountains.  Fox Hotel and Suites is located near Banff Avenue and offers pet-friendly rooms and stays.
For those who would enjoy swimming, when in Banff, Fox Hotel offers a hot pool and hot tub to warm up those cool temperatures.  Fox Hotel also offers a fitness room, sauna, and local bus passes to their guests for short visits to Banff town.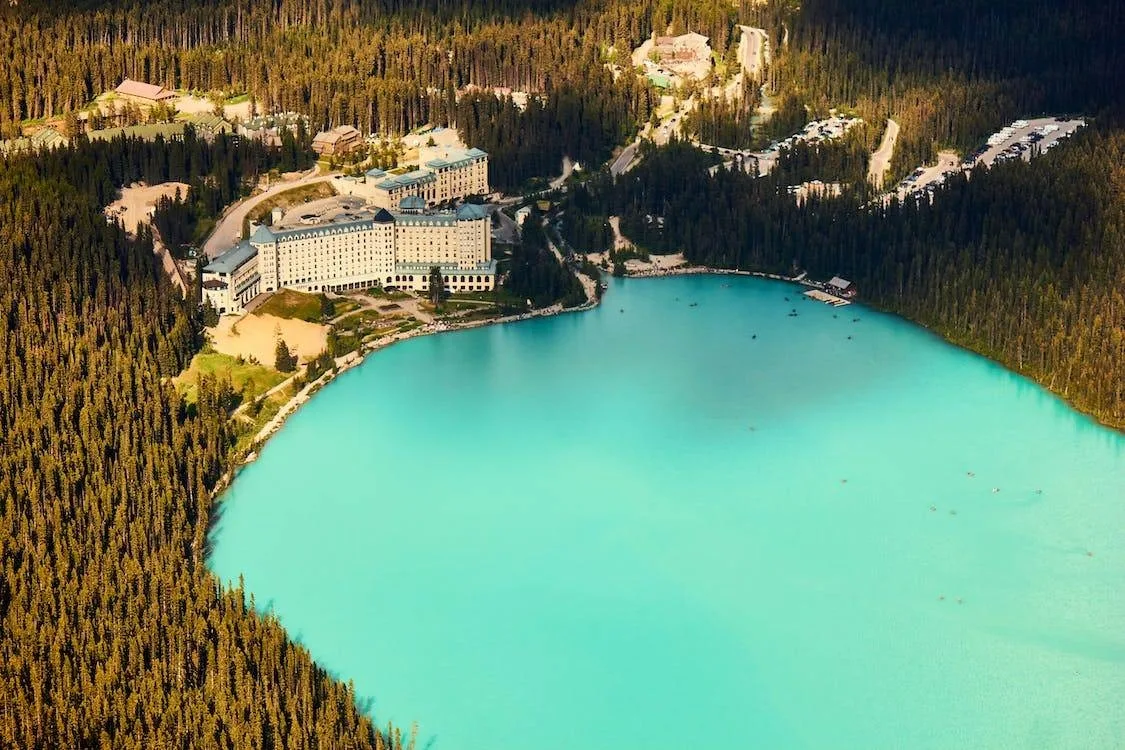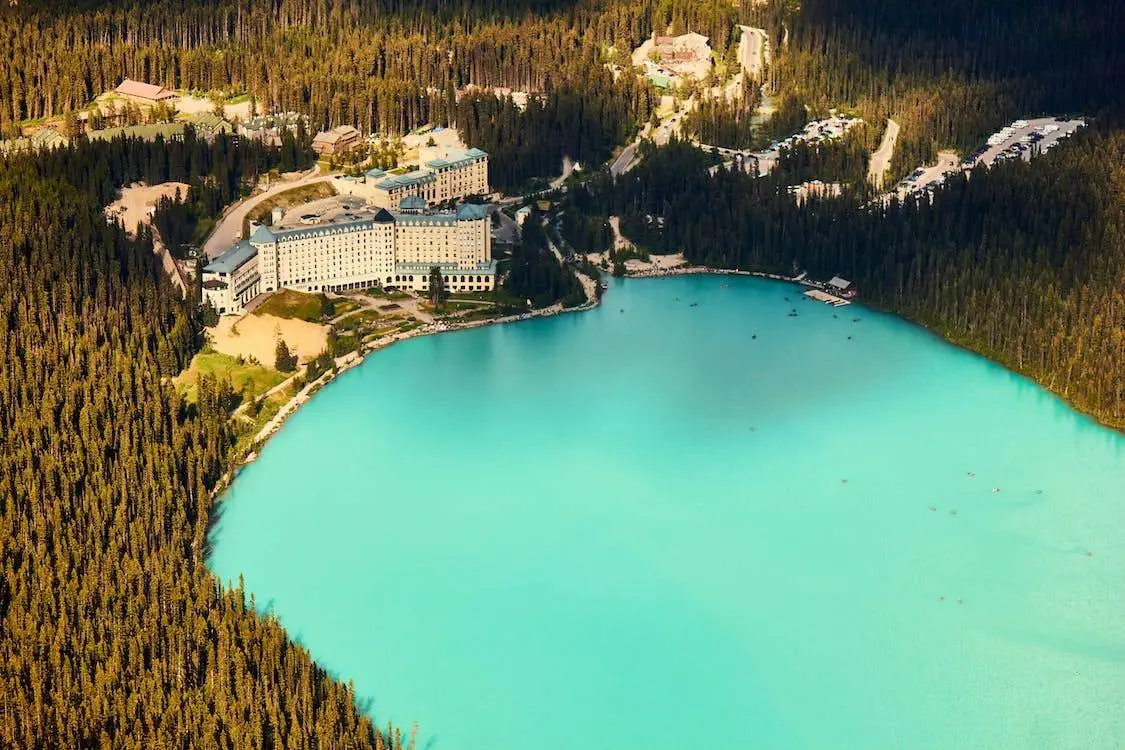 3. Public Pools to Visit in Lake Louise
Banff National Park offers a couple of public swimming pools from which Banff Upper Hot Springs is a well-known tourist spot. There are various picnic tables where one may bring their favourite meal and have a picnic day. One can put on their bathing suit and take a warm dip in the hot pool. Changing rooms are available for those who finish taking a dip in the pool. 
For those who would not want to get into the hot tub, Banff Upper Hot Springs offers visitors to relax and take in the stunning views from the luxury of sitting chairs on the pool deck. It is Canada's highest hot spring and offers the stunning scenery of Rundle Mountain. 
The Banff Centre's Aquatic Centre lies on Tunnel Mountain. The Banff venue is a multi-use arts and convention venue including a huge public swimming pool. Other amenities include a 25-meter pool, a hot tub, an outdoor sun deck, and a steam room. Sulphur Mountain may be seen from the 25-meter swimming pool, covered in glass. 
4. The Best Mountain Views in Lake Louise
Tunnel Mountain is a mountain in Banff Nationals Park's Bow River Valley in Alberta, Canada, that overlooks the Hot Springs on Sulphur Mountain. Tunnel Mountain is virtually fully surrounded by the town of Banff and the grounds of the Banff Springs Hotel, which provide stunning views. 
Tunnel Mountain Resort provides all one needs for an unforgettable Banff trip. The 105-unit Banff National Park resort offers a wide range of rooms to meet every taste.  Condos with full kitchens and fireplaces are available. The Tunnel Mountain resort also provides cabins or suits, depending on where one would want to stay.
5. Lakes to Swim in and Visit at Lake Louise
5.1. Moraine Lake
Moraine Lake is doubtlessly one of the best Lakes that Banff has to offer, which is surrounded by majestic mountains and a peaceful environment. Even though adventurous spirits would enjoy a swim in the lake, it is ideally not recommended or tried by most visitors as Moraine Lake remains extremely cold throughout the year, due to the lake being fed by glaciers. 
The typical water temperature in Moraine Lake is roughly 5 degrees Celsius, with the warmest temperature going up to 10 degrees Celsius, which is why swimming in such cold water is unsafe. 
5.2. Johnson Lake
Johnson Lake is well-shielded from the wind in comparison to other Lakes. This exquisite lake has calm waters and a swimming area with sand. One can also carry a bathing suit and take a few minutes to swim in the lake, as the water temperatures are relatively warmer at Johnson Lake. 
Several picnic tables are available at Johnson Lake, for families and friends to enjoy a pleasant picnic day. Some picnic tables are close to the water, while others nestle away in the woods to offer some welcome shade on a warm summer day. 
5.3. Cascade Ponds
Cascade Ponds beach and swimming region is located close to Lake Minnewanka. Depending on the season, people can choose to enjoy activities. For example, one can choose to paddle on boards in Cascade Ponds during the summer season or choose ice-skating and sledding during the winter.
Even though the waters are crystal clear they are chilly, hence, one must check the season before planning a dip in the lake. 
There are also several benches in Cascade Ponds, for one to rejuvenate and enjoy a warm picnic day. 
5.4. Lake Agnes
Lake Agnes is a small lake surrounded by stunning mountain views. This pretty lake is located in Banff National Park a short hiking distance from Lake Louise. The trek to get to Lake Agnes starts from Lake Louise and ends at Lake Louise Tea House. The tea house allows visitors to enjoy a cup of piping hot tea over a mountaintop with stunning views. 
The highlight of Lake Agnes is its breathtaking scenery to behold. The turquoise water, towering peaks, and the beautiful Mount Victoria, crowned by an extravagant glacier, make it one of the most beautiful lakes to visit.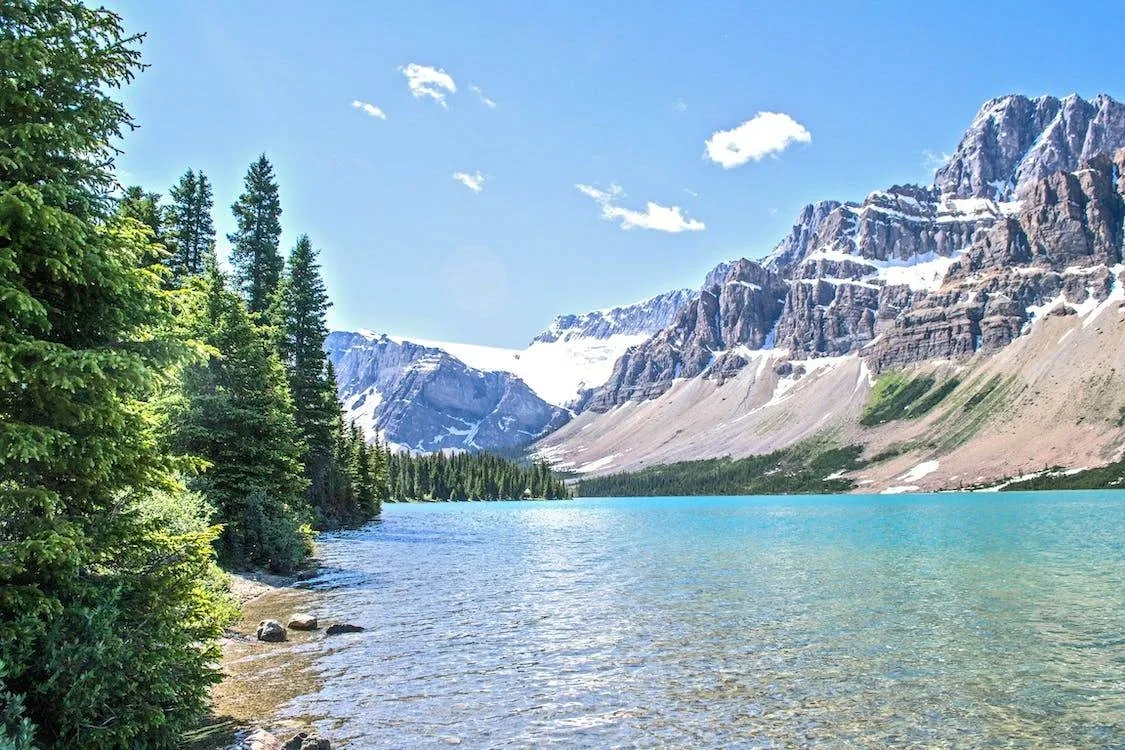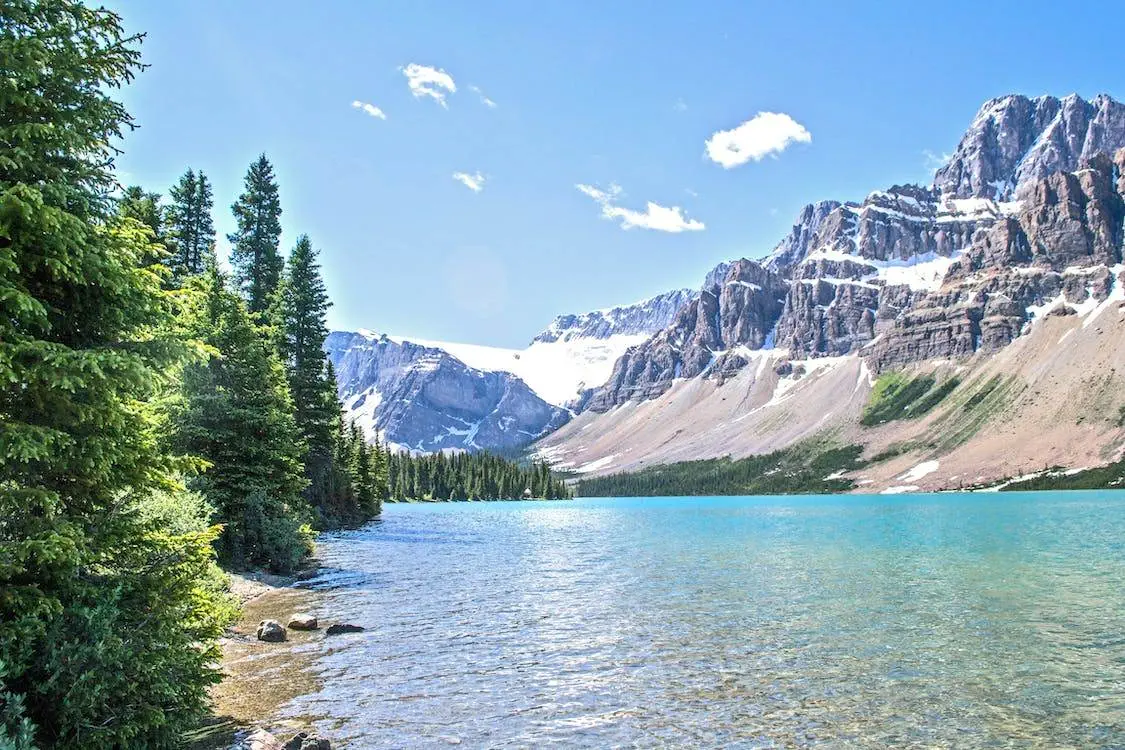 6. Why is Lake Louise's Water So Clear?
Lake Louise is famous for its pristine waters, which is due to a combination of different factors. The surrounding glacial lakes provide meltwater to Lake Louise. This cleans the water naturally, as it flows through layers of sedimentary rock and material. 
The clear appearance comes due to the natural method of filtration which purifies the water by removing pollutants and floating particles. 
The fact that Lake Louise is lacking in nutrients, also adds to its crystal-clear appearance. The lake has very little shrub and algae growth. This absence of plant development adds to the preservation of water transparency by preventing organic debris from collecting and making the water muddy. 
Most importantly Lake Louise is sheltered from human activity and growth, as the Government agency Parks Canada manages the activities around the lake exceptionally well. This absence of human interference contributes to the lake's purity and helps to prevent contamination, which can cause water to become opaque. 
7. The Best Time To Visit Lake Louise 
The time of the year one would want to visit Lake Louise depends on what kind of weather they enjoy. For most parts of the year, the lake is biting cold, and the water temperatures remain chilly. However, there are a few months when the weather is warmer. January and February have extreme temperatures with them usually being -5 degrees Celsius. The lakes remain frozen, and one can enjoy winter activities like ice skating, skiing, and sipping on hot chocolate drinks. 
March and April are relatively warmer than the previous months and the skiing season goes on in full force. The sun shines brightly over the cold Rocky Mountains of Banff; however, it is still cold as the winter season remains. In May spring has almost arrived in the Canadian Rockies. Temperatures rise, and there are quite a few sunny and beautiful days during this month. 
July is one of the busiest but best months to visit Lake Louise as its warmest temperatures go up to 24 degrees Celsius. It is during this month that adventurous souls can go swimming in the lakes for a few minutes. However, as mentioned above, it is recommended not to go swimming, due to its chilly waters throughout the year. Banff Upper Hot Springs is ideal to visit as the water temperatures are controlled and the overall weather is also warm. Although, at night one will need a jacket if one is going on a mountain hike. 
October is the last month to see Lake Louise before it freezes. By mid-October, the first snowfall of the season falls. The cold winter months set in during November and December. It is during these months that Lake Louise freezes completely. However, the silver lining is that Lake Louise Ski Resort opens in these months, with plenty of skiing opportunities. 
7.1. Water Temperatures in Lake Louise
Even during the summer season, the water temperatures of Lake Louise are biting cold. This glacier-fed lake keeps the water temperatures chilly throughout the year. 
If the adventurer within you is beckoning to jump into the lake and go for a swim, then we would advise you to think twice! Even during summer seasons, when the outside temperature is towards the warmer sides, the water is cold. Hence, a small swim could also be risky and if one still plans on swimming, then one should make sure that they get out of the water quickly, and warm up immediately. 
The temperatures keep varying depending on the season. Sometimes the lake freezes going in minus temperatures. Even during the summer, the lake's water temperature remains from 5 degrees to 7 degrees.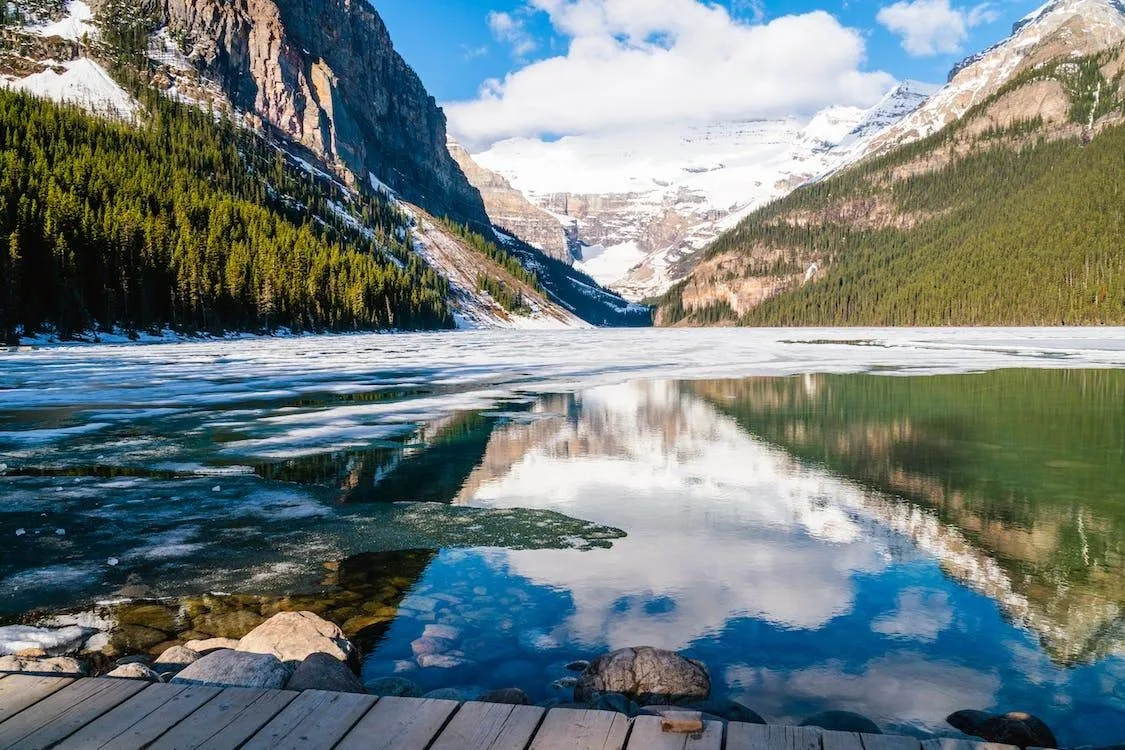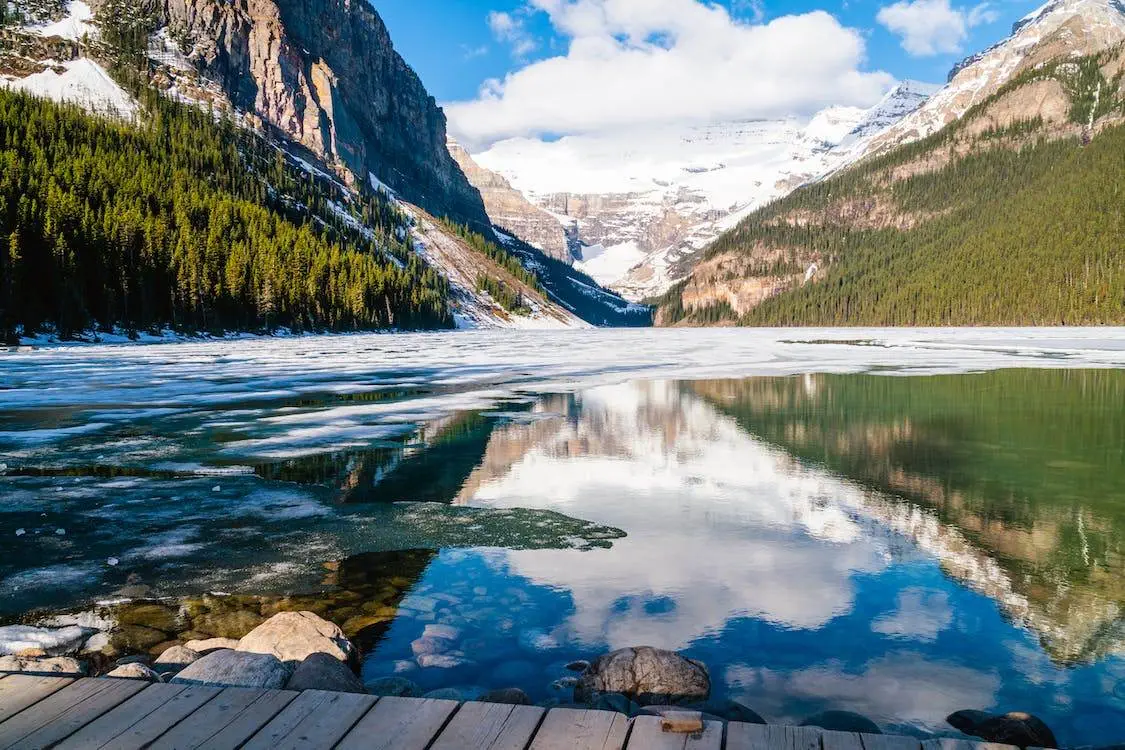 8. Can One Drink Water from Lake Louise?
Even though the water in Lake Louise is crystal clear and may seem tempting to drink based on its perfect blue appearance, it is not recommended at all. Lake Louise is low in nutrient content and looks extremely clean, nonetheless, it could include hazardous microbes such as bacteria, pathogenic viruses, and parasites, which could cause illnesses. 
Parks Canada offers many sources of clean and filtered water for visitors to use across the lake and campsite.  Glacial-fed water is the greatest-tasting water in the area, so if one is staying in Lake Louise, one can straight up have tap water. The eateries and bakeries in Lake Louise highlight the fact that their baked products and gourmet dishes are created with pure glacier water. 
8.1. How Does Lake Louise Remain Unpolluted? 
The pristine blue turquoise waters remain the highlight of Lake Louise, and that is mainly attributed to the fact that the lake is very carefully looked after and remains unpolluted. 
Glaciers and melting snow feed the lake, and natural sources regularly replenish the water. There is also limited access given to human activities by Parks Canada, which acts as a major factor in reducing the pollution in Lake Louise.  The Government agency motivates visitors to keep the surroundings clean by not littering Lake Louise and eliminating waste. 
9. Lakes with Beaches and Hiking Areas in Lake Louise
9.1. Johnson Lake
This glacial-fed lake in Banff National Park is known for its stunning views, surrounded by the Canadian Rockies. The lake features a tiny sandy beach wherein families may spend the day, by putting on their bathing suits and going sunbathing or swimming. 
As mentioned above, in comparison to other lakes, Johnson Lake has relatively warmer water and during the summer season, one can enjoy swimming. 
9.2. Two Jack Lake
This glazed lake in Banff National Park is located close to the Trans-Canada Highway. The stunning views of the Canadian Rockies along with the crystal-clear waters make it ideal for swimming, paddling, and scuba diving. 
9.3. Lakeshore Promenade
Near the far end of Lake Louise (opposite the Chateau Lake Louise), there is a little sandy spot where guests have access to a beach-like region. 
However, Lakeshore Promenade is the most famous area to get entry towards the beach-like region. It is located just in front of the Fairmont Chateau Lake. 
Visitors flock to the Lakeshore Promenade, as the rocky beach leads one into the water. The breathtaking scenery attracts visitors to go on a spree of clicking pictures. 
9.4. Moraine Lake
This stunning lake in Banff is known for its sparkling blue-green colour and is accompanied by hiking routes. Moraine Lake is glacier-fed and is often mistaken for Lake Louise due to its similar features.  However, this lake situated in The Valley of the Ten Peaks has its unique appeal. 
9.5. Bow Lake
This pretty lake located in Banff National Park is quite large and is known for its turquoise waters along with other activities.
Dipping one's toes in the water, going fishing, swimming, or simply taking in the stunning scenery are different activities one can enjoy. A short hike from Bow Lake will lead one to Bow Glacier Falls, which is a stunning attraction in Banff National Park. 
9.6. Emerald Lake
A hiking track surrounds Emerald Lake which has blue-green waters and meanders along the gravel funnel which is the last point, this in turn gives visitors a close-up glimpse at what remains of a melting glacier. 
The weather is just as good in August as it is in July. The majority of the snow melts from the higher valleys during that time too.  While Banff is lovely all year round, there is something distinctive about September. The climate is such that it is warm and snow spreads over the grounds too. It is again one of the busiest times of the year, as the Labor Day weekend is in September and that causes a lot of rush, in the hotels and lakesides.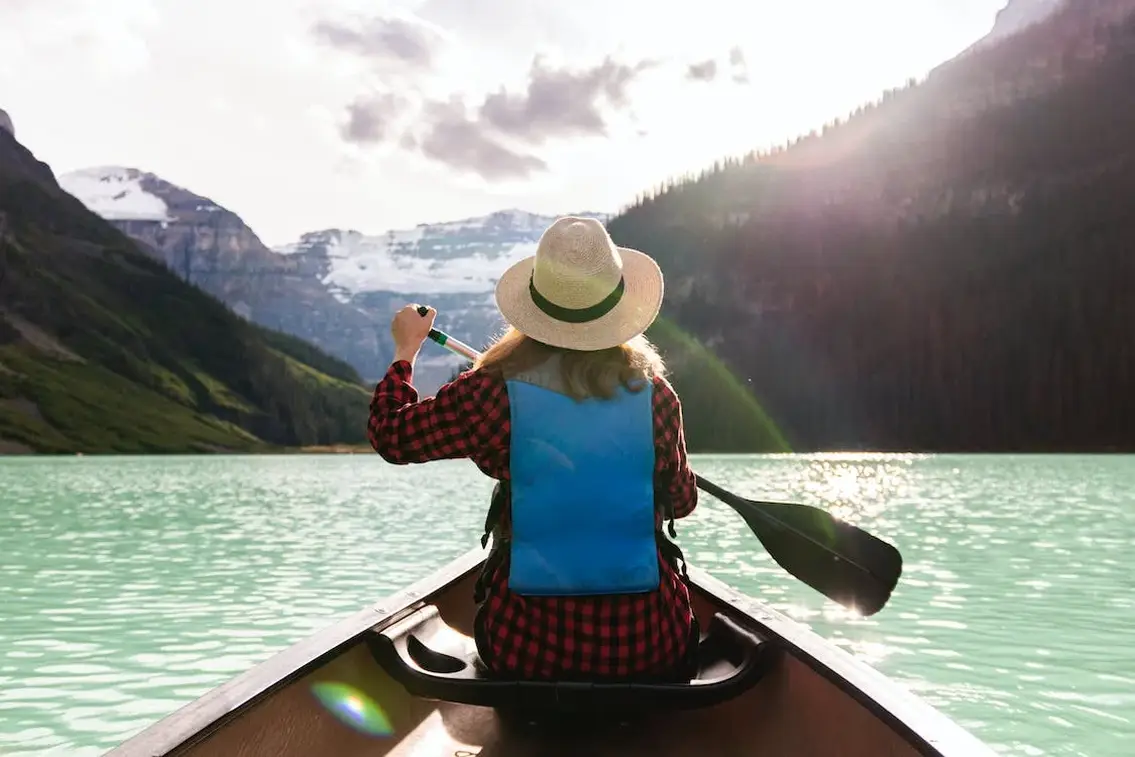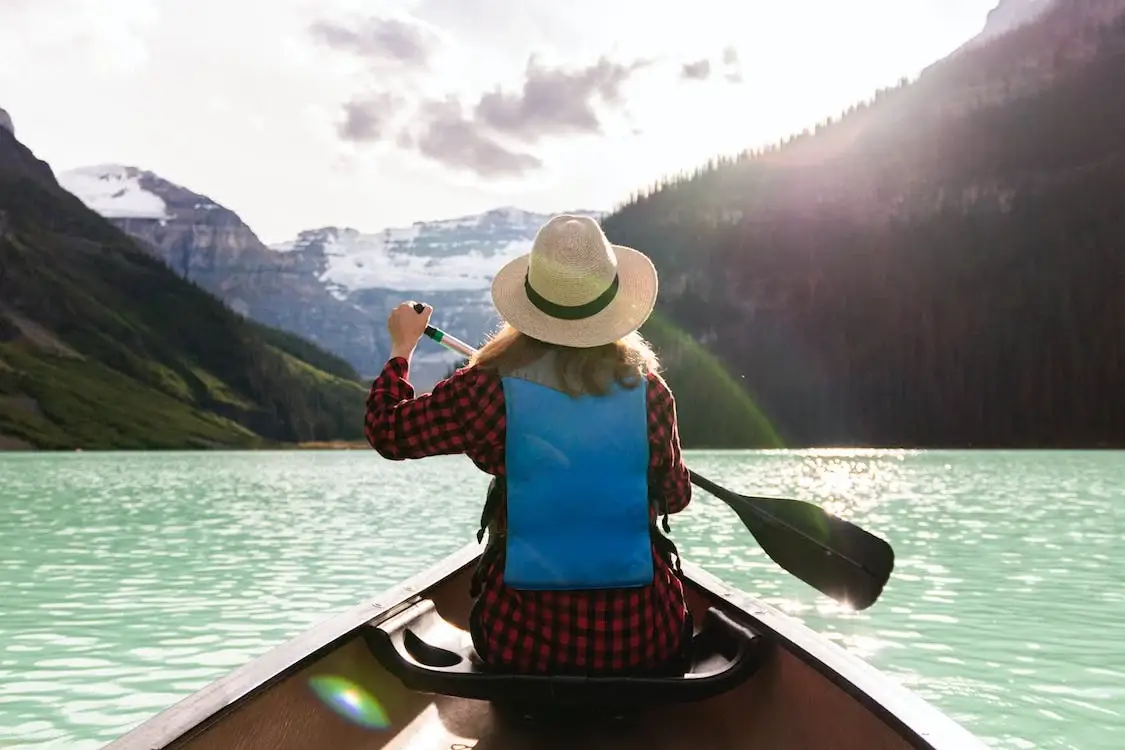 10. Final Words 
While the crystal-clear waters of Lake Louise may look tempting for a swim, it is still not recommended even if the adventurer within one is urging them to dive into the lake. This is attributed to many reasons.  There are no lifeguards who work near the lake, which makes it a little risky to be swimming, even if one is good at it. Taking a life jacket is recommended, if one decides to take a dip. 
Hypothermia is another threat. This happens when there is a sudden drop in body temperature because of being exposed to excessive coldness. The water temperatures at Lake Louise usually range between 4 Degrees Celsius to 7 Degrees Celsius during the summer season. During winters the water temperatures drop even more which makes it extremely risky. 
Even if swimming is still high up on one's bucket list, then it is advised to go visit around the time of the Canada Day Weekend. It is during this time when activities around the lake are supervised, that makes it relatively safer.  Besides swimming, Lake Louise offers stunning views along with several activities which makes it worth the visit. 
As an Amazon Associate, Icy Canada earns from qualifying purchases.
[amazon_auto_links id="81298"]
The Icy Canada team strives to create content that matters. It's why our content is written by travel writers, authority experts, well-known authors, and niche experts. Our content is also periodically reviewed by expert authors for accuracy and trustworthiness.
As an Amazon Associate, Icy Canada earns from qualifying purchases. [amazon_auto_links id="81298"]