Samuel de Champlain, a French explorer, navigator, cartographer, and geographer, is the man behind the foundation of Quebec and New France.
Known for his significant contributions and writings, he is still unknown to a few. If you are curious to know more about this man, then keep your eyes wide open, and we will take you through his journey.
Unknown Facts About Samuel de Champlain
But before we shoot in his great journey, let us tell you some unknown facts about Samuel de Champlain that will make you familiar with him before knowing about his life in a nutshell.
1. First Major Voyage With His Uncle in Saint Julien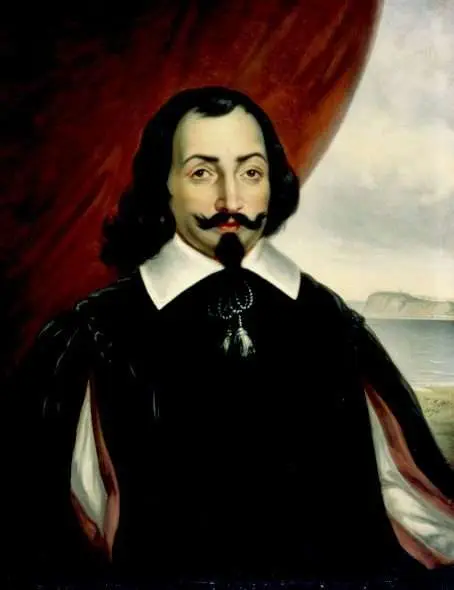 In 1598, young Champlain traveled on his first voyage in his uncle-in-law's ship, Saint Julien. The ship traveled to Cadiz to transport the Spanish troops. And then accompany the Spanish force to West Indies.
On this voyage, Champlain was given the responsibility of the ship by his uncle. He learned a lot about how to sail and noted down the reports of Spanish holding. The king awarded him an annual pension for the secret report. Later, his report on the voyage was published.
2. Served in King Henry's court as a Geographer
Samuel Champlain worked as a Geographer in King Henry's court from 1601 to 1603. As a geographer, he traveled to French ports. During his visit, he learned a lot of new things about North America from the fishermen.
3. First landed in North America in 1603
Samuel de Champlain landed in Canada in 1603 on a voyage. On his first trip to North America, he went on a fur trading expedition led by François Gravé Du Pont. This expedition brought Du Mont and Samuel Champlain closer, and they became close friends.
During that time, Samuel de Champlain was not well renowned. Du Mont taught Samuel about navigation and how to deal with the natives.
Around this time, he published a written account of this voyage Des savauges, Voyage de Samuel de Champlain in France.
This account was the elaborative description of St. Lawrence Ríver since Jacques Cartier's explorations.
4. Served as a Cartographer
In 1604, Champlain sailed Acadia with Dugua. Dugua planned to establish a French colony at Acadia.
Because Samuel de Champlain had no responsible position at the Acadian settlement or Port Royal, he served as a cartographer.
As a cartographer, he worked on finding the ideal location for the settlement on the coast. He also worked as a diplomat in dealings with Indigenous people for Dugua.
5. Known as the Father of New France
Samuel de Champlain traveled and explored different parts of North America. During his explorations, he wrote eloquent descriptions of the places and explorations.
He was the first person to write about the beautiful Ottawa River and other important areas of North America. He founded permanent settlements like Croix Island, Port Royal, and Quebec City.
Because he made noble efforts and founded these great settlements, he became known as the father of New France.
In 1608, Champlain, along with his men, created the first New France Colony.
6. Founded the City of Quebec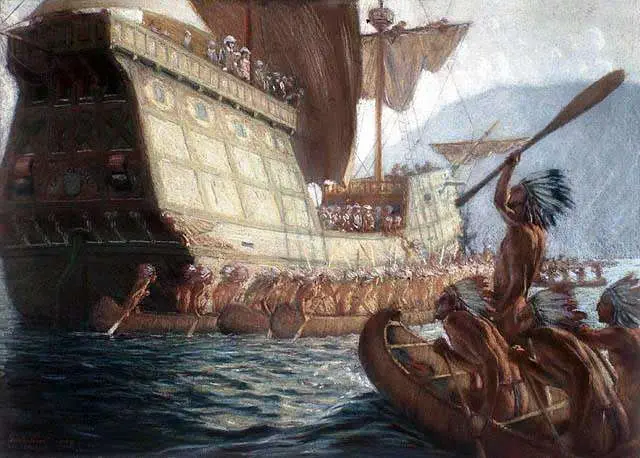 On July 3, 1608, Champlain landed at a point in Quebec. He then created an area to set up the fort and fortified the area. During the initial years, Quebec looked like a warehouse or store.
6. Mapped Lake Champlain
In 1609, Champlain helped the Alongquins and Hurons natives in defeating the Iroquois tribe. After defeating the Iroquois tribe, Champlain explored the Richelieu River and became the First European who mapped lake Champlain.
Because Samuel de Champlain was the first to map this river, it was named after him, 'Lake Champlain.'
7. Married his wife 31 years younger than Him
After the demise of King Henry in 1610, his wife Marie de Medici took control and ruled France until their son grew up and took control to rule.
Because Queen Marie was not interested in Champlain, he married Helene Boullé, the daughter of Nicolas Boulle, who was to carry out royal decisions at court.
Helen was just a 12-year-old, and Champlain was a 31-year-old man when they got married.
8. Several monuments were established in his memory
Samuel de Champlain's skilled work made him one of the most renowned and authoritative personalities in North America. Many monuments have been made in his memory.
These memorials include Lake Champlain, Champlain Valley, Champlain Trail Lakes, Champlain Sea, Samuel de Champlain Provincial Park, Champlain Bridge, Fort Champlain, Champlain Regional College, Marriott Chateau Champlain Hotel, Champlain Place, and Champlain Society.
Trail Through The Journey of Samuel De Champlain
Here is the life journey of Samuel De Champlain.
Early Life
Samuel de Champlain was born in 1567 to Antoine Champlain and Marguerite in La Rochelle, Aunis, France. He was born in a family of mariners and explorers of the sea.
Being in the family of mariners was the foundation of Samuel de Champlain's explorations.
He joined his family business at a young age and learned to navigate, draw, make nautical charts and write reports. He learned how to fight firearms and started working as a quartermaster.
Marriage
Champlain got married to Helene Boullé on December 25, 1610. She was twelve years younger than him. Samuel's marriage to Helen was based on power. The marriage opened the door to the king's court and power for Samuel.
Because Helen was too young, they made a contract to consummate marriage after two years. Even after the contract, Champlain attained the permission of his parents to consummate the marriage before two years and got consent.
Within their marriage, Samuel and Helen had no children. So, they adopted three children—Faith, Charity, and Hope. Samuel and Helen's marriage was troubled in the initial days as Helen rallied against joining the army. But it improved in the later years.
His Exploratory Journey
Samuel de Champlain explored all his life. He went on his first exploratory voyage with his uncle. From 1601 to 1603, he served as a geographer in King Henry IV's court.
In 1603, he joined Francois Grave Du Pont in his expedition to Canada. On this expedition, he explored the Gaspe Peninsula and reached Montreal. He learned a lot of new things from Du Pont during this expedition.
Later the same year, Samuel de Champlain was chosen as the geographer for the expedition in Acadia. Lieutenant General Pierre Du Gua de Monts led this expedition. In May, they landed on the southeast coast, which is now known as Nova Scotia.
Here Champlain was asked to choose a location for temporary settlement. Before selecting a small island in St. Croix, Samuel de Champlain explored the Bay of Fundy and the St. John River area.
In 1605, Samuel de Champlain and the team explored New England up the Cape Cod. He searched for sites for permanent settlements here and names on the area as Mallebar.
In 1608, Samuel de Champlain set off for another expedition up the St. Lawrence River. In this expedition, he and Dugua wanted to start a new French colony and fur trade company.
To proceed further, Champlain on July 3, 1608. marked a spot in the now Quebec city and fortified the area. This day marked the founding day of Quebec city and Samuel de Champlain was the founder of Quebec City.
Champlain left no stones behind in forming cordial relationships with the natives. In 1609, he made alliances with Algonquin, the Montagnais, and Etchimen in the St. Lawrence River area. Because of their diplomatic relationships, these tribes sought Champlain's help in the war against Iroquois.
On March 26, 1613, Samuel de Champlain came to France and started exploring the Huron country to find the Northern Sea. He then traveled to the Ottawa River and wrote a descriptive account of the area.
Samuel de Champlain came back to Saint Maio by August 26. He then wrote an account of himself and his journey and explorations from 1604 to 1612 on the Ottawa River, and his voyages, and published another map of New France in 1614.
In 1615, he made a voyage to the interior of Canada. On this voyage, the native American tribe — the Hurons accompanied him. He, along with the French, helped the Hurons in a war against Iroquois. They lost the battle, and Champlain was injured.
So, he stayed with the Hurons in winter. Samuel de Champlain wrote a detailed account of the Native American's life during this stay.
In 1620, Samuel de Champlain returned to France and decided not to explore further and focus on the administration of France. He spent most of the tie writing, illustrating, and mapping.
On May 22, 1622, Samuel de Champlain came back to Quebec after being away for the past 4 years along with his wife. On his return to Quebec, he was given many titles and responsibilities.
One of the main titles he was given was Lieutenant General of New France. Even after getting the honorable titles, he could never own the title of Governor. Even without the formal title of Governor, natives, colonists, and merchants; referred to him as "our governor."
While staying in Quebec, he rebuilt the ruins of Quebec, expanded the fortifications, and established two more settlements: 15 League Upstream and Trois Rivières.
In 1627, Cardinal de Richelieu, Louis XIII's chief minister, formed 100 associates to rule New France. He made Champlain the in-charge.
Charles 1 of England wanted to take over the power of the fur trading company. So, he made an expedition under David Kirke. They attacked the Quebec fort built by Samuel de Champlain and captured all their supplies.
Champlain surrendered himself in July 1629 and came back to France.
After returning to France, Champlain spent his time writing about his travels and explorations.
In 1632, the British and the French signed a treaty—the Treaty of Saint Germain-en Laye. Under this treaty, the British returned Quebec to the French.
Samuel de Champlain returned to Quebec and became the Governor. By this time, his health started declining, and he retired from the position in 1633.
Death
He died on December 25, 1635, of a severe stroke. Because Samuel de Champlain had no heir, he left most of his wealth to his wife and the Catholic Church.
He was buried temporarily in the church while the standalone chapel was built. This building was destroyed in the fire in 1640. Even when the building was rebuilt, this building doesn't exist anymore.
The traces of Samuel de Champlain's burial are unknown and a mystery to everyone.
Champlain's Writings
Champlain left behind a plethora of his rich writings, which are cherished and remembered to date. He was the first person to have written vivid descriptions of different parts of North America.
His most important work editions include the works prepared by C.H. Leverdiere and the multilingual edition by H.P. Biggar.
Samuel de Champlain's writings include the account of New France at the beginning of the 17th century, illustrated accounts of maps and a list of names of places unfound on the map, and unpublished explanations.
Champlain's Memorials
Life or death—Samuel de Champlain is honored for his significant contributions. To honor him further, many memorials have been built, which are loved and cherished to date.
Here are some memorials in honor of Samuel de Champlain:
1. Lake Champlain
Samuel de Champlain mapped Lake Champlain himself. The lake was given his name for his honorary and splendid work.
This lake is a freshwater lake in North America, mainly within the borders of the USA.
2. Champlain Sea
Champlain Sea was a temporary inlet on the Atlantic coast created 13000 years ago today. The sea was created when the ocean waters entered the glaciers in the eastern region of Quebec and Vermont, forming the Champlain Sea.
3. Samuel de Champlain Provincial Park
This provincial park named after Samuel de Champlain is in Ottawa, near the town of Mattawa
4. Champlain Bridge
This bridge connects the island of Montreal to Brossard, Quebec, across St. Lawrence and the cities of Ottawa, Ontario, and Gatineau.
5. Champlain College
Champlain College is one of the six colleges at Trent University in Peterborough, Ontario, named in honor of Samuel de Champlain
6. Fort Champlain
This fort is the dormitory at the Royal Military College of Canada in Kingston, Ontario. It was named after him in 1966.
Samuel de Champlain is an unforgettable figure for his monumental work and the foundation he built for us we are cherishing today.
Comment your thoughts below in the comment section!