streaming services in canada
Our world has changed a lot in the past two years. We have come a long way from making Dalgona coffee and busting moves on viral TikTok songs to adhering to social distancing norms in our everyday lives. However, one thing that is still the same is our love for streaming movies and shows on your smart tv.
While you are already busy doing your bit, we can help you in the other department. Besides our list of the best streaming services in Canada, we also present some complimentary movies and show recommendations.
By Glenn Carstens-Peters/Unsplash 
Without hectic everyday lives, we barely get time to binge-watch our favorite series or movies these days. However, the current "work from home" situation has allowed us a lot of time. And that is why the entertainment business has come to life all over again.
No matter how busy your schedule is, you can still make the most of the situation by having online watch parties to binge-watch movies and exciting shows with your friends. Moreover, this article is for you even if you are an introverted soul who likes to recharge your batteries by watching comfort shows and movies in peace.
Read on to find some of the best free online streaming services in Canada, some of which also offer a free trial, free services and on-demand streaming. These streaming platforms also work on your android devices, apple tv, and fire tv to watch online all your favorite shows and movies.
8 Best Streaming services in Canada
If you're sick of watching the same old stuff of your cable TV subscription and want to try something new, here are Canada's top 8 streaming services. So, wear your PJs, get some popcorn and pizza, and turn on your streaming devices to get the binge-watch party started!
1. Netflix
By Thibault Penin/Unsplash 
The article would have felt incomplete without mentioning the media giant who started it and gave the world the euphemism 'Netflix and chill.' They have shows and movies in almost every genre, including comedy, horror, romance, fantasy, reality tv, science fiction, true crime, and documentaries, to name a few.
Netflix Canada has lately added several foreign-language shows, making it a preferable alternative for those who enjoy international programs.
1.1 Subscription Prices
Netflix has three monthly plans: Basic ($9.99) allows you to watch on one screen, Standard ($14.99) will enable you to watch on two screens, and Premium ($18.99) will let you watch on four screens. They also provide a one-month free trial that gives you access to all of their premium features.
Although the costs appear to be hefty at first, they are still much less than cable subscriptions or satellite tv subscribers. Furthermore, the rise in subscriptions is accompanied by an improvement in the content quality offered to users.
1.2 Where to Watch
Netflix is available on a wide range of devices, including desktop and laptop computers, PlayStation and Xbox consoles, Chromecast, smart TVs, Blu-ray players, Android tv, iOS, Apple TV, and other Apple devices.
1.3 What to Watch
Here are some movies and Tv shows recommendations.
Set in Indiana in the 1980s, the show revolves around nerdy friends who meet Eleven, a girl with telepathic and psychokinetic abilities. Together, they discover some dark government secrets while fighting supernatural creatures.
The show is coming back for its 4th season in mid-2022. If you love horror, supernatural and thrillers with some pop culture references and nostalgia, you can give this Netflix original a try.
Red Notice
With a star-studded cast, this action/comedy revolves around the art thieves and agents caught in the cat and mouse chase with each other, all the while hunting for Cleopatra's three eggs. The movie is an entertaining watch and apt for a fun family evening.
2. Amazon Prime Video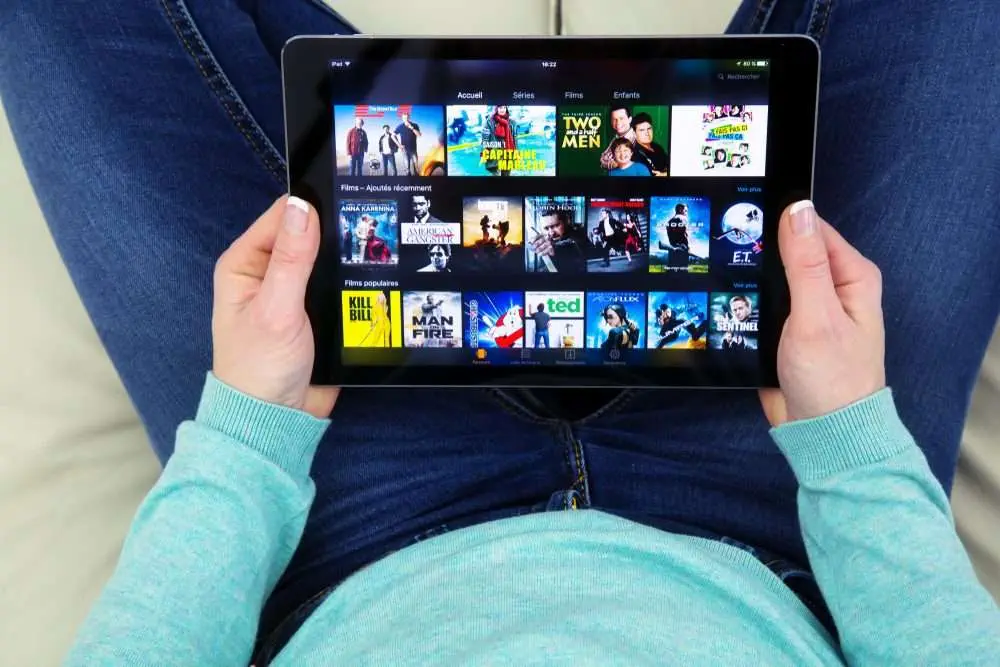 By pixinoo on Shutterstock
Your Amazon Prime membership subscription includes access to Amazon Prime Video, a video streaming service. Thousands of titles, including numerous award-winning films, critically renowned original TV programs, and reality tv shows, are available for free on Amazon Prime Video. You can even download tv episodes and movies for offline viewing.
2.1 Subscription Prices
Amazon Prime Video is available if you currently have an Amazon Prime subscription and pay $79 per year for all benefits. Even if you aren't an Amazon Prime customer, you may take advantage of Amazon's fantastic service and various options.
Given the amount of high-quality video available, Amazon Prime Video's $10 monthly subscription is almost free.
2.2 Where to Watch
On a compatible smart TV, Fire TV, streaming media player, gaming console, tablet or even mobile devices through the mobile app, you can stream an infinite number of movies and TV episodes through the Amazon Prime Video app.
2.3 What to Watch
Here are some Amazon prime video original TV shows recommendations.
The Boys
The comic book of the same name follows the story of a vigilante squad as they battle superheroes who abuse their powers and privileges. The exciting action fiction has already been renewed for its 3rd season, while the showrunner plans to launch two more seasons.
Good Omens
The finicky angel Aziraphale and the free-spirited demon Crowley band together in this fantasy series to prevent the Earth from approaching Armageddon. With only one season, you can see the unlikely duo go to great lengths to save the world from ending in a weekend.
3. Crave Tv
Bell Media owns the streaming service Crave Tv, and the basic bundle includes Crave originals, Showtime series, and some iconic HBO shows. It's commonly referred to as Netflix's Canadian version.
While the base subscription offers plenty of stuff to keep you occupied, if you want to watch movies or watch recent episodes, you'll need to upgrade.
3.1 Subscription Prices
Packages range from $9.99 to $19.98 per month, making it much less expensive than cable TV and most other streaming services in Canada. Unlike most premium streaming services in Canada, Crave tv allows you to peruse their complete collection before paying a thing. This helps determine whether or not their streaming service is what you've been looking for.
3.2 Where to Watch
Crave TV is available to stream on various devices, including Android, Apple Tv app, iOS, Chromecast, Samsung Smart TVs, Xbox One, and a web browser. However, the streaming service is only present in Canada.
3.3 What to Watch
The Big Bang Theory
This sitcom follows a group of four socially inept friends and their everyday lives and problems. The character development of the main cast through the 12 seasons is entertaining and relatable to watch.
If you like shows like friends and how I met your mother, you should watch big bang theory.
Downton Abbey
https://www.youtube.com/watch?v=tu3mP0c51hE
The series demonstrates the lives of a family and their domestic servants living at Downtown Abbey. You will love Downton Abbey if you like watching British tv shows.
4. Roku
Roku is a household name when it comes to free TV streaming services in Canada. This is why, despite competition from free online streaming services in Canada like Amazon Fire TV, Apple TV and Chromecast, they continue to stay on the list.
4.1 Subscription Prices
You have to buy the Roku package. That's all you will need to get started with Roku. There are no monthly fees for using a Roku device or watching free tv channels. You have to pay for Netflix subscriptions or movie and TV show rentals from sites like Cineplex Store.
That is to say, you will get access to over 4000 channels, both free channels and premium channels. Free channels such as BBC Sports, Sky News, Red Bull TV, and others are available.
4.2 Where to Watch
Roku's free streaming tool makes it very easy if you wish to watch via your Smart TV. A stick and a remote are included in the deal. You're ready to start after plugging the stick into your TV, connecting to the internet, and creating a Roku account.
4.3 What to Watch
Here are some of the most popular shows on Roku.
The Dick Van Dyke Show
5.1 Subscription Prices

The streaming platform offers free service, channels, and live tv to its users. All the 100+ live channels are entirely free as well.
5.2 Where to Watch
Pluto TV can be seen and streamed on the web, via your mobile app, desktop app, or by installing the app to your television.
5.3 What to Watch
Here are some exciting movies to watch on Pluto Tv.

Train to Busan

https://www.youtube.com/watch?v=pyWuHv2-Abk

Train to Busan focuses on the journey and struggles of a man traveling with his daughter from Seoul to Busan amid a zombie virus breakout.

The Whistleblower

The Whistleblower is based on an accurate tale about a former Nebraska police officer who volunteers for the United Nations peacekeeping force in post-war Bosnia. She finds herself alone against a hostile system in a destroyed country after uncovering a human trafficking crime involving peacekeeping officials.
6. Disney Plus
Disney Plus is a premium streaming service run by the entertainment conglomerate Disney. On November 12, 2019, Disney Plus was introduced in Canada, the United States, and the Netherlands. Since then, it has extended to more than 50 nations across the globe, including Australia, Europe, Latin America, and portions of Asia.

The platform expands its collection with each passing month by introducing new content. The Mandalorian, WandaVision, the long-running series The Simpsons and several other Marvel and Star Wars movies are among the highlights.
6.1 Subscription Prices
In Canada, Disney Plus subscriptions cost $11.99 a month or $119.99 for a year. Similar services are provided in terms of content and simultaneous streams and devices.

The only difference is that when you commit to a complete year, you save $23.89 over the monthly pricing structure.
6.2 Where to Watch
You can watch on your laptop or desktop computer by visiting the website or downloading the app on iOS and Android TVs and devices. There is also an app for Xbox One gaming consoles and PlayStation 4.

You can use Chromecast, Apple TV, Roku, Amazon Fire TV Stick, or Android TV to stream from another device. Disney Plus is also supported by some Samsung smart TVs and LG TVs.
6.3 What to Watch
On Disney Plus, you can watch some of the best movies.

Soul

https://www.youtube.com/watch?v=xOsLIiBStEs

Pixar's capacity to tackle life's significant issues with beautiful layers of complexity, wit and world-building precision is reaffirmed in Soul. It's lovely, moving, and has a fantastic soundtrack.

Star Wars

The film's theme is a civil war "in a galaxy far, far away." The Rebels are up against Darth Vader, the Galactic Empire's Imperial forces, and a despotic army bent on destroying civilizations throughout the galaxy.
7. Apple Tv+
Apple TV+ is a new on-demand streaming service from Apple that features original Apple content. These movies, TV shows, documentaries and kid-friendly viewing selections aren't available on any other streaming services in Canada.

The content collection isn't as extensive as some of the older streaming services in Canada. Still, Apple often releases original material featuring Oprah Winfrey, Octavia Spencer, Steven Spielberg, and Jason Momoa.
7.1 Subscription Prices
At $5.99 per month, it's one of the most affordable on-demand streaming services in Canada, and you can get a free year of Apple TV+ when you buy an Apple TV. You can share your account with up to five family members for the cost of a membership.
7.2 Where to Watch
It's compatible with iPhones, iPads, and Apple TVs. You can also view it on your PC via the Apple TV app, as well as on other smart TVs, Roku, Fire TV, and other devices.
7.3 What to Watch
Here are some of the best shows to watch on Apple Tv+.

The Morning Show

https://www.youtube.com/watch?v=-qZWPTsR-Wc

The show revolves around a news breakfast program and news anchors of the UBA Network of Manhattan. It follows the chaos that ensues when a sexual misconduct scandal breaks.

Ted Lasso

Easily one of the most loved shows in television history, Ted Lasso tells the comical story of an inexperienced football coach of a professional football club in England.
8. Hayu
Hayu is NBC's debut into the realm of on-demand streaming, with a focus on reality television. On hayu, you can watch true crime stories, cooking competitions, and dance competitions.

Moreover, the streaming service also includes other reality shows including, dating series, lifestyle shows, house and renovation shows, and much more.

Hayu doesn't have as much content as some of the other streaming services in Canada on the list due to its narrow scope. However, you can still watch anything from over 250 titles.
8.1 Subscription Prices
Hayu charges $5.99 per month from their users. However, they also provide free tv shows for streaming online for the first month.
8.2 Where to Watch
You can stream on your set-top boxes, smart TVs, and computers, as well as on Android and iOS phones and tablets.
8.3 What to Watch
Hayu has all of the top reality series, including:

Keeping Up With the Kardashians

This reality tv drama which acts as a guilty pleasure for many follows the professional and personal lives of the Kardashian family.

Queer Eye

In this entertaining and fabulous show, style gurus offer advice to folks in need of a lifestyle makeover. Antoni Porowski, a food and wine expert, grooming adviser Jonathan Van Ness, interior designer Bobby Berk, fashion designer Tan France, and culture expert Karamo Brown are among those on the list.
Closing Thoughts
There are so many canadian streaming service that offer streaming subscriptions or free tv streaming services to their users. You can use these for watch videos or live sports streaming, HD streaming, live tv, live streaming events, online free tv shows, and other streaming services. Youtube premium, Over the air HD antenna, global tv, and HBO max are some examples of these streaming services in Canada.

There's nothing better in the world other than binge-watching your favorite series with your friends and family over the weekend. This is the quality time to get to spend together amidst your busy schedule.

Feel free to comment down the names of streaming services in Canada that you watch free tv shows on. You can even give some tv show, movie, and documentary recommendations. We would love to hear them!

Word of Advice: Samsung smart tv is one of the best Canadian streaming services in the country when it comes to a streaming device. perfect for live tv channels dedicated food network, 3rd party video streaming service, and even a connection to the national free streaming service of state channel. So, if you are looking for one start with that.