Antelope Canyon can be looked at as a slot canyon. In this article, we will guide you through the process of visiting the breathtaking Antelope Canyon.
It's on Navajo land east of Page, Arizona, in the American Southwest. It is divided into two parts. Those parts are Upper Antelope Canyon and Lower Antelope Canyon, which are both scenic slot canyons.
It originated from the erosion of Navajo sandstone due to flash flooding and other sub-aerial events.
Once in a lifetime, everybody wishes to visit this location in Arizona, USA. Its otherworldly and enthralling beauty has made it one of the world's most popular tourist destinations. This Navajo guide will give you access to enchanting natural wonders.
When the sun shines in the middle of the day, shafts of light cut through the canyon. The thin orange and gold sandstone walls are bathed in light. The effect is almost lifelike, and photographers from all over the world flock to photograph it.
1. How To Visit Antelope Canyon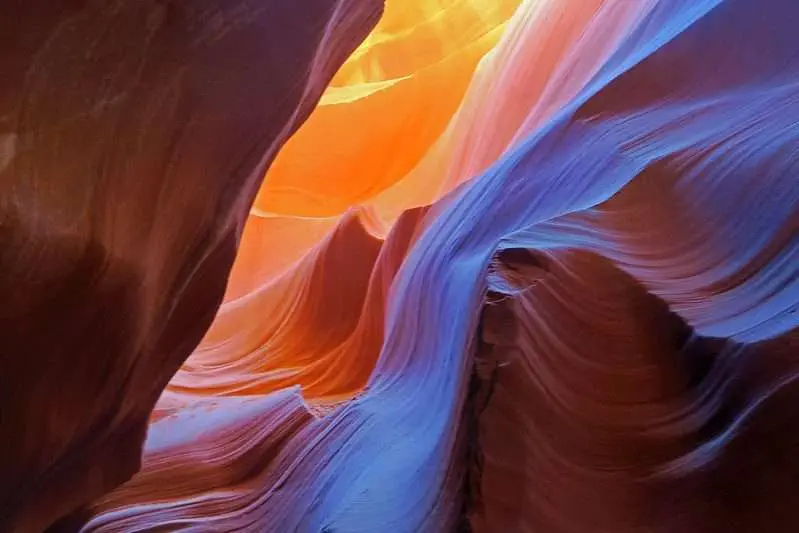 Often check where you want to go before beginning your trip, for example, Lower or Upper Canyon. Weather plays a significant role as well. As a result, if at all necessary, travel should be done during the summer. It's also difficult to see all on your own, so a tour guide should be booked ahead of time.
2. How To Reach There?
Before visiting the Canyon in the United States, you must first find out how to get there. There are many ways to get to the canyon.
2.1 From Las Vegas
Antelope Canyon is served by the Las Vegas International Airport, which is known for its themed hotels. There are also many other attractions to see in Las Vegas. A common way to get there is to book a Canyon tour from Las Vegas. Several companies offer one-day Antelope Canyon tours from Las Vegas, such as this one.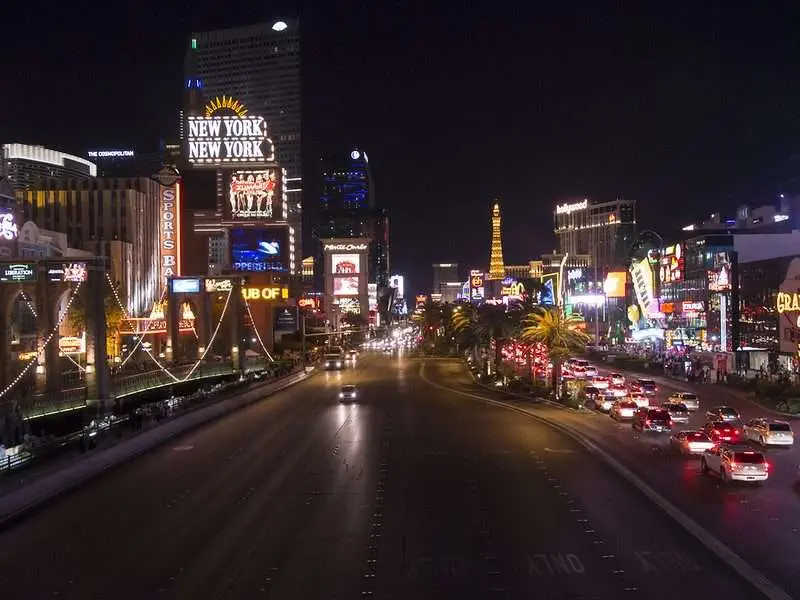 Apart from that, if you want to go to Antelope Canyon on your own, you can rent a car in Las Vegas. This is our favorite choice because it allows you to visit Antelope on your own time. Not just this, it also allows you to explore the surrounding area.
The 280 miles between Antelope and Las Vegas take about four and a half hours to drive. There is also the possibility of traveling by motorhome. However, if you choose the tour-traveler option, you must ensure that it includes an Antelope Canyon and Horseshoe Bend tour.
2.2 From Monument Valley
Antelope Canyon and Monument Valley are about 125 miles apart. As a result, visiting both locations on the same trip is not unusual. If you plan on visiting Canyon and Monument Valley in one day, Antelope Canyon Tour is a good place to start.
In Monument Valley, you can also catch a glimpse of the sunrise or sunset. Those are the perfect times to visit. Both locations are in Arizona and are just three hours apart. Over the summer, the time zone is different.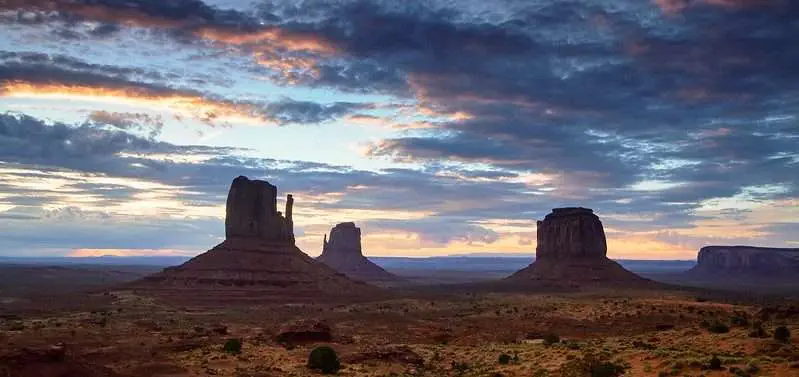 2.3 From the Grand Canyon
The Grand Canyon is located in the United States. It is one of the most well-known and famous National Parks in the United States.
The distance between Grand Canyon and Antelope Canyon is approximately 125 miles, taking approximately two and a half hours to travel. This is a fantastic pairing, close to Antelope and Monument Valley.
It would be fantastic to see the Grand Canyon at sunrise and sunset. A Grand Canyon helicopter tour that includes Antelope Canyon and Horseshoe Bend is available. Always bear in mind that if you're passing through Arizona, you can't miss out on seeing the Grand Canyon, particularly glen canyon dam and slot canyon.
3. When To Visit Antelope Canyon?
The best time to visit Antelope Canyon is when the light beams are visible. It means that the months of late March to early October are ideal. However, November to March is the best time to visit if you want to avoid the crowds.
The best time to go on a night Canyon tour is during the summer when the sky is usually dark. We can see light beams entering the Upper Antelope Canyon during this period (November to March). It also produces a one-of-a-kind phenomenon.
You can also come during the winter, but you will miss out on seeing the vivid haloes even though you'd be able to enjoy Canyon almost completely on your own.
If you want to see the light beams in Upper Antelope Canyon, go during the middle of the day. You can go between 11 a.m. and 1:00 p.m. when direct sunlight hits the surface.
5. Antelope Canyon Tickets
Until now, the price of a sightseeing or photography tour varied greatly depending on whether you booked it. Upper Antelope Canyon tours typically cost between $50 and $100 for 90 minutes (a bit less for children).
Some tour operators, however, offer discounts on early bird and last-minute tours.
Lower Antelope Canyon long tours cost $40, with deluxe options costing up to $80. Taxes and an $8 Navajo permit fee are often included in the price.
6. Where To Stay?
Page Lake Powell Antelope Canyon Campground is the perfect place to stay if you want to camp there. Tents and RVs are both available. Otherwise, these are the best hotels close to Canyon if you want more comfort:
6.1 Hyatt Place Page Lake Powell: This highly valued hotel is conveniently located in Page's downtown area. Since the town is tiny and touristy, you'll need to book ahead of time because this hotel's rooms fill up fast.
6.2 Country Inn & Suites by Radisson: This is undoubtedly the best hotel on the Page, both in price and room availability. It's not exactly in Page, but it's close by.
6.3 The Bear's Den B&B: This cozy three-room bed and breakfast are run by "Bubba and Deb-B" on an ADA-compliant page. Pillowtop mattresses, a small refrigerator and microwave, private bathrooms, and plenty of bear decor are all included.
6.4 Shash Dine' Eco-Retreat: At this sustainable glamping campsite, you can book a Najavo hogan or a sheepherder wagon for a one-of-a-kind stay. Baya, a member of the Navajo Nation, manages the B&B.
You will have fresh drinking water even though there is no running water or electricity. Not only that but while staying in one of the accommodations on Navajo territory, you can take in the stunning scenery.
7. What To Bring With you?
The following things should be brought with you: Closed-toe, comfortable shoes, and thick clothes are recommended. Even in the winter, it is necessary to use a lot of sunscreens.
Often wear a hat or handkerchief to keep the sand out of your eyes. If you wear contact lenses, opt for eyeglasses instead because they are more comfortable in this setting. You are allowed to carry one water bottle. Avoid littering the area.
These things won't be permitted: Bags, Purses, fanny packs, tripods, monopods, selfie sticks, snacks, and beverages are not permitted. In the canyon, all of these things are forbidden.
8. Things To Check Near Antelope Canyon
Antelope Canyon can be visited in one day. As a result, even though you go to Canyon early in the morning, you will still have time. During that time, you will go on other excursions and events. Here are some places to visit in the area:
8.1 Lake Powell
After visiting Antelope Canyon, you can travel to Lake Powell. It is a human-made reservoir in Utah and Arizona, United States, along the Colorado River. It is a large vacation destination that attracts about two million visitors per year.
When it comes to full water capacity, it is the second-largest human-made reservoir in the United States, after Lake Mead.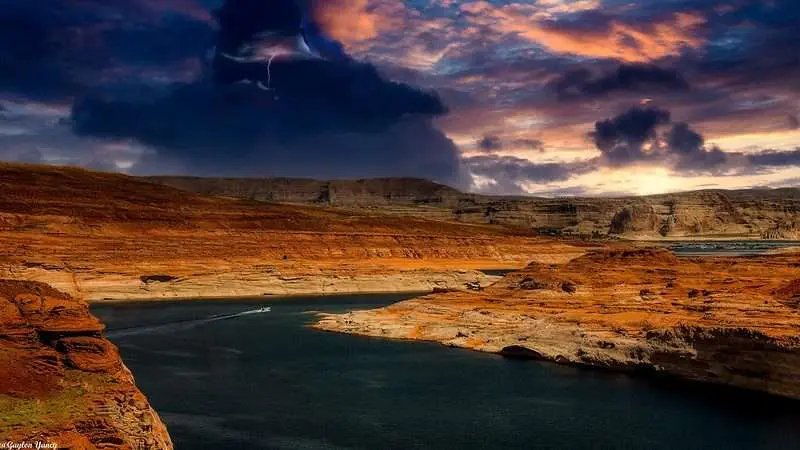 8.2 Antelope Canyon Boat Tour
You can take a tour that departs from Lake Powell to see Antelope Canyon by ferry. The Antelope Point Marina visitor center is the starting point for these tours.
This is the lake section where the Upper and Lower Antelope Canyons begins, and it narrows similarly to the Canyon. Similar tours are available in another part of the lake. It is the point where Wahweap Marina is located in the Lake Powell Resort.
8.3 Horseshoe Bend
Horseshoe Bend is one of the most visited tourist attractions in the Antelope Canyon region. For thousands of years, the Colorado River carved out the horseshoe-shaped canyon. It reaches a depth of over 980 feet. It is one of the most popular attractions in the vicinity of the canyon.
Both Antelope Canyon and Horseshoe Bend can be visited on the same day. During the day, you can visit Antelope Canyon, and in the evening, you can visit Horseshoe Bend if you like exploring.
Closing Thoughts
Are you fond of exploring new places? Are you looking forward to enjoying somewhere in the United States?
Well, Antelope Canyon and the Navajo Nation lands are breathtakingly beautiful and must-visit. Make sure to add them to your bucket list.
It has natural habitats for local wildlife that should be preserved. We suggest you read through this article and use this guide to schedule your trip.