If you are imagining a world where you can play with bubbles & balloons, Bubble Planet: An Immersive Experience is coming to Toronto (at a secret spot that will be announced soon) from November 2023, and remember that this isn't a one-day-only affair.
Nope, Bubble Planet will be in town for multiple dates & times, so there's no excuse to skip out on the fun!
1. What Is Bubble Planet?
Bubble Planet is an immersive experience that combines art, science, and technology to create a magical and sensory world of bubbles.
Picture this: You step in, and bam! You're in this trippy & sensory wonderland of bubbles and it's like a rollercoaster for your brain! 
All ages, all backgrounds – everyone's invited to this bubble bash. We're talking over 10 rooms each with its own vibe.
They're like different universes, each with its own theme. From wild landscapes that mess with your senses to tech, that's so unreal and feels like VR magic.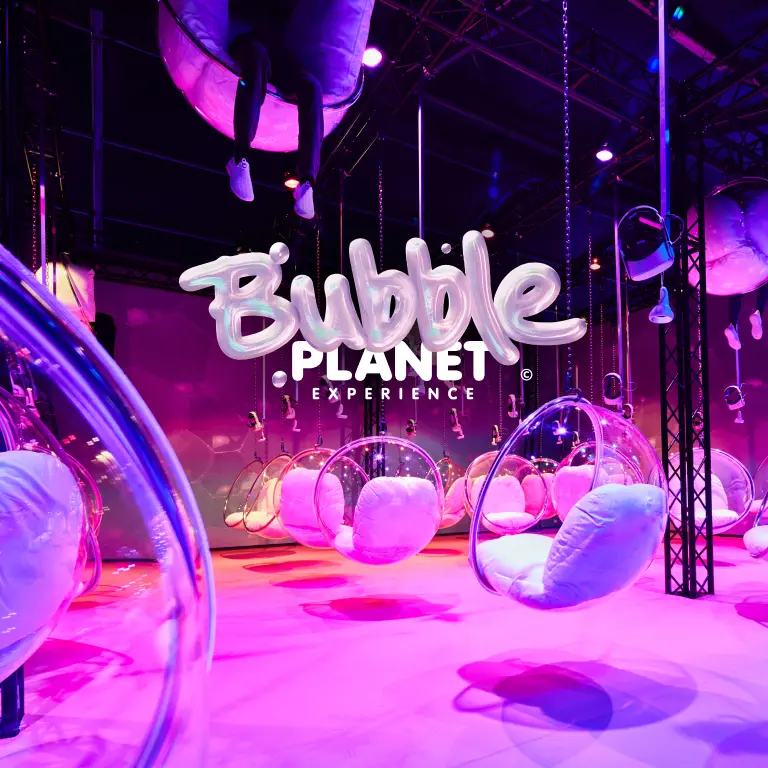 So, yeah, Bubble Planet's got the whole immersive thing going on, using the latest, coolest VR technology.
You'll be feeling those simulations and optical trickeries that'll make you feel amazing and trust me you are going to enjoy this.
So, without procrastination book your tickets because they are limited, and get them before they sell out!
2. What Are the Location and timings of Bubble Planet?
Bubble Planet is coming to Toronto in November 2023 and the timings are multiple, you can select your suitable date & time while purchasing the tickets.
The duration of Bubble Planet is 60-90 minutes and the location of Bubble Planet is still a secret, but it will be revealed soon. So, mark your calendars, folks!
Get ready to venture into the unknown and experience a bubble-tastic Colourful Surreal Universe adventure!
3. How to Book Tickets?
The best and easy way to get tickets for Bubble Planet is through FEVER and you can choose from different types of tickets depending on your preferences and budget.
Just select your date, time slot & ticket type and complete your payment securely then you will receive your e-ticket by email or SMS which you can show at the entrance of Bubble Planet. 
Hurry up because tickets are selling fast and don't miss this chance to enter the bubble planet and have an amazing experience!
4. Important Details You Need to Remember Before You Go
Before you visit Bubble Planet – Here are some important information and tips that you need to know:
Age requirement: No worries about age, peeps! Bubble Planet's the spot for everyone. Just remember, if you're a young gun, you gotta roll with an adult. Safety first, you know?
Accessibility: Bubble Planet is accessible for people with reduced mobility, there are ramps, elevators, and wheelchair-friendly spaces throughout the exhibition.
Safety: Bubble Planet is a safe and hygienic environment where all the bubbles and balloons are made of non-toxic and eco-friendly materials. The staff also sanitizes the rooms and equipment regularly.
5. Are You Already Ready to Enter the Bubble Planet?
What

– Bubble Planet: An Immersive Experience

When

– Multiple dates from November 2023.

Where

– A secret location in Toronto!

Duration

– 60 to 90 minutes.

Timings

– Multiple timings from 10.00 PM to 7.00 PM

Tickets – Are available on FEVER!
As an Amazon Associate, Icy Canada earns from qualifying purchases.
[amazon_auto_links id="81298"]
The Icy Canada team strives to create content that matters. It's why our content is written by travel writers, authority experts, well-known authors, and niche experts. Our content is also periodically reviewed by expert authors for accuracy and trustworthiness.
As an Amazon Associate, Icy Canada earns from qualifying purchases. [amazon_auto_links id="81298"]