Are you feeling stiff? Is there an ache in the back or neck, and it won't go away, no matter in which direction you stretch yourself?
You need a Chiropractor!
Why Chiropractors?
Chiropractic care is a form of alternative medicine that focuses on the diagnosis and treatment of neuromuscular disorders, with an emphasis on the spine. It is based on the belief that proper alignment of the body's musculoskeletal structure, particularly the spine, will enable the body to heal itself without the need for medication or surgery.
Here is a study detailing and scientifically reviewing the benefit of Chiropractors, Title:- Chiropractic: Is it Efficient in Treatment of Diseases? Review of Systematic Reviews
There are several reasons why someone might choose to see a chiropractor on a regular basis. One reason is to improve overall health and well-being. The spine is an important part of the body's central nervous system, and misalignments or restrictions in the spinal column can affect the function of the nerves, muscles, and other tissues in the body. By correcting these misalignments through chiropractic adjustments, it may be possible to reduce pain, improve mobility, and increase overall health and vitality.
Another reason to see a chiropractor is to address specific health concerns. Chiropractic care has been shown to be effective in treating a range of conditions, including back pain, neck pain, headaches, and joint pain. In some cases, chiropractic adjustments may also be used to improve symptoms of conditions such as asthma, allergies, and digestive problems.
Overall, chiropractic care can be an important part of a comprehensive approach to health and wellness. By addressing imbalances in the body's musculoskeletal system, chiropractors can help individuals maintain good health and avoid the need for more invasive treatments such as medication or surgery. This can lead to a longer, healthier, and more active life.
5 best Chiropractors Edmonton has!
A visit to the chiropractor would not only relieve that stiffness but also make your body relaxed. The treatment received can be incredibly helpful in relieving stress too. As a bonus, It also helps in keeping your joints healthy too.
Now, If you are in Edmonton.. We can help you out by figuring out the best that Edmonton has to offer. From cheap offering. advance appointment and premium range treatment here is the best chiropractors Edmonton has to offer.
1. South Side Chiropractic Edmonton
South Side Chiropractic clinic aims to find the source of the health concern and design a treatment plan accordingly. They help you achieve an active lifestyle, restore your bodily functions, and support you throughout the healing journey.
They provide personalized care and often take a comprehensive approach to chiropractic treatment. They help in restoring functions and empowerment of a being. South Side Chiropractor Edmonton also provides you with lifestyle advice and precautions to lead a healthy life.
They also have a pretty friendly staff with a welcoming environment. Their utmost priority is your health and to help you lead a healthy life and function at your best.
They treat conditions like Muscle tightness as a result of maybe a sports injury or other reasons, any medical constraints regarding soft tissues, and muscle or joint pain. However, this is not an exhaustive list, and there are more conditions that for providing treatment.
Age doesn't play a factor while treating, and they also treat babies who have lost function like neck motion or postural concerns children.
You can book an appointment either by calling or emailing them. Business hours differ according to the weekdays and weekends and morning and afternoon. Usually, afternoon timings are from 3:00 PM to 5:00 PM. They are closed on Fridays and Sundays.
2. Chiro Care (Chiropractor Edmonton)
Chiro Care chiropractors are educated and well-trained in managing disorders resulting from joint, ligament, muscle, nerve, or spinal injuries.
They even provide Massage therapy and Acupuncture treatment. This is about keeping your health as the main priority and giving you the best treatments possible.
Massage therapy focuses on repairing soft tissues that are affected by stress or injury using manual techniques. These manual techniques help improve circulation, reduce stress, relieve pain, and promote a healthy lifestyle.
Along with massage therapy and acupuncture treatment, they also offer you some psychological services, rehabilitation services, electrotherapy, and spinal decompression.  It is a multi-disciplinary clinic.
They are open during the evenings and weekends. There is an emergency service that provides you with services outside of business hours in an emergency. These services charge extra fees.
You can either call them, fax them or email them through their clinic contact details to contact them.
3. The Chiropractor Wellness Studio (Chiropractor Edmonton)
The Chiropractor Wellness Studio is made up of 7 Edmonton Chiropractors Dr., namely Dr Andrew Lesoway, Dr Jessica Martin, and many more. They have been named one of the best chiropractors Edmonton has.
They provide various services like diversified chiropractic techniques, shockwave therapy, traditional acupuncture therapy, the webster technique for pregnant women, customized orthotics, Instrument assisted soft tissue therapy, and Fascial Stretch Therapy. They also have TPI Level 1 and TPI Medical 2 certifications in their clinic.
There are various reasons for choosing Chiropractor Wellness Studio to be the chiropractor in Edmonton you go to. They have convenient phone and online booking options for appointments, highly rated doctors, a comfortable and relaxed ambience in the studio, and personalized treatment plans designed specially according to your individual needs and requirements.
Different doctors are available at different times on different days of the week. You can choose the doctor you wish to receive treatment from and book your appointment accordingly. You can consult and then opt for the doctors or get assigned a doctor for the first time.
4. Avenue Chiropractic Clinic
It is a north Edmonton Chiropractic clinic. They have a natural approach while designing a treatment plan for your chiropractic care. The staff is also well-trained in recommending other health practitioners when necessary.
Avenue Chiropractic Clinic aims to empower all its patients and help them lead healthy lives with the help of its lifestyle advice. They aim for high-quality and ethical chiropractic care for all their patients. They accept patients of all backgrounds, regardless of their backgrounds.
They promote chiropractic treatment instead of medicinal drugs for quick fixes. A road to a safe and healthy recovery is what is wished for through the clinic's treatment plans.
Some of the treatments promoted and provided by them include Activator methods, McKenzie Technique, Thompson terminal point technique, the Gonstead approach for spinal recovery, Toftness for infants, and more.
You can book your appointment either by calling or online through their website. You can even consult online by asking your questions on the online form.
Although, a word of caution, you must not refrain from including personally identifiable information or protected health information along with your query. Make sure for more info read the disclaimer or policies of the clinic. The emails that you send are not entirely safe from any interception.
The emails can be intercepted through a third party or unauthorized individual. It is wise to avoid giving away any personal information like your birth date or personal medical information through emails or comments.
They are available throughout the week from a morning at 9:00 AM to Evening at 5:00 PM.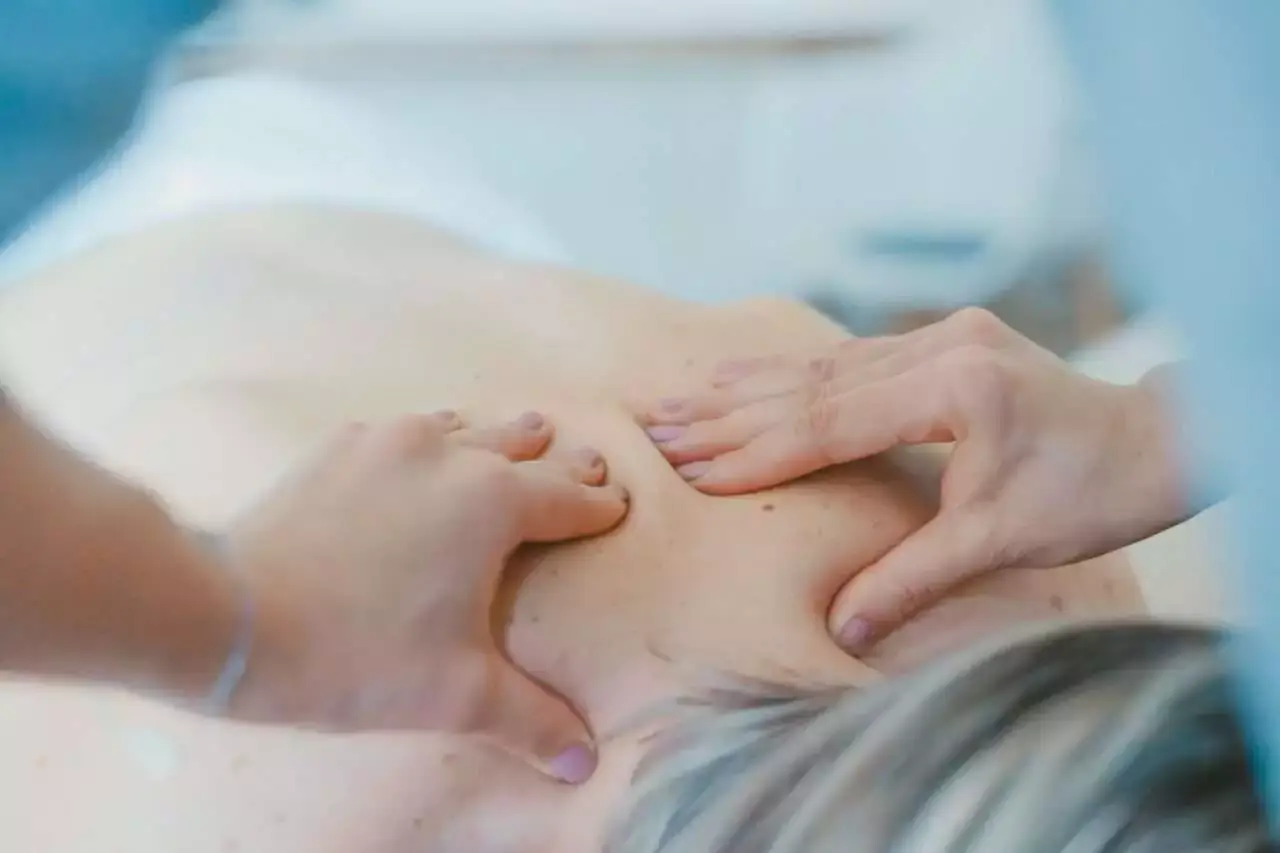 Photo by Toa Heftiba on Unsplash
5. Action Chiropractic & Massage Therapy Clinic
One of Edmonton's best chiropractors, Action Chiropractic & Massage Therapy Clinic, is an interdisciplinary clinic. It offers not only chiropractic care but also massage therapy and psychological counselling.
This chiropractor Edmonton has is a modern style health care centre with a friendly and comfortable environment. The staff is very knowledgeable and trained professionally.
Age doesn't matter here; from babies to senior citizens, anyone can come in for treatment. The chiropractic treatment is personalized after getting a history and view of your lifestyle. They work on locating the source of pain and correcting it rather than looking at the symptoms.
The fee is charged reasonably based on the timings and sessions. Massage therapy can go on for 30 minutes or around 90 minutes. The business hours of the clinic differ on weekdays and weekends and morning and afternoon.
On Monday, Wednesday, and Thursday, the clinic is open in the morning and afternoon/evening. On Saturday, it is only through an appointment that you can get access to the clinic services. The massage therapy timings are from 9:00 AM to 9:00 PM throughout the week, and Saturdays and Sundays are off.
Closing Thoughts
All the mentioned chiropractors in Edmonton have been well-conditioned and exceptional in the services that they provide. They have a pretty friendly and safe environment.
Along with the mentioned chiropractor, Edmonton has numerous other chiropractors' services available in Edmonton. Clinics like Harvey Pointe Chiropractic clinic, Dr McLeod Chiropractic clinic, City Center Wellness, River Valley Health, Gilbertson Chiropractic clinic, Edmonton Chiropractic Neurology & Sports Clinic, and more.
People don't just go to the chiropractor for cracking their bones, and there is much more than that to Chiropractic care. It is a treatment to correct your body's posture, correct your movements and keep your bones healthy. It is useful in injuries like sports-related injuries or back and neck injuries which may require chiropractic care and a rehabilitation period.
To live an active life, it is important to have a healthy body and mind. So, some of these clinics also have psychological counselling along with chiropractic treatment.
Stay Active and aim for a healthy life along with some fun! 
For some fun, check out these Edmonton golf courses you can visit!
Frequently Asked Questions
1. Is there any risk involved?
Yes, there are some risks involved. Some people may experience temporary soreness or achiness following an adjustment, but these side effects should subside within a few days. It is important to inform your chiropractor of any health conditions or medications you are taking, as this may affect the safety of certain treatments.
2. What can I do to prepare for a chiropractic appointment?
In edmonton ab to prepare for a chiropractic appointment, you should wear comfortable, loose-fitting clothing and avoid eating a heavy meal beforehand. You may also want to bring any relevant medical records or imaging studies with you to your appointment.
3. Is there anything I should do after a chiropractic appointment?
After a chiropractic appointment, you may be advised to rest for a short period of time and to avoid strenuous activities until the effects of the adjustment have worn off.
To learn more about practice members entire team, direct billing, and Tips on getting thorough exam built especially for specific reasons like car accident chiropractic websites.
As You may also be given stretches or exercises to do at home to help maintain the benefits of the treatment. It is important to follow your chiropractor's recommendations and to contact them if you have any concerns or questions. it is designed to help you find more info about helping patients learn practice members.
As an Amazon Associate, Icy Canada earns from qualifying purchases.