You might be wondering why you would be required to visit a Canmore spa. Well, let me enlighten you. Everyone in the world is busy. It does not matter who you are; you will be busy considering the fast-paced world we live in.
Whether you are a high school student trying to get ahead of your reading material, or an adult going to the office trying to decrease your workload, you will be neck-deep in your work because that is just the way it is.
Whatever you are doing, wherever you are doing it, it is safe to say that you are extremely busy. In this hectic and busy schedule, it is quite natural that you would want to relax for a bit and take it easy.
Whether you are living or who you are, this is an extremely likely scenario if you are a human being and not a robot.
Everyone is allowed to take care of themselves in their possible way, and I believe that visiting a spa should be at the top of the list. There are many mental as well as health reasons why people prefer going to spas.
Here are a few more reasons why people should take out time of their busy schedule and get going to one of the spa or wellness centers.
Why You Should Visit Canmore Spa?
Going to a spa may be the only chance for you to relax and leave all the tension at home. The main reason people prefer to go to spas is that they get what they want most of the time.
Some spas may also help you lose weight because they are dedicated to doing just that. Do not worry because these spas do not consist of strenuous and rigorous exercises to attain an extreme amount of weight loss. Instead, these spas are known to teach you long-term healthy eating habits and the proper way to manage your weight.
Many people think that going to a spa can be termed as being selfish. But I am here to tell you that one must pamper oneself from time to time because this results in a healthy mind and a healthy body, which in turn helps you boost your confidence and self-esteem.
Many of the services that are available in spas in Canmore can help you in improving your blood circulation as well as your blood pressure. Services such as hydrotherapy, heat therapy, and even different massages can help you attain that.
If you have arthritis or some kind of nerve pain, going to a spa can help you with a wide range of treatments that are generally available.
Going to a spa can also help you in making the patterns of your sleep better. It also enables you to help you breathe properly and helps in regulating your sleep patterns.
There are many other benefits of going to a spa, but in my opinion, these are the top few benefits. Below we will be discussing a few of the spas in Canmore and wellness centres that you must visit to experience soothing and peaceful surroundings.
These places are going to help you rest and take it easy when you require it the most. In case you are feeling down or just want to take a rest, visit these spas or Wellness Centers that you fancy.
13 Best Spa and Wellness Centers in Canmore
Craving a soothing and relaxing spa experience? Then consider visiting these spas and wellness centers mentioned below to have a great experience.
1. Bodhi Tree Spa
Bodhi Tree Spa is a spa situated in the beautiful town of Canmore, AB. It can be found inside the Silver Tree Creek Lodge.
It is known to be an Aveda Concept spa that uses products by aveda.ca and provides its occupants or visitors with various luxurious treatments and spas, which will ultimately prove to be beneficial for you.
Bodhi Tree Spa uses unique treatments for their visitors' spas, native and traditional to Thailand and India. They offer spa specials, facials, manicures, and pedicures for hands and feet, massage, and body treatments.
They also provide special spa packages for 2 (Sweet Serenade Package at $340 per person and Perfect Balance Package at $279 per person).
2. Verde Day Spa – The Canadian Rockies' Premiere Spa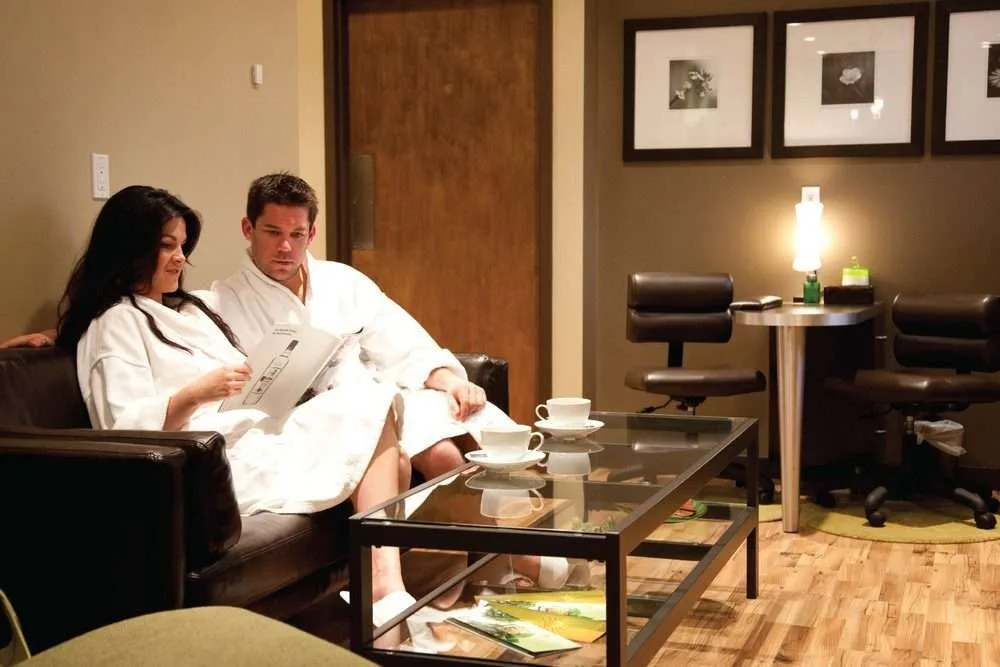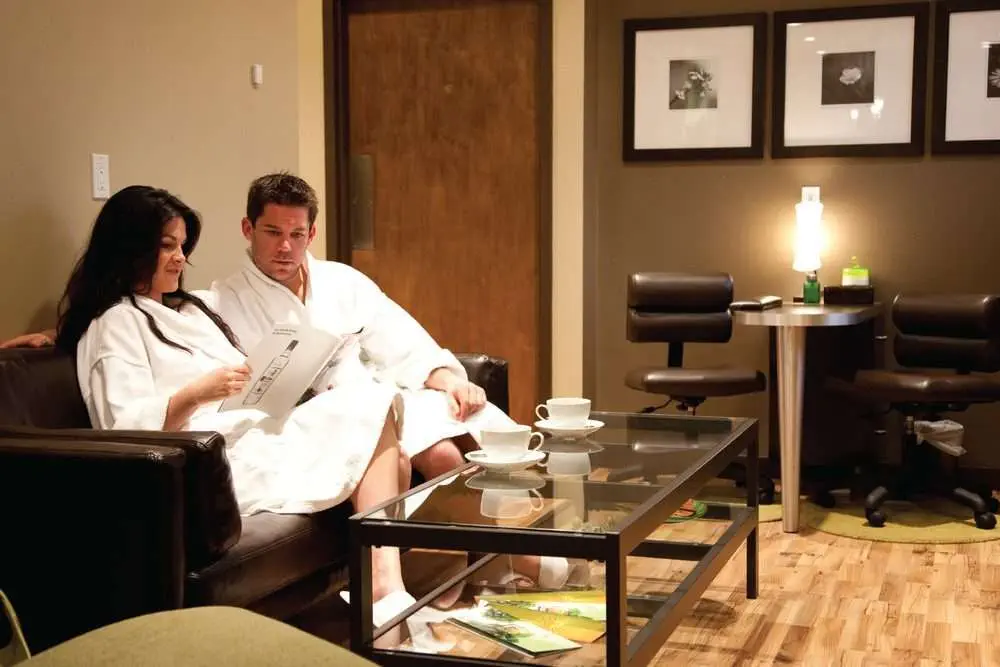 You can visit Verde Day Spa in 3 places- Downtown Canmore, Sunshine Mountain Lodge, and Blackstone Mountain Lodge.
The newest location of the Verde Day Spa is at the Sunshine Mountain Lodge, which is at 7,200 feet and is in the very middle of the Banff National Park.
In contrast, one of the most convenient locations is the one that is situated in Downtown Canmore, near a few of the best shops, restaurants, coffee shops, etc.
The Blackstone Mountain Lodge is located in one of the satellite locations in Canmore, where you can disconnect yourself from all the hustle and bustle of your daily life and can just relax.
Verde Day Spa is known to use entirely organic products to soothe both your body and mind.  At this spa, you will be able to have a premier spa experience that will leave you spellbound.
They have highly trained therapists and people who will be present to attend to your every need.
We suggest you book an appointment at Verde Day Spa beforehand, even though walk-ins are allowed because it would help you avoid any disappointment if you go there and yet do not get a chance at a therapeutic time.
3. Wildflower Canmore – Massage and Esthetics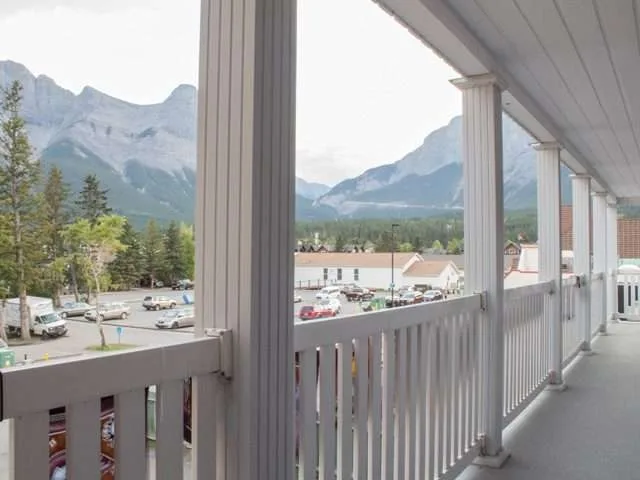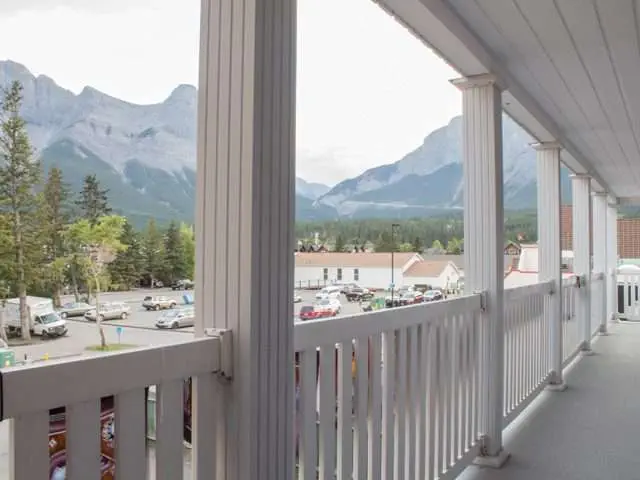 Wildflower- Massage and Esthetics is a spa that consists of many services, including esthetics (like the name already suggests). In Esthetics, they provide you the option to get a facial done, which has a section of selections further.
Some of the customized facials from which you can choose are- Classical Facial (requires 60 minutes at $110), Soothing Facial and Anti-Ageing Facial (requires 90 minutes at $145), and Facial Cupping (requires 30 minutes at $60). Along with facials, the Esthetics section also consists of options for your hands and feet.
A manicure, which requires 60 minutes at $80, and a pedicure, which requires 60 minutes at $85, are available.
You can also choose the Paraffin add-on, which requires 15 minutes and comes for $1, and the option of applying nail polishes. They also have options for different types of waxing and tinting that are available.
For the Massage section, there are different types of massages available from which you can choose.
There are relaxation Massage, Therapeutic/Sports Massage, Myofascial Therapy Release, Scalp and Neck Massage, Prenatal Massage, and Reflexology. Specific new specialty massages have been introduced.
They, too, have a wide range of options from which you can select. They also have a special message such as Kinesio-Taping that helps provide stability to both your muscles and joints without affecting the circulation of your blood.
There are also different Hot Rock Massages and Couples Massages that are available.
4. Rapunzel's AVEDA Hair Salon & Spa – Spa & Salon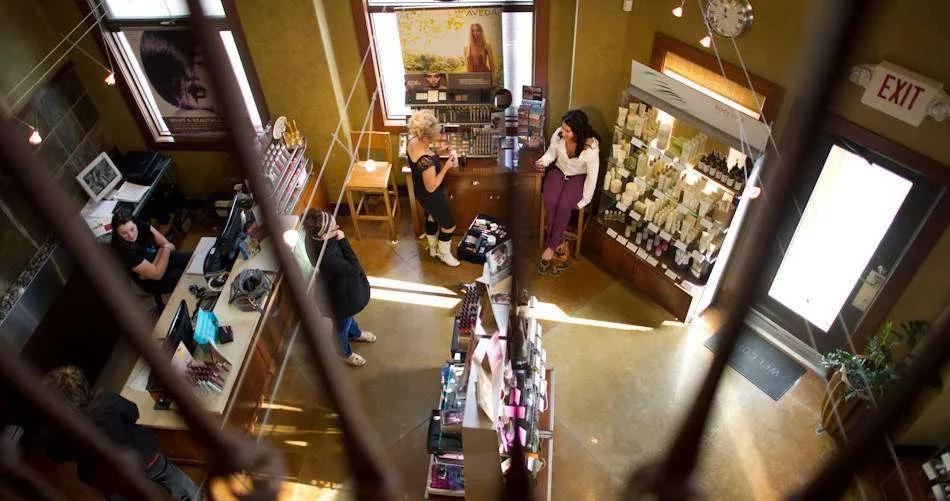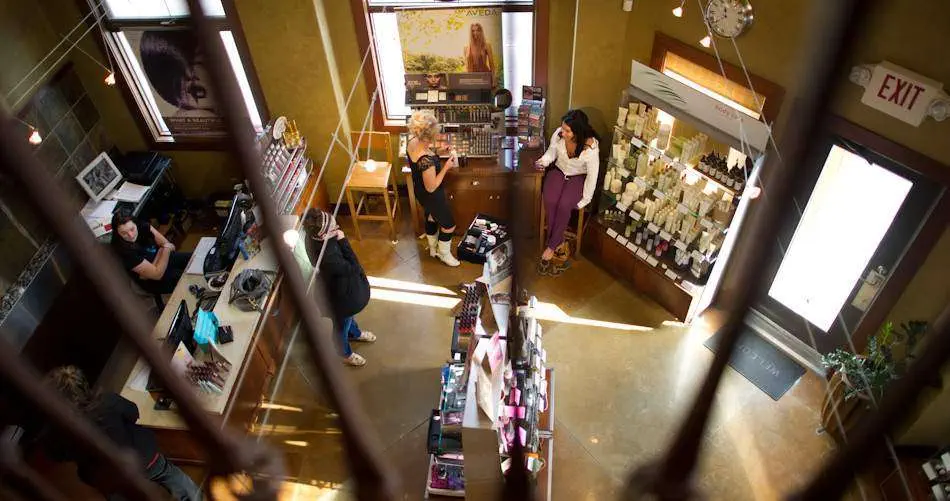 Rapunzel's Salon and Spa are located in Alberta and utilize products from Aveda that are of exceptionally high quality.
They have incredibly talented hairstylists, massage therapists, and estheticians who can provide a rather relaxing time in this spa. They have many services available, including Hair Salon services, Spa services, and Wedding services.
Under hair salon services, there are women's hair cuts, men's hair cuts, and kid's hair cuts available, along with hair coloring, hair styling, adding highlights, and hair extensions.
Rapunzels Salon and spa's Spa services include massage treatments, body treatments, manicures and pedicures, and facials and waxing.
Finally, the wedding services include hair-styling, make-up and spa services, and even unique couples services for the bride and groom to get away from the hectic work of planning a wedding for a few hours.
Moreover, they also allow you to provide the best thank you present to your bridal party, i.e., a spa service for each of them.
5. Float Canmore
Float Canmore is the first float therapy company in Canmore, which has been able to bring healing, relaxation, and floating to Canmore.
This is a local business being looked after by local people so that all the athletes and tourists who visit Canmore can experience the art of healing.
There are many incredible and unique benefits of floating that should be experienced by everyone, even the locals who call Canmore their home.
There are many types of floating pricing and membership options provided by Float Canmore and from which you can choose according to your requirements.
6. Etana Wellness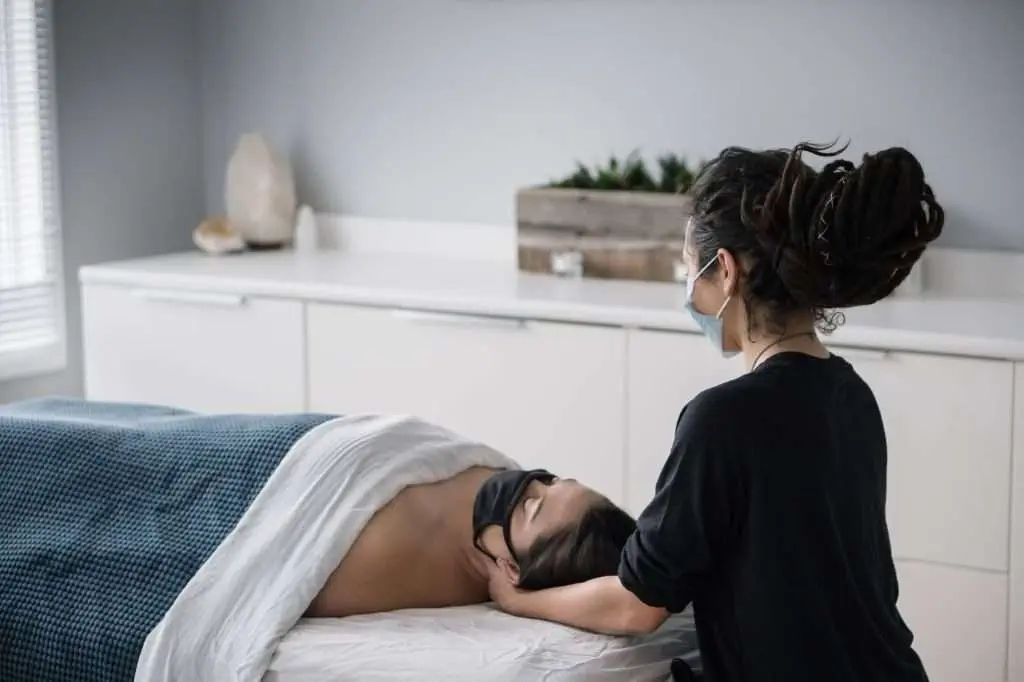 Etana Wellness is a spa and wellness center known to offer Massage, Lymphatic Drainage, Reiki, Personal Training, and Nutrition Coaching. The owner of Etana Wellness has been known to have worked in various other spas.
It is said that she has taken the bits of her ideas for her massage menu from all over the places she has worked in.
This shows how diverse their selection will be and how effective it will be. Most people visiting this place have provided excellent reviews.
7. One Wellness
As the name suggests, One Wellness is a Wellness Center in Canmore that consists of customized experiences, each depending on your unique self. This spa is situated inside the Solara Resor.
The services you can obtain from this wellness center include Massage, Facials, Manicures, and Pedicures for your hands and feet, respectively, Waxin, Physiotherapy, Personal Training, and Fitness Membership as well.
You can select whatever you think will suit you from this myriad of options. One Wellness consists of friendly, professional staff who can help you with almost everything. They have been known to provide a great relaxation time to those who require it.
8. Mountain Glow Tan and Spa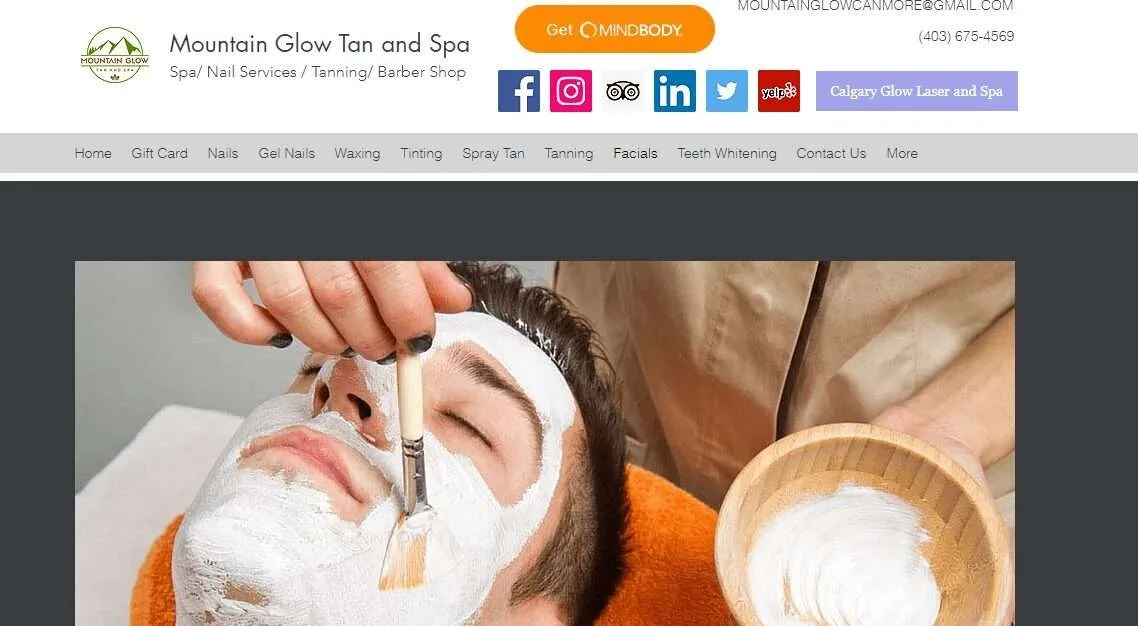 Mountain Glow Tan and Spa consist of a wide variety of services provided in a very relaxing environment, which helps the customers to relax.
A myriad of services such as laser treatments, manicures, and pedicures (including shellac application) for hands and feet, services for hair, traditional tanning beds and a spray tanning booth, waxing and tinting services, relaxation massage, teeth whitening, a few more services are available for you to choose from.
They even provide you with Moroccan Oil treatments for the hair. This spa offers a fun and relaxing atmosphere where all the visitors will enjoy themselves and get one of the best spa treatments done in Canmore.
9. Willow Stream Spa at The Fairmont Banff Springs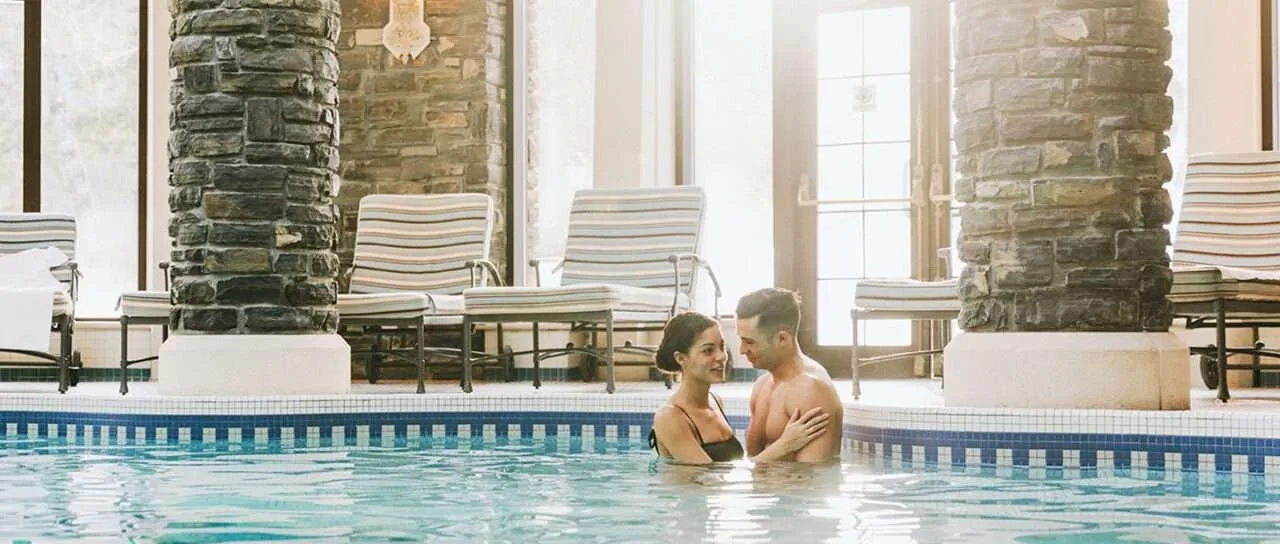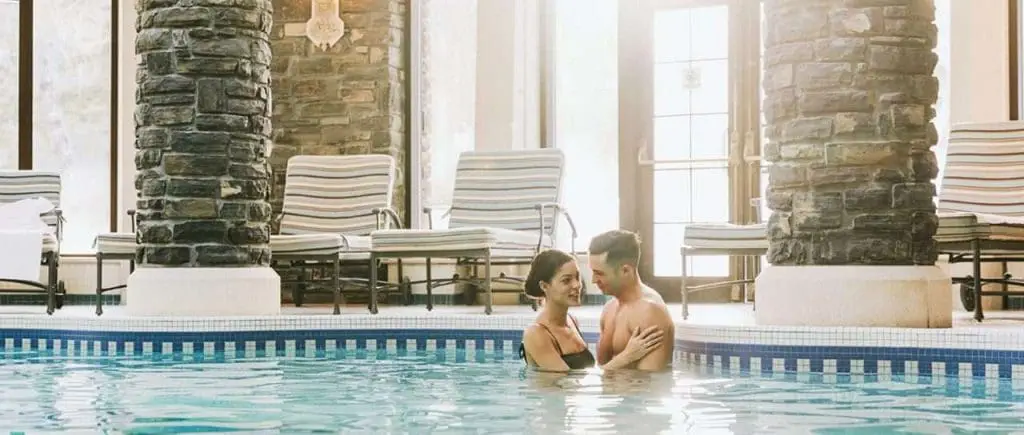 Willow Stream Spa at Canmore is known to help you relax, rejuvenate, and be pampered by trained professionals. It can help you heal from the strenuous life you have been leading in the city.
With the help of all the brilliant services provided, you will easily be back to your old self, and maybe, even feel better than before.
This spa has many spa services, including massages, facials, full-body treatments, salon services for both your hands and feet, couples massage experiences, and even services catering to just men.
Select whatever you feel would suit you and go ahead with that.
10. Back At It Sports & Wellness Clinics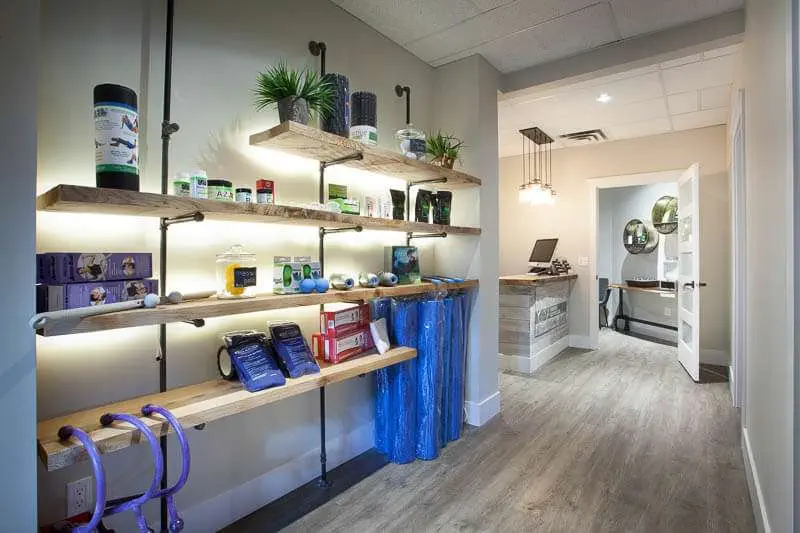 Back At It Sports and Wellness Clinics offers you services that will enhance your health and help you be more active.
They have trained professionals as their therapists who can help you with their services such as Deep Tissue / Sports Massage, Relaxation Massage, Acupuncture, and Naturopathic Medicine.
They provide you with unique treatments that will suit or cater to only your needs. Thus, the treatment provided is not the same for the two people. Instead, it is different for different people as it will depend on the person's exact requirements.
The motto of this particular spa is to make your body forget the activities you did today so you can do them again tomorrow. 
11. Azzuro Terra Laser Spa & Hair Salon
Azzuro Terra Laser Spa & Hair Salon has a wide range of services that they offer from which you can choose the one you think will suit you.
Going to this spa is a brilliant way to spend your day in a relaxing manner with your special someone. There are hair salon services as well as spa services and even wedding services that can be availed.
What better way to provide your bridesmaids with a return gift than to give them a gift for a spa treatment? I am sure they will be thanking you later. Either this or you can just spend a calm, quiet day at the spa to recharge yourself.
12. Skin RNI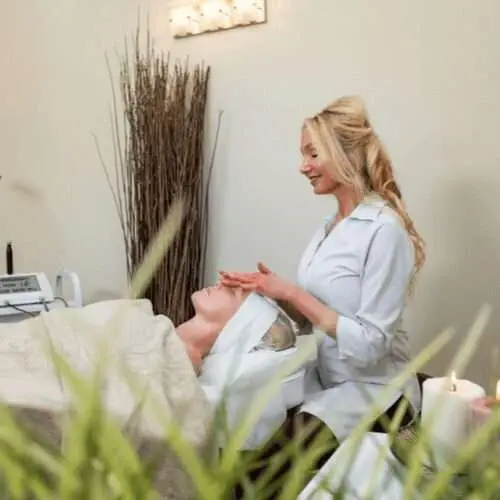 Skin RNI is a  spa that is primarily focused on helping your skin with scientific programs. These programs will help your skin not only from the outside to the inside but also from the inside to the outside.
This spa in Canmore is a  clinic brand partner with Skin Health Canada and was established in 2018.
This helps provide you with a wide range of skincare treatments that would, in turn, result in your skin gaining optimal skin health.
It will be decided by the skin care specialist what type of treatment would suit your skin and how to adjust the dosage so that you can care for your skin even at home.
13. Mindful Massage Therapy
As the name of this spa suggests, this is a place where you will receive quality massage treatments by professionals. These massage treatments are necessary from time to time, as these are going to help you in your daily life.
They have professionals who have received the proper training to do exactly what you wish for. They are experts in therapeutic, deep tissue, sports, and relaxation massage, which will help you after a strenuous week.
These are the top 13 exquisite spas and wellness centers that are available for you. You can pop into any one of them to receive an incredibly relaxing massage or spa treatment so that you can forget the other hectic parts of your life. Do visit them and help yourself rejuvenate and comfort to the maximum, also.
Let us know in the comments down below which spas in Canmore you enjoyed the most.

As an Amazon Associate, Icy Canada earns from qualifying purchases.
[amazon_auto_links id="81298"]
The Icy Canada team strives to create content that matters. It's why our content is written by travel writers, authority experts, well-known authors, and niche experts. Our content is also periodically reviewed by expert authors for accuracy and trustworthiness.
As an Amazon Associate, Icy Canada earns from qualifying purchases. [amazon_auto_links id="81298"]