Here are Canada's five highest mountains if you consider taking a nature retreat or going on a lovely hike. Let's look at each one in turn.
One can find amazing and breathtaking mountains in Canada. There are over 21,000 recognized mountains in Canada, which is remarkable!
There is nothing not to enjoy about those mountains; they fill in the gap in the beauty of nature and are necessary for many other reasons.
Visiting the highest mountains in Canada during winter is as dangerous and dreamy as it sounds. Although it is advised to visit these peaks in the summer, they are always stunning and picturesque regardless of the time of year.
5 Highest Mountains in Canada
But besides being stunning, these highest mountains in Canada also offer interesting and unusual facts, so let's start our journey!
1. Mount Logan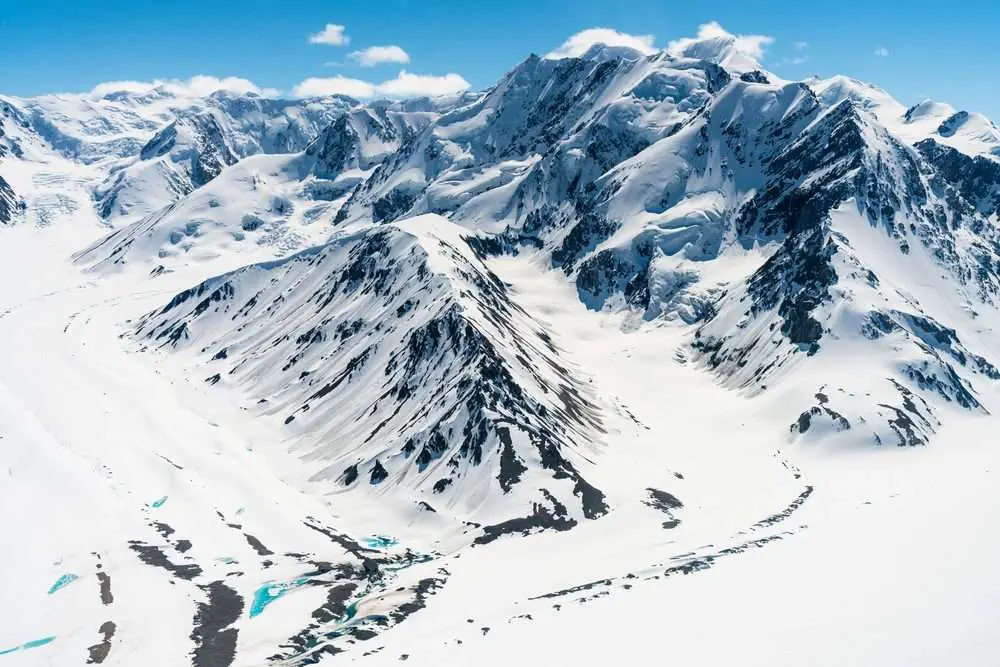 Mount Logan is the tallest in Canada and the second-highest mountain in North America after Denali Mountain, whose fixed height is around 5,959 meters. The height of Mt. Logan increases continuously.
Located within the territory of Kluane National Park Reserve, Mount Logan was named after Sir William Edmond Logan, who was a renowned geologist of Canada. 
The circumference base of this mountain is the largest on earth in the non-volcanic mountain section.
The temperature on this mountain rises to such an extent that it can freeze your bones, as the lowest temperature can fall to -45 Celsius; during summers, the temperature ranges between -27 to -17 Celsius.
In 1925, a group of six mountain climbers reached the top of Mount Logan for the very first time, which took them over 65 days to cover the whole journey. 
Later over 15 groups of hikers attempted to climb the summit of mount Logan. There are around 13 routes for climbing the mountain, King Trench Route being the easiest one.
In around 2000, Mount Logan was proposed for renaming by Prime Minister of Canada Jean Chrétien after the former Prime Minister Pierre Trudeau passed away in the same year.
 Still, the plan was dropped later, and the mountain range present in British Columbia was named after him.
On average, it takes around three weeks in the whole climbing process.  
The best time to visit Mount Logan is during summer, as the temperature is likely to be in your favor, and several expeditions are going on for this summit. 
You can gather in-depth information about the Mount Logan expedition here!
2. Saint Elias
Saint Elias is a vastly spread mountain range covering over 43,000 square feet.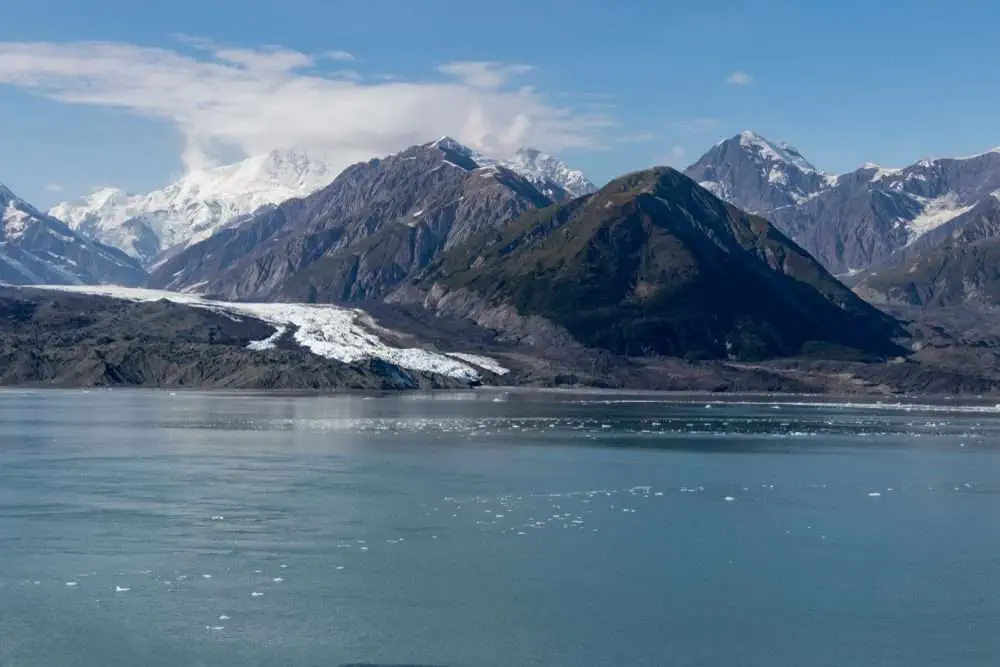 It stretches from Alaska in the united states to Yukon in Canada till British Columbia. Its range is spread in three different regions of North America.
The height of Saint Elias is 5,489 meters, which is only a matter of a few hundred meters, but that makes it the second-highest mountain in Canada. 
It is not only one of the highest coastal mountain ranges and is also wholly covered by ice fields.
Numerous volcanoes, including Mount Churchill and Mount Wrangell, can be found in Saint Elias. 
The Saint Elias mountain range also includes Mount Logan, the tallest mountain in Canada.
It is not just a mountain range. Many places like glaciers and national parks are present around mount Elias, a significant tourist destination and adventure-packed mountain range for mountain climbers.
3. Mount Lucania
Among the third highest mountains in Canada is Mount Lucania; its height is over 5,240 meters, and it is one of the most challenging mountains to climb in North America.
The name of Mount Lucania is based on a ship, which makes this mountain an interesting one. Mount Lucania's first summit was completed by Prince Luigi Amedeo, the Duke of Abruzzi, in 1897. 
The prince was an Italian mountaineer and explorer who successfully climbed his first ascent of the mountain, and after seeing the ship from a distance, he named the mountain after the RMS Luciana's ship.
When Washburn and Bates tried their first summit here at mount Lucania, they used an airplane to reach Walsh glacier, but during landing, the plane sunk, and after five days of trial, the aircraft could fly again.
 They reached the summit and later continued their journey through the wilderness to reach a small town in Yukon.
Mount Lucania receives a tremendous amount of storms and snowfall, so the hikers and climbers must be very alert and trained for the weather. 
There are only two routes for reaching the mountain peaks: the northeast ridge and the aurora ridge. You can decide the route at your convenience.
After several decades of the gap, climbers dare to climb this mountain. 
Mount Lucania is rarely summited as its location is very remote, and medical facilities and evacuations are hours away and expensive, so you need to be prepared for everything.
4. King Peak
King Peak, also known as Mount King, is the fourth-highest mountain in Canada, located in Yukon.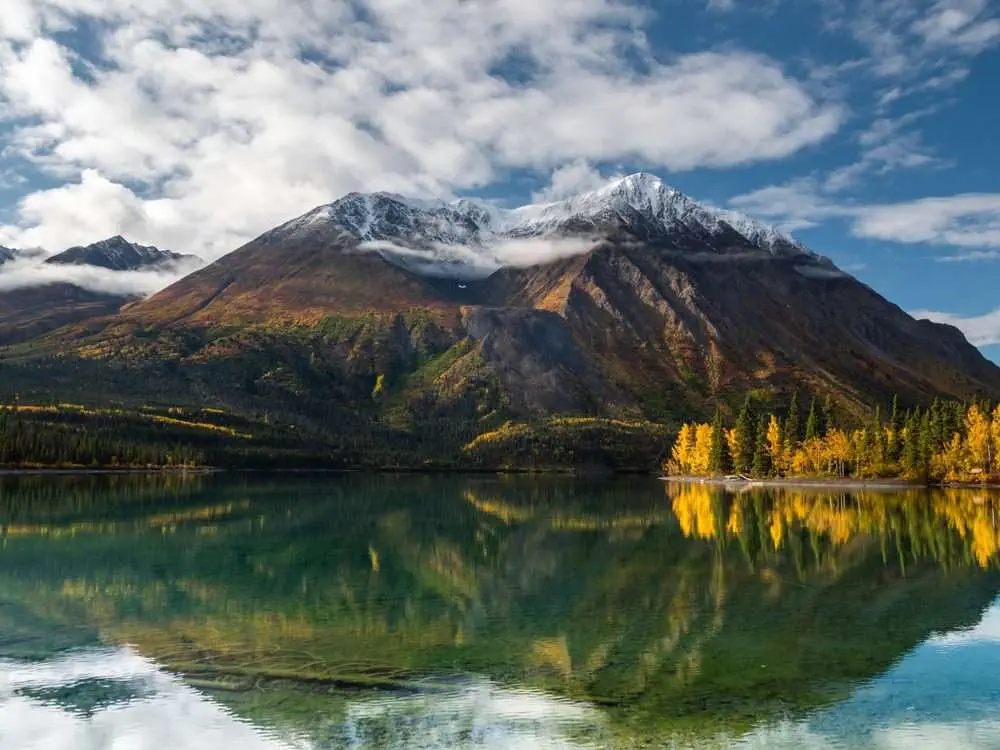 This mighty mountain peak is also considered a satellite peak, located just 10 miles away from Mount Logan.
The elevation of this mountain is 5,173 meters, which is only a few meters lower than the rest of the mountain peaks, which makes it the 9th highest peak in North America.
The interesting fact about this mountain is that a few students studying at the University of Alaska made their first attempt at climbing it.
Four students attempted in the year 1952. After waiting for the storm to pass for two days, one student didn't proceed because of a knee injury, and the three students completed their King Peak summit.
There were attempts from an American team in the same year, as they had already climbed Mount Augusta, so they were very confident, but after two failed attempts at King Peak, they finally completed the summit in their third attempt.
The climate and structure of this one of the highest mountains in Canada are very harsh, so it is a very challenging climb for the mountaineers.
 Not many attempts have been made here, but if you are planning now, you need to agree to the terms and conditions of the tour guides before visiting these highest mountains in Canada, as there are many risks involved.
5. Mount Steele
Mount Steele is the fifth highest mountain in Canada, with an elevation from the sea level of around 5,073 meters.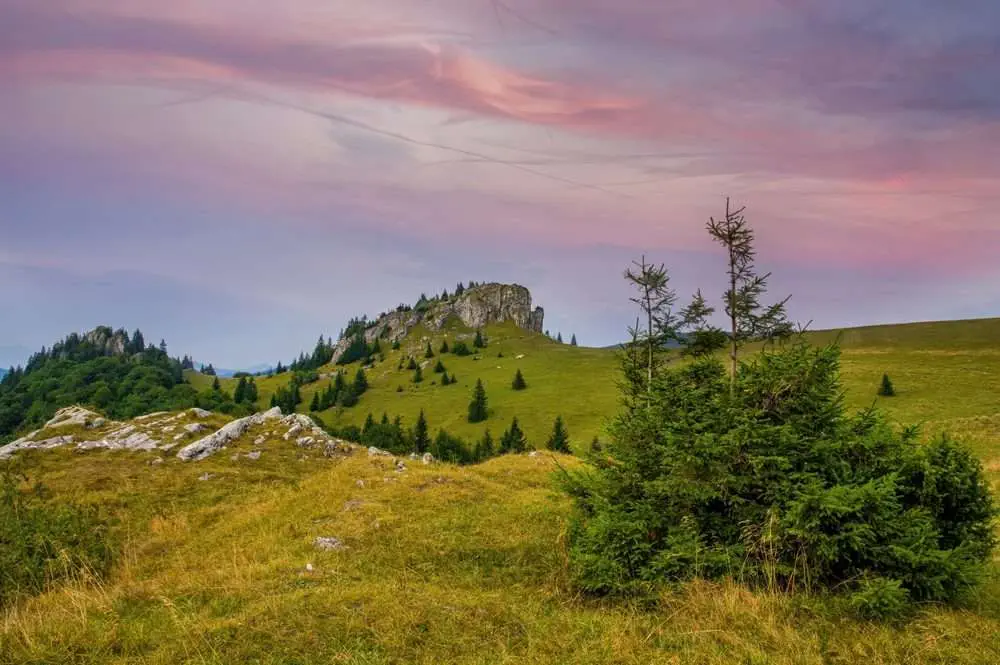 This mountain peak is the 11th highest peak in North America, whose parent mountain is Mount Luciana.
The mountain is named after Sam Steele, the major general and a reputed officer of the Northwest Mounted Police; he played a significant role during the Klondike Goldrush.
A group of men tried to climb Mount Steele in 1935, but the harsh and deteriorating weather caused them days of delay.
After moving a little further, they were laden in the snow at least a meter deep.  After days of struggle, they managed to reach Mount Steele's top.
The Avalanche of 2007 is considered the most dangerous and most massive disaster in the western zone of Canada.
 This fifth highest mountain in Canada has a very high avalanche rate, as it has witnessed some dangerous avalanche, landslide, and rockfall, the intensity of the disasters are measurable on the seismographs.
 It has even been witnessed at 2.1 magnitudes on the Richter scale. Mount Steele will severely test your patience.
There are very few planned guided trips for Mount Steele expeditions, and as it is notorious for having dangerous weather and storms, it is not for those who are easily irritated. 
Closing Thoughts
Canada is home to thousands of great mountains. If you are that wild soul who likes extreme adventures, plan and prepare for these highest mountains in Canada.
Many mountains, such as Mount Columbia, are located within the Canadian Rockies, Mount Robson, and Mount fair-weather are present in British Columbia, etc. 
Each peak has different highest points and difficulty levels, so you can try to sharpen your skills here. You can also visit other marvelous mountains in Canada here!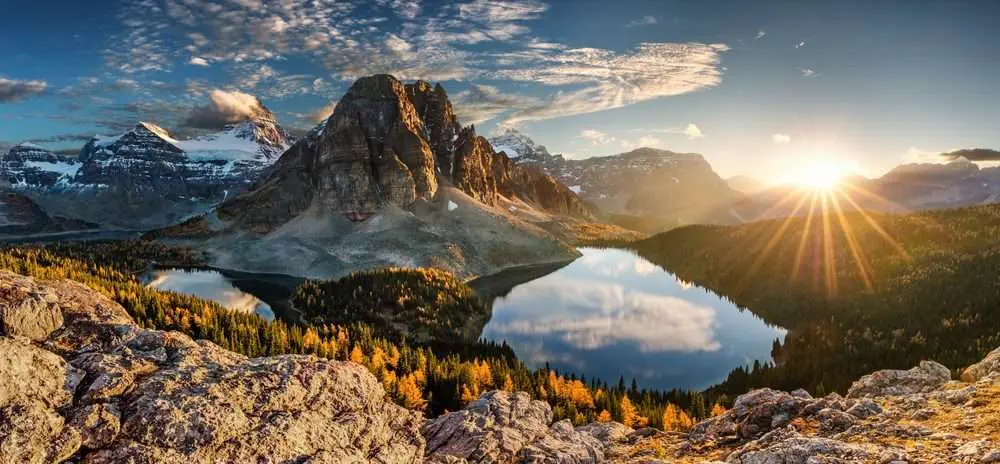 Word of advice
So, we saw some highest points and mountains in Canada, and everything looks pretty neat from a distance, but these mountains are equally dangerous. 
It would help if you were extra careful and prepared for it.
This is especially true if you are a beginner and want to start your journey with the mountains. 
In that case, there are still many beautiful and lower-level difficulty hikes all over Canada, and the Canadian Rockies is where you can begin.
So, what are you waiting for? Plan a trip to Canada and go on to explore the wilderness and different sides of nature. We recommended you to visit saint elias mountains, mount saint elias, mount wood, mount vancouver, glacier bay national park.
This was an article on 'Amazing Facts about 5 Highest Mountains in Canada. If you have something more to add, please feel free to share your thoughts with us!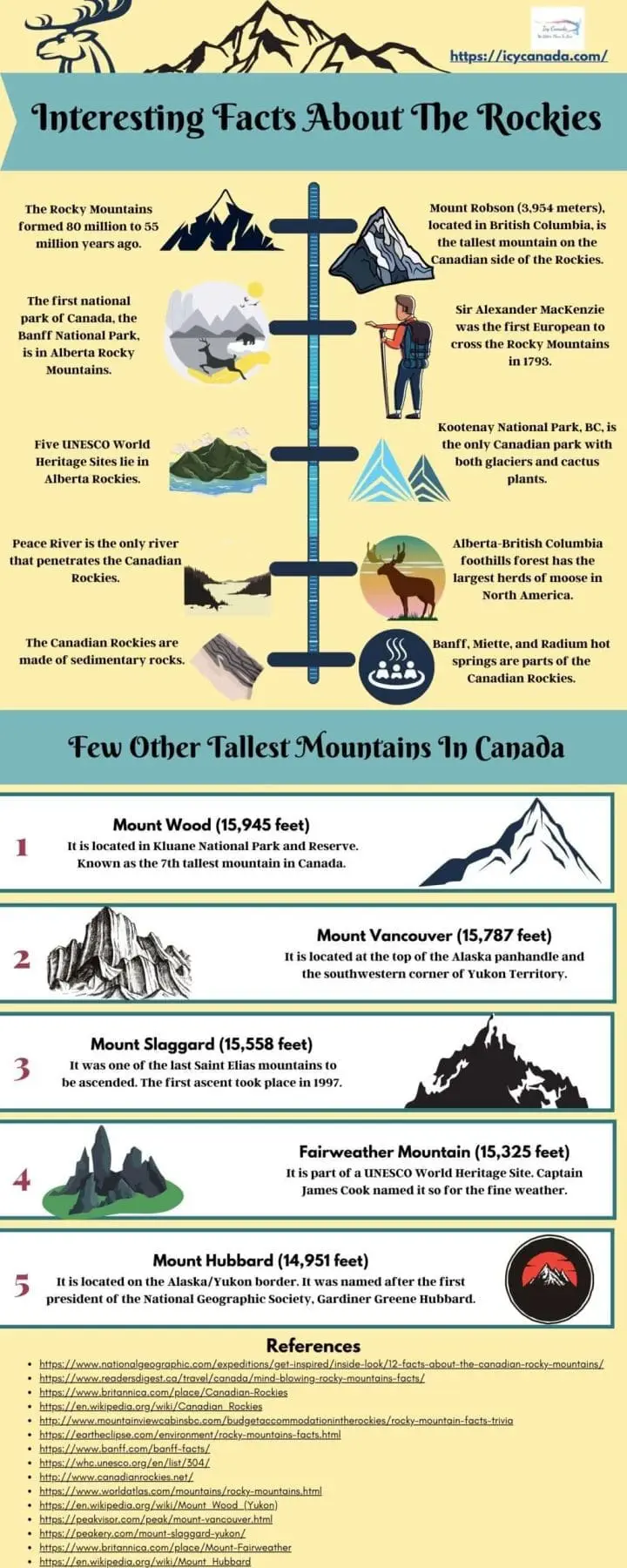 Read more from us here: Everything You can Do in Caledon, Ontario