A quick guide on "how much does law school cost in Canada?"
Great lawyers start with passion, perseverance, dedication, and excellent law schools.
If you are an aspiring lawyer in Canada or an International student looking for Canadian law schools, you might be wondering how much does law school cost in Canada?
Well, to be honest, law schools can be an expensive investment. On average, a full-time law degree in Canada is up to $12,957.50 every year for Canadian students and up to $22,531 per year for International students. And the cost of attendance includes tuition, fees, books and supplies, room and board, transportation, and some personal expenses.
But not to worry, most Law schools provide local and international students with concessions on tuition fees and a variety of financial assistance to help them achieve their goals with less burden. It is mandatory for every law school as per the guidelines of the American Bar Association to publish its cost of attendance. Hence, the information is readily available for students on its website, usually on its financial aid page.
Before we go on snooping, let's talk about the eligibility criteria's you need to fulfill as an aspiring law student before looking for law schools in Canada and how much does law school cost in Canada-
A completed Undergraduate Degree in Pre-law, taking the law school admission test to check for your prior knowledge of Canadian law, selecting a law school in Canada, and completing your Provinces Bar admission course will be needed.
Now moving on to the long list of law schools in Canada, how much will they cost you?
1. University of Toronto
Address:
78 Queens Park, Toronto, ON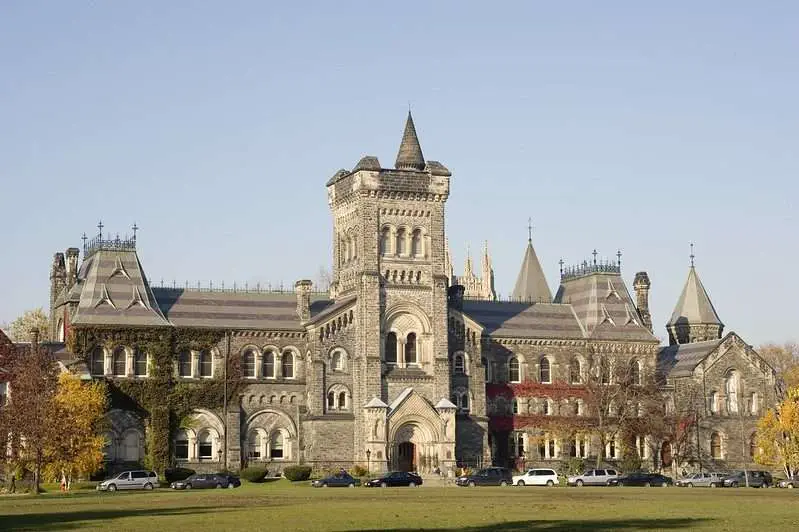 The University of Toronto, with its interdisciplinary approach and intellectual diversity, has been one of the best law schools in Canada. The law faculty at the University of Toronto is an excellent scholarly community. Everyone in the community, from the professors to the students, works together to develop their critical understanding of the law and legal education.
The student body isn't huge, but the selected student community is diverse in every sense, highly educated, analytical, and rich in the exchange of ideas.
The University has a robust variety of Academic programs, to name some –
Juris Doctor Full time / Half time
Juris Doctor/Masters in Criminology
Juris Doctor/Masters in European and Russian Affairs
Juris Doctor/Masters in Global Affairs
Juris Doctor/Masters in Public Policy,
and a lot more to take a look at. You can click here.
The tuition fees for a full-time Juris Doctor will cost $54,320 for international students and $33 040 for domestic students. Now, if you think that it's too much, we have good news. The University of Toronto ensures you have affordable and flexible funding options to help you pay and take forward your aspirations.
Some of the Aids are –
Federal Loans
Private Loans
Scholarships and Grants
Federal Work-Study Program
Veterans Educational Assistance
To know more, click here.
2. University of Windsor
Address:
401 Sunset Ave, Windsor, ON
The University of Windsor faculty of law was established in 1968. The Windsor law faculty is a distinct community that focuses on exceptional learning. Its works emphasize community service, justice, experimental learning, and transnational law.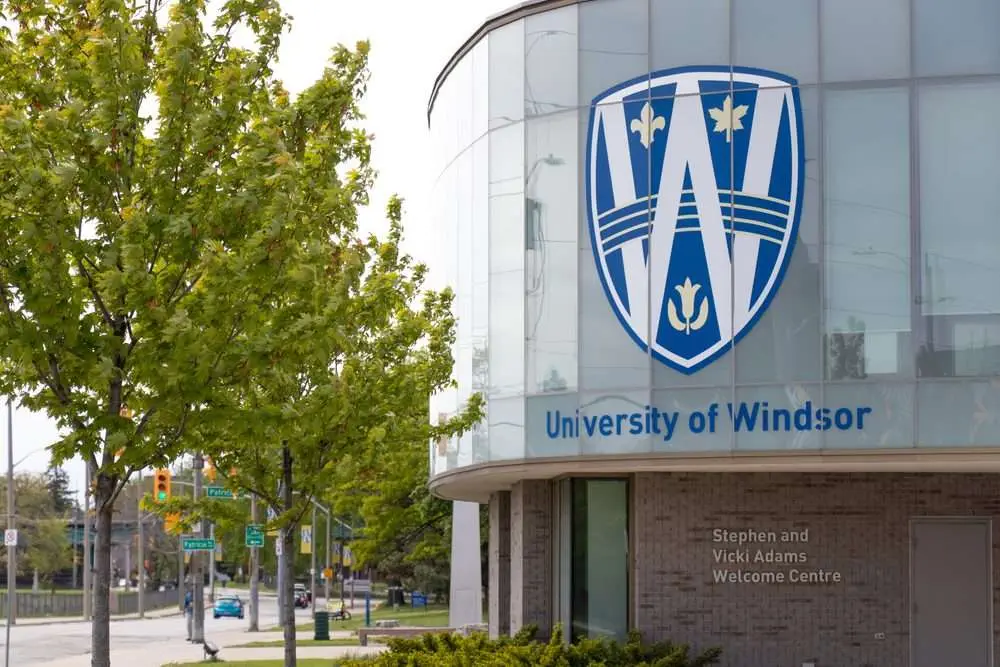 This university is fully recognized to the doctoral level, and the university's law faculty is recognized by Canada's common law society and the Law Society of Canada.
Now, to name some of the notable law programs in the University of Windsor –
Juris Doctor (JD program)
Master of Laws
Canadian and American Dual Juris Doctor
Juris Doctor and Master of Business Administration
Juris Doctor and Master of Social Work
Clinical law program
and many other programs, clubs, and committees are there.
To help you through your placements and establishment, after completing your degree, you will have access to a Career placement and Bar passage cell.
Now, coming to the primary concern, how much does law school cost in Canada and specifically the University of Windsor-
Well, suppose you are applying for Law JD. In that case, the tuition fees for international students are $24353.65 (excluding living costs and meal plans), and the tuition fees for Canadian citizens and permanent residents are $9665.08 (excluding living costs and meal plans).
The costs will differ for students who pursue Law Dual JD and other courses. But don't worry. You can find out the prices at your convenience with the Tuition Fee Estimator available on the University's site or click here.
Now let's talk about the financial assistance provided by the University. There are multiple Scholarships, Awards, and Bursaries available for the students who wish to apply for the University of Windsor. Even these financial aids vary in the context of international students, Ontario students, US students, out of province students. To know more, click here.
3. McGill University
Address:
 845 Sherbrooke St W, Montreal, Quebec
The McGill University, established in 1848, has the oldest law faculty in Canada. It was ranked 16th amongst the top universities of the world to study law.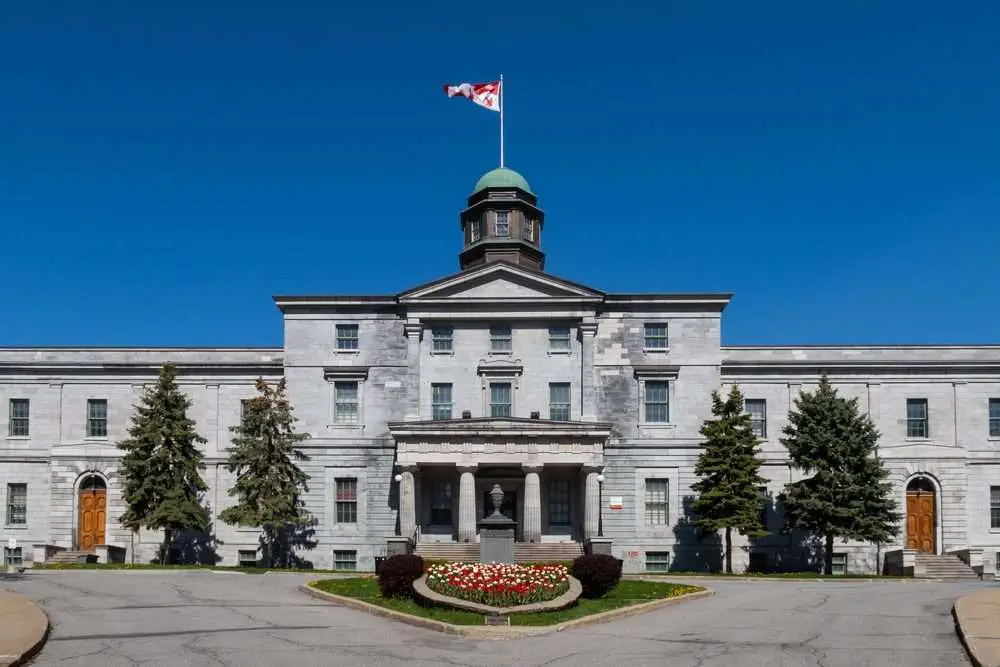 The faculty of law at the McGill University are civil and common law experts, emphasizing comparative or transsystemic approaches and Indigenous perspectives (also read about the truth and reconciliation commission here) and are active participants in legal reform and legal institutions.
Since its establishment, the University's law faculty has been one of the finest and consists of several international law specialists. The faculty stands at the forefront of legal education. Among its alumnus are Supreme court justices and Prime Ministers.
McGill University offers three different levels of programs – BCL/ JD, graduate, and research.
BCL/ JD – Students graduate with 2 law degrees, a Bachelor of Civil law and a Juris Doctor. This program has been one of the most prestigious programs in the country, and so are the opportunities that follow after completing this program.
The fees for the course will be $ 52,359 for international students, $ 5,060 for Quebec students, and $ 10,841 for non-Quebec students.
There are two fantastic graduate programs and a research program. You can check the details for the same here, and again not to worry, and the university provides you with a variety of scholarship opportunities you can choose the one suitable for you.
To check for scholarships and respective fees estimate, click here.
4. University of Alberta
Address:
116 St & 85 Ave, Edmonton, AB
The University of Alberta Faculty of Law is Western Canada's most prestigious law school and one of Canada's leading legal education and research institutions. For more than a century, the Faculty has been at the vanguard of legal scholarships and fostering generations of thought leaders.
It has a law center with comfortable classrooms, a computer lab, wireless Internet service, student lounges, a coffee shop, and two states of the art moot courtroom. Pedways connect the Law Centre to buildings housing the Fine Arts faculty, a student shopping, residence mall, Rutherford Library, and many other university buildings.
And many other amenities that the law students enjoy.
The University offers a rich range of graduate, research, Doctor of Philosophy, practicing law pathway courses in Civil law, environmental law (which is much needed), indigenous law, common law jurisdictions, criminal justice, public administration, bachelor of rules, etc.
For the first-year students of Juris Doctor, the fees for domestic students is $ 15,203 and $ 144,781.68 for the international students.
To check for fees for other courses, click here.
To get complete information about various scholarships and awards, click here.
The University of Alberta also provides students with the Articling Program. As articling students, you will have to complete 12 months working period.
During these 12 months, you will have to work for a primary principal. Within six months, you, along with the principal, have to complete and submit an Evaluation certificate to the Law Society.
5. Western University
Address:
1151 Richmond St, London, ON
Western University is one of the best Ontario Law schools. This University offers you a three-year Juris Doctor degree, plus dual (combined graduate and undergraduate) degrees in multiple subjects.
The faculty of law at Western University focuses on business law in the global environment, which is a unique thing with the Canadian law schools.
The Western University's vision of business law is multidimensional, encircling a wide range of economic law, public law, and social justice laws programs. The programs at Western Law are an exciting, dynamic, and enriching experience.
Standard programs that the university offers are Juris Doctor extended Juris Doctor, advanced special programs in different areas of law, Corporate Law, Civil law degree, Environmental Studies law intellectual property law, human rights laws, aboriginal law, etc.
Western Law has established exchange opportunities by partnering with 20 leading law schools in 16 countries worldwide. Sending students to the United States, United Kingdom, Singapore, India, New Zealand, Denmark, Netherlands, Germany, France, Italy, Norway, Hong Kong, Spain, Australia, and Sweden.
Then there is even a Western law internship program that allows first-year students and second and third-year students to intern with government departments for legal training, law firm, international organizations, and corporations.
Internships are usually 10 to 12 weeks long and happen from May to July. Students also receive generous stipends from anywhere between $10,000 to $15,000 to help with travel and living expenses.
Admission requirements of the Western Law are
Three years of full-time university study
GPA: 3.7 or higher
Competitive LSAT score: 160
Requirements for Upper year students –
Transfer (within Canada)
Advanced Standing (from outside of Canada)
Letter of Permission
Now, moving on to Financial aid and Annual expenses –
Full-time tuition and fees: $42,785
Estimated books and supplies: $800–$1200
Housing and other expenses will vary depending on individual needs
Very reasonable housing costs in surrounding areas
Performance and need-based scholarships are available for one-third of the student
Financial aid is available through loans, the Ontario Student Assistance Program, and bursaries.
6. Peter A. Allard School of Law, University of British Columbia
Address:
Allard Hall, 1822 E Mall, Vancouver, BC
The Peter A. Allard School of Law, recognized by the University of British Columbia, has an intellectual family of graduates who have surpassed in all areas concerning laws and government and who can impact today in terms of the issues the world is facing.
The Allard School of Law offers a variety of law programs, including:
Juris Doctor
Juris Doctor/Master of Business Administration
Master of Laws
Master of Laws—Common Law
Doctor of Philosophy in Law
The curriculum for the first-year students is designed to provide them with a solid foundation in legal principles and the legal profession while ensuring they are challenged intellectually. The second and third-year students' courses are chosen from a wide range of options choosing from several experiential offerings where students can gain practical skills and solve problems in a supervised surrounding.
Then there are Internships, externships, moots, exchange programs to keep the students engaged.
The estimated expense and fees are $ 41,471 but vary for international students.
The Allard School of Law, University of British Columbia, also offers many bursary programs to assist students with the cost of attending the classes. Bursary programs are non-repayable awards presented or allotted to students based on financial needs.
Click here to learn more about cost and funding at The Allard School of Law.
Concluding Thoughts
Dear Reader,
Thank you for reading. We hope that this article has proven helpful in your search for top law schools and how much does law school cost in Canada.
If you have the time, comment below and let us know how helpful this article was to you.
To know more about Law and Attorney powers