Merry Christmas! Let's make some traditional Nuts and Bolts!
In Canada, Nuts and Bolts recipes are a compulsion in every household during Christmas. It's a Christmas tradition as well as in any holiday season.
Nuts and Bolts is the easiest recipe that can be made by anyone! It's easy and can be made in large quantities to get you through your Christmas holidays, and is guaranteed to vanish in a matter of minutes right after you serve it.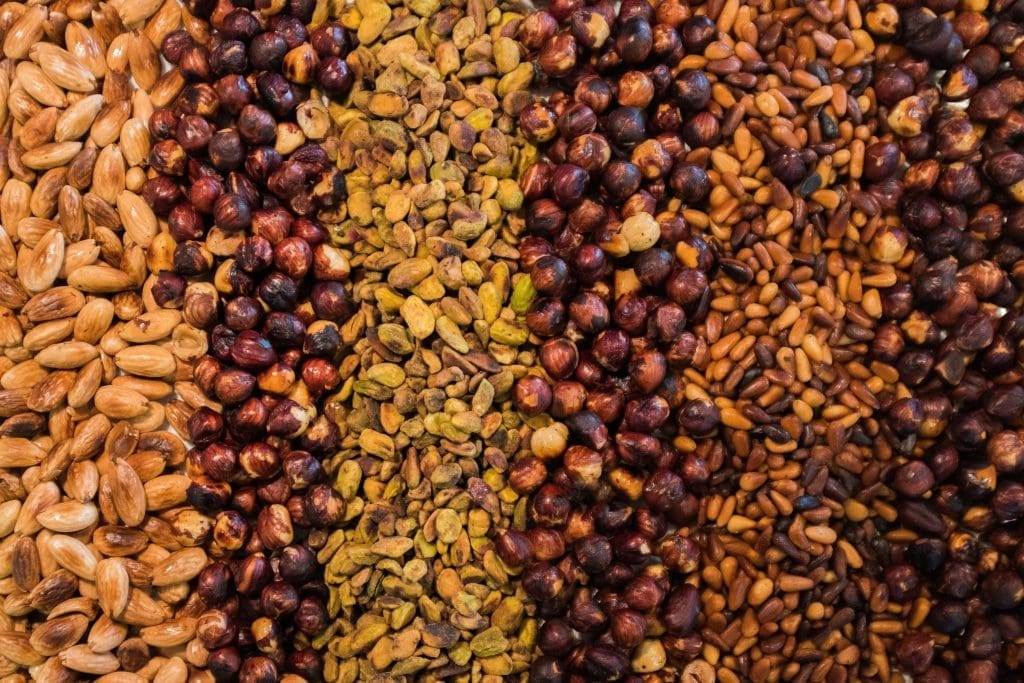 Ingredients For Chex Mix
3 cups Corn Chex
3 cups Rice Chex
3 cups Wheat Chex
1 cup Mixed nuts
1 cup cheese crackers
1 cup melted butter
2 tablespoons soy sauce
2 tablespoons Worcestershire sauce
2 teaspoons Mexican hot sauce
2 teaspoon garlic powder
2 teaspoon onion powder
1 teaspoon celery salt
1 teaspoon paprika
1/2 teaspoon sugar
For homemade Chex mix
1. To start go ahead and preheat your oven at 275F. Then in a large bowl add 3 cups of Corn Chex cereal over that 3 cups of Rice Chex cereal and 3 cups of Wheat Chex cereal.
2. You can mix and match your cereal mixture as you desire but make sure to make 9 cups of cereal mixture in total.
3. Now keep on adding those dry ingredients with one cup of pretzels, and one cup of mixed nuts, you can buy them already pre-mixed nuts in the store, or choose your favorite homemade nuts mix.
4. I personally like adding pecans, cashews, and peanuts to my homemade nuts mix. Then I love adding one cup of cheddar cheese crackers. Give all ingredients a quick stir.
 Homemade sauce for Nuts and Bolts Recipe
1. Add one cup of melted butter into a pourable bowl or container. Then add in 2 tbsp of soy sauce, and 2 tbsp of Worcestershire sauce.
2. Consequently, add two tsp of Mexican hot sauce, or as much as you can tolerate the hotness of the hot sauce.
3. It goes with 2 tsp of garlic powder, 2 tsp of onion powder, one tsp of salt and 1 tsp of paprika, and lastly half tsp of sugar.
4. Gently stir it until the granulated sugar dissolves.
Assembly of snack mix
1. After that pour about half of that butter mixture onto the Chex mix. Then gently stir it and pour the other half of the remaining butter mixture over the Chex mix. And give all that a good stir.
2. Now grab yourself a large roasting pan. Then carefully pour that mixture into that large roasting pan. Then gently stir the mixture, we don't wanna break up the Chex mix.
3. Now, let's bake this in the preheated oven for an hour. Stirring gently in between every 15 to 20 minutes.
4. Once it will be done baking, it will be golden brown. Rest it until cool completely
You may store it in an airtight container and enjoy the rest of the holiday with this staple Nuts and Bolts recipe.
5 More Holiday Staple Recipes
1. Roasted Potato Recipe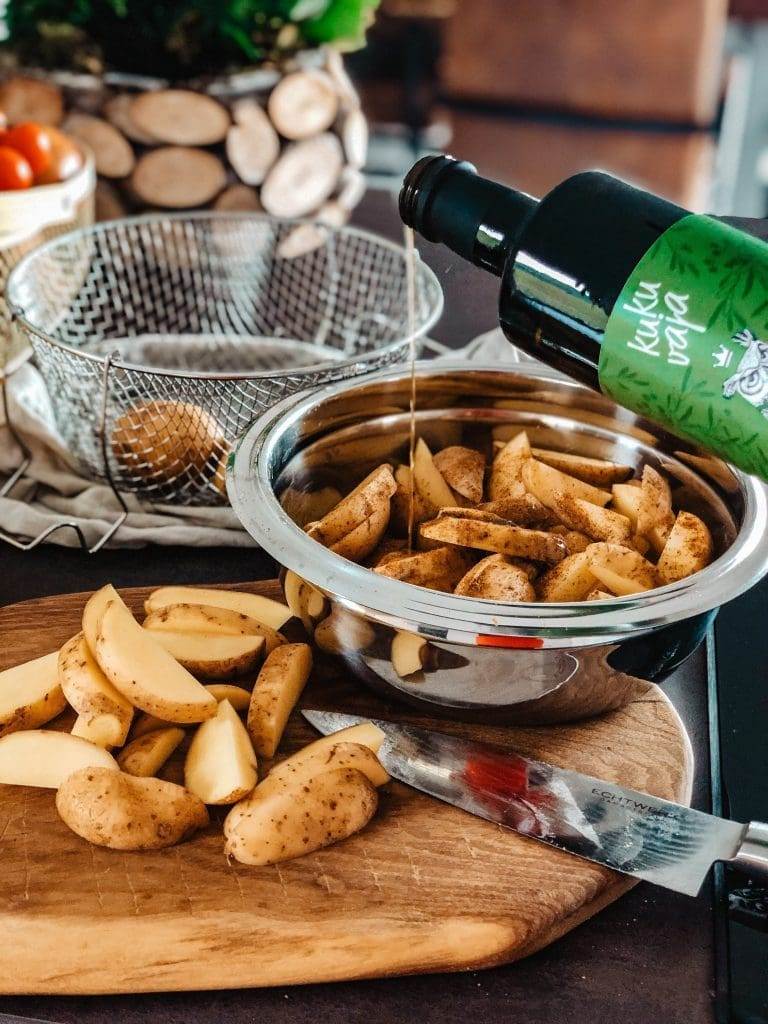 This one is the most staple recipe among all. Roasted potatoes are served along with any dishes on Christmas. Or you can munch it on any occasion.
Ingredients for Roasted Potato
910 grams of baby potatoes
Salt and black pepper
2 to 3 tablespoons of melted butter
2 to 3 tablespoons of olive oil
1 tbsp of fresh thyme
1 tbsp of parsley
1 1/2 tsp of garlic powder
1/2 cup of grated parmesan cheese
Procedure
1. Preheat your oven to 450F. Meanwhile, get started on preparing baby potatoes. So, we are going to take about 900 grams of potatoes. You can use this recipe for 400 grams, or 600 grams. It's very easy to adjust up and down depending on how many potatoes you need.
2. The first thing you need to do is to cut the potatoes in half or even into quarters. Cut the larger potatoes into wedges and cut the smaller potatoes in half.
3. And then drop them into a large bowl. Then pour 3 tbsp of melted butter and the oil in the same amount over the potatoes. This is going to help all the herbs and spices stick to the potatoes.
4. Then generously shower the potatoes with sea salt and some ground black pepper. Next, add one tbsp of parsley and a tsp and a half of garlic powder. And one tbsp of fresh thyme leaves.
5. Then with the help of a spatula toss it all together. You want to make sure that all the potatoes are well coated.
6. This recipe is so versatile you can add or subtract any ingredient you like. You can season it with the things like paprika, basil, oregano or rosemary any herb spice mix you desire.
7. After that transfer, the seasoned potatoes onto a cookie sheet lined with parchment paper and spread these potatoes evenly. Cover the potatoes with a large sheet of foil as the foil is going to cook the potatoes quicker by trapping the heat inside.
8. Bake the potatoes for about 18 to 20 minutes or until the potatoes are tender when you poke them with a fork.
9. And then after 20 minutes take off the foil and bake for another 10 minutes until they are golden brown.
10. Grab the potatoes out of the oven and give them a toss, while tossing them you could hear the crisp crunchy sound.
11. And now garnish them with some fresh parsley over the top. You can also put fresh thyme.
12. This is about your preference! I love adding parmesan cheese. You could sprinkle some of the grated cheese over the top as well.
Enjoy your delicious roasted potatoes along with any side dish!
2. Garlic Cheese Bomb Recipe
Garlic lovers going to love the garlic cheese bomb. This recipe can be made from scratch, ideal for a busy mom during the Christmas holiday.
The soft flaky balls from the outside and gooey mozzarella cheese from the inside is a delicious recipe to be served on a holiday.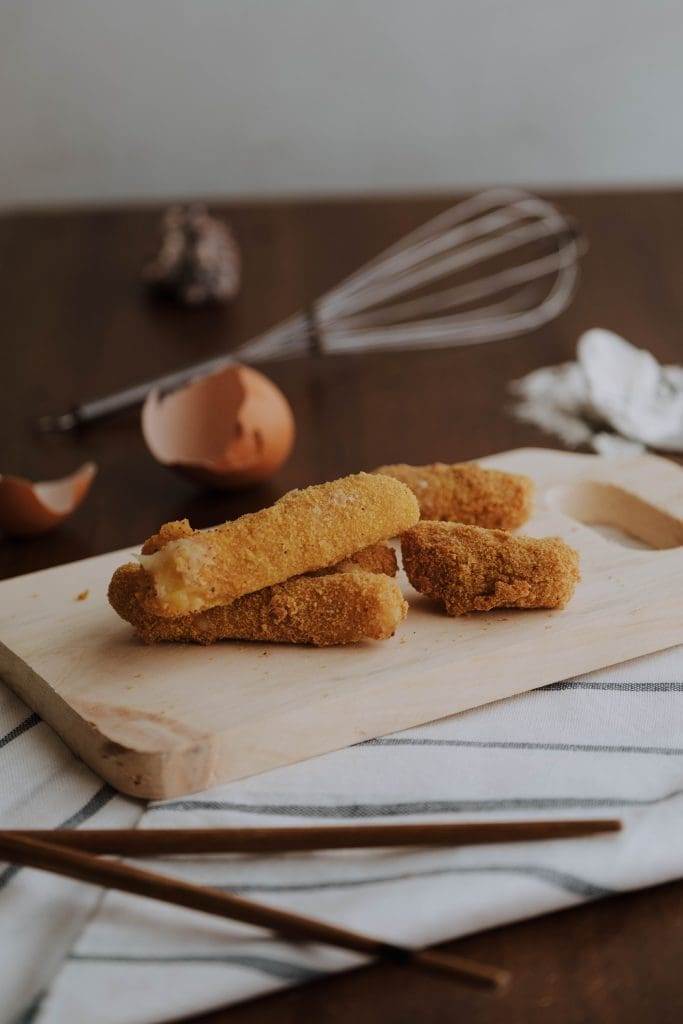 Ingredients
250 grams of flour
1 tbsp of sugar
1 1/2 tsp of garlic powder
1/4 tsp of salt
2 tsp of baking powder
70 grams of unsalted butter
200 grams of buttermilk
For filling the cheese bombs, you can use mozzarella cheese!
For garnishing the tops
2tbsp of butter
1/4 tsp of salt
1 tsp of fresh parsley
1 clove of garlic
Detailed Recipe
1. Start with preheating your oven to 400F.
2. Grab yourself a medium-large bowl. In that bowl firstly whisk all your dry ingredients, flour, sugar, salt, baking powder, and garlic powder.
3. Then take cold unsalted butter, cut them into cubes, and combine the butter with the flour mixture.
4. After that pour buttermilk into the flour mixture and knead gently just to bring them together. Now you have to refrigerate the dough for about 10 minutes.
5. Meanwhile, the mozzarella into 18 pieces, or if you want to make smaller balls you can them into more but don't make them too small.
6. Now take the dough out of the fridge and dust your counter or cooking slab with flour and roll the dough into a (28x30cm) rectangular shape. Cut them into 18 pieces.
7. Now put a cube of cheese onto each piece of dough. Wrap the piece of dough around the cube of cheese and make sure the edges are sealed well roll in your hands to make a ball.
8. Line your baking sheet with parchment paper and place the balls on it.
9. Now bake the cheese balls in the preheated oven for about 15 to 20 minutes until golden brown.
10. While they are baking prepare the seasoned butter. Melt butter into a saucepan on medium heat and add a minced garlic clove, parsley, and salt to it. Cook it just for a minute.
11. Take the cheese balls out of the oven and brush the tops of the cheese balls with seasoned butter.
The wait is over, serve them while they are hot. You can dip it in the hot sauce if you desire!
3. Gingernaps
Making cookies on Christmas or holidays is a ritual. Gingerbread cookies are a tradition to be served on Christmas similarly gingersnaps are.
Gingersnaps can be made in no time and you don't need to buy them from the store, homemade versions are always the best to try.
Ingredients
300 grams of All-purpose flour
170 grams of unsalted butter
1 large Egg
Granulated sugar
3/4 cups of Brown sugar
Vanilla extract
Salt
2 tsp of Baking soda
1/4 cup of Molasses
1 tsp of Cinnamon
Ginger
Cloves
Procedure
1. Let's start with sifting 300 grams of all-purpose flour into a large bowl. Add 2 tsp of baking soda, and 3/4 tsp of salt which is going to balance the cookies.
2. Then time for the spice mix, one tsp of cinnamon which is a must for holiday cookies, two tsp of ground ginger, and 1/2 tsp of clove, if you're intolerant to clove you could use 1/2 tsp of allspice instead. Now add cardamom if you don't like it you could skip it.
3. Shift all the dry ingredients together. Whisk it all together and keep it aside.
4. Grab yourself a bowl of a stand mixer, and add 170 grams of unsalted butter at room temperature to the bowl with the game-changing ingredient molasses.
5. Accordingly, add 3/4 cup of brown sugar which gonna provide caramel flavor to the cookies.
6. Whisk it until it gets light creamy fluffy in texture and doesn't forget to scrape the sides of the bowl. Now it's time for the egg, add one room temperature egg and mix it up. While the mixer doing its job add a couple of tsp of good vanilla extract.
7. Stop the mixer and scrape the bowl down while stirring it all in. Try not to over mix the batter as cookies will get tough.
8. Dump all the flour mixture into the bowl. Before adding the bowl to the stand mixer, give it mix so that the flour doesn't explode. So just fold in your flour to the wet ingredients.
9. Now mix it on low speed until it gets combined. If you see any flour still hanging there you could just use a spatula to mix it up. So your oven should be set and heated to 350 already.
10. Now scoop out your dough first then roll it in with your clean hands.
11. Keep your sugar in a small bowl and roll the dough in it. It's gonna look like a ball of a mountain covered with snow crystals. If you want your cookies to be flat you can press them a little before popping them in the oven.
12. Now time for the cookies to go in the preheated oven. Bake them at 350F for about 15 minutes until the edge will set and the center will soft gooey and delicious cookies will be done.
Cool completely before serving and enjoy your holiday with magnificent cookies!
4. Gingerbread Christmas Cupcakes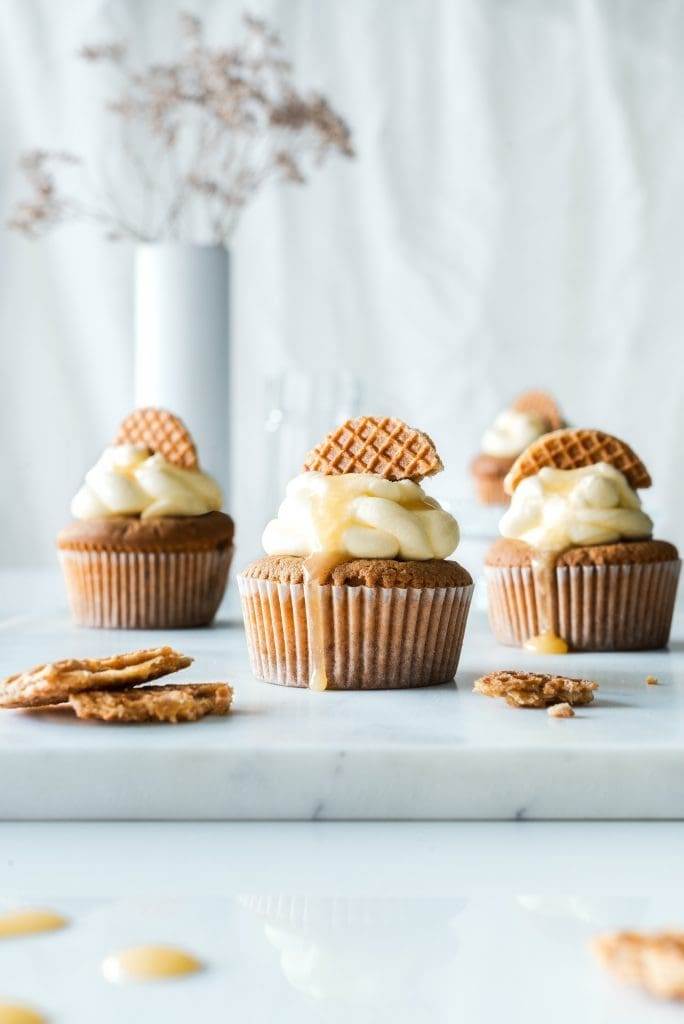 It's Christmas and there's no gingerbread on the table as you want to create something exciting and different while keeping the tradition right.
Here's the recipe for your savior. This recipe for cupcakes screams Christmas.
Ingredients for
The Caramel
250ml double cream
250g caster sugar
125ml water
1 tsp cinnamon
a pinch of mixed spice
1/2 tsp vanilla extract
a pinch of salt
The Sponge
110 grams of unsalted butter
110g brown sugar
220g golden syrup
150ml milk
1 large egg
220 g self-raising flour
a tsp of ginger and cinnamon
a pinch of nutmeg, cloves, and salt
The Buttercream
125-gram unsalted butter
330-gram icing sugar
zest of an orange
2-4 tbsp of Brandy or orange juice
Caramel Recipe
Fill a jug with 250 ml of double cream and to that add a tsp of cinnamon along with a pinch of ginger and also some mixed spice. Now whisked those into the cream until well combined.
Into a saucepan put 250 grams of caster sugar along with 125 ml of cold water and let it melt on medium heat.
Leave that to bubble away until it's a nice deep amber color. Switch off the flame when it turns an amber color.
And ever so slowly pour in the cream mixture while stirring fast. Once it's all mixed through add half a tsp of vanilla extract along with a tiny pinch of salt. Stir all those in.
Pour it into a bowl to help it cool down nicely.
Syrup Sponge Recipe
Take 110 grams of Unsalted butter in a saucepan. Into that put 110 grams of dark brown sugar along with 220 grams of golden syrup, if you couldn't find golden syrup you can use corn syrup instead.
Now put that on low heat until melted together, just we want our butter to melt and the brown sugar to dissolve and all mixed.
So, for the next step put 150 ml of whole milk into a bowl along with a large egg and whisk it together just to break up the egg and can mix it with the milk.
Now the buttery sugary goodness on the milk and egg mixture.
Give a good whisk until well combined.
So once they are nice and well combined add your dry ingredients.
Now shift in 220 grams of self-raising flour along with some very important Christmas spices and get yourself a tsp of cinnamon, a tsp of ginger, a pinch of nutmeg, and a pinch of cloves. And put them in the mixture.
Whisk it all well together. Once you've got a nice smooth consistent batter, you can get this into cupcake cases.
Get your tin and line it with paper cases. And what you are gonna do you are gonna take a jug and pour that mixture into the jug because it's gonna get a bit messy as the mixture will be very liquid. If you want to use a scoop you can.
Pour the mixture into each case of tin and they'll be ready to go in the oven.
Bake them at 170C for about 20 minutes until you push them on the top and they spring back.
Brandy and Orange Buttercream
For the buttercream, we're gonna use both orange juice and brandy. If you don't wanna use Brandy you can surely skip it and go only with orange juice, orange icing on its own is delicious.
Recipe:
1. Start with dropping 150 grams of really soft unsalted butter.
2. Just whip this up with a hand mixer or any mixing tool you prefer until it's nice and white fluffy.
3. When it turns fluffy start adding the icing sugar. Take 330 grams of icing sugar. Before adding your icing sugar to the whipped butter shift it first.
4. Add half of the sifted icing sugar to the butter and whip it thoroughly then add the other half and whip it all well together. It has to be a bit stiff as further we'll add liquids.
5. Now add the zest of an orange. Time for adding your booze. As earlier mentioned if you don't wanna use alcohol you can add orange juice.
6. Add 2 tbsp of brandy to the butter mixture and combine them well with the hand mixer. You could smell Christmas through this process.
If you find it too stiff you could add more liquid. Keep it aside.
Assembly
Decorate the cupcakes when they are out of the oven and are nice and cool.
First of all, make some holes in the middle of the cupcakes with an apple corer so that we could fill them with nice delicious caramel.
Put the caramel in a bottle with a nozzle cap. Fill the holes with caramel and fit it right to the top of the cupcakes. Try not to spill the caramel before adding the buttercream.
So, now put your icing into a piping bag with a piping nozzle whichever you desire.
Ice your cupcakes with amazing brandy and orange buttercream.
And next, add another drizzle of caramel. It looks amazing and drizzled on the top of the buttercream.
And Christmas wouldn't be Christmas without glitz and glam. You can add pearls on top or gold leaf just to add some Christmas glitz to the cupcakes.
You can finish it up with gingerbread which you can read the recipe below. Pop one of those on each cupcake.
The last step is remaining to eat the delicious Christmassy cupcakes.
5. Gingerbread Cookies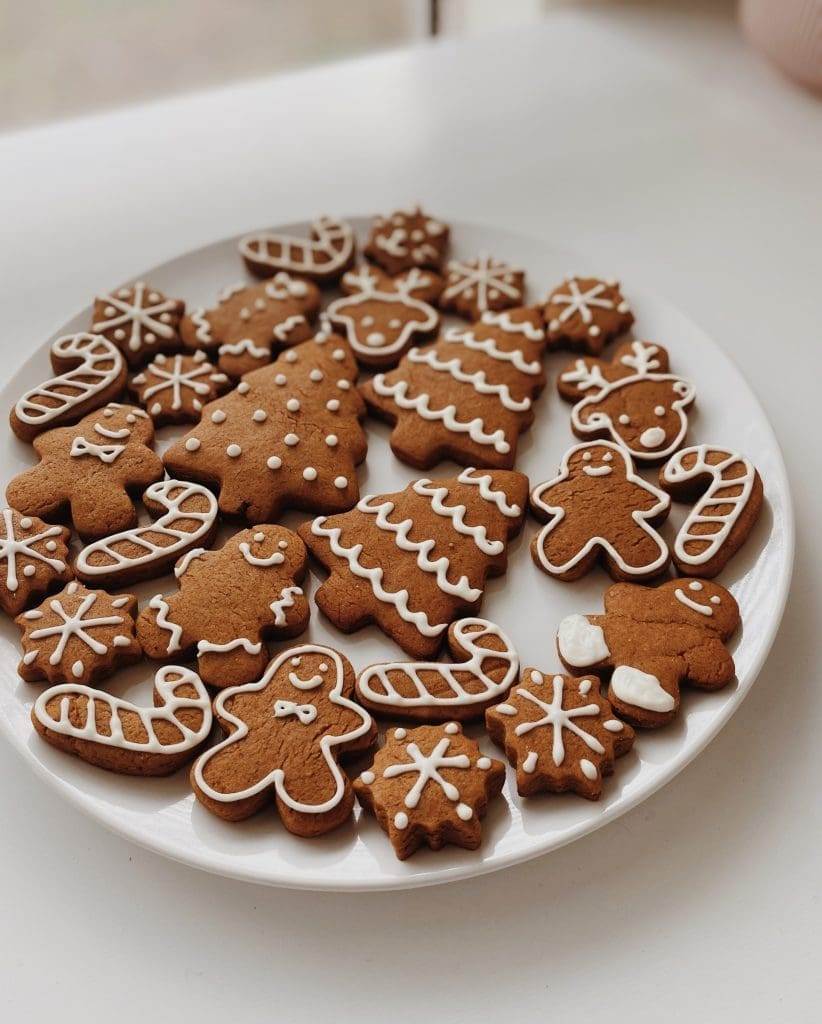 Can you count on Christmas if there are no gingerbread cookies? No, Right!
So, here's the recipe for all the Christmas feels and holidays around.
Ingredients
Gingerbread Cookies
300g All-purpose flour
20g corn starch
4g ground cinnamon
2g ground ginger
a pinch of nutmeg, cloves, and salt
1/4 tsp baking soda
113g unsalted butter
100g brown sugar
90g molasses
1 egg
Sugar Icing Frosting
120g icing sugar
1 1/2 tbsp egg white
2 tsp water
Detailed Recipe of Gingerbread cookies:
1. Start by cutting 113 grams of butter into small cubes and set it aside to soften it.
2. Into a large bowl sift 300 grams of flour along with 20 grams of corn starch and all the Christmassy spices 4g of ground cinnamon, 2g of ground ginger, a pinch of nutmeg, cloves, and a pinch of salt.
3. Add 1/4 tsp of baking powder to the shift and sift all the dry ingredients together.
4. Now for the next step take a large bowl into that and add the softened butter and 100 grams of brown sugar. Whisk it together with a hand mixer until it gets fluffy and creamy.
5. After that add 90 grams of molasses to the butter and sugar mixture. Mix it to combine it well.
6. To the mixture add an egg and mix it until well combined. If you want to make this eggless you can replace the egg with just a tbsp of oil.
7. Now start adding the dry ingredients to the wet ingredients.
8. Firstly add half of your sifted flour mixture to the butter-sugar and egg mixture. Fold the flour in with the help of a spatula. Then add the remaining flour and fold it in until it forms a dough.
9. Now what you have to do, is take two parchment papers. Between the two pieces of parchment paper put the dough and roll out to about 5mm thickness. Keep it in the refrigerator for about 2 hours or preferably overnight.
10. Grab the dough out of the fridge and cut it down with your favorite shaped cookie cutter.
11. Now place the cookies on the cookie sheet. And bake in preheated oven for about 10 to 12 minutes at 180C until the edges turn brown.
Let it cool down before frosting!
Sugar Icing Frosting: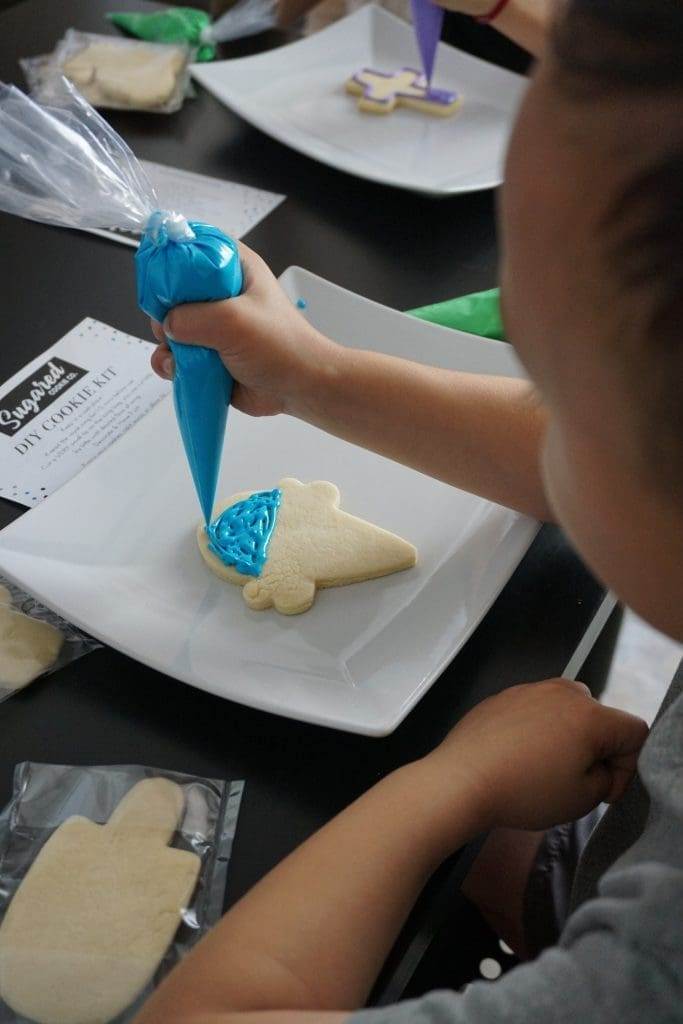 1. Separate egg white from an egg and keep it aside.
2. Take a bowl and sift 120 grams of icing sugar. To it add egg white and stir it well with a spatula.
3. Then add 2 tsp of water consequently, firstly start by adding a tsp water and whisk it with a hand mixer until it gets white and fluffy.
4. Then add the leftover water if needed as the consistency of frosting varies with the presence of moisture.
5. Now pipe the frosting on the cookies however design you desire.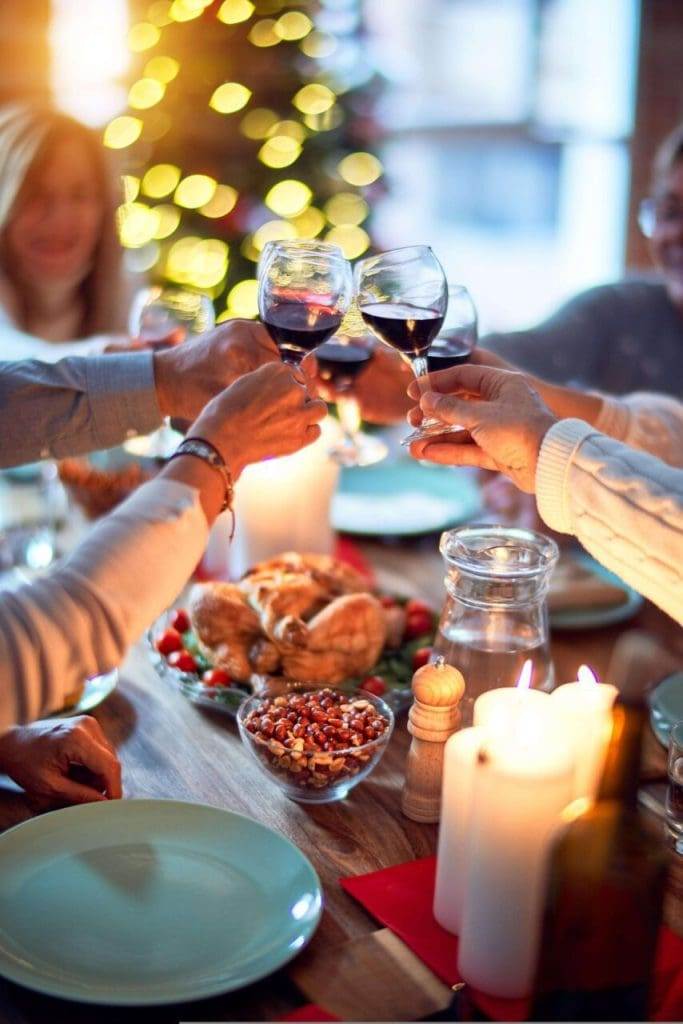 We began by giving rise to Canada's ritual of every family by making delicious snacks for the holiday Nuts and Bolts recipe. Nuts and Bolts are not only made in Canada its made all over the world with their recipe. I've augmented nontraditional recipes too like the garlic cheese bomb and gingerbread cupcakes recipe. You could prefer a recipe or all of them to bring about this Christmas.
For more famous Canadian Recipes:
Relish your Christmas and your holiday with these impressive holiday recipes that are set in motion to make everyone joyful.
Why Try Out Rocket.net - IcyCanada's recommended hosting provider