Food is an essential part of any place and its culture and lifestyle. The food of a place leaves its mark on the people who visit it and tend to stick as childhood memories with its natives when they move out. The food a particular area serves speaks tonnes about its heritage, adaption to the times, and a lot more.
In this time of Globalization, we are lucky enough to be able to taste some traditional cuisines of faraway places while sitting at our homes! Just like this, certain Canadian snacks are mouth-watering and are bound to leave an impression on you, leaving you wanting more. Here we shall look at a few of these special Canadian snacks exclusive to Canada.
1. Canadian Snacks: 12 Mouth-Watering Snacks
Grab a handtowel because these Canadian snacks are bound to make your mouth water. These snacks are exclusive to Canada and can hardly be found in the United States.
Though some made their way out of Canada due to extreme popularity and technology and are now available in various countries of the world. So, get ready to tease your American friends with these luscious Canadian snacks.
1.1. Maple Syrup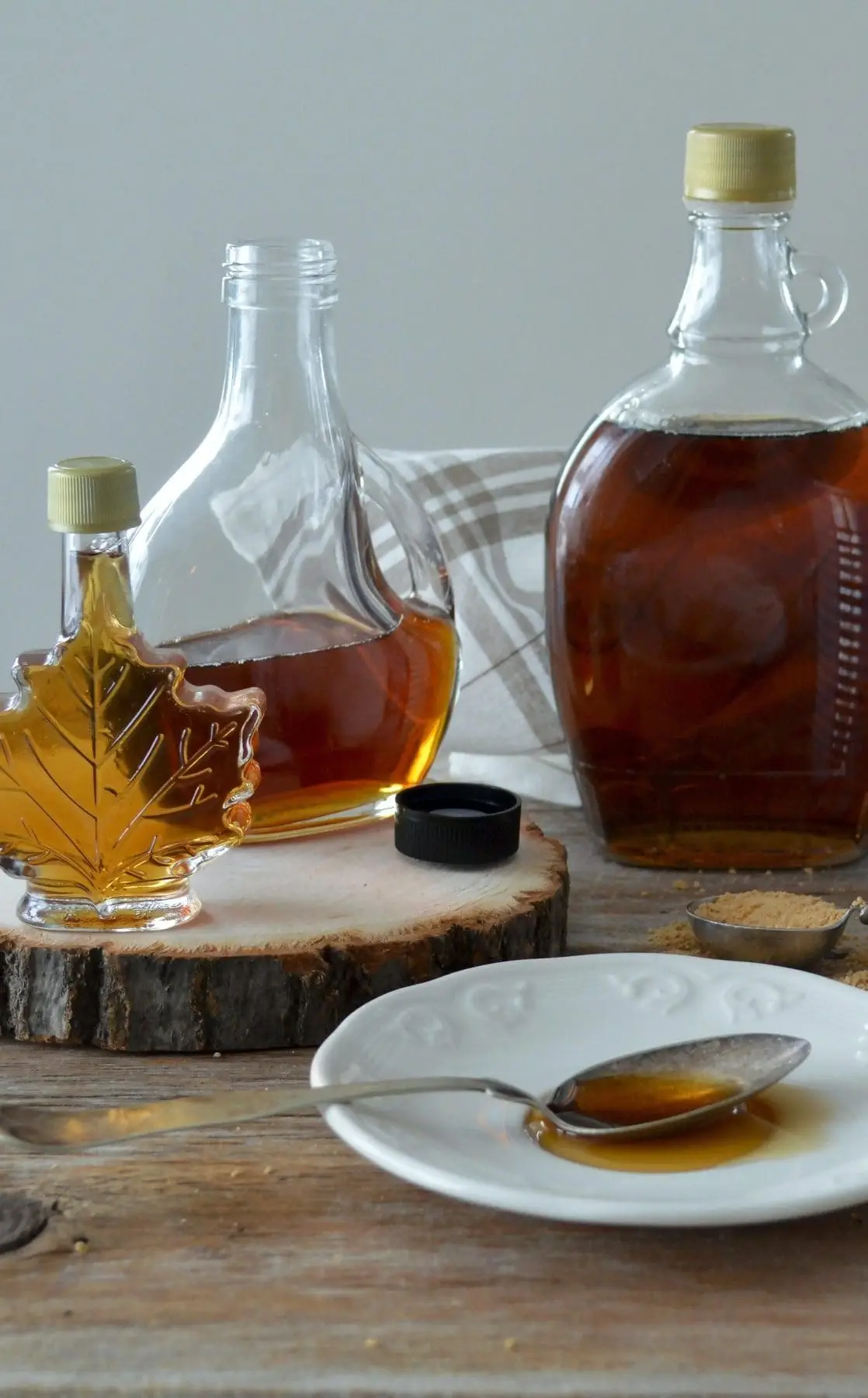 The maple leaf seems to be a very important part of Canada, and we can say so because the Canadian flag features a red maple leaf in the center. It can be called the Canadian icon.
Maple syrup is made from the sweet sap of the Maple tree and is also known as the liquid gold because of its bright gold colour. It is one of a kind product.
Canada produces 71% of the world's pure maple syrup, with Quebec being the primary producer. Other producers of maple syrup include Ontario, New Brunswick, and Nova Scotia.
The maple sap from which the maple syrup is made contains 97% water, organic acids, and maple taste precursors. Forty litres of sap make one litre of maple syrup.
This sweet treat is more than just a topping for pancakes and has been in the Canadian fabric for a long time. The Canadians are dedicated to keeping their trees in good health and, therefore, do not extract enough sap for more than 1 to 1.5 litres of maple syrup from one tree at a time. This way, they ensure the longevity of their beloved trees.
1.2. Hickory Sticks
This is one of the Canadian snacks solely found in Canada, and we shall know why. The Hickory sticks are produced and owned by the Canadian company "Hostess Potato Chips" and can be regarded as one of the dear Canadian snacks. These Canadian snack sticks have a smoky flavour and are the only product Hostess produces. These sticks are a go-to for french fries and a bag of chips lovers.
One possible reason for not having Hickory sticks available outside Canada seems to be the lack of competitiveness within the brand. The Hostess used to be the top potato chips brand in Canada but soon lost its position during the 90s, which led to brand erosion.
Another reason is also related to this competitive spirit. The brand did not make efforts to produce flavours that made these sticks one of the most popular snacks, leading to less demand and no export outside Canada, making it exclusive to most Canadians.
1.3. Nanaimo Bars
This is one of the Canadian snacks you can surely use to tease your American friends! These delicious bars originated in Nanaimo, a town in Vancouver, BC. You can easily find this bar anywhere in Canada in cafes and convenience stores.
The Nanaimo bars are made from a chocolate cracker crumb base and custard icing with a chocolate coating at the top. That hand towel came in handy right now, didn't it? This dessert requires no baking, and even a kid can try making them.
This deliciousness can also be found in other countries easily. But it should not be a question that the ones found in its place of origin, Vancouver and British Columbia, are hard to beat. One bite of this sweet bar will leave you wanting more.
1.4. Ketchup Chips
We all love ketchup! Ketchup is one of the most liked sauces worldwide and can make any food and dish worth eating. So, how can we say no to a whole bag of flavoured chips after this magical sauce?
Ketchup chips are a quintessential Canadian snack, and your American friends across the border will have difficulty finding them in America. This flavour is really popular among most Canadians. Lays combined two universally loved ingredients to make this one Canadian snack foods.
These crisps (what we call chips in the UK) are worth trying as a Canadian snack and can be found easily at any corner store.
They tend to stain your fingers red as you binge on them while watching your favourite series. So don't worry because you still have some left on your fingertips even after you finish up that one packet.
1.5. All dressed chips
The all-dressed chips can be regarded as the tough competitors of the red chips. As the very name suggests, they combine various dressings and create an amazing combination of flavours.
They have a perfectly balanced blend of sweet, sour, and salty owing to their ingredients which are salt and vinegar, barbeque sauce, and our beloved ketchup again. You can count them as one of the perfect Canadian snack foods for a snack attack on those munchy evenings.
Produced by Quebec-based Yum-Yum chips, they launched their variation around 1978. Its original producer is yet a mystery. This blend might make many people skeptical before trying, but they are worth a try. The rest depends on personal liking, but they do deserve a bite.
1.6. Montreal Style Bagels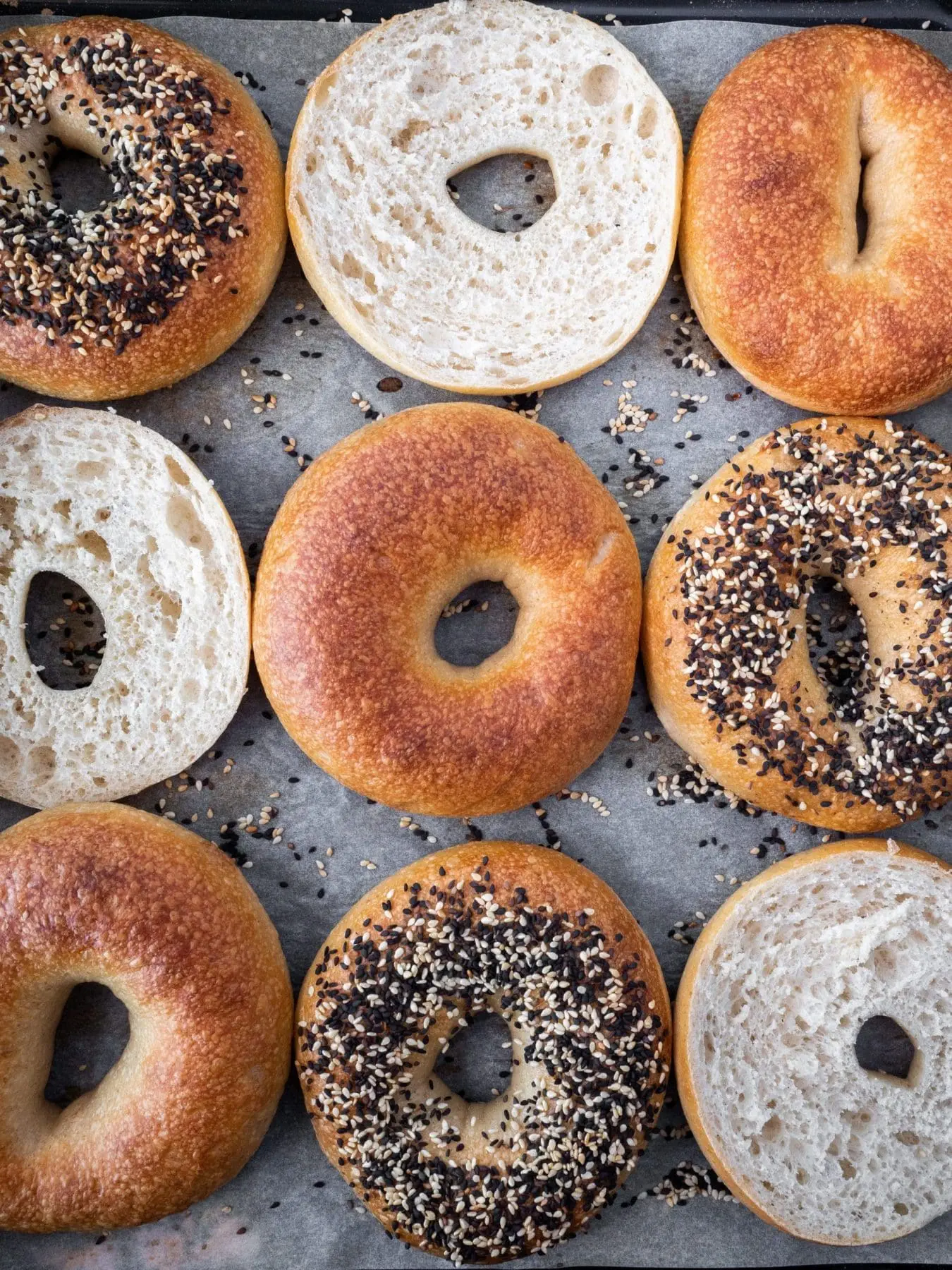 This smaller, tastier, and denser version of the bagel is only found in Canada. Yet another of the classic Canadian snacks. They are quite chewy, even chewier than the New York version, and are also less doughy. The Montreal-style bagel is different from all other bagels.
The bagels also have a long history; this delicious food item can be dated back to 1783. The recipes of various versions differ slightly from each other.
It has egg in its dough which makes it more tender. It is boiled in honey water before, which makes it slightly sweeter but in a good way than its other counterparts. A sign of good taste.
It is topped with schmear and Nova Scotia lox, with poppy seeds, sesame seeds, or even salt, and is sold individually. Even though we can get practically anything online today, that anything doesn't count these delicious Montreal-style bagels.
The most classic ones can be found in St.Viateur, which comprises a wood-fired oven that has been at work since 1957. This place is worth going to as you admire its beauty and the deliciousness in your hand simultaneously.
If you visit this place, do not forget to try the bagel with cream cheese and smoked salmon meat. It can be found with ease at any cafe.
1.7. Hawkin's Cheezies
This Canadian icon is made of natural ingredients and real aged cheddar cheese. These Canadian snacks are made by extruding cornmeal into various shapes, cooking in vegetable shortening, and finely coating them in aged cheddar, giving them a fine taste.
The developers of one of these great foods decided to move North after spending years in Chicago; soon, a Canadian tradition was born. Invented after the second world war, a disastrous event in human history gave us a dish called a great Canadian snack.
It was initially located in Tweed, Ontario- a strategic choice to popularize its products as it lay between the rail lines. Slowly the cheezies production grew due to people's liking for it.
1.8. Coffee Crisps
This candy bar is a great chocolate bar for coffee lovers. Its wafer layers have a resemblance to that of Kitakat, but the coffee flavour in between those layers is present to make the distinction.
This chocolate is easily available at any gas station in Canada. Still, the Americans had to sign a petition to nestle to make these bars available in their country, too! Despite their struggle, the company did not find the demand worth sending the chocolates to the US, and now the lovers across the border get their share through Amazon.
1.9. Pizza Pops
If you have decided to have a movie night with your family or friends, popcorn, pizza pops, and a few candies should be the ideal snack for the movie night.
Pizza pops are go-to Canadian snacks for college students since they are so easy to make. Just some rotations in the microwave, and voila! You are done. They are also a wonderful option to satisfy those midnight food cravings with that great punch of flavour.
These pizza pops are packed and loaded with sauce, meat, and a few more toppings, placing them in the category of irresistible foods one must try.
1.10. Caramilk Bar
Caramilk bar is exclusively produced in Toronto. This chocolate bar was the brainchild of Cadbury, Canada, first sold in 1968 in the United States, New Zealand, and Australia.
The Canadian version of the chocolate is sweeter and chewier than its American counterpart, which is famous as Caramello. This chocolate bar is a milk chocolate bar with its insides filled with gold caramel liquid that completely melts the moment you take a bite.
These chocolate bars are highly popular in Canada and are all produced in a single factory. Initially produced in the Cadbury factory of Montreal (1968) but later shifted to the Gladstone factory in Toronto in 1978.
Around 7,00,000 of these milk chocolate bars are produced every single day! Now we need not to answer whether people love this bar or not; the production quantity says it all.
1.11. Poutine
Poutine can be regarded as something that can be purely called a Canadian snack. Being a Canadian pride, it is said to have originated in the 1950s in the city of Quebec.
It is a French-Canadian dish that has taken over Canada over the years and is beloved by Canadians. It has compelled several residents of America to cross the border just to taste this delicious recipe.
Poutine consists of a rich gravy enveloping crispy french fries and melted cheese curds, making one hell of comfort food with a burst of flavour in your mouth. This is one of the Canadian snacks whose popularity has grown so much that it is now available worldwide.
New York and New Jersey have come up with replicas of Poutine known as "Disco fries." But the people who would have tasted the authentic Canadian Poutine will know the difference immediately once they eat this dish filled with the cheese of America, which according to Canadian people, has no place in their Poutine. Pretty harsh there, Canadians!
Poutines also have developed certain varieties over the years. The varieties are topped with smoked meat, lobster, and shredded lobster.
To try the best Poutine, according to the reviews over the years, you must visit a place named "La Banquise" in downtown Montreal. By now, you must be eager to know what it tastes like.
1.12. Butter Tarts

Regarded as one of the quintessential Canadian snacks and highly regarded in the country, the butter tarts are bound to steal your heart. These tiny flavour pods are sweet, flaky, and buttery, as the very name tells us.
These Canadian snacks are sugar-loaded, super sweet, and have a gooey texture. Their flavour is enhanced when topped with whipped cream. These tarts have various recipes, each with its unique flavour; some are made with maple syrup, corn syrup, with or without raisins, and more. The options are endless when it comes to these versatile little sugar houses.
These are definitely worth a try. One must definitely give them a chance because once you do, there is no turning your back on them again. The reason why a heart rhymes with a tart is that it belongs to them!
2. Overall
Here we have mentioned some of the best-known and best-tasting Canadian snacks that deserve a taste test at least once. Canada is extremely proud of its heritage. Its cuisine is a part of this heritage, which is diverse, colourful, and yummy.
Canada loves celebrating its heritage and, therefore, keeps organizing various festivals to enjoy its true nature. With the festival, again, comes various types of foods! Their cuisine has a lot to offer you, and just to make it easier for you to start tasting it, we have mentioned a few above. Pick one that catches your eye the most, then embark on a yummylicious journey of Canadian snacks.