If you are looking to spend a day with your family this summer in Victoria, visit Victoria Butterfly Gardens open from Monday to Sunday from 10 am to 3 pm.
Known as one of the most famous tourist sites in Canada, Victoria Butterfly Gardens is like the gateway to heaven.
If you're tired of the city scenes and Monday blues, this is a fantastic way to spend your weekend. 
1. What Are Victoria Butterfly Gardens About?
Victoria Butterfly Gardens is a famous tourist attraction in British Columbia, Canada, which has a wide range of species starting with butterflies, as the name goes, along with neon-coloured poison dart frogs, iguanas on tree branches, varied species of birds flying freely overhead and to the leaf-cutter ants.
It's a great spot for families with children as it has singing macaws and various species of tropical fish as well.
Situated in the lap of nature, this makes for a perfect family getaway irrespective of whom you are travelling with. 
Witness the beautiful crashing waterfalls, enjoy the serenity, and capture a few interesting photos.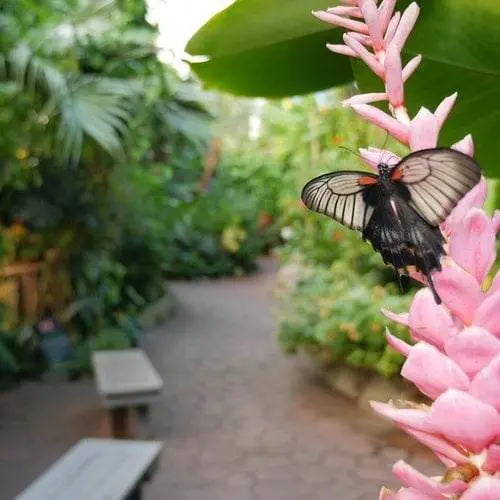 2. Why Victoria Butterfly Gardens?
Of all the places in British Columbia, why Victoria Butterfly Gardens? Well, because there's not another place like this one.
From the colourful birds to the microscopic organisms, one might confuse themselves to be in the Amazon rainforest.
Also, not to forget the butterflies that are an attraction in themselves.
A beautiful waterfall is another add-on and not to forget about the tropical species of fish is a sight one does not want to miss. 
3. Duration and Accessibility
To complete a walk around the garden it may take about 1 hour and 30 minutes of your time approximately, but if you want to savour it, then you must be knowing better!
The parking is completely free on-site, and the area is wheelchair accessible as well. 
4. Time 
The Victoria Butterfly Gardens are open every day of the week from 10 AM to 3 PM, but one must keep in mind that the last groups of people are admitted inside till 2 p.m. only, and after that, no visitors are allowed inside.
Sounds like you could have a perfect weekend morning, right? Yes? Then grab your tickets from FEVER now! 
5. Age Requirement
Since it is more like a zoo and comes with a beautiful experience, all age groups are entertained here but children who are under the age of 14 must be accompanied by an adult.
Everybody from a newborn to a senior citizen can be admitted to live this enriching experience. 
6. Where Are the Victoria Butterfly Gardens Located? 
Victoria Butterfly Gardens is situated in British Columbia, Canada and the exact address is 1461 Benvenuto Ave, Brentwood Bay, BC, Canada.
7. Tickets
So, the place sounds good enough, right? Grab your tickets from FEVER now and spend an entire day this summer at this beautiful garden.
For 4 years and under, it is free of cost if travelling with a paying adult.

For children between the age of 5 years to 12 years, it has been priced at 8 Canadian dollars, which increases to 15 Canadian dollars for the age range 13-17.

With adults till 65, it will cost CA$19.50 each, and for senior citizens that are people aged 65 and above, it has been priced at the rate of CA$15.50 dollars. 
8. The Details of the Victoria Butterfly Gardens You Must Know
What –

Victoria Butterfly Gardens, Canada.

When –

Everyday.

Where – Victoria in British Columbia at

1461 Benvenuto Avenue, Brentwood Bay, Canada.

Time –

From 10 a.m. till 3 p.m. (last entry at 2 p.m.)

Tickets – On FEVER.