Are you aware of the interesting things about British Columbia?
There is something special about the westernmost Canadian province, British Columbia. It was named "British Columbia" by Queen Victoria.
This Canadian province has its location between the Pacific Ocean and the Rugged Mountains.
Lying along the Pacific Ocean, British Columbia is known worldwide for its admirable natural beauty. 
The place is truly a heaven on earth for nature and adventure lovers. Most of the cities are like a doorstep to the wild, waiting for you to explore.
There are endless things to see and explore that might even awaken your deep-rooted daredevil spirit. And the vibrant environment fills every visitor's soul.
 British Columbia offers you the absolute best of everything from mighty mountain ranges and golden sandy beaches to old-growth rainforests.
There's no better time and reason to fall in love with amazingly gorgeous British Columbia. Their culture, traditions, nature, people, and environment is so overwhelming. Citizens or visitors, everyone seem to enjoy the weather too.
The weather is mildly oceanic around Vancouver, as it receives 178 days of rain per year. Thereby, it is also commonly known as the "rainy province" of Canada.
But before knowing the interesting things about British Columbia, wouldn't it be great to know its history and heritage? So, click here to know all about the history and heritage of British Columbia.
This article will take you through some of the best interesting things about British Columbia.
Top 7 Interesting Things About British Columbia
Below we are listing the top 7 interesting things about British Columbia that one should know.
1. Size
We all know Canada is big, but do we know how big British Columbia is?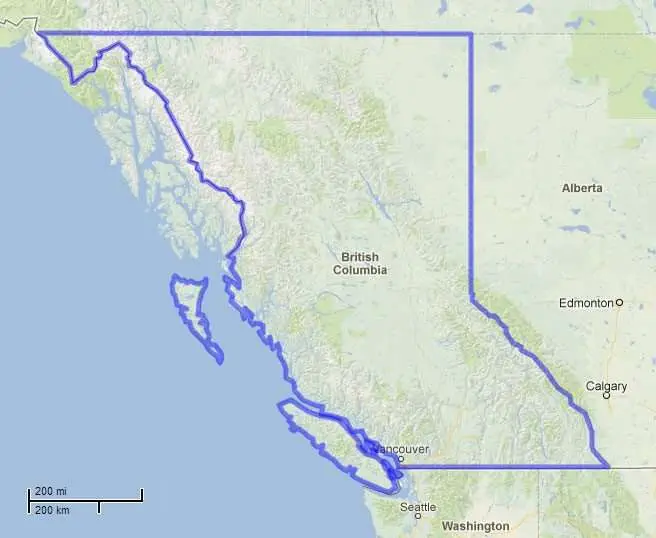 British Columbia is vast. It's even bigger than most US states and is nearly four times the size of Great Britain (United Kingdom).
British Columbia is the third largest province in Canada. It is still as vast as France, the United Kingdom, Denmark, and Kuwait merged. Imagine if it were the first-largest or second-largest, how vast it would have been?
And you might know that Pacific Coastline defines British Columbia, but did you know British Columbia's coastline is over 27,000 kilometres? That is, the length of BC's coastline is more than 27,000 kilometres.
However, BC's coastline is also commonly known as the west coastline. It is also one of the largest regions of North America.
Another interesting thing about British Columbia is Victoria's capital city, located on Vancouver Island's southern tip.
Victoria is the largest urban area located on Vancouver Island. It is well-established as a global tourist destination.
2. Celebration Day
Did you know British Columbia has its Celebration Day? The first Monday of every August is considered British Columbia Day or simply BC Day.
It is an authorized holiday, where people get a chance to celebrate their achievements and victories with their friends and families.
It is a day off, and most of the schools, offices and businesses remain closed. People mostly stay in their homes and spend some quality time with their families.
In Canada, August is a summer season, so people sometimes add British Columbia day celebrations to their summer holiday trips.
In 1974, the British Columbia Day Act was introduced in the legislative assembly for the first time. Ever since then, every first Monday of August has been celebrated as British Columbia Day.
3. Culture and Traditions!
A vast province like British Columbia is expected to have varied cultures and traditions. And it does have a variety in cultures and traditions.
The cultural history of British Columbia begins with the First Nations people who lived there for over ten thousand years. And as years passed, the culture and traditions started developing widely.
Culture and traditions add a soul to communities. The communities keep their culture and traditions alive through museums like the Royal BC Museum or art galleries.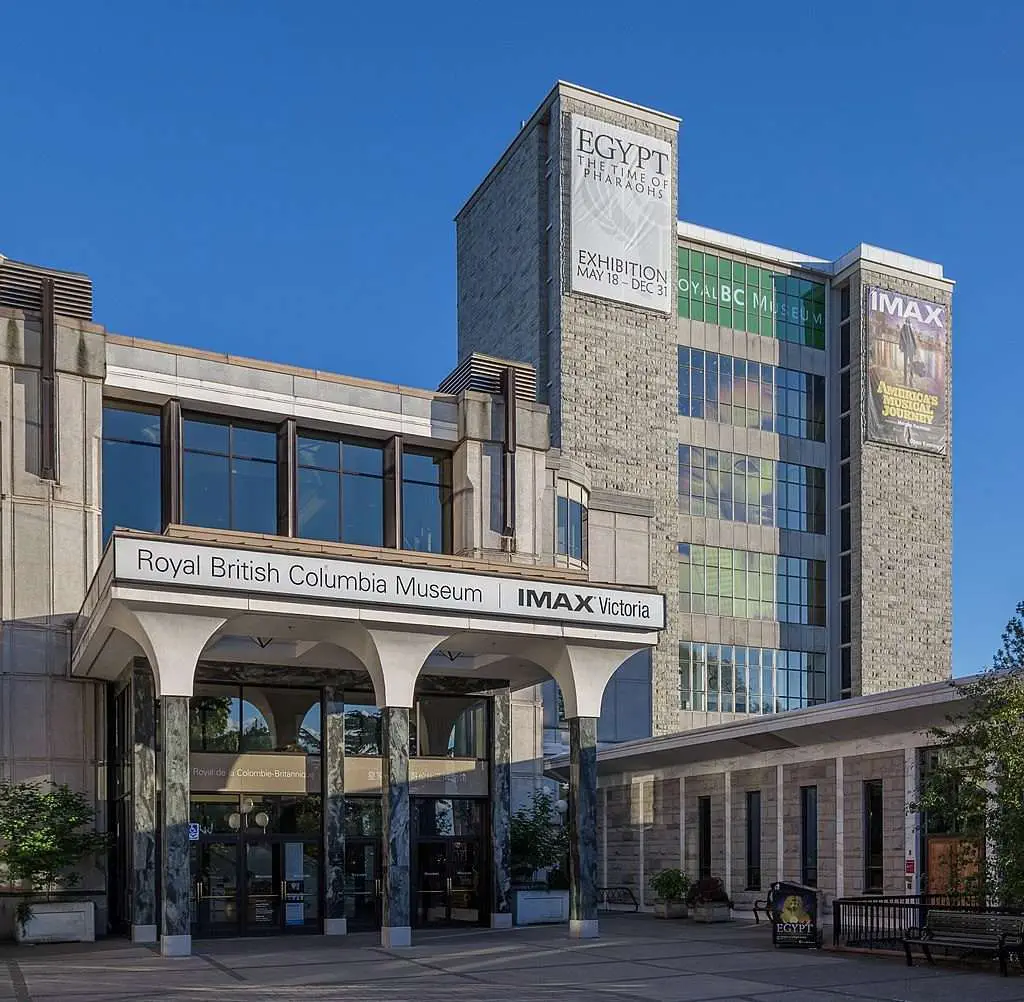 Their culture is a mix of Asian, First Nations, and European roots. Their Asian influence dates back to the time when Chinese immigrants settled in Canada.
Almost around 30-35% of British Columbia's population has migrated from another country and brought along their customs and traditions. As a result of which, British Columbia stands as the most ethnically diverse province.
More than 200 distinct First Nations make British Columbia the most diverse province in Canada for indigenous people. Through cultural rallies, cultural centres, and studios, these people preserve their ancient cultures and provide better insights into them.
Towering totems, contemporary art, or salmon feats are a part of their indigenous heritage. You can find their culture and traditions in every corner of the province. You can see towering totems and contemporary art in many galleries or parks.
4. Media, Film, and Television
When listing interesting things about British Columbia, we cannot miss British Columbia's Film and Television industry as it plays a major role in contributing to the province's economy.
British Columbia alone is home to nearly 40% of Canada's film and television production. It wouldn't be wrong to say this industry is the driving force of the province's economy.
The motion picture business employs around 60,000 people at a minimum. And it directly employs around 1,000 city residents.
The industry-first was set up in the year 1913. However, only in 1930, after 17 years of beginning, did it have its first Hollywood shot.
One more thing to add to the list of interesting things about British Columbia's film industry is that it is also commonly referred to as the "Hollywood of the North."
And it is ranked as the third-largest film and television production centre in North America. Also, BC is home to various talent agencies and video or filmmaking companies.
Do you know some trendy films were filmed and produced in British Columbia? Most of you must have watched the movie "Diary of a Wimpy Kid," right? This film was filmed in Vancouver. Another popular movie, Fifty Shades of Grey, was also filmed in Vancouver.
5. Interesting Symbols
Adding further to the list of interesting things about British Columbia, next up their Symbols.
British Columbia has many official provincial symbols that represent different important elements.
i) BC's Coat of Arms
The Coat of Arms of British Columbia is one of the most important symbols in the province's heritage. The symbolic Coat of Arms represents the sovereignty, power, and authority of the province.
The First Coat of Arms was acquired in 1895, July 9, and was created by Canon Arthur Beanlands.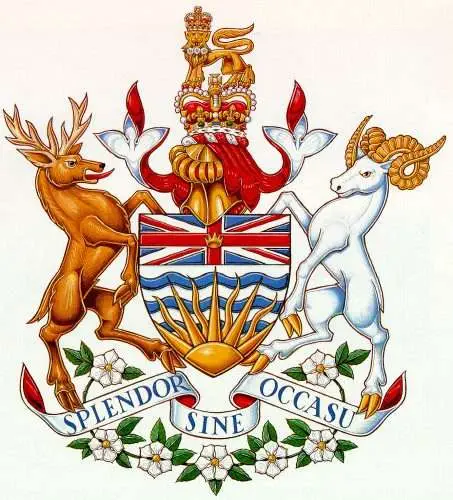 The current BC's Coat of Arms was completed in 1987 by adding certain elements. The elements on BC's Coat of Arms now are:
Arms- The Royal Union Flag with a crown in the centre represents British colony origin. And below that, the three blue waves represent their connection with the Pacific Ocean. And the sun at the bottom signifies British Columbia as the westernmost province in Canada.
On both sides stand a wapiti stag and a bighorn sheep representing the colonies of British Columbia and Vancouver Island.
And at the bottom of all lies the motto- Splendor Sine Occasu, a Latin phrase which means Splendour without diminishment.
ii) Provincial Flag
British Columbia's Provincial Flag was adopted in the year 1960. It is a replica of BC's Arms of the Province.
The setting sun on the flag symbolizes the fact of being the westernmost part of the British Empire. It is also said that the sun also represents its motto, which says, "splendour without setting."
iii) Floral Emblem
British Columbia's official floral emblem is the Pacific Dogwood (Cornus nuttallii). It was adopted as the official floral emblem back in the year 1956.
Another thing to add to the list of interesting things about British Columbia is that it is illegal in British Columbia to pick dogwood flowers. Since they adopted the dogwood flower as their official floral emblem, no one can ill-treat the flower.
There is an interesting story behind the Pacific Dogwood being chosen as the official flower emblem. During World War II, selling dogwood lapel pins helped purchase wool and other comforters for the British Columbian soldiers.
After which, in 1956, Pacific Dogwood was adopted as the official flower of British Columbia.
British Columbia has a long list of official symbols, but not just the three mentioned above.
6. Best National Parks
British Columbia is known for its pure natural beauty. And it is home to many amazingly beautiful National Parks. These national parks are filled with gorgeous landscapes, rugged mountains, breathtaking waterfalls, dense forests, and beaches.
You cannot choose to miss visiting any of these national parks on your trip to British Columbia. The glorifying beauty of British Columbia is very well justified through the national parks.
The Pacific Rim National Park is a gorgeous national park, which is a real treat for visitors. Pacific Rim offers the best of everything one could ask for.
From old-growth temperate rainforests, and beautiful long sandy stretches, to various wildlife. You will find everything.
Interestingly the park comprises three unique units, the Broken Groups Islands, West Coast Trail, and Long Beach. All three units are unique in their ways. They offer you various adventure activities such as kayaking, surfing, and beachcombing.
Moreover, Pacific Rim National Park Reserve is home to great grizzly bears.
Another amazing national park is the Gulf Islands National Park Reserve. This park offers you the best scenic views and adventure activities with the most relaxing scenery.
Visitors can enjoy various recreational activities in the Gulf Islands National Park, such as fishing, kayaking, boating, diving, and camping. Camping is one activity that all adventure lovers love.
Many other parks such as Yoho National Park, Gwaii Hans National Park Reserve, and Kootenay National park are there that one should visit. There is no better place than these national parks to see the best of everything British Columbia has to offer.
7. Gorgeous Islands
Next up on the list of interesting things about British Columbia is the experience of exploring the jaw-droppingly beautiful Islands.
British Columbia is home to an archipelago of Islands. Even before reaching any of the Islands in British Columbia, your adventure starts as the journey to the islands itself is a fantastic experience.
And one of the biggest attractions of British Columbia is its beautiful islands. All of these islands have either beautiful beaches, dense forests, hot springs, or mighty mountain ranges.
Each Island offers you stunning views, a refreshing aroma, and breathtaking scenery.
The journey to get to these islands is very exciting. You can either take a ferry or a flight or, even better, ride on a seaplane. Even when seaplanes are costly, the ride will do justice to your every penny.
Islands such as Vancouver Island, the second largest on the west coast, is a top-rated destinations. It is known for its wildlife and beaches.
Vancouver Island offers you plenty of activities to enjoy, such as wildlife tracking, camping, and fishing trips. It has been home to many indigenous people for many years, giving visitors the essence of their culture.
You can observe different plant life, including the tallest Douglas Firs, Western red cedars, Garry oak, and Oregon grape.
Another beautiful island to visit is Meares Island, which features an exciting trial- the big tree trail. The major attractions are the trees on Meares Island and the Big Tree Trail.
Hiking the big tree trail takes you across some of the tallest trees in British Columbia. One highlight of Meares Island is the journey to it. Visitors can either reach the island on a boat or a water taxi. Both rides offer a fun experience.
There is another highlight to visiting Meares Island; it features the hanging garden tree. And the tree was once considered the tallest of its kind in the entire of Canada.
There are so many stunning islands in British Columbia that offers you great visiting experiences. And to experience more interesting things about British Columbia, visit Baffin Island.
And to get a better insight into how to explore Baffin Island, please click here!
Conclusion
British Columbia is exactly the place you can instantly fall in love with. It has everything from beautiful cities like Vancouver, and Victoria to massive mountain ranges, gorgeous Islands, and picturesque towns.
Here we have just listed the top 7 interesting things about British Columbia.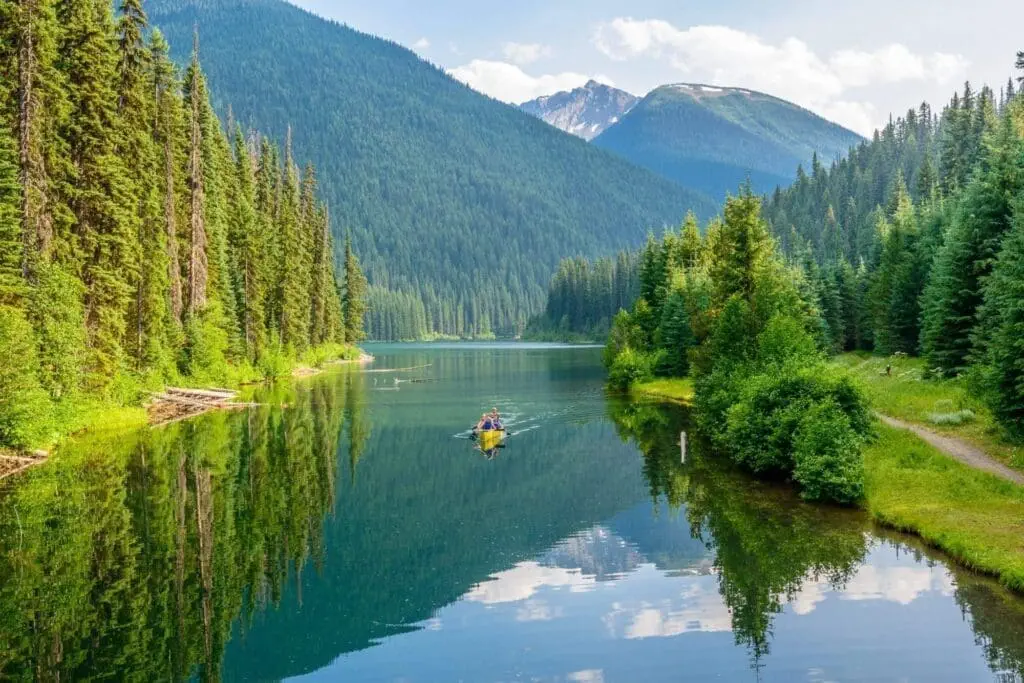 Have you experienced any of these interesting things about British Columbia? If you have experienced any interesting things about British Columbia, share your experiences below in the comment section.
Or, if you can list a few more interesting things about British Columbia, do share them with us in the comment section.
There are many more interesting things about British Columbia that you need to know and explore. Like exploring cultural spaces, jaw-dropping spots, provinces, and territories, having some amazing food and drinks or visiting unusual attractions.
Suggested Read:- 
Best Comic Book Stores in Toronto
The 15 Best Comic Stores in Toronto To Watch Out For