In this article, we bring to you the 10 best Penticton Wineries.  
Penticton is a city nestled right between two lakes, Okanagan & Skaha, in the Okanagan Valley of British Columbia. The city of Penticton is famous for many things, including rolling vineyards & wineries. The wineries & the remarkable wine tours in Penticton entice people from all over the world to the city.
The Okanagan Valley is British Columbia's leading region for growing grapes. As the temperature of the valley is unique, allowing the grapes grown in the region to keep alive their natural acidity, which is a trademark of BC wines.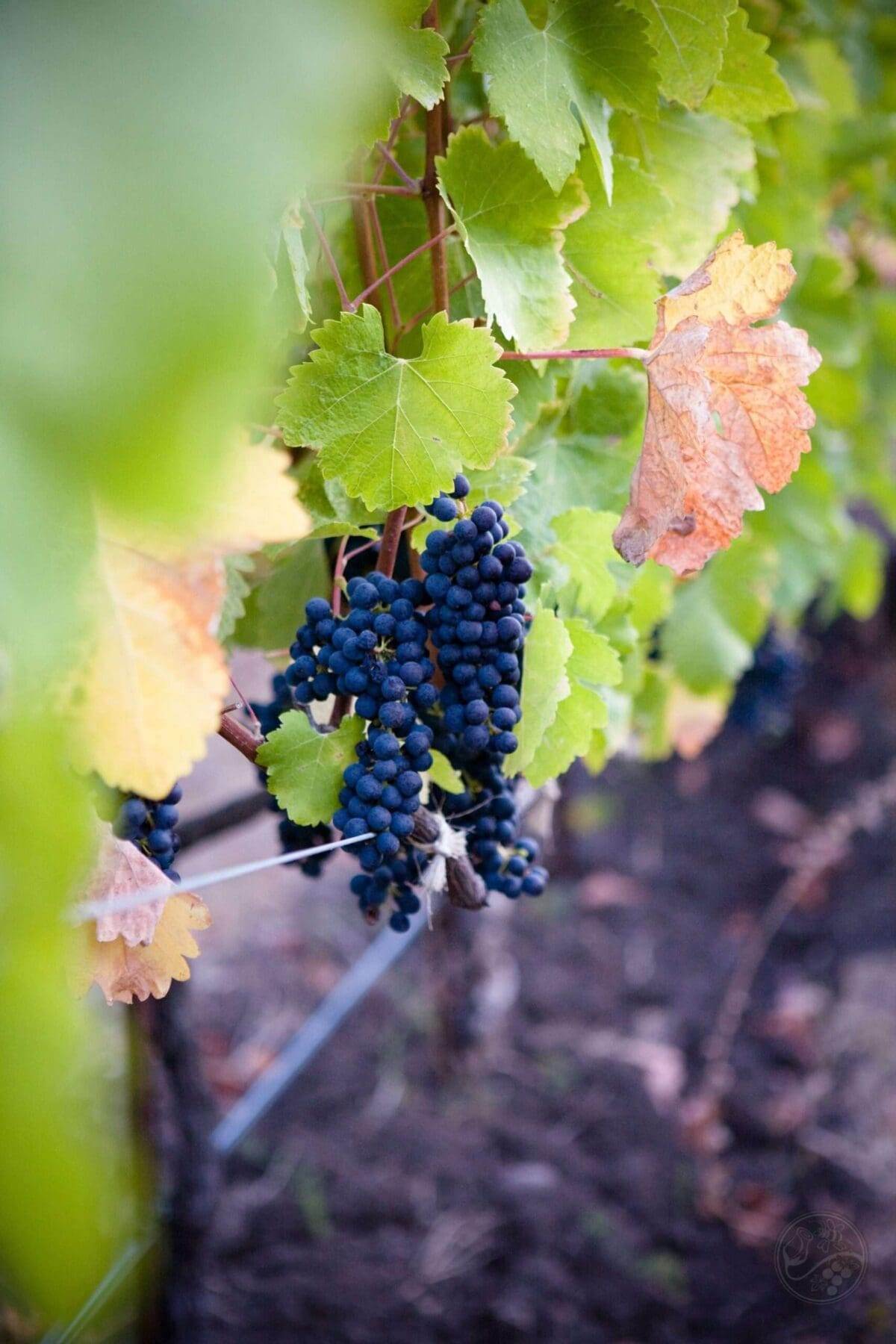 So, in this article, we have narrowed down a list of the 10 best Penticton wineries in the Okanagan Valley.
Best Penticton Wineries For You
1. Painted Rock Estate Winery
Address: 400 Smythe Drive, Penticton
Painted Rock Estate Winery began with owner John & Trish Skinner's vision of Okanagan Valley becoming the most impressive wine region in the future. The winery is a family-run estate, producing fine wines since 2005.

Running for over 15 years now, this winery is living up to its potential at best. The winery won the 2018/2019 "Winery of the Year" InterVin International award. The estate is on the top of a 56-acre property, of which currently 27 acres are invested in the plantation.
Their vineyard presently holds 52,500 plants, with the recent addition of the Chardonnay plant in 2017. Their winemaking is entirely based on fruit grown in their single estate.
Where to buy it?
The wines from Painted Rock can be bought directly from the winery or private retailers across Canada. Click here to know more about buying the wines.
2. La Frenz Estate Winery
Address: 1525 Randolph Road, Penticton
La Frenz winery is an award-winning compact winery owned by Jeff Martin. La Frenz has 4 vineyards in two different locations: Rockyfeller Vineyard (Golden Mile Bench), Desperation Hill, Freedom 75, Rattle Snake (Naramata Bench).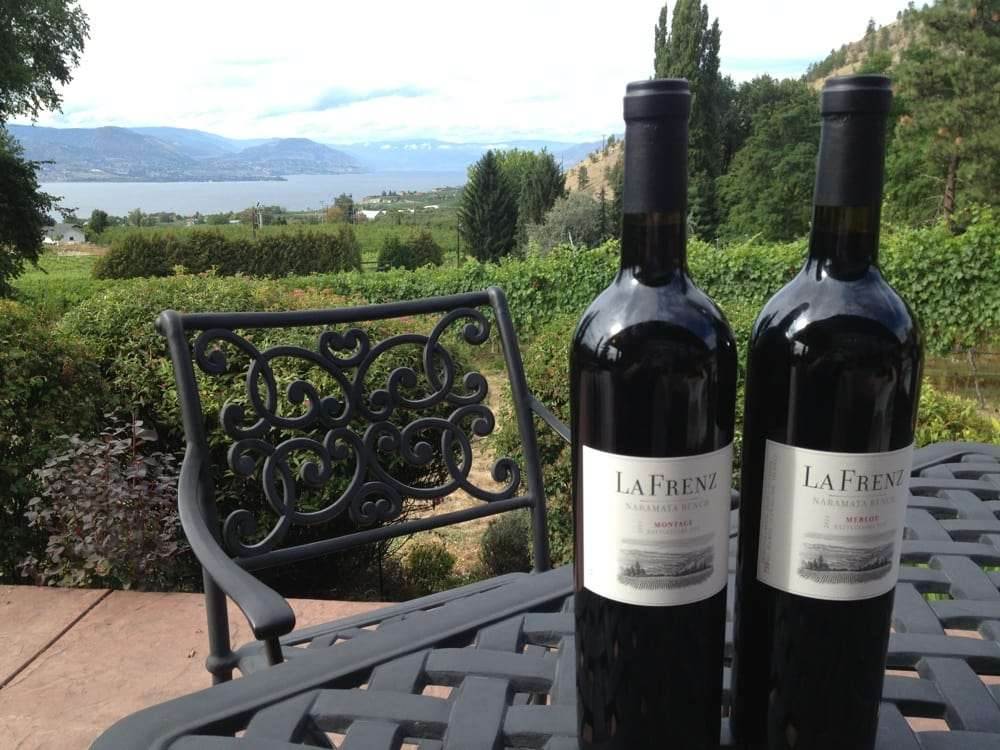 This estate winery offers on-site wine tasting during the summer months. And for a better experience of their wines, the estate offers four differently designed wine clubs. The wine clubs offer the following benefits to their members:
No admission & membership fees
No shipping charges to most provinces
Customizable wines
Complimentary wine tasting for members + 1 at their wine shops
3. Red Rooster Winery
Address: 891 Naramata Rd, Penticton
Next on the Penticton wineries list is the Red Rooster Winery. Red Rooster features a broad range of red & white variants of wine, having a farm-to-table eatery setting & outdoor patio.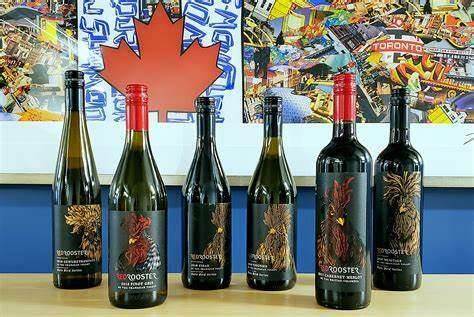 Red Rooster Winery was originally set up in 1990 by a European couple who happened to settle in the very area. Red Rooster soon became popular for its unique style of hospitality & award-winning wines.
With immense love & support from the customers, a new Red Rooster winery was built in the Naramata Bench Road, few kilometers away from its original site.
The winery offers two choices for wine clubs, Red Only Wine Club & Mixed Club. Members can either choose from the winemaker's selection or customize their selection and pick any combination of three wines.
4. Ruby Blues Winery
Address: 917 Naramata Road, Penticton
Coming next on the Penticton wineries list is Ruby Blues Winery. Initially, this winery was opened by the name Ruby Tuesday in 2008, and it gathered the attention of visitors coming to Naramata Bench. The winery gained its popularity very soon as compared to other wineries.
Ruby Blues Winery has a cool, laid-back atmosphere with great music in the vineyard. Moreover, they have a wine shop with great collections of wine and stiletto shoes for sale.
They specialize both in red & white wines made exclusively from grapes grown in the Naramata Bench region. And they are the 4 times winner for the "Lieutenant Governors Award of Excellence for Canadian Wines."
5. Three Sisters Winery
Address: 1250 Munson Ave, Penticton
Next up on Penticton Wineries is the Three Sisters Winery, a family-owned & run winery on Munson Avenue.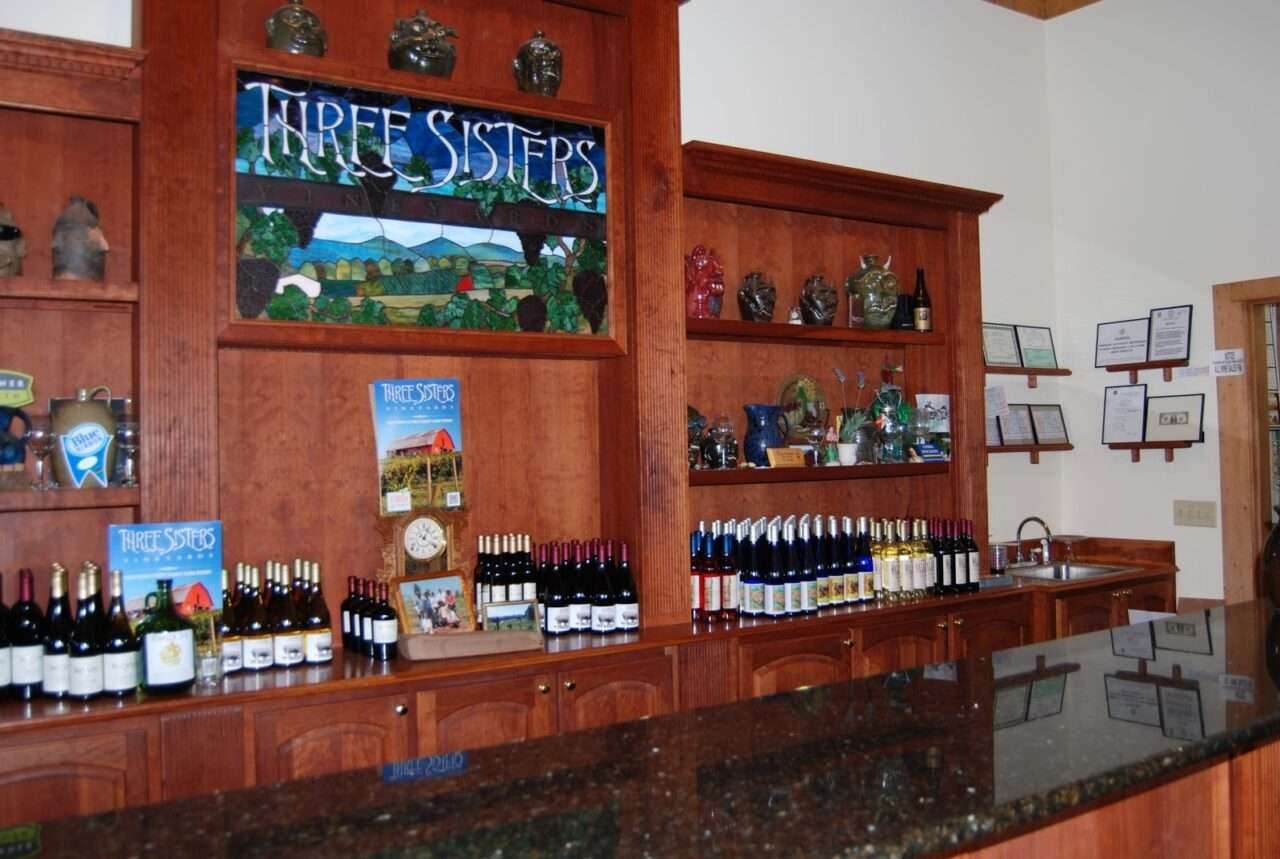 The winery specializes in four types of wine, including Red, White, Rose & Bubbles. They have won National Wine Awards over the years of their business for producing fine quality Okanagan wines.
Their wines are available across Canada, including Vancouver, Victoria, Peachland, Squamish & more.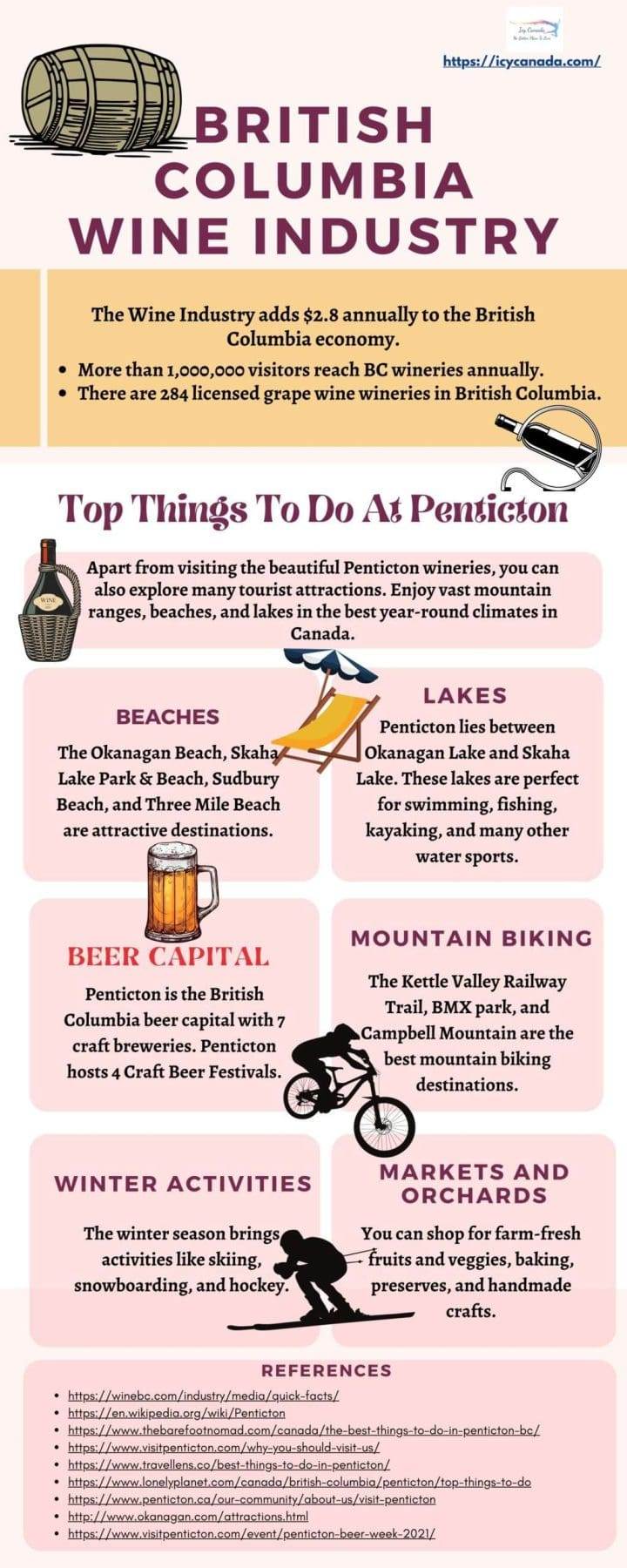 6. Pentage Winery
Address: 4551 Valleyview Rd, Penticton
On the 6th of Penticton wineries is the Pentage Winery on Valleyview Road.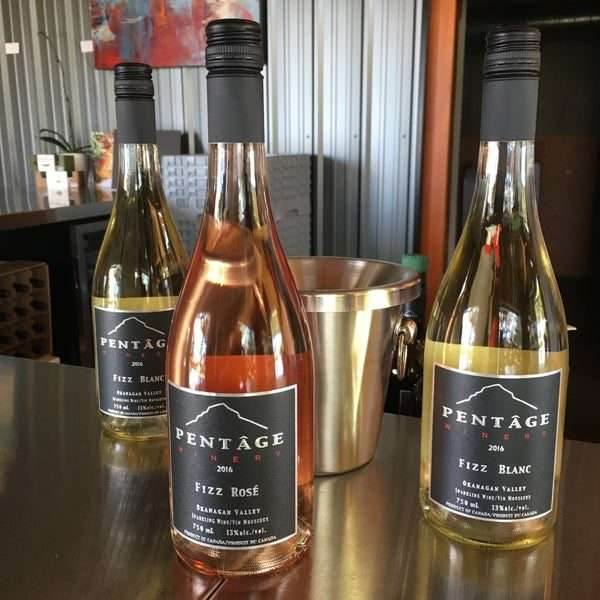 Pentage Winery is a boutique winery founded in 1996 by owners Paul Gardner & Julie Rennie. The winery has 15 acres of vineyards producing mostly Pinot Gris, and they also buy varietals of grapes from local growers.
For visitors, they offer a picnic area alongside their vineyard so that people can have a great taste of their wines in a comfortable space with beautiful views.
They offer wine club memberships too.
7. Hillside Winery
Address: 1350 Naramata Rd, Penticton
Next on Penticton wineries is the Hillside Winery, a winery + bistro.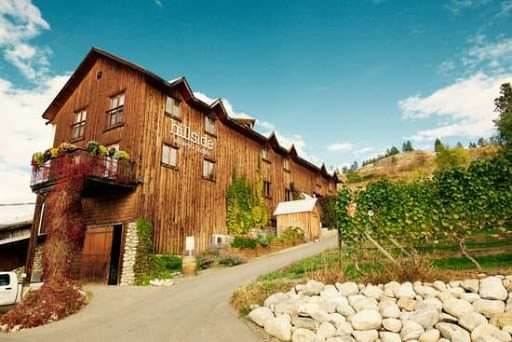 Hillside Winery is the most beautiful of Penticton wineries, with a charming courtyard & farmhouse-style tasting room. Their tasting room offers a casual & friendly setting for wine explorers. And their wines are hand-crafted exclusively from Naramata grown & raised grapes.
Apart from crafty wines, the winery features a Bistro that offers a menu created with the melody of flavors. The Bistro features a 65-seating area along with an outdoor & patio.
They offer both indoor & outdoor tasting, and visitors can book for tastings in advance.
8. TIME Winery & Kitchen
Address: 361 Martin St, Penticton
Located in downtown Penticton, TIME winery is opened in the spring of 2018 to make wines express the unique flavors of Okanagan.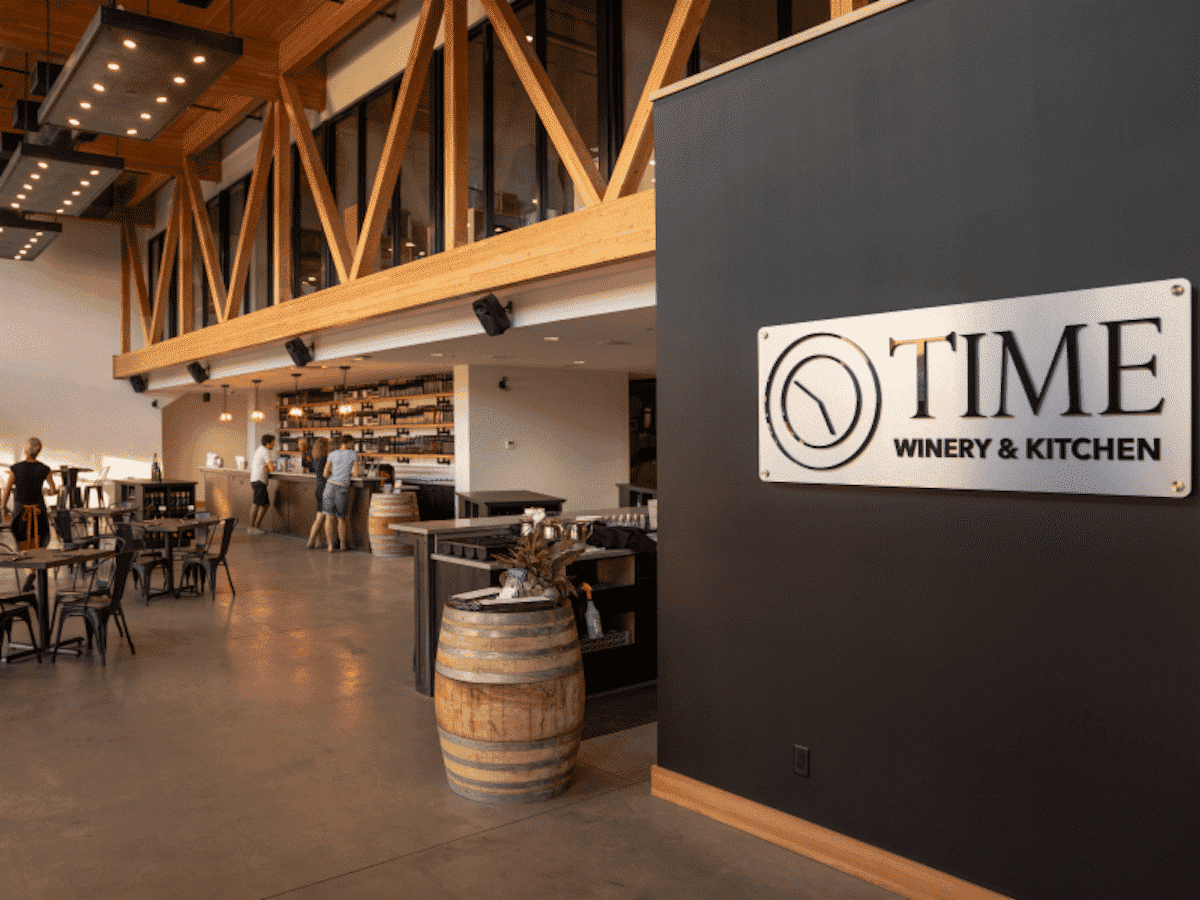 The team at TIME's holds very well expertise & is experienced, which ensures top-notch taste & quality of wines. They feature both red & white wines in their winery & offer a unique wine tasting experience.
Visitors get a chance to see the workings of a functional winery during their wine tastings. They can take a barrel tasting tour or sip from their glasses while sitting over the patio. Additionally, they have an in-house restaurant too.
9. Poplar Grove Winery
Address: 425 Middle Bench Rd N, Penticton
Next on Penticton wineries is Poplar Grove Winery, a family-owned winery founded in 1993.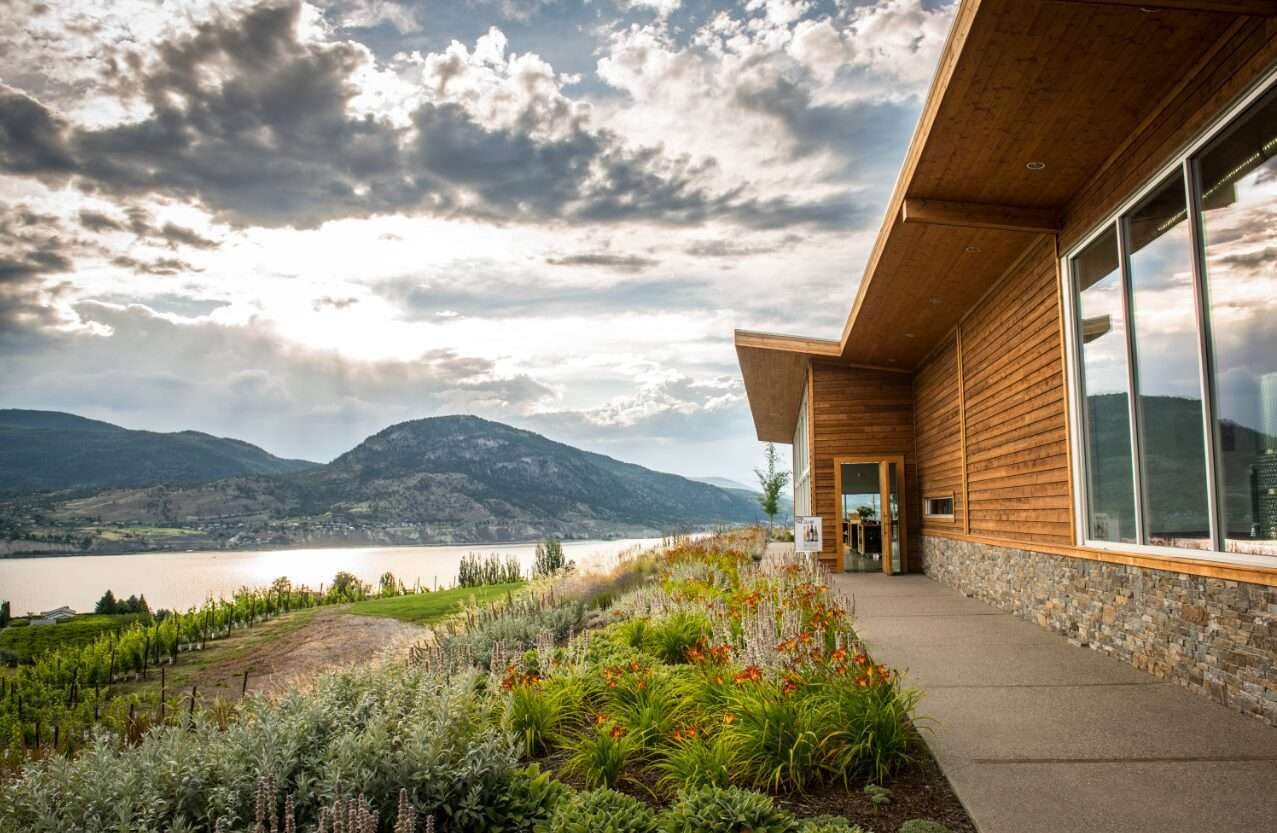 Poplar Grove is popular across the city for exceptional blends and varietals such as Pinot Grins & Cabernet Franc. Their most famous wine is the Legacy, produced in 2003.
Their tasting room is open daily for visitors, along with counter sales. And with that, they have a restaurant too to match up with their wines. Their restaurant features a spectacular space for their wines to shine.
And their restaurant menu includes dishes made completely from locally sourced ingredients. Visitors can expect the best services from them.
10. Moraine Estate Winery
Address: 1865 Naramata Road
Last on the Penticton wineries list is the Moraine Estate Winery, owned by a husband-wife team.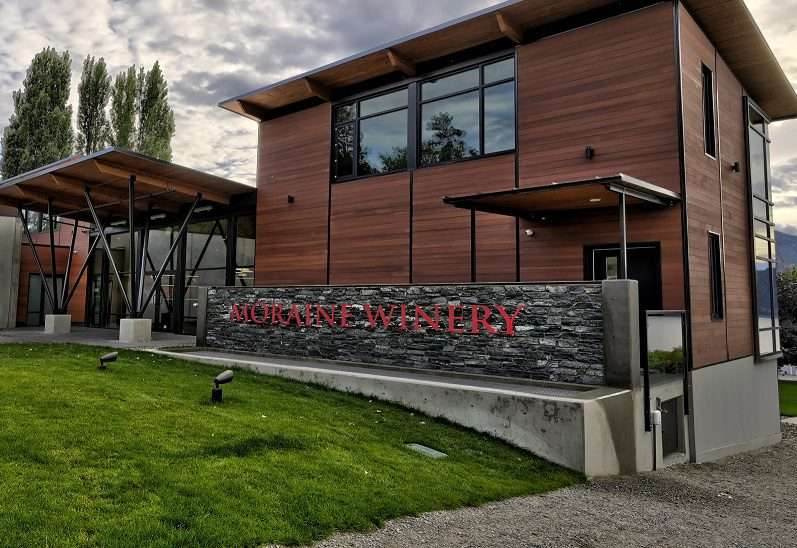 Moraine estate primarily grows the varietals Pinot Gris and Viognier. They became famous with three of their crafty wines, Cliffhanger Red, Cliffhanger White, & Meritage. 
Visitors are often left awestruck with the vineyard views overlooking the waters of Okanagan Lake. And they are open for wine tastings regularly, through both walk-ins & reservations.
Join their wine club for special pricing over their hand-crafted wines.
Well, that is all about the best Penticton wineries. Okanagan Valley wines are a must-try once, and we assure you, you won't regret it. After quite a research, we have presented this list, and these 10 Penticton wineries have stood out as the best.
I hope we have covered everything you need to know. Enjoy your wine tasting in any of these wineries soon.
Why Try Out Rocket.net - IcyCanada's recommended hosting provider