Are you among those who don't visit a place just for sightseeing? Then Killarney Provincial Park is the place for you!
Killarney Provincial Park is one of the most beautiful parks in Canada. It is located in the Ontario province of the country, near Georgian Bay.
This park was established in 1964 and has spread its beauty in the area of 485 sq. Km. The peace and solitude this park has combined with the wilderness will give you a different vibe, making Killarney Provincial Park as one of your favorite parks in Ontario.
This park has La Cloche Mountains, quartzite ridges that form a stunning view that will make you want to revisit this place. The town of Killarney and its Provincial Park attracts lots of tourists every year, as it doesn't only offer beautiful views, but there are lots of other activities that you can do.
Killarney Provincial Park does have an aesthetic appeal, but there's a lot more to do. Let's check them out!
Top 10 Activities to do in Killarney Provincial Park!
1. Hiking
Killarney Provincial Park has some cool hiking trails in Ontario park. Surrounded by majestic Mountain Views and blue lakes, for hikers, it's a paradise.
The hiking trails are present in different lengths, difficulty levels, and markings are done in blue and red on trees and different rocks for providing guidance and information.
There are lots of hiking trails present inside and nearby Killarney Provincial Park like La Cloche Silhouette Trail, Silver Peak, Granite ridge, etc. Every path has a different length and time requirement, but each hiking trail has the uniqueness and capability of blowing your mind.
To gain a piece of in-depth information about the hiking trails of Killarney Provincial Park, you can click here!
2. Camping
No hotels can offer you the experience of staying amidst the wild better than Camping. Take some time off from your busy schedule, gather your camping equipment, and spend a day with your friends at Killarney Provincial Park and do backcountry camping there.
The place remains quite busy during the weekends because everybody likes a peaceful but fun retreat. If you come unprepared you can still do car camping here, and watch people doing other activities that are mentioned below.
Camping at Killarney Provincial Park can never be a dull experience, its heaven for nature lovers, especially in the George Lake Campground area of the park.
There's no limit to an area for camping, you can camp near the beach, or on the cliff tops, you can do interior camping or even go outside the provincial park, and it is believed that there are more than 180 camping sites present around the park. The place is all yours!
There are different sections of parks with the best views for you to camp; you can check it out here!
3. Boating and canoeing
Now, apart from chilling and enjoying the view of Killarney Provincial Park, you can try boating and canoeing. You can enjoy in Killarney Kanoes around the Georgian Bay, but launching is quite easy near the Chikanishing River and further enjoys the beauty of pink granite rocks.
Canoe rentals are available in the park as per your length requirements.
You can rent your boat and enjoy your boating through the canoe route. The views are just stunning, and your paddling experience will only make the moment worth their while.
You can come across several discounts, offers, rate variability, etc. on the boats. Don't forget to bring waterproof boxes and bags along. And before planning the trip, check the weather forecast in advance.
4. Biking
It doesn't matter if you are an adult, kid, or teenager biking is something that you all can enjoy in the Killarney Provincial Park. It's the best alternative for those who don't want to hike and explore this breathtaking wonder.
Adults can enjoy their ride in the Chikanishing Creek trailhead to the Chikanishing Access Point. And the kids can roam around the park roads.
5. Swimming
After exploring the beautiful views of Killarney Provincial Park through hiking and canoeing, getting tired is a prominent factor. So go on a take a dip in the nearby sapphire looking lakes and relax.
If you are visiting with small children for a day out there are two beaches near the campground where you can build a sandcastle, take a sunbathe and do all kind of beach-related fun.
You can easily spot a lake near your camping area as this provincial park has more than 50 lakes. What else could you ask for!
6. Pack a Picnic
If you have nothing of your interest, you can still enjoy the aesthetics of the park. Have a day out with your family, and do a little picnic. You can bring along the stuff you need for your day, then eat, drink and relax under the sun.
There are plenty of beaches in Killarney Provincial Park. You can bring buckets and everything and build sandcastles with your kids.
It's the right place for relaxing and enjoying with your loved ones.
7. Fishing and Ice Fishing
As the Killarney Provincial Park has several lakes, so it is evident that there would be fishes. So, what are you waiting for? Grab your fishing rods and visit this place.
There are few lakes where fishing is allowed, such as Helen Lake, Three Narrows Lake, and Georgian Bay.
The variety of fishes you can find here includes Salmon and Trout, which can be spotted here from May to early September.
Ice fishing can be a fun activity to try during the winter season. Don't worry about the cold weather; just carry on with your family tradition of fishing.
8. Hunting
Now, that sounds like an adventure and fun of a lifetime. But most of the hunting activity has been prohibited in the region by the government to protect the animal kingdom.
Hunting is permitted in only a few areas of Killarney Lakelands, in Killarney Provincial Park and Headwaters Provincial Park.
But we seriously discourage this activity, because killing animals just for fun and adventure is not worth any appreciation.
9. Cross Country Skiing
The Canadian winters are just magnificent. When you visit Killarney Provincial Park, there are more seasonal activities for your enjoyment.
You can go to sledding and snowshoeing during winters and have fun with your friends. The trails that are opened during winters only are Collins Inlet Trail, Chikanishing Trail, and Freeland.
If you are wondering about camping during the winter season, you don't need to worry about that.
The Killarney Provincial Park has six heated yurts and two camp cabins, which are a perfect place for your stay. The warm huts are available for day use with a wood stove to have a bonfire a relaxation.
10. Events and Festivals
The Killarney Provincial Park also hosts many events and festivals from time to time. Some games are organized during summers and different activities during winters.
During summers, several art shows, musical concerts, sales, and workshops are organized inside the park. During off-seasons, cleaning and plantation campaigns are organized.
In winters specially organized and guided ski trails and snowshoeing, events are held, and backcountry works for improving the interiors of the park. Killarney Provincial Park is open for researches and study as well.
11. Photography
It's the most critical part and objective of going on a trip. Never forget to bring your camera along while roaming around in Killarney Provincial Park.
The park has spectacular views and is one of the most recommended places for photography enthusiasts. And as you must have been planning to do some of the other activities mentioned above, the point of it would be ruined if you'll fail in capturing the moment.
So, bring a good camera along, because the scenic beauty will not disappoint you.
12. Sightseeing
There's no argument about the sightseeing activity, as it is something you always do. Moving on to the Killarney Provincial Park, the place has lots of beautiful views that can blow your mind.
There are lakes, a pink granite rocks area, ridges, hiking trails, with mountains in the background covered in the lush greenery during summers and a white wonder during winters. Just visit the place and appreciate the natural beauty.
Killarney Provincial Park is well known for its wilderness and majestic beauty. This park should be on your' places to visit' list because it deserves the spot. Apart from nature and beauty, there are high chances of spotting the wildlife of Canada in some specific areas of the park. So, as amusing it sounds, you also need to be a little careful.
Killarney Provincial Park has lots of things for everyone. There is no limitation on the number of activities that can be done inside the park. You can even bring your stuff, like paintings, books, binoculars, sports equipment, fire pit material, and have a great day out at Killarney Provincial Park.
If you are planning of staying nearby, there are lots of roofed accommodations available with cool features like bunk beds, hot pools and do check-up with their check-in and check-out times for your convenience.
It is a great weekend getaway for those who live in the busy cities of Canada. If you are visiting Canda for the very first time, you need to do months in advance planning and gathering of information. You can check it out here!
This was an article on '12 Fun Activities To Do in Killarney Provincial Park!'. If you have anything more to add, please feel free to share your thoughts with us!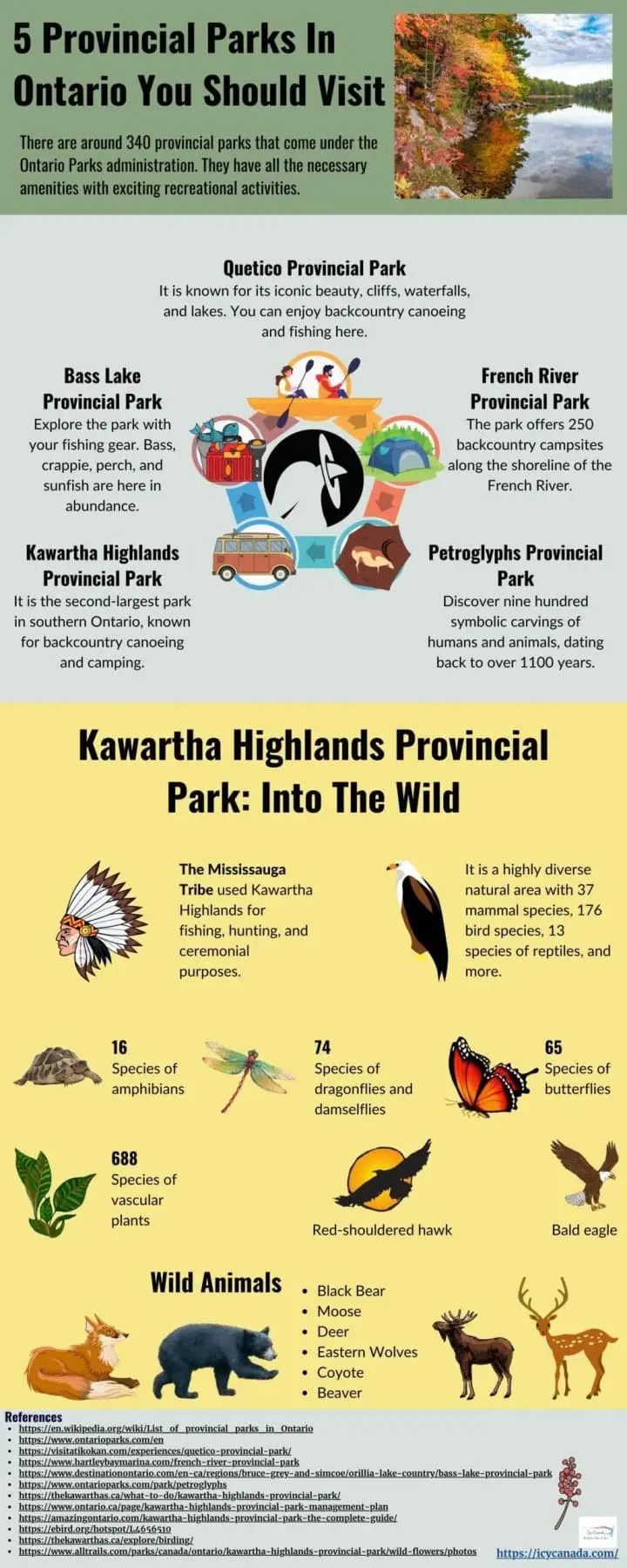 Why Try Out Rocket.net - IcyCanada's recommended hosting provider