---
I'm at a loss for words to describe how beautiful Canada is. It is truly breathtaking, with views in all directions.
Some of the most gorgeous lakes in the world can be found in the Canadian Rockies. With Jasper lake's vibrant colors and stunning surroundings, you can be sure to come across scenes that will make you feel like you've stepped into a fairytale. That's how beautiful Jasper Lakes are.
The stunning Jasper lakes in Canada are eye-pleasing, each more beautiful than the last.
We'd like to know which lake is at the top of your list to visit.
With Jasper lakes vibrant colours and stunning surroundings, you can be sure to come across scenes that will make you feel like you've stepped into a fairytale.
The Canadian Rockies' 12 Most Gorgeous Lakes In Jasper.
Canada has the most lakes per capita in the world among which you can check the following Jasper lakes:-
1. Pyramid Lake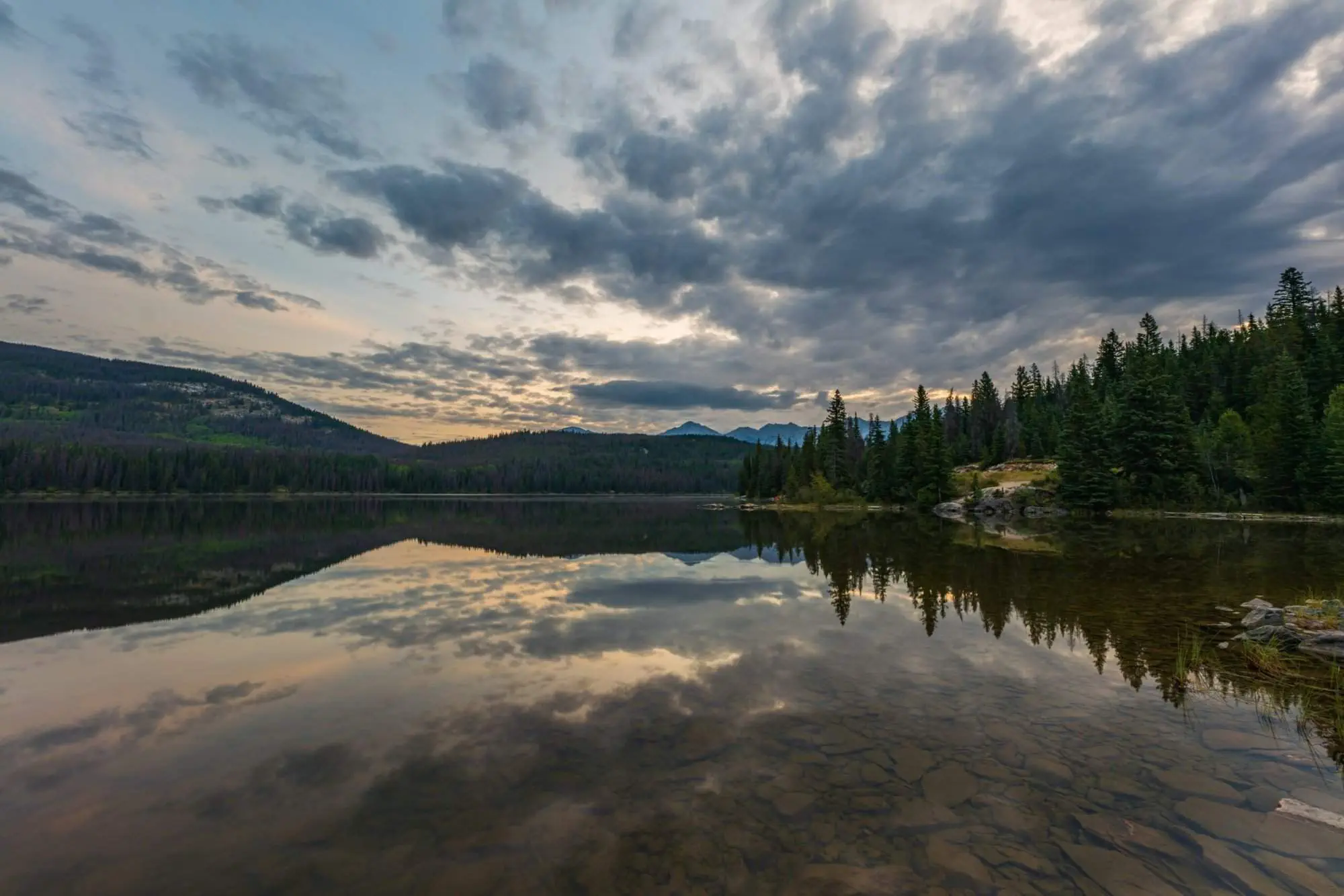 At Pyramid Lake, everyone has a good chance of catching large fish. Pyramid Lake is only 10 minutes away from Jasper.
Pyramid Lake empties its waters through Pyramid creek into the Athabasca River.
Pyramid Lake, home to massive Cutthroat trout, is always worth the trip. Not only does this location provide world-class fishing, but it also has beautiful scenery.
One of the most beautiful Jasper Lakes, Pyramid Lake has plenty to be proud of. The iconic bridge that connects Pyramid Island is a social media sensation. Pyramid Mountain, which has a view of Pyramid Lake, is a great place to go stargazing and watching the Northern Lights, keeping in mind that Jasper is an official Dark Sky Preserve.
Ice skating in the winter and canoe and kayak rentals are available on the beach at the Pyramid Lake resort.
Spend your day kayaking on Pyramid Lake, which has beautiful fall colors, snow-capped mountains in the background, and blues in the water, contrasting with all the yellow. The scene is stunning!
2. Patricia Lake
Patricia Lake is a lake in Jasper National Park in Alberta, Canada, close to the town of Jasper. It was named after Princess Patricia of Connaught, a granddaughter of Queen Victoria.
Pyramid Lake Road and hiking trails connect Patricia Lake to Jasper and other tourist attractions such as Pyramid Lake and Pyramid Mountain.
The lake's history is intriguing. Because of its off-the-beaten-track, it played an important role in World War II as the site of the top-secret Habbakuk Project.
It was an attempt by the Allies to build a non-sink aircraft carrier out of a special material made of wood pulp and seawater. To float, the "Pykekrete" needed to be completely frozen. The experiment failed, and the first model's remains were sunk into the lake. During the summer, divers can explore the wreck.
From Jasper, take the winding sidewalk to Patricia Lake. The majority of people engage in land-based outdoor activities. Some activities include canoeing, lake trout fishing, and horseback riding. Keep an eye out for wildlife in the area. There will be black bears, sparrows, and birds of prey.
Jasper lakes have a lot to offer. Hire a horse, a bike, or a canoe, or relax and have fun while fishing. Enjoy a day at Patricia Lake and some relaxation, or stay a few days and take in the Canadian wilderness.
3. Medicine Lake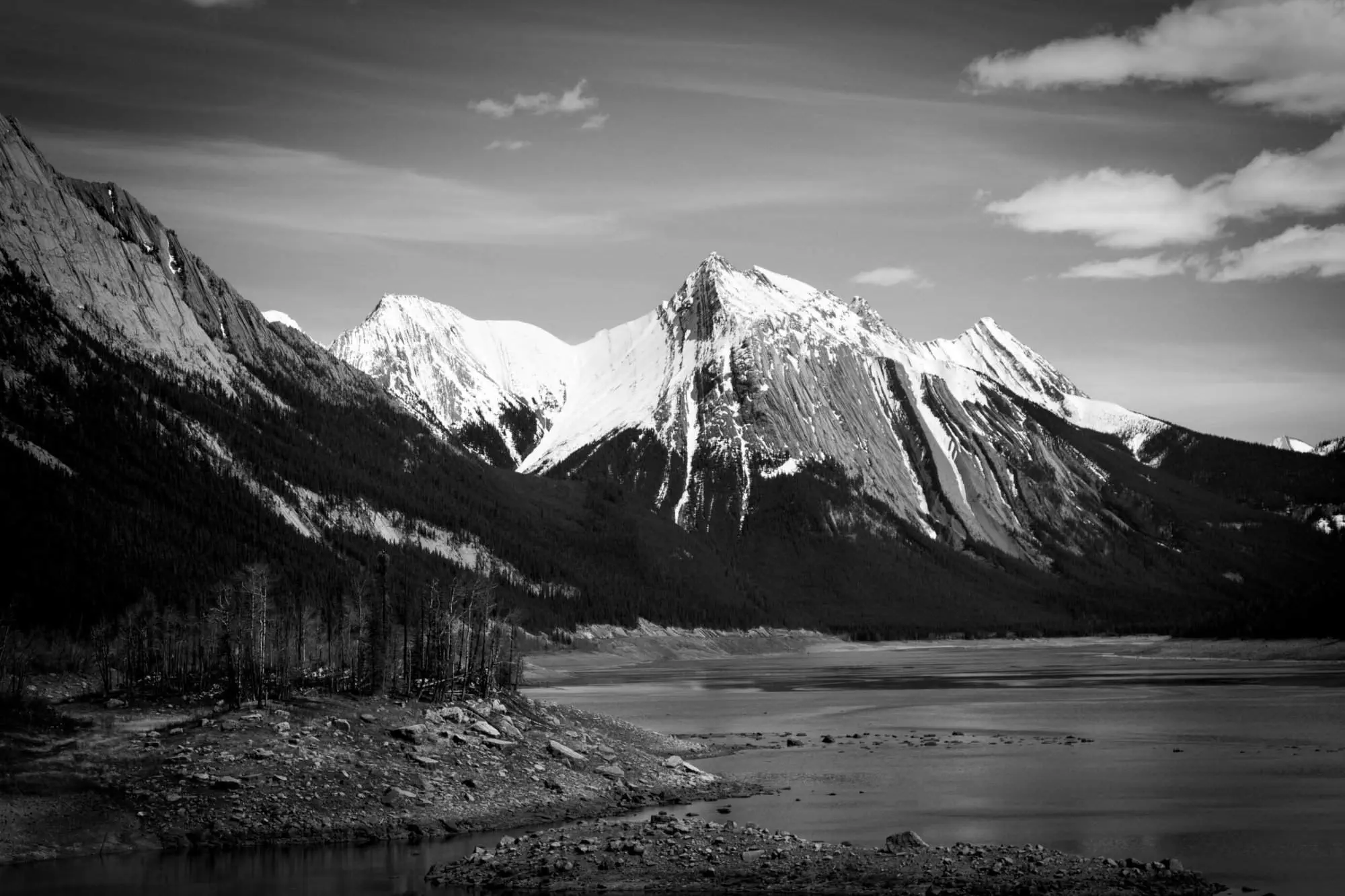 There are places where time stops, and it's like entering the world of fairy tales. One is Medicine Lake (nicknamed "The Disappearing Lake").
Canada's Jasper National Park includes Medicine Lake in its geographic region. About 20 km to the southeast of Jasper, Alberta, is where Medicine Lake is situated.
The 7 km long and relatively shallow Medicine Lake is a body of water. Medicine Lake is a part of the glacier-fed Maligne Valley watershed.
This lovely lake fluctuates in depth, so it is nearly empty in the winter and full in the summer due to melting snow and glaciers.
Medicine Lake is unique among other Jasper lakes because no rivers or streams flow into or out of it, so the water evaporates through holes in the ground. The tunnel system beneath is thought to be the largest in the world.
Medicine Lake is gorgeous; one side of the lake has the Canadian Rockies, and the other has a vast green valley. The yellow colors of the trees preparing for winter make the views incredible.
Watch for moose and eagles as you meander along this long, shallow lake; with mountains rising on both sides, it's truly a sight to behold.
4. Maligne Lake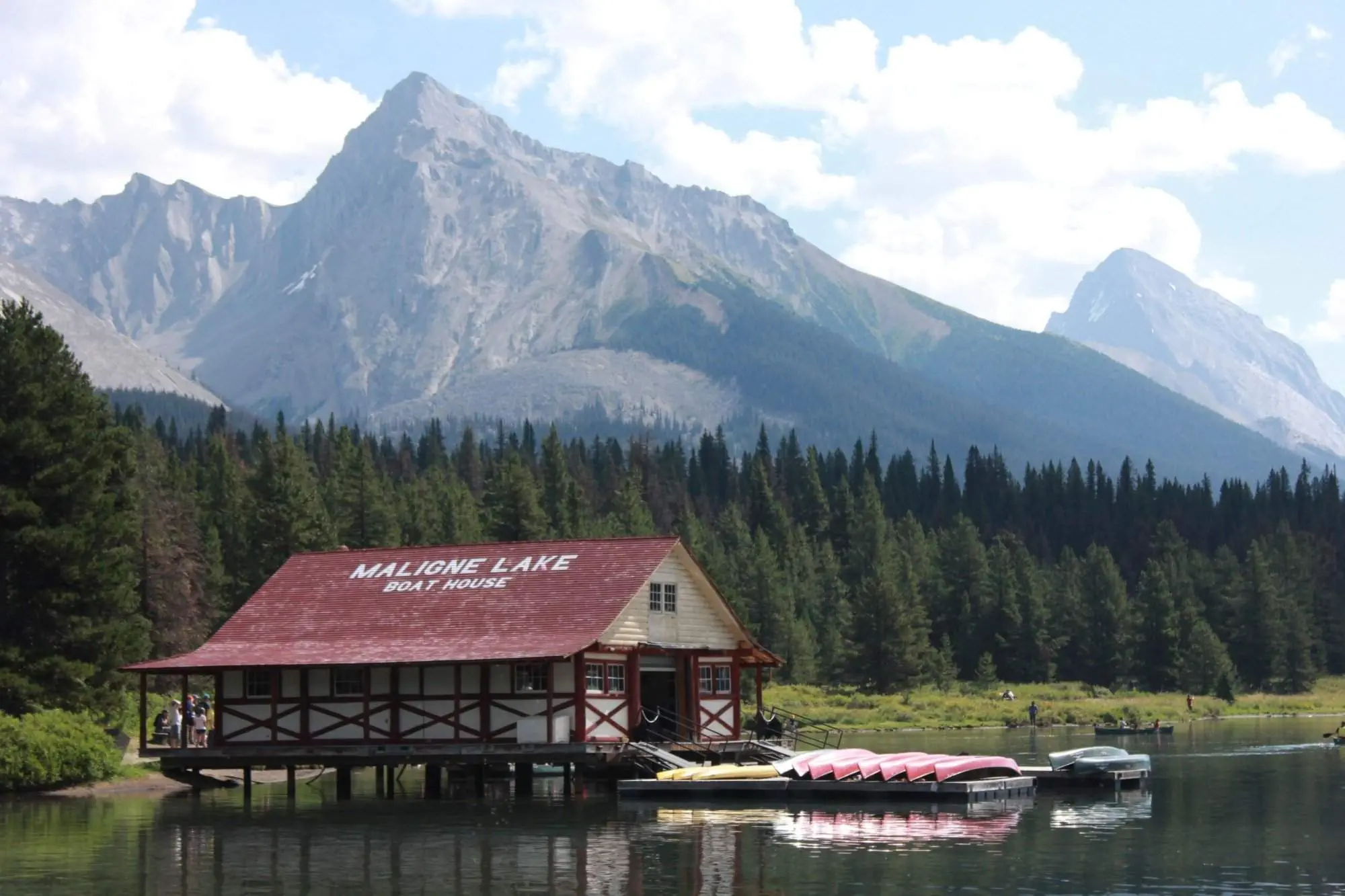 If you visit Canada, visit Jasper National Park for mesmerizing Jasper lakes. It's the quieter, underappreciated sister to the more famous Banff National Park, but no less beautiful.
The largest natural lake in the Canadian Rockies is Maligne Lake.
The Maligne lake is well-known for the color of its azure water, the surrounding peaks, the three glaciers visible from the lake, and Spirit Island.
With breathtaking views of the Canadian Rockies and glaciers, picture yourself paddling a canoe through the turquoise waters of Maligne Lake that surround the tiny island of Spirit Island.
Spirit Island is located on Maligne Lake in Jasper National Park.  It has been displayed for 40 years as a Kodak film advertisement in a New York train station.
Maligne Lake is well-known for being one of the most photographed locations in Canada. If Lake Louise is a pearl, Maligne Lake is the whole necklace. These two Jasper lakes are beyond magic.
Several routes are available to get here (kayak or via scenic cruise for 14km one way). If you're going on the scenic Maligne Lake cruise, we recommend contacting the premium option to enjoy the island more.
The Colin Range can be seen in the distance, with the Maligne River flowing towards it just east of Jasper. Maligne River flows into Medicine Lake, disappears into underwater caves, and is not seen again until almost a mile away when it emerges from the ground in Maligne Canyon.
Medicine and Maligne Lakes are unquestionably the highlights of Jasper Lakes and the whole of Jasper; it's difficult to capture their full limitless beauty on a smartphone camera, so you'll have to see these gorgeous lakes one day.
With Mount Brazeau at its southern end, Maligne is breathtakingly gorgeous.
This tour comprises transportation to the lake and a walk and leaves with the decision to go for a cruise or boat tour to Maligne Lake (and Spirit Island).
5. Horseshoe Lake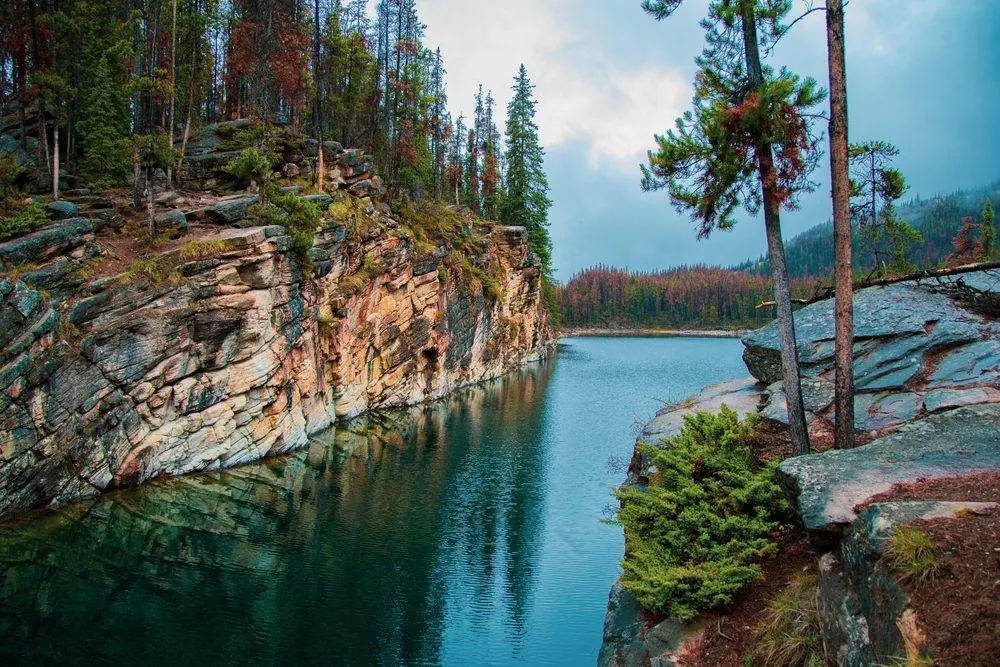 Alberta is full of delightful surprises. I'd recommend checking out the watering hole at Horseshoe Lake in Jasper National Park for those looking to get their adrenaline pumping.
Horseshoe Lake is beautiful, but it also has deceptively shallow pockets of water that are perfectly safe for lounging in but not always safe for diving into, so be cautious!
Going to the lake requires a brief hike directly off the Icefields Parkway, a convenient location, and make a fun pit stop when driving between Banff and Jasper. The cliff formations along the route are stunning.
Horseshoe Lake is one of the deepest Jasper Lakes. Here you can go cliff jumping, scuba diving, swimming, and fishing.
On hot and sunny days, this place gets very crowded, and there is only a small parking lot, so arrive early.
6. Lake Annette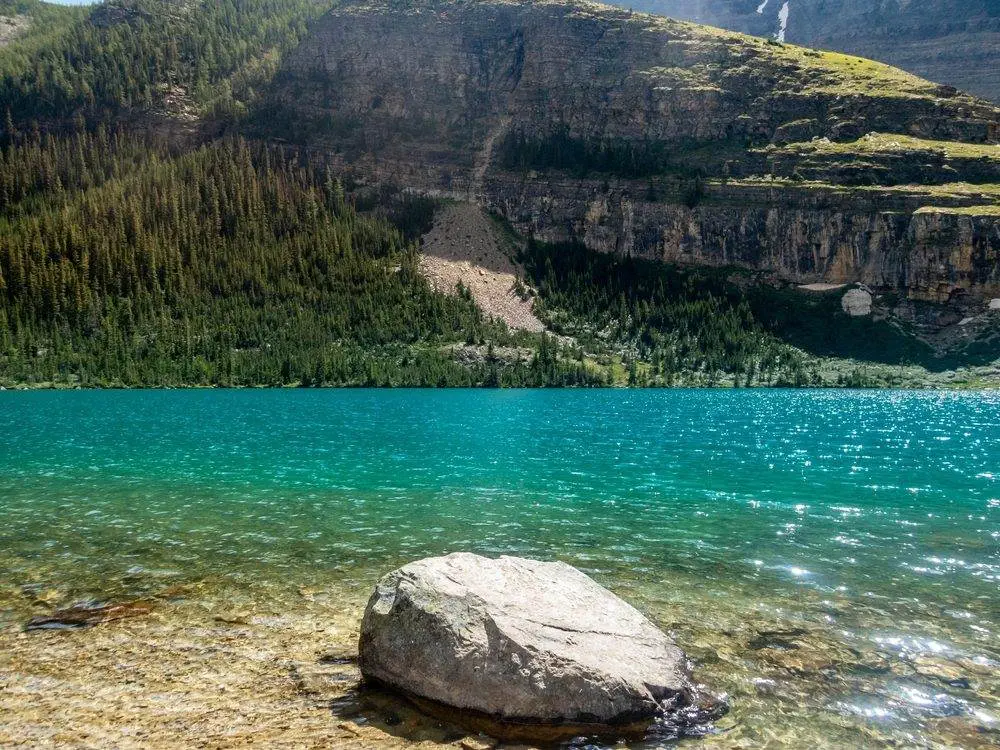 Blue skies and waters at Lake Annette in Jasper, Alberta, instill a sense of calm and peace as you enjoy the night.
If you want a nice paved walk (-3km), this is the place to go. There are beaches, picnic tables, and a dock to jump off.
The tide changes so quickly that you can walk along the beach in the morning and trace your steps in a kayak a few hours later. Lake Annette in Alberta's Jasper National Park is not your typical beach destination.
A shoreline is surrounded by trees, mountains in the background, and glacial waters. It's also a fantastic place to see moose, deer, and grizzlies in their natural habitat.
This hike up Paradise Valley took your breath away yet again. The scenery was breathtaking, from rivers to lakes to moraine fields and glaciers.
You can experience a stunning day of hiking bliss in Paradise Valley with beautiful Lake Annette, waterfalls, and larches turning golden.
Lake Annette is directly adjacent to Lake Edith. You can either park in one location and walk to both lakes or drive to each one (both Jasper lakes have parking).
This lake's colors and crystal-clear clarity were breathtaking.
7. Talbot Lake
Talbot Lake in Jasper National Park, Alberta, Canada, is ultra-clear, shallow, and full of fish, located about 30 km/18 miles east of Jasper, Alberta.
The mountains above this Jasper Lake in Jasper National Park is something to love. It's magical how the scenery in the Canadian Rockies shifts so dramatically depending on the weather.
This lake provides beautiful views of the Rockies. You can take your fishing rods with you if you are into fishing. It's a tranquil location to float in the shadow of Cinquefoil Mountain & features a pull-out, outhouse, and gravel boat launch area,
Along the Yellowhead Highway, it takes about 25 minutes to get to Jasper Lake and Talbot Lake from Jasper. Talbot Lake is on the other side of the highway from Jasper Lake, on the opposite side. Summertime is a great time to visit either of Jasper lake. The Athabasca River, where it widens, includes these Jasper lakes.
8. Cavell Lake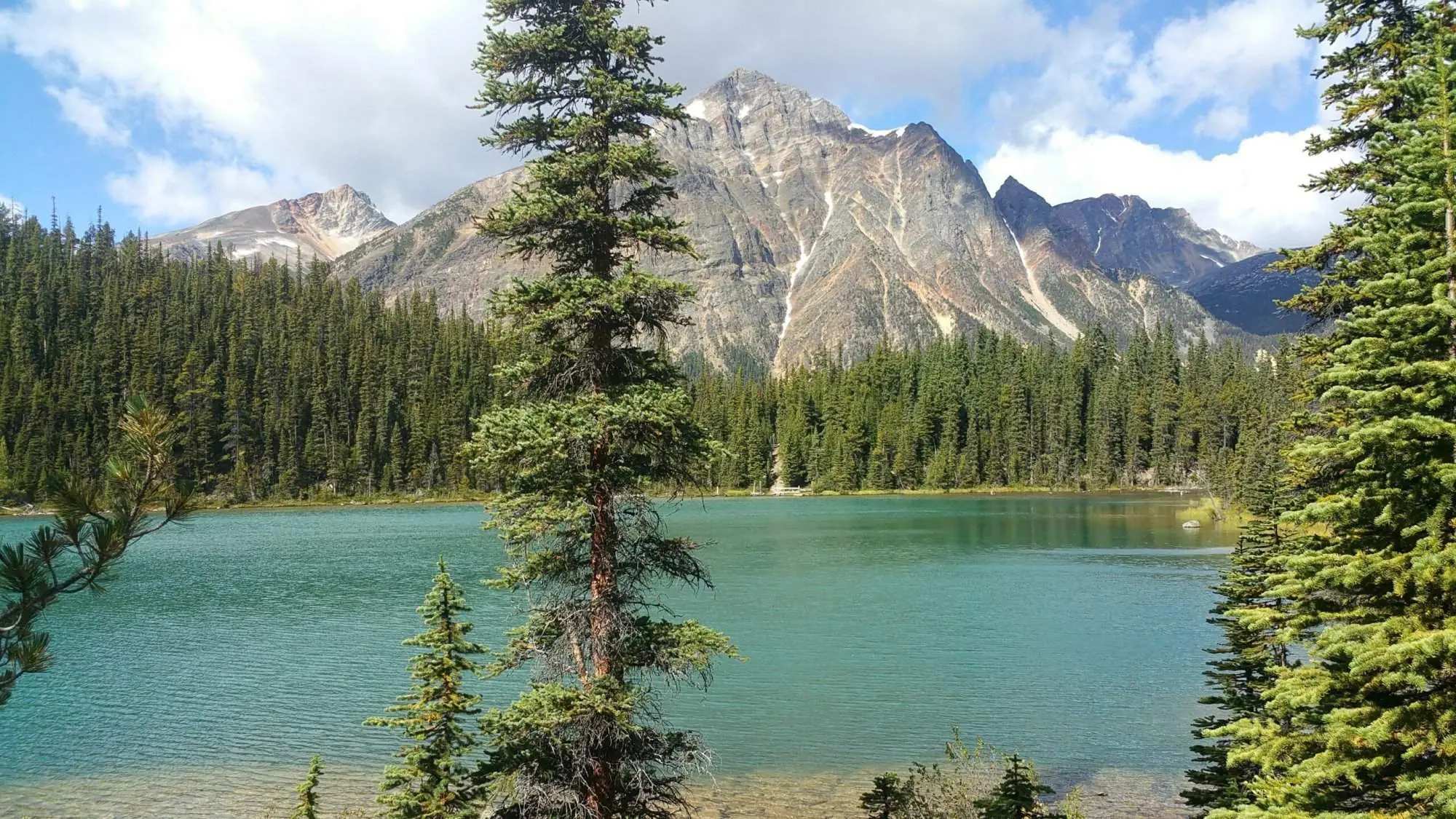 Cavell Lake in Jasper National Park, Canada, is a different beauty. A hidden little gem near Mount Edith, Cavell is stunning at sunset.
Lake Cavell is a small lake but a glorious paddle once you've figured out the weight distribution in the canoe.
It is fed by melting water from Angel Glacier, which hangs from the massive face of Mount Edith.
There is a very small parking lot with a sign for Cavell Lake. When heading to trails at Mt. Edith Cavell, you can stop there for a short walk down this beautiful lake.
Both Cavell Lake and Mount Edith Cavell are great spots for amazing photo opportunities.
9. Beauvert Lake
Lake Beauvert in Jasper National Park is a little nugget, well hidden like a golf course and a luxury hotel complex (but well accessible to the public).
The renowned golf course is on the east side of Lac Beauvert (Beauvert Lake), while Jasper Park Lodge is on the other. If you go to the main lodge, go back to observe the lake's bluish-green hues and take in the view.
Beauvert Lake, in English, means "Beautiful Green," which is so true for this lake, with that feeling of serenity with that perfect reflection of trees and mountains in the water.
Part of the Lac Beauvert trail is closed for wildlife and flora regeneration. The setting of this lake is absolutely beautiful.
The green spaces are very well maintained and the lake water is transparent. As the sun timidly peeks at the tip of its nose, you can see its blue-green colors.
Lac Beauvert is undoubtedly the most popular lake in Jasper among all the top lakes. Even on the warmest summer days, the water is extremely cold there, yet it has some cleanest water.
Sunrise canoeing on Lake Beauvert is only a few steps away from your cozy lake-view cabin.
That is just one of the many incredible experiences available while staying at the Fairmont Jasper Park Lodge. You can take advantage of the outdoor facilities, relaxing by the pool before activities.
Besides sightseeing, you can visit Beauvert Lake for an easy trail. The 5.3-kilometer (3.29-mile) Beauvert Lake loop trail is about 5.3kilometers and can be completed in more or less one hour by beginners walking at a moderate pace.
10. Honeymoon Lake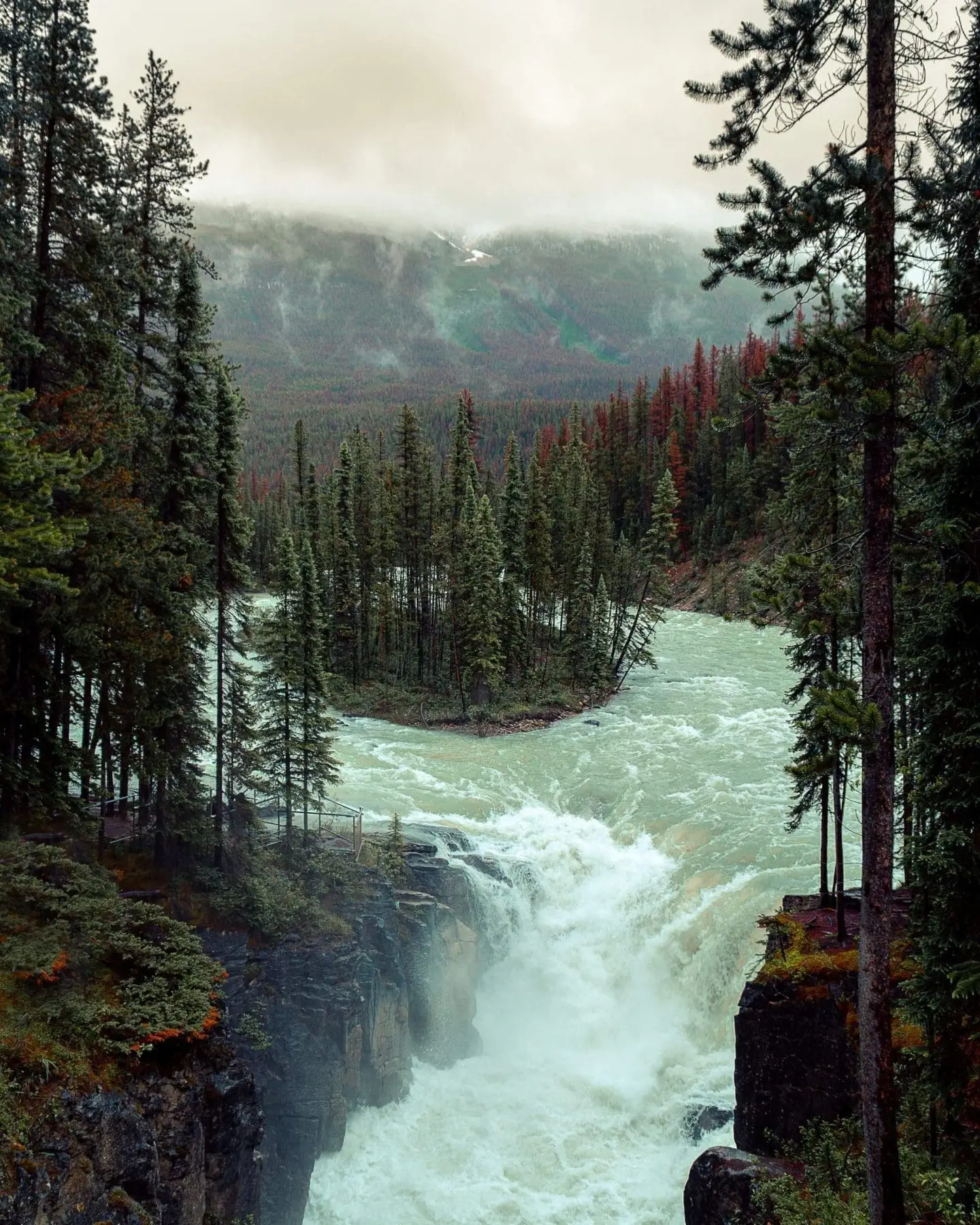 Honeymoon Lake is a lake without a beautiful shade of water, but it is cozy and peaceful. In this treasury of favorites, there is a location where anyone would come camping.
It is a short distance from Sunwapta Falls on the Icefields Parkway. The trails surrounding the lake are a wonderful way to take in the wilderness, and it's a beautiful lake for kayaking.
However, there is no electricity & no internet in this location. The officials provide firewood, clean water & cooking shelters & pit toilets. If you have a camper or kayak with you, the best spot for swimming & camping is on the beautiful honeymoon lake.
Crystal-clear water, reflections, mountain ranges, lovely stones, and white clouds; you can find everything in one place.
11. Mildred Lake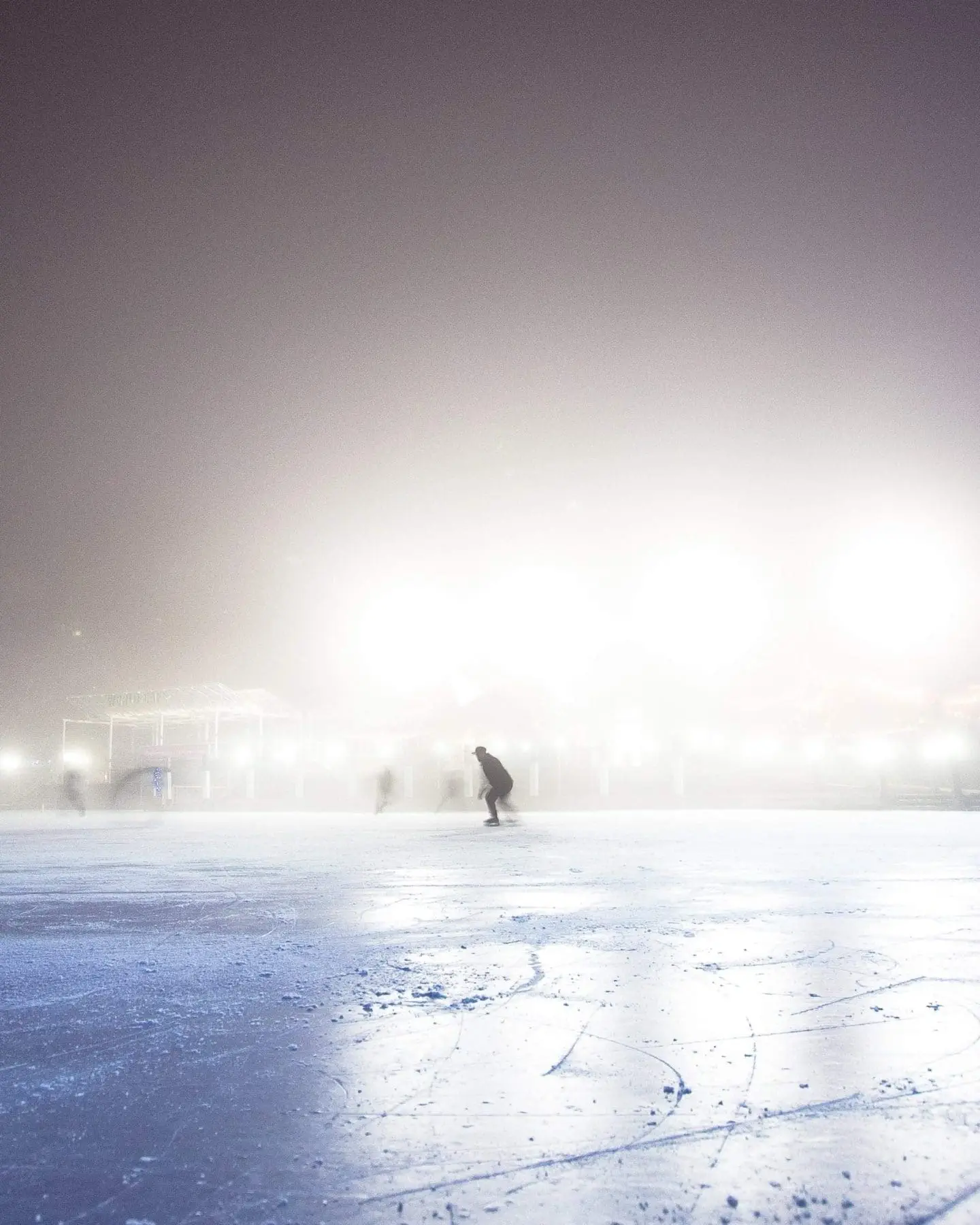 Something is thrilling about visiting places that aren't accessible by car. The views of Mildred Lake were worth the pain and suffering. This hidden treasure can be found at the end of Hama Road in Hoodsport.
Lake Mildred is a 14-mile out-and-back trip. This hike appears to be beautiful (and it is), but it is also extremely difficult! The trail gained over 3,000 feet in elevation, mostly scree, and requires a river crossing.
Locals know Mildred Lake as a laundry lake because the water used to wash the Jasper Park Lodge laundry was pumped from Mildred Lake.
Twilight skating is a long-standing tradition at the lodge. Pick up a pair of skates at the Winter Activity Centre and head to the Lake Mildred Ice Park to watch the sunset on another beautiful day in Jasper National Park.
The sunset views from Lake Mildred Ice Park are not limited to ice skaters. In addition to a 1 km skating loop and two pond hockey rinks, there are trails for walking, snowshoeing, and cross-country skiing.
12. Louise Lake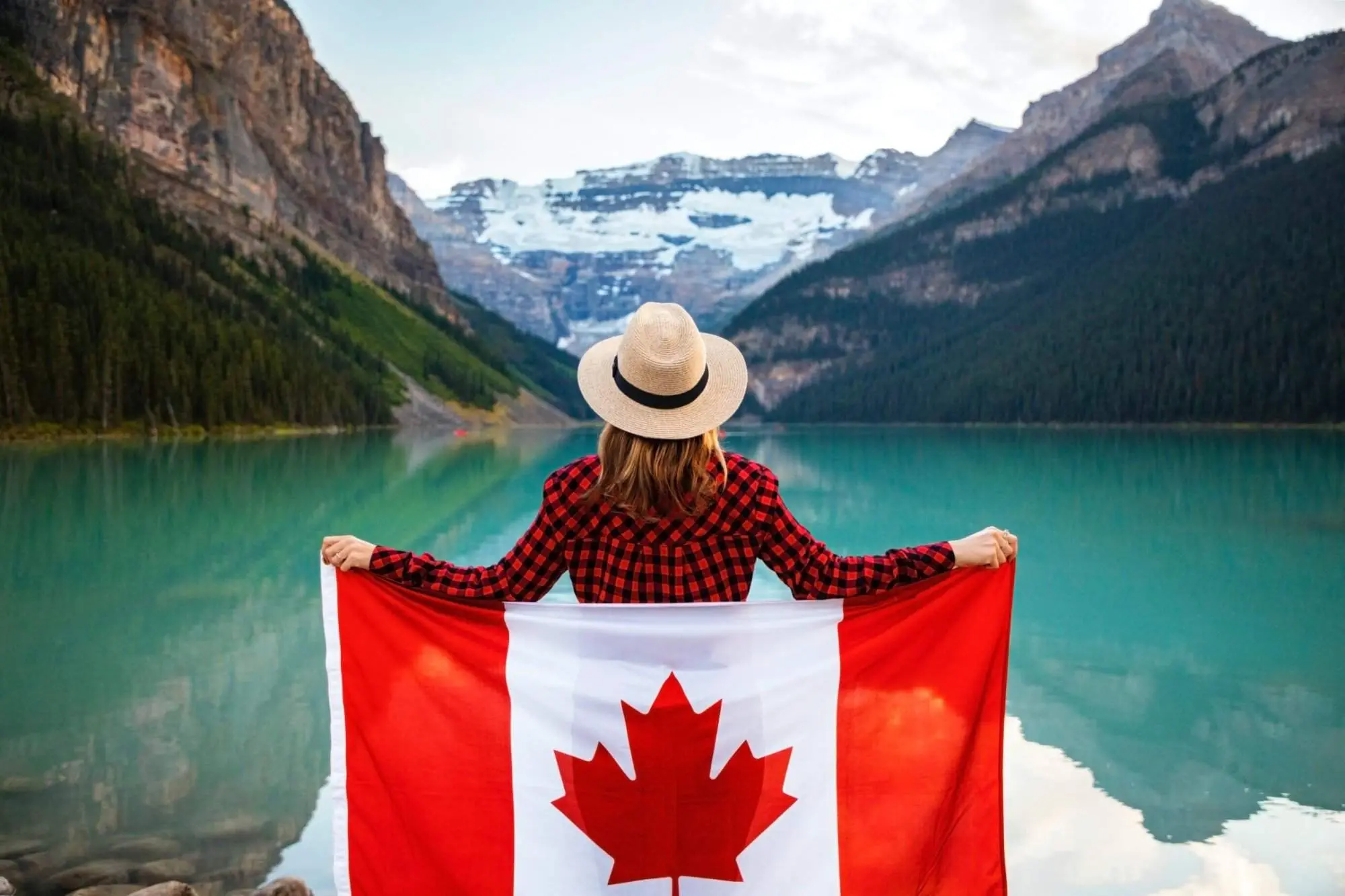 Lake Louise is a winter wonderland and the second most beautiful lake in Banff National Park, known for its turquoise color and proximity to high mountains.
Lake Louise is a majestic place with jaw-dropping landscapes on the west coast. Imprisoned between two mountainsides, one rocking, the other trees, open skies, and a snowy mountain in the background.
It should not be forgotten that it is a very touristy place, but the site is so exceptional that the world does little to detract from the beauty of the landscape.
The lake is only 4 miles away from the village, and the trail is nice, so you can get there by bus ($2 round trip or $10 for the day) or walk. You can find some nice hikes along the lakeside, such as Lake Miroir and Lake Agnes, followed by a walk down the six glaciers to Lake Louise.
If you go all the way to the end of this trail, you might be able to hear and see a piece of glacier collapsing. A nice 20-kilometer loop allows you to see the panorama of Lake Louise. Bears and grizzlies are frequently seen there, so remember that you are on their territory.
The lake is 3 kilometers long and has distinct tourist resorts. Another feature that distinguishes this lake is that it has become a popular destination for those who want to hold a party on the banks of this wonderful lake those who can afford it. The crystal clear color of the water, the grand Chateau hotel on the shore, and the glacier in the background are all reasons for its fame.
Paddle along the shore and keep an eye out for wildlife. Rent a boat and get the quintessential Canadian experience on Jasper's lakes.
Enjoy the tranquility of your surroundings while casting a line in one of Jasper's lakes. Only electric-powered boats are permitted on Medicine, Talbot, Maligne, Patricia, and Pyramid. Motors are prohibited at all other water bodies, and gas motors are never allowed on the water in Jasper National Park.
By December, several Jasper lakes freeze over and become suitable for ice skating. Pyramid Lake and Patricia Lake are the ideal lakes in Jasper for ice skating.
Suggested Reads:
A Superb Guide To The Pyramid Lake Resort
7 Best Reasons to Get on Lake Louise Ice Skating
Necessaries Knowledge And Amazing Facts About Lake On The Mountain