With more than 30 public Kelowna beaches, and one of Canada's sunniest cities, Kelowna is a great place to cool off when the summer heat rises. With many fine beachside resorts and hotels to select from, all within walking or bike distance, and gorgeous beaches, West Kelowna also has some of the finest lodgings in the valley. Several most stunning Kelowna beaches are nearby, where you may swim, play, kayak, picnic, paddleboard, or unwind with a good book. When visitors stay at The Shore, located adjacent to Okanagan Lake, you may take advantage of the soft beach and calm waves.
1) 16 Beautiful Beaches In Kelowna!
It's hardly surprising that Kelowna has emerged as one of British Columbia's top beach destinations, given its breathtaking views of the beaches, excellent summer climate, and dog-friendly ethos. Among the best things to do in Kelowna is to visit the city's stunning beaches.
16 beautiful Kelowna beaches destinations are listed below, which you might consider while travelling to Kelowna.
1.1) Lake Avenue Beach
One of the most tranquil beaches in Kelowna is Lake Avenue Beach. Weeping willow trees abound, and the scenery is breathtaking. This beach's entrance is located at 117 Lake Avenue. One of Kelowna's dog-friendly beaches is the one at the beach. You can swim in locations that are specified for you.
Knox Mountain Park, which is close to Lake Avenue, has nature trails. There are numerous locations nearby where you can get something to eat. The natural trail along Lake Avenue is a beautiful spot to unwind and spend quality time with your dogs.
1.2) Gellatly Bay Aquatic Park
The two-kilometre stretch of Gellatly Bay in Westbank is home to several beaches and other water-friendly attractions. If you look across te lake while floating away from the Shore, you will see the 11,038-hectare vast wilderness of Okanagan Mountain Provincial Park on the east.
One of Kelowna's beaches is near Gellatly Bay and is called the Aquatic Park. This beach is a terrific place to have a lot of fun and has excellent views. Once a docking facility, the CNR Wharf was built in the aquatic park to enhance the Gellatly Bay Aquatic Park experience.
The Gellatly Bay Aquatic Park's CNR Wharf was built to promote more boisterous summertime pleasure in a formerly commercial docking area. You can jump off platforms built into the short wood-planked jetty into the water. To produce a splash, visitors can swim near the floating platform. The CNR Wharf, well-liked on hot summer days, has a zipline that takes you to an elevated island dock where you may make the most significant wave or do elegant swan dives.
Grab some tasty snacks at the Gellatly Bay Aquatic Park when hungry. You can swim on a moving platform or dive from an elevated island. You may observe ducks, birds, and other shorebirds fishing from viewing platforms.
1.3) Willows Beach
One of Kelowna's most tranquil beaches is Willows Beach. It is hip and draws fewer visitors. You can make a sandcastle, stroll down the Shore, or dip your toes in the ocean on this sandy beach. Dive into the lake for fun or picnic at the picnic tables. Along with being a well-known site, it draws both locals and visitors who want to take advantage of the lovely fine sand and warm waves.
Any time of the year is an excellent time to visit Willows Beach. The swimming area is roped off for added safety which visitors can use, play volleyball, or enjoy the beautiful scenery. Additionally, there are facilities and a parking area for your cars.
There are well-kept trees for shade and park benches in the park setting that surrounds the beach. Alongside the beach, there are restrooms and plenty of dedicated off-street parking. Additional attractions include a beach volleyball court and a sizable grassy area with benches. Kayakers have reported catching fish up to 25 pounds near Willow Beach in the early mornings. Near Cottonwood, anglers catch striped bass weighing between 5- and 10-pounds utilizing trout swimbaits.
Willow Beach is a terrific spot to travel, but it's also a wonderful place to swim. Along the whole length of Willow Beach Access Road, there was considerable washout and destruction. Repairs are being made as swiftly and securely as possible while crews evaluate the damage. Temple Bar and Nelson Landing's access roads are now again available. Willow Beach is a lovely location, yet odd. Due to the depth of the Hoover Dam power plant inflows in Lake Mead, the water is a chilly 55 degrees, even for the desert.
1.4) Rotary Beach Park
One of Kelowna's busiest beaches, Rotary Beach Park is a less well-known but equally accessible park, compared to Boyce-Gyro. It is a little further down Lakeshore, making it a more isolated location for beachgoers trying to avoid the summer crowds. Being located near Boyce-Gyro Beach, it is frequently referred to as its miniature counterpart.
The beach features wide spaces for swimming, moderate slopes, grassy, shady spots, and a sizable play area for children. The restrooms at the beach are likewise in good condition. Families and couples that like all kinds of water sports, including kayaking, stand-up paddle boarding, pedal boarding, kitesurfing, windsurfing, and swimming, frequent Rotary.
Sand beach, buoyed swimming area, picnic spots with grass and shade, playground, walkways, and restrooms are all provided by Rotary.
1.5) Gellatly Nut Farm Regional Park
This four-hectare park is well-known for picnicking and swimming, and it also serves as a site to conserve a century-old farm. Even during the harvest season, you are welcome to bring your bucket to gather nuts.
The Gellatly Nut Farm Park has been a park since 2005, but it has been there for more than a century. In the early 1900s, Jack Gellatly began experimenting with nut cultivation. His objective was to create cultivars with superior kernels and bud and tree hardiness.
The nut harvest, administered by the Gellatly Nut Farm Society and takes place between September and mid-November, even though the park is accessible every day from sunrise to sunset. The Regional District of Central Okanagan and the GNFS collaborate closely to protect the historic nut trees and Jack's life's work.
1.6) Paul's Tomb beach
Paul's Tomb is worth the quick hike if you're searching for a remote beach. This historic site is situated on Knox Mountain, a well-liked hiking and bicycling destination in Kelowna.
Paul's Tomb Beach is away from the commotion and crowds. The beach features lovely scenery and crystal-clear waves. There is an outhouse on the beach, and you can do some relaxing cliff jumping or disc golf on the ocean.
This beach is an excellent place for paddle boarding and kayaking without being concerned about boat traffic because it is tucked into the mountain in a little inlet. Although there isn't soft sand, the water is clean, and there are many interesting rock formations to discover. Beautiful views of the valley and lake can be found from trails leading from Paul's Tomb, such as the Loch view Trail. Additionally, Paul's Tomb is a fantastic diving destination.
The beach at Paul's Tomb is less suitable for children and families than the well-liked beaches nearby. But do visit Paul's Tomb Beach if you want some quiet time and relaxation.
1.7) Boyce-Gyro Beach Park
Boyce-Gyro Beach, one of Kelowna's top public beaches, is less than 4 kilometres from the city centre. As one of the city's most well-liked beaches, it is frequently crowded with families, people who enjoy water sports, and people walking their dogs.
The Shore is the nearest hotel in Kelowna to Boyce-Gyro Beach Park, also known as Gyro Beach by locals. Having a modest shoreline, this scenic beach offers a cozy and secure area for families to enjoy the lake. Enjoy this breathtaking view while sunbathing on the sand beach or under one of the park's numerous big trees.
Several convenient amenities will enhance your stay along with the warm sands and sparkling waves. An expansive sandy beach, a swimming area, a playground, table tennis courts and sand volleyball, outdoor showers, universally accessible restrooms for year-round use, small lockers for valuables storage, a paved walking path, a grassy picnic area, and beach toy rentals are available to park visitors.
You can use the variety of watercraft available, including aqua cycles, canoes, and kayaks, to discover the most excellent parts of Kelowna's shoreline from the sea. There is a nearby watersport rental facility if you want to get in the water but lack the necessary equipment.
1.8) Kinsmen Park Beach
Kinsmen Park Beach is relatively peaceful and tranquil despite being close to the city centre. On the eastern banks of Okanagan Lake, Kinsmen Park Beach is a sandy cove with swimming and a playground. You can reach the beach at 2600 Abbott Street and through Kinsmen Park.
Okanagan Lake's nicest views can be found at Kinsmen Park Beach. Some of its facilities are shaded places and trees, a playground, and a tennis court.
This beach has spaces for swimming and restrooms for cleaning up. Additionally, you can go for a leisurely morning stroll or an afternoon picnic at the beach. Weddings can also be held on the beach.
1.9) Waterfront Park Kelowna Beaches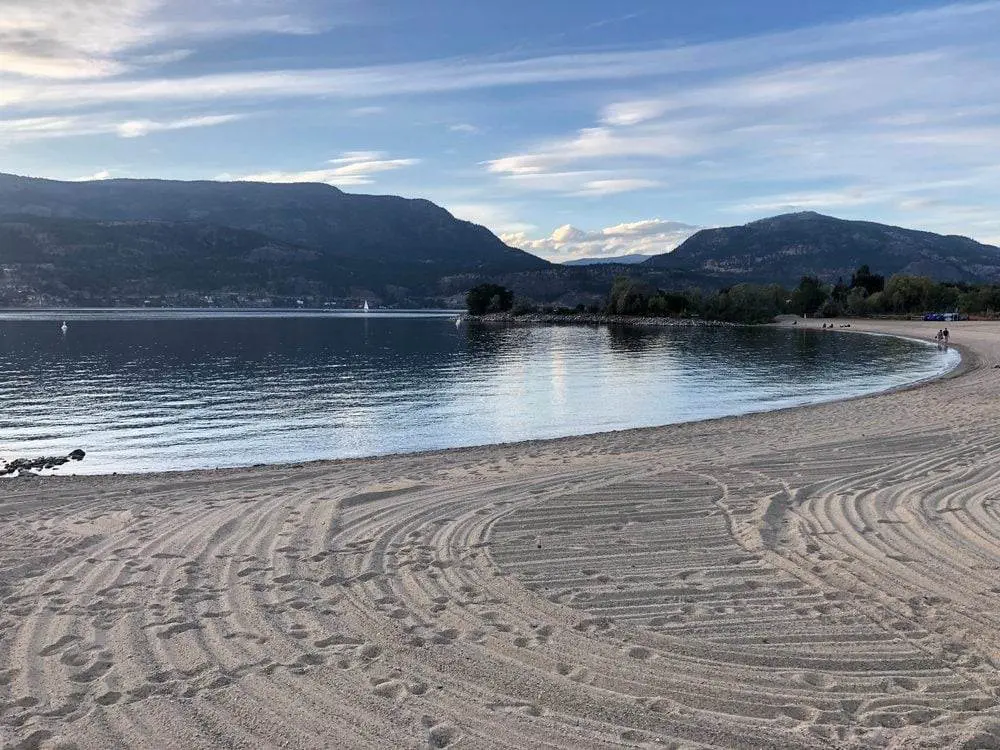 Waterfront Park is also known as Tugboat Bay beach. Kelowna's Tugboat Bay Beach is a modest, secure beach. It is around 0.57 kilometres long.
Kelowna's Waterfront Park is also situated in the downtown area, across from the Dolphins and Prospera Place. This beach, easily accessible through a wooden boardwalk beside the water, is one of Kelowna's busiest in the summer.
A takeout counter with ice cream, sweets, and usual beach fare is available in the summer. A sizable public restroom and a paved area for bicycles and electric scooters are also present.
1.10) Hot Sands Beach
Hot Sands Beach, which is part of Kelowna's City Park, is frequently referred to as City Park by residents. It's common to spend the entire day at the beach here.
Hot Sands Beach is, without a doubt, Kelowna's most well-known beach and is situated along the lakefront as you enter the city. One of the factors contributing to the beach's popularity is its location. The southernmost portion of the beach is where Kelowna's Waterfall Trails begins, and Hot Sands is also where City Park's central hub located.
Hot Sands Beach offers a vast expanse of sandy coastline beside sizable fields with grassy knolls, tranquil picnic areas, and beautiful attractions, including a playground, multipurpose sports courts, and a waterpark. Everyone can find something to enjoy here.
It's an urban park and sandy seashore perfectly capturing the charming contrast of downtown Kelowna. Run barefoot through the expansive sands or relax in the grass. The park opens its doors with live musical acts during the summer, which is a bonus.
Hot Sands Beach is a worthwhile stop for anybody wishing to experience the vibrant summer vibe Kelowna is known for, even if it is usually a busier park due to its location. Other adjacent features include a year-round universally accessible restroom, tiny lockers for valuables storage, a paved walking route, and close-by bars and restaurants ideal for picnics.
1.11) Bertram Beach Park
At the southernmost point of the city of Kelowna is Bertram Beach Park. The stunning Bertram Creek Regional Park may be reached after a brief drive along Lakeshore. It's the perfect place to go out and spend the day with your family.
The beach features crystal-clear water and provides breathtaking views in a relaxed atmosphere. Children's play areas, grassy, shady places, and swimming areas may be found at the beach. A boat launch, pier, pebble beach, numerous walking routes, picnic tables, a playing field, a pavilion, and an outdoor amphitheater are available at this 18-hectare area on Okanagan Lake's edge.
Bertram Creek is a fantastic spot in Kelowna for bird viewing because it is tranquil and hidden away from the main road. Further up the road is Okanagan Mountain Provincial Park, which offers many additional hiking routes and immersive natural experiences.
Its best feature is the walkways and natural walking pier. At the shore, you can take your family on enjoyable nature walks. It is one of the pleasant Kelowna beaches to visit because of the combination of nature.
1.12) Sutherland Bay Park Beach
If you've just finished one of Knox Mountain's hikes, you might be itching for a cool swim in the lake. The trailhead for the mountain is located at the base of the two-hectare Sutherland Park with its sandy beach. A quick hop and a dive into the crystal-clear water are both waiting.
Sutherland Park is a popular destination for local families since it has lots of space for kids to play, especially younger kids drawn to the playground's slides and swings.
If you're looking for a location to slide in and paddle away along the picturesque shore of Knox Mountain Park, a boat launch is available in addition to the beach lined with trees.
1.13) Strathcona Beach Park
Strathcona Beach Park is a short five-minute drive from The Shore. This beach offers a more tranquil environment with fewer visitors than many other locations because it is situated next to a quiet residential area.
Strathcona Beach Park is the ideal retreat for those looking to unwind and fight the summer heat. Families and couples will likely use the kid's playground, a narrow field with towering oak trees, and a sandy beach on an average day. Large grassy spaces, picnic tables, and a public restroom are some other features park visitors may appreciate.
From The Shore, you can ride a bike, skateboard, or rollerblade to Strathcona. It's one of the numerous beaches that can be found along Abbott Street, a 7.5 km protected two-way cycling path. This path connects Downtown Kelowna with nearby parks, the Kelowna General Hospital, and Pandosy shopping. There is even talk of route enlargement shortly because of how popular it is becoming for cyclists and pedestrians. It is one of the finest Kelowna beaches. 
1.14) Cedar Creek Park – The Best Dog Beach
The address of Cedar Creek Park is 5200 Lakeshore Road. One of Kelowna's most extensive off-leash dog beaches is this.
This pet-friendly setting is a little off the usual route and is perfect for dog owners and beachgoers. This is the ideal location for you and your canine companion to cool off and take in the sights on a hot summer day because it offers beautiful views of the surrounding mountains and Okanagan Lake.
The beach has several places where people can swim. Additionally, it has a lengthy waterfront and many off-leash spaces for your four-legged pals.
This is a fantastic place to bring your stand-up paddleboards, kayaks, or other water toys if you want to get on the water. The beach is open all year long, and you can even go kayaking and canoeing. Along the lake, there are picnic tables arranged in a line for a hassle-free and relaxing picnic.
1.15) Sarsons Beach
One of the beaches in Kelowna for families and couples with young children is Sarsons Beach. It is relatively calm despite being only 10 kilometres from Kelowna's downtown. 4398 Hobson Road and Sarsons Beach Park are the beach's two entry sites, both of which are in the Mission neighbourhood.
Many residents and visitors value this hidden gem's cozy atmosphere. Sarsons Beach provides parking and facilities, much like nearby beach parks. A playground and picnic tables are additional features.
In the summer, swimmers begin their days by going to lengths or practising with their swim teams. The dedicated swim area aids in ensuring your children's safety when playing in the water or rinsing off the sand from beach castle-building.
It is also a lovely place to picnic with loved ones and friends or spend an afternoon reading in the length of the grass with big shade trees.
1.16) Beach at Bear Creek Provincial Park
Locals love to trek up Bear Creek Canyon or spend the day at the park's sandy beaches, less than 11 kilometres from downtown Kelowna.
Tall oak and cottonwood trees provide some partial shade for this day-use area. A huge children's playground, grassy space, and picnic tables are next to the official swimming area. You may easily rent a kayak or stand-up paddleboard at the beachside boat rental stand. Families and individuals who enjoy fishing also cast along the park's shoreline. It is one of the finest Kelowna beaches. 
You may easily spend the morning exploring the well-known Bear Creek Falls and Canyon Loop Trail before cooling down with a dip in the crystal-clear waters. Bear Creek Beach's magnificent tree cover allows you to avoid the brunt of the sweltering summer afternoon temperatures quickly. This area is popular with hikers and nature lovers from Kelowna.
2) Which Month Is Ideal for Travelling to Kelowna?
May and July are the ideal seasons to visit Kelowna beaches. The months immediately preceding May are often when Kelowna experiences its wet season. During the winter, the temperature at night can drop as low as -16°C (3°F). Around August, when the sun is up the longest, you may explore Kelowna's attractions during the day.
3) What Is Kelowna's Main Beach Called?
The best-liked beach in Kelowna is Boyce Gyro, situated in the South Pandosy along Lakeshore Road. One of the most incredible beaches in Kelowna for families, it features smooth sands, picnic tables, two kids' zip lines, a playground, shallow water for swimming, and restrooms.
4) What Time Do Kelowna's Beaches Shut Down?
Explore the more than 200 parks, beaches, and green areas in Kelowna with the parks and beaches map provided below. The park is open every day from 6 am to 11 pm. The beach is accessible from 6 am to 10 pm.
Conclusion
The beaches in Kelowna are golden-hued natural wonders. Kelowna's lakeside beaches serve as materials for sandcastles, launch pads for water sports, and locations for family picnics. They are especially beloved on hot days.
Here, folks can connect with friends or escape to unwind. Though usually at different times, they are the ideal spots for people and bird viewing.
All significant beaches have roped-off swimming areas, restrooms, changing rooms, and paid parking. Be advised that only specific beaches are dog friendly. However, the mentioned above were the 16 most beautiful and amazing Kelowna beaches you might consider while travelling.