Glacier National Park Camping is the best camping experience one could have. The list of options is plentiful, with 13 campgrounds and over 1000 sites. Detailed information about the campsites, such as – fees, permits, etc., varies per campground.
While some are RV, truck, and trailer friendly, Bowman Lake, Cut Bank, Kintla Lake, Logging Creek, Quartz Creek, and Sprague Creek are not. Reservations for the sites on these campgrounds can be made online. During the summer, the fees are usually between $10$ to $23 per night.
So, for the camping newbies and those interested in the Glacier National Park camping experience.
To tell you everything that you need to know. Here is the best Glacier National Park Camping Guide:
The Best Glacier National Park Camping Guide
1. Storing food
While Glacier National Park Camping Food is something that one has to be very careful about. Why? Because animals are attracted to both food and food odors.
All the food you carry with you, including the lawfully taken fish, garbage, and even the equipment you've used to cook. Even the food that you've served and used for storage.
All of the above must be stored in a vehicle or a camping unit.
This must be followed at all times, except when these items are transported, consumed, or prepared for consumption. You must strictly not burn food or waste in the fire rings.
Garbage must always be properly disposed of and stored at all times. You must follow all of these regulations.
Also, confiscation of those items. Because if you don't, violations of these regulations may cost you a fine of up to $75.
2. The quiet hours and generator use
Whatever you're up to, you must ensure that the activities you participate in do not disturb the other campers.
10:00 pm to 6:00 am is the quiet hours. The use of generators, while Glacier National Park Camping is only permitted during 8:00 – 10:00 am; 12 noon – 2:00 pm, and 5:00 – 7:00 pm.
In some of the campgrounds through, the use of generators is permitted at all times. Fish Creek, C Loop. Many Glacier, sites 48-59, 71, and 88-102. Rising Sun – sites 49-84. Spraque Creek, All sites St. Mary, A Loop. Two Medicine sites 1-36. Cutbank Campground, all sites.
Something else that's prohibited is the excessive idling of motor vehicles.
3. About Pets
Many would also like to share the Glacier National Park Camping experience with their pets.
All areas except the developed areas, front country campsites, and picnic areas strictly prohibit pets. They are permitted along roads open to motor vehicles and in vessels on lakes.
Pets must be on a leash that is at least six feet short. They must be on physical pet restraints or in cages if not on leashes.
But you cannot leave pets tied to things and unattended either.
Additionally, they should put their trash in a trash can. Additionally, they must prohibit pets from making excessive noise.
4. Making Fires and using Firewood
Gathering Firewood or cutting Firewood is only allowed in certain areas. It is deemed unlawful if you're on a Glacier National Park Camping experience and do so in any other area.
The few areas where it is allowed are. Long the Inside North Fork Road from Dutch Creek to Kintla Lake, along the Bowman Lake Road and the vicinity of backcountry campgrounds, allow wood fires.
But even in these areas, only the deadwood on the ground is used as fuel for campfires. And the fires that you make Fires must be attended to at all times. They must only be inside the designated grates.
Confirm that your fire is dead and has been put off whenever you leave. You can also purchase Firewood at most camp stores.
Make note that fireworks are prohibited in the park.
5. Sanitation and Use of Water
At the Glacier National Park Camping grounds, you cannot use the campsite faucets to wash dishes, and clothing, clean fish, prepare food or bathe.
The wastewater includes showers or dishwashing; it must be contained and disposed of. And all the wastewater must be disposed of in utility sinks or RV dump stations.
And all RVs have to use drain hoses at these dump stations. Never leave wastewater unattended.
Free showers are available at the Rising Sun and Swiftcurrent Motor Inns and private campgrounds adjacent to the park. Fish Creek and St. Mary Campgrounds also have showers for registered campers.
The Top Five Campsites
It depends on the season. Glacier National Park Camping offers 13 front-country campgrounds. These give you over a thousand sites to choose from or even compete for.
Luckily the park has a webpage that will tell you what time of day the campground is filled, which is good for planning purposes. It's easier for one to check which sites are available and which ones are sold out.
There are a few commercial campgrounds outside the park as well. But here's all you need to know about the top grounds in Glacier National Park Camping.
1. The Apgar Campground
One of the best among Canada's national parks, Glacier National Park has many things to offer. It is near Apgar Village. It costs about $20 per night.
In this village, you will also find the Apgar Visitor Centre, gift shops, a camp store, and a casual restaurant. The village has more to offer: horseback riding reservations, boat rentals, shuttle service, and bus tour service.
The campground is situated in trees and provides tent and RV campers with shade and some privacy.
Potable water is accessible in the campground, and restroom facilities have both flush toilets and sink with running water.
Apgar Campground is open for primitive camping from April 1 through May 1 and again in the Fall from October 14 through November 30. Primitive camping is $10 per night.
2. The Fish-creek Campground
The second-largest campground that Glacier National Park Camping has to offer at $23 a night. It is located just off Camas Road, approximately 2.5 miles from Apgar Village on the west glacier koa side.
Fish Creek serves as a central location for many day hiking trails in the area, including the Rocky Point Trail, where you have the opportunity to hike through a burn area from the Robert Fire of 2003.
Take advantage of morning and evening drives along Camas Road, where there is a good chance of seeing wildlife. It is also one of the two campgrounds that take reservations.
Some of the campsites, though, might not directly be on the shore of Lake McDonald, offering filtered views of the lake.
3. Kintla Lake Campground
The most remote front country and car camping campground in Glacier National Park Camping will cost you around $15 a night.
It is located in the uppermost northwest section of Glacier National Park, known as the North Fork. It is approximately 40 miles from the west entrance and the Canadian border.
The drive to this place might give you a tough time, thanks to the slow and bumpy dirt roads. But the scenic views on the way are worth it.
Due to its remote location, the campground is tranquil and rarely filled, offering tent campers a sense of solitude.
A hand pump is available for potable water, and pit toilets are also located in the campground.
For those who canoe and kayak, Kintla Lake is a paddler's paradise; no Motorcraft is allowed. Fishermen will also enjoy Kintla Lake for the trout found in it.
We've just the spot for you if you're fond of lakes. Click here to read more about the infamous Lake Louise, Canada.
4. Bowman Lake Campground
Located in the North Fork area of the Glacier, this ground at Glacier National Park Camping will also cost you about $15 a night.
Over the pristine Bowman Lake, mountains tower. It is approximately 32.5 miles from the west entrance and 30 miles from the Canadian border.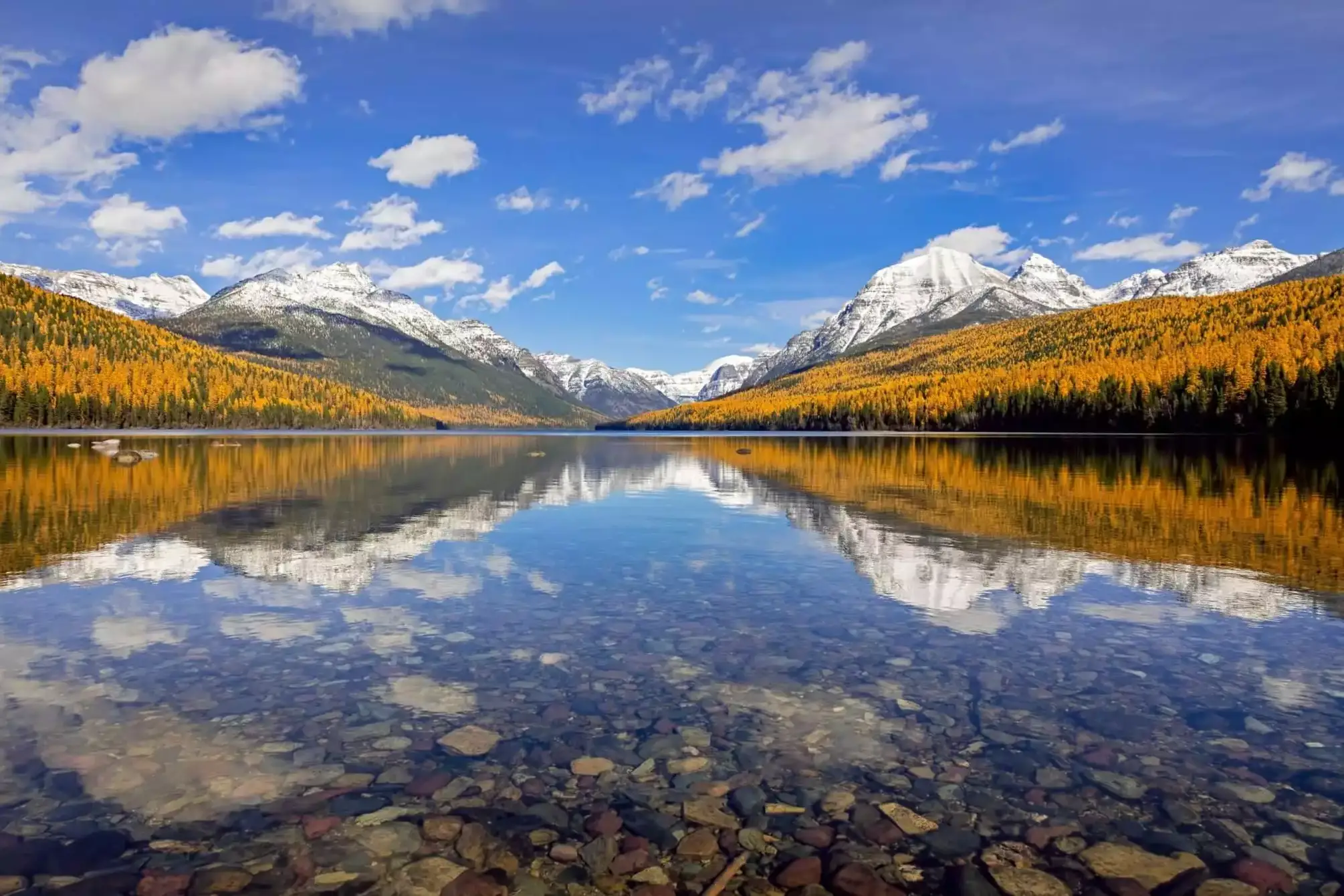 This will give you the best Glacier National Park Camping experience if what you are looking for is serenity.
Potable water is available from water fixtures in the campground; pit toilets are nearby. And the sites at this campground are on a first-come-first-serve basis.
5. Quartz Creek Campground
The smallest campground at Glacier National Park Camping. This primitive ground will cost you $10 a night.
Tent campers will enjoy a true wilderness Glacier National Park Camping experience at this campground. This small campground is located within trees, and the views are limited. It is only about a 6-mile hike to Lake Quartz.
The campground is equipped with pit toilets. Limited amenities can be found on the Pole bridge. RVs and truck and trailer combinations are not recommended here due to the long, narrow road to the campground.
The sites here are also on a first-come, first-serve basis. And remember to carry your drinking water with you as this campground does not have water.
Rules and Regulations to Keep in Mind
You can only camp in the designated campgrounds/ campsites. Many glacier campgrounds offer all the necessities to you but only if you are camping in designated campgrounds.
There are no utility hook-ups provided. Connections to water, sewer, or electrical outlets are prohibited.
Between July 1 and labor day, only fourteen days of Glacier National Park Camping are permitted. This can be in a single period. Or even in combined smaller periods.
And between labor day and June 30, only thirty days of Glacier National Park Camping is permitted. This can also be in a single period. Or in combined smaller periods.
Only a maximum of two tents is permitted per site. The campsite camping cabin capacity is limited to 8 people and two vehicles where space is available.
There are group campsites as well. These sites are available at Apgar, Many Glacier, St. Mary lake camp, and Two Medicine. Here, you can have a minimum of 9 and a maximum of 24 campers. But before using these group sites, you must check with a park ranger at the park gates or a campground host.
There is a recognized way to save your site. On a paper plate, you must write your name and the date. Then hand this across the entrance of your site. This will show that the site is taken. Make sure to take down all such markings before leaving the campsite after your visit.
You cannot leave a site unattended for over 24 hours.
The check-out time for these sites is noon. If you wish to stay another night, you must re-register by 11:30 am.
You must secure valuables out of sight in a locked vehicle if you have valuables.
The campgrounds have a speed limit of 10 miles per hour. Drive carefully.
Closing Thoughts
With a total of 700 miles of trails, many picturesque lakes, and towering mountains. The designated UNESCO World Heritage site and biosphere reserve, Glacier National Park, offers much to visitors.
If you have any camping tips, experiences to share from your Glacier National Park experience, or any comments and views, share them with us! We'd love to hear what you have to say.
Click here to read more about how you can plan your visit to the park.
As an Amazon Associate, Icy Canada earns from qualifying purchases.