How to spend 1 day in Vancouver? We have got you covered!
If you are on your way to visit some remote place in Canada and need to spend 1 day in Vancouver and you don't want to waste this day in a hotel room, then here are some top-class recommendations for you.
Vancouver, the capital of British Columbia, is a city that is full of potential. From some of the best sight-seeing spots to some of the most delicious food you have ever tasted, the town is just full of life and harmony.
There are a lot of fantastic neighborhoods and even photogenic alleys waiting to be explored by tourists like you?
So, what exactly can you do in 1 day in Vancouver? Let me first inform you that in no way is 24 hours enough for roaming around this beautiful city of North America.
But here are some of the possible ways to spend 1 day in Vancouver.
There is also a bonus in here for you foodies- I'll give a brief detailing on some of the best and cheap places to eat some of the authentic Canadian foods around here as well.
So if you are short on time, there are some must-visit places, and we will talk about them initially.
Best Ways to Spend 1 day in Vancouver
The main cause behind spending 1 day in Vancouver is usually a flight layover. This is why we will commence our tour guide from the Vancouver International Airport or YVR as you know it.
The guide will start from YVR, exploring Granville and Gastown, twirl its way around downtown Vancouver, visiting Stanley Park and Vancouver Aquarium, and then to the hotel you are staying!
Let's embark on this beautiful voyage of Vancouver!
1. Granville Island Public Market
The most beneficial thing you can do on your trip is to pick up a day pass. This saves you a fortune and stops you from making a hole in your pocket.
This day pass will cost a mere 15 bucks and will enable you to use the sky-trains as well as the rest of the transit throughout the entire day. Stand behind the yellow line and let other people come out first. This is a polite gesture, as well as a rule there.
If you are someone who has never experienced the mesmerizing journey in a sky-train, you should get to the front as this provides an enchanting view of Vancouver throughout the journey.
Take a minute of your time to study the maps provided in the walls of the train as that will help you to understand the Canada line.
Make sure you get off at the Olympic village station. As you get off the train, there will be many signs and even people to help you realize which terminal you should use.
In front of the station, you will find the bus stop. Now you can walk your way there, but I'd recommend not to as we will be walking a lot throughout the day.
It is a 5-minute ride, and you should get off at the street where you can see the great "Granville Island" sign. Grab a map at the red booth of the island.
The Granville Island Public Market is a great place to hang out, and if you have not had your breakfast yet, then try out Nanaimo bars!
This is one of the most delicious Canadian items apart from poutine. They are available in carrot cake, chocolate, peanut butter flavours and are even gluten-free. Survey and scan the island for photos and recreations!
Hop on to one of the aqua buses to go downtown Vancouver via Hornby St. You can walk, but aqua buses tend to get under people's skins while visiting Vancouver.
2. Robson Street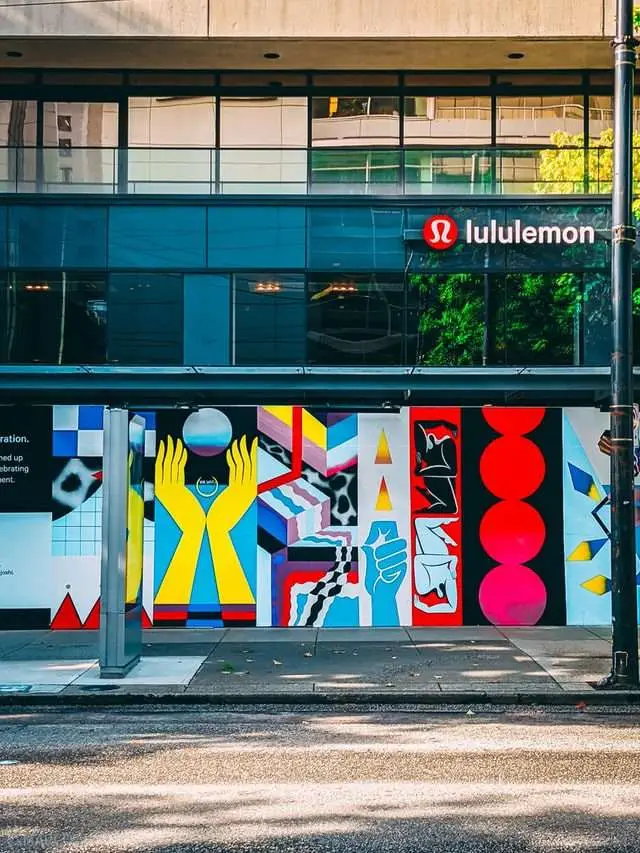 Getting off at Hornby St., walk straight until you reach the Drake St. crossing. Here is a spot where you will find a lot of lip-smacking dishes.
Food stalls offering $2 pizzas and tacos on Tuesdays and Thursdays are my personal favourite. The lunch specials are also available at a great deal indeed.
Ask your way around or use Google maps to check out Robson Street. This is a much-approved location as well as a shoppers paradise. In the hunt for Canadian souvenirs? Robson St. is your place.
This active place is always filled with live music and a crowd. Also, the Vancouver Art Gallery is right behind, so check that out too!
3. Pink Alley
Are you looking for cool pictures to upload on Facebook? Head back to Granville St. and in front of the Waterfront Sky-train station, you will find the Pink Alley, which is the most Instagrammed spot in this region.
Click a few good pictures. Coming back to the Waterfront station, you could catch a C-Bus and visit North Vancouver and North shore if you like.
After all the day pass will come in handy. There are tons of incredible spots like the Grouse Mountain, Capilano Suspension Bridge, and Brockton Point. But 1 day in Vancouver is not sufficient for all that.
4. Gastown
The infamous Steam Clock of Gastown is just 5-minutes away from Waterfront Station. You will know you are in the right direction when you start seeing a lot of pubs around you.
The Steam Clock bewitches a lot of tourists, and the people here are transfixed on the clock. Walk around here for a while and keep exploring until you reach the Flatiron Building. This marks the end of Gastown, and the Gassy Jack statue is right behind that.
Do explore the Blood Alley as it is one of the very first alleys of Vancouver. This is one of the most enthralling ways to spend 1 day in Vancouver.
5. Dr. Sun Yat-Sen Garden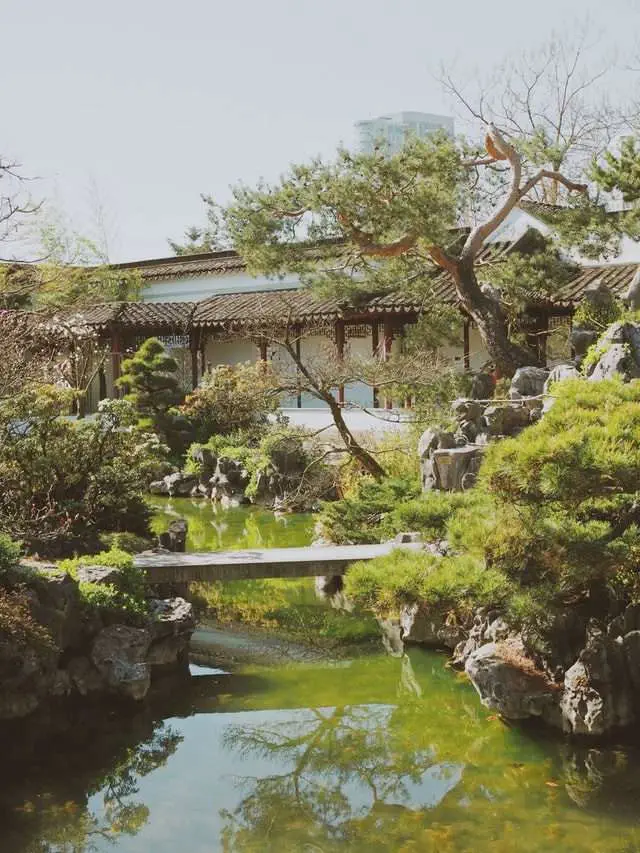 Have 1 day in Vancouver? Do explore the Sun Yat-Sen Garden. The enclosure is relatively compact and tiny. You can complete the area in just 5-10 minutes.
But it is a cozy spot to hang out and take a few shots for your Instagram.
Now, let's head back to Gastown and then to Waterfront Station.
6. Canada Place
Heading towards the opposite direction, you will get to Canada Place. This is where many conventions are held. Envision the public art in Canada Trail, also known as the Big Drop. This is a picturesque location too.
Breathe in the fresh, crisp air standing on the deck of the Canada Trail. The panoramic view will also dazzle you with the gorgeous scenes of the entire Vancouver.
Also, don't forget the Olympic Cauldron, where the 2010 Vancouver Olympics took place. They don't usually light it up, but whenever they do so, it costs about ten grand using natural gas.
Right inside, it is another quaint photo spot known as Digital Orca. It is a pixelated whale sculpture designed by Douglas Coupland.
You might have noticed his rotating installation artworks in Vancouver Art Gallery too. The whole place gives off relaxing vibes, and you can loosen up here.
Walk along the seawall until you can rent a bike.
7. Stanley Park and Vancouver Aquarium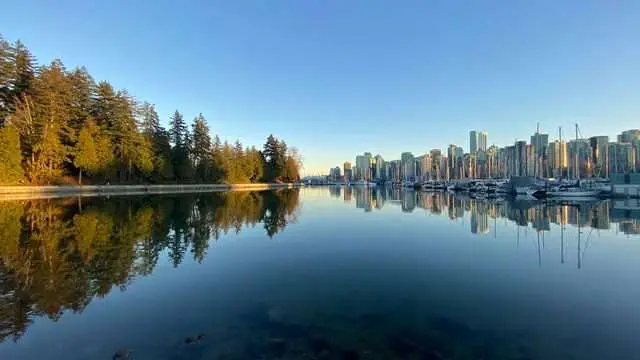 Experience the best of Stanley Park while biking around. It takes 90 minutes to 2 hours to cover the entire park. Even if you are tired, you can sit down and enjoy the enchanting sunset of the spot.
A lot of totem poles and sculptures can be found around here that mark the signs of the Indigenous people who once called Vancouver their home.
Click a picture right in front of the statue of Lord Stanley with a decree that states this park is for the enjoyment of people of all races, creeds, and customs.
Also, if you are visiting in March, do look out for the Rose garden. Visit the Malkin Bowl, where they hold a lot of conventions and live concerts during summer evenings. Want the best shot of Vancouver? Try out your luck at Hallelujah Point!
Vancouver Aquarium is a perfect getaway for children as well as adults of all ages as it is the largest freshwater aquarium in all of Canada.
8. English Bay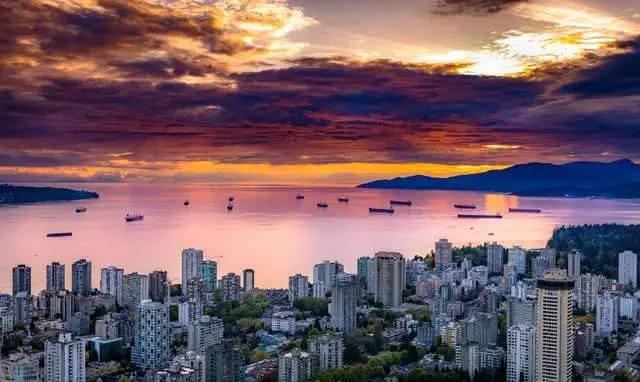 Bike over to Denman St. and walk down to English Bay. The English Bay is one of the fantastic and unique spots in Vancouver. Discover the Laughing Men Statues and click pictures. They are bound to bring a smile to your face.
Moreover, you will also find some iconic Canadian Geese around here. But do take care as they tend to bite if disturbed.
If you have less than 1 day in Vancouver, then this is your cue to take the bus from the bus stand opposite the English bay and go back to YVR Airport. But if you have an entire 1 day in Vancouver, then stay back! We have some other quirky places for you too!
9. Davie St.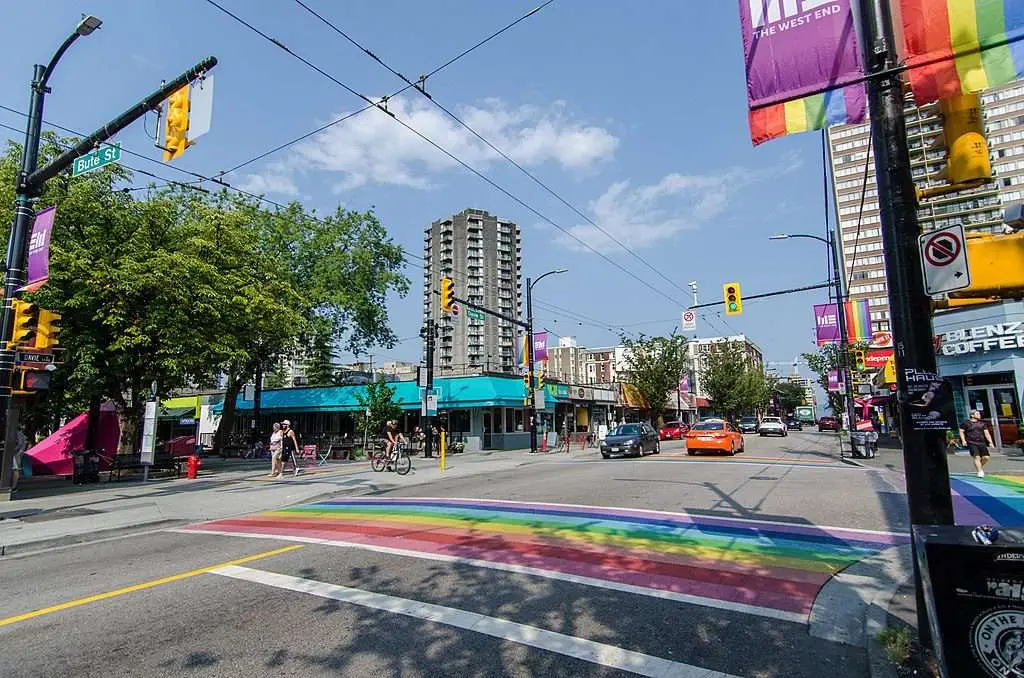 Coming back to the quirky part, Davie St. is the LGBTQ spot of Vancouver. Spending 1 day in Vancouver, you are bound to check out the pride area.
Even this place has that home vibes, and there are a lot of excellent restaurants and diners for your evening snacks.
This concludes our list of possible things you can do in 1 day in Vancouver! You can have a nice, warm dinner at one of the best restaurants that Vancouver has to offer and then head back to your hotel.
Now we have a specialized guide made just for all your food connoisseurs out there. As a result of emerging trends, food tours are now kind of a thing where gastronomes visit places all around the world to have a savor their authentic cuisines. The same happens in the case of Vancouver.
Often foodies tend to spend 1 day in Vancouver to relish their taste buds and grasp what Vancouver has to offer.
Restaurants To Visit During your 1 day in Vancouver
1. Cheap Poutines on Mondays!
This new food hub opened right beside New Westminster station and offered almost 50% discount on their world-class poutine. You can have the basic large poutine that will serve at least two people easily at just 4-5 bucks.
Now, if you want something extravagant, order the Montreal Smoked Steak. Though it costs nine bucks, it will fill your tummy and quench your desire for some good poutine!
2. Cheap Burgers on Tuesdays!
Triple O's is a fast-food chain of British Columbia that serves burgers on sale every Tuesday. The quality is pretty good too! Catch this place right at the Hamilton St. and West Georgia Crossing near the Vancouver Library.
The burger is just five bucks and quite sumptuous. Have an entire meal of burger and regular french fries at only 8 dollars. So if you are spending 1 day in Vancouver and that happens to be a Tuesday, make sure you grab that burger.
3. $1.25 for a pizza
Down along Granville St. and Nelson Crossing spot Romano's Pizza. They charge 1.25 bucks for an XL slice of pizza on both Tuesdays and Thursdays. This is a great deal as you alone cannot finish that XL size.
Moreover, this place offers complimentary Parmesan Cheese, hot sauce, Ranch, Oregano, and Chilli flakes! The crust is thin as well as fluffy and quite delightful.
4. Sicilian Style Pizza
If you are someone who likes their crust to be doughy, then Megabite is the best place for you! Situated right across Romano's pizza, they offer Sicilian-style doughy pizza at the same rate too!
If you listen to me, I'd recommend tasting both of the pizzas! After all, you are just spending 1 day in Vancouver!
5. H-Mart
Are you a vegan looking for what to eat during your 1 day in Vancouver? H-Mart is the healthiest option for you. Its vegan section is fantastic as well as cheap.
Grab a bag of roasted sweet potatoes and lemonade for five bucks, and you will be full for your evening trip.
6. Chinatown
Chinatown is the most famous food destination in Vancouver. This is a tourist spot too. Head over to Chinatown for some mouth-watering authentic Chinese cuisine.
You can spend your entire 1 day in Vancouver right here in this spot. Kent's Kitchen is a favorite tourist diner here.
These are all the food places you can check out on your 1 day in Vancouver. There are several other spots other than this list too!
Conclusion
These were some of the propositions of spending 1 day in Vancouver. How would you spend 1 day in Vancouver if it were up to you? What restaurants would you check out? Let us know about your perspective down in the comment section.
Other notable places to add to your vancouver itinerary are; vancouver art gallery, capilano suspension bridge park, north vancouver, vancouver lookout, and lions gate bridge.