Plan a wonderful day at the Vancouver Aquarium, which showcases more than 65,000 creatures all across its 120 top-rated displays.
If you want a lifetime memory to cherish with your friends and family, then a visit to this aquarium is a must when in Vancouver. You surely don't want to miss out on this experience, so get your tickets now and mark your visit to the Vancouver Aquarium from 9:30 a.m. to 5:30 p.m., open from Monday through Sunday.
General Info
Opening hours: Vancouver Aquarium operates throughout the week, that is, Monday to Sunday, from 9:30 a.m. to 5:30 p.m.
Dates: there are various dates that you can select at the time of buying your tickets from the website of Fever. 
Location: the Vancouver Aquarium is located at 845 Avison Way, Vancouver. 
Age requirement: people of all ages are welcome in the aquarium and children who are under the age of 13 are required to be joined by an adult or guardian.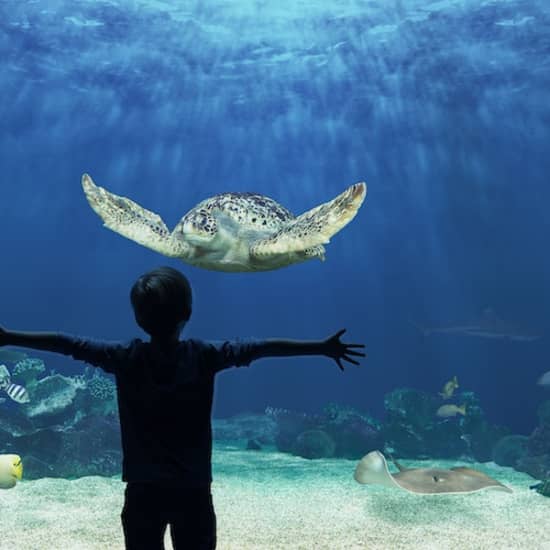 Highlights
You will be able to encounter and learn about over 65,000 animals throughout the 120 exhibits.
Checking this spot off your list includes an amazing and memorable experience revolving around your friends and family.
There is also a 4D theater experience that features the Fin-tastic show exclusively for fall days.
Inside the Vancouver Aquarium
The Vancouver Aquarium is home to thousands of phenomenal ocean species and other aquatic life, opened in 1956, making it the first-ever public aquarium in Canada and since its opening, the Vancouver Aquarium has connected more than 40 million people across the globe to the magical wonders it holds. 
A gallery of numerous life forms, from the corridors of the Amazon River to jellyfish, octopuses, and many other sea wonders, are present in this aquarium.
Get close-up views and personal with the various animals in action, including harbor seals, sea lions, cute otters, and so on.
There is also a 4D show that is almost 15 minutes long and will put you in the heart of the Great Salmon Run!
The staff here are kind, and courteous and take the best possible care of the creatures in the aquarium so that we can learn the most from our experience.
Tickets and Pricing
You can purchase the tickets from the official website of Fever and the ticket pricing is categorized into 3 parts which are listed below.
Children below 3 years of age don't require any tickets, and they will have free access to the aquarium. 
A general admission ticket for an adult in the age group of 13-64 is $51.90.
General admission ticket for seniors of age 65 or above is $45.65
General admission tickets for students will cost around $45.65 and for this, they have to show their ID or student card while purchasing the tickets. 
What's Included in a Ticket?
Entry to the Vancouver Aquarium. 
Get free access to the 4D theater that showcases a fantabulous show, which has limited seating capacity and will be occupied on a first-come, first-served basis. 
You will also get access to all the animal shows happening in the aquarium.
What: Vancouver Aquarium.
Where: Vancouver Aquarium is located at Vancouver's 845 Avison Way.
When: The aquarium is open from Monday through Sunday.
Timings: 9.30 am to 5.30 pm.
Tickets: You can purchase your tickets from Fever.com.