Pasta and Alfredo sauce are some of everyone's favourite things to eat together!  There is no better way to finish dinner than with this rich and delicious dish.  Another plus is that it only takes about 5-10 minutes to make!
Alfredo Sauce
A delicious homemade Alfredo sauce recipe is a culinary dream come true. The moment you master Alfredo sauce, you can combine some ingredients, boil some pasta, and toss everything together, and you'll instantly feel like you're in an Italian restaurant.
Alfredo di Lelio created the original Alfredo sauce recipe in Rome in the 1920s. In his signature dish, Alfredo fettuccine, butter, heavy cream, Parmesan cheese, and generous amounts of pepper accompanied the hot pasta.
Besides fettuccine Alfredo, Alfredo sauce is delicious and added to casseroles, vegetables, pizza, and many other family-loved dishes. All of these dishes and more are only minutes away from you thanks to this guide to making Alfredo sauce from scratch.
What is Alfredo Sauce?
Alfredo sauce is typically a white sauce or cream sauce.  It is originally made from heavy cream, butter, and parmesan cheese. Even though the original Alfredo sauce is great, adding garlic, pepper, salt, and Italian seasoning will enhance the flavour even more. It is mainly served with a main dish such as chicken, pasta and seafood.
Homemade Alfredo Sauce Recipe with Parmesan Cheese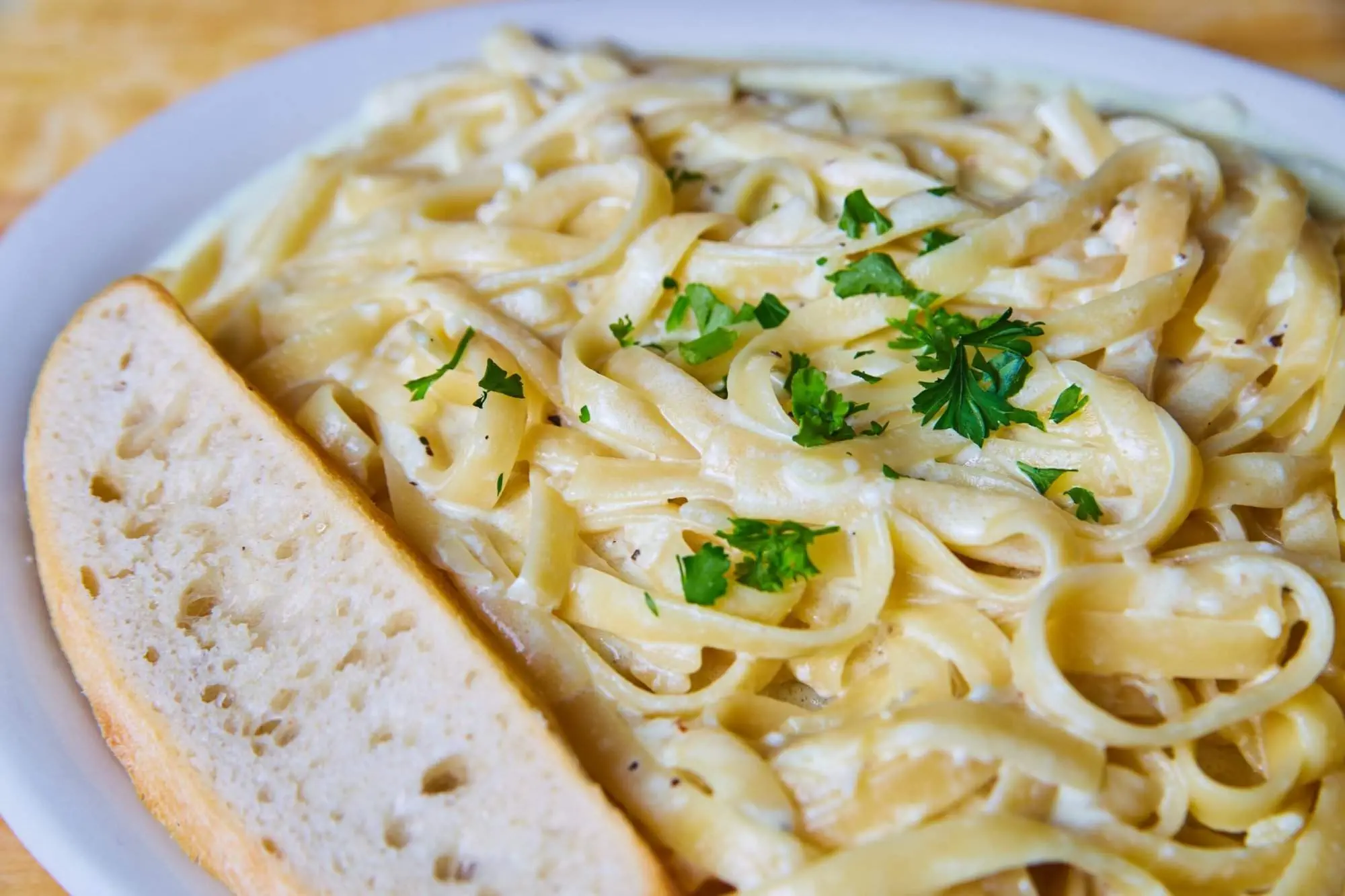 Ingredients
3 tablespoons butter
1/2 cup finely chopped shallots
5 garlic cloves, minced
2 cups heavy whipping cream
1-1/4 cups shredded Asiago cheese
1 cup grated Parmesan cheese, divided
3/4 cup grated Romano cheese
1/4 teaspoon salt
1/4 teaspoon pepper
1 package (12 ounces) of uncooked gluten-free pasta
How to Make
Follow this delicious Alfredo sauce recipe. It takes just minutes to make this yummy and easy recipe. Take a large saucepan and add butter on medium heat. Feel free to use either salted or unsalted butter. But keep in mind, the amount of salt you add while using salted butter.
Add the chopped shallots to the pan. Cook for 2 to 3 minutes. After it becomes tender, add minced garlic to the pan and cook for another one minute. You could use garlic powder if you prefer it instead of fresh garlic.
Add heavy cream or cream cheese, and stir until the sauce is heated thoroughly. Using heavy cream in this sauce gives a rich and creamier sauce.
To this stir in 1/2 cup parmesan cheese, Romano cheese and Asiago. It is better to use blocks of Parmigiano-Reggiano cheese instead of shredded containers. It will make a difference in the taste.
Season it with some salt and pepper. Parmesan is quite salty, so add salt accordingly. You could also add some Italian seasoning to the sauce. Originally the seasoning consists of thyme, basil, sage, oregano, rosemary, marjoram and savoury.
Bring it to a boil after stirring frequently for about 10 minutes. During this time, the sauce would have thickened. The best Alfredo sauce recipe is ready!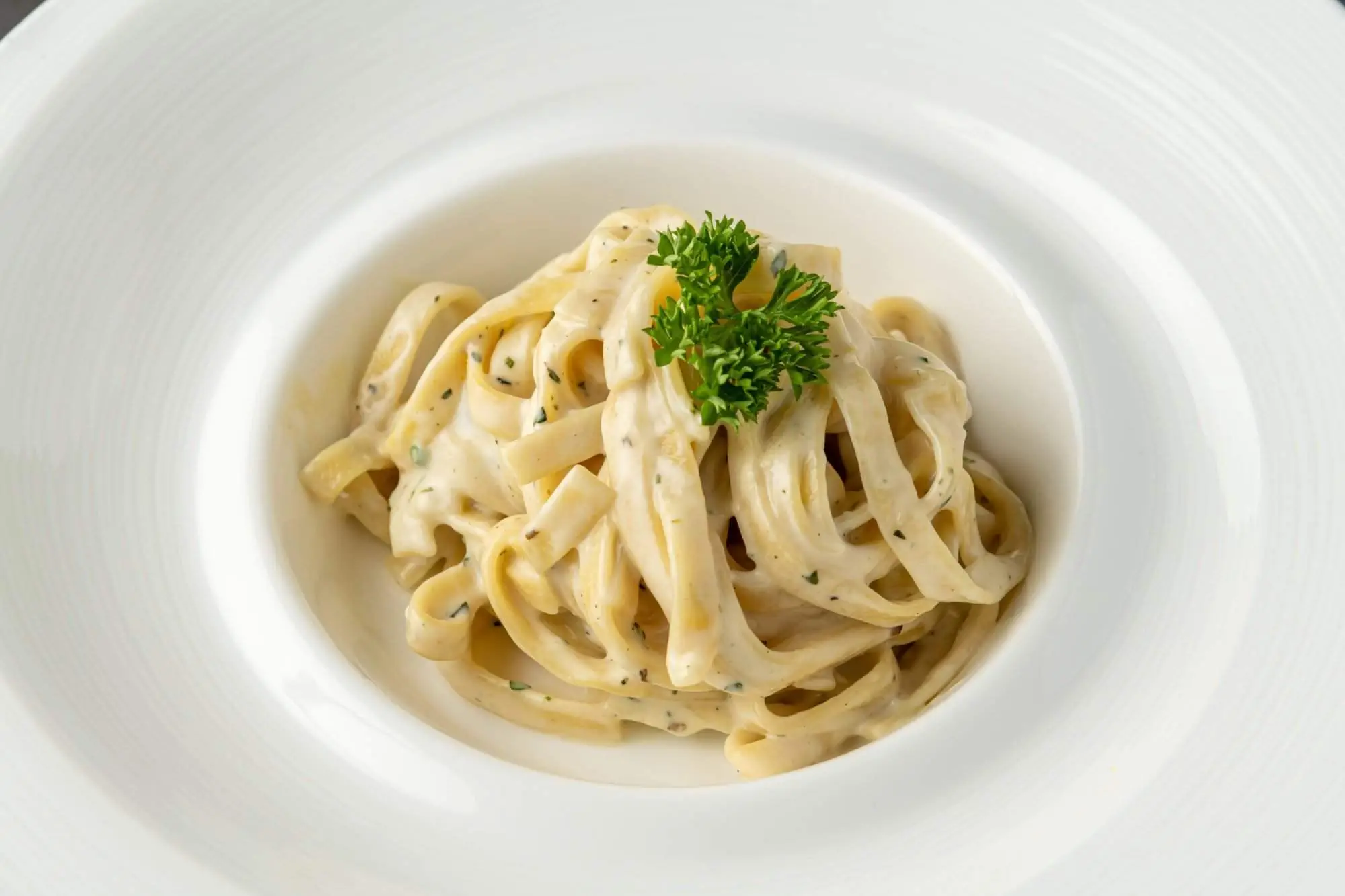 Traditionally, Alfredo sauce is served with pasta. To cook pasta, pour water into a pot along with your favourite pasta. Add salt to taste. Boil for a few minutes, and remove the pasta when cooked. Let it cool completely.
Drain the cooked pasta and reserve some pasta water aside. Take a large plate or bowl and place the pasta on the plate. Add desired consistency of tasty sauce that you have prepared earlier and toss gently. Pour pasta water as necessary.
Serve by topping with pre-shredded cheese. Garnish with some fresh parsley. Sounds delicious, isn't it? Make this delicious recipe now!
In addition to this, this recipe is gluten-free. This sauce is not made with flour, thus it is gluten-free. This sauce contains low carbs which eventually makes it keto!
How many cups does this recipe yield?
This recipe yields about 2 1/2 cups of sauce. This can be used for a pound of pasta or you could store the leftovers in a tightly closed jar in a refrigerator for four days.
Nutrition
1 cup: Calories – 740, Fat – 51g, Saturated fat – 31g, Cholesterol – 141mg, Sodium – 692mg, Carbohydrate – 52g, Sugars – 4g, Fiber – 3g, Protein – 23g.
What Can You Make with Alfredo Sauce?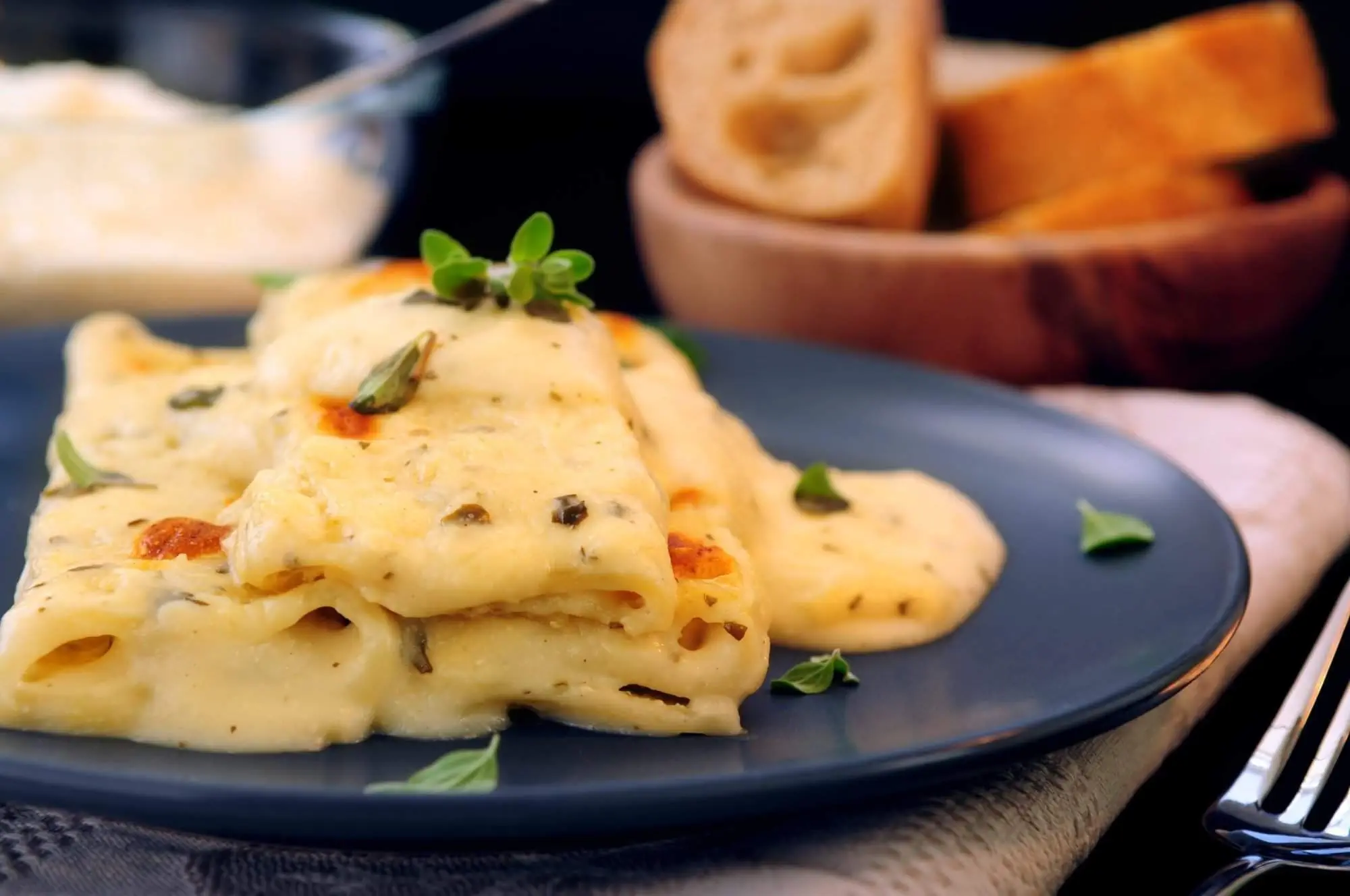 You can make tons of recipes with this rich creamy sauce! You can use this sauce in many dishes other than just pasta. Such as:
Pizza with Alfredo sauce – Use this tasty sauce as a base in pizza and top it with the ingredients of your choice. This could be a better replacement for tomato sauce as a pizza base.
Fettuccine with grilled chicken – You will never make any other pasta after trying this recipe. Added grilled chicken to this mouth-watering Alfredo recipe makes this a huge hit! Garlic butter shrimp, roasted veggies and sautéed green beans make a good side for this dish.
Baked potatoes – It is very easy to top your favourite veggies with an Alfredo sauce recipe. Use it over broccoli, mushrooms, baked potatoes, carrots, sweet pepper and mushrooms.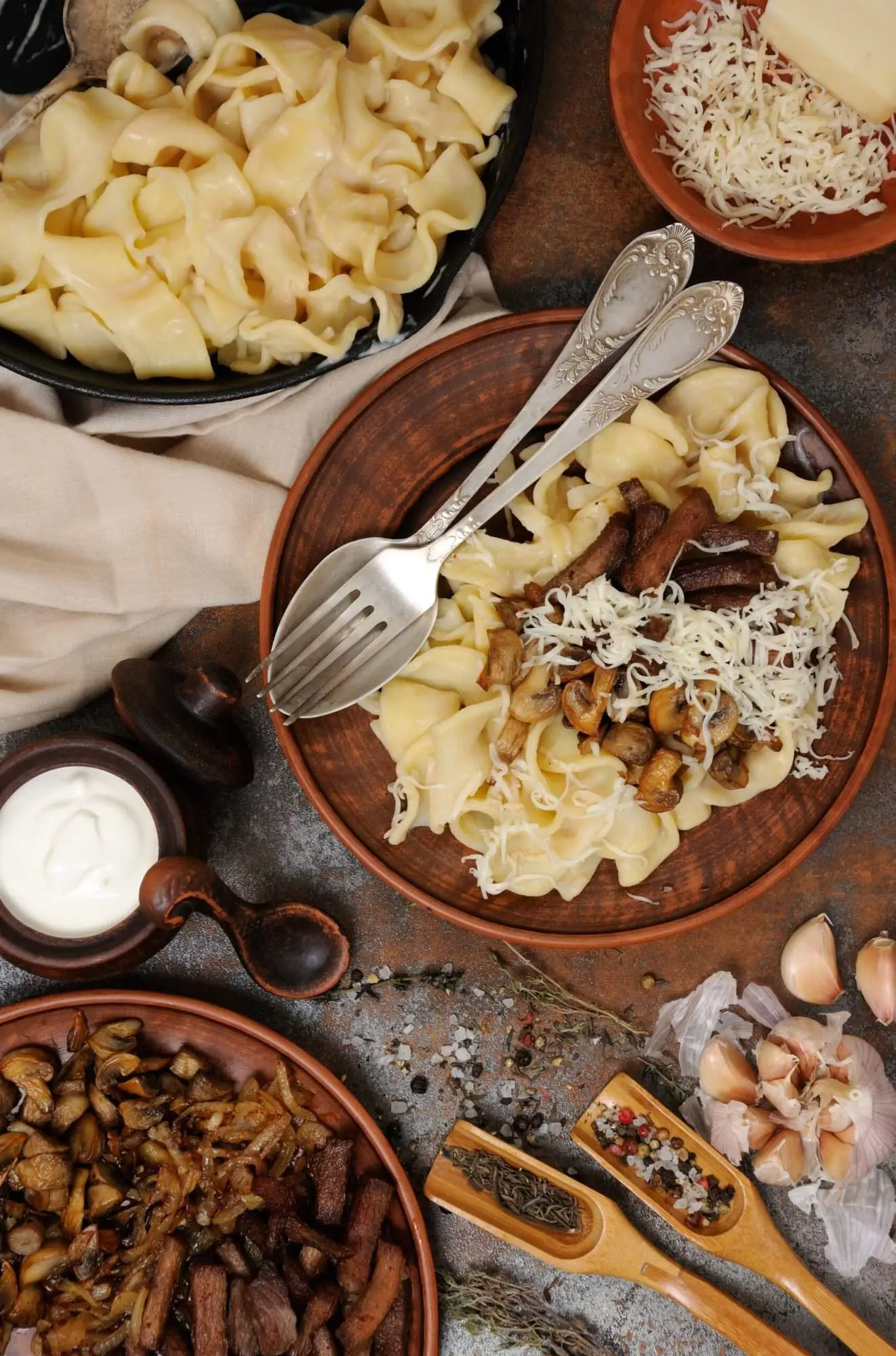 Vegetables – Alfredo sauce goes with anything. Top it on cooked cauliflower, broccoli, carrots or any other vegetables. It will still taste so delicious and healthy!
Meatballs – This meatballs with sauce combination is just super delicious and will make a good dinner recipe!
Soups – You can use Alfredo sauce as a base for stew or a creamy soup. It does pair well with everything!
Spice Up Your Alfredo Sauce Recipe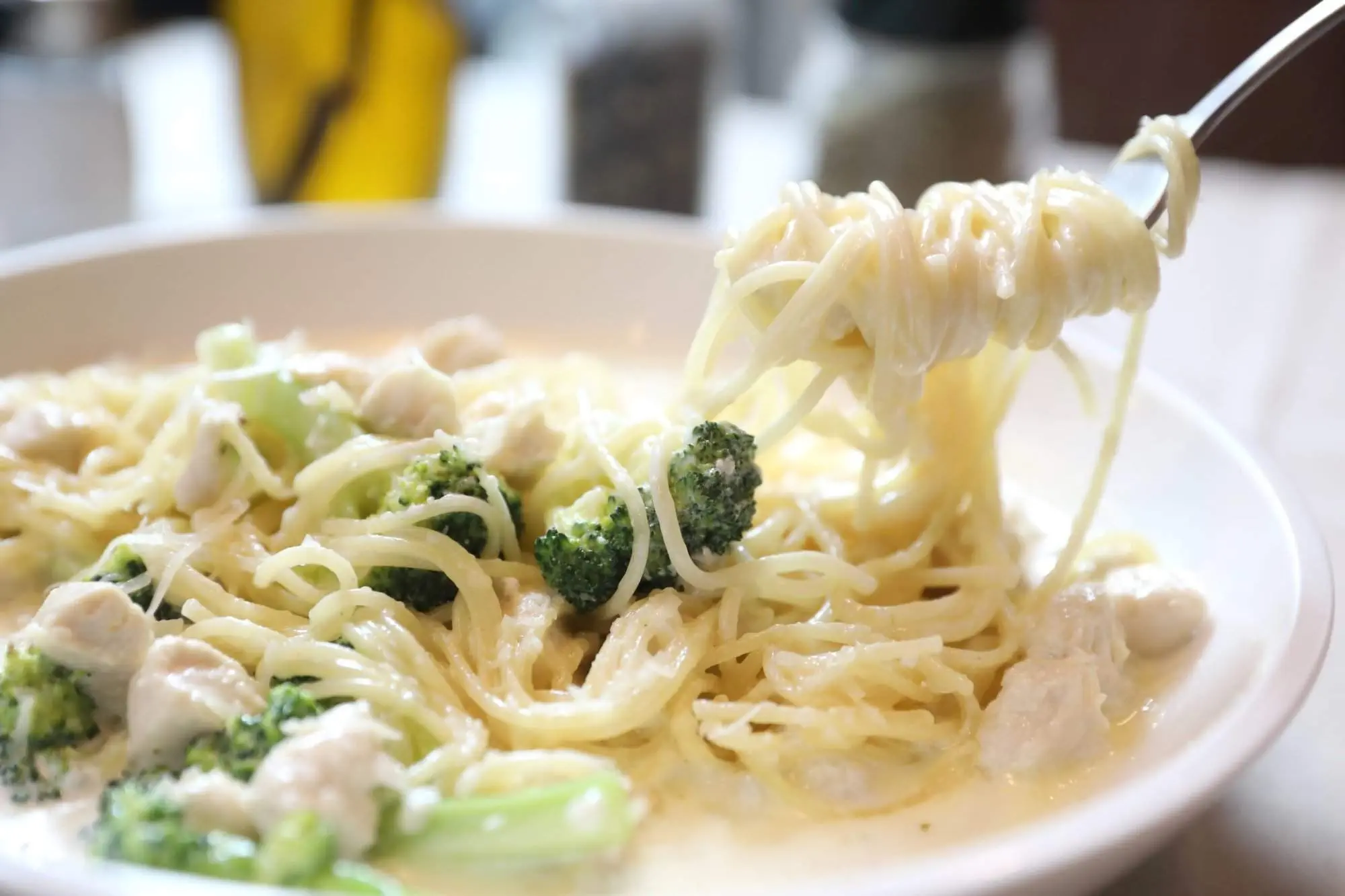 Make a few variations in the sauce if you like to try something different! Try adding white wine to the sauce. It gives a refined flavour to the sauce by giving a slight acidic twist. Add a little amount of white wine to the sauce, 1/3 cup would do the magic.
Simmering the sauce is a must as it would make the sauce thicker. You can use any white wine of your choice, such as Chardonnay as it would give a rich texture. Do not use Moscato wine as it is too sweet for the sauce.
In your sauce, add lemon juice. It also gives an acidic taste and cuts the fat present in the sauce. It gives a tangy taste to the sauce.
Nutmeg is another option you can always try. Just add small amounts of nutmeg in the sauce when you add cheese to the sauce. Give it a nice stir and experience for yourself the aromatic flavour in the sauce.
You can use yogurt in place of heavy cream. This would make a good low-calorie dish. It will also give tangy results in form of taste. You would need to add flour along with yogurt to avoid lumps.
How to Store the Alfredo Sauce Recipe?
Make a jar of sauce by pouring the prepared creamy sauce into a jar. Close the lid of the jar as tight as possible. Remember to transfer the sauce to the jar only when the sauce is cooled down. Store in the refrigerator for up to four days.
The most frequently asked question is can you freeze Alfredo sauce? The answer to this is yes! But freezing the Alfredo sauce recipe gives bad results. As butter, cheese and cream get frozen, the sauce will separate while thawing the sauce. Thus the texture of the sauce changes eventually.
To reheat the prepared Alfredo sauce, just cook it on low heat on the stove. Stir constantly with a wooden spoon at a low temperature for the heat to spread evenly. Reheating takes only a few minutes. It is better to reheat in a stove rather than a microwave as it makes the Alfredo sauce oily.
Can You Use Milk Instead of Cream?
Yes! This is the only recipe that you can make with different ingredients. Using heavy cream gives a rich and creamy texture.
But if you want to use something lighter, we get it! Feel free to use whole milk, half-n-half, or regular heavy cream. This will result in making the sauce less thick.
How to Make Alfredo Sauce Thicker?
If you love to have your Alfredo sauce recipe thicker, then try this recipe. In a pan, melt some butter and add flour on medium heat. Whisk flour continuously to avoid lumps formation.
Then slowly whisk this into the simmering sauce. If you would like to make it more simple, make a slurry in a bowl. Whisk cornstarch along with some cold water and mix till it becomes smooth.
Whisk the contents slowly into the simmering sauce. This would help make the Alfredo sauce recipe thicker.
How Homemade Alfredo Sauce is Better Than Store-Brought Alfredo Sauce
In a pinch, you can buy jars of Alfredo sauce or refrigerated containers, and they work just fine. The classic butter, cream, and Parmesan flavours are lost in some commercial products, which use cream cheese or food starch as thickeners.
Alfredo sauce tastes fresher when it is made from scratch, and it has a bolder flavour because those three ingredients were an integral part of its preparation. It only takes a few minutes to prepare homemade Alfredo sauce.