Have you ever been to Yellowstone National park?
America was the first nation to create by legislation a national park- Yellowstone National Park. Extending from the northwest corner of Wyoming into Idaho, Yellowstone is indeed a vast place.
History of Yellowstone National Park
Today the name Yellowstone National park is famous and celebrated everywhere, but it didn't always be like this. Centuries ago, it was the great unknown. Native Americans thought this place was filled with spirits and dark magic. People kept away from this land. No white explorer dared to come near Yellowstone.
An explorer part of the Lewis and Clark Expedition, John Coulter stepped into these unknown lands for the first time.  When he ventured into these lands on his own, he found sulfurous fumes slithering into the air, bubbling mud pots, sinister forests, and many things more.
Coming back to civilization, he told everyone about his discoveries. He was just called a mad man by others!
Later a party of scientists, an artist, and a photographer, were sent to this area by the American Government. But what they discovered was utterly different. They found out it was a piece of heaven sprawling across volcanic plateaus in Wyoming. They knew it had to be protected at all costs, and thus the Yellowstone National park came into being.
Yellowstone National park- Now
Yellowstone National park is a creation of fire and water. With endless prairies, lush forests, mountains, rivers, waterfalls, and abundant wildlife of invasive species- this world heritage site is an epitome of immense beauty.
It is situated on the largest super volcano on the continent. The underground is continuously seething with super-heated ash, endlessly spewing out steam and gas. It can instead be called a geothermal extravaganza.
1. Accessibility
A 12-hour drive from Seattle or a 5-hour drive from Salt Lake City, Yellowstone National park, is a trek. The nearest airport Jackson Hole, WY, is 60 miles away. But once you enter through the gates of this park, all those long drives would feel right.
2. Where to stay in Yellowstone National Park
There are over 250 miles of drivable roads here, and it takes at least three days if you want to roam around and observe every place's scenic beauty. Can you do it all in a day? Probably yes, but I wouldn't recommend it.
When it comes to lodging in the park, room availability is rare, and most of the time, it is fully booked. So don't wait until the last minute to book a room. Sometimes, the lodges inside the park are booked for up to a year, and finding cancellations is tough.
You can get a lodging option outside of the park, which will be cheaper too. But every time you have to face an hour's drive in or out of the park. Other than these, home rentals are also available.
Things to do in Yellowstone National Park
Yellowstone National park is enormous. With the most extensive collection of geysers and hot springs, this national park is also home to various wildlife, including bison, grizzly bears, birds, and others.
1. Go Whitewater Rafting on the Yellowstone river
If you are up for a wet and wild adventure, check out whitewater rafting on the Yellowstone River. Though it's not permitted in the park, you can put it upriver from the north entrance, and it's perfect for families.
The beautiful thing about this trip is it's not all rapid the whole time. You will get some calm sections where you can look out and spot some cool wild animals. The one thing about Yellowstone National park is that you will get many opportunities for wildlife sightings even before you enter the park.
2. Hike up to Mt. Washburn
Another great way to take in Yellowstone is on foot. There were more than 900 miles of hiking trails, and this three-mile hike up to the summit of Mount Washburn is a great way to spot wildlife. Wildlife species like Elks, bison, grizzly bears are found in this landmass. So stay alert and keep making noises as they usually avoid noises.
3. drive along
One of the simplest ways to experience Yellowstone National park is just driving along the open roads. It is a part of the adventure. One of the most loved routes is through the Hayden Valley along the Yellowstone River. Here bison can be spotted alongside the road.
4. Check out the Hayden Valley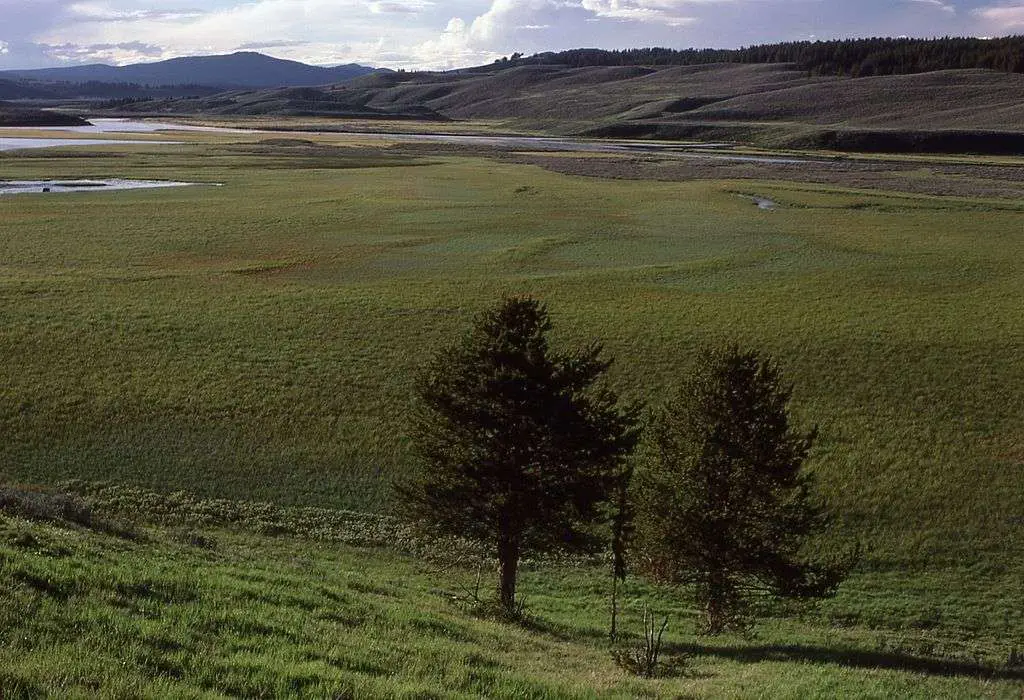 The most precious thing about the Hayden Valley is the vast open spaces and the guaranteed bison viewing. The Yellowstone River runs through this valley. If you are lucky enough, you will get to witness herds of bison crossing the river. This is a spectacular view.
5. Spot majestic wolves at Lamar Valley
Lamar valley is also home to wolves. You might get to see a wolf on your drive up here, but the chances of an animal sighting are better on guided tours. They bring in professionals who know the particular spot for different species and have expensive binoculars and instruments that help you get your eyes on the wildlife from far away.
6. Visit the world-famous Geysers.
Please stop at the west thumb geyser basin on the shore of the Yellowstone River and take a stroll on its boardwalk. Trust me, it feels just like walking into another reality. It is only this little path that steps up to the heart of the fire. Steams bubbling up and the crust made up of magnificent colours of the earth- it truly is mind-blowing.
Steamboat Geyser at the Norris geyser basin is the world's tallest geyser. It sometimes goes months without erupting, but in 2019, it set a record of 47 eruptions.
Visit the most famous and probably the most reliable geyser in the world.  Old Faithful erupts every 45 to 90 minutes, and most people view it at ground level just outside of Old Faithful, but you can take a trail to see it from above. The Old Faithful Inn is a must-see. It has one of the most beautiful architecture in all of Yellowstone National park. Though it is quite costly, it has a lodging option and costs 700 dollars per night with a breathtaking view of the Old Faithful itself.
Don't forget to check out the upper geyser basin behind the Old Faithful that contains many other geysers and hot springs. Castle geyser is an important one.
P.s, Do not touch the water. I repeat, please do not, as it has a near-boiling temperature and you will scald yourself!
7. The mesmerizing fishing cone
Right in the middle of Yellowstone lake lies the fishing cone, which is a geothermal feature. The crazy part is that the lake's water is pretty cold, but the water is boiling in the centre of the cone.
History says that the native people used to catch lake trouts and just casually cook the fish in the active geyser or the cone. They didn't even need to get up and go home.
8. Catch a glimpse of the Abyss
Right in the middle of all the steam and crustiness lies a 53 feet deep hot spring. It's almost Caribbean blue and is called The Abyss Pool. This is known to be the deepest pool here at the Yellowstone national park. It funnels down to the low point right at its centre, but you cannot see it because it is incredibly dark. The water in this pool is also warm.
9. Click a picture of the Grand Prismatic spring
The rainbow-coloured Grand Prismatic spring is probably the most photographed and most beautiful feature in Yellowstone National Park. It is located in the midway geyser basin. They recently put in a new trail that takes you up about 100 feet to give you a gorgeous overview of the springs.
All the different colours of the spring come from bacteria, which is the only thing that can thrive in this smoking hot water. Each different colour is a different water temperature. Sometimes the temperature of these waters reaches almost 200 degrees. a This view of the spring makes you feel like you are on another planet.
10. Check out the Grand Canyon at the Yellowstone National park
The Grand Canyon has some of the most beautiful canyon views you will see anywhere in the world. It's just not the size but also the amazing colour of the Canyon. The walls are red, yellow, orange sandstones while the blue Yellowstone river runs through it.
The river forms two gorgeous waterfalls- Upper Falls and Lower Falls. The lower falls are the more spectacular ones, in my opinion.
Stop at the Artist's point if you want to have a more detailed view of the Canyon. You will have that classic straight down view from this point. Lower falls are near twice the height of Niagara Falls.
You can also hike down into the Canyon to have a closer view of the Lower Falls. I'd recommend this only if you are in good physical condition.
11. Visit Mammoth hot springs
These springs carry different minerals, which later solidify into limestone terraces. This beauty is of outstanding universal value.
12. Have dinner at Gardiner
The small gateway community of Gardiner is not inside the park, but it is a perfectly lovely spot for weary travellers to relax, grab a beer, and have dinner. It is near the park's north entrance.
Yellowstone National park ecosystem is an intact temperate-zone ecosystem of earth. The ecological processes here should be maintained and kept intact like this.
What do you think of the natural beauties of the Yellowstone national park?