The Springs in the Canadian Rockies is British Columbia's pride and joy.
Lake Louise, located in Banff National Park, is well-known for various reasons. One of them is the region's incredible abundance of hot springs and spas.
While mountain biking, rock climbing, and hiking are the most popular activities, some visitors take a morning dip in the hot pools to clear their heads and become energized for the day.
Ending the exhausting but exciting experience with a plunge into a hot pool. It is among the best methods for unwinding and relaxing.
The ten top hot springs in Lake Louise and Banff National Park are listed in this guide.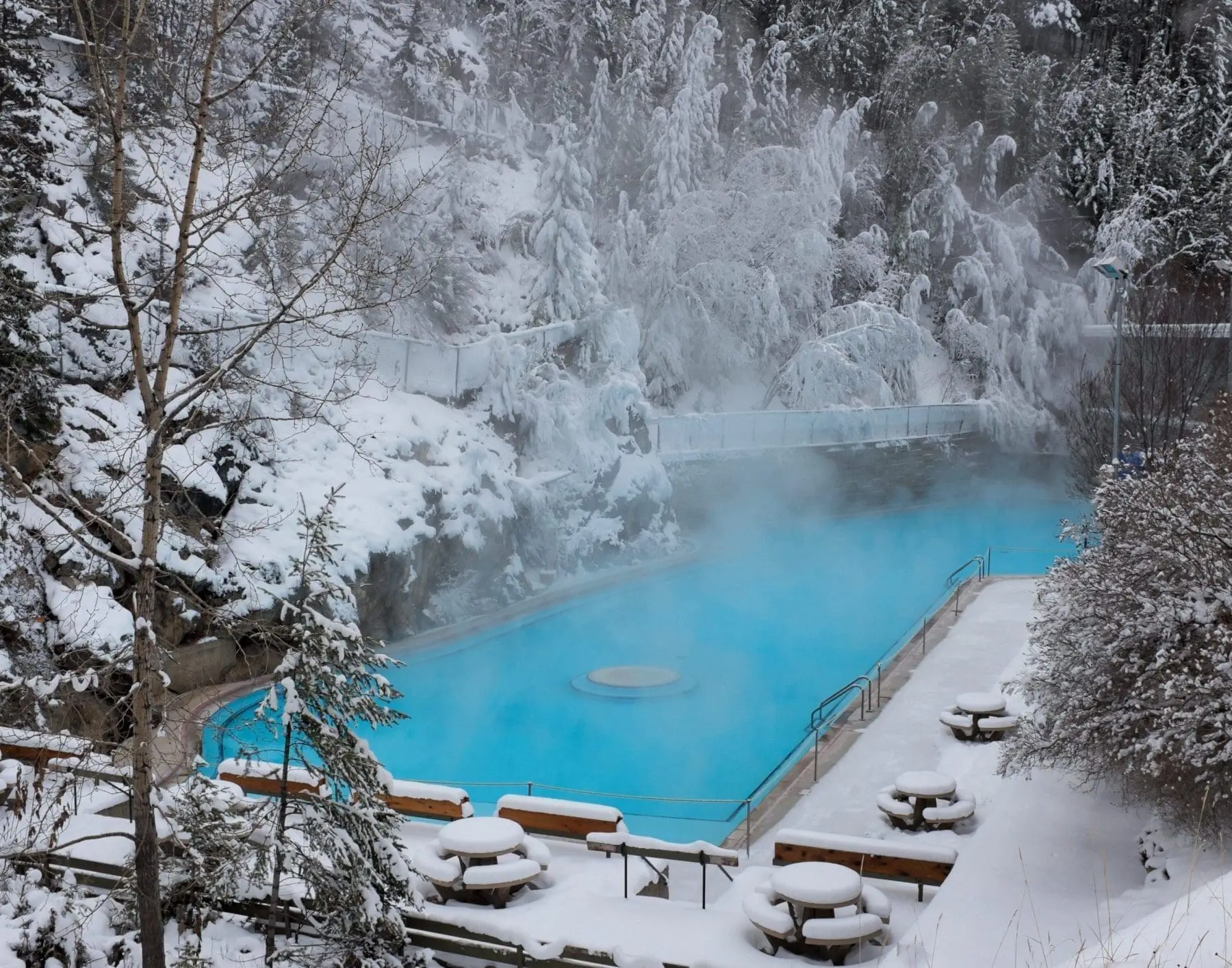 10 Most Heavenly Banff Hot Springs Canada
1. Banff Hot Springs Canada
Banff National Park lies on Alberta's western border with British Columbia. The Banff Upper Hot Springs welcomes about 300,000 visitors annually.
 The pool lies at an altitude of 5,200 and is the highest hot spring in Canada. You can read more about Banff National Park on the Parks Canada website.
The Banff Upper Hot Springs is near the top of Mount Sulphur, about 4 kilometers south of the town of Banff. The water is 100% natural mineral water. 
The pool temperature is around 37-40 degrees Celsius. Guests have a beautiful view of Mount Rundle, which lies across the valley, stretching out in front of them.
Go ahead, enjoy the rocky wonders of British Columbia! This place has everything that you would need to have a memorable experience. It has an open gift shop to purchase souvenirs. 
The Cave & Basin National Historic Site requires a Thermal Waters Pass. It has a cafe offering full-fledged meals and a fantastic cup of coffee for visitors. Rates of entry and other facilities can be found here.
2. Emerald Lake Lodge
Emerald Lake Lodge offers you a more privileged place than most other lodges. 
It is one of the reasons why it's preferred by couples a lot more than other sites. It offers you a brilliant view of the mountains.  The outdoor hot pool is open throughout the year. You can also see Emerald Lake, which the lodge is named after.
Get away from the rush and the noise of the cities. Visit this silent and secluded place to recharge. There are real fireplaces in the rooms. Guests can keep themselves warm and cozy when it starts snowing. 
There are two restaurants, the Kicking Horse Lounge and the Mount Burgess Dining Room. Both of them offer European cuisines primarily.
The lodge has trails that guests can walk along to avoid the tourist crowd. The hostel also has indoor recreational activities like a pool table and a game room. The lodge also provides skiing facilities.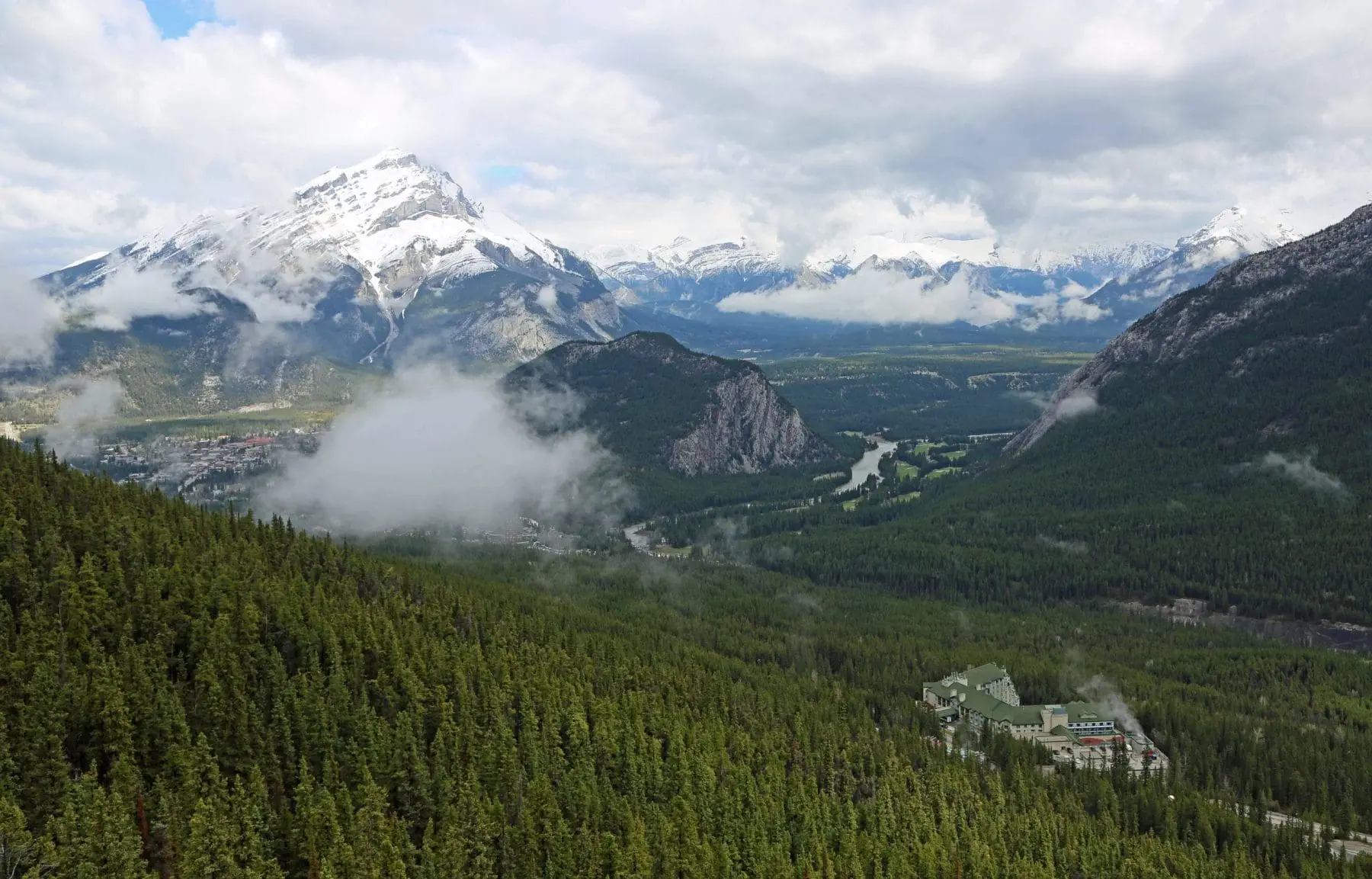 3. Deer Lodge
Deer Lodge lies a five-minute walk from the shores of Lake Louise. It is a historic building that follows the old and rustic housing theme.
The outdoor pool overlooks the Victoria Glacier. You can imagine, the view is simply amazing! Caribou Lounge and the Mount Fairview Dining Room are the two restaurants at the lodge.
Step into the pool at night, so you can stargaze while you relax in the warm waters. 
The staff is amicable and welcoming, and for the location and convenience, it's hard to beat Deer Lodge.
4. Fox Hotel
The Cave and Basin National Historic Site is one of the first natural mineral springs. 
It gives Banff hot springs, Canada, its fame. The hot springs aren't available for swimming. But that is where Fox Hotel's amazing warm pool grotto comes in.
It is a brilliant replication of the hot springs at The Cave and Basin National Historic Site. Unwind is one of the unique experiences the Banff hot springs Canada offers.
It provides an authentic cavern-like interior to those who step into the warm waters. 
This place has excellent coffee. Meals are provided by the world-famous Chili's Grill and Bar. Another great feature ahead of the other lodges is that it allows pets! The staff is fantastic here and prioritizes customer satisfaction above all else.
Click here to read more with us.
Also read: Top Authentic Bowling Ottawa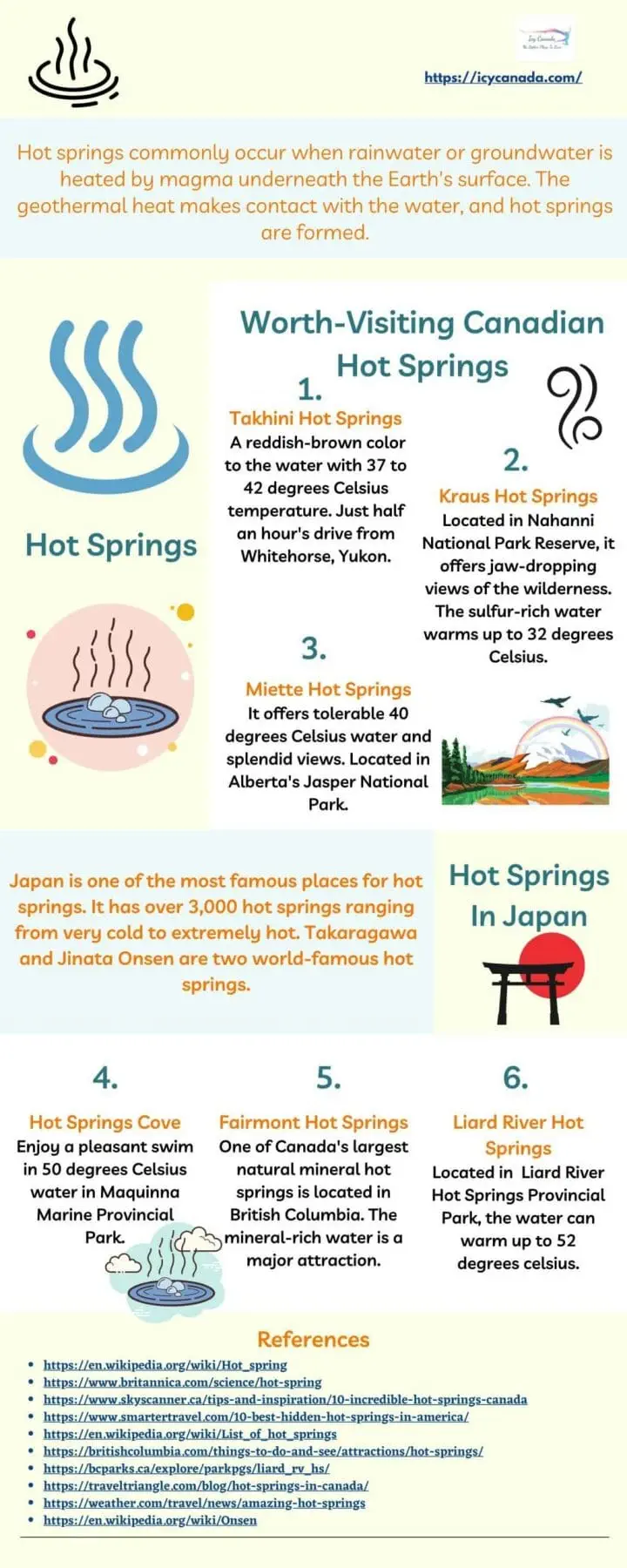 5. Fairmont Banff Springs
Castle in the Rockies was built in 1888. It is for those looking for a formal, royal experience and wouldn't mind a good pocket pinch. 
There are two different pools. One is a 30m lap pool and a 19m hot pool for relaxing after a long day of exploration and discovery. 
Lake offers a breathtakingly mesmerizing view of the Bow Valley. Tunnel Mountain and Mount Rundle surround it. 
The Willow Stream Spa offers guests a plethora of different treatments. It is the pinnacle of indulgence at the Fairmont Banff Springs.
You get access to a private outdoor whirlpool. It has an indoor mineral pool. You can choose from one of three waterfall treatment pools. 
There's a broad selection of rooms to choose from, and the hotel caters to pets. If you consider taking your furry friend along, you will be thankful for that. 
There are as many as five restaurants in the hotel, each offering guests a different style of food.  They also have tennis and a golf court (about a few miles away). They have horseback riding, bowling, cycling, and skiing, among many other offerings.
Fairmont Hot Springs
While you are in the area, pay a visit to Fairmont Hot Springs. Fairmont Hot Springs is a resort community in southeastern British Columbia. 
It has three golf courses and many cross-country trails. You can stay at Fairmont Hot Springs Resort in a family villa. Fairmont Hot Springs Resort offers hot spring pools, campgrounds, and other exciting activities. It is a lovely tourist destination throughout the year.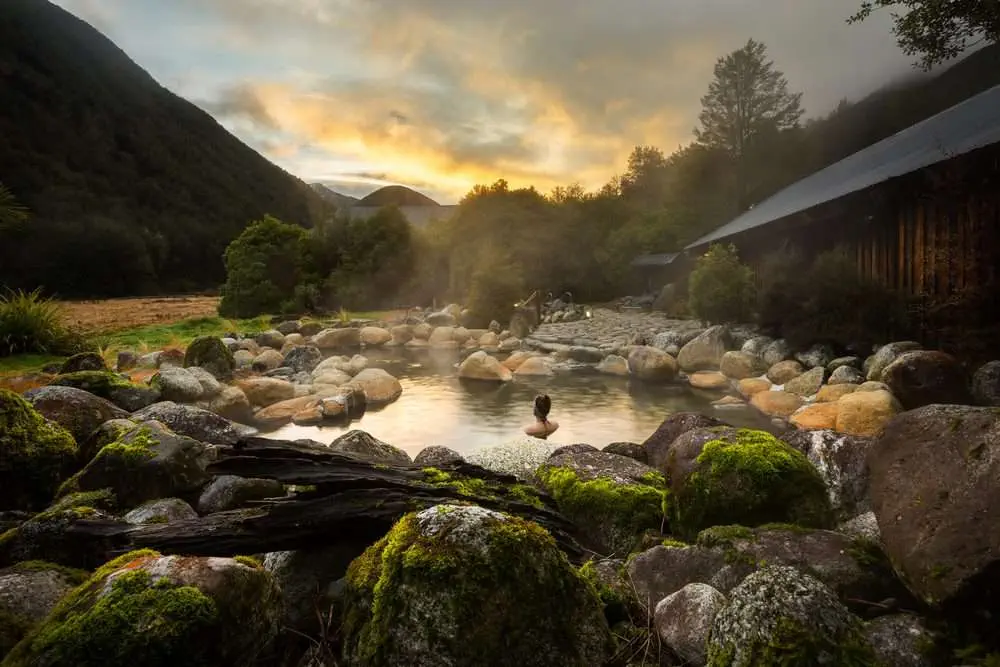 Lussier Hot Springs
Lussier Hot Springs lies inside Whiteswan Lake in British Columbia. It is naturally beside the Lussier river. There is a changing room and toilet in the parking lot.
The hottest among Lussier Hot Springs has a temperature of 43 degrees Celsius.
Harrison Hot Springs Resort
Harrison Hot Springs Resort is nestled in the gardens along Harrison Lake. Harrison Hot Springs Resort is plush, relaxing, and pet-friendly. 
You can stay in cottages and suites with scenic views at Harrison Hot Springs Resort. You can have breakfast at the Lakeside Cafe or Islands Bar. Harrison Hot Springs Resort is also a beautiful location for weddings and parties.
6. Sunshine Mountain Lodge
You drive into most hotels, but this one is special. After reaching the base parking lot, you take a twenty-minute gondola ride to the hotel. 
And the gondola ride is the only way that you can contact the hotel premises in the summer and winter months. The location is of ultimate convenience. It is recommended especially for people skiing at the Sunshine Village. 
The hot tub outside is an absolute treat. Try taking part in the hot tub bingo while you calm yourself in the warmth of the tub.
Hiking trails near the hotel are an absolute must-see for visitors. Meals are offered throughout the day by the five restaurants on the premises.
If you've always wanted to ski, the Sunshine Mountain Lodge has you covered. They make this place the best respite for those who go to Banff for skiing. 
They have a ski school to teach people how to slide along the snow. It has a plethora of other skin-friendly facilities.  
7. Moose Hotel and Suites
Moose takes it to a whole other level of comfort and relaxation. It has an immense variety of spa and wellness facilities.
 A stay here can mean a complete upgrade in how you feel on your vacation. You can kick back and chill while counting stars in the inky black sky. There's not one but two rooftop hot pools. 
If you prefer indoor soaking, they have you covered there too. The indoor hot pool comes with a sauna facility as well. 
There's a fireplace equipped in the cabins. The property is located right along the mainstream for convenient travel. Food is taken care of by the Italian restaurant Pacini. 
8. Mountain Spa, Banff
Mountain Spa has some of the best prices. Prices are hard to figure out in the rather expensive town of Banff. Mountain Spa has about twenty-five years' worth of history to show for it.
The rooftop offers a 360-degree view of the Canadian Rockies. It is best enjoyed with a beverage that you can get right there.
They offer massages, facials, hair removals, body wraps, manicures, and pedicures so that their customers leave feeling like the best version of their physical selves.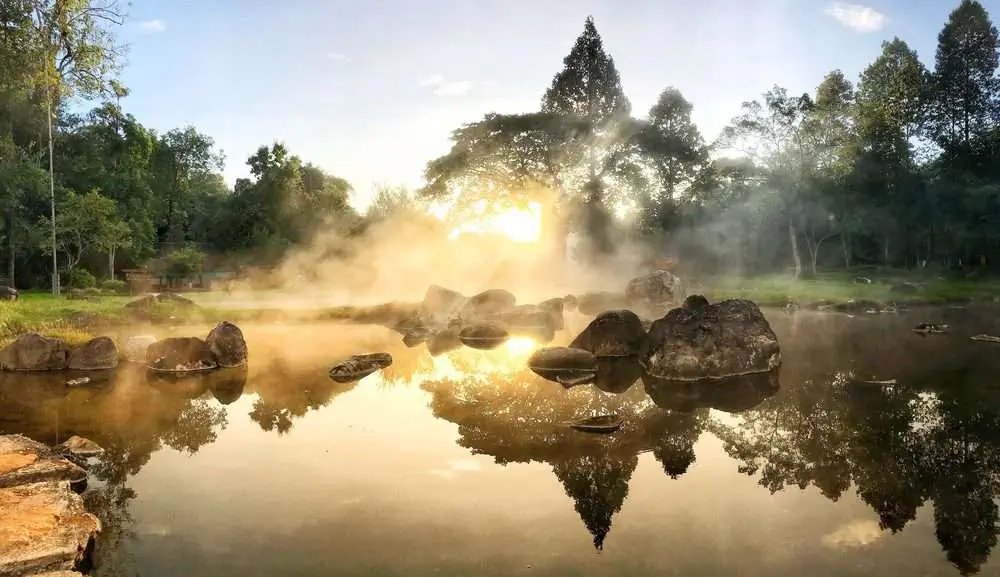 9. Radium Hot Springs Banff
The sheer awesomeness of the Radium Hot Springs Banff deserves mention on this list.  Radium Hot Springs Banff is about a one-and-a-half-hour drive from Banff to here. It does count as relatively close. But the experience makes all the traveling worth it.
It is Canada's largest mineral hot springs pool. The water at Radium Hot Springs Banff has a lot of essential minerals in it, and it makes up for a truly enriching experience.
Along with the Radium Hot Springs Banff, the town of Radium itself is a treat to wander along. Please keep Radium Hot Springs Banff on your itinerary! 
Radium Hotsprings Banff has a more open swimming pool at the premises should you decide to cool it off or take a few laps to polish those tired feet.
Many places are from the World War 2 era, which can be a significant detour should you choose to make it.
It's a homely place, with slanting roofs and two big hot pools for the guests to enjoy.  The property lies in a somewhat secluded area. It is a plus for people who like to get away from the world when they decide to go on a vacation.
The views from the resort are some of the best in the Banff area. You can see the Bow River and the town of Banff in all of its glory from here. You can find shuttles to take you into the town four kilometers away from the historic site.
Closing Thoughts
Hot Springs form due to water heating on the surface due to the heat trapped in the earth's interior. The water came down as rain once upon a time.
But it has now found its purpose as the relaxing factor in the heated pools around Lake Louise.
The discovery of hot springs in the Lake Louise region goes back to around 1883. Three railway workers discovered steam and hot water flowing out of a cave. It is now known as Sulphur Mountain. One of the most popular rocky mountains for its hot spring water.
This led to the end of the 19th century becoming obsessed with the mineral-rich waters. The hot water was supposed to have healing properties.
Locals in Banff enjoy a dip in the hot springs themselves and call the practice "taking the water." No wonder the people of Canada are so lovely! 
People have been known to turn to the hot springs for cures to aches and pains for years and years now. Stiffness in joints reduces after some time in the warm waters. 
It's an excellent way for seniors to have a day out. Look at the Parks Canada website for more details on tourist destinations. There are several memorable things that you can do at Banff National Park near British Columbia. 
You can also explore natural hot springs in Alberta. Also, do not miss a visit to Radium Hot Springs Banff! You can see the Parks Canada website for more information on Radium Hot Springs or halcyon hot springs.
Read more about the immense variety of offerings right here.
If you're curious about Lake Louise's location, check this out.
Also check out,
Suggested Reads
Private Campgrounds in Ontario: 5 Adventurous Getaways