Assuming you've heard of the famous Lake Louise but you find yourself asking, "Exactly where is Lake Louise after all?". This post is written to answer that very burning question.
Lake Louise
Lake Louise (Lake of the Little Fishes) by the Stoney Nakota First Nations people is a glacier lake in Alberta, Canada. It lies 5 kilometres (3.1 miles) west of Lake Louise and the Trans-Canada Highway (Highway 1).
Lake Louise is named after Princess Louise Caroline Alberta (1848–1939), Queen Victoria's fourth daughter and the wife of the Marquess of Lorne, Governor-General of Canada, from 1878 to 1883.
The water's turquoise colour is created by the rock flour transported into the lake by meltwater from the surrounding glaciers. The lake has a surface size of 0.8 km2 (0.31 sq mi) and is drained into the Bow River by Louise Creek, 3 kilometres long.
How was Lake Louise formed?
Lake Louise was formed when glacial meltwater was backed up by a dam of glacial debris, resulting in the stunning turquoise lake that we now know and adore. Its exit feeds into the magnificent Bow River, and the massive Victoria Glacier, which is located on the slopes above the lake, provides the majority of its water.
The Fairmont Chateau Lake Louise is Canada's grand railway hotel on Lake Louise's eastern coast. It is a luxury resort hotel established by the Canadian Pacific Railway in the early decades of the twentieth century.
Lake Louise also has access to Moraine Lake and Lake Agnes.
Around the lake, there are several hiking trails. Hiking trails lead to Saddleback Pass, Fairview Mountain (2,744 m (9,003 ft), Mirror Lake, Lake Agnes, Big Beehive, Little Beehive, Devils Thumb, Mount Whyte, and Mount Niblock. Mountain biking and equestrian riding are permitted on some of these trails, while rock climbing is allowed on the adjacent mountain slopes.
Kayaking and canoeing are popular summer pastimes, and a boat launch and rental facility are available on the north-eastern side. Due to excessive tourists, the neighbourhood is beset by traffic bottlenecks and parking difficulties.
So, where is Lake Louise? The most straightforward answer is that Lake Louise can find within the 2.5 thousand square mile confines of the Banff National Park in Canada. The oldest National Park in the country was established back in 1885.
Photo by Roberto Nickson on Unsplash
For the people who live abroad and are not too familiar with the geography of Canada, or for those who have a desire to consume as much information as they can about a fantastic tourist destination, the answer can be as long as you want it to.
For Foreigners Flying In
If you live beyond the borders of the great white north, the land of the fabled maple syrup, you should consider taking a flight up to Calgary International Airport. The Calgary International Airport is the closest airport to the lake.
Photo by CHUTTERSNAP on Unsplash
Once you've landed on Canadian soil and find yourself in the third-largest airport in Canada, you can either rent a car or take a taxi, or take a bus that will drive you to Lake Louise and back so you probably won't have to stop and ask people passing by on the street where is Lake Louise located.
Air Canada is one of the most reliable and pleasant airlines that offer flights to and from all parts of Canada. You can read more about the history and services of the largest airline in Canada here.
Pinpointing The Exact Location
It's another fair assumption that you've seen pictures of the beautiful Lake Louise, along with hearing about the splendid scenery around those parts. So if you had to explain to some of your friends where is Lake Louise located, you could say it's among the Canadian Rockies in Banff National Park. But that's not very convincing to someone who hasn't ever heard of Banff before, is it, now?
SANtosito, CC BY-SA 4.0, via Wikimedia Commons
Let's look at it from a more significant point of view. Alberta is located between the provinces of Saskatchewan and British Columbia. Saskatchewan surrounds Alberta on the east, and British Columbia borders it towards the west. The American state of Washington and Montana are just beneath the state of Alberta.
With this point out of the way, let's learn about the resort town of Banff. One of Canada's most popular tourist destinations is known most famously for the Banff National Park. It is the second-highest place in Canada, which has permanent residents. The first place is occupied by Lake Louise, which is located at an altitude close to six thousand feet above sea level.
Banff is located 126 kilometres west of Calgary and can be found along the vast stretches of the Trans Canadian Highway. The town of Banff is surrounded by times of mountainous regions. Sulphur Mountain, Cascade Mountain, Mount Norquay, and Mount Rundle. There is no shortage of prominent landmarks around Banff as the town is located just above where the Spray River and the Bow River meet.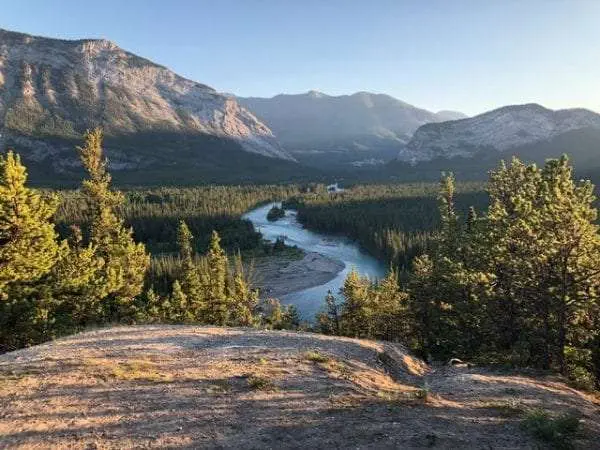 Photo by Jaimie Harmsen on Unsplash
Banff National Park is located on the south-western fringes of the state of Alberta. It is about a 90-minute drive from the Calgary International Airport and can be reached via a private rent, car arrangement, taxi, and chartered vehicle.
The drive from Vancouver is quite time consuming, and it takes about an entire day to reach Banff from Vancouver while enjoying one of the most scenic stretches of road that you will ever lay your eyes upon. However, if you're coming in from Vancouver because it's another brilliant tourist destination with a lot of sights to see (you can read more about that right here), then you would want to drive about 850 kilometres to the east. The time includes a few locations well worth stopping for. They are the wine country of British Columbia, the outstanding Coast Mountains, and the towering Canadian Rockies.
Now that you have a pretty fair idea of how to reach Banff National Park, you'll have a lot of people around whom you can ask where Lake Louise is. Only this time, you'll be led right to the shimmering bluish-green waters of the emerald lake.
Travelling In and Around Banff
Lake Louise is not the only tourist attraction you will encounter in Banff National Park. Other natural bounties around the area include the famous Moraine Lake and the Icefields Parkway, but we'll get to that part a little later.
Photo by Garrett parker on Unsplash
Lake Louise offers many opportunities for hiking around the area due to the commanding presence of the Canadian Rockies in the background. Along with hiking, canoeing, rowing, rock climbing, and mountain biking are some other means of getting around the place to check out the lake from multiple different scenic angles—each with its pros.
If you can get your mountain bike because you just can't do without it, then you're bound to share a pleasant experience with your pedal-powered buddy. But even if you can't manage to get your own, that should not be cause for concern because there are ample places that rent out bikes to tourists at relatively affordable rates.
Roam is the local bus system used around the Banff National Park, which can be another short and simple answer to "where is Lake Louise?". Roam was launched in 2008 by the Banff Council so that people, especially tourists, could get around the area without much hassle since most people in the area during any time of the year are tourists.
Taxis are another way to travel around the area, and the taxi business prospers throughout the year because of the sheer number of tourists visiting this natural spectacle. Taxi operators can be found easily at any time of the day.
Banff National Park's shuttle bus options connect to most of the park's major attractions (including Lake Louise, Moraine Lake, Johnston Canyon and Lake Minnewanka). As Lake Louise parking at most attractions is limited, taking public transportation or hopping on a shuttle bus is your best option for getting to your destination. Begin arranging your worry-free adventure right away! Leave the car trouble at home and chill as you travel to the park by comfortable coach, then on to your selected activity via one of Banff's transit choices.
The Banff National Park region does not have a lot of permanent residents. Most of the people living in the area are workers who have some form of employment in and around Lake Louise and can have their families come along and set up a permanent residence in the Lake Louise area.
Things To Do In Lake Louise
1. Take in the beauty of Lake Louise and walk the Lakeshore Trail.
The simplest thing to do in Lake Louise is parking your car, walk down the hill to the lake, and join the crowds on the shoreline. Even if you don't do anything else, you'll have seen one of the highlights of Banff National Park.
Spend a few minutes walking along the lakeshore to the right (Lakeshore Trail), past the Chateau Lake Louise. You'll get even more incredible views out over the lake and across to the steep mountains on the other side from this vantage point. You'll also be able to photograph the red canoes against the mountain backdrop.
2. Go to Moraine Lake.
Many visitors to Lake Louise never make it to Moraine Lake. This is a terrible pity because the beauty of Moraine Lake rivals, and in some people's opinion, surpasses, that of Lake Louise.
The lake is comparable to Lake Louise in that it has the same turquoise tints, but Moraine Lake's surroundings are what truly distinguishes it. The lake is surrounded by the Ten Peaks mountain range, dammed by a large rockpile at one end. From 1970 to 1993, this magnificent vista was memorialised on the back of Canada's $20 bill.
3. Visit the Lakeshore Trail
Lake Louise Lakeshore Trail is a 4.5-kilometre out-and-back trail near Lake Louise, Alberta, Canada, that features a waterfall and is suitable for hikers of all ability levels. This trail is also available to dogs, although they must be kept on a leash. The route is open all year and offers a variety of activities.
4. Lake Louise Canoeing
Nothing beats the vista from the Lake Louise beach unless you're on the water. Canoeing on Lake Louise is a shockingly popular summer activity. Detach yourself from the crowds on the beach and paddle out into the turquoise seas of the Canadian Rockies to find your isolation.
Suppose your fitness level allows you to paddle around the lake in front of the Chateau or travel to the headwaters at the other end of the lake. The vistas of Victoria Glacier improve as you travel further up the lake.
5. Take a hike to Lake Agnes and visit the Lake Agnes Tea House.
It is a small mountain lake in Alberta, Canada's Banff National Park.
A teahouse is located along the eastern coast at 2134 meters (7002 ft). It has a 0.52 km2 surface area and is around 3.5 km(one-way) hiking distance from Lake Louise. A hiking track follows the northern shore, turning 180 degrees before ascending to the Big Beehive. A scrambling way up Mount Niblock can be found just before the trail begins the arc.
To the east of Lake Agnes, the Little Beehive can be climbed.
From the summit, there are spectacular views of the Continental Divide. The Lake Agnes Tea House is located on the lake's eastern shoreline.
6. Go on a hike to the Big Beehive.
If you've visited the Lake Agnes Teahouse and are looking for more vistas, try continuing to the Big Beehive. The enormous rounded hill to your left as you stand on the tea house patio. This hike can be done independently; however, it is essentially an extension of the Lake Agnes hike.
The advantages of continuing are twofold: First, you'll be treated to a breathtaking vista of Lake Agnes and the tea house. Second, once you reach the top, the views of Lake Louise and the Bow Valley are spectacular.
7. Hike to the Six Glaciers Plain
The Lake Louise Shoreline walk, which begins in front of the Chateau Lake Louise, eventually connects with the Plain of Six Glaciers trail and leads to a historical tea house beneath the Victoria Glacier.
This is a popular hike in Banff National Park. This hike is 10.6 kilometres (6.6 miles) round trip. The trail has an elevation rise of 365 metres (1,197 feet), and it is well maintained and easy to follow. The panorama is breathtaking, with views up to the glacier and down the lake to the Chateau.
The beauty of this route is that it allows you to go as far as you want and turn around at any time. The vistas are spectacular whether you make it to the end, the tea house, or till you've reached your limit.
8. Explore Larch Valley or Sentinel Pass on foot.
A must-do in Banff National Park is the Larch Valley walk. The highly stunning larch trees are among the best reasons to visit Banff and Lake Louise in the fall season. Larch Valley is incredibly close to Lake Louise. It is one of the most well-known places to see golden larch trees. This is an outstanding autumn hiking option in the Canadian Rockies and a must-do on your bucket list!
Larch Valley is located above Moraine Lake in the community of Lake Louise, in the Canadian Rockies' Banff National Park. This journey begins at the jam-packed, very popular Moraine Lake parking lot, just a short walk up the route from the lodge. On your right, you'll see trailhead markers and a course that forks off to the right.
October is the finest time to hike for many outdoor enthusiasts because the people have (broadly) dispersed, the temperatures have decreased, and are frequently acceptable for outdoor cardio. The scenery is at its most stunning as the autumn colours come alive.
Larches grow at high elevations and turn a brilliant golden yellow colour for a few weeks each year, usually from mid-September to early October. However, this is only a guideline, and it can vary from year to year.
9. Go on a Lake Louise Gondola Ride
The Lake Louise Summer Sightseeing Gondola is the ultimate stop for all-ages sightseeing, with one of the best places to watch wild grizzly bears. It would be a cliché to claim we're one of Banff National Park's best-kept summer secrets, but you'll discover when you arrive how our place blends breathtaking beauty, easy-to-extreme action, and a break from the larger crowds you'll find elsewhere.
After all, summer days in the Rockies are supposed to be enjoyable, not stressful. The vistas (which can be acquired with as much or as little effort as you choose) will leave you feeling as if you have all-access to Mother Nature's best scenery.
10. Go Horseback Riding
Awakening in the morning, saddling your horse, and experiencing the wilderness of Banff National Park from atop your long-legged steed is an unforgettable experience. You can ride at a steady pace on horseback without being restricted to highways or disrupting the peace around you. In Banff and Lake Louise, horseback riding is an unforgettable experience, whether you're following paths through vivid alpine pastures, traversing mountain passes, or fording the rapid river.
Can you swim in Lake Louise?
Well, if you wish to, you can swim at Lake Louise, but it's unlikely that you'll be able to do so for long. The water temperature rarely rises beyond 4°C, which means you only have about 15 minutes before becoming hypothermic. So, You may, of course, if you want to take an icy dip!
Lake Louise directions
From your current location, you may check the directions to Lake Louise through Google Maps.
Areas Around Lake Louise
Every person in this area can answer the question: where is Lake Louise. Lake Louise has two distinct areas. Firstly, there are the actual shorelines of the lake, which are in closer proximity to the sky than the underlying Lake Louise Village, also known as the small hamlet. The tiny hamlet is about six hundred feet below the water body and consists of a low shopping centre loaded with all that tourists would like to spend their money on. The Lake Louise Village also has bakeries and restaurants to offer exceptional dining experiences to the tourists.
The tiny hamlet also has a well-equipped information centre, which can offer all the answers to questions and other queries that tourists might have.
Photo by Jaimie Harmsen on Unsplash
A tiny town near Lake Louise that not many people know about is Field. It is located at a distance of about 26.5 kilometres away from the shores of Lake Louise by roadways. The number of people living in Field is less than 200, so it truly qualifies as a small town.
This is where you should be looking for if you feel like you want to make a short stop just before you reach Banff.
Jasper National Park is another fantastic site that you should consider checking out once you're done figuring out where is Lake Louise. You can reach Jasper National Park via the 150 mile Icefields Parkway which offers you stunning views of mountains and icy fields while traversing through to the more significant National Park.
Although Jasper National Park is a lot bigger than Banff National Park, the age-old saying that bigger is always better is violated when you realise that Banff National Park has more to offer than Jasper National Park.
By Timothy Yue/Shutterstock.com
Ski Resorts' near Lake Louise
The Lake Louise Ski Resort
Located on the southern slopes of the Slate Range, between Mount Richardson, Ptarmigan Peak, Pika Peak, and Redoubt Mountain, the elevation is 3,000 metres (10,000 feet) higher than the sea level. The Bow River's tributary, the Pipestone River, runs through the valley and defines the slopes' base, just north of the crossroads of Highway 1A (Bow Valley Trail), Highway 1 (Trans-Canada Highway), and Highway 93. (Icefields Parkway).
Hopefully, now the answer to the question "Where is Lake Louise?" seems a bit clearer. There is no fixed best time to visit Lake Louise as it offers different experiences during different times of the year. The lake is frozen from November through to June, and winter attractions like skiing, sledging, and snowboarding take over. In the summer, you can chill out on the shores of the beautiful lake while enjoying a picnic with a group that you like to travel with, as it is a favoured picnic spot. Hope to see you at Lake Louise soon!
Hey, wait!
Sign up to our newsletter and get exclusive discounts!
Want exclusive deals and discounts? We have just the list for you, from web hosting deals to your next Zara purchase.
Get how-to guides to shopping online, starting essentials to launch your business and general life hacks. And get additional discounts when you use our content writing services. Know more here. 
Enter your email address to sign up for our newsletter!