Pender Island is a Southern Gulf Island jewel located along the coast of Canada. It has a sub-Mediterranean climate, open farmland, several lakes, and mountains, and is very in touch with nature. Additionally, Pender Island offers the most publicly accessible beaches in the Gulf islands.
There's a bit of a history attached to Pender Island. It consists of North Pender and South Pender. They used to be a collective whole attached by an isthmus. Now, a canal connects them by a one-lane bridge. This canal was made in the early 1900s to allow boards to travel quickly and safely between the islands. Captain Richards R.N. of H.M.S. Plumper gave Pender Island its name after Second Master Daniel Pender, his survey officer.
Today, Pender Island has seven parks and a lot of beaches, making it a great spot for retreats and family vacations. Because of its residential population, Pender Island doesn't have a lot of restaurants, but that doesn't take away from its ability to host entertainment and activities.
After learning a bit about the history of Pender Island, let's discuss what you can do while on Pender Island.
1) Things To Do On Pender Island
Pender Island may seem like a small island oasis with not a lot going on, but that isn't the case. Being so close to nature, Pender Island has a lot to offer and shouldn't be underestimated.
1.1) Hike To Mount Norman
Mount Norman Park, located on South Pender Island, has over 100 hectares of forests, wildlife, and grasses. It is a part of the Gulf Islands National Park Reserve, protecting the Southern Gulf Islands. The Gulf Islands National Park Reserve is spread over bigger islands and islets.
The main hiking trail used is from Ainslie Point Road. You hike through stands of Willow and Red Alder, along with Douglas firs. There are also twisted trails over the bedrock base. After hiking through all these, you reach the summit of Mount Norman, the highest point on Pender Island. It is 800 feet high and has a beautiful view of the surrounding and northern San Juan Islands. After you're done, you can continue the trail to Canal Road or return to Ainslie Point Road.
The facilities in Mount Norman are limited to toilets, boardwalk, and parking, but no camping facilities are available. Along with the beautiful view, the Beaumont Marine Park is adjacent to Mount Norman and has a scenic view. It is a great place for camping and kayaking.
North and South Pender Islands offer facilities for kayakers, scuba divers, canoeists, and fishermen. These facilities also help make Mount Norman one of the most attractive points on Pender Island.
The highest hill on the Pender Islands, Mount Norman, has a great view of the Bedwell Harbour, its trail located on South Pender Island. It also has a brilliant view of the San Juan Islands, Vancouver Island, and the Southern Gulf Islands.
It's steep while hiking but worth it because of its phenomenal views. If you enjoy hiking trails, Mount Norman should be at the top of your list of things to do while on Pender Island!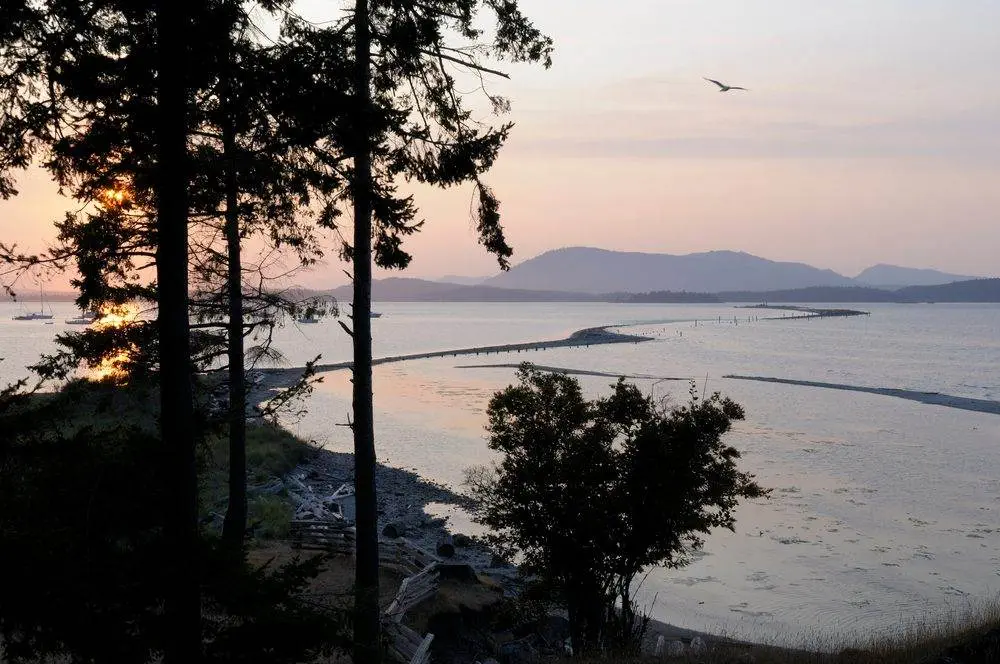 1.2) Check Out The Gulf Islands National Park Reserve
Pender Island consists of Gulf Islands National Park. Off the southern coast of British Columbia, there's a group of islands and reefs called the Southern Gulf Islands. They're blessed by warm and dry summers and mild and wet winters. Fifteen of these islets make up the Gulf Islands National Park Reserve. First Nations people inhabited these islands. The larger islands, like North Pender and South Pender, Mayne Island, and Saturna Island, are accessible by British Columbia ferries. But the other smaller ones can only be reached by kayaks and private boats.
It was established in 2003 and formed the unique ecosystem of the area. It is rich with plants and sea life, including wild lilies, kelp buds, Garry oaks, and Orca whales. In waterfront areas, the park extends 200 meters into the sea and is home to 13 special concern issues, 10 threatened species, and around 15 endangered species, including butterflies, ferns, and shellfish. There are many unique features for you to explore, like boating, kayaking, hiking, fishing, and scenic touring.
As of now, Gulf Islands National Park Reserve is closed, but that doesn't mean its green spaces and hiking trails aren't available for your enjoyment. Make the best of the park and sheltered islands along the coast of Salish. Enjoy the warm climate while exploring stunning beaches and observing sea lions, seals, Orca whales, and porpoises. Find out more about the local culture and make the best of an extensive interpretive program.
1.3) Visit The Magic Lake
Magic Lake is the most populated area of Pender Island, comprising of 1/2 acre lots and homes bought and sold on Pender Island.
Magic Lake has a lakefront, oceanfront, forests, sunny spots, rocky spots, and neighborly areas, which offer privacy. A little private cottage villa or cabin in the woods overlooks amazing ocean views and fabulous architectural wonders. Magic Lake estates are run on a public water system, with many properties using the public sewer system.
Magic Lake is a part of the Magic Lake Estates. It has public access for picnicking and bird watching. There's also another space called 'The Swimming Hole' because it has a public dock which is popular during summer. You'll get the best of the view and experience if you have a private boat. Buck Lake is the second source for Magic Lake households.
Magic Lake Estates have a quintessential Gulf Islands feel since they are surrounded by deer, owls, whales, hens, and many flora and fauna. If you're planning a vacation with your family, this is the perfect place to be!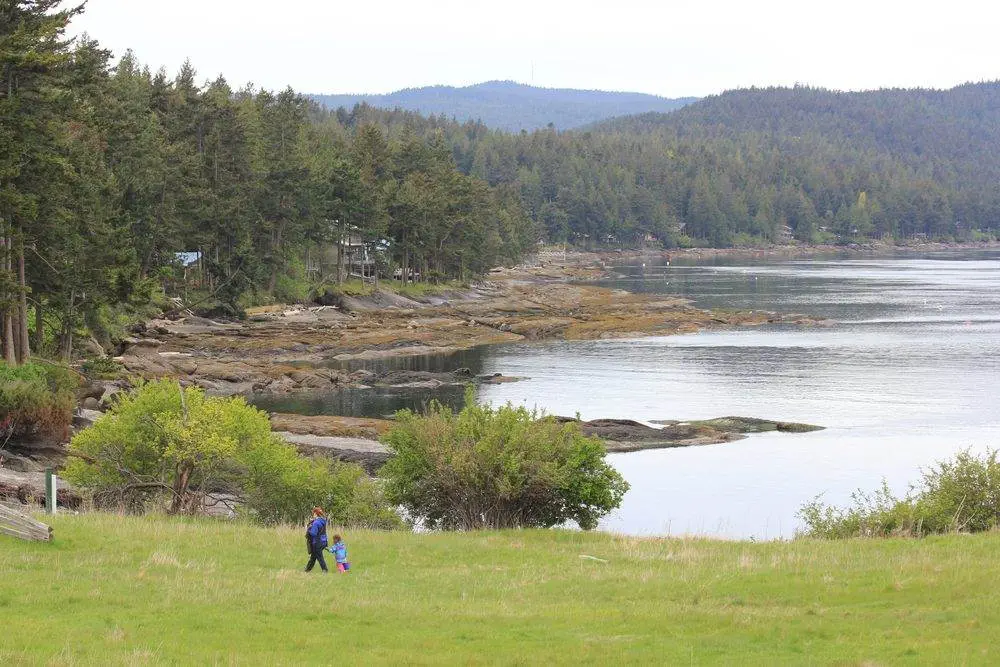 1.4) Stay At Poets Cove Resort
Poets Cove Resort is a hidden gem in Bedwell Harbour. It's a four-star resort with a marina, outdoor swimming pools, and dining. Each unit has a TV, a fireplace, a mini fridge, and a beautiful harbor view. Around half an hour from this beautiful resort is Greenburn Lake, a leisurely place to spend an afternoon.
The Poets Cove Resort is a great getaway for a relaxing and rejuvenating time at the Southern Gulf Islands. While staying here, you'll explore a world full of kayaking, canoeing, paddle boarding, and biking.
Designed in the Arts & Crafts style, the accommodations at this resort are close to luxury. With 22 lodge rooms, 15 cottages, and 9 villas, every need of yours will be met at this pet-friendly resort. You can also plan your destination wedding in this resort.
1.5) Visit Otter Bay
Otter Bay is the perfect spot for a cruise and an exciting destination for boaters in the Salish Sea. You'll enjoy various activities and services, including a heated swimming pool, grocery area, lawn, and decks overlooking the water. There are a lot of activities for you to explore in Otter Bay, like boating and kayaking.
The Otter Bay resort also has a games room, a children's playground, a great bistro for lunch, two heated swimming pools, badminton courts, and two tetherball courts for exercise. Additionally, there's a cute little gift shop for groceries, clothing, fresh food, and fine artwork.
Another resort to visit at Otter bay is Currents. Currents is your ultimate Gulf Island jewel, which can be reached by a float plane or ferry. It offers you an exciting experience and a fabulous natural landscape. Currents is also a great spot for weddings. It's a few minutes away from the Pender Island ferry terminal. It's your ultimate destination for kicking back and enjoying what the marina offers.
1.6) Learn At Pender Island's Museum
Pender Island has many visitors who share local stories and connect the present with the past. They preserve and interpret the collection of local artifacts and archives. The Gulf Islands National Park Reserve surrounds the museum building.
The Pender Islands Museum Society operates the museum. It was established in 1986 and works to preserve the heritage of the island and its features. The building was reconstructed in 2005 and is open to visitors.
A few of the artifacts in Pender Island's museum are worth talking about:
Ingenious Butter Keeper: Before 1956, keeping food cold was challenging on this island. This butter keeper helped solve this obstacle. The clay, immersed in water, absorbs moisture, and the butter inside stays at room temperature.
Lillias' Loom: This loom endures the legacy of Lillias Spalding and all she did for Pender Island.
Sandstone Whale Carving: This sandstone whale carving was unearthed a few decades ago. It has been dated to have been created around 5000 years ago.
If you're less in the mood for learning and more interested in sightseeing, check out this list of unique things to do in Canada: Unique Things To Do In Canada
1.7) Play At Golf Island Disc Park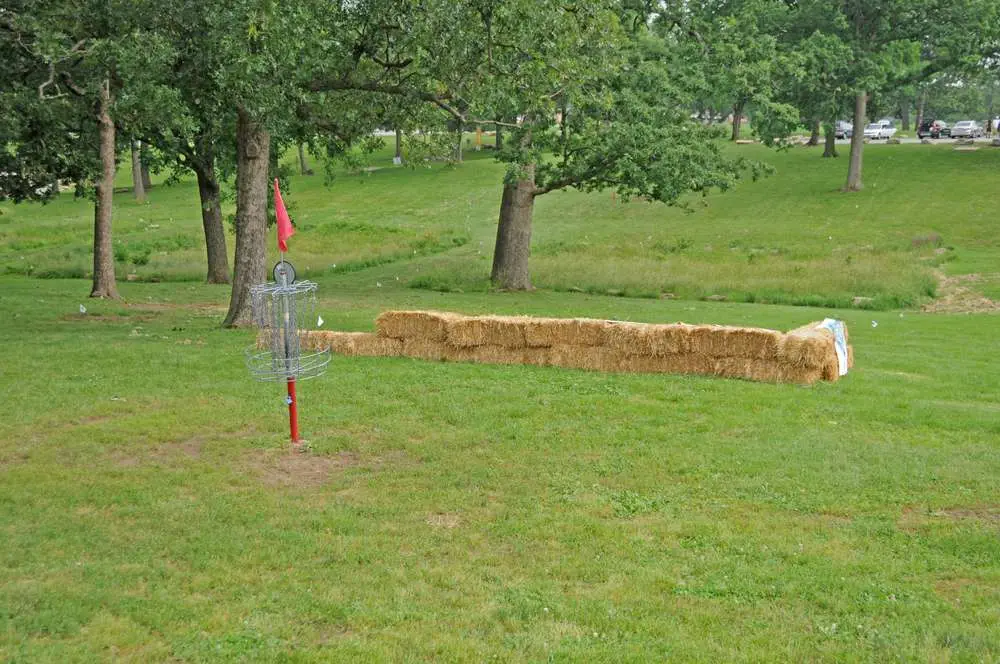 The Golf Island Disc Park is located in Magic Lake estates. It has 27 holes, with the front nine holes having the original tone poles and the middle and the back nine holes having chain baskets. It winds around a rocky hill to the north of the lake. The location of the course makes it a great place for a wonderful game.
Disc Golf is a growing sport lovely to play on Pender Island. The game is similar to traditional golf, but the players use gold discs that look like frisbees, and the greens with cups are replaced with tone poles and chain baskets. Anyone can play Disc golf, a great sport to keep you active.
The Golf Island Disc Park was brought about in 1980 and is maintained by the Pender Islands Park Commission and the volunteers working for Pender Disc Gold Club.
1.8) Visit Port Browning Marina
Port Browning Marina is at the Browning Harbour on Pender Island. You'll find overnight moorage, convenience stores, seasonal outdoor pools, ATMs, kayak rentals, and tenting facilities. It's a favorite destination for boaters.
The port also has Bridgemans Bistro, a great place to eat, drink, and mingle with locals and their views.
1.9) Check Out Medicine Beach
Medicine Beach is hidden on Pender Island. It is a testimony to the marvelous habitation of Pender Island. Behind Medicine Beach is Medicine Beach Bird Sanctuary. It is one of the few saltwater marshes left on Pender Island. The beach also has a wide crescent where you can have long walks. There are cliffs with breathtaking ocean views. There's also a convenience store a short hike away and a café with free wi-fi.
1.10) Stay At Woods On Pender
Camping with casual luxury is termed 'glamping.' The best place to experience this lifestyle is Woods on Pender. Here, you'll come across rustic cabins, airstreams, and a stand-out motel. It's filled with the things you'll learn to love about the city and has all the elements of a camp getaway.
During your stay in Woods On Pender, you can kayak, paddle board, visit a farmer's market, check out wineries, and pay a visit to the Pender Island Museum.
1.11) Visit Dog Mermaid
Dog Mermaid is an eco excursion, kayak rental, and retreat. They offer paddling, hiking, sledding, snorkeling, and multi-day adventures. Additionally, you can personalize your tour with the help of guides. You can also find services in other languages, like Spanish and French.
Everything here is made and designed to keep marine life safe and happy. They believe it isn't necessary to touch and be close to marine life to enjoy them. While Pender Island enjoys marine life, it also helps others enjoy it from a safe distance.
If you want to engage your senses, participate in an all-day island adventure with sights and knowledge worth gaining. You can decide the routes and activities you want to participate in. Combine education, comfort, and skill to get the most out of this spot.
Dog Mermaid also provides activities and accommodations to build your team spirit. They offer kayaking, paddle boarding, yoga, whale watching, island touring, and dog sledding.
1.12) Drink Wine At Sea Star Vineyards
Along the road of Browning Harbour, this beautiful winery has been discussed as one of the best wineries to visit before you die. It offers a great number of options for west coast-inspired wine.
This 26-acre vineyard stretches to Mount Menzies and basks the glory of the Salish sea. Here, you can find a variety of award-winning signature wines, including Blanc de Noir and Ortega.
The beauty of this area is found in its beautiful West Coast architecture, along with a beautiful and warm feeling of this aesthetically pleasing beauty. So, if you're a person who enjoys wine, and beautiful vineyards, take along an empty bottle and spend some time with Sea Star's delicious wine.
1.13) Spend Some Time At Roe Lake
Roe Lake is a trail looping around the lake with a scenic viewpoint. Along the Shingle Bay Road, the wide trail consists of douglas fir and cedar trees. The trail is full of uphill and downhill sections. Roe Lake is also one of the only fresh saltwater lakes in the Southern Gulf Islands.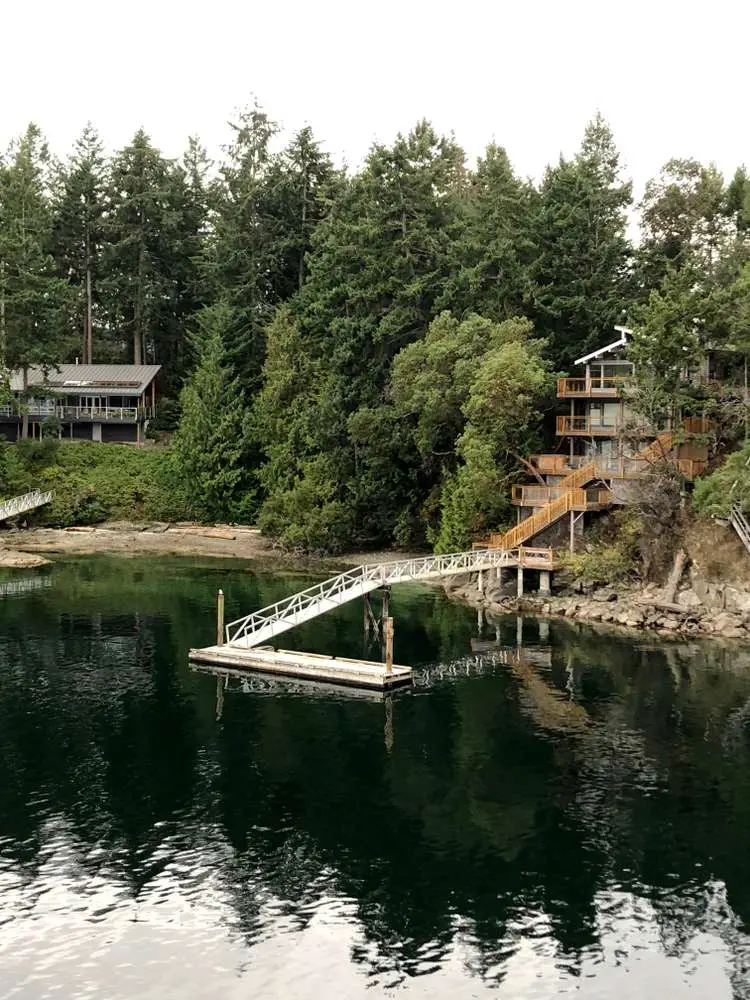 At the end of the lake, there's a pathway that leads to a beautiful forest and a nearby mash. Also, there's a junction with a trail that goes to the scenic viewpoint nearby Roe Lake. You'll reach the trail's end, loop around Roe Lake again, and start from Shingle Bay Road again. The Pender Island Museum is located in Roe House, near Roe lake.
In Conclusion
Along with all these beautiful places to visit, there's a lot to buy from Pender Island. You can buy groceries, medicines, and specialties from Pender island at Driftwood Center at Bedwell Harbor. Hope Bay store has a goldsmith shop, a chocolate shop with handmade chocolates, and an artisan cooperative called Red Tree gallery.
This list contains only a few hiking spots, but Beaumont Marine Park Campsite in the Gulf Islands National Park Reserve is one of the best spots for backcountry camping. It has 11 backcountry campsites and can be reached by boat or hike from Ainslie Point Road. Through Ainslie, there's an unpaved road that connects to this parking site. It extends to about 1.6km from Mount Norman.
Discussing what Pender Island has to offer would take a long time, and no matter how long the list is, it would still not do any justice to the beauty of this island. It has spots for everyone: hikers, wine drinkers, nature lovers, sealife lovers, and so on. Pender Island is a hotspot for all kinds of people, and it has so much to offer for your every want and need, so don't wait any longer.
Check out all these amazing places in Pender Island and get the opportunity to have an amazing getaway from mundane life.
Also check out; Best Pet Stores in Calgary