Looking for the best hot springs in BC? Keep reading!
Whether you're searching for relaxation after a day of exploration, bath, or just want to swim in a mineral pool to decompress, you should visit a hot spring. as soon as possible. The best hot springs in British Columbia, which stretch from Vancouver Island's west coast to Alberta's border, will be shown.
There are many distinct kinds of thermal springs in British Columbia, as you'll soon find out. Some of them are found in resorts, where you can easily access them and get all the facilities you might want. Others are tucked away and need a hike to get to the springs. A handful is in the middle, with modest pools tucked away in gorgeous parks in the province's breathtaking views.
They all have scalding hot water rich in natural minerals that have restorative and calming properties; it's like a hot tub but better.
The First Nations residents of the area consider several of the hot springs on this list to be sacred sites with a long history. They were used traditionally for the same purposes that people use today: to relieve achy muscles, improve health, and establish a connection with the forces of the earth.
Grab your towel and swimsuit, and make it a point to visit the best hot springs in British Columbia.
1. Hot Springs Cove
Among the many outdoor pursuits in Tofino are surfing, fishing, and whale watching. The journey to Maquinna Provincial Park's Hot Springs Cove may be among its best excursions.
Hot Springs Cove is one of the most spectacular hot springs in BC out of all the hot springs in BC.
Only water or air transportation is available to get too hot springs here (Flying time is 20 minutes or boating for 1.5 hours), but getting there is only half the enjoyment. Watch for black bears, bald eagles, and sea lions in the air, as well as whales and sea lions in the water ambling along the coastline as you go to Hot Springs Cove.
After docking, you must travel a 2-kilometre stretch walkway before reaching the outdoor hot springs spa, which features a breathtaking cascade and panoramic ocean views.
Even though the baths are rather tiny and may feel overcrowded if a large number of visitors arrive at once, it is nevertheless a unique opportunity to explore the outdoors. You would rather not stay too long, as the water's temperature is often around 50 °C (122 degrees Fahrenheit).
Boat tours are offered year-round by tour companies, rain or sun. Packing water shoes are advised because the rocks by the springs might be slippery.
2. Tsek Hot Springs
About an hour and a half from Pemberton, you may find the remote Tsek Hot Springs, also called the Skookumchuck Hot Springs, adjacent to the Lillooet River. The mineral-rich waters have long been used for their purifying and therapeutic effects by the In-Shuck-ch and St'át'imc people of British Columbia, who regard the location as sacred.
Tsek Hot Springs is one of the most beautiful hot springs in BC.
The location has 12 separate tubs, all heated naturally by hot springs or glacier-fed creeks. Some are hot, some are cold, and some are a combination.
By the hot springs, there are a few basic facilities, including camping and portable restrooms. Users of the campground are free to use the tubs however they choose, and outsiders can access them for a day fee. Expect a pure wilderness experience with no frills.
No Wi-Fi, cell phone service, or spa-like amenities are available on-site, but you can disengage and spend time in a stunning, spiritual area. That, in our opinion, is a fair trade-off.
 3. Liard River Hot Springs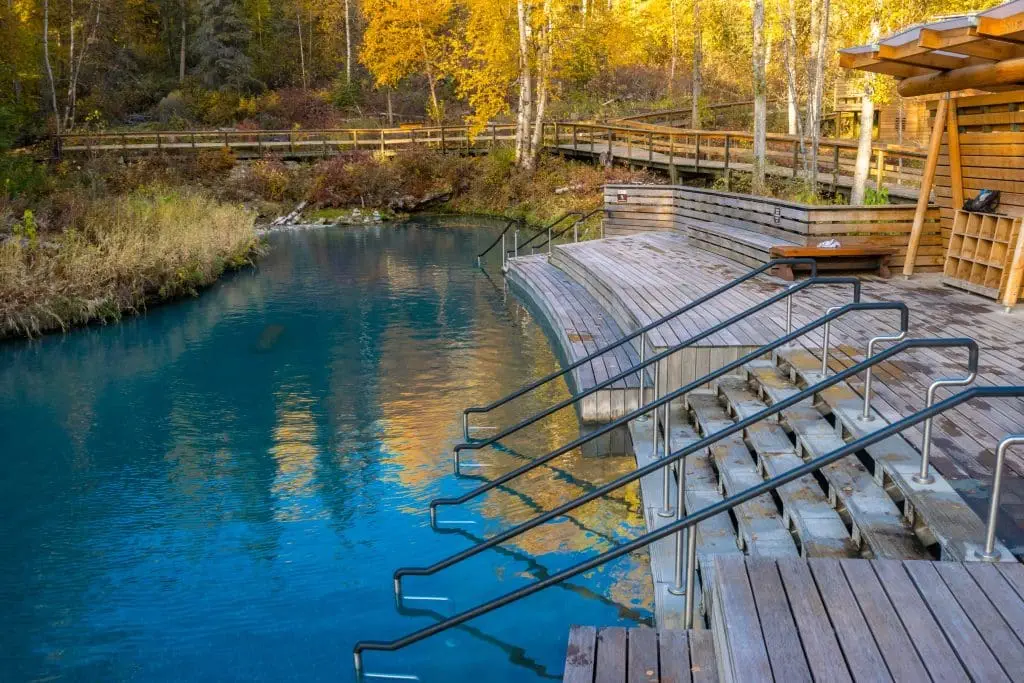 Liard River Hot Springs Provincial Park is a visit you will not miss when travelling along the Alaska Highway in Northern British Columbia.
The park offers a variety of enjoyable activities, including trekking, bicycling, bird watching, camping and more. However, we suggest walking the boardwalks to Alpha Pool, which has spring-fed waters with a temperature range of 42 to 52 degrees Celsius (about 126 degrees Fahrenheit). Since the downstream side is warmer than the upstream end, you may slowly float around until you locate the ideal location.
The enormous pool is situated smack dab in the heart of a gorgeous emerald-green forest. It's the kind of idyllic location that a spa may make a valiant effort to imitate but could never quite match.
There are open hot springs all year long, but if you want to set up a summertime tent, make a reservation because the area can get very popular. The park also charges a small entrance fee in the summer, but from October to April, admission is free.
4. Nakusp Hot Springs
Two hot springs ponds all year access, one exceptionally hot and one mild, go to the Selkirk Mountains' Nakusp Hot Springs In the winter, it's the ideal spot to unwind after a day of skiing in the nearby mountains, and in the summer, it's the ideal place to relax after a strenuous hike.
Nakusp Hot Springs is one of the most wonderful hot springs in BC out of all the hot springs in BC.
All of the pools' transparent fresh water, which is infused with a calming mixture of various minerals, including chlorides, calcium, copper, and others, is supplied by neighbouring mineral springs. Because of how swiftly the water moves here, the pools recycle their water every 30 to 2 hours.
Nakusp Hot Springs offers calming pools, restrooms, a spot to get food or booze and a play area. The nearby store provides both practical items and unique mementos.
You can make a long journey out of it by reserving an on-site camping, RV site, or lovely cedar chalet, or you can visit the springs for the day.
5. Harrison Hot Springs
With a population of 1,468, the resort town of Harrison Hot Springs was built on the region's mineral pools. There are two ways to take advantage of the hot springs: either staying at the Harrison Hot Springs Resort to use their five private pools or paying a minimal charge to use the indoor public pool that is heated by the hot springs.
Five naturally heated mineral pools are located at the Harrison Hot Springs Resort.  While some of the pools are outside, others are within.
Harrison Hot Springs is one of the most stunning hot springs in BC.
To use the resort's pools, you must stay there, but once you do, you have unrestricted access to all five of them. Another choice is to make a reservation for a service at the day spa, which entitles you to enjoy the pools before and after your visit.
Harrison Hot Springs Public Pool, an indoor mineral hot springs pool fueled by the Potash and Sulphur hot springs, is open to everyone and is preserved at a pleasant 38 degrees Celsius (100 degrees Fahrenheit). From Vancouver, you may go there in a single day. Everyone is welcome to use the Public Pool seven days a week; there are age-specific entry costs.
6. Keyhole Hot Springs
There are hot springs where you stay in a resort with a spa and unwind in immaculate pools, followed by there are hot springs where you have to trudge through four kilometres of snow before you can relax in scorching a rushing river's side which has been hollowed out with hot stone pools.
If you're searching for the latter, go to Keyhole Hot Springs, also known as Pebble Creek Hot Springs, which is close to Pemberton.
It is one of the most remarkable hot springs in BC.
Keep in mind that Keyhole Hot Springs is annually closed from April to mid-November to aid in the restoration of the area's grizzly bear population. Instead, plan your trip during the winter or early spring.
You'll need to climb the very steep trail to get here. The hike isn't too far—about 2.5 miles round trip—but winter weather can make it challenging. If snow is present, bring crampons or wear footwear with great traction because the terrain may become slick.
Keyhole Hot Springs might not be the best choice for you if you're seeking a more convenient option, but if adventure is what you're after, it's worth checking out.
 7. Fairmont Hot Springs
We advise visiting Fairmont Hot Springs, which has Canada's largest hot spring if you like to go big or go home. A diving pool, a swimming pool, and a soaking pool are just a few of the various pool-style hot springs on the property. They are all nourished by mineral-rich hot spring water that contains calcium bicarbonate, calcium sulphate, magnesium sulphate, and sodium sulphate.
Locals can purchase single-day or multi-day pool passes at the Fairmont Hot Springs Resort, although seasonal and annual passes are also available.
The pool entrance is free for guests who reserve a room at the resort, and a separate hot springs pool is only accessible to hotel guests. There is an RV camping on the property, and guests there receive a small discount.
8. Radium Hot Springs
Radium Hot Springs, a sharply defined spring in Kootenay National Park on the British Columbia side of the Alberta/British Columbia boundary, is especially relaxing following a day of snowboarding or skiing at nearby Panorama Ski Resort
When a fresh layer of snow covers the trees in the neighbouring woodland pool, extra relaxation points are awarded. The normal pool temperature is between 98 and 104 degrees Fahrenheit (between 37 and 40 degrees Celsius), providing a therapeutic, peaceful plunge. The water is rich in minerals, including sulphate, calcium bicarbonate, silica, and magnesium.
A day pass or a single-entry pool pass, which permits-and-out access to other park activities, are the two options available to visitors. Failed to pack a swimsuit? No issue; you may rent them as well as towels.
9. Halcyon Hot Springs
In addition to hot springs, Halcyon Hot Springs is a remote resort that offers kayaking, SUP, canoeing, hiking, biking, and fishing. There's more to it than just a sweltering swimming hole.
Halcyon Hot Springs, which offers views of Upper Arrow Lake and the Monashee Mountains, is comparable to the coolest summer camp ever. The resort does not have a hotel; visitors rent homes and cabins. There is no mobile phone service, so forget about getting cell phone reception. However, you can get around this using the resort's Wi-Fi network. Overall, it's an excellent option for anyone wishing to relax from their busy lives.
All year round, there are three pools to select from for recreation: the warm pool, the cold plunge pool, and the outdoor pool. There is also a seasonal pool.
Although it's a really lovely way to experience them, you do not have to be a resort visitor to enjoy the pools. Anyone is welcome to use the pools for a single day by paying a charge.
10. Ainsworth Hot Springs
A visit to the Ainsworth Hot Springs Resort is a great way to unwind, treat yourself, and take in the breathtaking Kootenay Lake scenery. At a natural cave or in the resort's swimming pool, which has an average temperature of 35 degrees Celsius or 96 degrees Fahrenheit, guests can experience the mineral-rich waters of the resort (kept even hotter, with an average temperature of 42 degrees Celsius or 108 degrees Fahrenheit).
A bath in the pool or the cave, brimming with stress-relieving minerals like magnesium, sodium, potassium, and lithium, can instantly ease tension.
The pools are filled with fresh water; the main pool replaces itself four times daily, while the water in the cave switches over six times daily.
A nearby creek supplies the chilly plunge pool, which is also present. It is tremendously energizing to switch between the hot and cold pools, yet it also makes you feel completely relaxed.
The hot springs are available to visitors year-round; they can either pay an entrance fee or use the facility as part of their hotel stay.
11. Canyon Hot Springs
The Canyon Hot Springs is located in Albert Canyon, in the beautiful Canadian Rocky Mountains of British Columbia, east of Revelstoke, between Glacier and Mt.
During the summer, the Canyon Hot Springs resort is open from May through September.
To fill the 15,000-gallon hot and 60,000-gallon swimming pools, water from the spring is routed roughly two miles down the valley side. Your visit will undoubtedly be thrilling, whether you swim in the warm pool or relax in the hot one.
Spending some time in the mineral pools is a terrific opportunity to unwind and appreciate the waters and the surrounding surroundings while also getting relief from the aches and pains of travel.
12. Ram Creek Hot Springs
Ram Creek Hot Springs, also known as Dewar Hot Springs and Dewar Creek Hot Springs, is a remote, uninhabited area tucked away in the heart of the Canadian Wilderness that provides visitors with a stunning haven. The springs are somewhat difficult to get to because they are surrounded by woodland, but the effort will be worthwhile once you arrive.
13. Lussier Hot Springs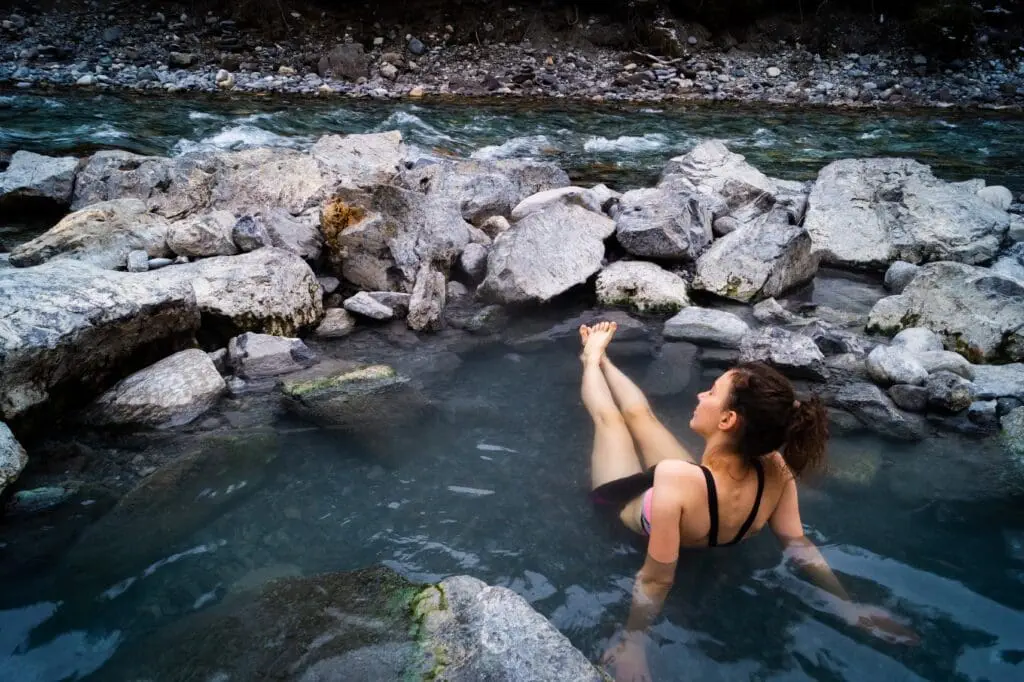 Lussier Hot Springs is a great location to get away from people and into nature. It can be reached through the Whiteswan Forestry Road and a short stroll down the Lussier River. Since these springs are all-natural, the weather may occasionally make them chilly. Dogs, alcohol, and trash are not permitted on the property, which is patrolled by park rangers. The parking lot has restrooms and changing rooms.
I sincerely hope you enjoyed reading about the top hot springs in British Columbia and were motivated to visit some of them in the future. If you have already been to a hot spring, you might have enjoyed reading this post because it brought back memories. Plan your journey to British Columbia. It is worthwhile.