Joffre Lakes Provincial Park, located in the north of Pemberton in British Columbia, has the most stunning hikes for your next adventure. You need to witness the terrific mountains and magical lakes that are sure to hold your gaze.  Come join us on this virtual adventure to this enchanting place.
Planning a trip here and want to know what all is there for you? What sort of trails and trips are here to lift your travel spirit? Who does not want to take a break and hang out with nature? Come, let's explore how this place is going to make the perfect travel destination for a romp and a much needed escapade.
About the lake
The Joffre Lakes hits first on Canadians' bucket list for its enthralling and challenging atmosphere which is something you should try before you die! The scenery of the place settled with the glacier-covered mountain peaks surrounding the thick forested areas and the turquoise coloured glacial lakes in the middle is quite a breathtaking view to perceive. As you walk along, you would witness three lakes – Lower, Middle and the Upper Joffre Lake. Surrounded by thick forest canopies, the trails are thrilling and are much like a hunt. A hunt to reward your eyes with charm and grace.
Location and routes
A map to the location can be found here.
There are bus services that will timely pick you up from Vancouver and drop you at the parking lot off the Duffey road.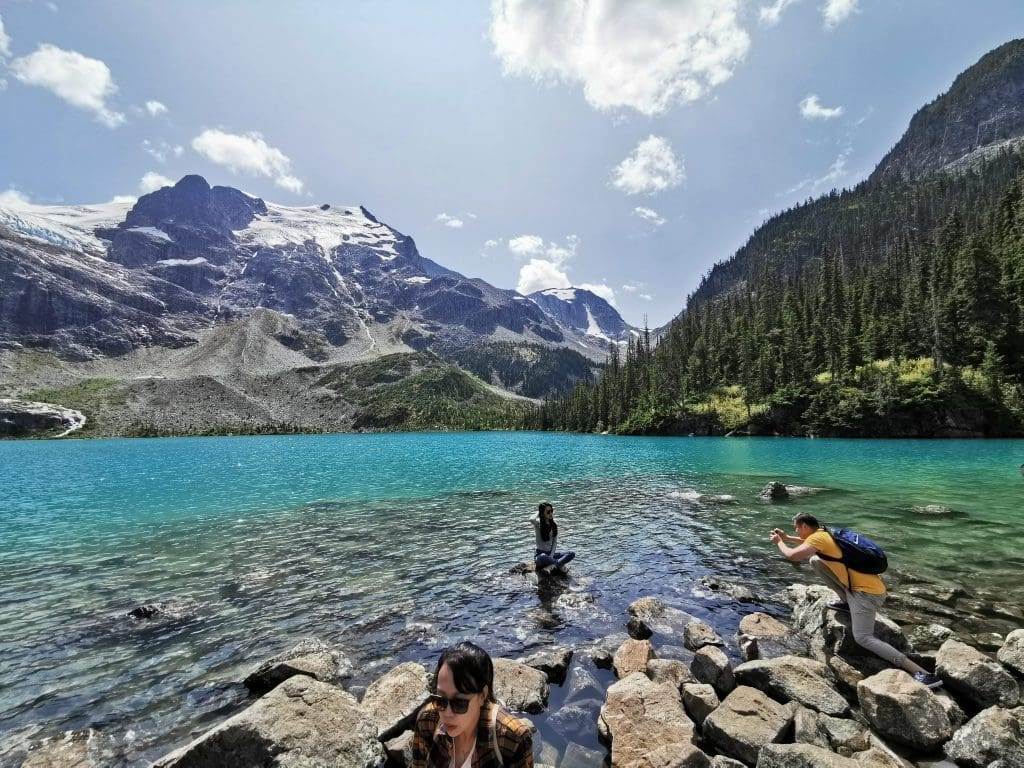 The route through the lakes- a guide
Lower Lake
On reaching the parking lot, you are a few metres away from the Lower Joffre Lake. Walk down the trail and on reaching a height of 1,240m, take a short diversion from the main trail and soon you will find the Lower Joffre Lake. You are in luck if the sun is shining bright and the sky is clear. Why? You can see the glaciers from down here. Yes!
Lower to Middle lake
Move back to the main trail and walk for 3km ahead to reach the Middle Joffre Lake. As you head further, you will come across a bridge and once you cross the bridge the path will be challenging as it turns muddy with puddles of water. You will move ahead and witness some wonders on the way to the next lake. You will walk crossing a roaring waterfall, amazing brookes and breathtaking viewpoints as you move high along the slim and narrow way. The canopies of tall Hemlock tress on either side of the path will guide you further up towards the Middle Joffre Lakes.
Soon, you will encounter a sedimented field of gravels and stones known as 'moraine' that formed ages back due to erosion by the thick glacier. There are a few steps to ease your way ahead. Now,  you will be moving on this sedimented path while viewing some bewitching scenes of nature at some height. As you climb higher, there will be clouds just a little above your head and valleys below you. At a height of 1535 m lies the Middle Joffre Lake for you to breathe in the feels. Here, you will be amazed by the mountain-view that serves as a landscape for you to click a few photos.
Middle to Upper Lake
The next up on your way is the Upper Joffre Lake. This path is less challenging and is short. As you march forward, you will hear the gushing noise of the waterfall falling down from the Upper to the middle lake. After crossing a path filled with long tree roots and tough rocks, you will reach the Upper Joffre Lake at the height of 1600 m. What to expect next? A site for camping for adventure freaks who would love to spend a night on nature's bed. For adrenaline junkies, hiking through the Matier Glacier is an additional reward.
You can also soak up nature's feels and chill in the air. There are spots and places for people to sit and have lunch beside the streams of water making their way into the charming lakes.
The majestic Matier Glacier
For those who are still not thrilled by the adventure yet can try hiking on the Matier Glacier. However, hiking on the glacier is dangerous as the snow sheets can tumble down at any moment. You can enjoy the thick snow cover from a distance and shoot a few pictures of the great mountains.
You can refer to the trail map.
Open Seasons for the park
This magnificent Mountain-Lake-Forest view can be sighted at any time of the year. The summers will give you a more clear view of the glacier-laden mountains and the bright turquoise blue waters. The winters will let you see the snow-covered trees, ice-fields, frozen lakes and the snow-filled path. Camping is prohibited during winters (from Nov 1 to April 15) to avoid the risk of avalanche.
Adventure activities available at this place
Climbing
Properly equipped people are allowed for mountaineering and other opportunities for experienced people are equally available.
 Fishing
Only licenced people are allowed for fishing and angling.
Hiking
Hiking as described above is moderately challenging and people who are exposed to winter adventures might find this wild place less of a challenge and more of a pleasure.
Skiing and snowshoeing
You are required to be well-experienced and well-equipped with avalanche safety gear and other defensive equipment to save yourself while skiing and snowshoeing on the steep glaciers.
What you should know before arriving here?
There are some important things to take note of before you head here.
Know the parking and accessibility before leaving for this wild adventure.
Reservations for overnight stays in the park must be made before leaving your home. There is no reliable network coverage at this place to book after arriving to this place.
This remote place amidst the mountains and forested area has no emergency services available. You need to come well-equipped with necessities and stay prepared for any mishappenings.
There is no clean water available at this place for drinking. You are required to carry your own water. However, the lake water can be consumed once boiled for a few minutes.
There is a strict restriction on organizing campfires in the park.
The lake waters are extremely cold and are not desirable for swimming.
The park remains the most packed during the weekends and the parking lot remains occupied. In order to have space for your parking, you need to arrive here early.
You will need your mosquito repellent creams and sprays for the black flies in the forest might trouble you.
Inside the park, you will not find garbage cans. You need to pack the leftovers and wastes back into your backpack.
Camping is limited up to a certain height at the upper lake and without a reservation, the campers will not be allowed to spend the night here.
Toilets and washroom facilities are available here. Two pit toilets are in the parking lot and two urine diversion toilets can be found at the second lake. Two more urine diversion toilets are available at the upper lake, one near the camping area and the other near the viewpoint.
Make reservations
You only need to make a reservation if you are planning overnight stay in the park. The camping reservation system will provide you with basic necessities like a tent pad, emergency lights and defence equipment.
There are a few reservation policies and cancellation facilities. 
Prohibitions and camping ethics
Smoking is allowed only within a certain area of the campsite.
Travellers other than those who have booked a night stay in the park must leave the park by 11:00 pm.
Sounds and noises have to be strictly minimized in the park as the sound resonates in the areas with open air and void.
Consumption of alcohol is allowed only at your campsite and is prohibited everywhere else in the park.
Pets are not allowed into the park.
For further queries, click here.
Hey, wait!
Sign up to our newsletter and get exclusive discounts!
Want exclusive deals and discounts? We have just the list for you, from web hosting deals to your next Zara purchase.
Get how-to guides to shopping online, starting essentials to launch your business and general life hacks. And get additional discounts when you use our content writing services. Know more here. 
Enter your email address to sign up for our newsletter!