Tourists from all over the world are flocking to Canada due to its vibrant and famous lakes. And if you're in Banff National Park, you're probably going to visit Lake Louise.
Banff National Park, after the construction of the Canadian Pacific Railway, became the First National Park in Canada. It is also one of the most visited parks in Alberta, Canada.
The question tourists often ask is after seeing the emerald colour is why is Lake Louise so blue? Well, the answer is it is due to a natural process – and we will answer it below.
1. Why Is Lake Louise So Blue?
This is because Lake Louise is a glacier lake. And all such lakes develop similarly.
In the beginning, snow builds up in mountain hollows.
Gradually, it forms a frozen state and over time, the boulders begin to break as the freeze-thaw cycle around the giant rock continues. It is a process known as plucking.
Consequently, the glacier melt happens. As a result, it begins to move.
Erosion occurs as the glacier moves. As a result, it scrapes along the rock floor. Additionally, abrasion causes the glacier to curve through valleys.
This way, it fills the hollows in the land. These hollows filled with glacier water are glacial lakes. Moreover, this glacial erosion continues. Later, it created turquoise mountain lakes.
As mentioned, erosion happens when a glacier starts sliding down a mountain. Then, a glacier strikes and rubs the rocks beneath. This leads to the crushing of the adjacent stones into fine particles. It is called glacial rock flour, glacier flour, or glacial silt.
Ultimately, the rock flour in the glacial melt water enters a lake. Glacial flour gets suspended in meltwater for a long time. This way, Lake Louise gets its distinctive colour from glacial flour. Additionally, algae and aquatic weeds owe their growth to this glacial rock flour. For this reason, they add a greenish outlook to most glacial lakes.
2. The Magical Interplay of Sunlight
Surprisingly, when the sun shines on the surface of Lake Louise, something magical happens. That is, its water absorbs the shortest light waves cast on its surface by the sun. Consequently, the longest wavelengths, like green and blue light, dance on the water surface.
The turquoise colour of Lake Louise is the result of this interaction of light.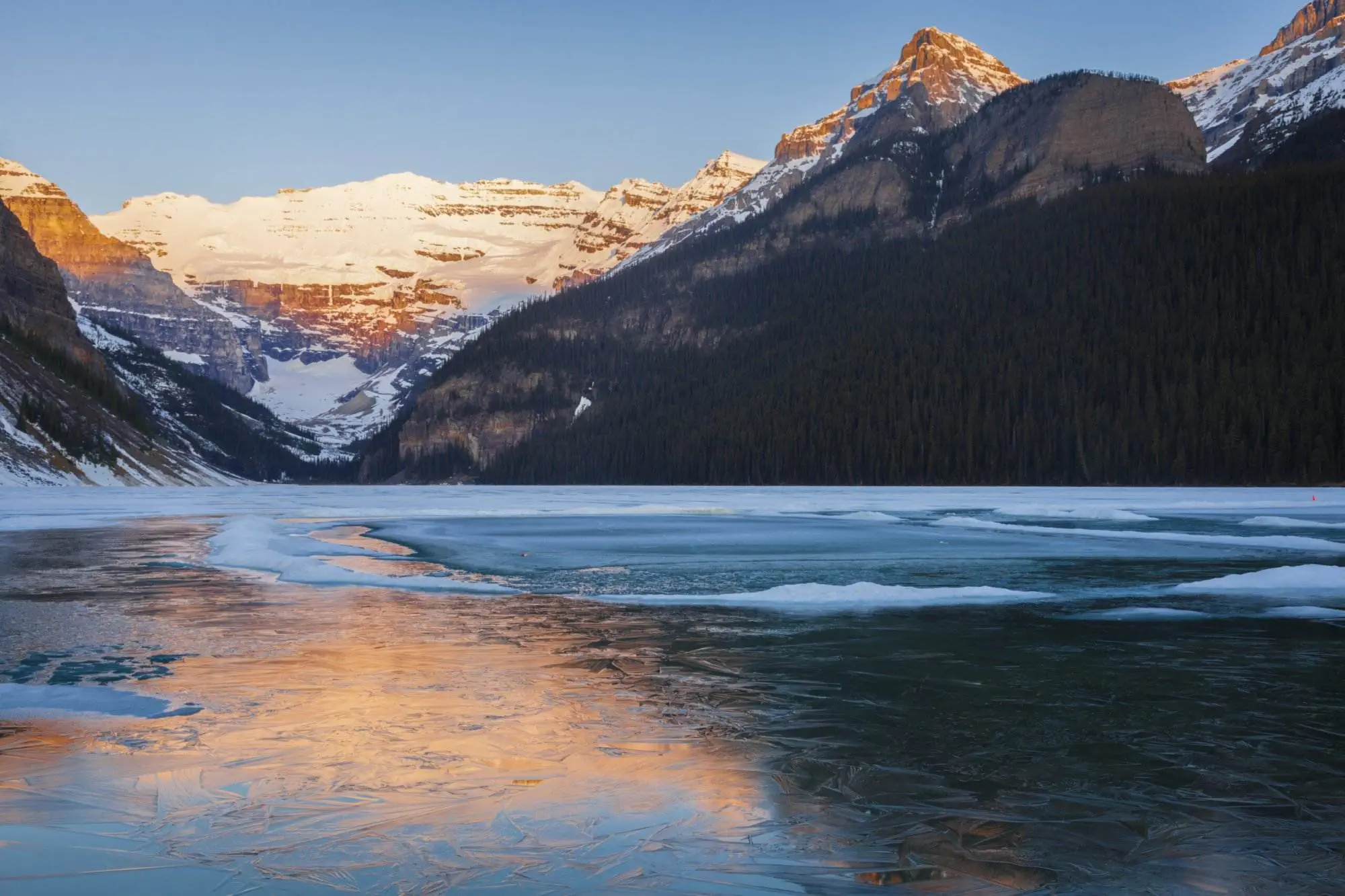 3. Sunlight Penetration into the Depths of Lake Louise
Lake Louise is one of the deepest lakes in Canada. Its top-to-bottom levels reach up to 230 feet or 70 meters. Therefore, sunlight gets into the deepest levels of this turquoise colour gem. It is even more fertile for highlighting that beautiful shade. Additionally, the colour gets bluer with bright sunshine.
4. The Final Touch of Glacial Milk
Melting glaciers bring rock flour to the lake and remain suspended in the water for an extended period. Glacial flour gives the water a slightly murky appearance. It is glacial milk. Now, what is the purpose of this glacial milk? Well! It is the secret component. When sunlight reflects, it results in a blue shade. Miraculously, this combination of glacier melt water and rock flour produces the stunning turquoise-blue colour of Lake Louise.
5. Seasonal Variation in the Turquoise Color of Lake Louise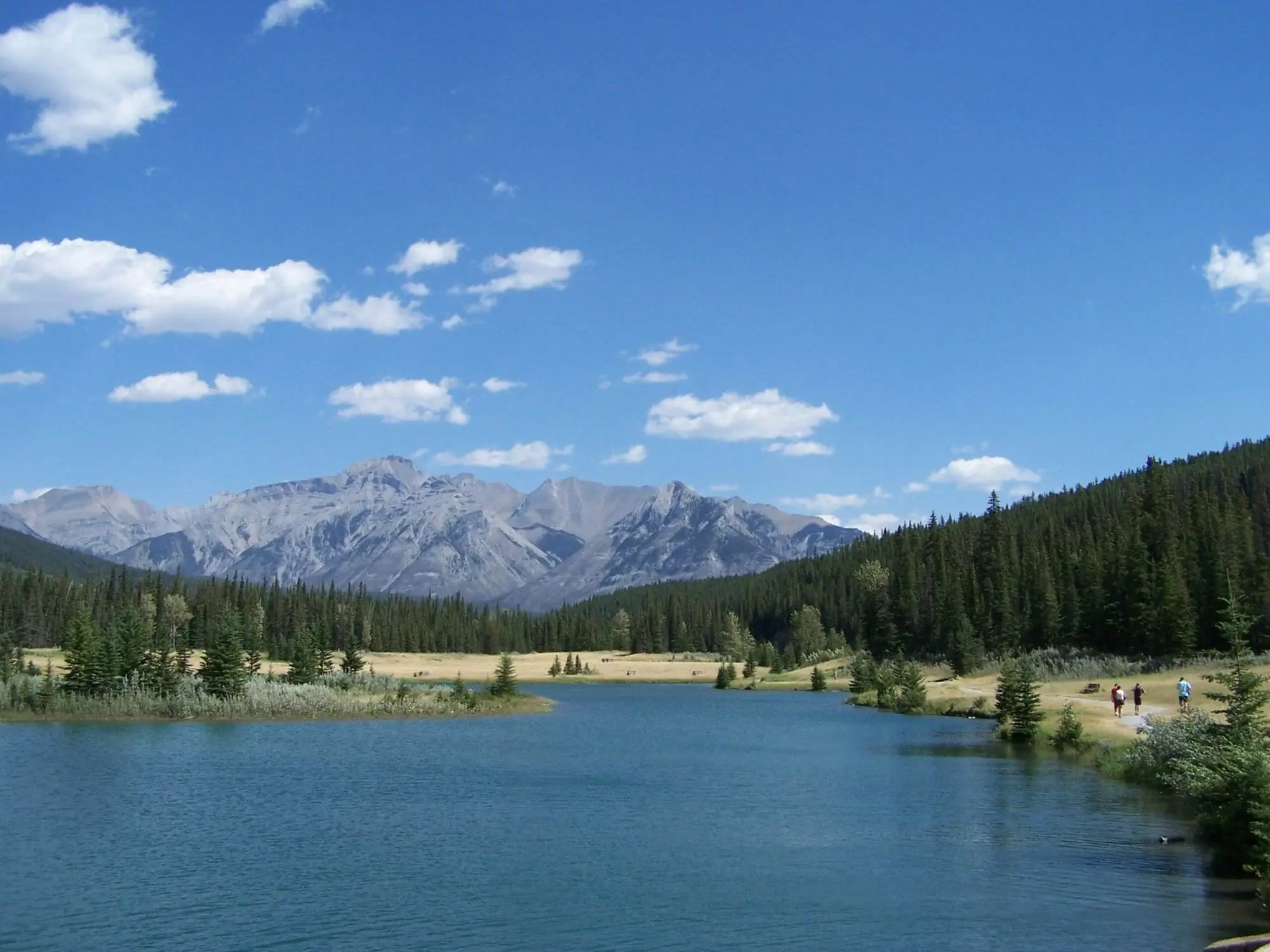 Every day is a new variation of the blue colour at Lake Louise. Additionally, the more rock flour enters the lake, the more it gets its signature colour. That is why it attracts crowds in the late spring in the summer. Chronologically, it is when glaciers flood the lakes with glacial meltwater and rock flour. This way, it is making its secret recipe, glacial milk. On the other hand, one cannot witness such a matchless scene in the cloud cover winter.
6. Exploring Lake Louise
Tourists and even locals are in awe of why Lake Louise is so blue. That is, what makes glacial lakes blue? Namely, here are some interesting facts you must know before visiting the Canadian Rockies: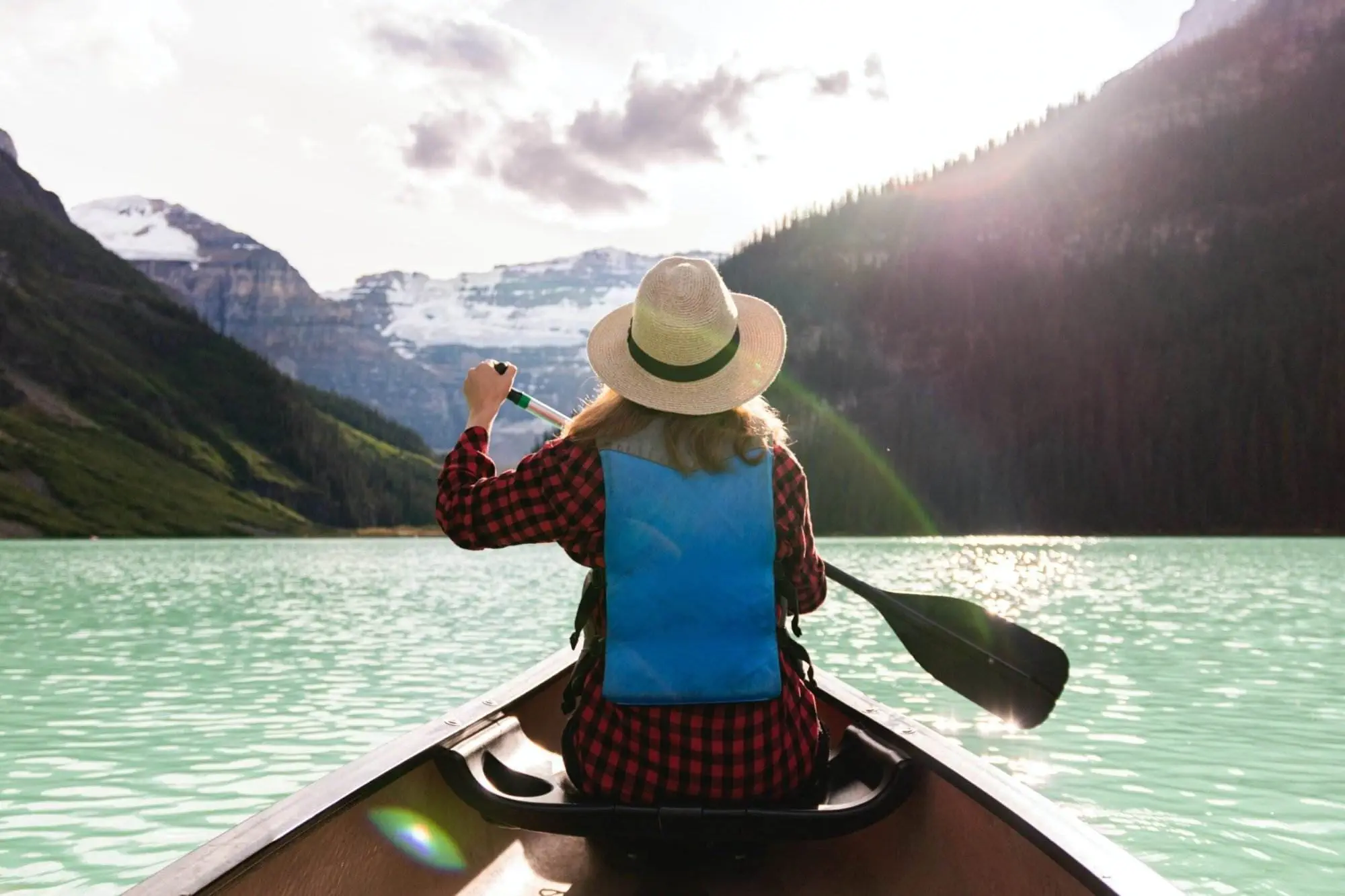 6.1.  One Can't Swim in Lake Louise
Technically speaking, you can swim in these emerald-coloured waters. Yet, it is not one of the activities tourists partake in. Swimming at Lake Louise may be a pleasant idea if you glimpse Lake Louise. Nevertheless, the truth may cause you to tremble.
It is glacial-fed with exceptionally cold water. Its temperature is about 7 degrees Celsius (46 degrees Fahrenheit). Therefore, even in the summer, the water of Lake Louise is blood-freezing. It can cause shortness of breath and a chilly shock reaction.
6.2.  Brief Narrative
Two Stoney First Nations were the oldest settlers of Lake Louise. They referred to it as the 'lake of little fishes.' Tall, snow-packed mountains and thick forests surround it. It has an iconic glacial lake view. Therefore, it is one of the most attractive and largest lakes in Canada.
The name tag of this majestic beauty is after Princess Louise Caroline Alberta. She was a descendant of Queen Victoria and one of her daughters. The Canadian Pacific Railway opened the gates to Lake Louise. Ultimately, it meant letting Parks Canada attract more tourists to visit Lake Louise. It is one of the regular rock-climbing locations in Canada.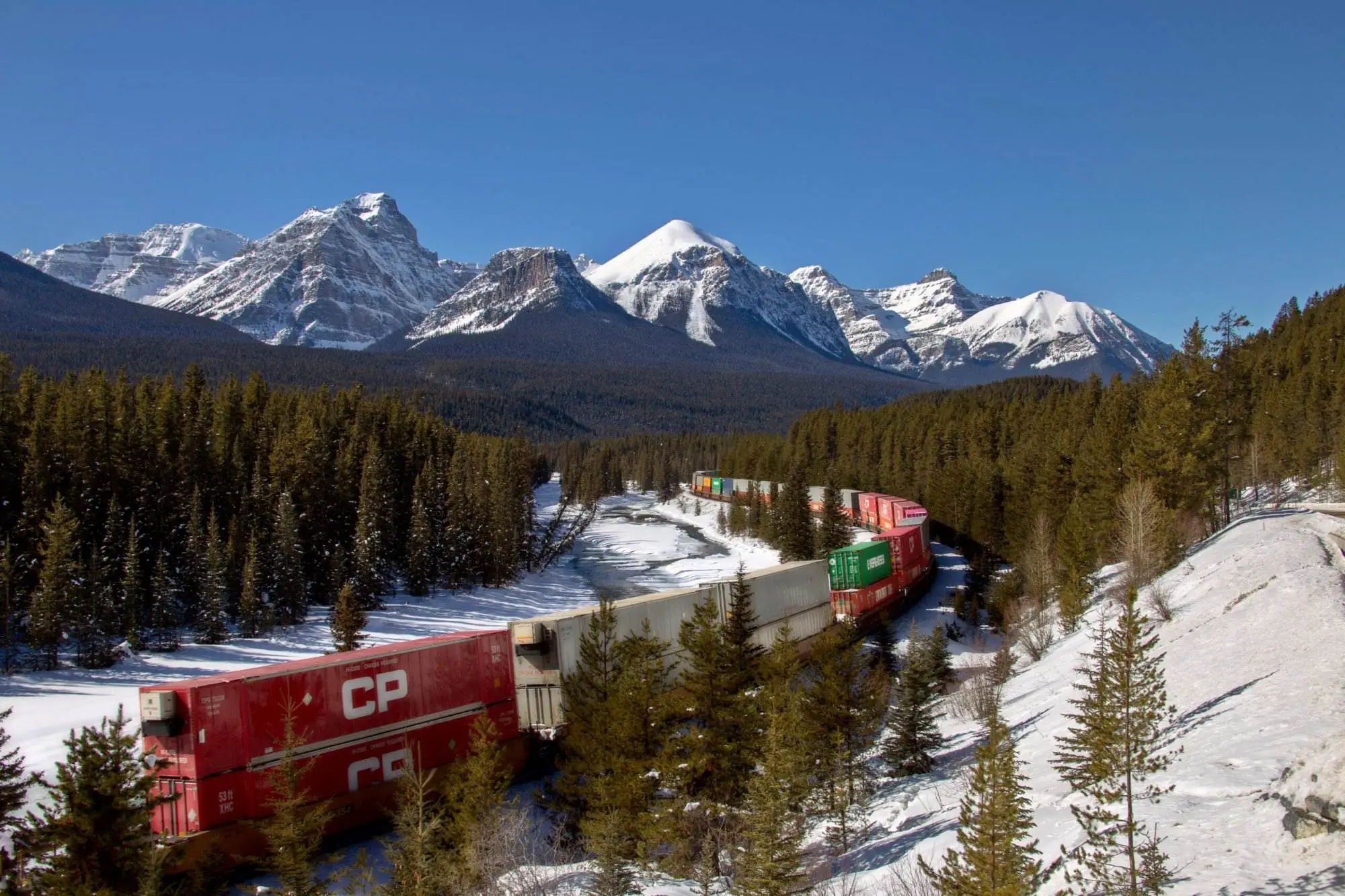 Everyone wants to shoot the beauty of this lake, making it one of the most photographed lakes in the world. It attracts crowds abundantly in July and August every year. Therefore, be prepared to share the space with such a number of people. Otherwise, I recommend arriving early in the morning to ensure adequate parking. It is also helpful to capture pictures and videos in peace.
On the other hand, you will see comparatively fewer tourists in the winter when ice covers its epic colour. Here, skating and skiing are famous winter activities. If you go for the least, walking over the ice-covered ground will be like viewing the area from multiple points of view. Regardless of whether it is winter or summer, a visit is worthwhile.
7. Some More Stunning Glacier Lakes in Canada
There are spectacular turquoise-blue glacier-fed lakes to explore in Canada. The majority of these turquoise lakes are in the Rockies in Alberta.  Moreover, you will find some well-known lakes near Banff.
Furthermore, it will be a pleasant surprise to witness nearby glacial water. These are in Jasper and Yoho National Parks. They are equally spectacular but less well-known. Let us discover these spectacular lakes.
7.1. Fairmont Chateau Lake Louise
You will find Fairmont Chateau Lake Louise as a masterpiece in the middle of the Canadian Rockies. It started as a small cabin in the 1980s. Usually, tourists rush to Fairmont Chateau Lake Louise in early June to witness glacier lakes. The front of the hotel presents the best spot on Mount Victoria.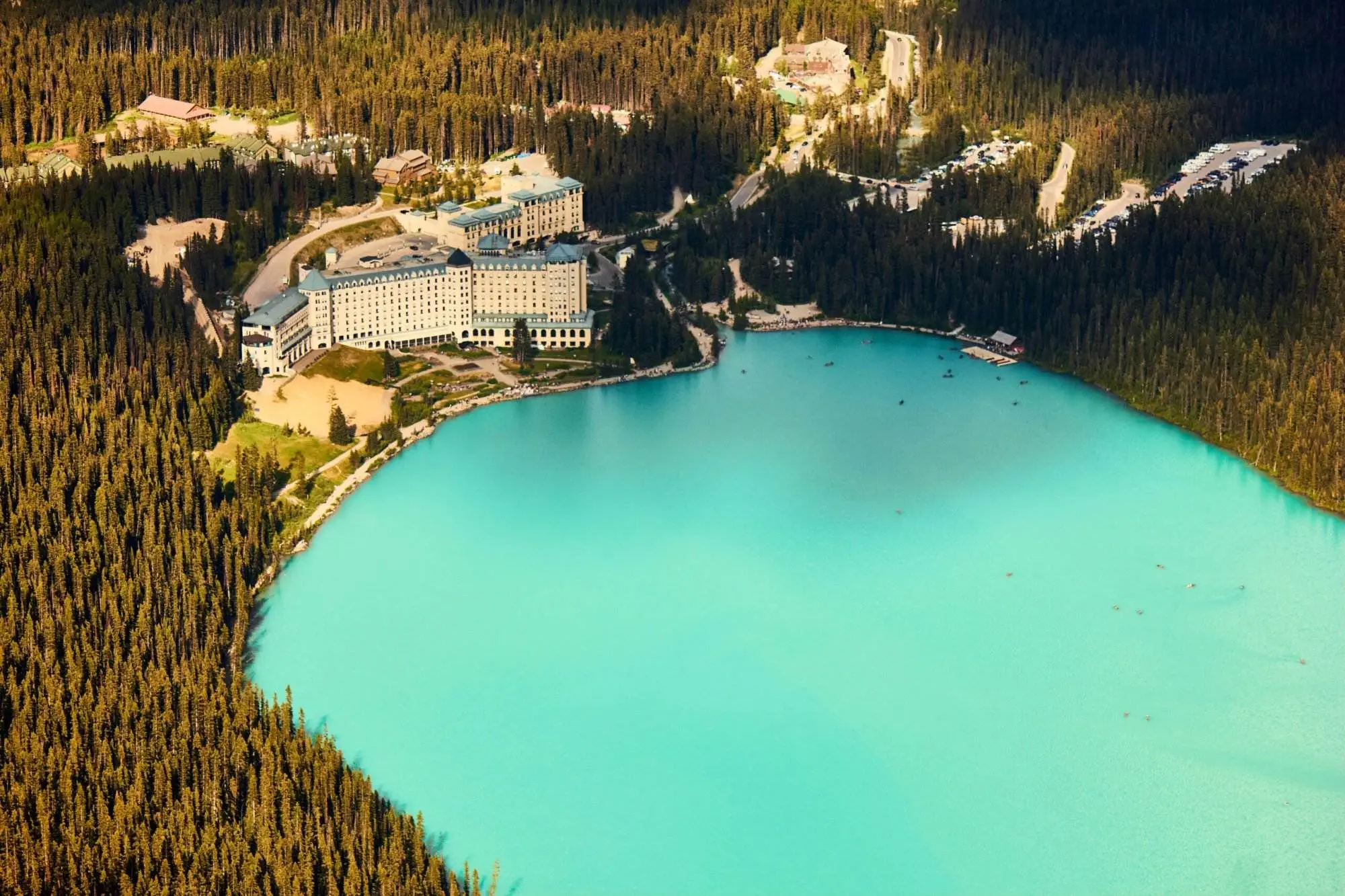 Lake Louise, with its crystal-clear water, mirrors this unparalleled natural wonder. It connects to the ancient Canadian Railway. This gorgeous lake nicely frames the picturesque hotel. Sheer beauty surrounds it. Fortunately, this luxury hotel creates a great experience for tourists. They visit here to witness glacial lakes amidst the Rocky Mountains of Alberta. They also visit here to experience the serene, peaceful, and quiet blue waters.
7.2. Moraine Lake
Next to Lake Louise, Moraine Lake is certainly one of the most photographed lakes in Canada. You'll appreciate the Ten Peaks and the towering mountains surrounding it. Hiking around Moraine Lake or kayaking are two of the top options tourists consider.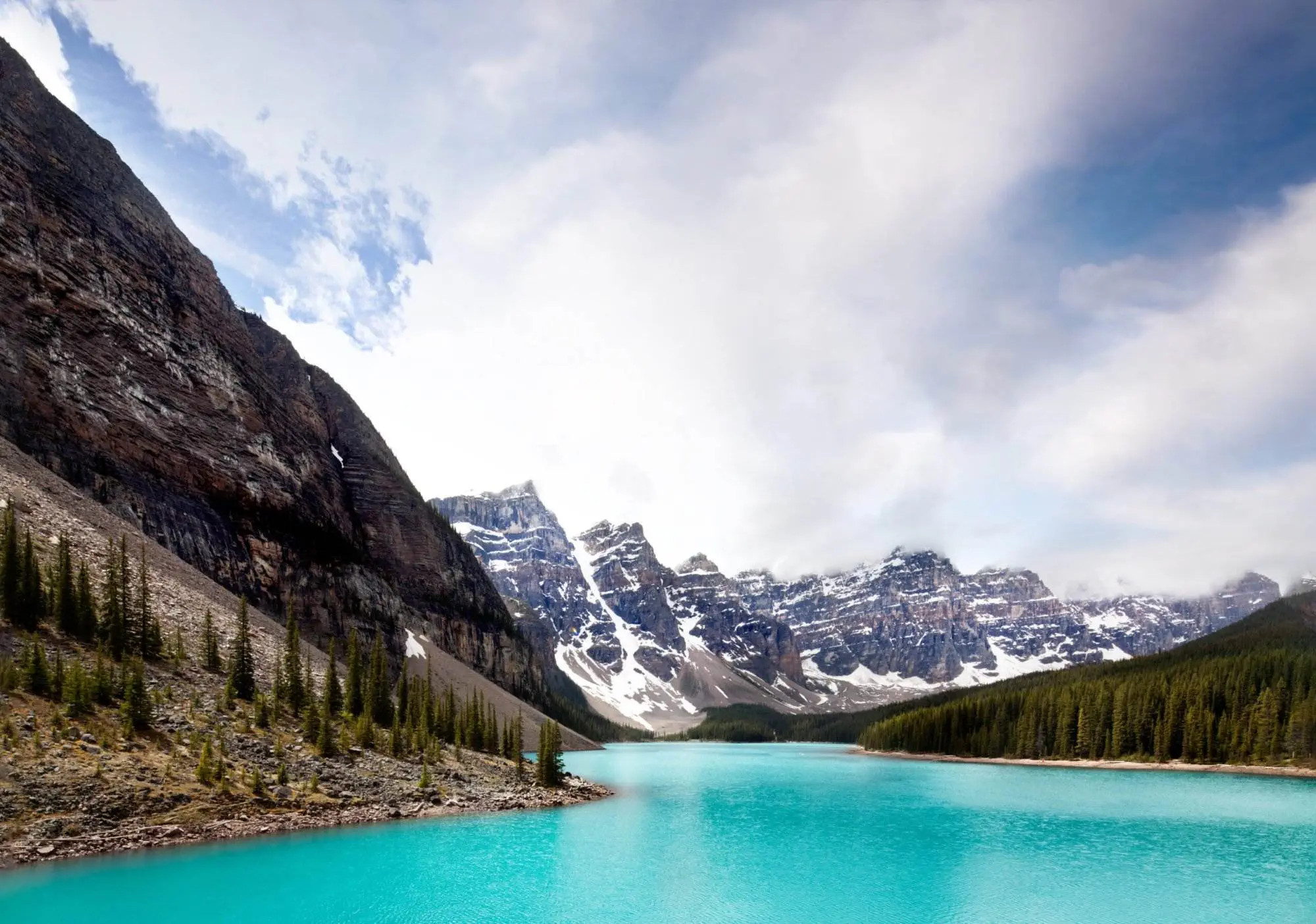 You can witness this lake in lightening conditions, including the sun, ice or snow-capped mountains. One could gaze at it for hours on end. It will always feel fantastic. I recommend going early in the morning when fewer people are at the lake. It is when the sun starts illuminating the mountains. It is a priceless experience to be near this stunning lake.
7.3. Bow Lake
If you are visiting Banff or Jasper, stop at Bow Lake. It is small in size, located near the Bow River. Discover easy exploration and a natural environment along the lake shore.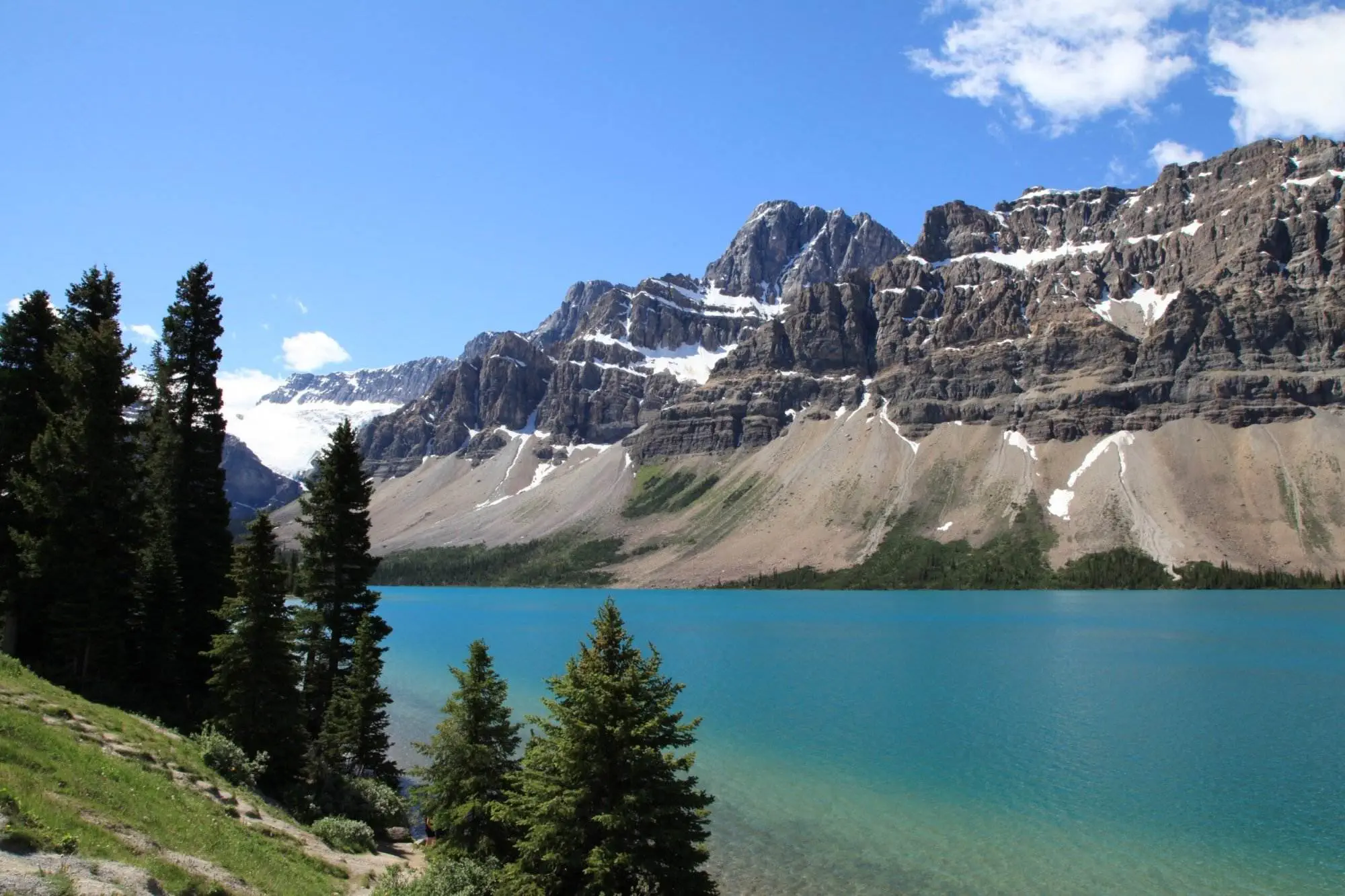 Prefer to visit Bow Lake when the sky is clear. This will help to witness a different glacial setting with crystal-clear water. Ultimately, it is another destination to cherish your eyes with turquoise water. Additionally, it offers a perfect view of the Canadian Rockies.
7.4. Peyto Lake
In Alberta, near Icefields Parkway, lies another silent glacial beauty: Peyto Lake. It portrays the look of a mighty fish in blue-green waters. One wonders if Peyto Lake will wake up any second with splashing glacier water like a shower.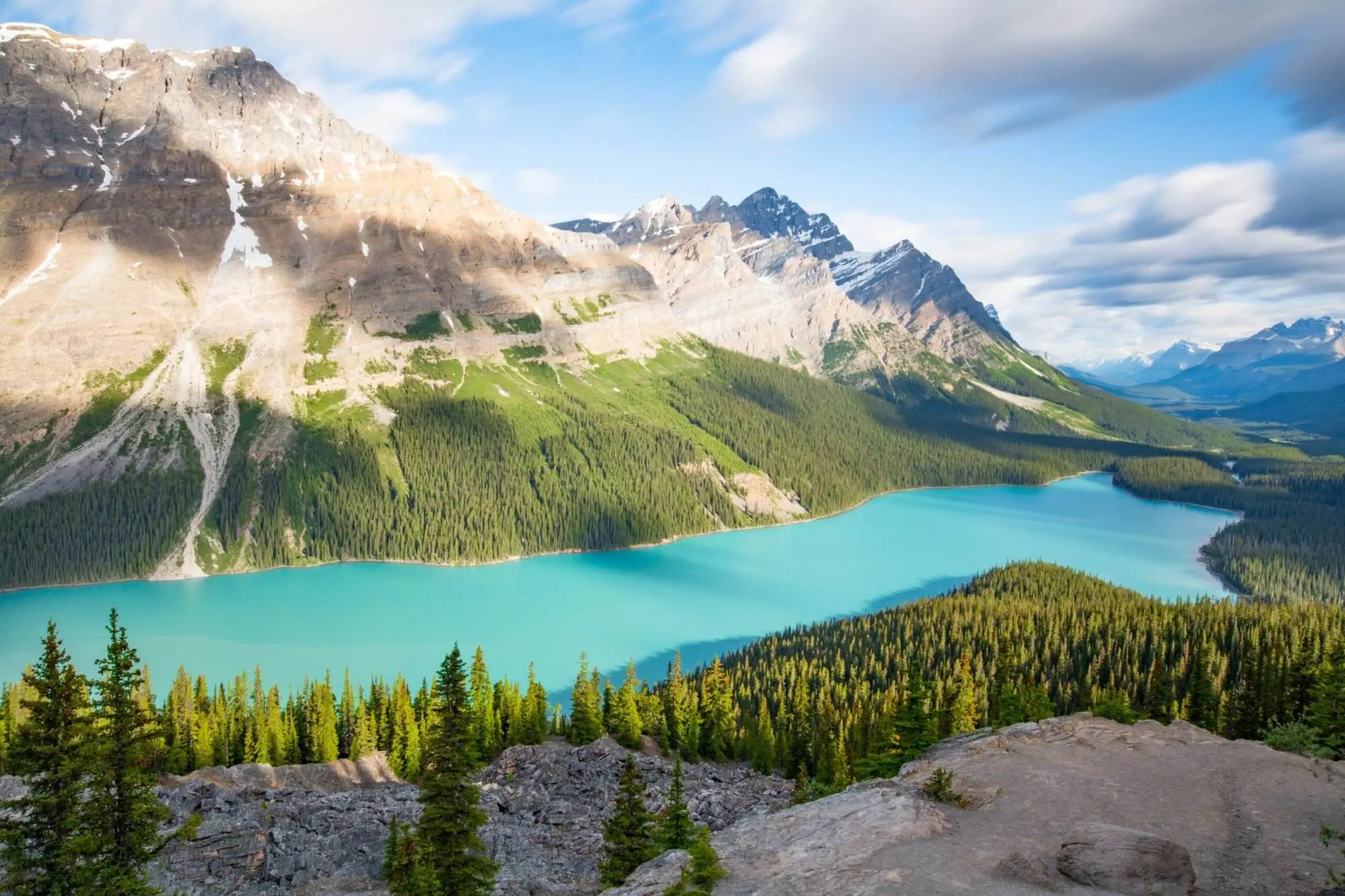 After the meltdown of glaciers, there remains a peculiar blue-green light on its surface. Without interruption, Peyto Lake displays an epic picture of the surrounding mountains. Additionally, green-packed forests add another level to its unmatched beauty.
7.5. Grassi Lakes
In the Rocky Mountains of Alberta, the upper and lower Grassi Lakes present a crystal-clear turquoise colour. They bear the name of Lawrance Grassi, a trail-building expert, hiker, and climber of the Canadian Rockies.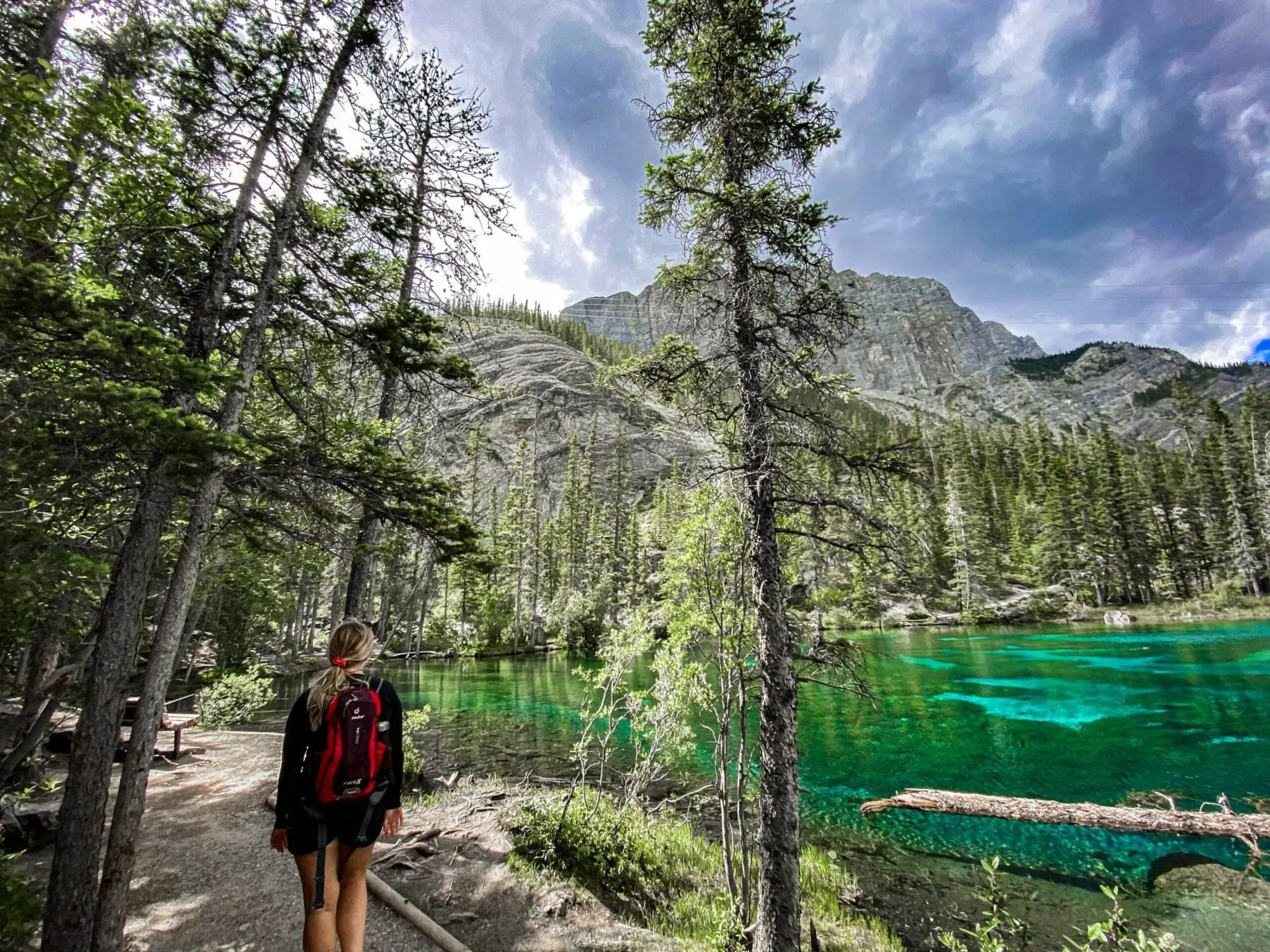 As you start hiking on a Grassi Lakes trail, you begin gently wandering along the green-packed forest. On the way, waterfalls and melodiously moving springs will frame your view. Luckily, the top rock climbing destination of Grassi Lakes has rocky highs for the best climbing thrills.
7.6. Maligne Lake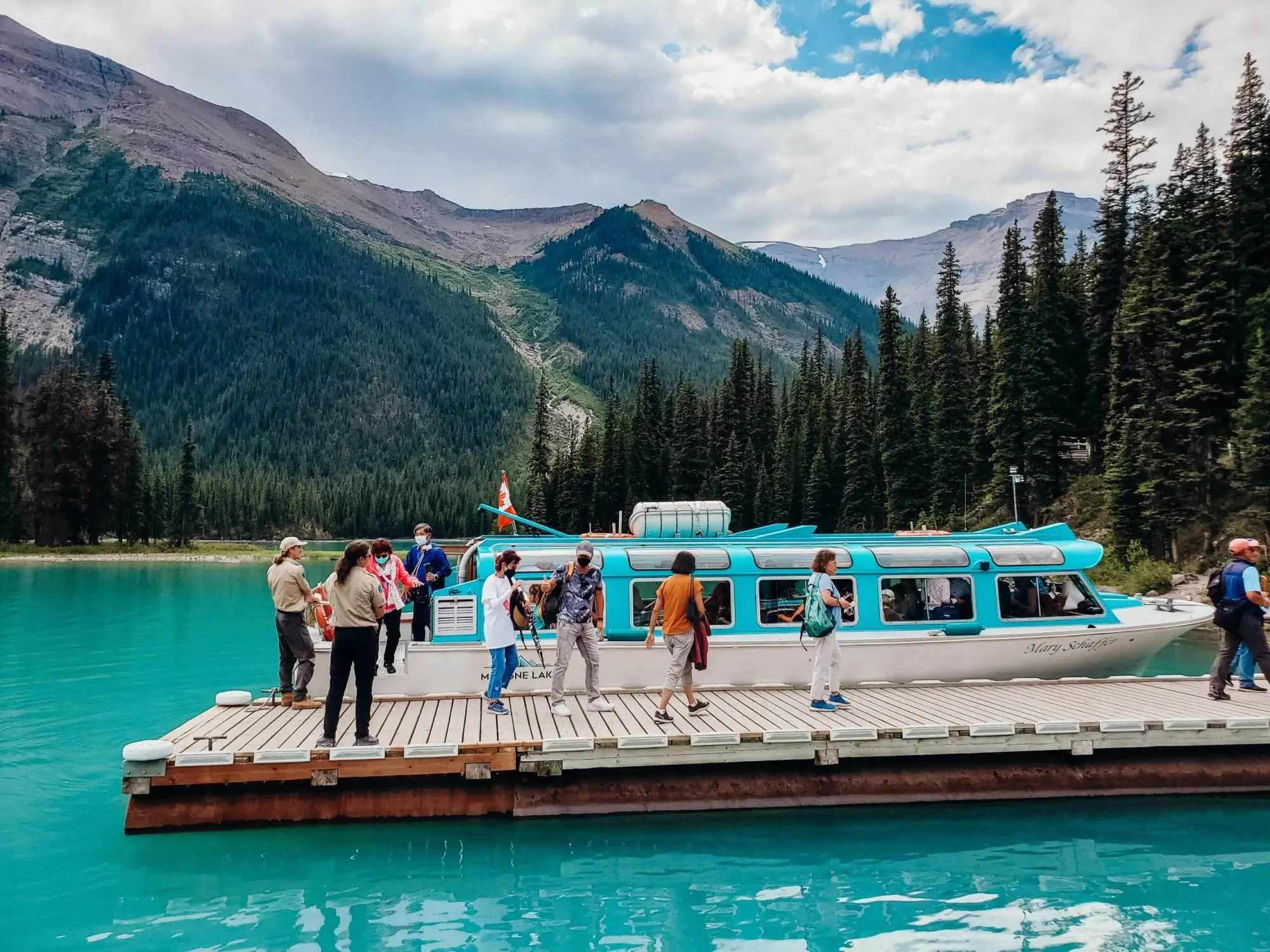 Maligne Lake, in Jasper National Park, offers more than stunning scenery and glacial meltwater. It is well-known for its cruising expedition to Spirit Island. This glacial wonder offers beautiful views of picturesque mountains, hills and glaciers.
It is an addition to experiencing the glacial, crystal-pure water. Specifically, cruising around will provide plenty of opportunities to enjoy wildlife sightings. You will be grateful for viewing moose, bears, and bald eagles gliding across the turquoise-colour water of Maligne Lake.
7.7. Emerald Lake
Driving along the Trans Canada Highway is fun to reach Emerald Lake. Yoho National Park is home to this glacial body of water. Here, hiking lovers will enjoy the 5.2-kilometre loop trail. It has an 8-kilometre circle with ample exploring area. One-half of the walk around the lake is stroller-friendly, but it offers a variety of sights. You can also rent a boat here.
With songbirds dressing the trees, the lake is a well-liked location to watch sunrises. Usually, it draws crowds in the summer months. Nevertheless, there are reasonable and fun activities like kayaking that let you escape the crowds.
Next summer, unlock your adventure at Lake Louise. You can develop lifetime connections along the shores of this natural beauty. You will definitely enjoy these meaningful experiences in the Canadian Rockies.
You can also witness other blue-green waters in the Canadian Rockies is a complementary cure. Cherish every gift of the secret medicine across the Canadian landscape.