Want to go on a pleasant vacation but can't leave your furry friend behind? Does the prospect of leaving your pet under someone else's care, worry you? Do not let these thoughts dishearten your inner adventurer.
At Banff, dogs are always welcome.
Your pets can be the best travel buddies, why should they miss out on all the fun? Take them along with you to see the world outside! You and your dog could pay visits to many pet-friendly pet-friendly locations across the world. Banff National Park in Alberta, Canada is a gorgeous summer destination, with its stunning mountains and picturesque lakes.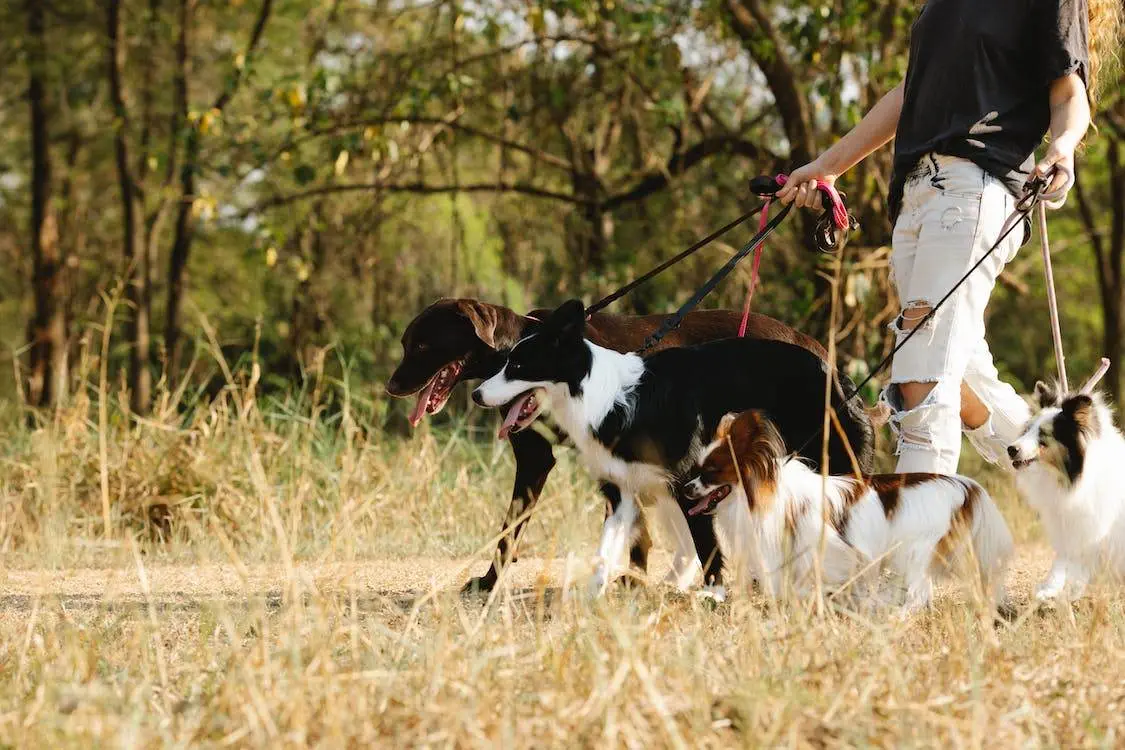 1. Are dogs allowed at Banff National Park: Things to Know
There are a bunch of pet-friendly accommodations and restaurants, spaces, and activities that Banff has to offer, to ensure a fun time for both the pet and its owner. Here are some things one should know about visiting Banff National Park with your dog.
1.1. Always Use a Leash
To visit the Banff National Park, and the other parks in the vicinity, a collar leash is mandatory. It is a strict requirement while your dog is on the lakeshores, hikes, and trails. A useful tip: carry a few spare leashes with you. You could bring longer ones and use them as needed. 
1.1.1. Hawk Avenue Dog Park
There are leash-free areas available at Banff too! In Banff town's industrial area, there is a dog park called the Hawk Avenue dog park for your dog to walk and run around without a leash.
1.1.2. Banff Recreation Grounds Dog Park
This dog park is off Sundance Road in downtown Banff. However, as of June 2023, these two dog parks have been temporarily shut down due to increasing safety hazards. A temporary dog park has been installed near the recreational grounds, where your dog could enjoy some leash-free time.
If you are booking a bus or a shuttle, you do not have to worry either! Banff has a very convenient and affordable shuttle system that is very cordial and pet-friendly. As long as your dog is in a carrier, they can take the shuttle too. Plus, you do not need to fret about parking.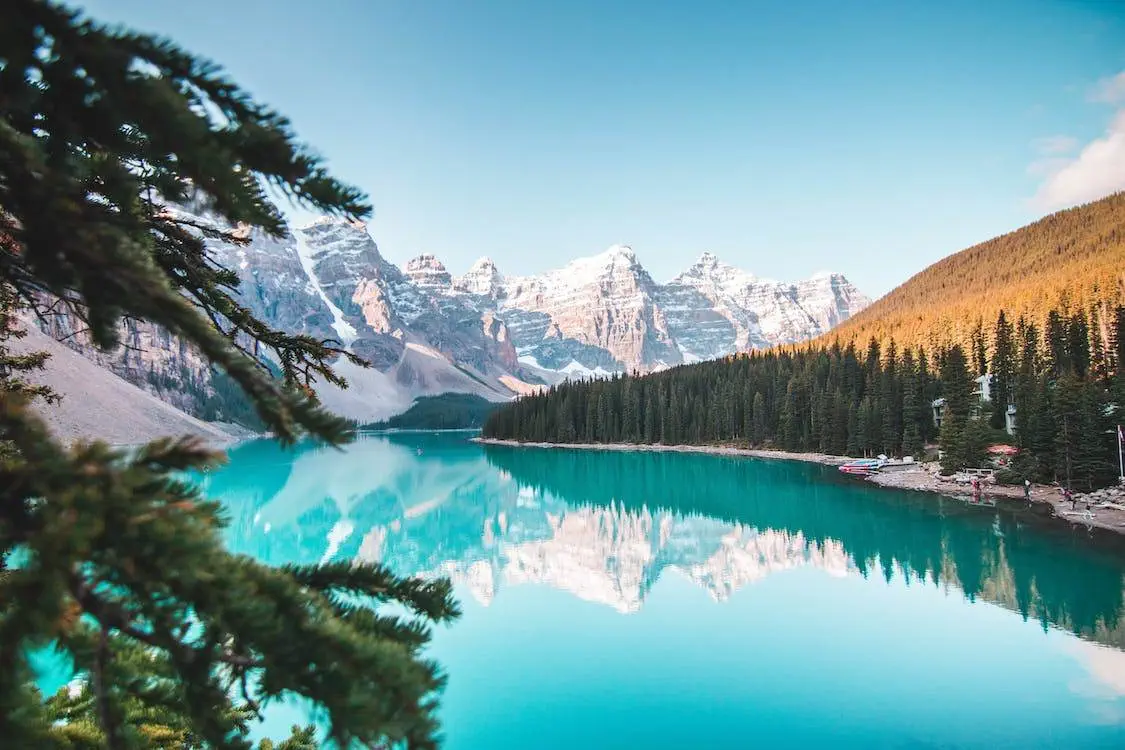 2. Accommodations Tips to Know
There are abundant pet-friendly accommodations at Banff, and most of them charge an extra fee for your pet. Always enquire about the amount while making a reservation. 
Many pet hotels and accommodations demand that you don't leave your pets unattended in your room. If in case you need to leave them alone, you are allowed to do so as long as you have a suitable kennel or a pet crate. Do not forget to leave your contact number at reception for quick communication if the need arises.
Always make sure to enquire about the limit for the size, and number of pets allowed. Before making a reservation make certain that all the particulars of the pet-friendly service at the hotel are suitable for your needs.
The weather in the mountains is unpredictable. At Banff, even in summer, the weather can change whimsically. Make sure to wear or carry some extra layers for yourself as well as for your dog. If you are visiting Banff in the winter, bring some coats and boots for your furry friend to protect them from the cold. It could be advantageous to even keep some medicines handy. Just in case!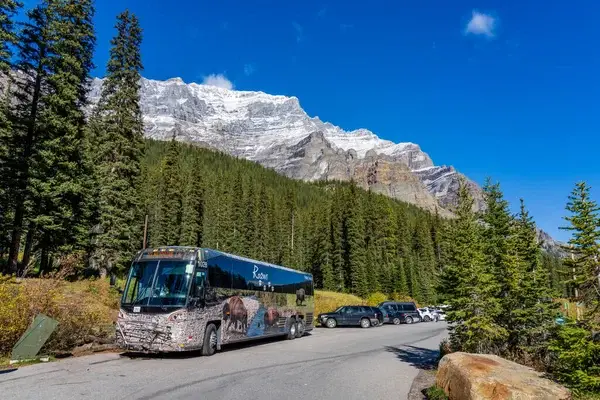 3. The Top Pet-Friendly Hotels at Banff
There is an overwhelming number of options available to you when you're looking for hotels that allow and encourage pets.
3.1. The Moose Hotel and Suites
 Only a minute's walk from the heart of Banff town, the Moose Hotel, and Suites is the most elegant and fancy lodging experience in the town. This hotel is extremely pet-friendly and has good quality service and facilities for dogs.
They are known to even provide dog beds and bowls. You might have even heard about the hot tub on this hotel's rooftop.  There is a pet-friendly patio where you can enjoy good food along with a view. This hotel is on the more expensive side.
3.2. Tunnel Mountain Resort
If you are more into hotels with cabin-style rooms that are bigger and airy, you can check out the Tunnel Mountain Resort. There are condos and suites available here as well. If you have hikes planned in your itinerary, this resort will be convenient.
Situated along the Tunnel Mountain Road, along the trail that reaches up to the mountain, it is very close to the very popular hikes. The pets are provided beds and dishes, even toys and special treats! The usual restrictions like using leashes and accompanying your pets in the room, apply.
Also situated along the Tunnel Mountain trail, the Buffalo Mountain Lodge allows up to two pets. They are allowed in the main lodge for check-ins.
The pet-friendly rooms are on the lower level only. Although the dining room here is not pet-friendly, this is a patio that you can go to.
3.4. Fairmont Banff Springs
If you have a large dog and are struggling to find a place to lodge at Banff, try Banff Springs. The Banff Springs allows the bigger dogs as long as they are well-behaved. They provide good facilities and even offer pet-sitting services.
3.5. Fairmont Chateau Lake Louise
Want a luxurious stay with unreal views of the famous Lake Louise? There are a ton of fun activities that you could do along with your dog around Lake Louise like hiking and paddling. When done for the day you could come back to this spectacular resort and avail its many facilities to create the best trip for you and your fellow traveler.
3.6. Dorothy Motel 
Especially during the peak season, Banff National Park can be jam-packed with thousands of tourists. If you want someplace quiet for your dog, the Dorothy Motel is the best choice. It is affordable and is near Banff town.
3.7. Hidden Ridge Resort
The Hidden Ridge resort is comparatively farther from downtown Banff but has great spectacular views from the rooftop hot tub and balconies. This resort is another great option for large dogs.
Other options like Elk & Avenue, Banff Rocky Mountain Resort, and Canalta Lodge are also available. Make your reservations beforehand so that your rooms can be made pet-ready before arrival. Do not lose time, because most hotels have a stipulated number of rooms for pet owners.
4. Top Fun Activities to Do with Your Pet
Following are some fun activities to do with your pet at Banff National Park:
4.1. A Day at Downtown Banff
The Banff townsite is a picture-perfect place to spend a day shopping, trying out food, walking around, and exploring. Downtown Banff is extremely pedestrian-friendly. In the peak seasons, the main roads are shut down hence there are no vehicles.
Not only will you have a fun time enjoying the souvenir shops and food places, but also be able to take your dog to strut the streets. You can usually meet a lot of dog walkers around here. Who knows, maybe your four-legged friend could make some of his friends on the trip!
4.2. Lake Louise
The spectacular Lake Louise is the biggest attraction that draws tourists from all around the world. This world-renowned lake, with its emerald, green waters in the summer, is a must-visit.   If you need to park your vehicle, it is recommended that you arrive early. Lake Louise witnesses a throng of people all year round, and securing a parking spot becomes tough.
Lake Louise is completely pet-friendly. Why should your dog miss out on the magical waters? There are a lot of water activities that you could try at the Lake. Canoes are pet-friendly, you can take your dog in a canoe into the Lake and appreciate its waters. You could even try paddle boarding. Go for something relaxing afterward, like setting up a picnic at the Lakeshore and catching the sunset.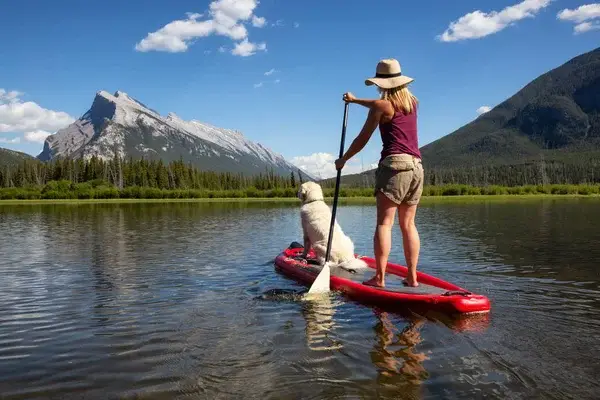 4.3. Go For a Hike
You are in the heart of the spectacular Canadian Rockies, and Lake Louise is surrounded by multiple picturesque snowcapped mountains that you can attempt to hike with your dog. You will get a taste of adventure, and, in the end, be rewarded with a surreal view of the natural environment of Banff.
Especially if you are visiting Banff National Park in the summer, going on climbs and hiking trails is a must. So, take up the various trails at Lake Louise and go for a hike. You are likely to find lesser people uphill, in case you want to get away from the crowd. And do not forget to use a leash and carry bear spray at all times.
It could be tiring, but the view from the peak is mind-blowing. There is an option for the big beehive via the Lake Agnes hike, and you can get a magnificent view of Lake Louise from hikes.
During winter, tourists often prefer these two trails: the Marsh Loop Trail and the Fenland Trail, as they are protected from the chilly wintry winds. These hikes are comparatively easy ones, perfect for families with kids or small dogs. They are close to downtown Banff, only taking a short walk to reach.
Pets are not allowed on chair lifts or gondolas for safety reasons. Neither are they permitted in hot springs. Places with a high number of large bears will also have restrictions regarding the entry of pets.
4.4. Spend Some Time at the Lakes
The Vermillion Lake is a serene Lake at Banff, bordered by Mount Rundle. At sunrise or sunset, Mount Rundle reflects itself on the blue waters, creating breathtaking scenery. Lake Vermillion is known to be pet-friendly as well. You could visit this Lake to have a peaceful day with your dogs at the beach.
The Bow Lake is an easy place to take walks, picnics or even sit and enjoy the views. You could bring your dogs along to indulge in these relaxing summer activities. If your dog is fond of the water, you could take him along for a quick swim in the crystal-clear waters of this lake!
Also, the Bow Falls viewpoint is an excellent sightseeing spot for pets and humans alike. You can take the Bow Glacier Falls trail, which is about 5 km in length.  The Banff National Park overflows with pristine Lakes and Lake Moraine is another one of them. You could attempt the Moraine Lakeshore trail for an easy-to-do activity. This trail has minimal elevation but a multitude of viewpoints that you can enjoy.
Another popular picturesque Lake at the park is an ideal place to stroll around the shore. However, hiking at Minnewaska is restricted due to high bear activities in the area. 
If you visit Banff National Park in summer, Lake Louise and Lake Moraine are famous for water activities like canoeing and kayaking. These tourist hotspots are generally overcrowded in the peak seasons and could be overwhelming for your pet. For escaping the crowd, Lake Johnson and Two Jack Lake are ideal.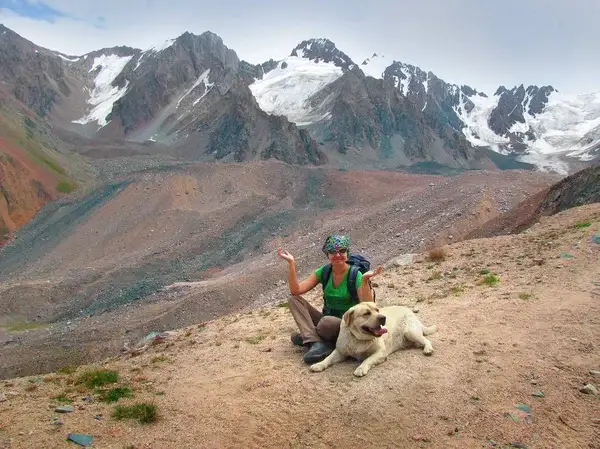 5. Final Words
The Banff National Park houses a diverse range of wild animals. You can spot grizzly bears, mountain goats, elks, deer, caribou, and even wolves. While travelling with your pet, it is extremely crucial to be safe and avoid unwanted danger. It is recommended to avoid hiking to isolated areas, as you are very likely to encounter potentially dangerous bears on hike trails.
Always travel in groups and keep bear spray with you at all times. Making your dog wear bear bells can also be an effective way to avoid being targeted. Avoid wildlife while exploring the area, and if encountered do not go near them or feed them. Stay alert at all times. Your dog might sense nearby danger before we humans do, so stay on the lookout for any signs!