There are many ways to experience Jasper's magic, including the best things to do that we've highlighted below, no matter what time of year you come.
Traveling during the winter? What about going dogsledding, going on an ice walk down Maligne Canyon, or snowboarding in the Rockies?
Why not check out the nearby hiking trails, go white water rafting on the Athabasca River, or go on a wildlife viewing excursion if you're going in the summer?
Check out our selection of the best Jasper attractions whether you're searching for a high-adrenaline activity or a more relaxing approach to take in the splendour of the Rockies.
1. Tour the Columbia Icefield and Icefields Parkway
1.1. Tour the Columbia Icefield
A visit to the Columbia Icefield is essential if you're looking for an adventure of a lifetime. In one fantastic adventure, this activity allows you to cross off several items from your bucket list. You will first get a chance to experience the spectacular Icefield Highway firsthand. The fact that someone else will be in charge of driving will be the best thing because it will free you up to unwind and take in the scenery as you pass mountains, glaciers, and wildlife.
You'll board the Ice Explorer, a tough bus-like vehicle with the biggest winter tyres you've ever seen when you eventually reach the Columbia Icefield. En route, you'll stop at Athabasca Falls, a truly breathtaking Class 5 waterfall that is worthy of a destination in and of itself.
You will get the opportunity to safely explore the Athabasca Glacier on foot during the excursion, which will transport you there.
Check out the Skywalk, a one-kilometer-long walkway that leads you out to an all-glass platform with breathtaking views all around you and below you, if you're in the mood for one last thrill before the drive back up to Jasper. Although the glass platform is secure, the plunge beneath your feet can give you chills.
1.2. Icefields Parkway
The Icefields Parkway, one of Canada's most picturesque roads, links Jasper and Lake Louise. This 230-kilometer highway route passes by glaciers, waterfalls, mountains, and lakes.
There are rest spots along the road, allowing motorists to exit their vehicles and take in the scenery. This place is one of the most amazing tourist destinations in Alberta.
Many of the hiking trails along the way are day hikes that end in breathtaking vistas of the glaciers or adjacent lakes. One of the top attractions along the Icefields Parkway is the Icefields Centre. This expansive visitor centre overlooks the Athabasca Glacier and features top-notch exhibits about the Columbia Icefields.
The models and images in the middle offer a unique viewpoint that makes it simpler to comprehend the size and shape of the icefields than it is from the road.
Crossing from the center, you can stroll right up to the glacier's toe. As an alternative, tours are provided with that transport visitors onto the glacier using vehicles with specialized equipment.
The Glacier Skywalk, a sizable observation platform with a glass floor and rails that climbs 280 meters over the valley below, is one of the area's newest attractions. A shuttle service is offered from the Icefields Center to the Glacier Skywalk.
The Columbia Icefield Tour, which departs from Banff and can be completed in a single day, includes the Glacier Skywalk, an all-terrain vehicle trip onto the glacier, and a breathtaking drive through the Icefields Parkway.
To fully explore this area, you'll need a few days; most tourists stay in the Lake Louise area. Camping is a far less expensive alternative. Along the Icefields Parkway, there are several wonderful campgrounds, some of which are near gorgeous walks and magnificent landscapes.
 2. Soak in Miette Hot Springs
For a relaxing dip in mineral-infused natural hot springs, travel 60 kilometres to Miette Hot Springs, which holds the reputation of being the hottest hot springs in the Canadian Rockies.
The water in the pools where bathers congregate is cooled to a more tolerable—but still toasty—40 degrees Celsius (104 degrees Fahrenheit) from the hot springs' piping-hot 54 degrees Celsius (129 degrees Fahrenheit) starting point on the mountain. If you want a hot-and-cold experience, there are a few different pool options to pick from, including a few that are quite frigid.
The pool's views are excellent in addition to the calming water, which is rich in sulphate, calcium, bicarbonate, magnesium, and sodium. Combining these elements will result in the most soothing experience possible.
The pools are open from early May to mid-October; however, they are closed from late fall to early spring. There are lockers and showers on site, and it's a smart idea to bring a pair of sandals.
3. Hike in Jasper National Park and Stay at Fairmont Jasper Park Lodge
3.1. Hike in Jasper National Park
Jasper National Park is a real hiking mecca, offering a plethora of activities to keep you busy while you're there.
Check out the picturesque Bald Hills trek for a strenuous day climb that offers views of Maligne Lake. This climb, which is 10.4 kilometers long and takes four to six hours to finish, offers breathtaking vistas all along the route.
The 44-kilometer Skyline Trail is a must-do for multi-day hikers; depending on how rapidly you want to walk, it usually takes two to four days to finish. This climb, which gains 1,380 meters in height, takes you above the tree line and offers panoramic vistas that will inspire you.
Try the Wapiti route if you'd rather keep things simple; at 9.4 kilometers, it's still quite a distance, but there is no gain in elevation. You'll need two to four hours to finish it.
3.2. Fairmont Jasper Park Lodge
In the Canadian Rocky Mountains, on the banks of Beauvert Lake, is a resort with an amazing golf course, eight on-site dining options, and a 10,000-square-foot spa.
At The Fairmont Jasper Park Lodge, every room offers a refrigerator and a flat-screen TV with family-friendly programming. Warm, neutral colours are used to decorate some of the rooms, some of which have lake views.
Orso Trattoria Restaurant & Terrace, which provides casual gourmet dining with views of the lake and mountains, is one of the on-site eating alternatives. Canadian gourmet cuisine is available at Fitzhugh's To Go, including freshly made sandwiches with premium meat.
In the winter, visitors can ice skate or cross-country ski on Beauvert Lake. Summertime favorites include swimming in the outdoor pool and horseback riding.
The Jasper Fairmont Park Lodge is located in Jasper National Park. Town Jasper is 4.3 miles away. The VIA Railway Station is 9 minute drive from the Fairmont Jasper Park Lodge.
4. Travel by Dogsled
One of the earliest types of winter transportation is dog sledding. There are a few different businesses in the Jasper area that offer dogsledding tours. Each one has a different itinerary and covers different terrain, but they all let you explore Jasper while getting to know a team of adorable huskies.
You'll be astonished at how smooth the ride is and how much ground the dogs can cover when you're nestled into the sled. The musher, who rides on the sled's back, acts as a kind of director for the dogs, telling them when to go faster or slower. The majority of tours give visitors the chance to practice pulling the sled themselves.
The length of the tours ranges from a quick hour-long journey to an overnight expedition where you stay in a log cabin out in the wilderness. Wintertime participation in this Jasper activity is required, so be sure to dress warmly.
5. White Water Raft on the Athabasca River and Visit Athabasca Falls
5.1. White Water Raft on the Athabasca River
You can take a peaceful trip down the Athabasca River in Jasper National Park without any prior whitewater rafting experience. Your guides will teach you all you need to know to have a memorable, enjoyable float. This is one of the top Jasper attractions.
Children as young as six years old can participate in beginner trips that include Class 2 rapids, which are thrilling but still approachable. If you believe you are too elderly to participate in this activity, reconsider; octogenarians have been known to hoot and yell their way down the river. The glacier-fed river is extremely frigid even though white water rafting is a summer pastime (available from May to September).
Wet suits, neoprene booties, life jackets, and paddle jackets will all be provided by your outfitter to keep you warm and safe; all you need to bring is a bathing suit or other clothing that you don't mind getting wet.
5.2. Visit Athabasca Falls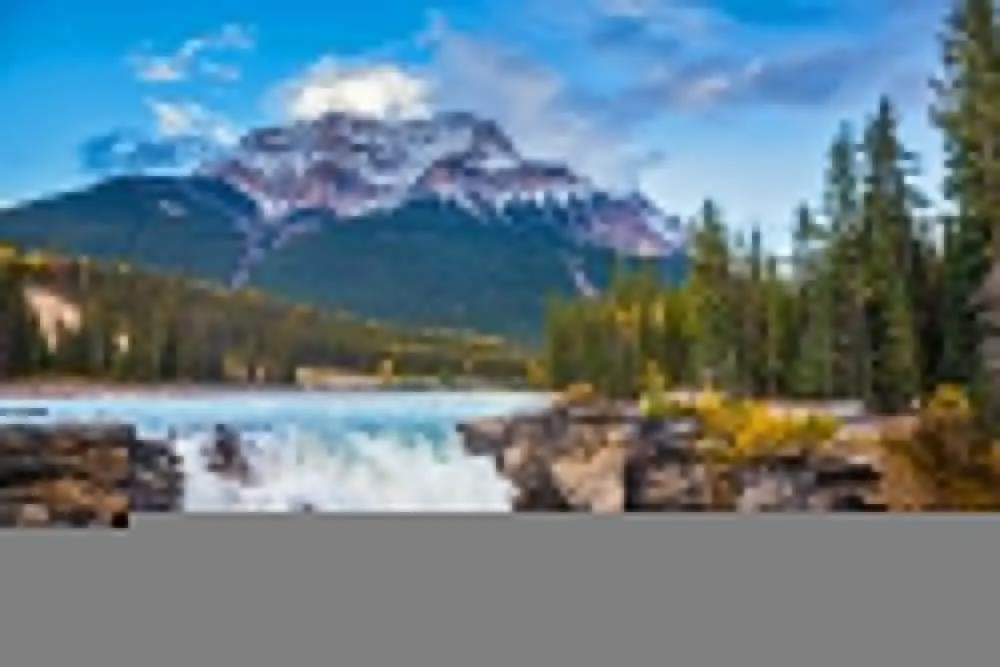 Despite not being the highest waterfall in the Canadian Rockies, Athabasca Falls, which is only 23 meters high, is one of the most powerful ones because glacial water from the Athabasca River is pushed through the narrow ravine.
When watching and photographing the falls from platforms and walkways, be careful of your footing and never cross over the barricades because the mist might make them slick. It may be accessible through Highway 93A, which departs from the Icefields Parkway, and is located 32 kilometers south of the town of Jasper. The falls are easily accessible on foot, and there is plenty of free parking.
6. Explore Maligne Canyon on an Ice Walk and Maligne Lake
6.1. Explore Maligne Canyon on an Ice Walk
Have you ever climbed through the renowned Maligne Canyon? You may have seen images of it. When the winter canyon freezes over, it's time to go exploring. Put on some ice cleats and thick clothing.
With its ice caves, frozen waterfalls, and stunning ice formations, it resembles a scene from the animated movie Frozen. You will be taken deep into the canyon on the three-hour, 3.5-kilometer Maligne Canyon Ice Walk Tour, where you will have numerous opportunities to awe at the ice. The path is primarily downhill and mountainous in spots, so participants should feel comfortable engaging in moderate physical exertion.
As you move through the tour, your guide will take the time to explain all the remarkable features of Maligne Canyon and the Maligne Valley.
Visitors are required to carry the majority of the snow gear they will need, but the tour operator will supply the ice cleats, helmets, and extra-warm winter boots.
6.2. Maligne Lake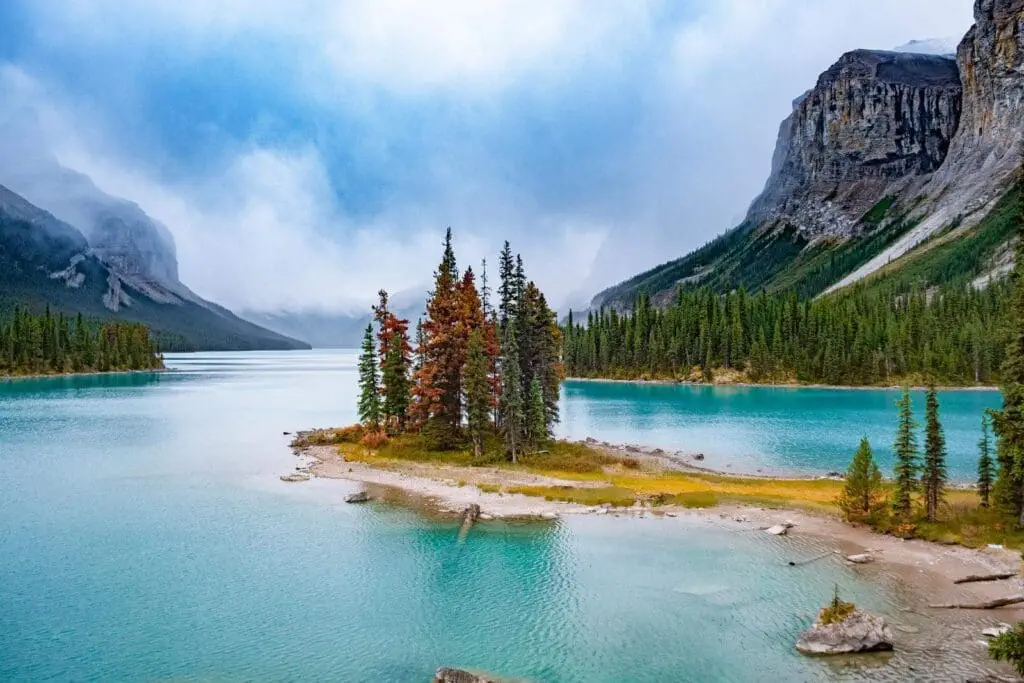 Take a boat tour on this stunning turquoise lake, and don't forget to pack your camera because you'll be visiting Spirit Island, one of the most popular photogenic locations in the world.
Getting there is half the fun because the 48-kilometer trip from the town of Jasper is so breathtaking and offers so many opportunities to see wildlife. There are lots of paths for mountain biking and hiking.
7. Ride the Jasper SkyTram
Take the Jasper SkyTram up to the top of Jasper National Park to appreciate the breathtaking vistas. Up to 26 passengers can ride an aerial tramway up to 2,263 meters in 7.5 minutes. There is a lot to take in with the incredible 360-degree vistas; fortunately, each tram car has an operator who will explain what you are seeing and will point out details you might not see on your own. Don't forget to glance below; you might see some wildlife there.
To ride the SkyTram, you must make a reservation, however, cabins leave every nine minutes or so. Once you reach the top, you are free to continue exploring until you decide to download.
What can be done at the top? Along with admiring the views, you may trek up to the top of Whistlers Mountain for even more breathtaking panoramas. You can just stroll the boardwalks next to Upper Station if you wish to keep it calm. You can don snowshoes and go on a walking tour throughout the months other than the summer; rentals are offered on-site.
The full-service Summit Restaurant is a terrific spot to go once you've worked up an appetite. The vistas are breathtaking, and the food is delicious.
Mid-March to late October/early November is when the SkyTram operates on a seasonal basis. Bring clothing whenever you go because the weather is often 12 degrees Celsius cooler up top than it is in the city, regardless of the time of year.
8. Stargaze at Jasper National Park's Dark Sky Preserve
When was the last time you looked up to appreciate the beautiful night sky? Many of us reside in or close to urban areas that generate light pollution, making it difficult to view many, if any, stars.
As a recognized Dark Sky Preserve, Jasper National Park goes above and beyond to reduce the effects of light pollution. The second-largest black sky preserves in the world, it has a surface area of 11,000 square kilometers.  The result is a pitch-black sky with brilliant stars. To fully appreciate it, you must witness the scene.
Even though you can admire the night sky all year round, the Jasper Dark Sky Festival happens in the middle to end of October each year. The festival features a symphony under the stars, courses on night sky photography, moon observation programs, planetarium visits, and a strong roster of scientific speakers. If you are fascinated by stars, you must attend this festival.
9. Take a Wildlife Tour and Visit Pyramid and Patricia Lakes- Jasper National Park
9.1. Take a Wildlife Tour
On a Jasper-led wildlife tour, you might come across a variety of animals, including mountain goats, elk, grizzly bears, and black bears. Numerous creatures, ranging in size from large (such as moose) to small (such as pika), can be found in the national park, and viewing wildlife in its natural setting is an exhilarating and informative experience.
The local guides can provide you with a lot of information about the local animal population and are familiar with the best places to see sightings. For the benefit of both you and the animal, they will give you instructions on how to view wildlife safely.
Because animals migrate and hibernate, different seasons offer varying chances to see wildlife. On winter tours, you might see moose, coyotes, deer, wolves, and elk; on summer excursions, you might see grizzly bears, mountain goats, and bighorn sheep. Tours are available all year long. Please remember to bring your camera!
9.2. Visit Pyramid and Patricia Lakes – Jasper National Park
Jasper is surrounded by stunning scenery because it is a part of the Canadian Rocky Mountains. Pyramid and Patricia Lakes are two of the easiest locations to enjoy what Jasper is famous for.
These two lakes are only 8 km from the Jasper townsite, where you may see Jasper's subalpine woods, rugged mountain peaks, a huge trail network (the largest of any Canadian national park), and frequent wildlife sightings. Mule deer can be seen in the wild along Pyramid Lake Road and Jasper National Park.
When traveling down Pyramid Lake Road, Patricia Lake is the first lake you'll encounter. No matter how often you go, you will stop and take pictures of Patricia Lake's reflecting Pyramid Mountain. Simply put, it's lovely!
Take the 3.4 km Patricia Lake North Loop if you want an easy hike; part of the trail follows along the coastline.
Patricia Lake is not only lovely, but it also has a fascinating past. An unsinkable aircraft carrier prototype was created here during World War II. Pykrete, a combination of ice and wood pulp, was used to make it. The ship was left to scuttle in situ once the project was abandoned. In the 1970s, the model's remnants were discovered.
A little further up the road from Patricia Lake is Pyramid Lake. Walking on Pyramid Island is one of the highlights of a trip to Pyramid Lake.
If you didn't pack a lunch, you can stop by the Pyramid Lake Resort for a bite to eat. From every seat in the house, you can enjoy a stunning view of Pyramid Lake.
Pyramid Island is a great spot for a picnic as well. There is plenty of time for taking in the views because Pyramid Island is so small and can be explored in a short amount of time.
Nearby mountain biking and hiking trails are plentiful. Pyramid Lake also features a sandy beach and picnic areas along the coast. Kayak, canoe and paddleboat rentals are available at Pyramid Lake Resort. Cross-country ski tracks and a sizable skating rink have been plowed into Pyramid Lake in the winter.
10. Ski or Snowboard at Marmot Basin and Cross-Country Ski through Jasper National Park
10.1. Ski or Snowboard at Marmot Basin
Look no further than Marmot Basin if you've always wanted to go skiing in the Rocky Mountains. Marmot Basin has the greatest base elevation of any ski resort in Canada, at 1,698 metres, which produces a lot of new, fluffy snow. It is the ideal choice for a day vacation because it is only a short drive from town.
Spread across five distinct mountain faces, the mountain's 1,702 acres of beautifully skiable terrain are available. Access to the entire mountain is made simple by seven ski lifts, which offer alternatives for skiers of all abilities, from novice to expert. You can find it at Marmot whether you choose to ski groomers, trees, bowls, or terrain parks.
The ski season in Marmot Basin normally begins in mid-November and lasts until early May. Expect extremely chilly on-mountain conditions if you're skiing between December and February; dress warmly and take breaks inside as necessary.
10.2. Cross-Country Ski Through Jasper National Park
Cross-country skiers, rejoice: there are five unique cross-country ski areas with a variety of terrain in Jasper National Park.
Beginners will love Pyramid Mountain's straightforward 4.4-kilometer circle with little elevation change, while experts may take on the 15-kilometer Pyramid Fire Road with its difficult 533-meter climb.
Additional simple tracks may be found at Pipeline Trail, Wabasso Campground, and Athabasca Falls, while Whirlpool Winter Hub has some excellent possibilities for intermediate skiers.
If you don't have a pair of cross-country skis of your own, you can rent some in the nearby town. Remember to layer up; even though Jasper's winters are chilly, it's simple to get a nice sweat going on the trails.
I sincerely hope you liked reading about the best Jasper attractions and were motivated to try and visit a couple of them if you haven't already. Make travel plans to Jasper National Park as soon as you can; you won't regret it.