Toronto is a fantastic city to live in; it's modern, vibrant, and full of energy, and it'll provide you with plenty of surprises each day.
With its renowned CN tower, islands, vibrant, stylish districts, buildings, enormous markets, and an expansive vista of Lake Ontario peppered with skyscrapers; it may dazzle.
What Are the Various Free Things to Do in Toronto?
With our list of 10 free activities in Toronto, you won't miss any of the major tourist attractions without blowing your budget.
1. Visit the Distillery District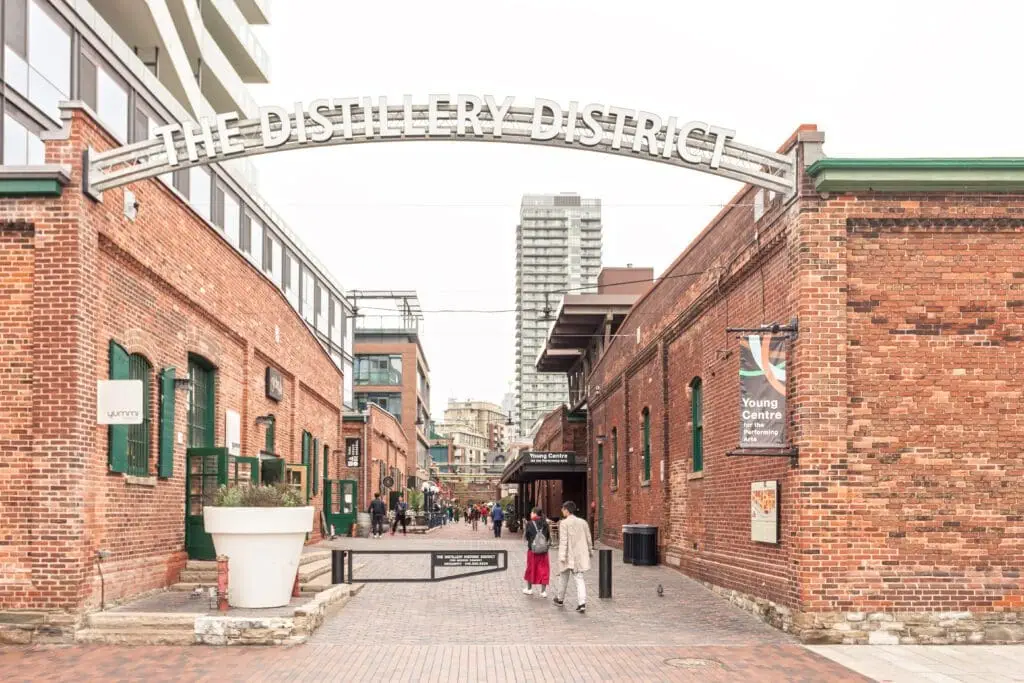 Located in the heart of Old Toronto, the Distillery District is a place simply loved! Entirely pedestrian, this place will offer you a lot of nice little shops and bars that offer local and atypical beers. The walk to get there is not particularly interesting, but you will not be disappointed once you get there.
The neighborhood itself is very cute and, therefore, worth a good detour for a few hours at the end of the day. For gourmets, there are also many restaurants whose menus seem accessible and local products!
If you're looking for what to do in downtown Toronto, don't miss this historic area! There was once a large distillery there (as its name suggests). The buildings seem pretty different from most of the city and are mostly made of red stone. There are a lot of pubs, restaurants, and bars on site, many with terraces. In addition to tourists, this place is very popular with locals!
With so many amazing restaurants to check out, I recommend the Mill street brewpub: it's the most famous distillery in town. The famous house bear, also a bestseller, is unforgettable! And the burgers too! It is fun to be Cool at the ice hockey game nights and enjoy the atmosphere.
2. Take a Trip to Niagara Falls
Niagara Falls is only a 2-hour bus ride from Toronto. What remains of this wonder of nature transformed into Disneyland by the tourist industry? Is it still possible to be moved by the beauty of the place in the middle of this fair?
Well, yeah! The falls are sublime, and even in the midst of all the commotion that reigns there, the spectacle is well worth it. I advise you to go see them without taking an organized tour. You will have too much time to embrace it. The idea is to spend a night there to see the waterfalls brightened at night, and the fireworks here are breathtaking.
There are many attractions offered on the site of the falls: the best is the boat tour which allows you to go closer to the falls. If you have a budget (about 95 euros on this website ), flying over the falls in a helicopter is the most exceptional thing. It's grand!
3. The Botanical Garden of Toronto
Places like the Botanical Gardens seem particularly special, perhaps because there isn't much greenery in Toronto.
It's not just convenient and magical; it's also among the top free activities in Toronto. When the pace of the city becomes a little too stressful and demanding, it is the ideal spot to replenish your batteries by completely immersing yourself in nature.
Its stunning aesthetic hedges and flower arrangements make it the ideal location for taking pictures and selfies to impress your friends and fill up your Instagram.
More than just a collection of gardens may be seen in the Toronto Botanical Garden. It is an actual environmental teaching facility that walks guests through ecological farming and sustainable gardening practices. You can learn about the regional flora and the natural world by exploring its seventeen subject parts.
A volunteer will provide information on the gardens during one of the free guided walks; several gardens have won awards in prominent competitions. You will also find there a library and a café to catch your breath after so much magnificence.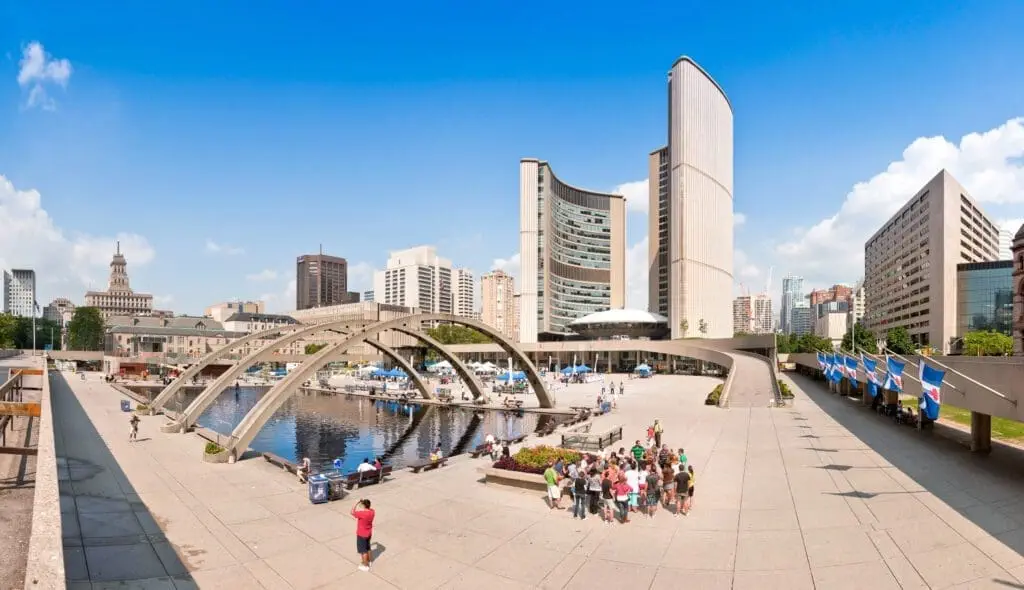 5. High Park: With The Best Free Tours in Toronto
Some see it as Toronto's response to Central Park. However, this large park, which covers 161 hectares, has a distinct identity.
From the perspective of specialists, we can state that it is a true oasis in the middle of the metropolis. This park is a jewel with beautiful hiking routes, a rink for hockey, landscaped ponds and gardens, a free zoo, sports facilities, historic buildings, and many other free things to do in Toronto.
Walking is especially enjoyable on the west side, where the Grenadier pond is located, in the summer. Spontaneous hockey matches in the winter might be enjoyable if you have temporary nets.
You can enjoy the springtime cherry blossom display, just like the tens of thousands of tourists who go specifically for it.
To go to the main areas of interest in the park, including the Colborne Lodge Historical Museum, you can take a "trackless train" or Maglev (a magnetic levitation train that pulls several wagons dressed to look like a red and white train) from spring to fall.
All year round, you can enjoy the zoo, the dog park, and the castle-shaped children's playgrounds or laze around in this wonderful green setting.
6. Harbourfront Center for Year-Round Cultural Events
At Harbourfront Centre, boredom has no place. Musicians, artists, and filmmakers are all warmly welcomed at the cultural center on the lake's shore.
Numerous free or almost free cultural events and festivals celebrating food, literature, dance, live music, and theatre are held annually at this large non-profit arts complex. There is something for every taste, and thus it is one of the most fun-free things to do in Toronto.
In addition to these events, Harbourfront is home to arts and crafts studios, a number of galleries, well-stocked stores with items from across the world and Toronto-made goods, a restaurant, parks, an ice rink, and a small shopping center called the Queen's Quay Terminal. Along with summer camps for kids, Harbourfront Center also hosts classes and workshops for people of all ages.
So keep an eye on the schedule or the website if you want to make your trip to Toronto even more fun.
Don't pass up this special opportunity because most activities are free, but try to get there a bit early.
7. Discover St-Lawrence Market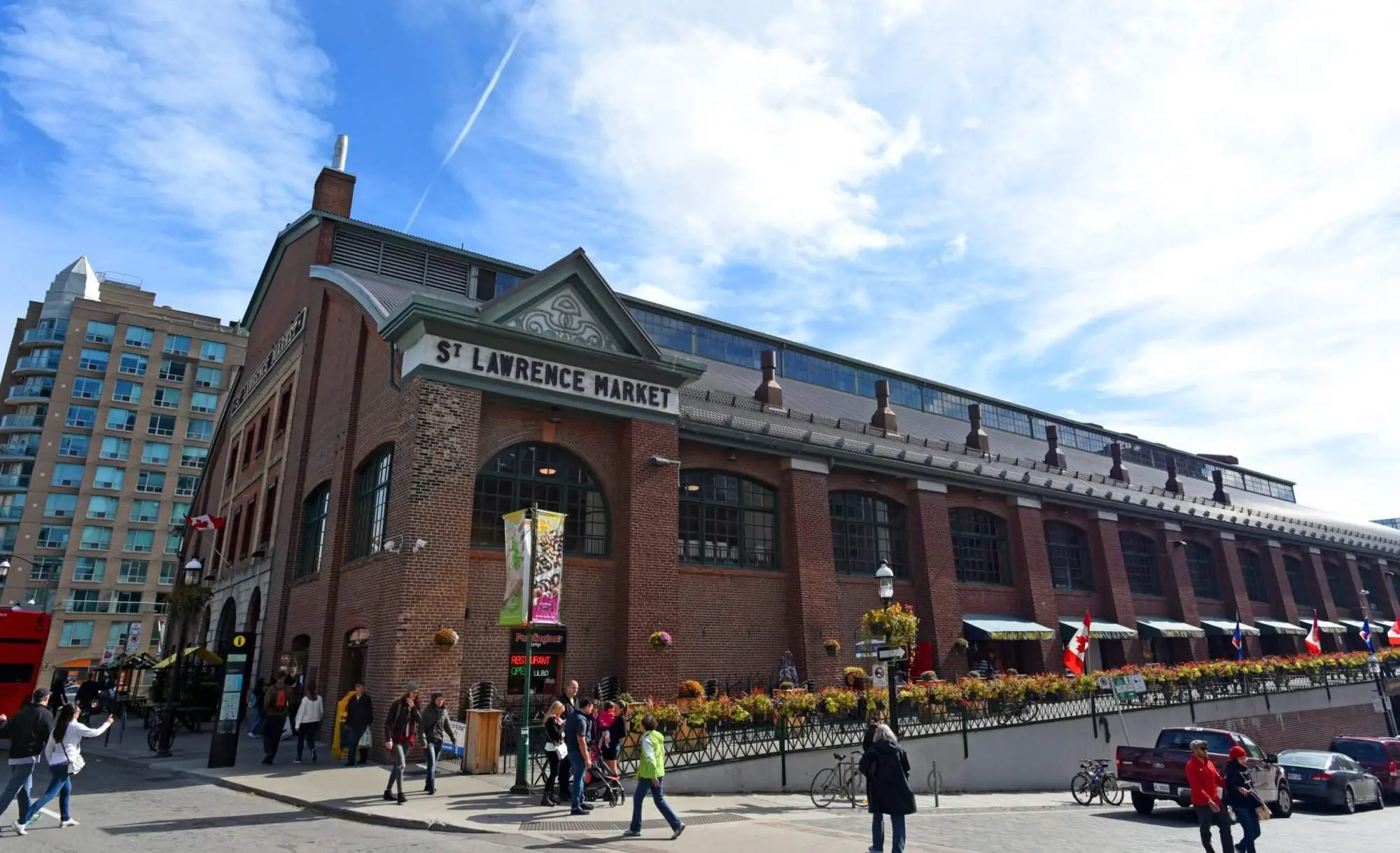 St Lawrence Market is a farmer's market located in the city center, between the business district and the Distillery District. It is a very old covered market with many stalls and fresh products. The atmosphere is pleasant, and the products really make you want to!
This market, established in 1803, is regarded as one of Toronto's most historic locations and one of the top places for foodies to enjoy fresh local vegetables. Fruits, veggies, cheeses, and of course, maple syrup are all available in this covered market. If you wish, you may eat inexpensively on the terrace outside.
Additionally, the market has a public area with enough for more than 120 sellers. A sandwich at Carousel Bakery with peameal bacon, Toronto's famous sandwich that is a great feast for your mouth, or the southeast corner of the Alex Farm Market with its large assortment of local cheeses should not be missed.
Another unmissable stand is where different types of Canadian mustard are sold. Every Sunday, the antique market is a privileged little spot for collectors from afar.
There are even guided tours available where you may partake in tastings and learn a lot about Toronto's history and culture.
If you are interested, go to 92 Front St East. It's open Tuesday to Thursday from 8 a.m. to 4 p.m., Friday from 8 a.m. to 7 p.m., and Saturday from 5 a.m. to 5 p.m. (with an outdoor market opposite the Saint Lawrence Market, the Famer's Market). Attention, it is closed on Sunday and Monday!
8. Walk Yonge Street, the Longest Street in The World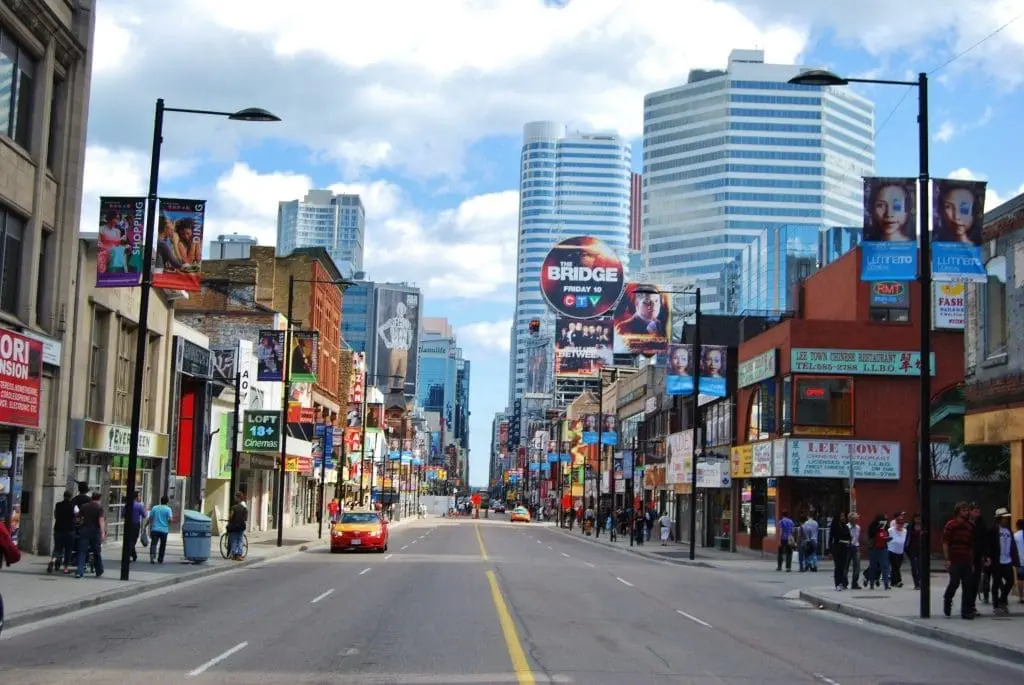 Yonge Street is the backbone of Toronto: it separates the east from the west of the city, from the shores of Lake Ontario to the south, all the way to quite a distance, since it is the longest street in the world- 1,896 km! Taking a walk here is definitely on our list of amazing and free things to do in Toronto.
The intersection with Dundas St marks the city's heart. Dundas Square is the equivalent of Times Square in New York or Picadilly Circus in London. With huge billboards lit up all night long, shopping malls, and entertainment. Very convenient for eating on the 3rd floor of the Dundas Shopping Center with free Wi-Fi.
For shopping, go for a walk to the Toronto Eaton Center, with the very beautiful birds of the artist Michael Snow taking flight under the glass roof.
9. Admire the Street Art of Graffiti Alley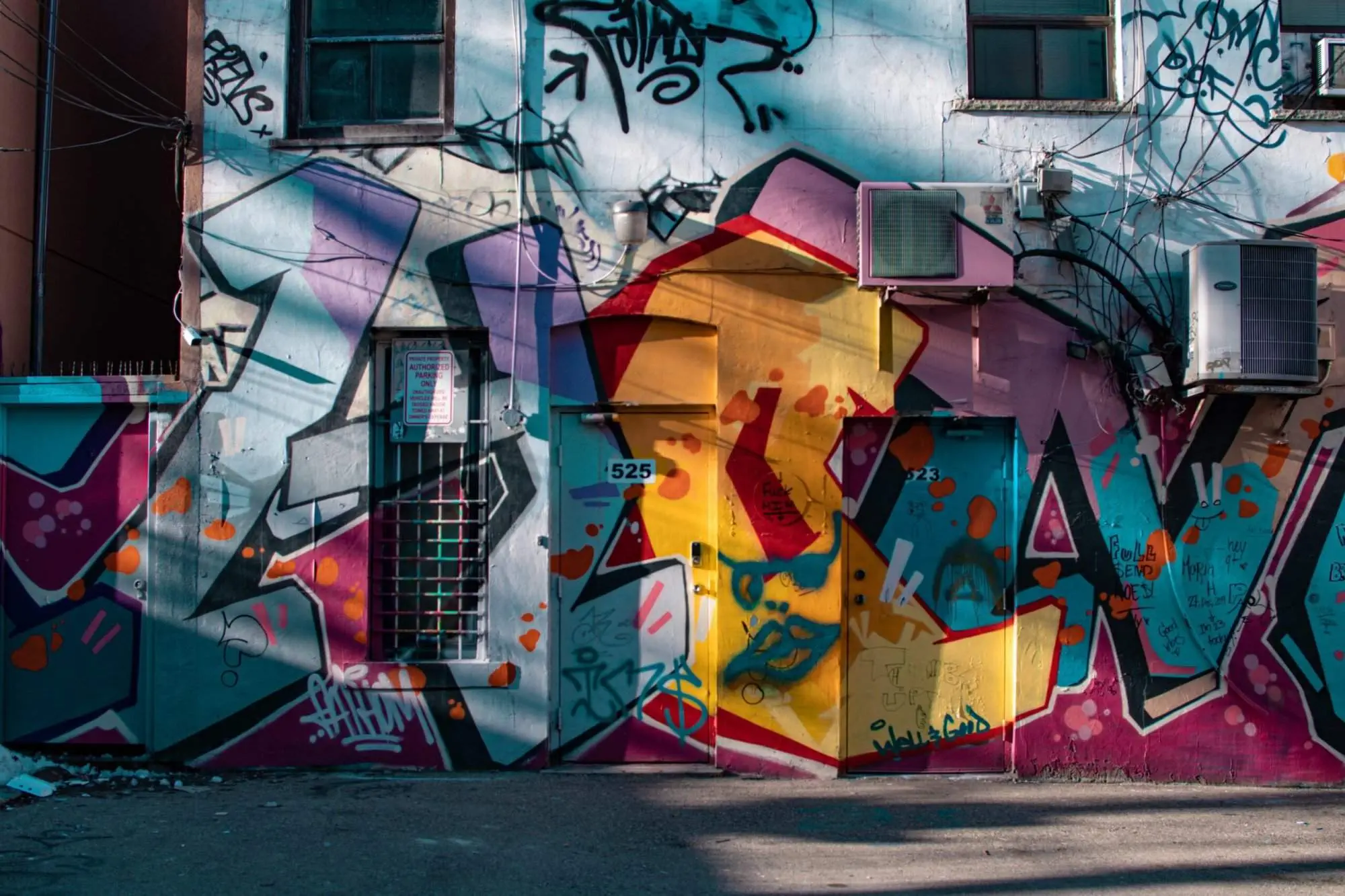 It is an alley that is not very easy to find. Not well indicated on the maps, it is located south of China Town. It starts from Spadina Av, between Queen St and Richmond St, up to Portland Av.
A tramp is sleeping on a foam mattress. A few unidentified guys, but in the end, no worries. Toronto is a very safe city. And the walk is well worth the look! One of our favorites in Toronto! The pictures speak for themselves! Not to be missed if you go to Toronto and few guides mention it.
10. Participate in the CN Tower Climb
The Canada National Tower is the symbol of Toronto! Culminating at 533 meters in height, this rocket-shaped tower was the tallest in the world for 34 years, from 1974 to 2010, since supplanted in particular by the Burj Khalifa in Dubai (828m!!).
You can see it from wherever you are in the city, emerging like a futuristic beacon between skyscrapers, more traditional buildings, churches, squats, and road interchanges. The CN Tower is absolutely incredibly photogenic. Time and time again, you shall be stunned by the surprise of seeing it appear from a new perspective in the middle of the urban landscape.
WWF organizes the CN tower climb, free for Canadian nationals.
At 346 meters, you can walk on a glass floor called the skywalk, and chargeable. Super impressive!
The more adventurous can try the "EdgeWalk" or "Haut-Da-Cieux," an attraction that allows you to walk outside on the ledge at 356 meters high with a safety harness. It's the highest hands-free walk in the world!
Fun Facts About the CN Tower
It took (only) 40 months and 1537 employees to build the tower.
Lightning strikes the tower at least 75 times a year.
The tower weighs 130,000 tons, or 35 times the weight of the Eiffel Tower.
Between the bottom of the tower and its maximum height, there may be a difference of 10°.
Its elevators which allow arriving at the observation point, offer a view of the skyline during the ascent and take 58 seconds to make the way, for a rhythm of 20 kilometers per hour.
The view offered by the CN Tower over the city is very nice, and I advise you to go there for sunset. The lights on the neighboring buildings are then very beautiful, and you will have to wait a few tens of minutes to appreciate the night view of the financial center illuminated in Manhattan style! It is one of the best free things to do in Toronto, and it's from here that you can take the most beautiful pictures of Toronto.
Closing Thoughts
There are many free things to do in Toronto which might just occupy your entire itinerary. But, if you still have time to spend in Toronto, here is a non-exhaustive list of what you could do during your stay:
Visit the Hockey Hall of Fame, the true temple/museum for all Hockey fans.
Go to the famous Toronto Zoo, which has about five thousand species of animals.
Go to Toronto Island if the weather permits, of course!
So, for lovers of beautiful viewpoints, I recommend going to Polson Street by taxi, because it's a bit far from the city center, but it's worth it.