People are mostly familiar with Turkish recipes through Mediterranean delights such as baklava, falafel, and hummus. Turkey is famous for its unique and flavorful, and sometimes very colorful recipes, which consist of all from grilled meats fresh salads to a cup of strong coffee. Today Turkish recipes hold a very special place along with the French, Chinese, and Italian cuisines.
Most of the classic Turkish recipes including the maize dish are somewhat modified versions of Ottoman cuisine. The rich Turkish recipes are always famous for some of their best kebabs, especially in the southeastern region of Turkey. The dough-based desserts such as baklava, kadayf, and künefe are some of the most famous traditional Turkish recipes that you can enjoy in and around Turkey. Some regions of Turkey have their own version of Turkish recipes, including keşkek, mant, and gözleme.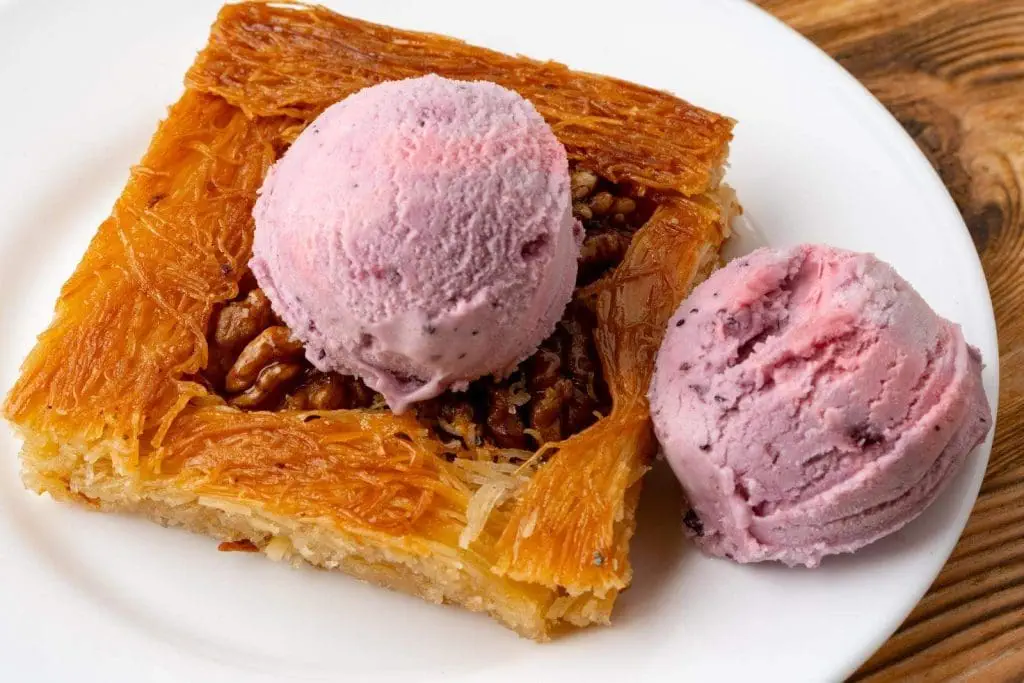 Turkish recipes are not only famous for their taste and look but also for their nutritional value. They vary significantly regarding the ingredients used to prepare the food. There are no hidden ingredients in Turkish cuisine. The flavor of Turkish cuisine relies on the use of fresh ingredients including garden fresh fruits and vegetables.
1. So, What Turkish Recipes You Can Try Today?
Turkish recipes use simple ingredients but produce incredible flavors. The amazing use of Turkish herbs (such as sumac, Aleppo pepper, and urfa biber) and cooking methods is largely responsible for Turkish food's brilliance. You can check out and enjoy some of these famous and authentic Turkish foods for your next meal!
1.1 Lahmacun
Lahmacun is made up of a layer of dough covered with minced meat. Lahmacun is one of the most traditional Turkish recipes and one of the most famous dishes in Turkey. It is also known as "Turkish pizza," but has nothing in common with the Italian classic.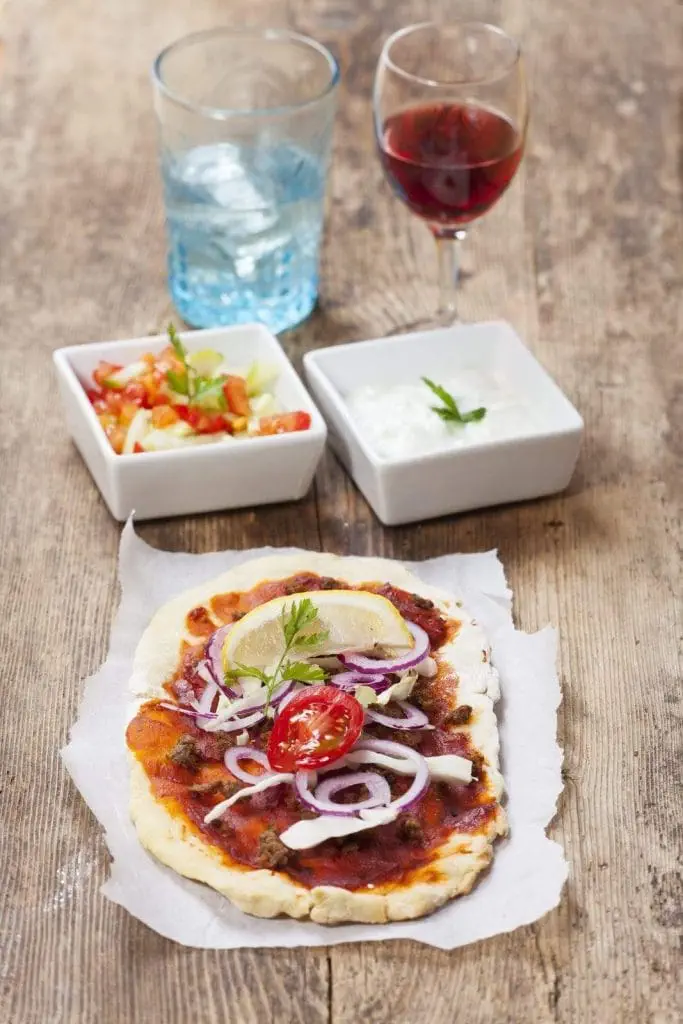 Lahmacun is made in two stages: first, the bread dough, and then the topping.
1.1.1 Making The Dough
For making a lahmacun dough, the following ingredients are mixed in a bowl: Flour-2 cups; active dry yeast-1/2 teaspoon; kosher salt-1 1/2 teaspoons; warm water- 1 cup and olive oil- 1 tablespoon.
You can use a bigger bowl to combine flour, yeast, and some salt. Now, add the olive oil and some warm water to the bowl and make a soft dough. Allow the dough to rest and rise before baking. The dough will rise and become softer after the fermentation.
1.1.2 Making The Topping
Ingredients required for the topping are ground beef-400 gms; finely chopped onions-2 large; finely chopped tomatoes-1/2 cup; finely chopped parsley- 1/4 cup; tomato paste- 2 tablespoons; salt- as per taste; some black pepper and some chili powder;  A pinch of cumin powder; vinegar- 1tablespoon; salt and pepper to taste and some lemon wedges.
You can start the topping during the proofing time of the dough. You can take all the mentioned ingredients and mix them together to make the topping for the bread.
Use a flat surface to make the balls of dough. Stretch the dough balls on the flat surface using your hands or a rubber spatula. Use some flour if required. Add some of the toppings to the dough.
Transfer the topped dough pieces to the hot baking sheet. The baking process may take 9 to 11 minutes. The bread is baked until golden brown. You can use some lemon juice and parsley to the baked bread before serving it hot.
1.2 Turkish Meatballs or Kofta
Kofte is typically made with ground beef, lamb, or a mixture of the two. This recipe calls for all beef, but you can substitute whatever meat you prefer. Turkish meatballs are one of the easiest Turkish recipes that you can try at your home!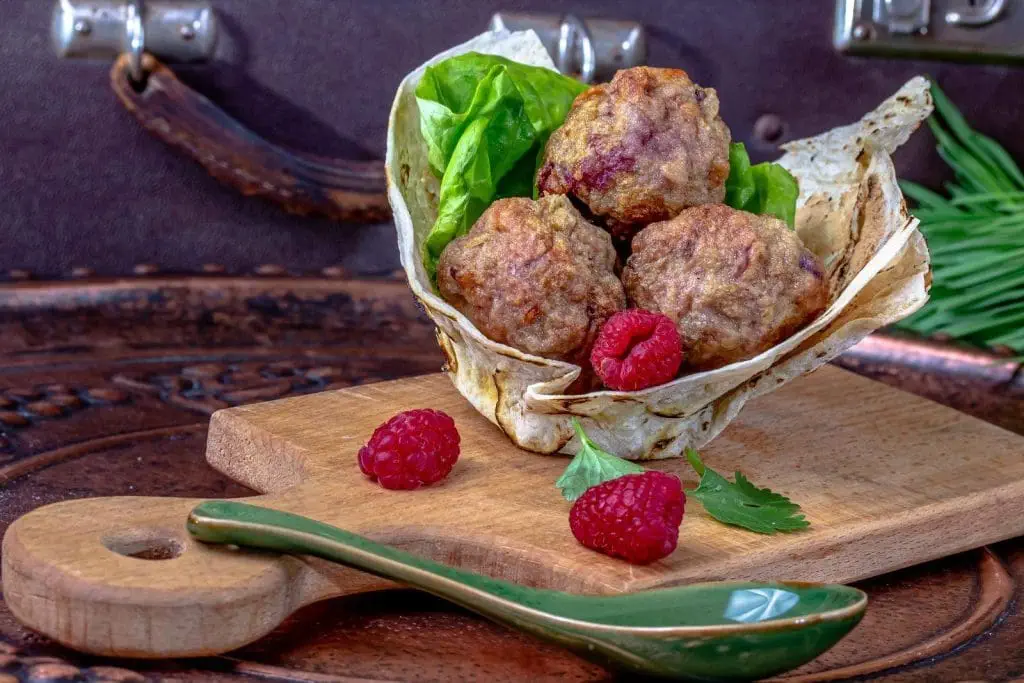 1.2.1 Turkish Meatballs Ingredients
The ingredients for the kofte: ground beef or lamb-1 kg; breadcrumbs-1/2 cup; finely chopped onions- 2; mashed garlic- 4 cloves; cumin- 1 teaspoon; black and red pepper- 1 teaspoon each; thyme-1 teaspoon; baking soda-1 teaspoon; lemon juice-1 teaspoon; water-1/4 cup; salt and pepper.
1.2.2 Kofta Making Process
Mix ground beef, breadcrumbs, finely diced onion, and mashed garlic in a large mixing bowl. Stir in the spices. Add the baking soda, water, and lemon juice together in a container and mix them well. Combine this with the ground beef mixture. Mix thoroughly with your hands. Knead it for about 1 to 2 minutes to mix all the ingredients together very well. Keep the mixture in a fridge overnight before making the meatballs.
1.2.3 Cooking The Kofte
Use a nonstick pan and drizzle some olive oil on this hot pan. Then cook the meatballs in this pan for about 3 minutes. Stir the meatballs and cook the meatballs evenly from all sides. You can use a double-sided spatula to flip the meatballs and cook the meatballs.
1.3 Döner
Döner kebabs are famous Turkish recipes that are identical to the traditional pita bread wraps made with meat, spices, fresh vegetables, and sauces. Döner has a lot of varieties including the shawarma roll and is mostly famous for the use of marinated meat cooked for a very long time on a vertical rotisserie on slow heat.
You can make this one of the famous Turkish recipes at home with these few easy steps! It's made with tender chicken thighs marinated in a zesty yogurt marinade with lemon juice and a slew of warm Middle Eastern flavors. This chicken döner kebab recipe is perfect for wraps, platters, bowls, or topping your favorite salad!
1.3.1 Döner Recipe
Ingredients needed for marination of meat: chicken thighs (boneless and skinless)- 1 kg; Turkish yogurt- 1/2 cup; tomato paste- 7 tablespoons; lemon juice- 1 teaspoon; minced garlic cloves-8; cumin- 2 teaspoons; pepper- 1 teaspoon; smoked paprika- 1 teaspoon; some fresh herbs; salt and black pepper.
Marinate the chicken in a bowl with all the ingredients mentioned above. Mix all the ingredients and then soak the chicken pieces in the marinade. Let the chicken marinade for at least 2 to 3 hours or you can keep the chicken in the fridge overnight. If not, set it aside for 30 minutes at room temperature.
1.3.2 Cooking Marinated Chicken
Half of the chicken thighs should be threaded onto three metal skewers. Once the doner skewers are prepared, you have two choices for cooking them: on the grill or in the oven. Simply remove the chicken thighs from the skewers before preparing the doner meat. Then, on a cutting board, cut them into thin, small slices.
1.3.3 Döner Wraps
Preheat some pita bread. Then top with fresh tomatoes, onions, or my Mediterranean cucumber, some Turkish yogurt, and tomato sauce. Include some pickles (cucumber or turnip, if you like). You can use yogurt or tahini as a sauce (not traditional, but delicious). Fold the pita into a wrap and serve this tasty dish!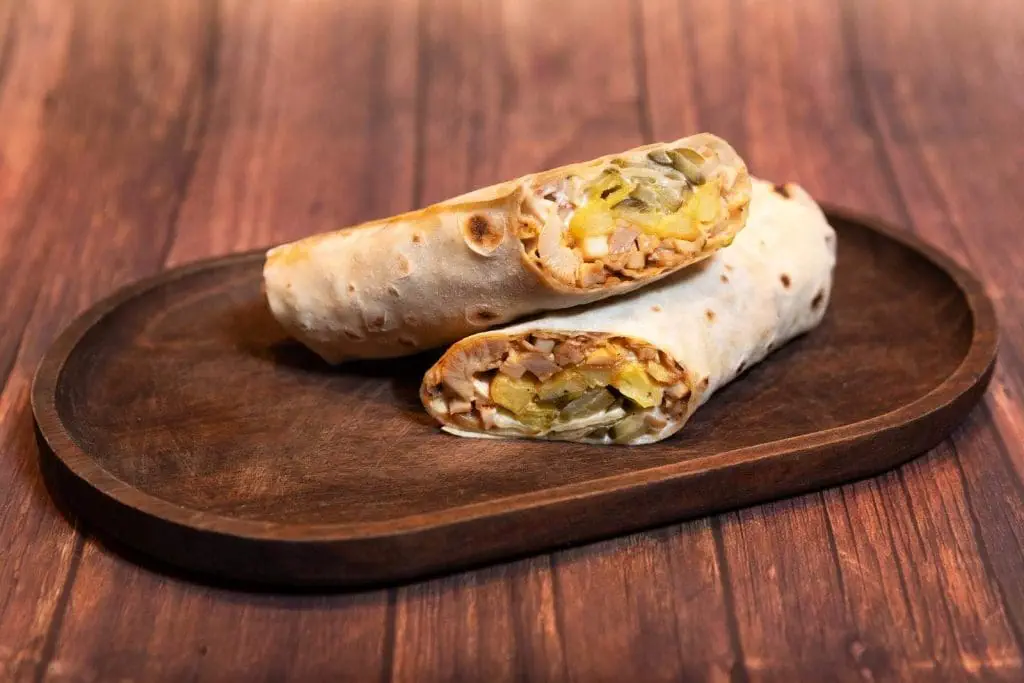 1.4 Kuru Fasulye
Kuru Fasulye is a type of bean stew made from white beans. This is a very well-known dish for the Turkish people, especially, for their breakfast.
1.4.1 Kuru Fasulye Recipe
Ingredients for Kuru Fasulye include tinned haricot beans-400 grams; lamb-150 grams; finely chopped onion- 1 large; roughly chopped tomato-1 large; finely chopped green bell peppers- 1; tomato puree- 1 tbsp; water-500 ml; butter-2 tablespoons; salt and pepper.
Kuru Fasulye is a very quick recipe and requires very few simple steps to cook the bean and the meat together in a tomato-rich gravy. You can simply use some butter and saute some onions and bell peppers for a minute in a saucepan. You need to make sure that the onions are light pink or translucent in color after one minute. Now you can add the meat to the pan and cook the meat for 10 to 15 minutes or until properly cooked.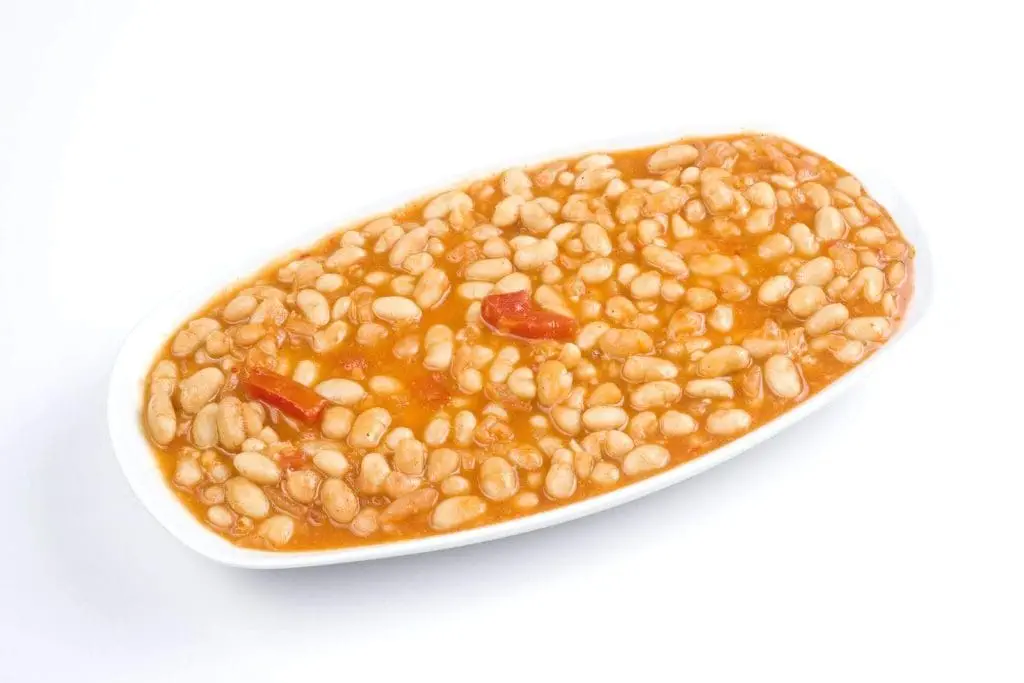 Wait till the meat has browned and become softer. Add some tomatoes and stir them for a few minutes. At this stage, add some water to the pan and cook until the soup is thicker in consistency and the meat is cooked properly. At this stage, add the beans and cook for another 10-15 minutes before serving hot.
1.5 Pide
Turkish Pide is a savory bread topped with nigella seeds and baked with feta cheese, parsley, and mozzarella.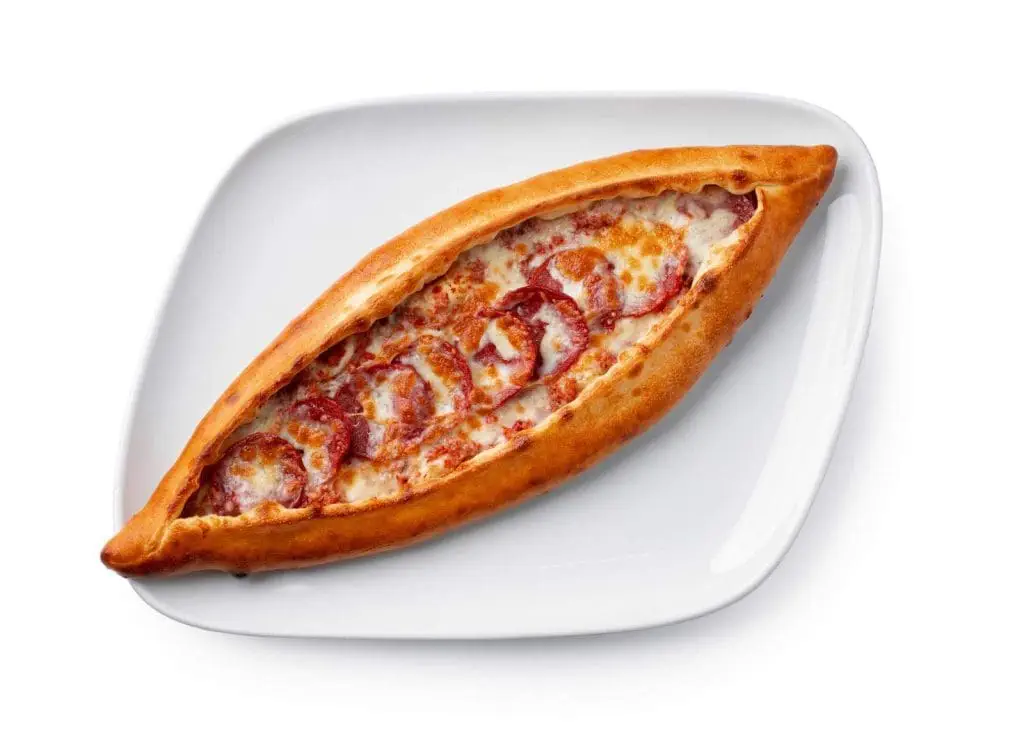 Pide, like Lahmacun, is made in two stages: dough and topping.
1.5.1 Pide Dough
The dough for pide includes the following ingredients: all-purpose flour-3 cups; yeast- 2 teaspoons; olive oil- 2 tablespoons; water- 1 1/3rd cup; sugar- 1 teaspoon and salt to taste. Use a big container to stir flour, olive oil, warm water, and yeast together to make a dough.
Make some dough balls using some flour in your hands and using a flat surface. Use a warm towel or place the bowl with dough balls in a warm condition for proofing the dough balls. Once it has doubled in size, give it an hour to rise.
After first proofing, knead the dough balls again and put them under a warm condition, or cover the bowl with a warm towel again for a second proofing. The second proofing may need 10-15 minutes until the dough balls rise to the required size for the pide.
1.5.2 Pide Topping
There are various toppings you can use for your own version of pide. For a meat version of the pide topping you can use the following ingredients: ground beef- 400 grams; finely chopped onion-1 large; finely chopped tomatoes-2; finely chopped parsley-1/4 cup; finely chopped green peppers- 1/4 cup; olive oil-2 tablespoons; lemon juice- 1 tablespoon; salt and black pepper. Make a paste by mixing all the ingredients mentioned above. 
Spread the desired topping on the dough, gently pressing it down with your hand. Allow 2 cm all around for folding the sides in and pinching the ends to seal. Replace it on the baking sheet. Bake for 10-12 minutes, brushing the edges with oil.
1.6 Menemen
Menemen is a traditional Turkish breakfast recipe with eggs, green peppers, and fresh tomatoes.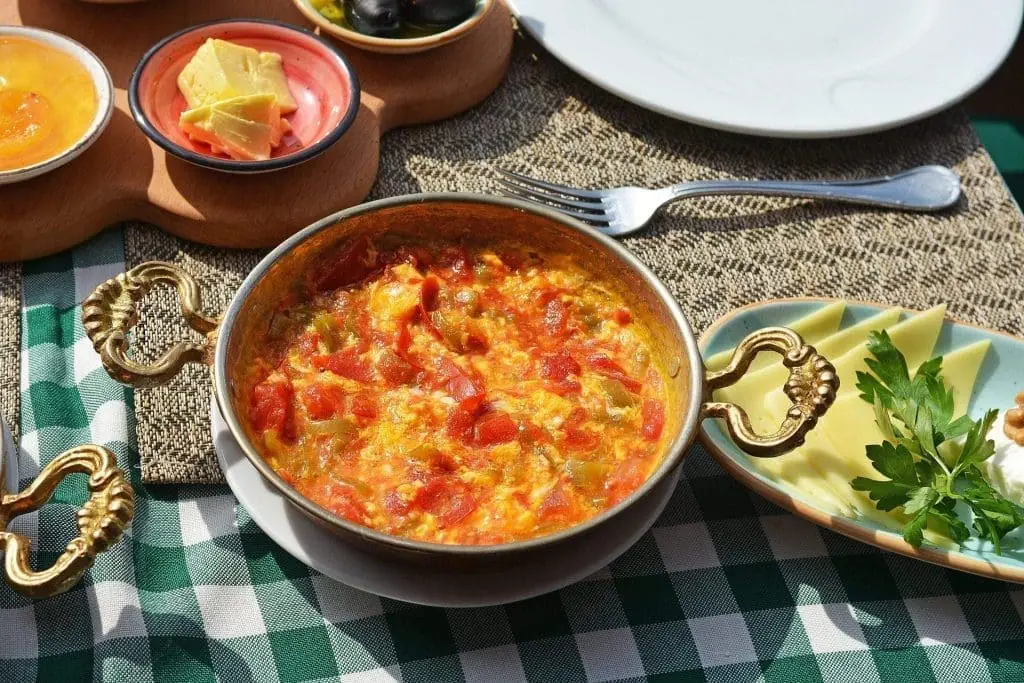 1.6.1 Menemen Recipe
Ingredients for a simple Turkish Menemen include olive oil-2 tablespoons; chopped green peppers- 3; peeled and diced tomatoes-4; eggs-4; black and red pepper flakes- 1/2 teaspoon each; salt and pepper.
In a pan, heat the olive oil. Cook for 2-3 minutes with chopped peppers before adding tomatoes. At this stage,  you can add the remaining ingredients one by one starting with salt and pepper. Stir the mix occasionally and cook the tomatoes until they are soft and mushy. Mix the eggs with this tomato paste and cook the menemen until the eggs are properly mixed with tomatoes.
Cook until the eggs are set, and uncovered. It only takes about 3-5 minutes. You can also garnish the menenmen before serving by using some freshly chopped parsley or chopped green onions.
1.7 Mezze Platter
Mezze is a small dish of savory snacks served as an accompaniment to drinks. They can be served warm or cold, and they can include a variety of vegetables, cheeses, dips, seafood, rusks, pita bread, and other items.
Is it going to be a vegetarian or non-vegetarian Mezze platter? The non-vegetarian mezze platter includes all the vegetarian counterparts and various types of cooked meat. If you have a mixed crowd or are unsure of preferences, a vegetarian mezze platter is recommended.
1.7.1 Mezze Recipe
A vegetarian mezze platter includes various ingredients and the ones that are worth mentioning here are falafel-6 to 8; chickpea hummus-1 bowl; roasted red pepper dip- 1 bowl; cucumber cut into sticks-2; carrot cut into sticks-2; black and green marinated olives-1 cup; feta cheese-200 grams; figs cut in halves-5 to 6; pita chips or crackers.
Make the hummus and red pepper dip and store them in the fridge. Prepare the falafel mixture, shape it, arrange it on a plate, and chill until ready to deep-fry. Place the remaining ingredients on a large serving platter and refrigerate.
Shallow-fry the falafel cakes in a hot pan using some oil. Fry the falafel cakes until golden brown and remove the excess oil using tissue paper. Arrange the mezze platter with the prepared dips and falafel. With friends and family, enjoy your own take on a mezze platter!
1.8 Lokum or Turkish Delight
Turkish Delight, also known as lokum, is Turkey's most popular sweet. Consider little gelatinous cubes of flavored loveliness, with the most common flavors being rose, mint, fruit, or citrus. Turkish delight is a very common delicacy among Turkish people during festive seasons and it is loved for its colorful appearance and traditional touch of Turkish cuisine.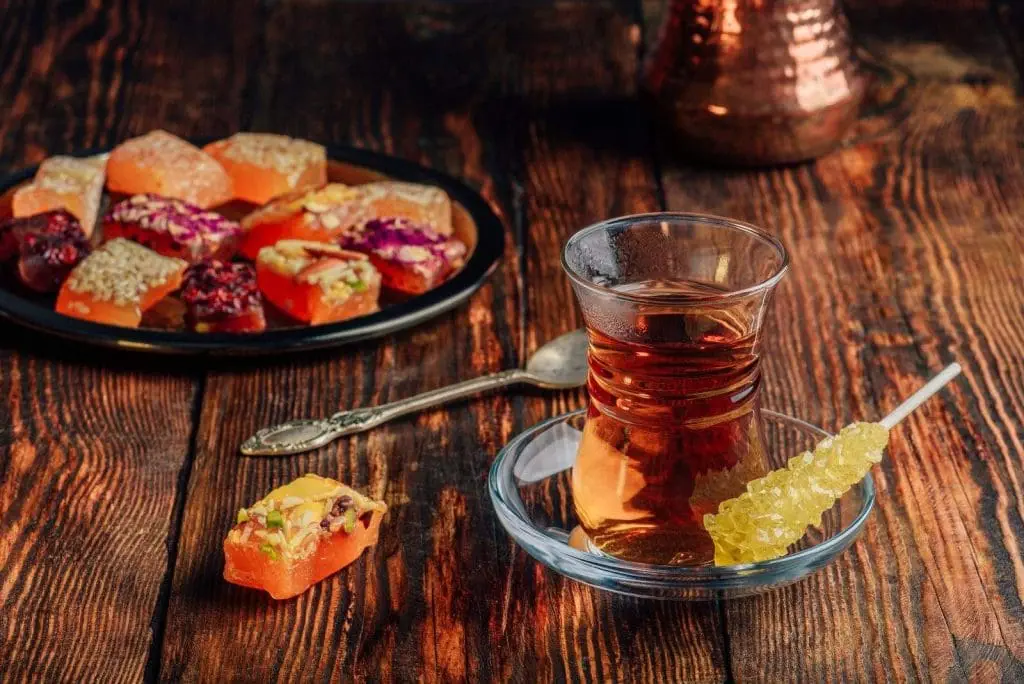 1.8.1 Lokum Recipe
The ingredients for lokum include: water-4 1/4th cup; sugar- 4 cups; lemon juice- 1 tablespoon; cornstarch- 1 1/4th cups; cream of tartar- 1 teaspoon; rose water- 1 1/2 tablespoons, and vegetable oil-1 teaspoon.
To make the lokum, start with the sugar syrup. Add sugar and some lemon juice to the boiling water in a pan and continue to stir the mixture until you get a syrup consistency. In a bowl, combine the cornstarch with 11/4 cup of cold water and stir well to dissolve the cornstarch in the water completely.
Then combine this mixture with the syrup. You need to mix the syrup continuously. The mixture will thicken gradually. It is done when the preparation is completely detached from the bottom of the pan.
Divide each dough into the prepared molds or boxes, smoothing the surface as much as possible. Allow drying after covering with aluminum foil (but not touching the dough).
With a large smooth knife, cut the dough into squares. Turkish delights will remain perfectly fresh in a metal box at room temperature for several weeks.
1.9 Turkish Coffee
Turkish coffee is made from dark-roasted coffee beans. Turkish coffee has a very distinct and stronger flavor than usual coffee beans.
1.9.1 Turkish Coffee Recipe
A distinct, rich coffee brewed in an unfiltered method. You can make Turkish coffee by using only three ingredients: Turkish coffee – 1 heap tablespoon; water and sugar (optional).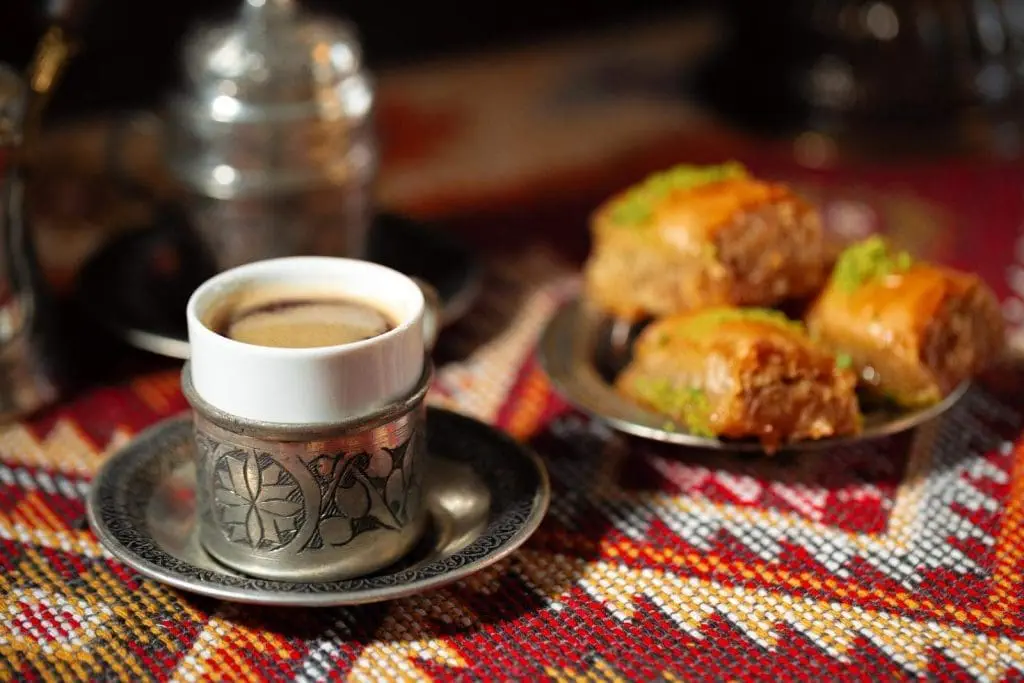 The Turkish coffee is brewed in a small pot (cezve) with a cardamom pod. Because there is no need for cream or milk, the Turkish version will be stronger than other types of coffee. You can add the sugar as per your taste. Too much sweetness is not recommended for regular Turkish Coffee as it is best enjoyed with little or no sugar.
1.10 Mücver or Zucchini Fritters
Mücver, or zucchini fritters, is a traditional Turkish recipe that you can prepare within half an hour.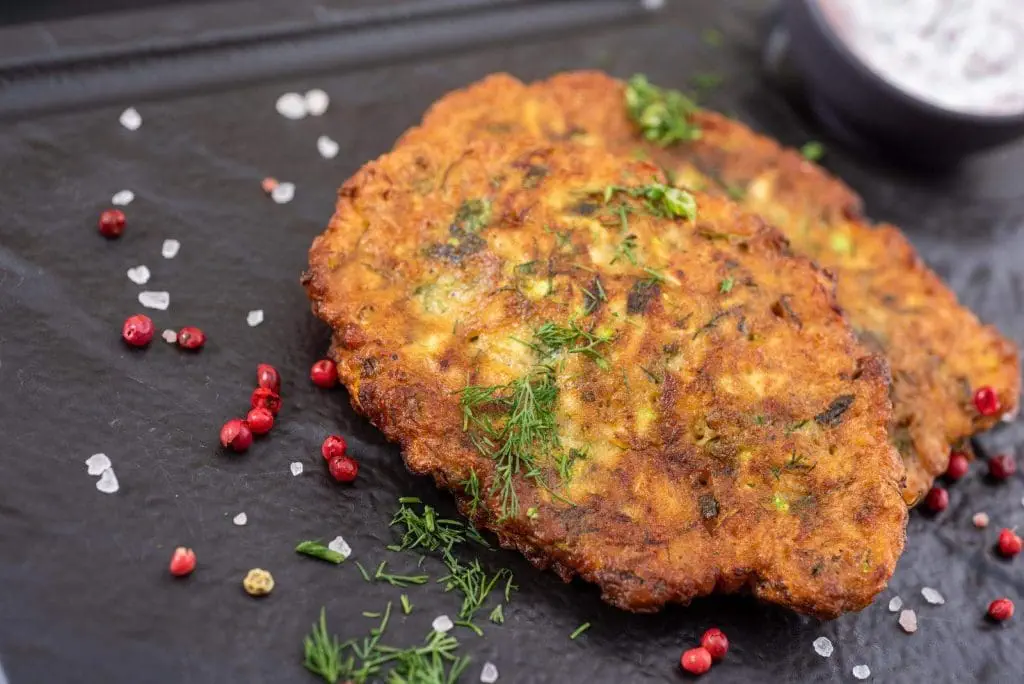 1.10.1 Mücver Recipe
Mücver is made with these simple ingredients: shredded zucchini- 500 grams; eggs- 1 to 2; flour-4 tablespoons; vegetable oil- 1/2 cup; minced fresh dill- 1 tablespoon; chopped fresh mint- 1 teaspoon; pepper and salt.
Clean the shredded zucchini and add some salt. Keep it aside for 5 to 10 minutes. Now, press the zucchini to release the water. The eggs should be whisked. Mix the squeezed zucchini with all the other ingredients including eggs, flour, oil, dill, mint, pepper, and salt to prepare a smooth batter. Mix properly to avoid any lumps.
Heat oil in a pan and fry the zucchini pieces until golden brown. You can use a paper towel or a tissue to remove the excess oil from the fried fritters. You can serve the fritters with some yogurt or your own choice of dip and enjoy them with your favorite drink.
Turkey's food, like the country's cultural mosaic, is very colorful and contains a diverse range of influences and tastes. Turkish cuisine will awe your sense of taste and make you would like to eat it all the time. Deep dive into this rich tapestry of foods that lace the beautiful culture and history of Turkish food to find your own perfect Turkish recipe.
Also read: