The capital of the province of Alberta, the city of Edmonton is also the fifth largest city in Canada. Situated on the North Saskatchewan River, it becomes the northernmost city in North America, also known as the Gateway to the North.
Keeping aside the Edmonton golf courses that we'll discuss in this article, here is a cool fun fact – Edmonton receives almost 17 to 18 hours of sunlight during mid-summer, making it one of the sunniest cities. To add splendor to its natural beauty, you get to witness the entrancing aurora borealis during the winters regularly. Now isn't that amazing?
Edmonton brims with life, adventure, and splendid beauty; In addition to which there are 16 Edmonton golf courses, and another 31 courses that come within 20 miles of the Edmonton area, which becomes an absolute delight for golfers of all kinds. Now, with a plethora of options available to choose from the Edmonton golf courses, it might get a little puzzling to choose the one where you'd like to go. Don't worry, we've got you covered.
Below are 7 golf courses in the Edmonton area you should consider visiting. The links to all official websites of the golf courses are provided so, feel free to find out more about the tee time, rates, facilities, memberships, exclusive classes, or any other query. 
Edmonton Golf Courses
1. Northern Bear Golf Club
One of the three Jack Nicklaus signature golf courses in Canada with a great layout – long fiscal grass along with 5 lakes that come into play on 11 holes, this club in Sherwood Park is only 30 minutes from downtown Edmonton and covered in undulating tree-lined fairways in addition to 5 sets of trees ranging from 5800 to 7400 yards.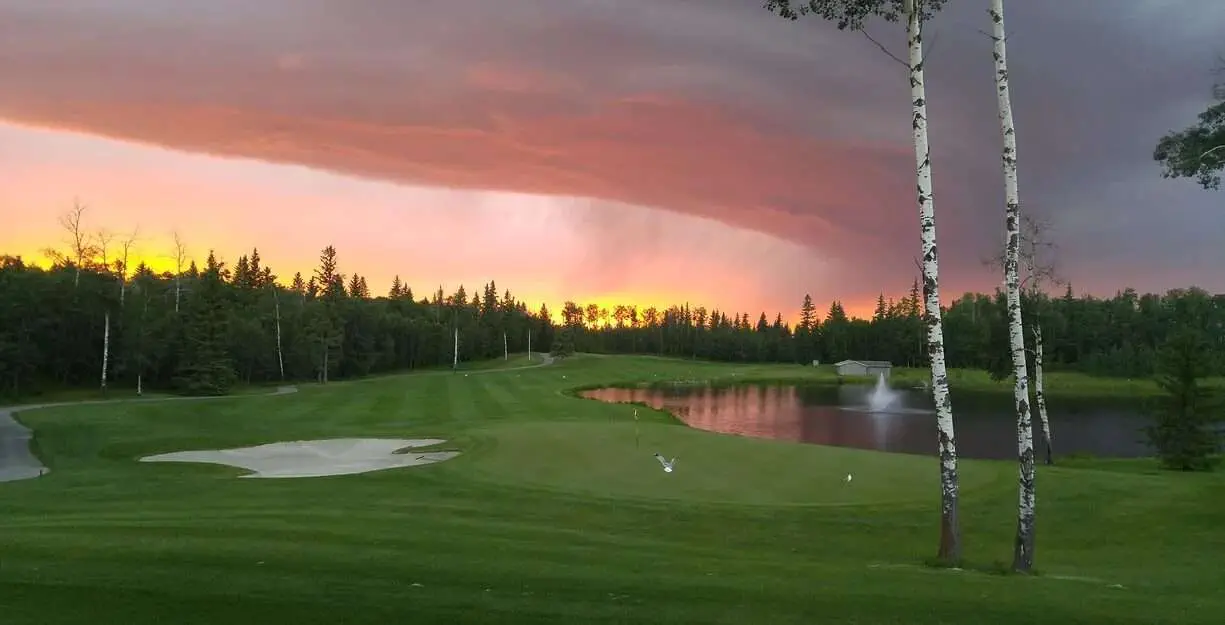 It provides annual memberships, corporate memberships, bear passes, and other facilities such as the driving range, and the pro shop. It has something for all levels of golf enthusiasts.
Book a tee time on the official website here.
2. Jagare Ridge Golf Course
Located along the banks of Whitemud creek valley, this course, although within Edmonton city limits, gives the feeling of being in the reclusive countryside. This Edmonton golf course opened to all in 2002 with 18 holes and is inclusive of a restaurant with floor-to-ceiling windows that overlook the golf course and a patio from where the beautiful Whitemud creek valley beside the golf course itself can also be viewed.
Visit here for stunning views with a challenging 18 hole course.
Book a tee time on the official website here.
3. Lewis estate golf course 
Voted as the top public course by top choice awards in Edmonton, Alberta, this well-recognized course is the oldest golf course in the Edmonton area. This is an 18 hole golf course with ample challenges for those who are new to golf and for those who've been playing for a long time.
This course is decorated with sophisticated tree-lined fairways and quick, beet grass that is well maintained. They also provide lessons for beginners as well as seasoned players with CPGA certified professional instructors to up your game. This course also houses a driving range and practice green, grill restaurant, and patio.
Book a tee time on the official website here.
4. Raven Crest Golf and Country club 
Popular for its well-maintained holes and fairways, this Edmonton golf course with 18 holes offers challenges for players at all skill levels, especially the first 4 holes that are considered some of the toughest in Edmonton. 
With a scenic location – on the northern bank of the Saskatchewan River, this course offers difficult water hazards with well-placed bunkers. It also provides golf lessons throughout the year with practice green facilities, a full driving range, and a short game area.
You can visit here to enjoy the alluring beauty of Edmonton's river valley.
Book a tee time on the official website here.
5. Rundle Park Golf Course
A 3 par golf course with 18 holes, this is one the most beginner-friendly Edmonton golf courses and is suitable for advanced players as well. The Rundle Park Golf Course offers a variety of well-constructed courses under both youth and adult golf programs that will help players fine-tune their game and skills fruitfully.
It houses well-kept tree-lined fairways and bunkers with a clubhouse and a driving range. Located in close proximity to the Victoria trait, the view this is one of the Edmonton golf courses which is nothing short of mesmerizing and is more fun than challenging. 
The prices offered are reasonable. So, you can visit here to enjoy yourself with your friends!
Book a tee time on the official website here.
6. Cougar Creek Golf Resort 
An exquisite course designed by Bill Robinson himself, this championship length par 72 course entwines through a natural forest. With breathtaking scenery, it is littered with a demanding load of bunkers. 
It also offers appreciable facilities such as restaurants, bars, lockers, and a pro shop among many others. Almost every hole is unique and holds a new challenge. In short, this Edmonton golf course is meant to put the skills of all levels of golfers to test. 
This golf course would be a great choice to hold corporate events and tournaments. 
Book a tee time on the official website here.
7. Blackhawk Golf Club
One of the exceptional Edmonton golf courses on our list, this one is a private golf course with 18 holes, impressively designed by Rod Whitman. This was remarkably the course that helped Rod Whitman to gain the opportunity to build Cabot Links. 
Agreed upon by many to be holding a timeless sort of beauty, this Edmonton golf course is said to be one the finest premier golf courses in the whole of Canada.
Like the other courses on this list, the Blackhawk Golf Club also provides several distinguishable additional facilities including a pro shop, on-site instructions, tournaments, and food and beverages. 
The Blackhawk Golf Club does not fail in providing an one of its kind sort of experience and challenges for all golfers.
Book a tee time on the official website here.
Given the pandemic situation, the Edmonton golf courses mentioned may be subject to restrictions and regulations that have been put in place for safety concerns so make sure to inquire about those before visiting or booking a tee time. Enjoy!