Are you a creator? Or an artist? Or a writer? Or someone who has an urge to express his thoughts?
Well, if you are silently replying yes, yes, and yes, then there's a big question ahead. Are you someone who thinks his words or art has the power to be known and inspire and impact?
It's again a big, yes!!
But do you think creating and writing is enough to inspire and create an impact?
An absolute no, it is!
And that is the reason. Just for people like you and me, Broken Pencil Zine Awards is an opportunity to showcase your skills and art, to be known for your work, and get an audience to appreciate your work and know for who you are and what you do.
What Is Broken Pencil Zine Awards?
Broken Pencil Zine Awards is an initiative started by Toronto-based Broken Pencil Magazine in 2017 to promote creators and emerging artists for their contribution and efforts in different fields of work.
Now, if you are wondering with a few questions related to zines in your head, then let me speak them up to you.
1. What Are Zines?
Zines are the short self-done or community-based publications that are written or created independently. When I say "independently," it means it is not published by any magazine or other publisher other than the creator.
2. Who are Zinesters?
If you are an artist or a creator and want to send your work for zine submission, then you are a zinester. Zinesters are not biased.
Anyone from a practicing artist to a first-time creator is welcomed in Broken Pencil Magazine Awards and is known to be a zinester.
So, are you sending in your zines? Yes, you are a zinester then.
What Are The Awards & Categories I Can Submit For?
The Broken Pencil Zine Awards are given in eight different categories: Political Zine, Perzine, Compilation Zine, Artzine, Comic Zine, Litzine, Literary Micro Journal & Fanzine.
The beauty of each category is, they cover a lot of pointers for zinesters to fit in each category.
1. Political Zine
Political Zine is awarded to people who deal with issues like impression, activism, political identity, feminism, anti-racism, queer struggles, and political history.
2. Perzine
Perzine is given to people who focus on mental health journalling, personal reflection and essays, thought bubbles, life updates, and own DIYs.
3. Compilation Zine
Compilation Zine is given to people who work on multiple pieces combined by more than two people like an anthology.
4. Art Zine
Art Zine is given to people who work on illustration compilation, sketchbooks, photos, design-oriented stuff, illustrations, art books, etc.
5. Comic Zine
Comic Zine is given to people who work on indie/underground comics, DIY or comic magazines or projects, mini-comics, storytelling illustrations, cartooning, comic jams, etc.
6. Litzine
Litzine is given to people who work on creative writing, poems, stories, fiction, novels, post literature, and concrete poetry, etc.
7. Literary Micro Journal
Literary Micro Journal is one of the popular awards of Broken Pencil Zine Awards, and it is given to people who work on literary journals that publish less than 750 copies per issue.
8. Fanzine
The fanzine is given to those people who are entertainment-focused or work on pop culture zines, anime tributes, fanfiction, horror, sci-fi, and fantasy.
How Can I Submit My Zine?
To enter into the zine award, you need to fill a form on the Submittable page of the Broken Pencil website.
Select the submittable form and choose a payment option.

Fill the form.

Make your payment and send the zines.

Select The Submittable Form & Choose Payment Option.
You will see two different forms on the page, one is for subscribed users, and the other one is for unsubscribed users of broken pencil magazine.
1. For Subscribed User
If you are a Broken Pencil Magazine subscriber, then you have to use the submittable form marked "For Current BP Subscribers Only."
You can submit one, two, or three zines in this form. After filling up the form, you will have to make the payment.
There is only one payment option for submission of the form. You will be charged a flat fee of $14 to submit the form and enter into the zone awards.
2. For Unsubscribed User
If you are not subscribed to the broken pencil magazine, then you have to use the submittable form marked "For new and renewing bp subscribers."
You will have to pay $25 for the submission of the form. This amount includes one Zine and a one-year subscription.
If you want to submit two zines, you will have to make the payment of $35( $10 more). For submitting three zines, you will have to pay $42($7 extra).
A. Fill The Form
After the selection of the submittable form and choosing the payment option, fill all the remaining details in the form.
You will also be asked for the cover image and artist image for the submission of your Zine.
After the completion of your form, you have to upload your zines in a pdf format and fill the remaining information.
B. Make The Payment
After uploading your zones and filling out complete information, complete the process by clicking on the finish option.
Here, you will generate a receipt for the submission of the form.
What Are The Formats I Can Submit My Zine In?
Not every Zine is a digital work. There are a lot of zines that are entirely physical and paper-based. This is the reason that there are two formats in which the zine submissions are accepted – electronic and physical.
1. Electronic File
Electronic submission of zines is an excellent choice for print zines. You have to attach a pdf file of your Zine to your submittable form.
2. Physical File
Physical submission is the right choice if you have to submit paperbacks and books as zine award submission.
You have to mail your hard copy or physical file at the Broken Pencil Magazine's address. You must submit two physical copies for each entry.
Before sending the physical zines, keep in mind that the zines will not be sent back to you. So, send the physical copies of your zine entry, keeping this in mind.
How To Mail My Physical Zine For Submission?
When you make the payment on the Submittable page, you will generate a receipt. Get this receipt printed and attach it with the two copies of your zine submission.
While you fill the form, you will still have to upload a digital file of your Zine.
If you don't have a digital file for submission at all, you need to attach a pdf mentioning about the non-availability of a digital zine and also the mailing of a physical zine.
You have to mail your physical copies at this mailing address: Broken pencil Zine Award, PO Box 203, Stn P, Toronto ON M5S2S7 Canada.
How Is The Zine Nominated?
After the submissions are received, they are read and reviewed by experienced judges and the editorial team of Broken Pencil Magazine.
The zines are judged based on uniqueness, creativity, content, and innovation.
After analyzing all the zines, 5-8 finalists will be nominated in each category.
The finalists are then notified via email about the selection and coming to the award ceremony.
What's In The Broken Pencil Awards Ceremony?
The Broken Pencil Zine Awards are given in person in the Canzine Festival Of Zines and Underground Culture in the Art Gallery Of Ontario.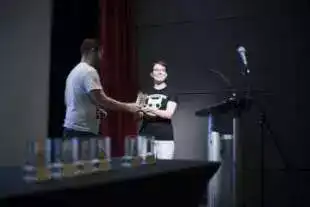 Canzine is the largest festival of arts organized by Broken Pencil Magazine every year to announce the winning zines and hand over the awards live.
What's In The Grand Prize?
Winners of the Broken Pencil Zine Awards receive the award, the announced cash prize, and zine award stickers to put on their zines.
The winners also get a chance to be interviewed by Broken Pencil Magazine along with their zone submissions.
As a winner, you also get a chance to sell your work on BP store, special displays at zine fairs, stores, and libraries.
In all, Broken Pencil Magazine gives you complete exposure to its winners.
Who Are The Past Zine Winners & Finalists?
All the winners of Broken Pencil Zine Awards have one thing in common, that is, showcase the power of art ton the world. Some of the winners are established artists and creators, and some are emerging.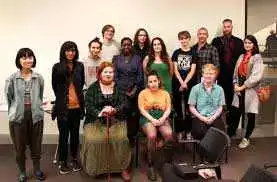 Here is the list of winners from 2019:
1. Proof I Exist #28 – Best Perzine 2019
Proof I Exist #28 by Billy McCall Baltimore received the best Perzine for Broken Pencil Zine Awards 2019.
Proof I Exist shows the memories and reflections of the stigma and the impact of McCall's brother's disturbed relationship. The story has all the elements from haunting to funny and even honesty that makes it a desirable read and a worthy of zine nomination.
2. Distance 33 cm To Memories – Best Artzine 2019
Distance 33 cm To Memories by Xiaoxiao Li won the best art zine a the Broken Pencil Zine Awards 2019.
The project is an autobio comic based on Xiaoxiao's lie and relationship. The beauty of this project lies in the way the story is summed up and illustrated with authenticity using social media screenshots and sketches layered together.
3. The Purpose – Best Comic Zine 2019
The Purpose by Kimberly Edgar was awarded the best comic Zine in 2019 Broken Pencil Zine Awards.
This Zine by Kimberly Edgar showcases strong storytelling based on mental health. This Zine by Edgar asks a thoughtful question on mental health- whether mental health is the responsibility of an individual or community? How do we get better when the world around us continues to sink.
This Zine brings out this thoughtful question with the help of storytelling very intuitively, and the name itself says a lot about the comic zine.
4. Music Men Ruined For Me – Best Fanzine 2019
Music Men Ruined For Me by Alison Lang was awarded the best fanzine in Broken Pencil Awards 2019.
Toronto-based Alison Lang's Zine is hilarious, heartbreaking, and relatable in the context of mansplaining. The story is a voice of collective experiences of different women against the patriarchy.
5. Kezan & Why They Are Bad For You – Best Political Zine 2019
Kezan & Why They Are Bad For You by Enas Satir won the Broken Pencil Zine Awards in the political zine category. This political Zine highlights issues that are not paid much attention to, especially in the western hemisphere with energetic illustrations and political language, which is easy to understand.
6. Deliria – Best Compilation Zine 2019
Deliria is one of the best compilation, which is edited by Luis R. Ruiz. The compilation or anthology focusses on queer life, mental health, and trauma.
This compilation is the voice of countless people who suffer from frustration and share their stories. This makes it one of the best nominations in the zine awards, and it hence won the best compilation award in Broken Pencil Zine Awards 2019.
7. Stories From The Soviet Union, Extended Edition – Best Litzine 2019
Stories From Soviet Union, Extended Edition by Emily Fay Fin with Alec Fin was awarded the best litzine in Broken POencil ZIne Awards 2019.
This Zine tells the stories from Alec Fay Fin's life in Ukraine, along with the illustrations done by his daughter Emily Fay Fin.
8. Arab Lit Quarterly – Best Literary Microjournal
The Strange: Arab Lit Quarterly by from Rabat, Moscow won the best literary Microjournal, one of the most popular categories of zine awards in Broken Pencil Zine Awards 2019.
The beauty of a micro journal is that it offers traditional journals and unlikely work, which isn't captured by people otherwise.
The work about Arab Lit Quarterly publication is one such work and worthy an award.
Conclusion
After reading about the Broken Pencil Zine Awards, it is no doubt that you want to appear with you Zine in the next awards. Who knows your creation is something the world wants to see!!
Read More: Best Comic Book Stores in Toronto
Auto Amazon Links: No products found.
Auto Amazon Links: No products found.