Ever been to Canada? You might have heard about Almonte Ontario, the birthplace of the inventor who invented a game that involves throwing a ball into baskets nailed on the gym wall. Yes, it's Dr. James Naismith, the inventor of Basketball.
And not just that, it's a 19th-century town surrounded by the Mississippi River in Canada, and it is just 40 mins drive from downtown Ottawa and has become a popular spot for movies in the years.
But, why visit this place? Well, you can spend your day here with your friends and family exploring all the restaurants, views, and shops, but that's not all.
I think what Almonte Ontario is truly about is the experience you can have by doing everyday activities arranged by local people, which is genuinely appealing.
Moreover, there are some incredible things that you can only find in Almonte Ontario.
And if you have never been to Ontario, here is a quick guide for you.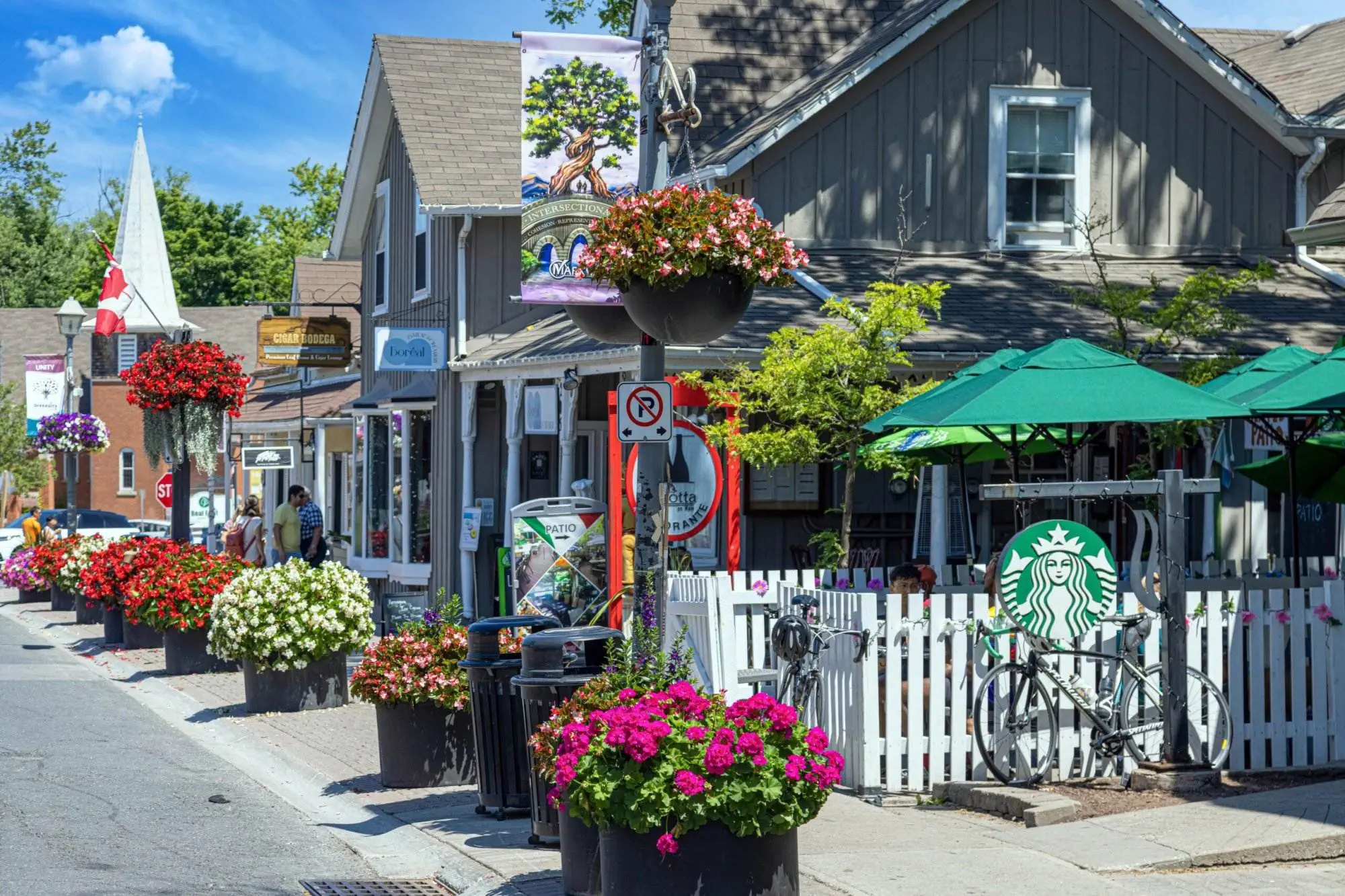 15 Reasons Why You Should Visit Almonte Ontario
On the main street,  you will find many cute shops and cafes but not just that, there is something that makes these shops surprisingly impressive.
1. Almonte Farmers Market: All Organic Stuff for You!
Plants and sweets, freshly grown and made by local farmers, are some of the best things you can take home with you as a souvenir.
Let's assume it's Saturday morning in Almonte, and you just woke up in your hotel room thinking, what a lovely time to go shopping!
Lucky you, there is a market in Almonte Ontario, near the public library, where you can buy plants, sweets, and many more things, freshly produced by the local farmers. The market is open from 8:30 to 12:30 for the public.
(Google Reviews)- "Small and very unique for Almonte. Very friendly atmosphere and people. Today's sales were donated to Palliative Care."
2. Cheerfully Made & Tin Barn Market: Homemade Is the New Trend!
Are you tired of using artificial products? How about some handmade candles to light up your mood?
Or something fashionable? or a handmade piece of jewelry? Well, if your answer is Yes, then you are going to love Cheerfully Made.
It's a shop where you can find a diverse collection of handmade items, especially if you're looking for occasions like Christmas or birthday presents for friends and family.
And if you are looking to buy something for your home, there is a vast collection of antique furniture, home goods, and more fun items available to browse from in Tin Barn Market.
(Google Reviews)- "There are many great reasons to visit Almonte, and Cheerfully Made is one! Excellent selection of quality, locally made products – I have never left empty-handed—great options for gifts, especially for hard-to-buy-for people. Make time to visit if you're in town, or even if just in the Ottawa area. It's worth the drive!
3. Mill of Kintail: A Land of Refreshment?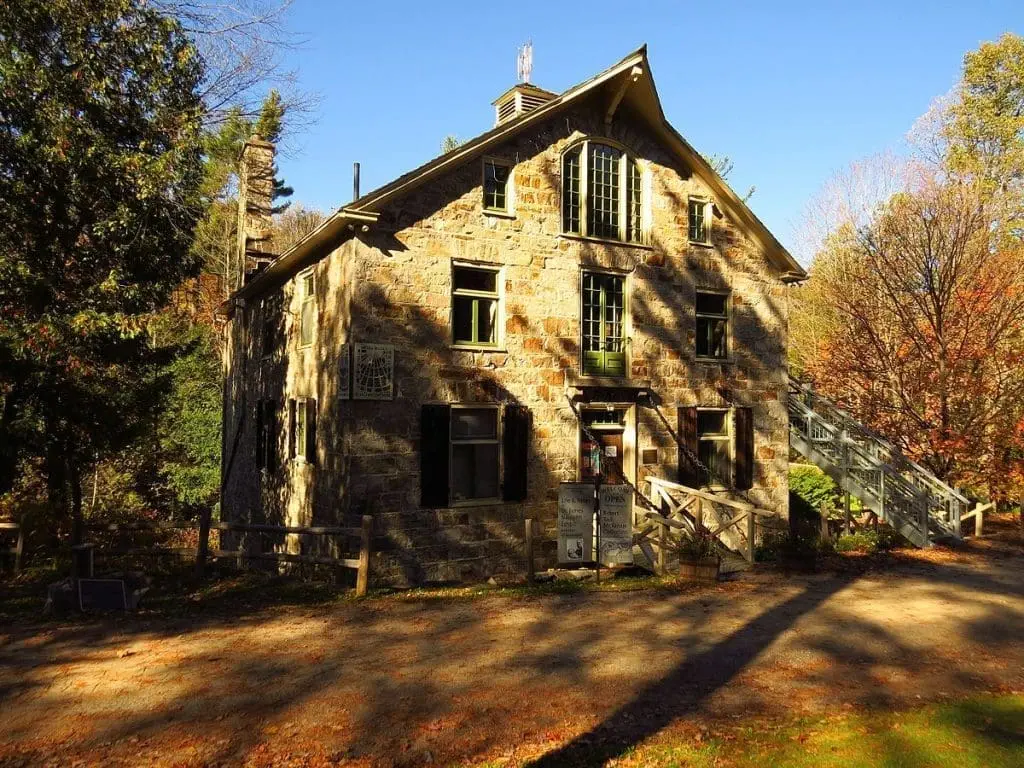 Want to refresh your mind? Let's go for a walk! How about mill town or Kintail?
It's a 152-acre Conservational area, where tourists can hike and go for a walk through the inviting natural environment all year long.
However, nothing comes free when it comes to an experience that beautiful! The fee for a person in Almonte Ontario is $6, and it opens all days of the week.
This is a beautiful place to take your dog for a walk and learn the history of the area.
Monday-Friday: (9 am-3:30 pm) & Saturday-Sunday(10:30 am-4:30 pm).
(Google Reviews)- "Amazing place to bring the family, lots of water critters to see!
4. Heirloom & Joe's Italian Kitchen: All in the Same Building?
Heirloom is a perfect place you can go for lunch before going for a walk. Along the river, there is a heritage building where you can find Heirloom. What makes them outstanding is that they create internationally-inspired food items from local ingredients.
You can get fish tacos, which are yummy! Because they are fresh, and all the flavor bursting in your mouth is just breathtaking! They offer many house-made drinks like lavender lemonade or iced tea that you have as it is or with vodka.
Joe's Italian Kitchen is one of these cafes you can find in the same building as an Heirloom. It has a homey interior with magnificent chandeliers all around.
You can enjoy its wood-fired Italian pizza, made from the Pinsa dough (A mixture of rice, wheat flour, soya, sourdough, and imported from Rome), making them the first certified Pinsaria in Canada.
(Google Reviews)- "My wife and I went for dinner on Friday night was were lucky enough to get a table on the back patio overlooking the falls. We ordered two wood-fired pizzas, which were terrific, well worth the money.
Our waitress convinced us to get dessert. She was not wrong; the Espresso Gelato was incredible. Already talking about a return visit with friends."
5. Almonte Antiques & Collectibles: Just an Antique Shop?
Almonte Ontario is filled with antique shops, and tourists especially love exploring Mill Street's shops.
Want a piece of antique jewelry to flaunt in front of your colleagues or friends from the workplace? Or just a fancy teacup? Almonte Antiques & Collectable offers plenty of beautiful collectibles for you.
(Google Reviews)- "I came here looking for records and was not disappointed. I found a pile of great vinyl upstairs for incredibly reasonable prices. If you're interested in albums from the 70s and 80s in particular, you'll have a great time here."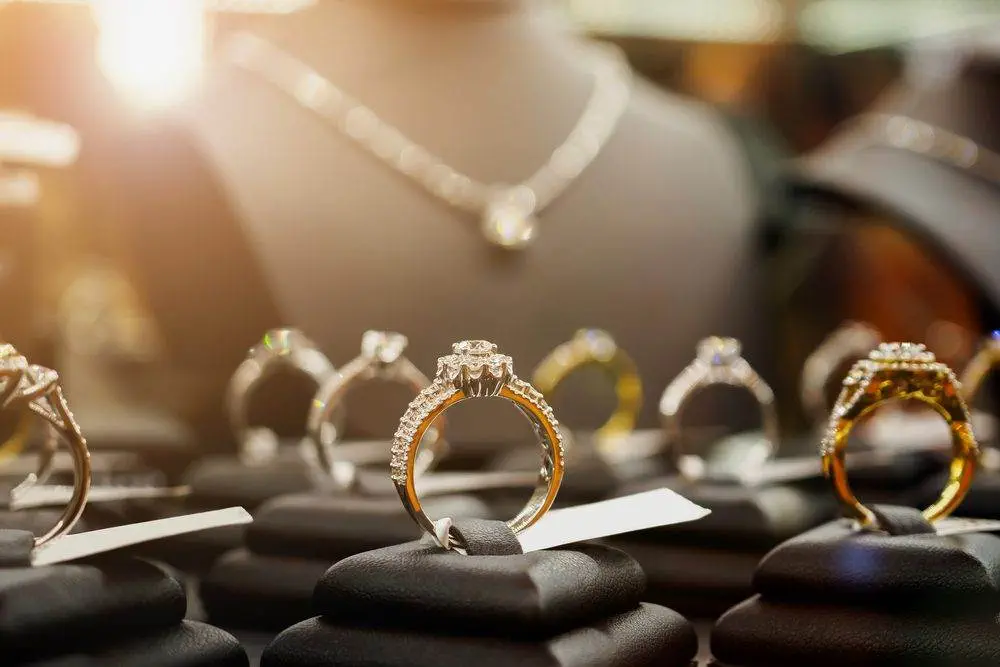 6. Lobby Bar: Local Drinks?
It's the weekend in Almonte Ontario. How about you and I delight ourselves with some freshly made cocktails?
Lobby Bar is a perfect place for that because most of the ingredients and drinks are made and grown on their property to make it as local as possible so that you can enjoy drinks like home.
(Google Reviews)- "Such an amazing ambiance, Incredible food & drinks, and great people."
7. The Equator Coffee: All About Coffee?
Whether a drink to help you start your day or a drink to start a conversation with your favorite person, a cup of coffee is what you can find anywhere, and if that's the case, then Almonte-based Equator Coffee is for you.
They've been roasting coffee beans since 1998 in the heart of Ottawa valley.
It was named the Equator because the owners wanted to equate the benefits of consuming coffee and with each cup of Equator coffee you have, a child in Nicaragua goes to school.
Along with the Equator coffee, there is North Market Café and Catering, where you can enjoy your coffee in a high ceiling and bright open space café with lots of seating space.
8. Hummingbird Chocolate: Chocolate Award Winners?
Hummingbird Chocolate has won many awards for its delicious chocolates and making them one of the places you should stop by if you're in Almonte Ontario.
On the weekends, you can even participate in the chocolate-tasting tour in which more than ten people can do the tour.
It only costs $5, and you get to taste all the flavors of different kinds of chocolates. So, don't forget to sign up for it.
(Google Reviews)- "The goods: Delicious, creamy chocolate in a variety of percentages (I believe it's 60-85%) and taste profiles. I've only tried the dark fleur de sel and loved it. I'll report back when my taste test is complete!"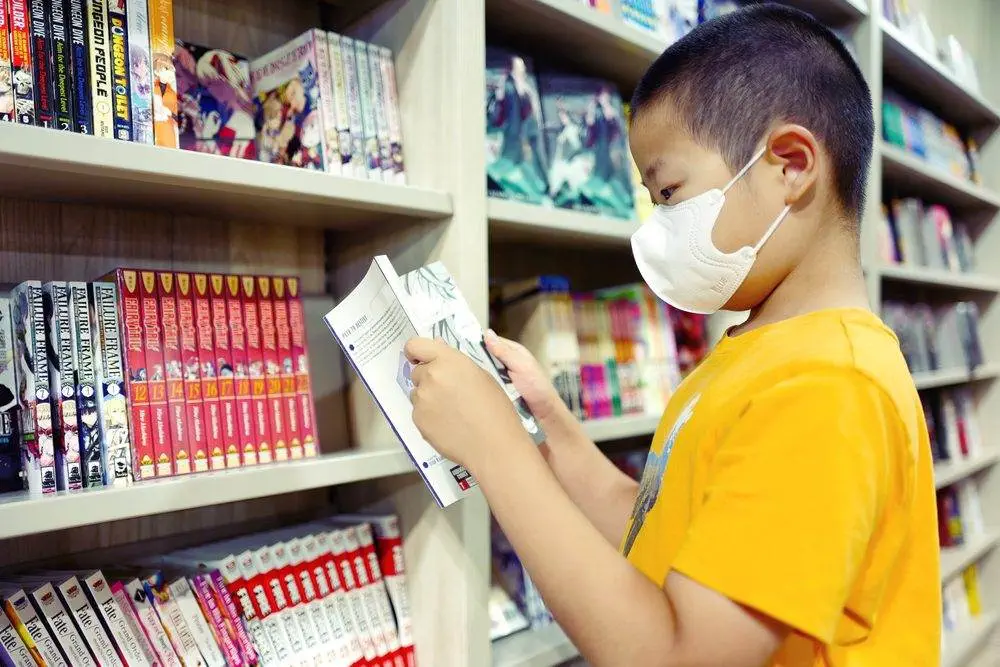 9. Peaches & Poivre: A Place For Jams?
I always wanted some savory or sweet goodies, so I heard about Peaches & Poivre in Almonte Ontario. People from Heirloom recommend this place for the gourmet grocer, and they also have their brand for canned goods called Shamrock Gardens.
They have a great assortment of sauces, pickles, savory jams, and sweets made from homegrown ingredients, and especially their onion jam and tomatoes are so good!
(Google Reviews)- "This terrific shop offers a lovely variety of kitchen gadgets (my weakness), food items, local cheeses, linens, and so much more—a great place for gifts and treats for yourself. The owners are welcoming and knowledgeable. A great part of Almonte's wonderful downtown."
10. Fortune Farms & Crooked Mile Brewery: Beers and Sweats Combined?
Every year between March and April, a maple farm known as Fortune Farms opens in Almonte Ontario, where you can try all the taffy, syrup, candy, and fudge.
While you can do farm tours and explore their trails in-season, you can also go for snowshoes or cross-country skiing on their site.
And if you get tired of all the exploring and the tours? You can quench your thirst in Crooked Mile Brewery, try some of their seasonal ales and flagship ales, and taste some of their beers with taster paddles.
(Google Reviews)- "A fantastic local brewery serving some of the best craft beers in the Ottawa Valley. The staff is friendly, knowledgeable, and helpful. They serve a wide variety of beers in several formats and offer bottle return."
11.  Dairy Distillery: Say Yes To Cow Vodka?
Do you feel left out when all of your friends drink hard liquor, but you're a fan of latte? Or do you want to try something new? Say no more, my friend!
Because in Almonte, Ontario, vodka is made from cow milk. Yes! Dairy Distillery makes vodka from cow milk.
Dairy Distiller saw an opportunity to create vodka using milk sugar as it is not widespread due to its production challenges and high cost.
Still, there are more than 3000 dairies in Ontario whole milk sugar goes to waste. This method of making vodka not only supports the environment or the local farmers but also lifts the spirits of their customers.
(Google Reviews)- "Ordered two bottles of the maple cream liquor. The order arrived quickly and was delicious! Looking forward to trying more of their products and applauding the work they are doing for the community in producing sanitizer."
12. Almonte River Walk: Feel the power?
One of the favorite things to do in almost Ontario is the river walk. You will get some fantastic views of the Mississippi River as you walk beside the river. The power of the moving water feels incredible.
(Google Reviews)- "The wooden boardwalks were impressive and took full advantage of the river views, making it a real hidden gem and very picturesque.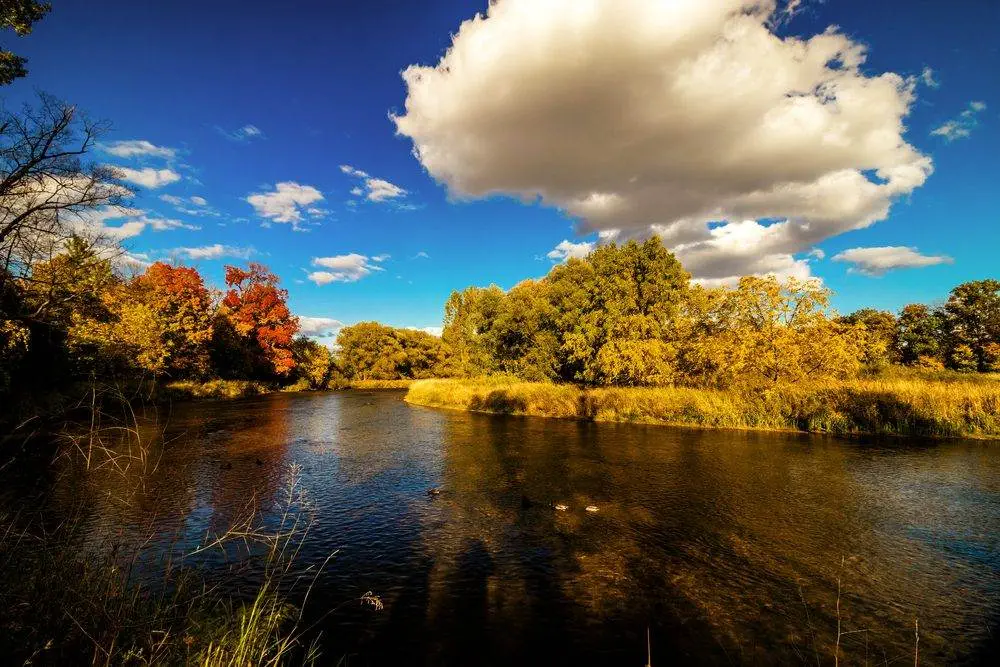 13. Almonte Ice Cream Shop & Café Positano: A Complete Day?
You can walk on the side of the river and have a cone of your favorite flavor ice cream from Almonte Ice Cream Shop and wait till it's sunset.
After that, you can have a nice dinner in an Italian restaurant inside the post office where recipes are transformed, inspired by their family roots and recipes in southern Italy.
(Google Reviews)- "The best kitchen In the Ottawa area, very cozy dining room, friendly staff. We like the place. It is great for small family parties or a getaway for the evening with your significant one."
14. Healthy Food Technologies: Fat-Free Doughnuts?
You can expect great taste with guilt because Healthy Food Technologies make doughnuts with more than 60% less fat without compromising any taste.
According to Healthy Food Technologies, Ed Atwell invented a new process to reduce the fat volume to fry food.
(Google Reviews)- "Best Donuts, you can get a great price, good people. If you're in Almonte Ontario, it's worth a visit."
15. Baker Bob's: Just a Great Place?
Recommended by the locals, Baker Bob's is a great spot to enjoy some treats and bring some home with you, and their customer loves their social presence on social media like Facebook, where they interact with their customers.
(Google Reviews)- "Friendly customer service, nice ambiance, decent selection. Highly recommend the ginger cookies, the best we've ever had."
"Awesome service, great staff, amazing food. What's not to love?"
Closing Thoughts
Some of the places from the list might look like something you can do anywhere, but the whole experience is just breathtaking!
It's amazing how these small shops, cafes, bridge street, and activities run by locals have attracted tourists from all around the world and become everyone's favorite. This beautiful Ontario small town also houses the north Lanark highland games.
Other places you can check out in Almonte are; the famous Almonte old town hall, Charming coffee shops like the Equator coffee roasters in downtown Almonte, the mill street bookstore, and many other things you can at the beautiful charming town.
You should stop by one of the places while visiting Almonte Ontario and experience real treasure.