Downtown resides on the graceful coast of old Ottawa, surrounded by eerie-style government buildings on Parliament Hill, gives away a panoramic outlook from Peace Tower, and can also enjoy a voyage to the Rideau Canal. The cleanliness and safe environment grab tourist attraction, making downtown Ottawa an embracing city. Ottawa was once known for its trading, hunting, and fishing heritage, making it a historic spot rather than a tourist site but, recent years have shown a drastic change in the graph. Ottawa regained its lost name with its creative food hubs, which once again welcomed people from all around the world.
It's a perfect city for a gourmet who likes to explore worldwide flavors. Byward Market, the food capital of Canada, stands first in attracting tourists. A fuzzy pivot filled with farmers' market stalls, and you can find numerous shops which sell the famous Canadian Cheese and Maple infused chocolates. You could also find an intimate cafe, oyster bars, and dining places. Another attractive factor is the Byward market's colored streets, which comprise crafts and clothes created by local designers.
Ottawa Restaurants
In this new year, gift your palates with unique flavors. Visit Ottawa and never forget to visit these six best restaurants in Downtown Ottawa.
PLAY FOOD AND WINE
1 York St, Ottawa, Ontario, K1N 6Z5, Canada
It resides inside the Byward market and gives away an alluring ambiance that is cozy and romantic with an open kitchen. An upscale- casual corner that is very much suited for families. The services would be more friendly than in fine-dining restaurants. They also provide creative dishes without eliminating their original flavors of regional specials.
Play Food and Wine uses local ingredients to secure their native taste. They also provide market-oriented sharing plates that are very convenient to use. They also suggest perfect artisanal wines with particular cocktails paired up with foods.
Offer three Vegan Options:
First includes grilled tempeh, roasted heirloom carrots, Manchamantel sauce, radish, crispy plantain.
The second contains vegan rigatoni, oyster mushrooms, peas, fava beans, sundried tomatoes.
Third includes roasted heirloom carrots, leek and cashew puree, pickled leeks, dukkah.
Spring dishes:
The first includes Patagonia prawns, mango, pineapple and chili salsa, avocado, Marie Rose sauce.
The second comprises spinach ricotta gnocchi, oyster mushrooms, fava beans, peas, sundried tomatoes.
Other Features:
Provide exceptional food and has unique varieties of tea and cocktails.
They also provide customized dine-in services for occasions like birthday dinners, anniversaries, wedding functions Etc.
Along with great food, special services like wheelchair-accessible seating and high chairs are there.
They have both gender-neutral toilets.
The place is safe and friendly, especially for transgender, LGBTQ, families, or groups.
The menu has varied options like lunch, catering, dinner, and desserts.
They also provide take-out options, small plates, beer, cocktails, alcohol. Etc
They accept almost every payment dealings like China Union Pay, Diners Club, JCB, American Express, VISA, Mastercard, Debit and Credit cards, and mobile wallets.
Accept reservations for special occasions.
You could also find healthy options, vegetarian preferences, coffee. Etc
2 . ALLIUM
87 Holland Ave, Ottawa, ON K1Y 0Y1, Canada
One of the classic jewels resides in Ottawa's West Wellington/ Hintonburg area. The basic idea behind Allium is to serve the natives contemporary and stylish food in a unique setting. Another great attraction that brings back customers is the magical hands of Chef Arupa Jana, who combines the taste of two extremes serving Canadian cuisine and gives a modern touch to classic dishes using French techniques. People love Allium because of its soothing atmosphere. They also have a seasonal menu that changes each month.
They offer small plates of international classics like popcorn shrimp with spicy mayo, bacon and asparagus tart with pea shoots, and duck breast with crispy polenta. Fish tacos and seafood choices are the specials of Allium.
Delicious menu:
Duck confit mac and cheese, crispy skin, peas, aged cheddar, and pecorino romano.
Slow roasted beef brisket, fried Mac and cheese, salad, green beans, kimchi dressing, and carrot pickles.
Leg of duck confit, sweet potato mash, lime crema, and fried peanuts.
Cheese curd arancini, parsley salad, warm salsa, pesto, mustard creme fraiche, pine nuts, and pickled beets.
Honey glazed tuna, cherry tomato, romesco aioli, Brussels, olives, and dill.Other Specials:

Allium burgers, steak fries, and buttermilk fried chicken are amazing choices for lunch.
Offer a variety of fish menus like salmon, tacos, and a special tuna dish as dinner specials.
Scallops with chicken fried snails is another amazing dish that evokes flavours which is complex and fresh.
Seared scallops- quinoa salad, pickled tomatoes, radish, marinated jalapenos, marinated peas, and peas puree can be a well-versed meal for brunch. The fresh taste of the puree is amazing.
Beef tartare- pickles, hot sauce, devilled egg, fingerling potato salad, egg yolk mayo with toast. The tartare is not too cooked, not too salty, and flavourful which makes it a perfect breakfast meal.
Slow Roasted Pork Belly- baby book Choy, curried peanuts, picked button mushrooms, garlic, ginger, and soy glaze another delicious dinner meal.

Usual Meal:

You can eat freshly cooked meals with your friends and family for lunch. You can find amazing options that are downtown specials like:

Soup – French bread and Garnishes
Biscuits and Gravy – Smoked pork and mushroom gravy, fried chicken, apple jam, hot honey, crushed peanuts, and pickled cabbage.
Steak – Artisan green, marinated flat iron, french fries, lemon vinaigrette, and smoked jalapeno aioli.

For brunch, you can eat a cooked meat menu variety like:

Lamb and Potato Tart – Braised lamb, green onion mash, puff pastry, chive cream, cheddar, tomato jam, mustard greens, and peas and carrots.
Beef Tartare – Hot sauce, fried pickles, potato salad, toasts, and mustard mayo.
Burger – Pickled red onion, tomato jam, aged cheddar, bacon, lettuce, chipotle sauce, potato bun, and french fries.
Roasted Pork Chop – Bacon mushroom jam, marinated green beans, and onion-garlic cream.

The Fish menu varieties include:

Popcorn Shrimp – Nori, Lemon Zest, and Spicy Mayo.
Salmon Tartare – Baguette Crisps, Spicy Apple Salsa, Herb Puree, Lemon Mayo, and Pea Shoots.
Wild Pink Shrimp – Sweet Peas, Lemon Zest, Brown Butter, Black Pepper Pain Perdu, and Asparagus.
Ahi Tuna Crudo – Cold Pressed Canola Oil, Tobiko, Mint, Cilantro, Soybeans, Lime, and Strawberry.

Dinner menu varieties that you can enjoy with family include:

Tomato Tartine – Pan Fried Basil Focaccia, Pickled Tomato, Raw Tomato, Roasted Tomato, Smoked Tomato Vinaigrette, Italian Parsley Salad, Marinated Fresh Mozzarella Cheese, Garlic Chips, and Corn Puree.
Braised Beef Shortrib – Chicken N Waffles, Hot Honey, Roasted Tomato, Torched Mornay Sauce, Corn & Bacon Succotash, Brussel Sprout Leaves, and Marinated Lemon Rind.

Sweets varieties include:

Chocolate Ganache – Dark Chocolate Ganache, Flourless Chocolate Cake, Rum Ball, Sponge Toffee, Squash Caramel, Dark Chocolate Gelato, Sugar Coated Pecans, Chocolate Sauce, and Candied Squash.
Lemon & Butternut Pudding – Candied Lemon Zest, Lemon Curd, Whipped Coconut, Candied Squash, Lemon Sorbet, and Crushed Pistachio.

Chelsea Nesvig. Flickr. Copyright 2022

Wine list:

Pink
Sparkling
Red Wines
Wines
Cocktails
Draught Beer

Features:

A fantastic and pleasing atmosphere which grabs the attention of customers.
The vegetarian main has lots of varieties.
Amazing service, the waiters behave very friendly.
A restaurant with a bar.
They offer American, fusion, and Mediterranean menus with Canadian cuisines.
Perfect place to visit for seafood varieties.
The food is a bit pricy, but it's worth it for special occasions.

3 . BECKTA DINING AND WINE

150 Elgin St, Ottawa, Ontario, K2P 1L4, Canada
A great restaurant with a top-end menu presents seasonal Canadian cuisines with a unique style. They also have a separate wine bar. Flavourful meals served by very friendly staff. A hidden gem with rave reviews making it a favorite spot for many people.
This restaurant is on the critic's list for serving exceptional food.
Have outdoor seating and a wheelchair-accessible entrance.
Offer vegetarian meals with various options.
Has gender-neutral toilets
Safe environment with a pleasing atmosphere; recommended for family and friends.
They also provide high chairs.
Take-out is available.
Dining Room
They have two dining areas on the ground and second floors that are exclusive. The dining menu contains the flavor of both modern and seasonal cuisine. It includes:
Delicious ala carte menu
Another is a five-course tasting menu where you will directly interact with the chef; these are usually paired with wine (optional) to give a fantastic experience.
Also servers delicious fries and tacos.Usual Menu: For lunch, the variety includes:

Lamb Shank Confit – Smoked Beets, pickled shallots, watercress, beet puree, Cannellini beans, and Currant Demi-Glace.
Charcoal Grilled Mackrel – Almonds, roasted beets, horseradish cream, red endive, pickled shallot, sauce Chien, and smoked beet ketchup.
Soy Marinated Chicken Wings with scallions, mint, and peanut slaw.
Seafood recipes like smoked PEI mussels and fried smelts on Rye Sourdough.
Marinated Chicken Wings are mixed with scallions, mint, and peanut slaw.

For dinner, the variety includes:

Sockeye Salmon with smoked core puree – sugar snap peas, chanterelles, spring, garlic mixed parsley, and almond pistou.
Grilled Squash Steak – Melasses mushroom glaze, scared cabbage combined with caraway and mustard, veggie demi-glace, pickled red peppers dukka, and caramelized tomato jam.
Pan-Seared Halloumi
Mushroom Gyoza
Pistachio and rose chantilly eclair

The dessert menu includes:

Chocolate Mousse Pyramid – raspberry jelly, chocolate soil, cocoa meringue, chantilly, and raspberry gelee.
Nat's Sourdough with whipped brown butter.
Cheese and Charcuterie – Meat, cheese, and spread.

Salad includes:

Backyard Edible Green Salad – Fruits and spiced pepitas with honey vinaigrette.
Seared Foie Gras – Rye pancaked, smoked maple, and walnuts.

Other items:

Charcoal Grilled Maitake – Mushroom Gyzozza, wild rice, Tokyo turnips, broccolini, Miso sweet potato, and Kombu demi.
Seafood recipes like Steelhead Trout – Pickled Pearl Onions, Brussels sprouts, oyster mushrooms, Sorghum, butternut squash puree, pistachio, and vinaigrette.
Beverley Creek Striploin – Baby carrots, swiss chard, shitake mushrooms, Yukon Gold Pave, and sauce foyot.
BC Halibut – Confit Sunchoke, King Eryngii, kale, smoked almonds, dill, and leek veloute.
Jerk Quail – Pimento Cheese Potenta, Habanero pickled carrots, Brussels sprouts petals, and jus.
Another seafood recipe is Fish and chips – Olive oil, poached halibut, and smoked potato croquettes.

Bar varieties:

Cocktails
Blanc de Beckta
Grenache
Dessert Fortified Wines.
     Features:
They offer delicious organic food varieties.
You will easily find English as well as French-speaking staff.
Amazing place for casual as well as a family meet-up.
Excellent service.
Offer take-out facility.
Present exclusive Canadian cuisines only.
Offer a private dining experience for special occasions.
For more info contact + 1 613 – 238 – 7063
4 . FRASER CAFE
7 Springfield Rd, Ottawa, Ontario, K1M 1C8, Canada
Fraser Cafe serves great food at reasonable prices. The interior is so light that it gives people a nostalgic vibe. Favourite restaurants of all time; offers customized food along with takeout meals. The place offers the best birthday dinner apart from other Ottawa restaurants. The cafe has colourful tables with exposed metals that are highly photogenic. The dishes are highly traditional and elevate the mood of customers. Another feature is that the chef himself will help the customers to choose from the menu if they are confused about ordering. Come under the list of the best restaurants because of the calm, soothing, and less fussy environment.
Menu Varieties include:
Chicken Cordon Bleu layered with pancetta and gruyère and accompanied by a Creamy Mustard Gravy.
Pork Tenderloin Satay with Crispy Egg Noodles and Black Bean sauce.
Crispy Orange Chicken with Chili & Peanuts.
Seared duck confit, poached lobster, roasted trout, and bread.
BBQ beef striploin with chips and mushrooms and Arctic char with kimchi and wild rice broth are fantastic.
Beverage Varieties:
L'Atelier Bourgogne AOC Côte d'Or Pinot Noir
Andeluna Pasionado Cuatro Cepas
Chateau Saint-Roch Saint-Estephe AOC
Precision Zinfandel
Fraser became one of Ottawa's favourite restaurants because of its wine collections. It includes:
Racine Pinot Noir
Poggio Bestiale Fattoria di Magliano
Heba Fattoria di Magliano Sangiovese
Villa Barbi Orvieto Classico
Beaumonto Chenin Blanc
J. M. Raffault Chinon Blanc
Leo Hillinger Sparkling Rose
St. John Rose Beausoleil
Amorro Rosado Ancestrale Pet-nat – Tintilla
Sparkling Wine Varieties:
47 Anno Domini Vino Spumante Sparkling Rose
Fratelli Cosmo Prosecco DOC
Raventos i Blanc Brut
Features:
They offer a special featured family-style dinner from Thursday to Saturday.
Another specialty of this restaurant is that, weekly, the menu gets changed and, if you are planning to order any specific dish, you can place an order by Monday morning for that particular week.
Friendly staff and great service.
Take out option is also available.
On special requests, they also offer a home delivery option.
Craft beer varieties are also available.
5 . GEZELLIG
337 Richmond Rd, Ottawa, ON K2A 0E7, Canada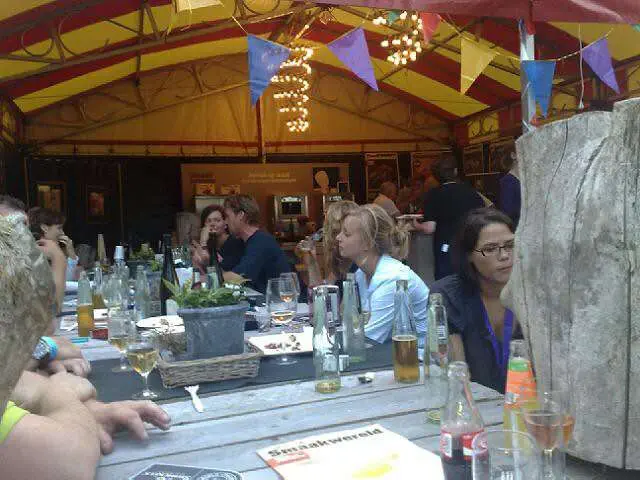 A seasonal restaurant located in the Westboro neighborhood of Ottawa. The blue walls, high ceilings, and colorful artwork represent modernity and make it one of the famous restaurants in the country. The dishes are a fantastic mixture of local ingredients with international flavors. They offer amazing recipes by Chef Michael Moffatt that are delicious and splendid. A perfect place for special meet-ups and events.
Menu Varieties Include:
Appetizers:
Mushroom soup – coconut cream, and truffle creme fraiche.
Artisanal cheese and charcuterie plate – crostini, gees bees honey, and grainy mustard.
Fish cake – slaw and classic tartar sauce.
The main menu includes:
Mariposa duck magret – sweet potato puree, portobello bread pudding, buttered radish, kale, and sage demi-glace.
Arctic char – white bean and bacon cassoulet, buttered cabbage, mushrooms, cauliflower puree, and grilled scallion vinaigrette.
Braised Alberta beef ribeye – orzo, Brussel sprouts, turnips, green olive rouille, arugula chimichurri, and sauce.
Desserts include:
Butterfinger – white milk and dark chocolate, peanut butter, marshmallow fluff, and dulce de leche.
Creme brulee – Sloane earl grey tea, orange marmalade, and vanilla shortbread.
Wines include:
Pinot Gris, Falls Vineyard, 2027 Cellar, ON '20
Blanc de Beckta Brut, Cave Spring, Beamsville, NV
Shiraz, 'Heartland', B. Glaetzer, Langhorne Creek, AUS'18
Featured Cocktails:
All I Need (2oz) – Empress Gin, Creme de Cassis, grapefruit, lemon, and egg white.
Despacito (2. 5oz) – Tequila, Cynar, Amaro Averna, and lime.
The Dude Abides ( 2oz) – Spiced rum, Creme de Cacao, Chai, and milk.
Features:
They offer vegetarian, vegan, and gluten-free dishes as per the customer's diet plan.
Provide local Canadian cuisine with international flavors.
Great service system – Friendly and pleasant staff.
Highchairs and wheelchairs are available.
They accept American Express, Visa, Credit card, and Mastercard.
Take-out options are available.
Provide table service.
Free Wifi accessibility.
6 . RIVIERA
 62 Sparks St., Ottawa, ON K1P 5A5, Canada
Riviera is yet another restaurant in the country, famous for its modern appearance. The atmosphere is so pleasant and welcoming. They carved a high-end and refined interior out of an old building which was a bank building. The place is expensive but perfect for special meet-ups, weddings, group gatherings, and date nights.
Menu includes:
Luscious burrata with heirloom tomatoes and micro basil.
Porchetta Tonnato with suckling pig.
Braised Lamb Shank – sorghum, celeriac puree, and gremolata.
Beef Tenderloin – roasted salsify, cippolini, mushrooms, and spinach.
Other specials:
Dry- Aged PEI Striploin
Seafood Green Curry with lobster, pink shrimp, scallops, Fogo cod, coconut milk, and lime served with rice.
Duck Empanadas
Braised Lamb Flank
Scallop Crudo – creme fraiche, poppy seeds, caviar, and endive.
Acadian Sturgeon Caviar
Cocktail varieties include:
Heavyweight Champion – Hayman's royal dock navy strength gin, coffee and chipotle infused Campari, and Cocchi Dopo vermouth amaro.
Corpse Reviver No. 62 – death's door gin, Cocchi americano, triple sec, Quaglia absinthe, Quaglia Pino Mugo, lemon, and simple syrup.
Hanky Panky – Sipsmith London dry gin, Dolin rouge, poli amaro, and Regan's orange bitters no. 6.
Pasta Varieties:
Rabbit Pappardelle
Ricotta Gnudi with Oyster Mushrooms
Red Deer Ragu with Toasted Flour Pappardelle
Starters include:
Chicken Liver Pate – mostarda and toast.
Iceberg Wedge – bagna cauda, nordic shrimp, bacon, and grated egg.
Delicata Squash Rings with Ranch.
Burrata – pistachio pesto, white anchovy, and focaccia.
Desserts include:
Pavlova – blood orange curd, vanilla, and whipped cream.
Caramelized Pineapple – brown butter ice cream, and coconut praline.
Cheese – baluchon, grey owl, sauvagine, noble, and rebellion.
Features:
Riviera is Ottawa's best restaurant which is on the critics' list.
They offer food till late at night.
Offer a wide variety of healthy recommendations for customers.
It is an upmarket place which is perfect for special occasions.
Luxurious and pricy but worth it.
Serve great cocktails, beer, and wine.
They offer vegetarian, vegan, and gluten-free dishes as per the customer's diet plan.
Great service system – Friendly and pleasant staff.
Highchairs and wheelchairs are available.
They accept American Express, Visa, Credit card, and Mastercard.
Take-out options are available.
Provide table service.
Free Wifi accessibility.
Birthday Dinner
Riviera is mainly famous for giving perfect surprises as per customers' requests. If you have to host a special event in Riviera, you should reserve for the same. You can ask for any specific dish of your choice; if not, they will recommend menus suited for the occasion. If you have any diet patterns, they will arrange your food menus accordingly. If you are a wine lover, you will find a wide variety of it here. Some specials include:
Raw special includes:
Oysters with Mignonette – horseradish, and lemon.
Tuna Crudo – puffed quinoa, chili, tomato, and argan oil.
Seafood Tower
Beef Tartare – truffle, and potato chips.
Starters include:
Mushrooms on Toast – egg, and truffle.
Seafood Chowder – scallops, pink shrimp, mussels, and bacon.
Celeriac Schnitzel – bitter greens and gribiche.
The main menu includes:
Lobster Spaghetti
Ricotta Gnudi with black truffles.
Duck Ham with scalloped squash.
Desserts include:
Chocolate Nemesis with whipped sour cream.
Creme Caramel


Exceptional Food

If you want to experience something different from Canadian food, you must visit Shafali Restaurant. They serve the best Indian food varieties that are rich in flavor. They have two locations in Downtown Ottawa; one is at 55 Byward Market, and the other is at 308 Dalhousie Street.

If you are planning for a romantic dinner, you should choose the Byward market, and for casual gatherings, visit Dalhousie Street.

Features:

They serve the best and bona fide Indian food, mainly Bengali menus.
Another attractive factor is that the whole food preparation happens in front of the customers.
Customers can suggest their preferences, like the level of spiciness, sweetness, or flavor suited to their appetite.
They offer foods that are healthy and rich in nutrients.
The famous food menu includes samosa, seek kabab, saag paneer, and butter chicken.
The most popular recipe is their Chicken Tikka Wrap – Tender tandoori chicken breast, sweet-spiced mayo with lettuce wrapped in freshly prepared naan.
They offer take-out and pre-order services.
They sell Indian products for those who wish to prepare Indian food. Also, offer special cooking classes for the same.
You can pair the dishes with special Canadian wine, beer, or cocktails of your choice.
They accept American Express, Master Card, VISA, credit or debit cards, and cash.

So, if you are planning to visit Ottawa this summer, don't forget to visit the above restaurants at least once and make your journey flavorful.