In this article, we will take you through Sunshine Village Ski Resort. We look at the best features that this Ski Resort offers to plan your ski trip
accordingly
.
Let off some steam from your work grind or take a break from your monotonous daily routine. This is one of the best opportunities to do so. Imagine yourself gliding down the spotless snow-covered mountains.
You can feel the crisp, cool, and clean air on your face. Even the thought of this will leave you refreshed and exhilarated.
The mesmerizing white view is unforgettable. The adrenaline rush from trying out something new is amazing. The breathtaking view from the chairlifts is worth the trouble.
You can have a fantastic adventure you have with your family and friends. You will gain new confidence and thank yourself for making time for this ski trip.
Where is Sunshine Village Ski Resort? – Location
Spread over three mountains, namely Mount Standish, the Lookout Mountain, and Goat's Eye Mountain, is the Banff Sunshine Village, in the heart of the Banff National Park.
This is the highest ski resort in Canada,  set in Western Canada, on the Continental Divide of the famous Canadian Rockies. It is spread over the Banff National Park and also the Mt Assiniboine Provincial Park in British Columbia.
The Sunshine Mountain Lodge is the only ski-in/ ski-out hotel accommodation in the Banff-Lake region and is at its base. It is just 15 minutes from Banff and a 90-minute drive from Calgary International Airport. The resort stretches over 3,300 acres of skiable terrain and provides diverse options depending on the skier's level. The glacially-fed Banff Lake Louise in the Banff National Park is quite a sight to behold, with its mesmerizing azure blue shade of waters.
The official ski season begins in early November and usually ends in late May, Canada's most extended non-glacial season. The village receives over 30 feet of snowfall every year and is at an altitude of 7,082 feet, ensuring the snow stays dry throughout the year.
Things To Do in Sunshine Village Resort
Here are some things that you will enjoy doing at Sunshine Village Resort.
1. Terrain

As mentioned before, the Sunshine Village hotel offers diverse terrains depending on the skier's levels ranging from beginner greens to the extreme world-famous double-black Delirium Dive.
Tree-lined slopes for beginners are 20%, wide-open above tree-line is 55%, and expert terrain is 25%
The Strawberry Jim Park offers easy-intermediate terrain for beginners to practice. Great Divide Park has some fantastic snow and is suitable for intermediate-level skiers.
2. Sightseeing
A high-speed eight-seater gondola ride is the only way to explore this place. You can also use chairlifts with heated plush seating, the first of its kind in the whole of Canada.
The Gondola ride starts in the parking lot. Its first stop, the Goat's Eye Express, is at Goat's Eye Mountain. It offers intermediate to advanced terrain. The mountain tops at about 9,200 feet, but the chairlift ride is at a lesser altitude.
To continue to visit the other two mountains, you have first to take 3 lifts each
respectively
to reach Mt. Standish(beginner-intermediate) and Lookout Mountain (intermediate-advanced). Banff Sunshine was even awarded the "
Best View from the Best Off-Piste Run
" by
Ski Canada
magazine.
On Mount Standish, you can ski on the runs of Standish Express, Wawa, and Strawberry Express. You can see Lookout Mountain. You can use the runs of Teepee Town LX, Angel Express, and The Great Divide Express.
Forty-five minutes east of Banff, we can find Lake Louise. It is a sight that leaves you dumbfounded with its serene beauty.
3. Skiing
The Hike Up Trail at Goat's Eye Mountain leads to Saddledome, Stampede. It also takes you to Renegade's great slopes. These advanced-level runs then lead into the Eagle Glades and Eagle Creek.
Next up on Mount Standish, get off at Strawberry Express for the Dell Valley. You can get off at Wawa Quad for Meadow Park. Both are green runs for beginners to practice their turns and gain confidence.
The
Delirium Dive
and the
Wild West 
offer adventures for advanced-level skiers.
Delirium Dive
offers one of the steepest and most hair-raising lines.
But it is gratifying for the adventurous. Even the most skiers expert must be
fully
equipped. They should carry an avalanche beacon and appropriate gear for safety purposes.
Bushwhackers
 and 
Horto's Revenge
offer luxe chairlifts. They have heated plush seating and a covered orange bubble.
4. Lifts
You can see the TeePee Town L in the above-given images, Canada's first and only heated chairlift. It is quite a definition of luxury, energy-efficient, and travels at a speed of 5 meters per second.
These lifts act as connectors to different mountains and runs. They are useful when you want to return to the Base Village.
The price of lift tickets varies with age group. For ages 5 and under is free and above 65+ is a fixed rate of $99+GST. For ages 6-12, ages 13-17, and ages 18+ is $49, $99, and $127,
respectively
, with GST applicable in each case.
5. Important Dates and Timings
Opening/Closing: November to May 25 (on Victoria Day)
Gondola Hours: Saturday – Thursday: 8 am – 5:30 pm Friday: 8 am – 10:30 pm
Lift hours everyday:8:00 am to 5:00 pm
6. Hotel Stay
Sunshine Mountain Lodge offers a broad range of guest rooms. Their prices range from being relatively affordable to expensive suites ideal for families.
You may choose the places based on the specific outside view you want to have. The Lodge boasts an outdoor hot tub. A trip to a cedar-lined sauna can follow it up.
It has a gym with all standard equipment such as a treadmill, yoga mats, etc. The guest rooms are worth checking out.
West Wing Loft Rooms
West Wing Premiere Rooms
Main Lodge Suites
Deluxe Balcony Rooms
Deluxe Waterfall Rooms
To check the availability of guest rooms, click here: https://www.reseze.net/servlet/WebresResDesk?hotelid=1388. 
7. Activities
People prefer a family trip to Banff Sunshine Ski Resort during the winter vacation. It is because of the below-mentioned kid/family-friendly activities:
Offers a great variety of terrain depending on the skier's level.
Short and safe runs for beginners.
Sightseeing tours on chairlifts.
A spectacular gondola ride.
Ski lessons for kids and adults/ beginners.
Week-long-planned programs.
Snowshoe adventure through Sunshine Meadows.
Verde Day Spa: pamper and rejuvenate yourself and take a rest after skiing.
Access to the gym.
9. Skiing Lessons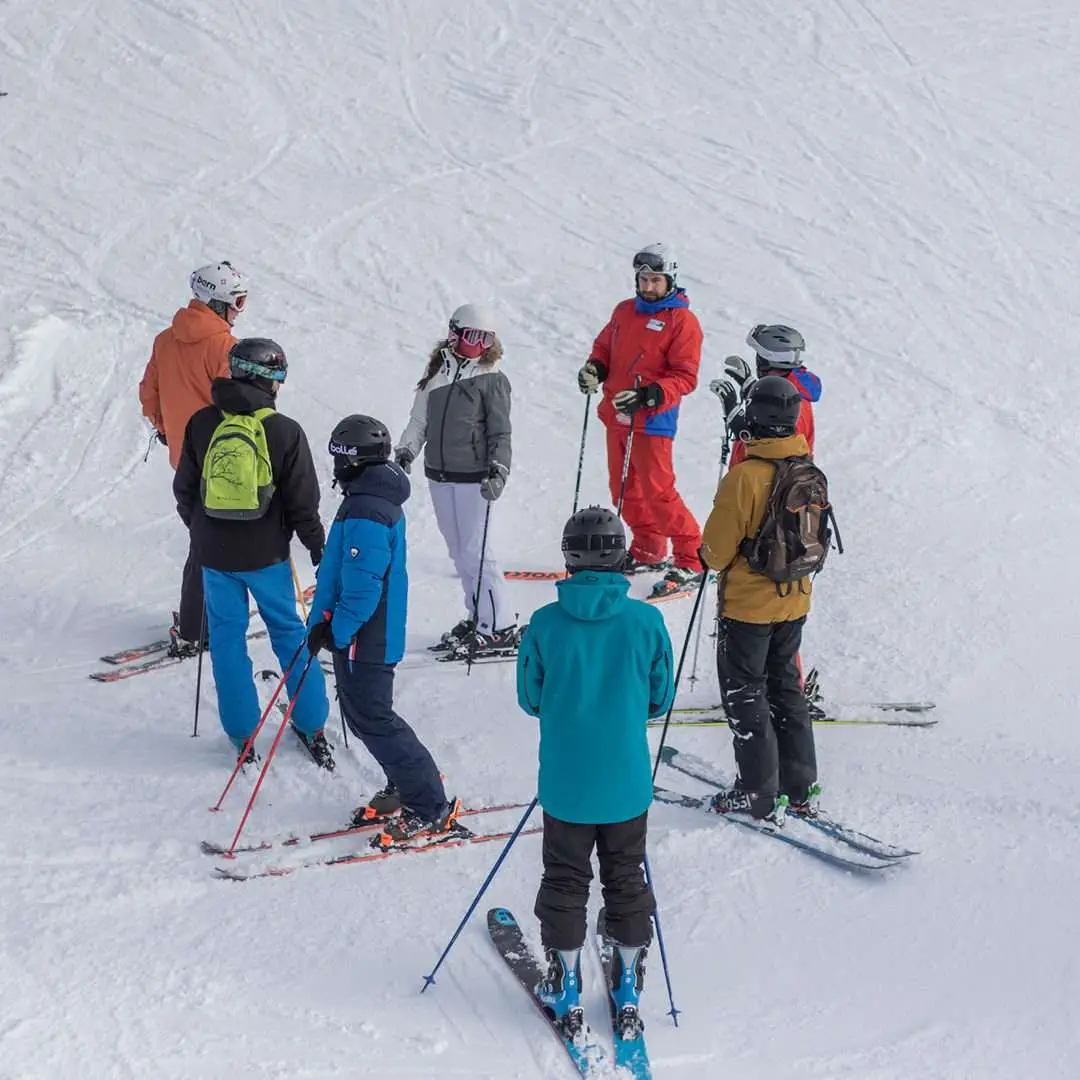 The resort offers these lessons for any age group. New beginners or skiers who want to improve their skills can learn here. More experienced skiers are provided with small workshops to hone their existing skills.
The instructors are very professional and very supportive and patient. The price of skiing lessons varies with different age categories.
10. Where to Eat?
Grab some coffee or a latte at the Java Station for some fantastic pastries and sandwiches. Adults, they also serve beer and other drinks. You can stop at Chimney Corner or Mad Trappers. You can also try The Alpine Grill, a great place to take your kids as they serve pizzas, pasta, and whatnot! Eat anything of your choice, because skiing will help you stay fit and in shape all the time! Don't worry about gaining weight.
Get your favourite food at these restaurants. Following are the top restaurants in the Sunshine Mountain Lodge or near it:
The Chimney Corner

Mad Trapper's Smokehouse

Java Lift Coffee Bar

Java Station

The Alpine Grill

Creekside Bar + Grill

Java Express
11. Events Celebrated Here
Remembrance Day At Sunshine Village (NOV 11):  This is to honour all who have served the country and is done by sparing a moment of silence at 11:00 am, broken by the sound of bagpipes later.
Santa On The Mountain (Dec 12-13): On this day, Mr and Mrs Santa Claus will give away candy canes while also riding the slopes on a snowboard. You can even get your pictures clicked with them.
Christmas Torch Parade (DEC 24): Here, you get to see fine torchbearers put on a show for the Sunshine Mountain Lodge guests.
New Year's Torchlite Parade(DEC 31): Here, you get to see fine torch bearers put on a show for the Sunshine Mountain Lodge guests at night.
Slush Cup: On Monday of May's long weekend, Sunshine Village organizes the famous Slush Cup, where adventurous and daring skiers try to make it across a freezing slushy pool of water. This has been celebrated every year for over 90 years and is an enjoyable experience.
12. Where to Shop?
The resort offers several shops and retail locations. They sell clothing, gear, equipment, helmets, snowboards, and branded souvenirs. They also sell gifts and decor with the Sunshine logo.
All skiers should wear clothes and equipment that complement the weather. Please take care to wear thermal under your clothes and also apply sunscreen at all times.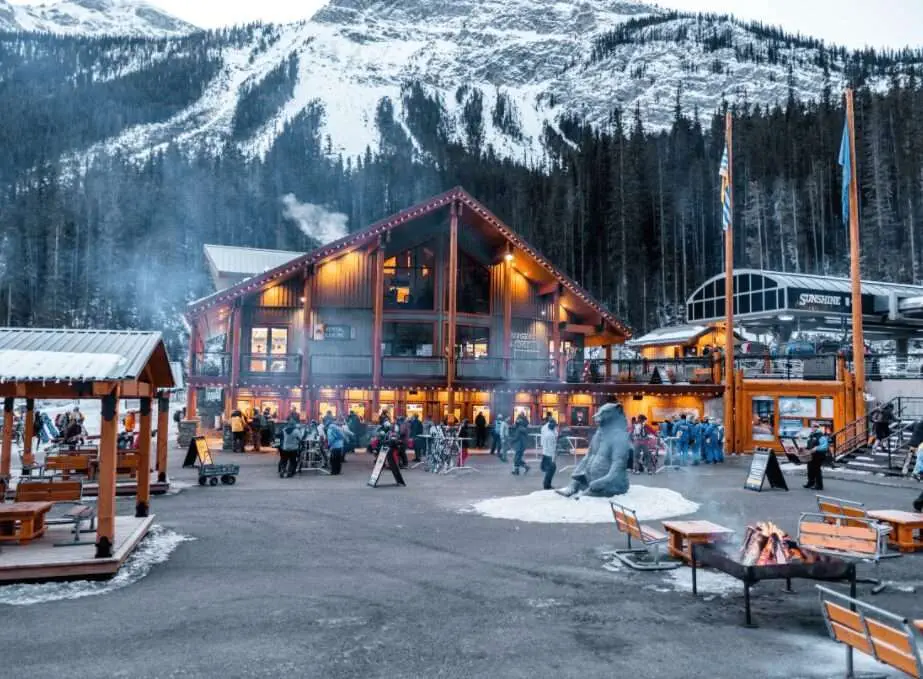 Sunshine Sports:  From 8:30 am to 4:30 pm.
Monarch Sports: From 8:30 am to 9:00 pm.
Bureau Sports: From 8:00 A.M. to 5:30 P.M.
Banff Avenue Sports: From 8:00 am to 4:30 pm.
13. Safety Measures
Never ski or ride if you are under the influence of drugs or alcohol.
 Kindly ensure good physical and mental ability and knowledge to load, ride, and unload lifts safely.
Adjust your space and speed and stay aware of keeping everyone safe.
While gliding downhill or merging into a trail, look uphill and steer clear of others.
Remember to stay in control of your balance and avoid other oncoming people or objects.
Remember to keep your skis straight ahead and look behind you for the oncoming chair.
While taking out things from your pocket, be cautious not to drop your phone, glove, pole, and other items on skiers and riders below.
Check for any loose equipment and clothing and that apparel is not caught in the chair.
The Sunshine staff also shares user responsibility for our free ride zones of Delirium Dive and The Wild West.
Please consider the risks that accompany skiing on terrain features that you choose.
Before coming here, kindly read exactly where Sunshine Village hotel is and whether the weather conditions are appropriate for you.
14. Restrictions on the Equipment Allowed
Only the following types of personal ski equipment are allowed in the resort during skiing activities.
Snowbikes.
Snowtrikes.
Snow skates.
Snowboard.
Telemark skis.
Sit-ski.
Mono-ski.
Snowblades.
FAQs
How to reach the Sunshine Ski Resort/Where is Sunshine Village Ski Resort?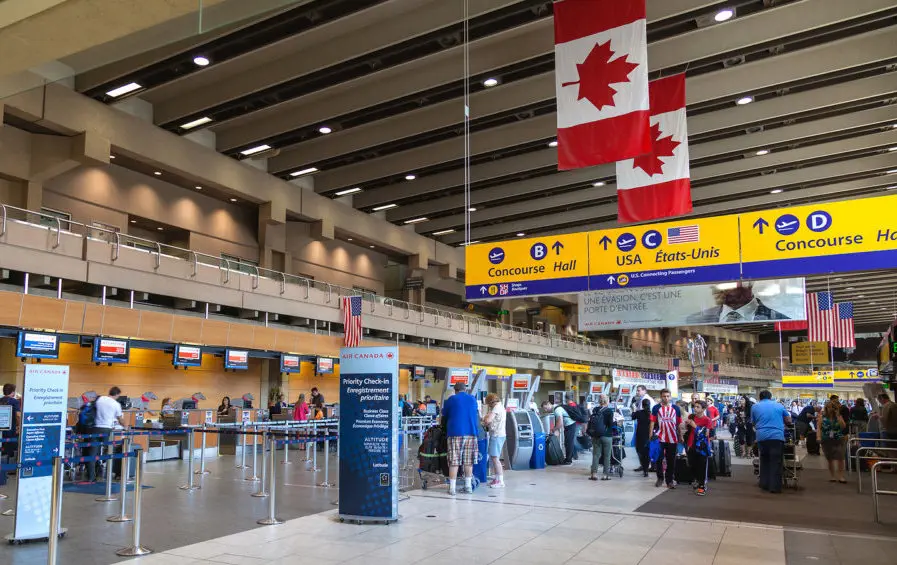 You first get off at the Calgary International Airport. It offers well-connected flights from almost all major cities in the world. They include Mexico City, Los Angeles, Chicago, San Francisco, Beijing, and so on.
You can take the shuttle busses from the Calgary International Airport. They include the Banff Airporter, the Brewster Bus, and Banff Transportation. Click here to know more: https://www.skibanff.com/getting_here.
Watch this video to get a clear top-to-bottom view of the complete area:
Conclusion
The resort is famous for having the best snow. The snow here is not
artificially
generated. It
is collected
and preserved after a snowfall.
It is one of the best places to ski, snowboard with your family and friends, and return refreshed. When you overcome the challenge of skiing for the first time, you will feel better about yourself. You can release your mental baggage and stress.
There is an amazing view and fun-filled activities around people you care about. It will
surely
help you build your confidence and grow closer as a family.