Looking for the best Canadian whiskey? You've come to the right place!
Canada is known for many things, but one thing is seen as a trademark of Canadian culture is its whiskey and has managed to permeate every corner of the globe. 
It has made its way to your nightclubs, rooftop bars, the liquor cabinet in your house, and most probably, to every party you've had until now. You might not even know it, but you've already sipped the best Canadian whiskey.
A Canadian rye whiskey, sweet whiskey, Canadian Club 100 rye, or any other kind of whiskey has tons of choices that will make you feel spoilt and leave you wanting the best Canadian whiskey the next time you drink.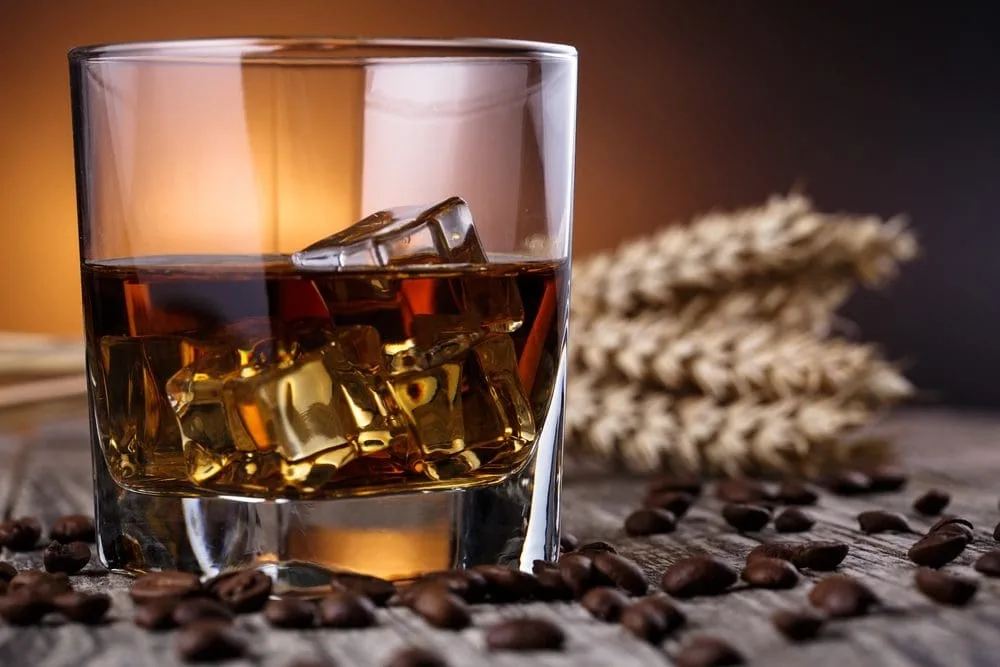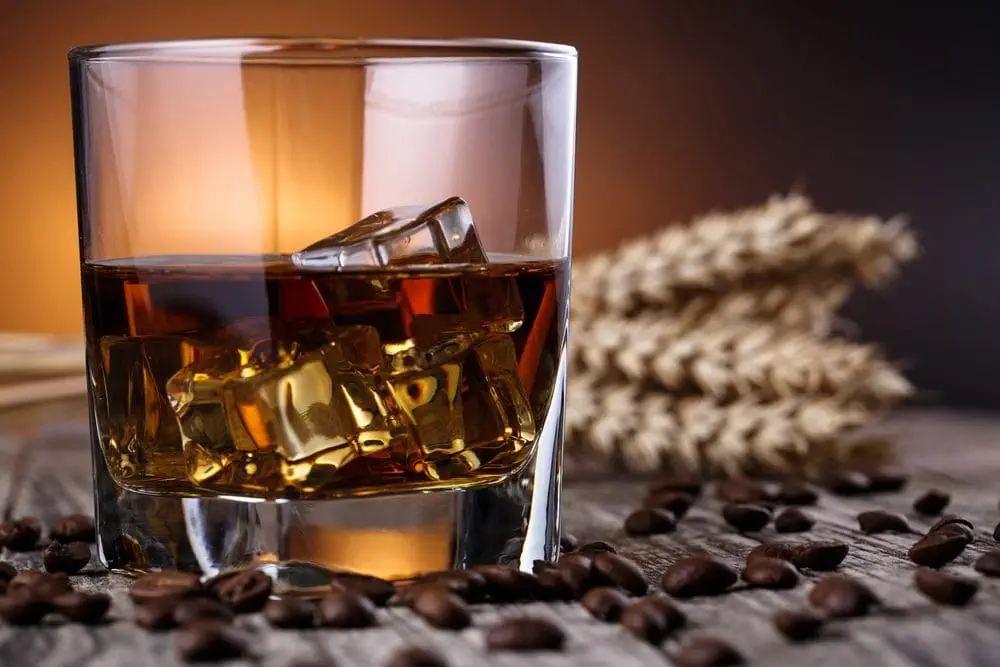 We give you a comprehensive guide to the best Canadian whiskey. What is Canadian whiskey? How to drink Canadian whiskey and judge it? and how to discover the best Canadian whiskey? We will answer all your questions.
So without further ado, let's dive in.
1. What is Canadian whiskey?
Canadian whiskies grew in popularity after two inventive local distillers decided to innovate and do something different with the whiskey they were making. 
They added a higher quantity of flavorful rye to their mixes, which resulted in a stronger and spicier taste. This also now defines Canadian whiskey as different from other kinds of whisky around the globe.
What makes Canadian whiskies different is the delicate balance of ingredients that the distillers use in making their whiskey. 
Rye has become a defining feature of many Canadian whiskies, so much so that Canadian whiskey and rye are now used interchangeably in the Canadian whiskey industry's lexicon. 
Some say that the best Canadian whiskey can't be complete without it!
2. How is it made?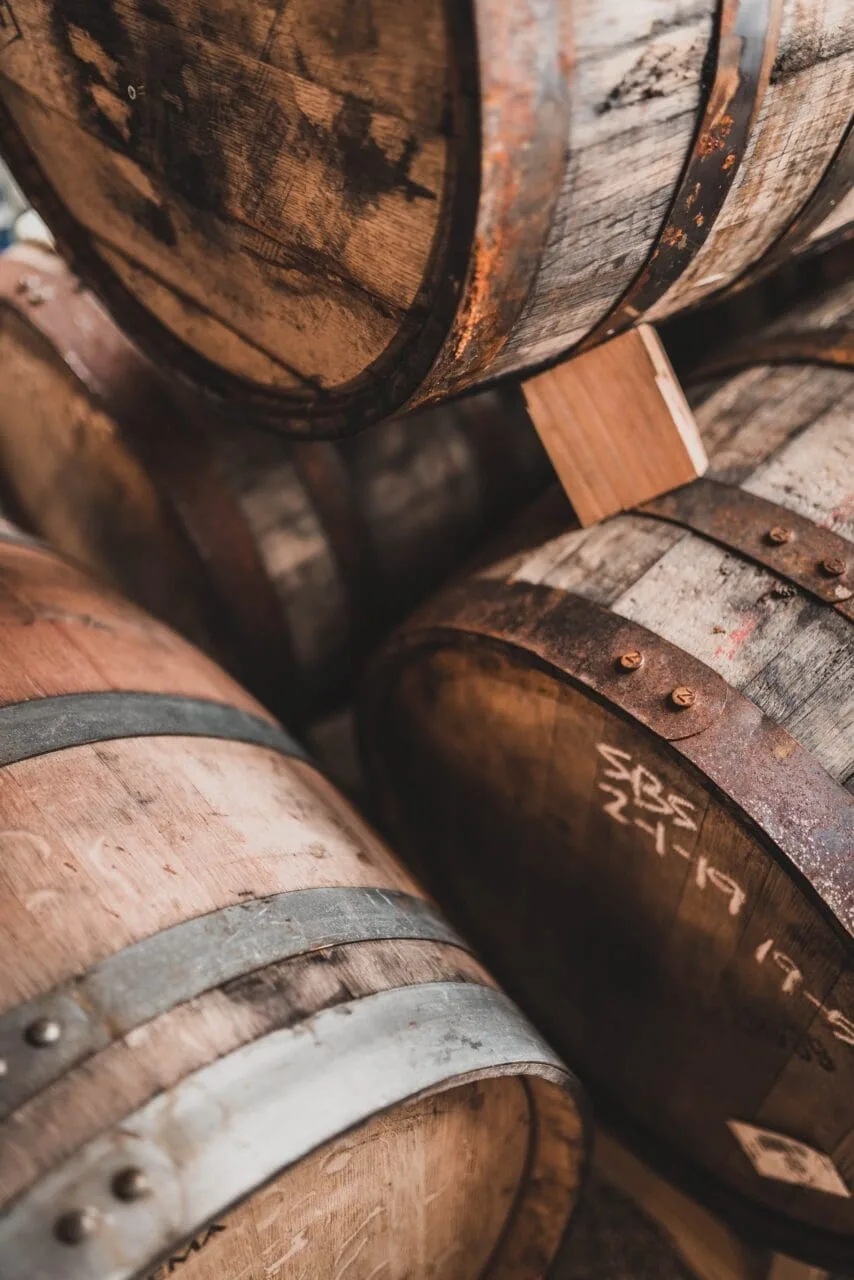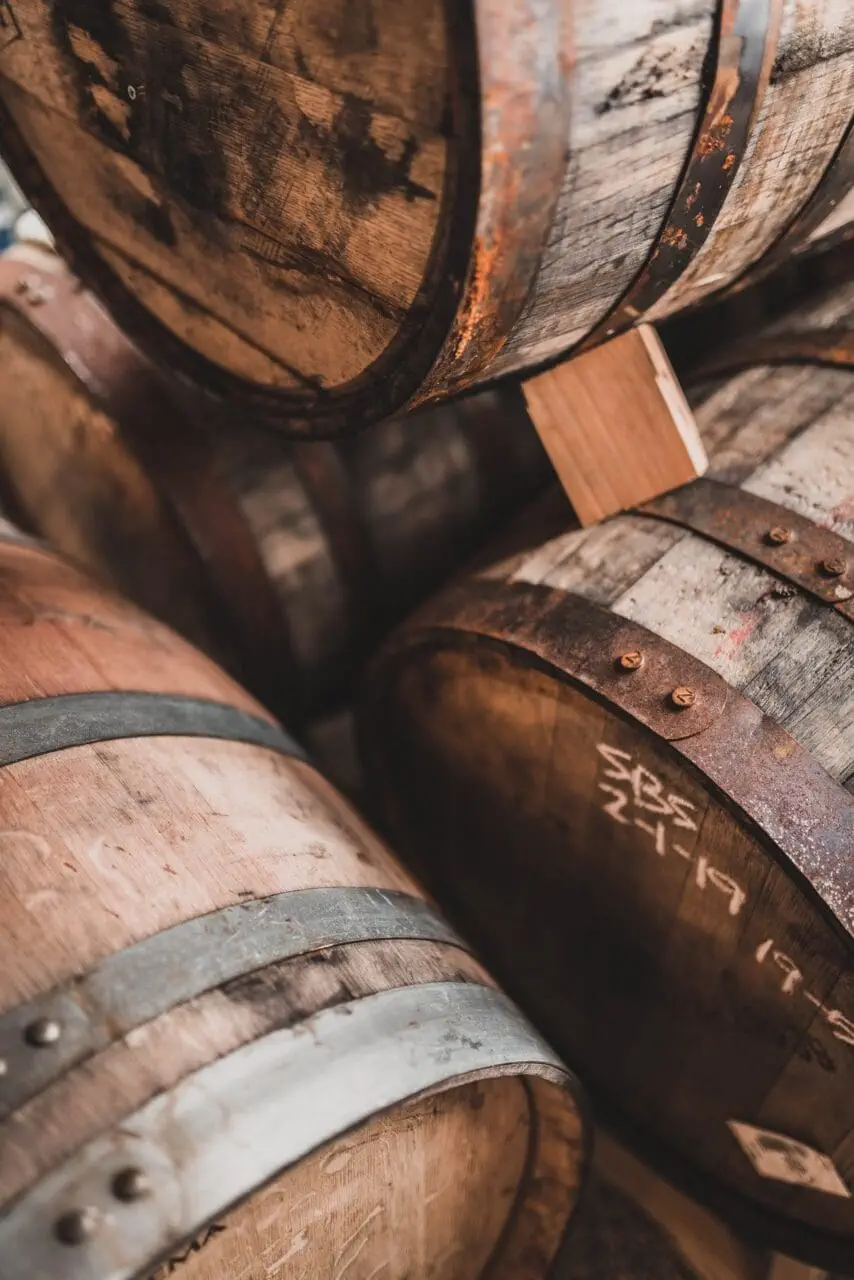 Canadian whiskey is usually made up of certain ingredients like wheat, corn, and barley. Each component is mashed, fermented, distilled, and aged individually to reach its highest quality.
Once these ingredients have peaked in their favour, the makers have various choices of what to do with them. They are ready to serve, but if the makers want, they can blend or let them age a little longer.
Blending the ingredients at the final stage of the whiskey-making process allows distillers to adjust and play with each component's intensity, resulting in widely experimental and tasty concoctions.
This is what leads to the taste of the best Canadian whiskey!
The 12 best Canadian whiskeys to drink!
1. Forty Creek Confederation Oak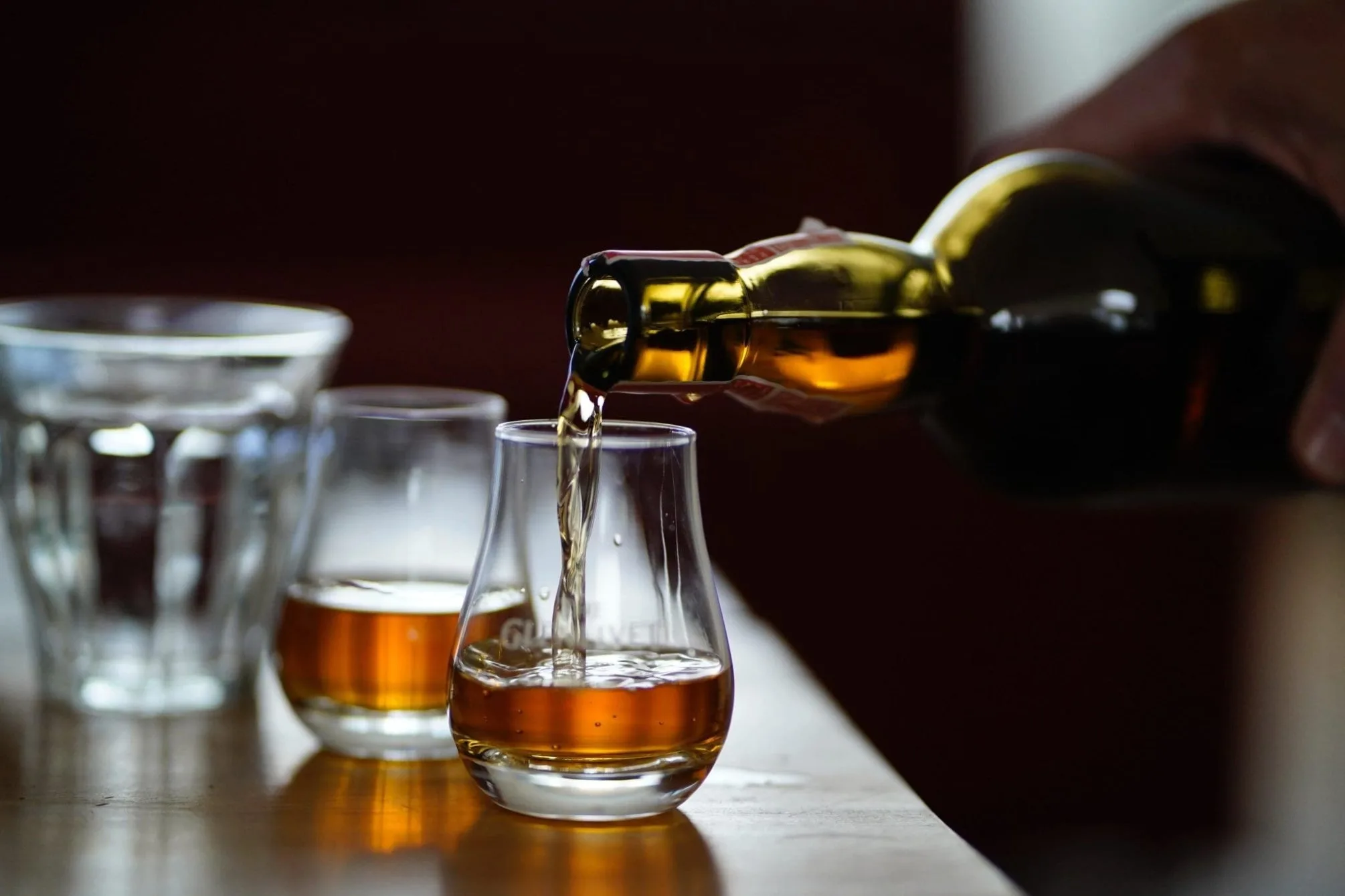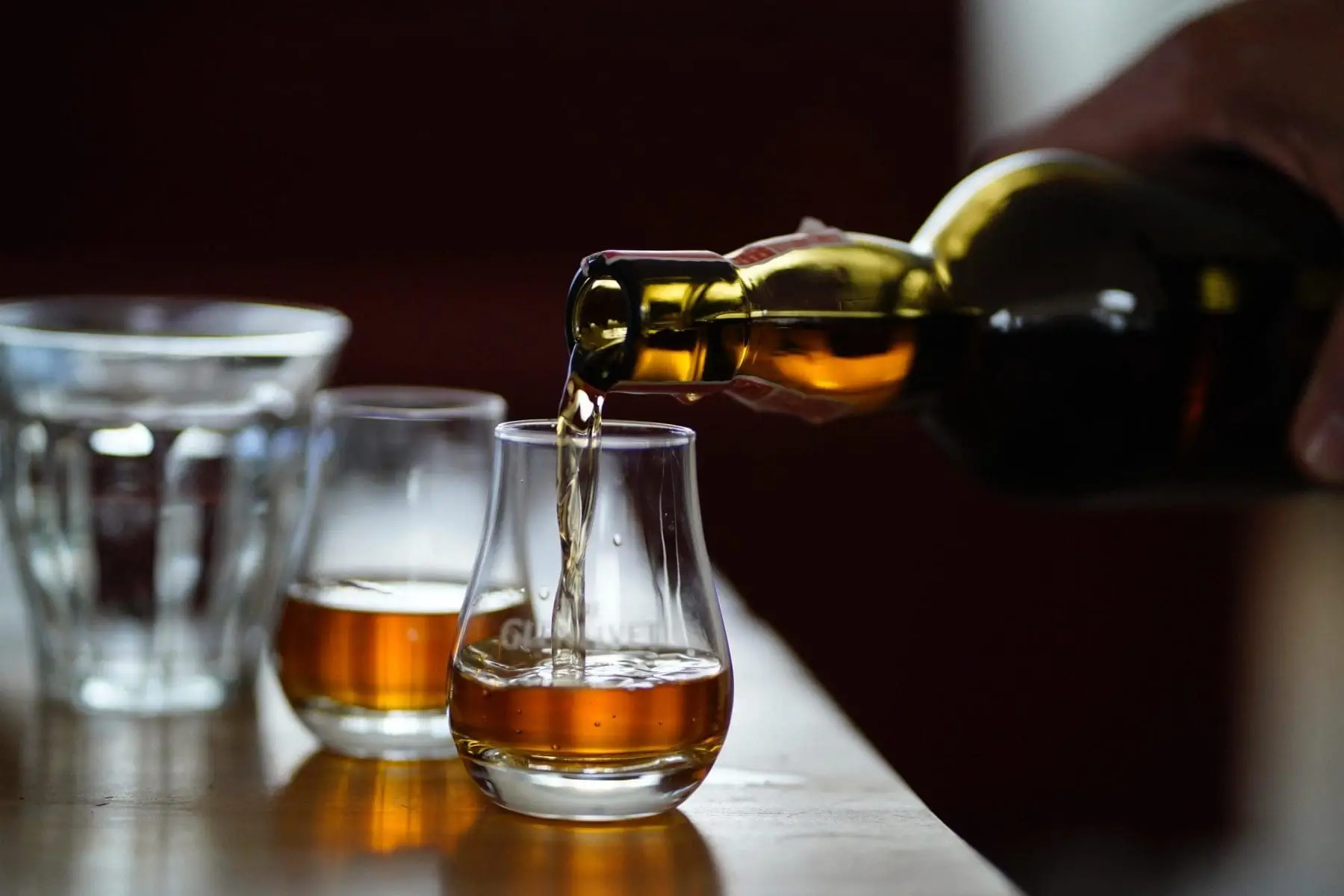 This Candian whiskey comes from the region of Ontario. It uses the grains of rye, barley, and corn and has an ABV (alcohol by volume) percentage of 40%. 
An excellent option from the Grimsby, Ontario distillery, this one also has a little history to it. The Confederation Oak Reserve was created to commemorate the 1867 Canadian Confederation.
It may just be the best-blended whiskey you have had in a long time! It is a blended Canadian whiskey by Forty Creek, which according to the distillery, has a tighter grain because of the colder climate in which it is made. Y
One can look forward to finding tasting notes of praline, honey, and dark fruits on the palate during the tasting.
2. Alberta Premium Cask Strength Rye
This Canadian whiskey comes from the region of Alberta and carries an ABV of 65.1%.
The Alberta Premium Cash Strength Rye is among the most renowned Candian whiskies. It is a top-shelf Canadian whiskey. 
The Alberta Premium is not just in contention for being the best Canadian whiskey. It is also one of the world's leading drams, regarded as one of the world's best producers of rye whiskies. 
It has a strong taste, and with such a high ABV percentage, it will hit you hard. This might be a little costlier compared to any other regular Canadian Whiskey, but it's highly valuable and well worth the price.
3. Canadian Club 100% Rye
Similar to the previous one, this Canadian Club whiskey also comes from the region of Alberta, although with a lesser ABV percentage of just 40%.
The Canadian Club provides relatively affordable and widely popular blended whiskies compared to Alberta Premium. This 100 percent rye whiskey is the best product the Canadian Club offers and is rightly in contention for the title of the best Canadian whiskey.
 It has been aged in a few different barrel types and is a great example of Canadian rye at just $20 a bottle.
This might not make for the most intense rye whiskey experience, but at just $20, it's certainly a bargain. You should look forward to the caramel and oak-tasting notes this spirit offers.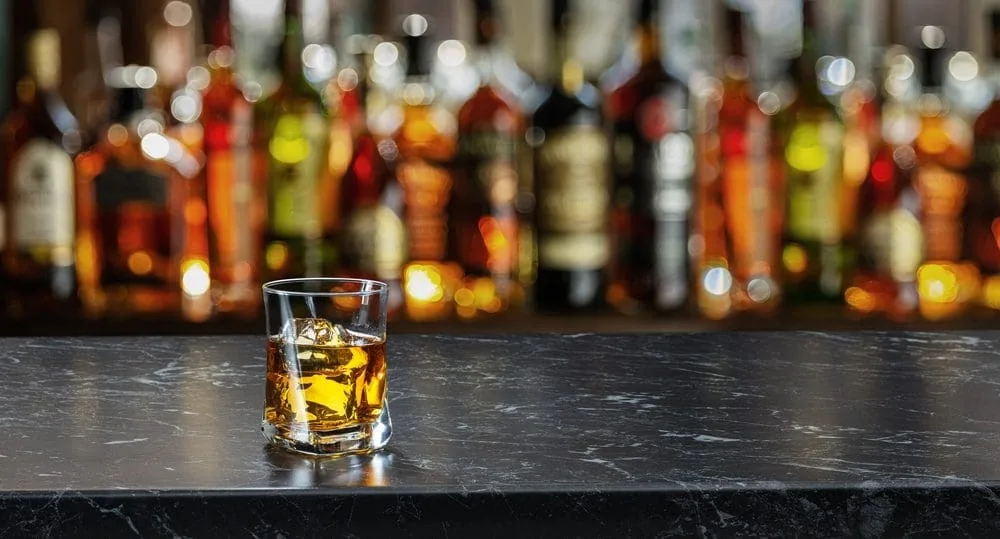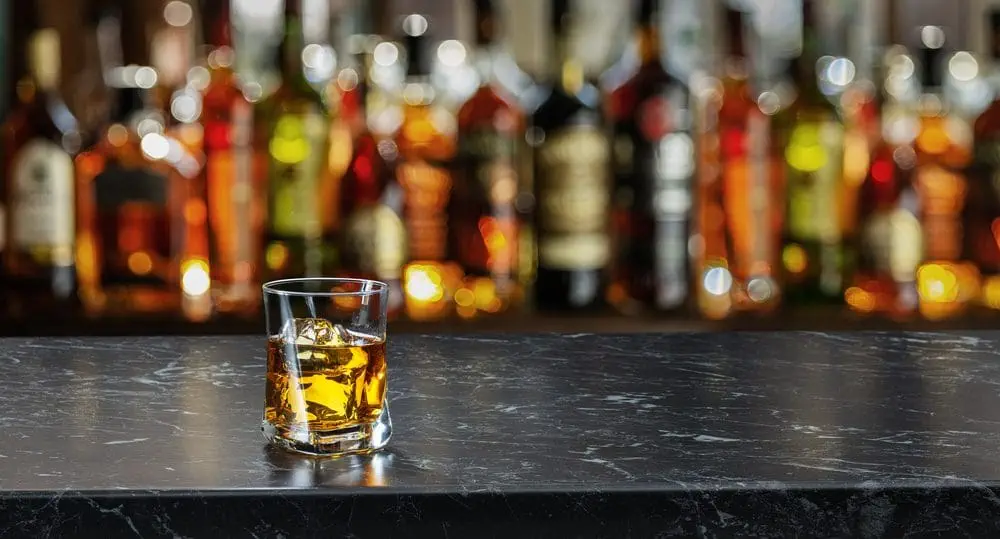 4. Lot 40 Canadian Rye Whiskey
Coming from the region of Ontario, this Canadian whiskey includes grains of Canadian rye and malted rye. It has an ABV percentage of 43.
As you might have understood, there are many Canadian rye whiskies. But, as I promised, every rye whiskey listed here is in the running for the title of the best Canadian whiskey you could ever try, and Lot No. 40 is a strong contender for the same.
It is made from a mash bill of 100 percent rye, distilled in copper pot stills. There is a delicate balance of sweetness and spice on the palate, a buttery taste on the mouth, and some tasting notes of fruit and vanilla.
5. Proof Two Grain Whiskey
This Canadian whiskey comes from Ontario, with an ABV percentage of 42.
The Proof Two Grain Whiskey is quite popular on the clubbing scene. Its flavours are similar to Japanese whiskey, with a nose of citrus and honey.  
Its palate of lemon, cinnamon, and clove is enhanced by the fiery finish it gives. This one would be a great start to introducing yourself and getting acquainted with the tastes of Canadian whiskey.
6. JP Wiser's 15-Year-Olde
Coming from the region of Ontario, JP Wiser's blended whiskey is made primarily from grains of corn and has an ABV percentage of 40. JP Wiser's blended whiskey is considered a bartender's favorite in the Canadian whiskey industry. 
This one is one of the best Canadian whiskies to drink out there. It is aged for 15 years, after which it offers a great variety of flavors like dried fruits, spices, toffee, and green apples.
It is value for money, and you surely won't regret this one.
7. Pike Creek 10-Year-Old Rum Barrel Finished
This rye grain whiskey also comes from the distillery-rich region of Ontario, with an ABV percentage of 42.
Made at Corby Distilleries, the rye whiskey by Pike Creek is put through attractive barrel finishes after its initial maturation. 
One of the best ones is this 10-year-old blended rye whiskey finished in rum barrels. This secondary maturation brings to the fore tasting notes of banana and brown sugar mixed with caramel, spice, and dried fruit flavours.
8. Caribou Crossing Single Barrel Canadian Whiskey
This single-barrel whiskey belongs to the region of Quebec. It consisted of corn and rye grains and had an ABV percentage of 42.
The Caribou Crossing Single Barrel Canadian whiskey special is a single-barrel release. Each bottle comes from one particular barrel instead of being a blend of many casks. It is a special Single barrel Canadian whiskey which is why it is also one of the costlier ones on this list, but it is worth every penny.
This also makes every bottle taste slightly different, but overall, you can look forward to finding tasting notes of vanilla, honey, and spice.
9. Gooderham & Worts 49 Wellington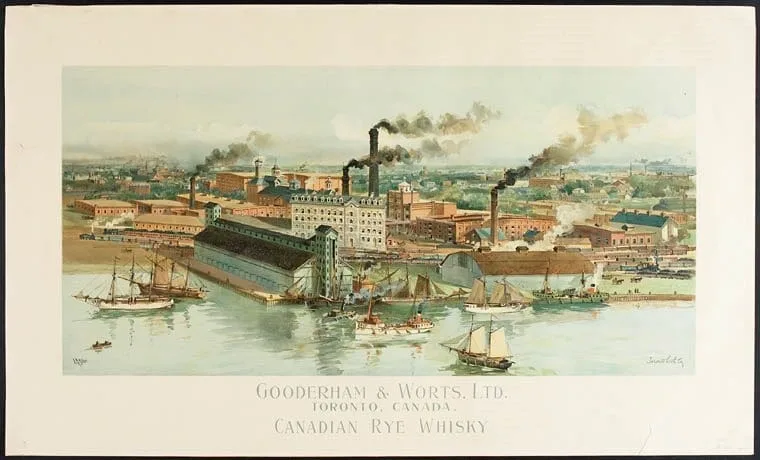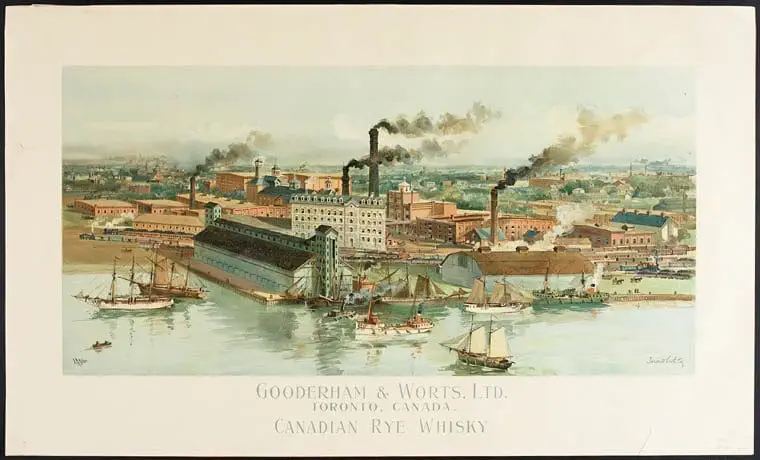 Another one from Ontario, this whiskey is one of the most historical additions to this list. 
It consists of several grains like unmalted rye, rye malt, malted barley, wheat, corn, and red winter wheat. It has an ABV percentage of 49.
The 49 Wellington comes from one of the most historic distilleries in Canada. Gooderham & Worts was set up by James Wort and William Gooderham in 1831, initially as a milling company. 
Later, they expanded to brewing and distilling. By the late 1800s, it had become the largest producer of whiskey in the world, regularly churning out whiskey blends of corn, barley, wheat, and rye.
The 49 Wellington is a product of a distillery that has been producing quality whiskey for nearly 200 years. It requires a variety of grains for the making, and the result is a dram loaded with tasteful spice and sweetness in equal measure. 
10. WhistlePig Rye 10 Year
The WhistlePig 10yr Rye Whiskey is popular in Canada. This rye whiskey comes from the region of Vermont and has an ABV percentage of 50. 
It goes through a meticulous process of ageing, which gives it its fan-favourite taste. There is also a legend attached to this whiskey. As the brand legend goes, they found a stock of rye stored in a Canadian distillery. 
They decided to rescue it, age it in new American oak, and bottle it. This led to making an excellent expression, which is complex and honey-packed.
You can look forward to these rich spice and warm wood whiskey-tasting notes.
11. Pops Canadian Whiskey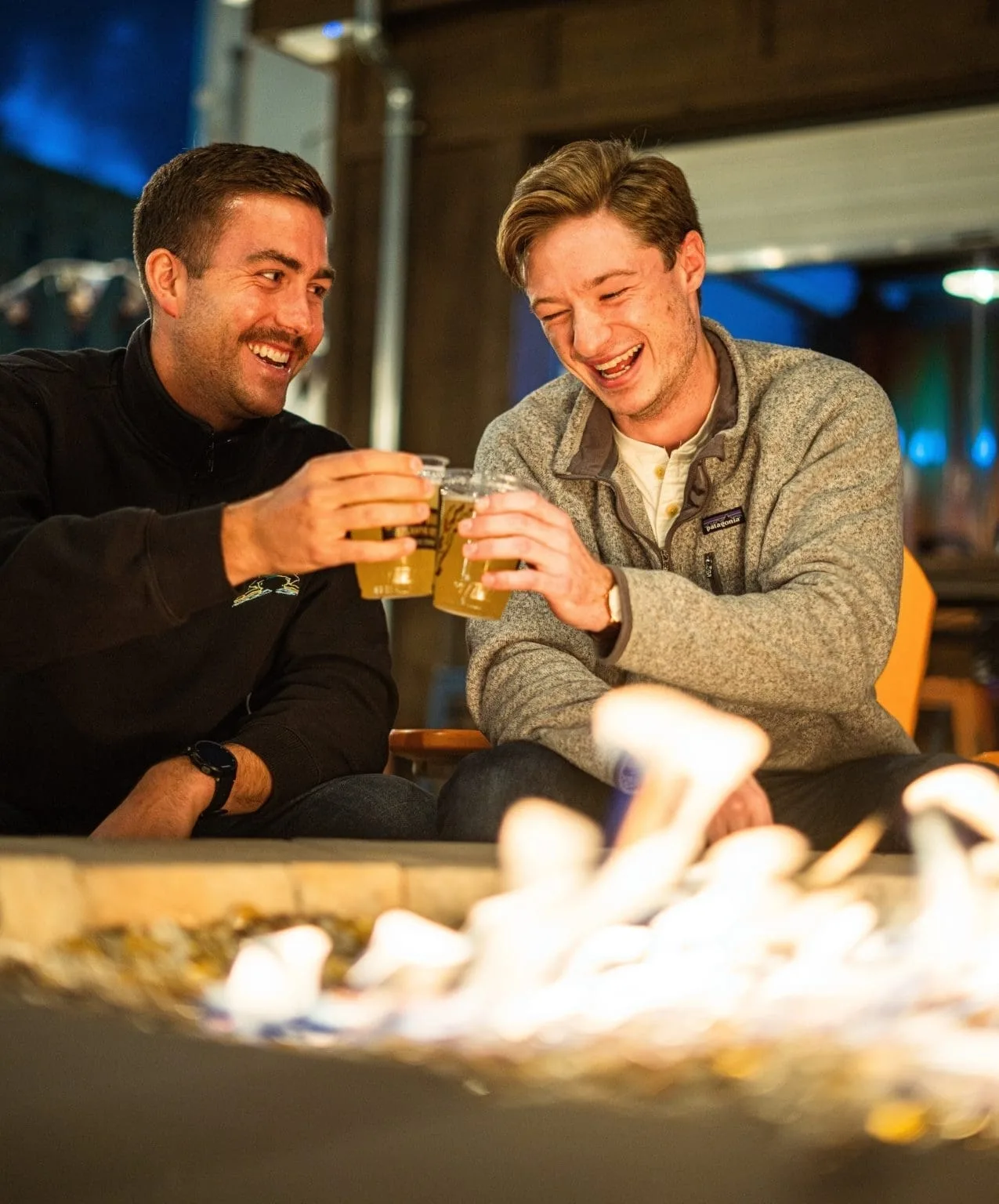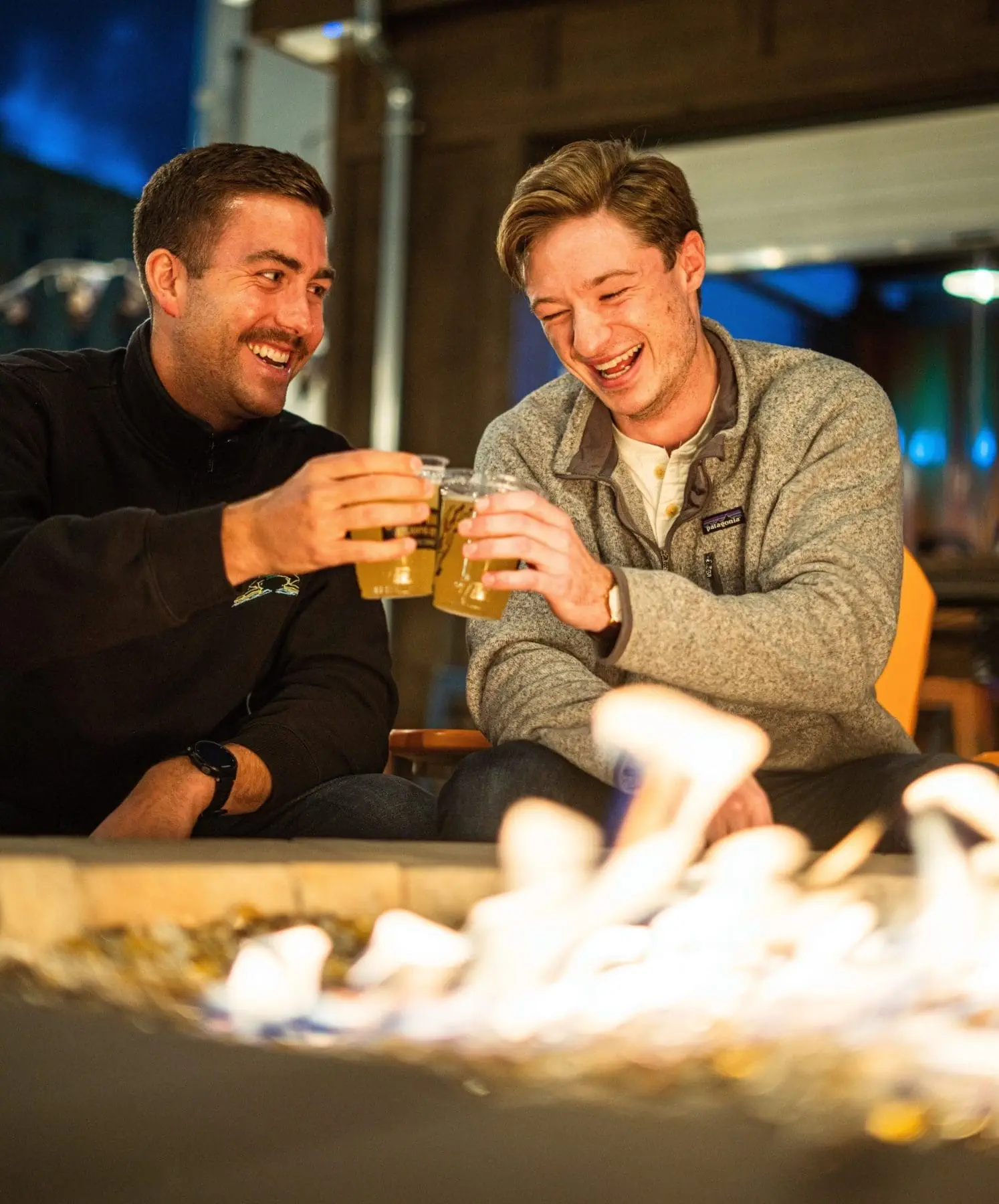 This one is a unique Canadian whiskey. It comes not just from one but two regions: Quebec and Texas. It uses grains of corn and rye and has an ABV percentage of 42%.
It is whiskey is as Canadian as it gets. The distillery was founded in 1943, the South of the Canadian border, and relies heavily on Canadian-made, 14-year-old ryes for the blends. 
No sugars, flavourings, or colourings of any sort are added. The rye is delicately made in Quebec, and then it is brought down to Austin to blend with limestone-heavy Texas water.
To balance out the large quantity of rye, younger corn whiskies are added, which gives it a lighter feel when drinking. You can look forward to tasting cereal and sweet vanilla notes in this Canadian whiskey.
A different distilling process may make it the best Canadian whiskey you have ever had!
12. Gibson's 12-Year Finest Canadian Whiskey
This whiskey also comes from the region of Quebec and consists of rye and barley. It has an ABV percentage of 40.
John Gibson founded this distillery in Pennsylvania in the 1830s. It thrived until Prohibition forced the distillery to shut down. Fortunately, it was taken up by a Canadian company, which decided to transplant it to Quebec. 
The location helps the distillery greatly, as they use Quebec-grown corn and grains. The 12-year-old is the centrepiece of the brand. It is made by blending various finished expressions, usually higher-proof corn whiskey and lower-proof rye.
It is light on the palate, and you look forward to candy, caramel, warm oak, and marzipan notes.
Closing Thoughts
Now there you go. We have given you a carefully curated list of great Canadian whiskies to get your hands on. Whether you want to drink Canadian whisky, single barrel whisky, blended whisky, Canadian oak barrels, and single barrel Canadian whisky and other top Canadian whiskies brands like creek double barrel reserve and Alberta rye dark batch.
You will find everything you need. Also, you can visit its famous distilleries like Hiram walker distillery and Alberta distillers. so give it a shot. 
Let us know about your experience and if you find which is the best Canadian whiskey out there!
As an Amazon Associate, Icy Canada earns from qualifying purchases.
[amazon_auto_links id="81298"]
The Icy Canada team strives to create content that matters. It's why our content is written by travel writers, authority experts, well-known authors, and niche experts. Our content is also periodically reviewed by expert authors for accuracy and trustworthiness.
As an Amazon Associate, Icy Canada earns from qualifying purchases. [amazon_auto_links id="81298"]