Frontenac Provincial Park is a park located north of Kingston, Ontario, Canada, near the town of Sydenham.
It's hard to imagine you're only a few hours from the US border and the cosmopolitan trinity of Ottawa, Toronto, and Montreal.
Frontenac Provincial Park in southern Ontario, is where the wildness meets the lakes, is home to amazing beauty and animals, back-country solitude, and intriguing history, all within a few hours' drive of the major towns.
While in Ontario make sure to check out the  Top 6 Magnificent Trampoline Park in Ontario.
About the Frontenac Provincial Park
Frontenac Provincial Park is around 40 minutes away from Kingston, the next major city. The park lies two hours southwest of Ottawa and midway between Montreal and Toronto, and is best reached by vehicle. Visit their website for additional information, including directions, or continue reading to learn more about one of the greatest natural gems of Ontario parks.
The Frontenac Axis in Ontario is a 2.1 billion-year-old rocky terrain that was formerly part of the ancient mountain chain that spanned between the Canadian Shield and the Adirondack Mountains.
The Frontenac park is peppered with granite cliffs and profound, crystal-clear great lakes like birch lake, and lynch lake, which were carved out during the last ice age, and it is characterized by lush trees, beaver dams, mixed forests, and shaded walkways.
Within the park, motorized vehicles are forbidden, and visitors are allowed to explore on foot or by paddleboard. Because of this limitation, species such as chipmunks, foxes, raccoons, white-tailed deer, black bears, moose, otters, coyotes, wolves, and beavers thrive. There are about 170 different bird species, including hawks, ospreys, golden eagles, and bald eagles, among others.
Hundreds of different flora and habitats may be found in Frontenac Provincial Park, including marshes, woodlands, and craggy granite hills with the occasional windswept pine. It's beautiful all year, but in the fall, when the leaves on the trees change into a kaleidoscope of fall colors and the weather is ideal for hiking and lounging together around the campfire at night watching the sunset over the lakes, it truly comes to life.
If your weekend plans comprise making a trip to the Frontenac Provincial Park, then here's everything you can do at Frontenac provincial park.
1. Go Swimming in the Gorgeous Lakes
The lakes are fantastic for swimming in the summer. You are encouraged to swim in any of the park's lakes, but be aware that some may be deep and cooler than others.
In the winter, other activities include ice fishing, snowshoeing, and cross-country skiing.
2. Give Hiking a Try
The Frontenac provincial park will be a paradise for you if you are fond of hiking and hiking trails.
You can choose from a variety of hike paths ranging from a 30-minute loop to 21-kilometer trails where you may stay the night or explore for most of the day for 8+ hours. Simply leave early, pack plenty of water, and notify people of your whereabouts, what you'll be doing, and when you'll be back.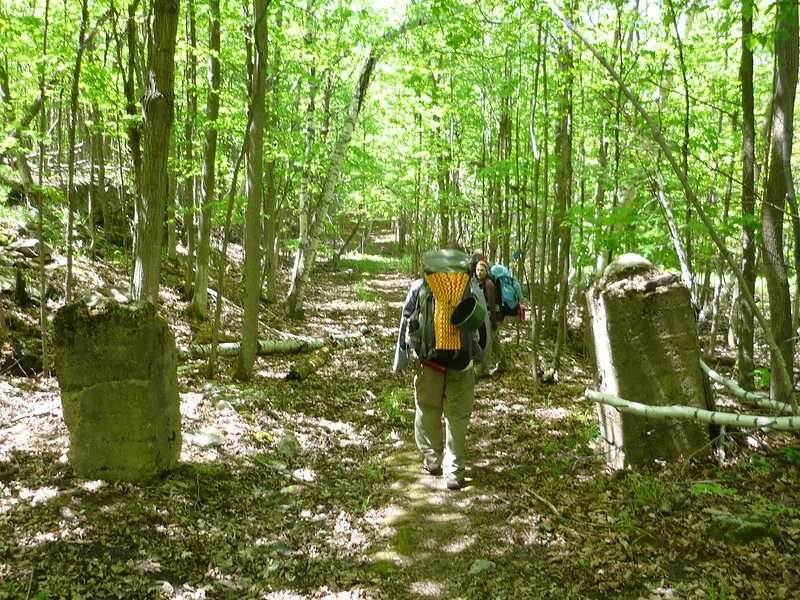 Here are some of the well-known hiking trails:
Arab Lake Gorge Trail – This is one of the easy hiking trails. Stretched over a 1.5 km loop is a 30 min walk.
Doe Lake Trail- It is a 3 km loop that takes 1 to 1.5 hours to walk and is easy to moderate. You can hike around the South Otter Lake and Doe Lake beaches, including a vantage point over Doe Lake.
Slide Lake Circle- It is a 21-kilometer, eight-hour loop that includes a one-hour trek to the start. Here you will pass by Buck Lake, Slide Lake, Doe Lake, and Big Salmon Lake while witnessing granite outcrops, lookouts, ponds, and marshes.
3. Go for a historical sightseeing
Frontenac Provincial Park was the natural habitat of various towns and villages, farms, and mines during the early days of European colonization, and you may still discover old ruins and derelict locations while trekking. The Tetsmine Lake Loop Trail, which passes amidst the ruins of disintegrating 19th-century farmlands and long-forgotten mica mines, is a must-see for history buffs. Both the Little Clear Lake Loop and the Big Salmon Lake Loop travel through several historic century-old homes and overgrown farms.
4. Escape from Reality in the Camping Location
The wilderness camping sites are ideal for truly rough and ready travelers and hikers who want to unwind under the trees and stars while recharging their batteries in the great outdoors.
You'll want to pack light and arrive prepared because the nearest campsite access permitted to the car parking lot is a 20-minute trek. The majority of the attractions are also reachable by canoe or kayak.
Between April and November, the 48 overnight campsites may fill up quickly, especially on weekends, so make a reservation ahead of time. Campsites are assigned on a first-come, first-served basis throughout the winter. If you're going to camp, keep in mind that you'll need an interior camping permit, which you may purchase at the park office when you arrive.
If you've never attempted winter camping before, the Friends of Frontenac provide introductory courses and directions to help you get the hang of it before venturing out into the wilderness.
Discovery Program by the Friends of Frontenac Provincial Park
About two trails in the park have interpretive pamphlets available.
The Friends of Frontenac provide wilderness skills classes for people interested in learning about and practicing winter camping, kayaking, wilderness first aid, map and compass use, paddling, fishing, and backcountry camping.
A tent mat, a firepit for when there isn't a fire ban, a food locker, and a non-flushable lavatory are the few facilities provided at each site. Make sure you store your food, toothpaste, and any other strong-smelling items in the locker when you're camping.
Make sure to put them in a bear-proof bag and hang it from a tree limb with a rope, as long as it's high off the ground and very far away from your tent.
5. Go Car Camping
If camping seems a little too difficult, and hauling your stuff in isn't your idea of entertainment, don't worry. You may go vehicle camping at Bon Echo and Sharbot Lake Provincial Parks, rent a private campground, or simply drive down to Kingston and spend a night or two in a comfortable bed with a hot shower and a decent meal to recover before returning to the trails in the morning.
6. Go on a bird-watching walk
For its location in the Frontenac Arch, which connects the northern and southern eco-regions, Frontenac provincial park boasts an outstanding diversity of bird species. The park is home to one of Ontario's largest Cerulean Warbler populations, as well as the provincially uncommon Louisiana Waterthrush and the bright yellow Prairie Warbler.
7. Go Boating
Only the border lakes are open to boating. Motors are not permissible on any of the park's lakes, excluding Big Salmon Lake, which allows only electric motors.
8. Go for a canoeing trip
Through Frontenac's 22 lakes and portages, there are several canoe routes and starting points. To discuss trip planning, campsites, and reservations, contact the park staff at the Park Office.
9. Fishing
Frontenac has a plethora of fishing options. Lake Trout, Largemouth and Smallmouth Bass, Northern Pike, Black Crappie, perch, and Brook Speckled Trout are all opportunities for anglers. Ice fishing is available in three of the park's stocked lakes.
10. Explore the Winter Activities
Frontenac Provincial Park is very beautiful in the winter. Frontenac's backcountry is a great place to camp overnight or explores for the day. Snowshoeing, skiing, hiking, and wildlife viewing are all available.
The Frontenac park has a network of over 100 kilometers of hiking trails that is open to visitors all year. Short loops for novices are available, as well as 20 km+ excursions for the more experienced adventurous.
The 8-kilometer Corridor Trail in Frontenac has been designated for snowshoeing. The intermediate 3 km Doe Lake Loop and the easy 1.5 km Arab Lake Gorge Loop are attractive to tourists. You can also try the 8-kilometer Bufflehead Trail, which is located 2 kilometers from the Park Office.
Snowshoes may be rented at the Park Office.
There are several lakes around the Frontenac park that provide year-round fishing possibilities. In the winter, anglers can target northern pike, several panfish species such as black crappies, sunfish, yellow perch, and brook trout.
When planning your vacation, be sure to check the fishing rules, since they might vary from year to year.
Frontenac hosts free beginner winter camping classes, which are sponsored by the Friends of Frontenac.
Photo by Jordan Conway on Flickr
If you plan to visit The Frontenac Provincial Park, here are a few checkpoints for you to make sure you have a fun experience here.
Frontenac Outfitters rents kayaks, canoes, and SUPs near the park entrance.
The visitor center in Frontenac Provincial Park is open year-round. A store, restrooms, and snowshoe rentals are all available. You should
You should plan your hike/paddle route and remember to have a map to make it easier to navigate.
Water, food, sunscreen, insect spray, a helmet, waterproofs, and warm layers are all recommended.
For more information make sure to check out Things to do in Frontenac Provincial Park. Make sure to have a fun and safe trip here.
Why Try Out Rocket.net - IcyCanada's recommended hosting provider
The Icy Canada team strives to create content that matters. It's why our content is written by travel writers, authority experts, well-known authors, and niche experts. Our content is also periodically reviewed by expert authors for accuracy and trustworthiness.
Why Try Out Rocket.net - IcyCanada's recommended hosting provider