Did you know that about 10 million people take the Niagara Falls tour every year? It's known as one of the Honeymoon capital of the world for over 200 years. The Falls lies on the border of Canada and the USA.
If you're looking to make a visit to Niagara Falls, how much would it all cost? Right from the airfare, to the hotels to the food? We take a look.
1. How Much Does it Cost to Go to Niagara Falls?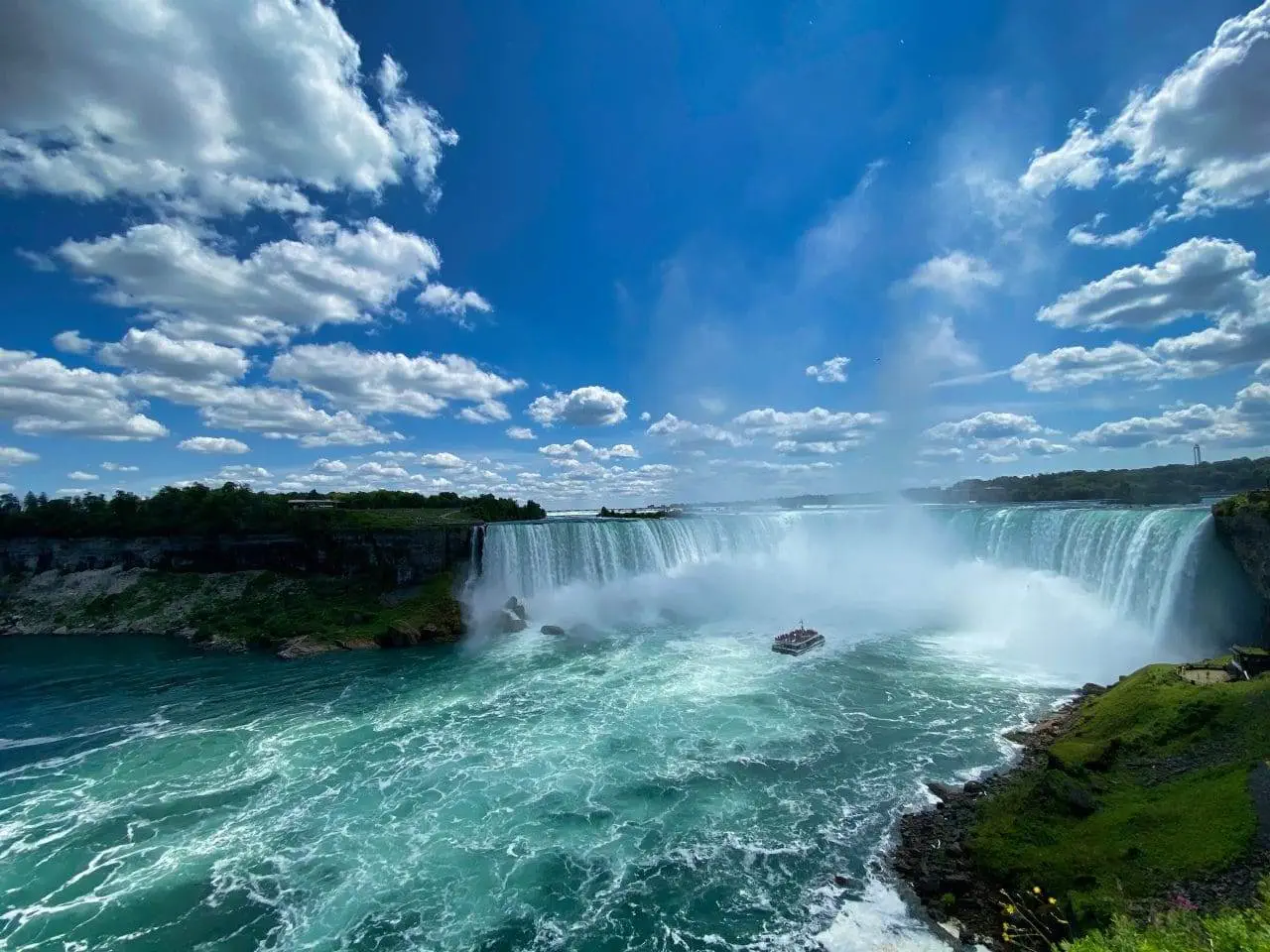 Since June to August are the hottest months, Summer has become the most expensive season to visit Niagara Falls, Canada.
However, If you travel during off seasons like February, May, September, October, and November, then Hotels, restaurants, and tourist spots will be less crowded, clean, refreshing, and cheap.
1.1 Average Niagara Prices
In Niagara, a taxi will charge around CA$ 12-14 for 3–4 kits, the average meal cost is CA$ 39, and buying a bottle of water will cost CA$ 4.37.
Some people prefer liquor as well. That will cost them CA$16 per serving. Any entertainment or fun activities will cost at least CA$15 tickets per person. Besides this, a hotel that offers a comfortable bed, wifi, a gym, or a nightclub would cost no less than CA$ 100-200/night.
1.2 Niagara Falls Average Cost/Day Per Person
Depending on what fun activities you do, staying for a day at Niagara Falls can Cost $125-134. Extending the trip to one week will cost you around $880. 
Moreover, staying for one month will cost you $7500–15000. However, if you are with your partner, you may get discounts, and there are chances that you will get better accommodations as well. Prices may vary depending on your travel budget and the choices you make
2. Traveling Expenses
There are multiple ways to reach the destination if you are aware of routes, but here we only talk about four ways to travel to Niagara.
2.1 Train to Niagara Falls
Traveling from New York, USA, to Niagara Falls using Amtrak train services can cost you $70, but an immediate booking from the counter can cost $120 or more. Usually, it takes 8–9 hours to reach. You can buy tickets online, and Amtrak also allows you to carry your bikes.
2.2 Bus to Niagara Falls
Taking a bus from New York, USA, to Niagara Falls will take 7 to 9 hours, and average prices will be around $40-$80. The average ticket price for taking Flixbus is $49.99, and the most expensive bus ride from any bus would be $75 or more.
However, one can also explore network buses like the New York Trailway, Greyhound, and Ourbus. The Wego bus service is completely dependable for travel throughout Niagara.
2.3 A Car Ride to Niagara
What could be better than your car when you prefer privacy while enjoying a road trip? It will incur some running costs and fuel expenses, but you will reach your destination in 7-8 hours.
2.4 Combination Rides
Direct flights to Niagara are available from New York to Buffalo for around $97-$190 or more. They will take 2 hours or more to reach their destination.
Then, proceed to the nearest Amtrak station and board a train to Niagara Falls. The ticket costs around $14 to $30, and you will get there in 5–6 hours. Trains like the Empire and Maple Leaf will take half the time to reach if you are ready to pay more.
3. Cost of Staying Near the Niagara Falls
At the beginning of August, the average price for a per night stay in a 1-2 star hotel is around $ 100 or more. Hotels like Days Inn near the falls, Caravan Inn, Sunset Inn, and Moonlight Motel come under budget.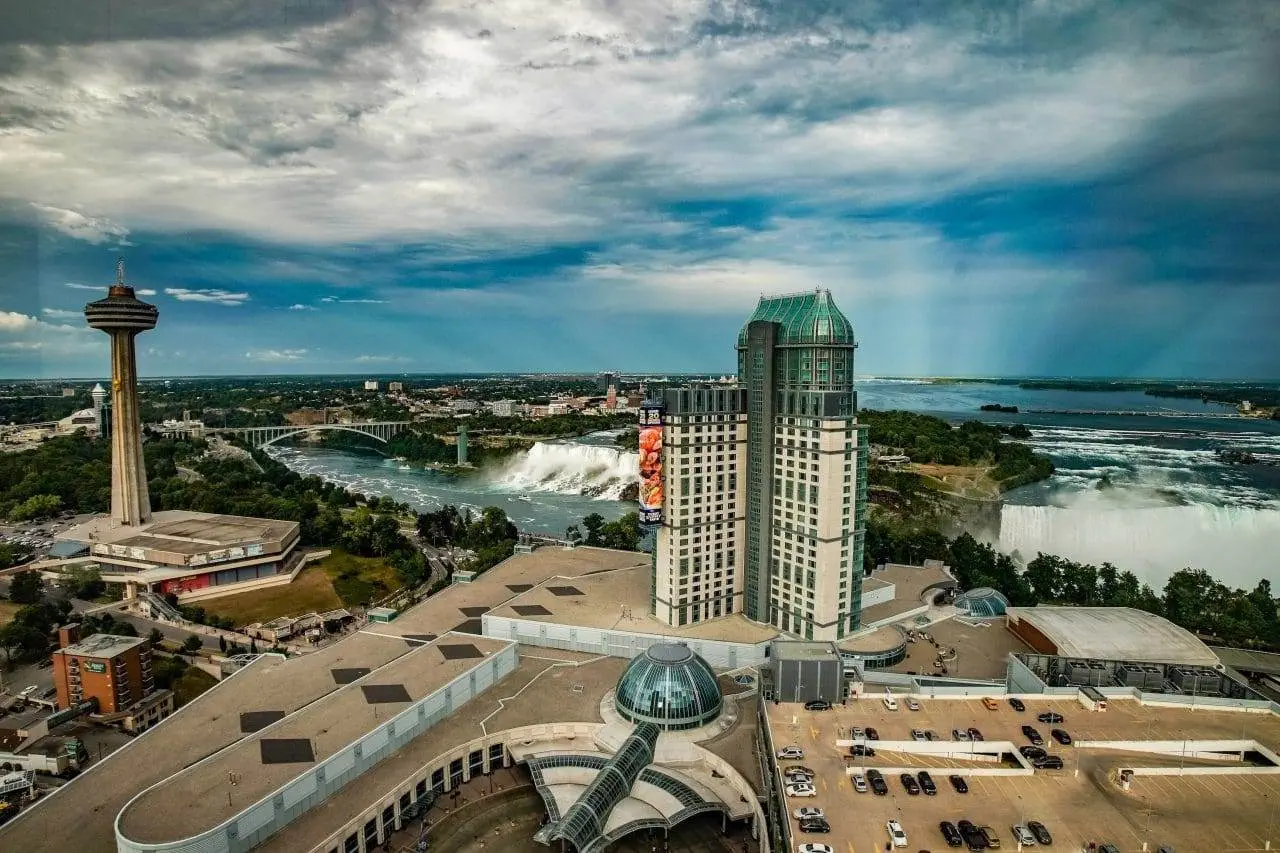 Moderate to Luxury

 

Hotels: 

The Hotel with 3–4 stars costs around $150-300 or more. Hotels like Radisson and Ramada by Wyndham Niagara are two of them. Night Charges for Standard rooms in Luxury hotels like Sheraton Fallsview are 

between $162-266 or more.

  The most expensive rooms at the Sheraton could charge

$500/Night

. The average price at the Marriott Fallsview Hotel is 

$158-295 per Night. 

Luxury Lodging: The hotels that provide more comfort and have 4-5 stars will charge around $200-400 per night or more.Big names like Embassy Suites per Night cost $241-559. However, Pet-friendly hotels like Doubletree Fallsview by Hilton have an average rate of $89-359.  For the perfect Fallsview, The Tower Hotel has a low to high price per night record in the past two weeks of $117-403 (All the estimated prices mentioned above may vary due to external factors). For example, Prices from Monday to Thursday are lower than from Friday to the weekend. Falls-view rooms and rooms near the falls are more expensive than regular rooms. Jacuzzi suites in hotels like Marriot are often costly.

Niagara on the Lake: In Toronto, Canada, Niagara on the Lake is a town known for its Vineyards and historical places. Those who love trying different foods should go to Wednesday's Supper Market, where about 20 food trucks and local vendors offer 

a variety of food for $15-$20.
3.1. Niagara Falls Restaurant and Buffet
The lodge you are staying in might also offer buffets and platters. They offer multi-cuisine at an average price at Falls. Try not to miss out on eating at the Summit Suite buffet in Skylon Tower. Almacs Buffet offers a breakfast buffet for $11.99. Alternatively, those with a sweet tooth must try Treadwell Restaurant and DiCamillo Bakery.
3.2. Additional Expenses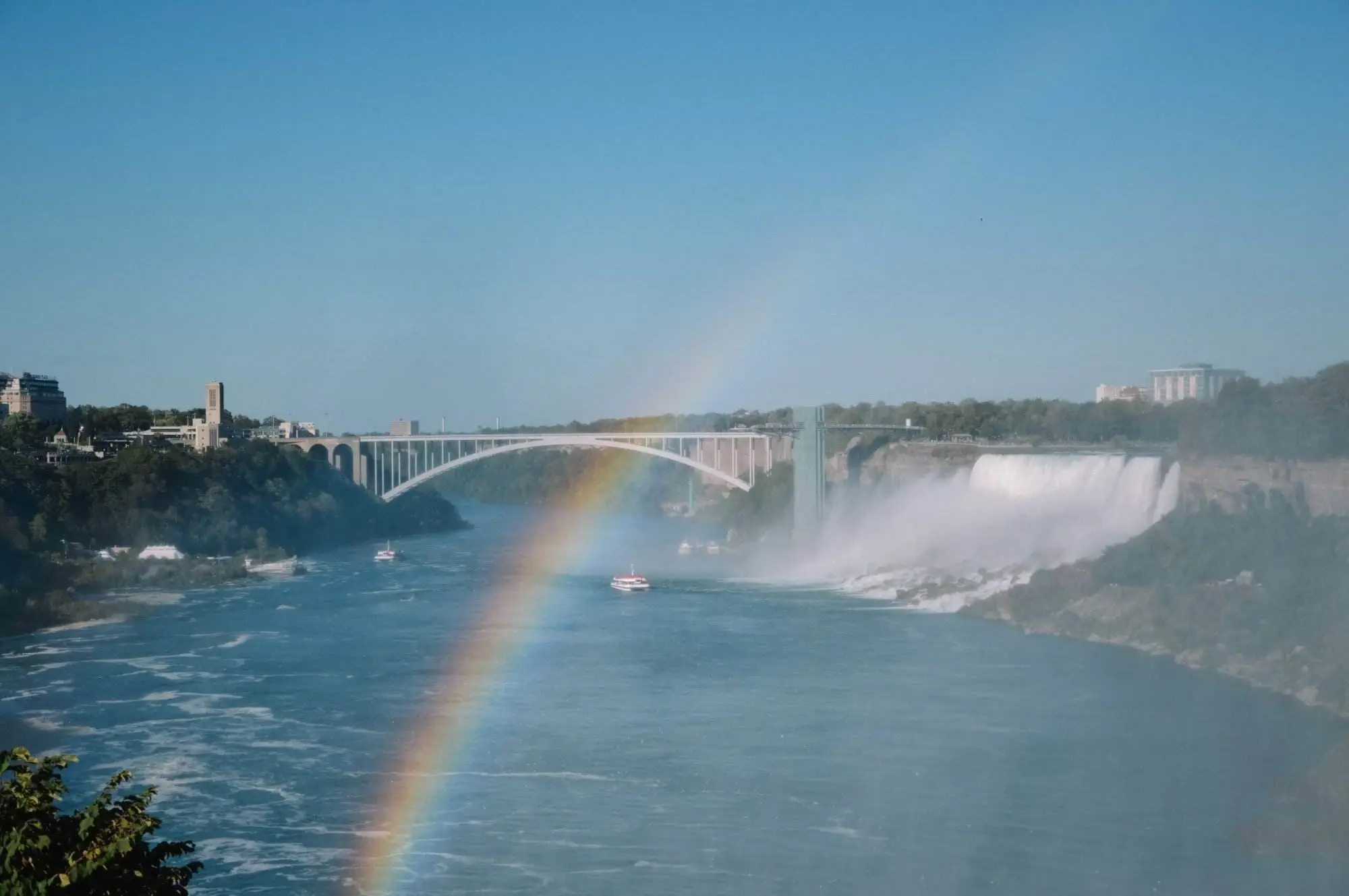 Parks in Niagara Falls are free to walk into, but some ask for an entry fee. To walk or drive on the Rainbow Bridge, you need ID and pay a toll tax of $1-$5.
Niagara Falls State Park: Niagara Falls State Park is free, and you can enjoy nature there. However, if you want to have a closer look at the falls and participate in fun activities, then it will cost you more.
Niagara Parking Passes: Forget the parking fee and buy a one-day pass for $30+ HST. It allows car entry into almost all Niagara Park lots for 24 hours. You can also buy a pass for one calendar year for $40. In peak seasons, it goes from $30-$35 or more, but from September on, it reduces to $20.
3.3 Attractions in Niagara Falls Canada and the USA 
Niagara Skywheel, Toronto Zoo, Journey Behind the Falls, Cave of the Winds, Maid of the Mist, Niagara Sky Wheel, Whirlpool State Park, and Observation Tower. Rainbow Bridge is a tourist attraction that connects the Canadian and American sides.
4. Day and Night Trip to Niagara Falls
Most travelers visit Niagara Falls, Toronto, for

Whirlpool Jet Boat tours

. They also take a Whirlpool Aero car ride and go on a voyage on the Hornblower Niagara cruise to view Niagara Falls more closely.

The various attractions at Niagara Falls are a white water walk, a Journey behind the falls, fireworks, and a Light show at Queen Victoria Park.

People on the street tour like walking to Souvenir shops, Frankenstein's haunted house, and a Wax museum.
Those who like fresh farm fruit and ice wines visit Vineyards in Niagara on the Lake.
Niagara Parking Recreational Trail is the best place to plan a mini picnic and borrow bikes for a ride.
5. Customized Tours in Niagara Falls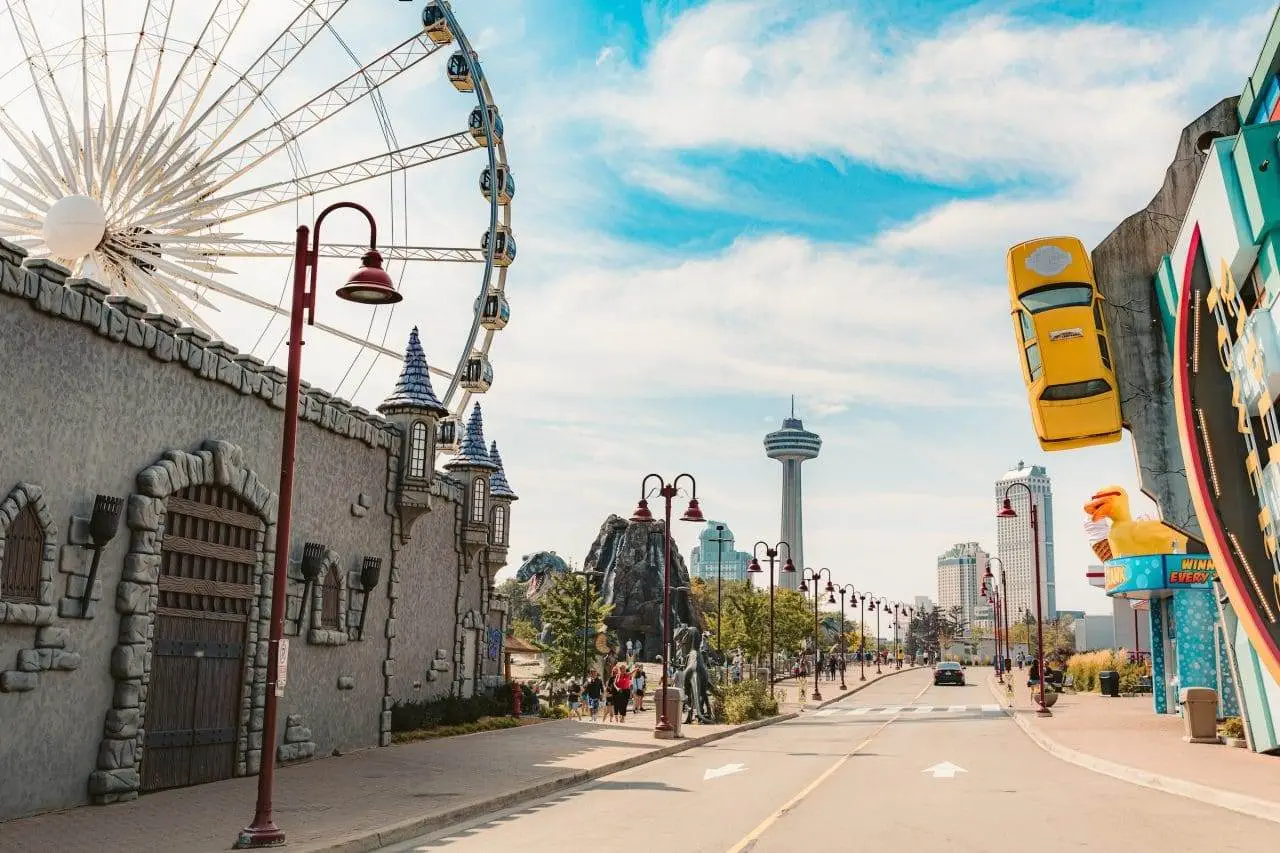 1. Go Solo: Eat breakfast, pack a meal from a nearby restaurant, Drive your car, park at Clifton Hill for $3-$12 or more, and take a roller coaster ride at the top of a haunted house for $5 or more. Then walk to the falls, enjoy the view, ,have your meal, and then return.
2. Picnic With family in Niagara on the Lake: Again, You can pack lunch from a nearby restaurant, Drive to Niagara on the Lake downtown, eat ice cream at Cows since 1983, walk into Van de Laar Orchard, go for a drive to the gaming area and Skywheel in the evening.
3. Niagara Nature Tour: Come close to nature with these beautiful attractions such as Queen Victoria, Dufferin Iceland, Niagara Park Floral Showcase, Niagara Botanical Garden, Oakes Garden Theatre, Butterfly Conservatory, and Floral Clock. Pack some food and take the Wego bus, or borrow bikes and ride with friends.
4. One-Night Cosy Trip at Fallsview Room: Couples can book the Fallsview Room for September at Embassy Suites, where you can see fireworks at the falls from your room while enjoying your dinner.
5. Perfect Nightlife with friends in Niagara Falls US Side: Start your tour from Rainbow Bridge, enjoy illumination and fireworks, and visit any sports club like Players Sports Bars, eat at Griffon GastroPub, and also go to Seneca Niagara Casino or a dance club.
6. Adventure Tour for Daredevil with Wildplay: Take the Whirlpool adventure course for $25-$45 with Wildplay Niagara Falls. You can also Join the zipline races 60–70 meters above the Niagara River with friends on the Niagara Gorge for around $200.
6. Tips to Reduce the Cost in Travel
 People who often visit Niagara prefer to purchase a pass rather than expensive tickets.

You can also start your tour in Niagara Falls, USA, instead of Niagara Falls, Canada.

Pack some crunchy and healthy snacks, or try eating at small cafes over luxury restaurants in the Fall.

Get a pass like the Clifton Hill Fun or Niagara Adventure Pass for enjoying sightseeing, visiting more attractions than usual, and rides.

Search for lodgings within 10–20 minutes walk of Niagara Falls attractions. There are plenty of decent hotels available in Niagara Falls, USA.

In order to reduce the cost of packages, look for discount coupons and off-season bookings. For example, The cheapest rate is $33 in 2-star hotels like 

Caravan Inn Motel

 in February.

Choose long-duration tour packages.

Speed affects the prices, so choose your pace at Niagara Falls, Canada.

Most restaurants and ticket counters accept dollars, but you can also use payment cards, which will save on currency exchange expenses.

Most attraction spots and parks have ticket counters, but Pre-booking can save you 20%.

Always remember to carry less luggage to save more money.
7. Simplify Your Trip to Niagara
To calculate costs and organize your tour, get help from the various websites available. If you are budgeting for a vacation for a week or month in Niagara Falls and are confused about prices, then plan your trip to Niagara Falls from the Canadian or US side with certain companies that organize hassle-free, comfortable trips to the Falls.
8. Conclusion
I hope that the above blog gives you a fair idea of how much it cost to go to Niagara Falls. Although Niagara Falls is free to visit, there are a few additional paid attractions worth visiting.
Now, you can easily customize your trip depending on your budget. This blog provides information about the cost of staying, traveling, eating, and enjoying yourself near or away from falls. The information provided will help you choose what you would like to enjoy while on vacation in Niagara.